Visiting the Italian Lakes District
The five lakes that make up Italy's lake district have a fun rivalry.
Since most travelers make their way to just one, competition for first place is fierce! Lake Como is probably today's winner but long ago, Lake Maggiore held the crown.
All of the lakes have a balmy Mediterranean climate, with sky blue lakes cradled by the snow crusted Alps. Whether you're traversing down from Switzerland or up by train from Milan, the lakes are a refreshing sight for sore eyes!
In today's post, I'm sharing our trip to Lake Maggiore, which is known throughout Italy for its botanical gardens and stunning villas!
Or save this article to read later by pinning it ⇟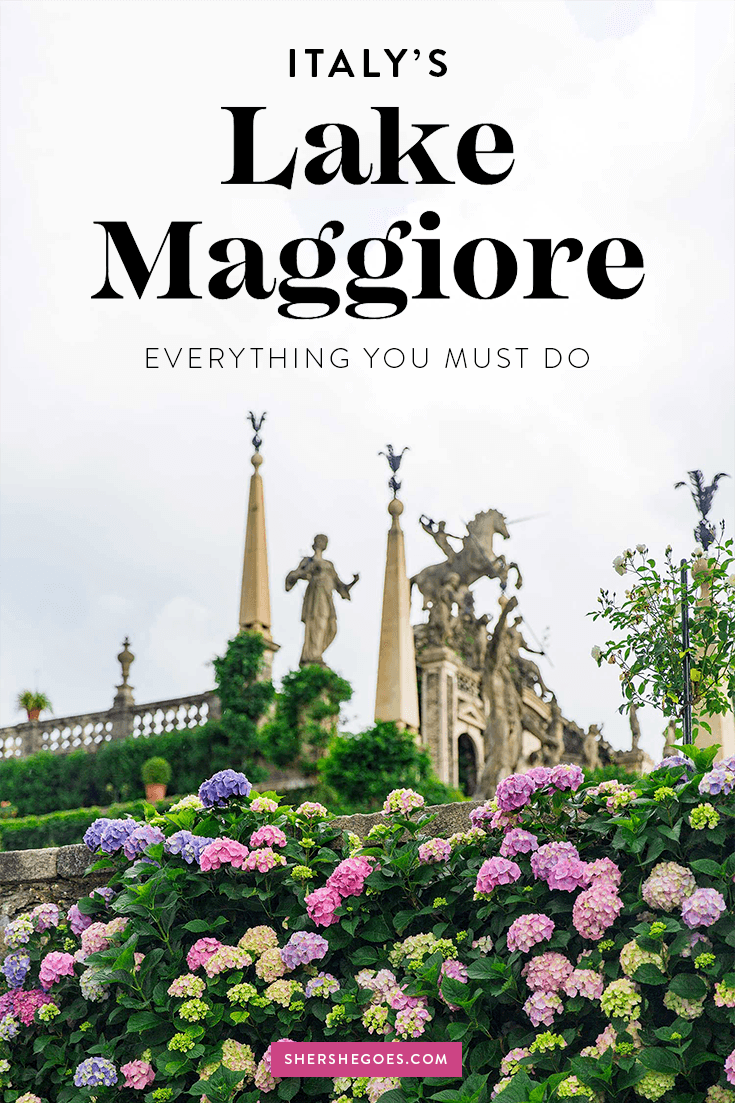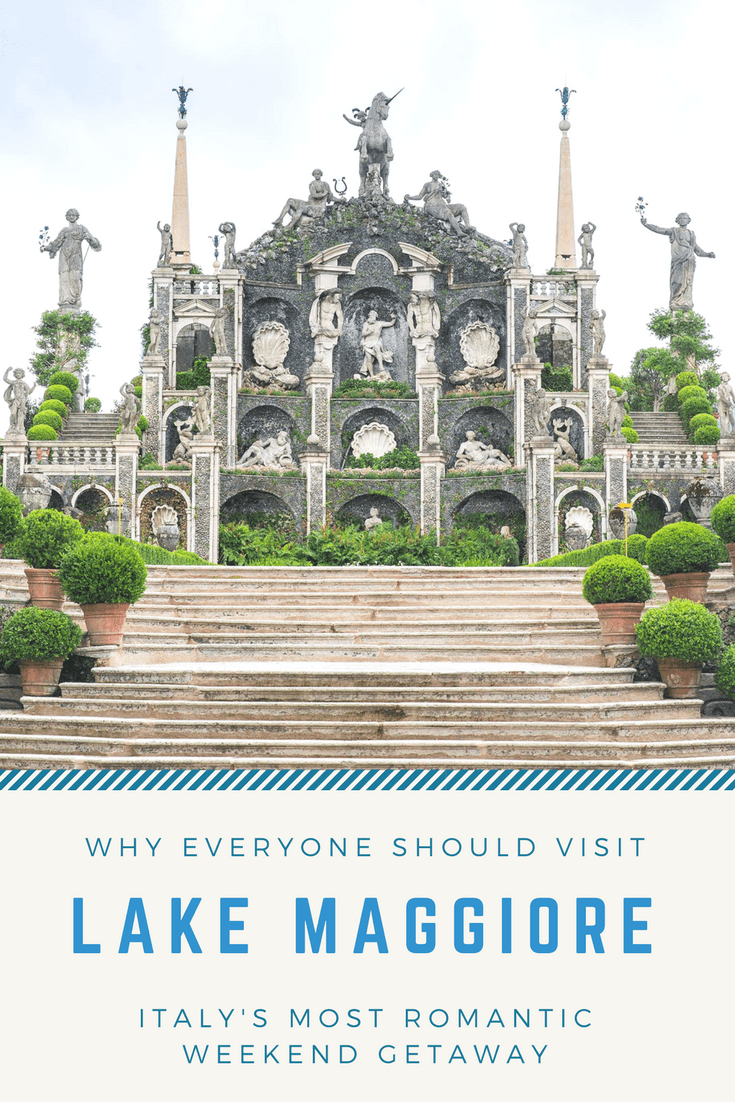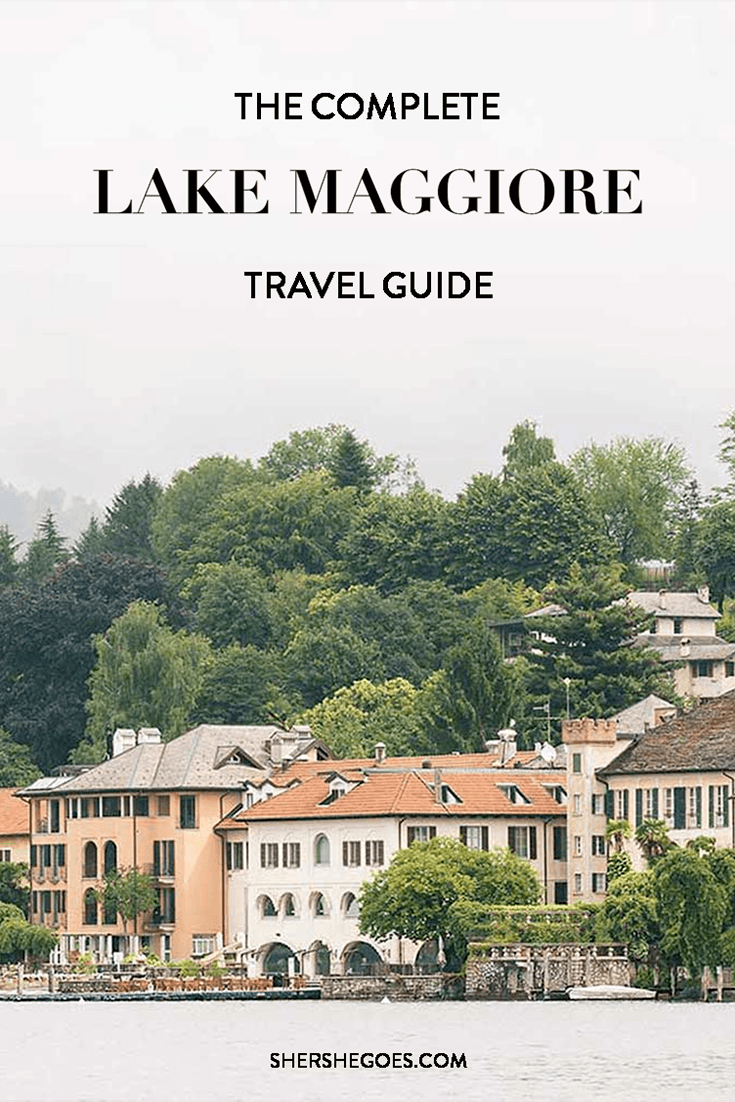 ADVERTISEMENT
---
---
Lake Maggiore, Italy
Lake Maggiore is the second largest lake in Italy and its shoreline touches not only the Swiss canton of Ticino but two Italian regions, Piedmont and Lombardy. The lake was named Maximus (or Maggiore) by the Romans in ancient times as it was the largest of the pre-Alpine lakes.
After the Simplon Pass was built through the Alps to connect Switzerland and Italy, Lake Maggiore became a popular tourist destination. By the 19th century, it was a popular weekend getaway for wealthy Italian families from the big cities, similar to Upstate New York for the titans of the Gilded Age.
Keep reading for what to see and do in Lake Maggiore, Italy!
ADVERTISEMENT
---
---
The Borromeans
These Italian aristocrats built some of Italy's most stunning villas along the lakeside towns. One family in particular, the Borromeans of Milan, came to dominate Lake Maggiore's shores.
The Borromean family purchased three rocky islands and over a generation, transformed the boat-shaped inlets into baroque botanical masterpieces. The Borromean Islands are now Lake Maggiore's most famous attraction and well worth a visit, garden lover or not!
Read more:
A Travel Guide to Northern Italy
ADVERTISEMENT
---
---
Lake Maggiore's Towns
Stresa
Of all Lake Maggiore's towns, Stresa is the most famous. In addition to magnificent views of the lake and easy ferry access to the Borromean Islands, the town also has restaurants, galleries, cafes and hotels to satisfy all the tourists who visit Northern Italy.
The town has a lively cultural scene year round and is well-known for its musical events in the summer, called Settimane Musicali.
Baveno
Stresa's quieter neighborhood, Baveno has escaped the trappings of large-scale tourism while retaining its small town Italian charm. Baveno makes an excellent place to stay in Lake Maggiore if you wish to have easy ferry access to the Borromean Islands while avoiding the higher prices and big crowds.
Angera
Angera is most famous for its castle, the Rocca Berromea. Dating back to the 10th century, the castle is one of the best preserved structures in Lombardy and quite popular for weddings.
The Borromean Islands
The Borromean archipelago sits between the shores of Stresa and Verbania. Named after their wealthy owners, the Borromeans built fabulous weekend palaces in Italy's Romantic Age, filled with antiques, paintings and porcelain.
On the grounds, they created enchanting gardens and placed rare plants and exotic species. Don't miss a visit to all three islands – Isola Bella, Isola Madre and Isola dei Pescatori.
ADVERTISEMENT
---
---
Lake Maggiore Hotels
Lake Maggiore retains its Old World charm and romantic atmosphere, but the accommodation here can feel a little dated. During Italy's Romantic Age, massive resorts were built along the shore to appeal to Victorian aristocrats – with grand names like Regina, Victoria, Astoria and Bristol.
Most have been only lightly renovated so a stay here is like a step back in time. Despite their faded furnishes, we loved the huge resorts with their lakefront promenades, beautiful views and open air terraces.
Stresa makes for the most convenient base, as it's the largest and has a train station connecting it to many Italian cities, but it also can feels touristy. We opted instead to stay in Baveno.
Read more:
Where to Stay on Lake Como
ADVERTISEMENT
---
---
Where to Stay in Lake Maggiore
As I mentioned, we chose Baveno for our base. The town is quaint and charming, with easy connection to Isola Bella and the other islands. In fact, our hotel was right on the waterfront with a boat dock in the back!
This beautiful building is the largest hotel in Baveno and our room was spacious, comfortable and clean. We had a charming balcony overlooking Lake Maggiore, with just enough space for a table and chairs to enjoy a cup of coffee or afternoon aperitif.
Grand Hotel Dino has been family owned for 150 years so it's slightly dated but certain aspects are refreshingly modern. Have lunch or dinner at the on site restaurant Last Hall, which was designed by famous Italian architect Paolo Maldotti to have egg-shaped / wine barrel seating. The food is delicious, with local Piedmont specialties like lamb and hearty pastas.
The hotel is connected to its sister hotel, Simplon, via a long, art-filled tunnel and there's enough swimming pools, sun chairs and ivy covered walkways to keep you wandering the property for several hours. What we liked most was how convenient the hotel is!
The dock for water taxis and boats is right off the back of Grand Hotel Dino, making it perfect for trips to any of the Borromean Islands or even day trips to nearby Lake Orta.
Book rooms: Hotels.com, Booking.com
Check prices: TripAdvisor
ADVERTISEMENT
---
---
Best Things to Do in Lake Maggiore
1. Isola Bella
Lake Maggiore's main attraction is the Borromean Islands and the crown jewel of the trio is Isola Bella. Take a boat taxi to ferry you around the island and you'll see how it's shaped like a boat, with a pyramid-shaped garden in the back and a grand villa steering the front. You can read more about our tour of the palace and gardens here.
Isola Bella was famous for its villa and gardens, and the Borromean family threw lavish parties for famous figures throughout the ages – including Montesquieu, Napoleon and Josephine, the Prince of Wales and Ernest Hemingway.
Read more:
18 Photos to Inspire You to Visit Isola Bella
2. Isola Madre
Next, head back to the boat to visit Isola Madre, with its rival palace and gardens.
Whereas Isola Bella was built in the Baroque style, to be perfectly landscaped into formal garden structures, Isola Madre was created in the English-style, to showcase plants in natural landscaping.
Both, however, take an armful of gardeners to achieve their looks (no less than 23 gardeners and 10 part timers). Isola Madre's 19 gardens are designed to feel private, with shaded wisteria arches, soaring 20 foot high hedges and windy pathways.
Take a tour to enjoy the atmosphere and artful decoration before hopping back on the boat. We took a private tour to explore the Borromean Islands which included a knowledgeable local guide and included all our transportation.
Check availability and rates here.
ADVERTISEMENT
---
---
3. Isola Pescatori
The smallest of the three islands, Isola Pescatori is a quaint village of cobblestone streets and a circular promenade. The tiny fishing village is known for its restaurants and cafes.
We came here for dinner at sunset and the local fish excellent. It was a beautiful end to our Maggiore stay, with the sun glimmering off the waves.
4. Villa Taranto
If you haven't had your fill of magnificent gardens, visit Villa Taranto. Its botanical gardens are famous – and better yet, draw half the crowds of the Borromean Islands. You can read more about our day trip to Villa Taranto here.
ADVERTISEMENT
---
---
5. Rocca di Angera
Rocca di Angera is a hilltop castle on Lake Maggiore's southern shores.
The medieval walls are perfectly preserved with paintings, furniture and even 18th century toys. Don't forget to head out back to check out – you guessed it – the beautiful gardens. This tour takes care of round trip transportation and includes a local guide.
Check availability and rates here.
6. Mottarone Cable Car
For the opposite view, head high up on the Mottarone cable car to soak in magnificent views. On a clear day, you can see not only Lake Maggiore but also Lake Orta, the Alps and Po Valley!
The cable car departs from Stresa and has two notable stops. The first, about halfway up, are the Alpine Gardens which make for a great place to picnic. The second, is Mount Mottarone, as far up as you can go!
Round trip tickets cost approximately 19 euros to the top or 11.50 euros one way.
ADVERTISEMENT
---
---
7. Eat on the Water
Perhaps the most famous restaurant in Lake Maggiore is Ristorante Milano, which sits literally on the water. The best way is to arrive by boat and see the glass encased structure from the lake. Great service, Milanese fare and unbeatable views – what more could you want?
ADVERTISEMENT
---
---
When to Visit
Lago Maggiore as the locals call it, is just a short train ride from Milan. It's quite popular as a weekend retreat so to avoid crowds, try going on a weekday.
The best time to visit Maggiore is in the spring, when all the flowers are in bloom. As Italy's Garden of Eden, it'd be a shame to miss the landscapes in their peak! Come in May or June for the best atmosphere.
ADVERTISEMENT
---
---
From Milan to Lake Maggiore
The easiest way to visit Lake Maggiore is from Northern Italy. Trains depart Milan's Centrale station and take roughly 1 hour to reach Maggiore.
You can check the train schedule and buy tickets online here. In Italy, train fares increase with time, so book your tickets once you know your travel dates.
Alternatively, since Lake Maggiore is close to the Swiss border, you can also take the Swiss Rail at Brig to Stresa.
Before You Go:
Buy Train Tickets
ADVERTISEMENT
---
---
Getting Around the Lake
Lake Maggiore has an excellent network of ferries so you can see the lake and all its small Italian villages easily. You can pick a public ferry in Stresa, Baveno or Carciano to visit the Borromean Islands, or book a private taxi which is faster and more convenient (especially if you have luggage with you).
Check the prices and schedules ahead of time, as one way rides are the most expensive. Since the schedules change frequently, it's easiest to take a photo of the schedule in front of the ferry when you arrive in Italy.
Typically, the ferries first stop at Isola Bella or Isola Pescatori, as they are closest to the shoreline. Depending on the ferry schedule, you'll have 1 or 2 hours to see the island on your own.
If you plan to visit just Isola Bella, book this hop on, hop off ticket to sight see at your pace.
If you want to see all three Borromean Islands, this hop-on hop-off ticket allows you to travel in style comfortably, at whatever pace you wish.
ADVERTISEMENT
---
---
Are you planning a trip to Lake Maggiore? Don't forget to read the rest of my travel guides to the Italian Lakes below!
Visiting Italy – Trip Planning Checklist
There's so much to see and do in Italy that you can visit again and again and still discover new sights. I recommend concentrating on the big 4 cities (Rome, Venice, Milan & Florence) if it's your first time and then coming back to explore either Northern Italy or Southern Italy in more depth.
Go | Flight prices from the US to Italy are highly seasonal. You can set a fare alert here to be notified of discounts. Every fall & winter, I've seen great deals to Milan. One word of caution: avoid Alitalia at all costs!
Getting Around | A convenient way to explore Italy is via high speed train. You can search train schedules and book online here. Buy your tickets in advance to save on fares. Make sure to validate your ticket on the platform!
It also helps to speak a little Italian. Brush up on your Italian language skills with Rosetta Stone. You can take 10% off with promo code CJBT10.
Stay | Book hotels in advance to save, or check here for last minute deals. Many hotels in Italy are older so don't be surprised if even 5 star accommodation feels slightly dated. Opt for a room with a view instead of breakfast, as Italians don't eat breakfast in the same way Americans do and you'll probably be disappointed with their offering.
Alternatively, groups or budget travelers can check out Airbnb. 
Protect | Lastly, be sure to visit Italy with travel insurance. Whether you get injured and need to be hospitalized, your phone gets stolen, or a flight delay leaves you with nothing but the clothes on your back, travel insurance will help when you need it most.
A rail strike occurred during our trip, unexpectedly shutting down transportation for an entire day. Get a quote for your Italy trip here.
You Might Also Enjoy:
Italy Vacation Planning Articles
The First Timer's Guide to Italy: A Classic Itinerary
THIS is the Best Time to Visit Italy
What to Wear in Italy: A Packing Checklist
Northern Italy
The Most Beautiful Places in Northern Italy (that are still a secret!)
Headed to Northern Italy? Here's the Perfect 7 Day Itinerary
Exploring Bologna: Travel Guide
Quick Guides to: Bologna Day Trips & The Best Bologna Restaurants
Visiting Parma: The Center of Parma Ham & Cheese
7 Reasons to Explore Medieval Bergamo
Visiting Ravenna's Mosaics
Test Driving Fast Cars & Touring Car Museums in Italy's Motor Valley
Cinque Terre
Plan Your Trip: Travel Guide
How to Choose Which Village to Stay
A Blissful 3 Day Cinque Terre Itinerary
The Best Cinque Terre Airbnbs for Large Groups
Quick Guides: The Best Restaurants & Popular Hiking Trails
Inspiration: Photo Diary of the 5 Villages
The Italian Lakes
Exploring Lake Como: Travel Guide & Where to Stay
Quick Guides to: Varenna, Bellagio & Villa del Babianello
Visiting Lake Maggiore
Quick Guides to: Isola Bella & Villa Taranto
Discovering Hidden Lake Orta
Follow me @Sher She Goes on