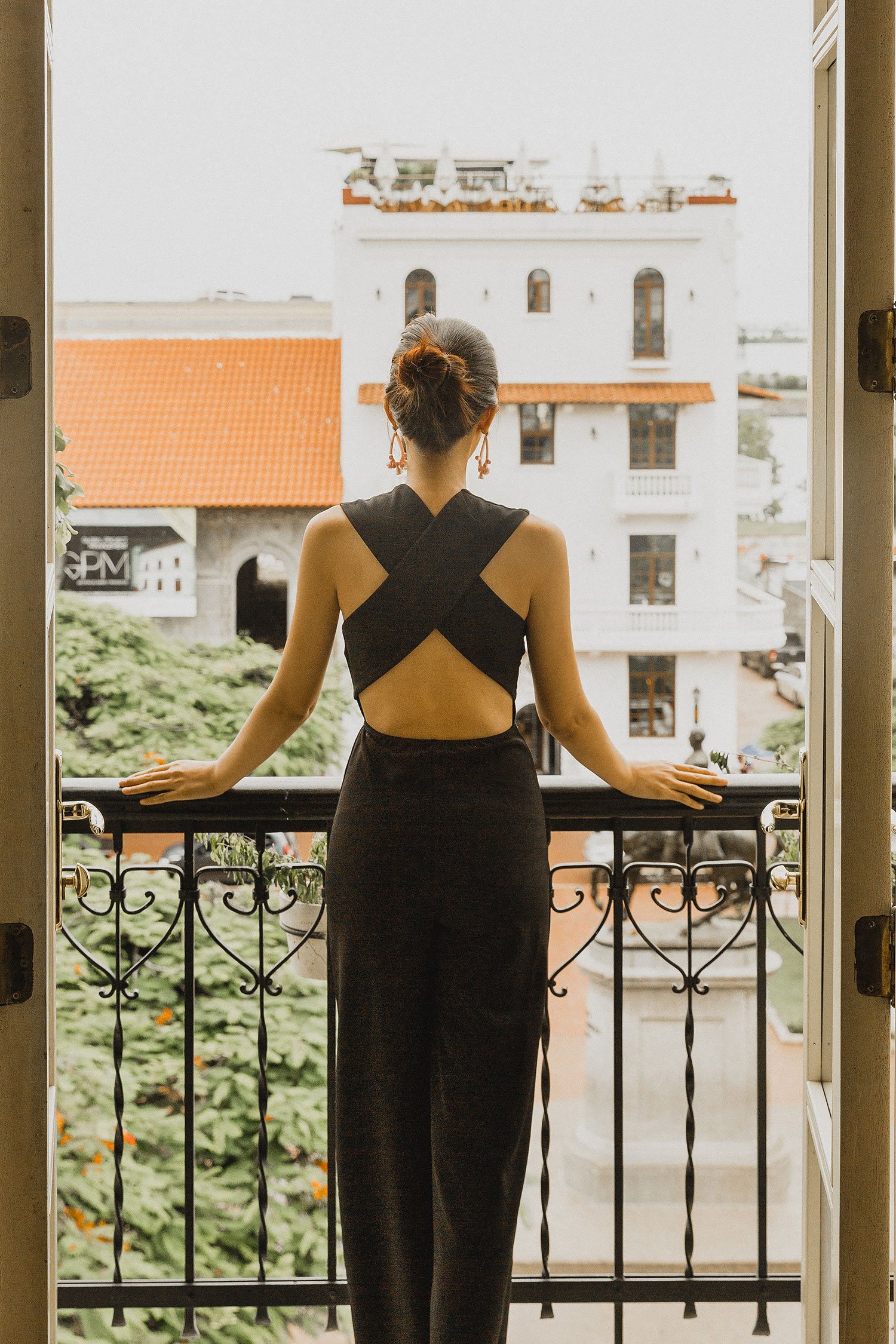 The American Trade Hotel
We stayed at the American Trade Hotel in Panama's Old Town and loved every aspect of our stay.
The hotel is located right on Plaza Herrera in a restored landmark building and grounds the center of Panama City's historic district.
We were so fortunate to stay here and really can't recommend it enough – we took so many photos and will let those guide our review!
Keep reading for our hotel review with a look at their Garden rooms, restaurants, service and more!
Check rates:
Hotels.com
|
Booking.com
Or pin this article to save it for later ⇟
ADVERTISEMENT
---
---
See more photos on Instagram @shershegoes
Where to Stay in Panama
Casco Viejo
Spanish for 'Old Town', this quaint neighborhood spans just three avenues wide and is entirely walkable in 15 to 20 minutes. We loved the colonial architecture on every block.
One of the interesting things about Casco Viejo is the city's revitalization. Enterprising developers are transforming Casco Viejo, one grand building at a time, restoring old houses to their former glory. Most of the restoration is geared towards high end apartments, hotels and restaurants.
ADVERTISEMENT
---
---
Panama City
Meanwhile, Panama City contains enough glittering skyscrapers to make you wonder if you've traveled to Dubai. It's ritzy but in our 3 days in Panama, we didn't set foot once in Panama City and in fact, saw many visitors come to Casco Viejo at night!
Casco Viejo or Panama City?
If you're visiting Panama City, we highly recommend staying in Casco Viejo over Panama City.
Read more:
Panama Should Be Next on Your Bucket List: Here's Why
ADVERTISEMENT
---
---
The American Trade Hotel
Every city has that one iconic hotel.
For Casco Viejo, it's without a doubt The American Trade Hotel.
The lovingly restored landmark building dominates the north side of Plaza Herrera and is almost smack dab in the center of Casco Viejo, making for a great base from which to explore.
Book rooms:
Hotels.com
,
Booking.com
ADVERTISEMENT
---
---
Checking In
We flew from New York directly to Panama City. We weren't expecting to find direct flights, but Copa Airlines offers them a couple times a week – amazing!
Because it's quite far south from NYC, we landed very late at night so we grabbed a taxi and headed straight from the airport to Casco Viejo. The ride wasn't bad.. maybe 30 minutes or so?
We checked in and then immediately went to order some comforting room service. Even in the dark, we could tell our room was something special.
ADVERTISEMENT
---
---
We fell asleep immediately.
The king bed was so comfortable and there was even a vintage jukebox by the nightstand, which was a cute touch. Some day I want to get a king bed, we're constantly fighting over the covers!
When the sun rose the next morning, we got up early to explore!
ADVERTISEMENT
---
---
Garden Room
Our room was categorized as a Garden Room, and had more space than we could have imagined.
From the long entrance way, with ample room to store our luggage, to the separate sitting area and high ceilings, it was more than enough room for the two of us!
But why was it called a garden room?
ADVERTISEMENT
---
---
Private Courtyard
These rooms come with a private, beautiful outside courtyard! It faced the back of the building, so it was nice and quiet – the perfect place to have drinks after dinner or breakfast in the morning.
Funny story about the courtyard…
Our room was at the end of the building, so next door was an entirely different property. After we went swimming one day, C washed his swim shorts and left them to dry on the white wall. Of course they blew away or fell over and we never saw them again.
Why did he do that??? Who knows.
I think he saw the sun shining right on the back wall and thought they'd dry fastest there, so he left them on the ledge. Oh well…
ADVERTISEMENT
---
---

A View Over Plaza Herrera
Meanwhile, in the front of the room, we had a small balcony that looked on to Plaza Herrera. That's right, these Garden Rooms span the full width of the building!
While the balcony isn't huge, it was wide enough to walk out on and enjoy a cup of coffee in the morning!
The view was incredible.
ADVERTISEMENT
---
---
Balcony
The front balcony was actually how we discovered a great happy hour spot. See that white building directly across from the room balcony?
One day we heard the sound of people having lots of fun, and realized that the rooftop has a bar and great views to watch the sunset.
So on our last day in Panama, that's where we went! We grabbed light bites, some fresh mojitos and relaxed until it was time to head to the airport.
Read more:
How to Spend 3 Perfect Days in Panama
ADVERTISEMENT
---
---
The Bathroom
Anyway, back to the beautiful American Trade hotel room.
We have to take a moment to mention the bathrooms! The marble vanity, soaking tub and rain shower were straight out of a Restoration Hardware catalog – simply stunning.
Meanwhile the colorful blue tiled floor gave it a nice Panamanian touch!
ADVERTISEMENT
---
---
Aesop Products
Best of all, the hotel offered Aesop bath products.
I LOVE Aesop so this was a treat.
We took lots of long baths, made liberal use of the Aesop bath products and cozied up afterwards in the Turkish bathrobes.
If you prefer a shower, there was a rain shower head too!
This hotel would definitely make for a great Panama staycation.
ADVERTISEMENT
---
---
ADVERTISEMENT
---
---
The Dining Room
We also had breakfast and lunch in the Dining Room.
I highly recommend the pancakes – they're fluffy yet thin with a decadent rich ricotta flavor and topped with fresh strawberries. We also loved their fresh fruit juices!
ADVERTISEMENT
---
---
How beautiful is the decor?
Even if you're not staying at the American Trade, you can walk in for coffee at Unido or lunch / dinner at the Dining Room. There is a separate entrance straight into the restaurant at the back of the hotel.
We came for breakfast every day, it was so good! And for lunch, we loved their ceviche, tacos and burgers.
ADVERTISEMENT
---
---
The Library
The second floor library and courtyard had some quirky books and decor and I loved the deep green bookshelves! The hotel is a member of the Small Luxury Hotels collection and every inch of the property reflects comfort and style.
Read more:
Don't Leave Panama Without Visiting the Iconic Panama Canal
ADVERTISEMENT
---
---
If your room doesn't have a courtyard, American Trade also has public courtyards.
The rooms are built on the perimeter, while the interior of the hotel has this gorgeous, airy courtyard space for everyone to relax in.
Read more:
The 10 Best Things to Do in Panama
ADVERTISEMENT
---
---
Rooftop Pool
We also spent a couple afternoons soaking in the sun on the rooftop pool.
It's one of the rare hotels to have a pool in Casco Viejo and its vantage point on the 3rd floor offerings some stunning views of the neighborhood's classic architecture and dramatic churches.
Make sure to go for a dip!
Check rates:
Hotels.com
|
Booking.com
ADVERTISEMENT
---
---
Is Panama on your travel bucket list?
You Might Also Enjoy:
Panama Vacation Planning Articles
Travel Tips: The Ultimate Panama Travel Guide
Itinerary: How to Spend 3 Perfect Days in Panama
Activities & Where to Stay
20 Interesting Facts About Panama I Bet You Never Knew These!
Seeing the Panama Canal & Why It's Worth Visiting!
The American Trade Hotel: One of Our Favorite Boutique Hotels
Follow me @Sher She Goes on