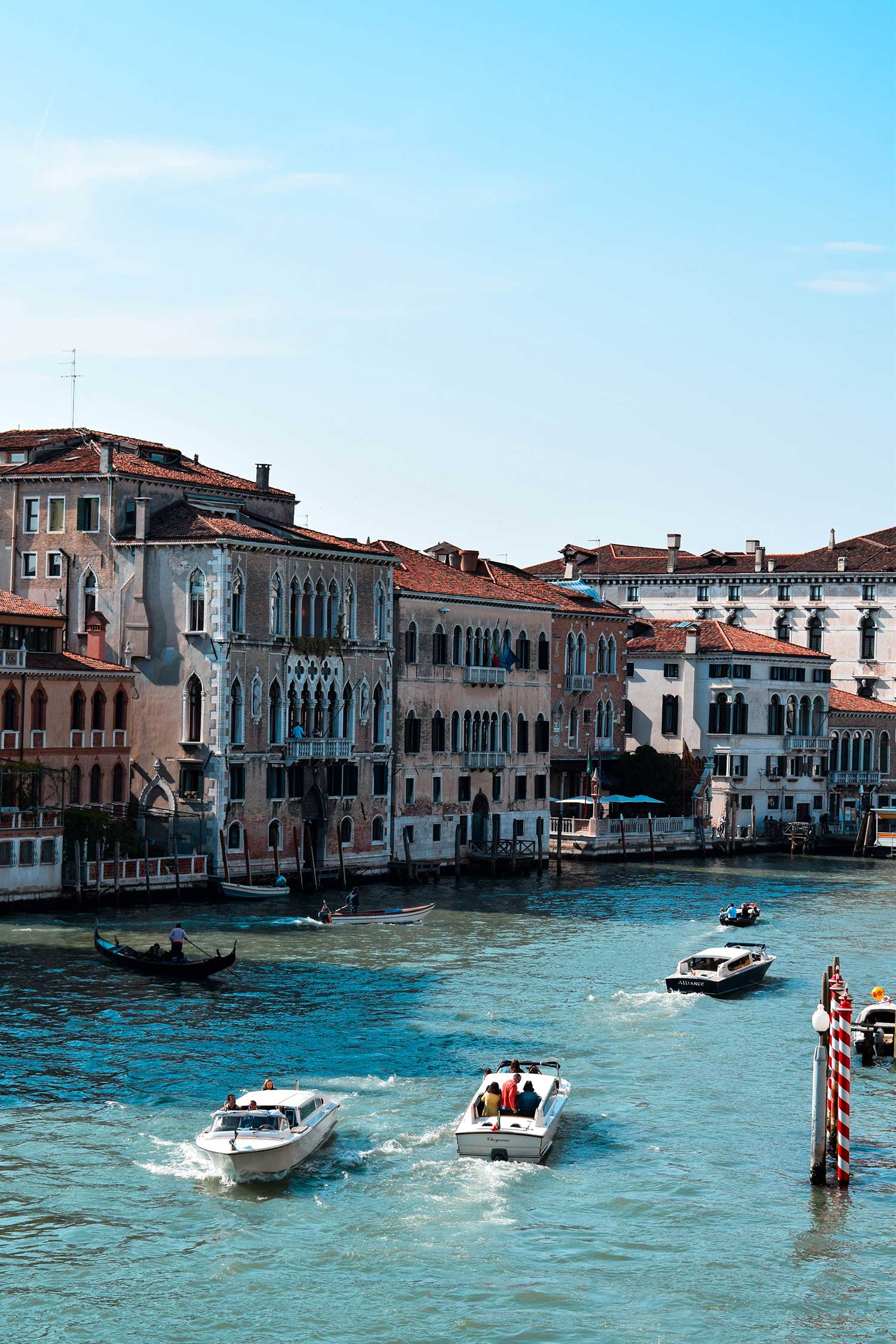 Discover the Best Cities in Italy
I've been to Italy many times and each time, the food tastes better, the sights get more impressive and I fall in love just a little bit more. Since Europe's boot is quite a large country, I thought in today's post I would share a classic itinerary focused on Italy's most famous cities and beautiful places.
This is the route I followed on my first grand tour of Italy and what I think any first timer to Italy would love. It includes Italy's trifecta of important cities: Rome, Milan and Florence with lots of beauty and romance thrown in!
The Best Italy Itinerary | Table of Contents
Click the links to jump directly to each section
Keep reading for the perfect Italy itinerary for first time visitors below!
Or save this article to read later by pinning it ⇟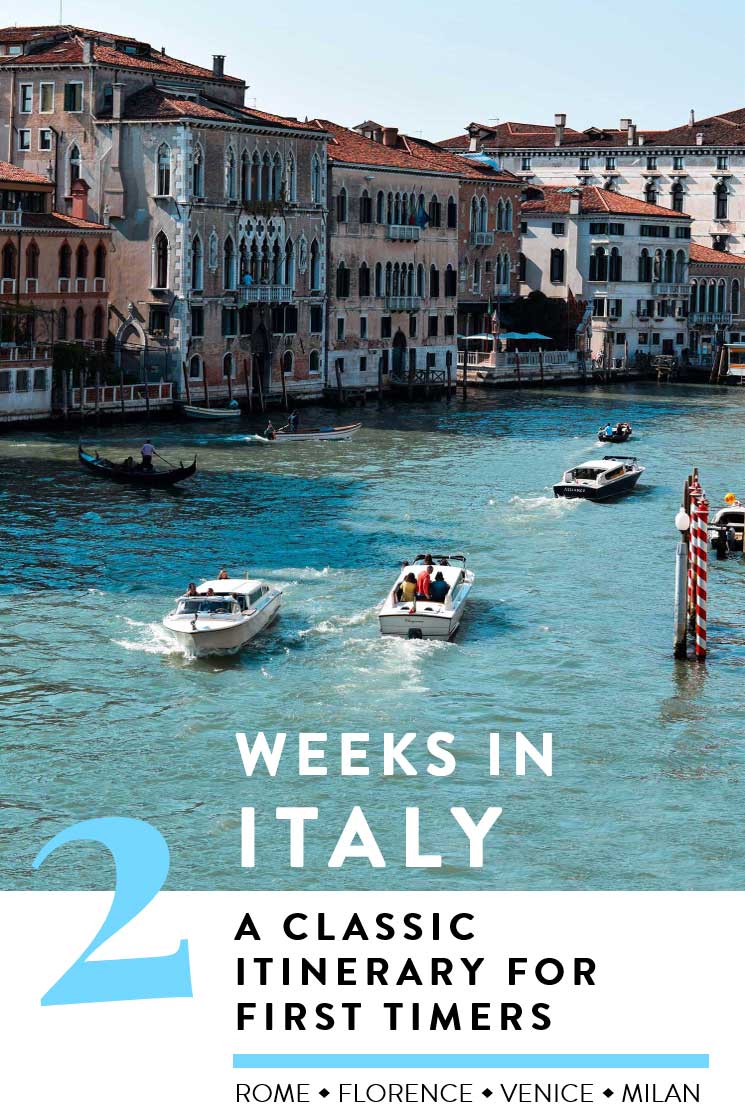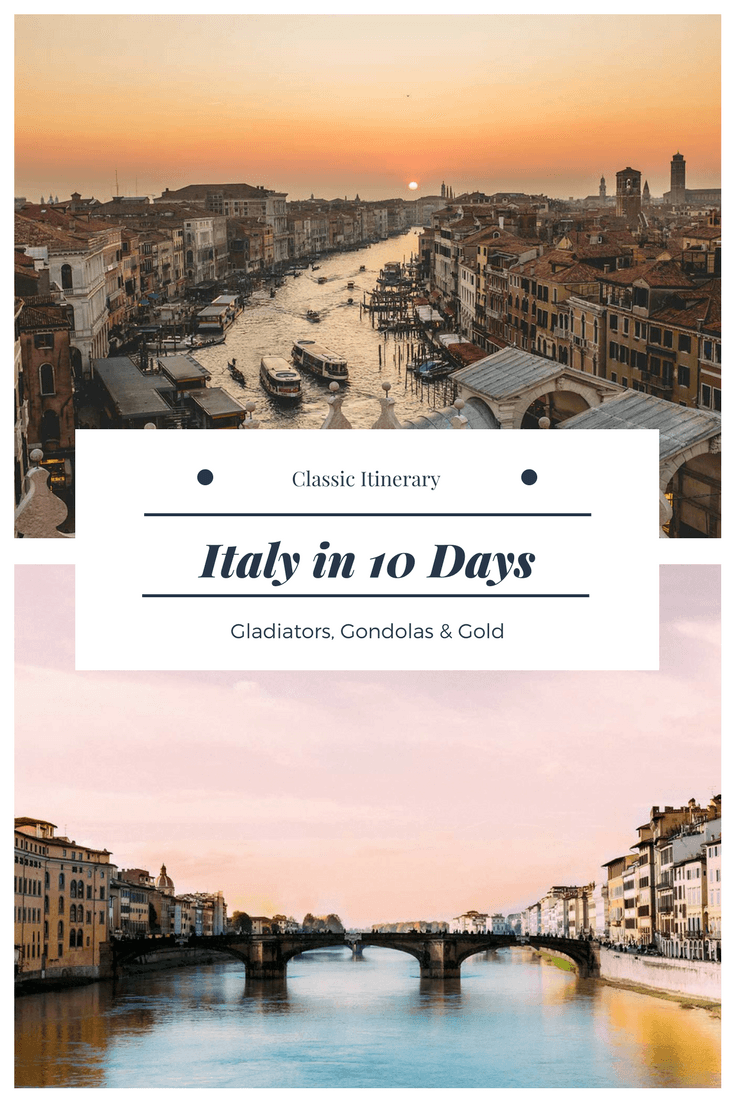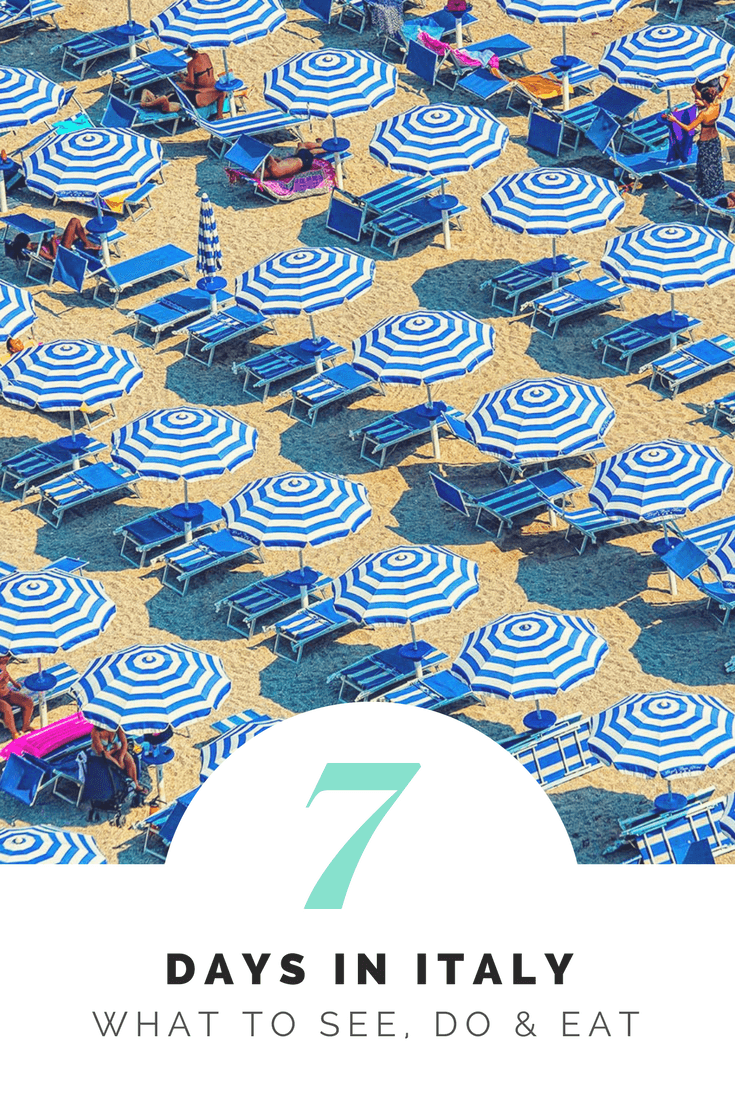 ---
---
10 Day Italy Itinerary
Days: 1-3: Rome
Rome is my favorite city in Italy. I know a lot of people visit the first time are overwhelmed by the noise, the chaos and the inefficiency but I love the history of the Roman Empire and it is a beautiful capital to me!
From the Vatican enclave and St. Peter's Basilica to the crumbling Colosseum and bright Sistine Chapel – there is SO much to see and do in Rome. After all, this was once the cradle of civilization itself.
I took Latin for many years in school; did you know that Romans called outsiders "Barbarians" because they didn't speak Latin or Greek and therefore everything sounded like "bar bar bar" Ha.
Top Sights & Attractions in Rome:
Colosseum & Roman Forum
Pantheon
Borghese Gallery & Gardens
Trevi Fountain & Spanish Steps
Don't Miss: the Vatican Museum, Sistine Chapel & St. Peter's Basilica (even if you're not religious!). Get a Roma Pass if you have 3 days to save both headache and cash.
---
---
Where to Stay in Rome
Some people do in Rome in 1 day and are happy to get out of the exhilarating, but exhausting city. Personally, I recommend 3 nights to truly explore, especially if you like grand architecture, culture and/or are religious.
Rome is sprawling but visitors will want to concentrate themselves in the Ancient city center, where classical sights like the Colosseum, Forum and Pantheon are located. Religious pilgrims will look to the Vatican City neighborhood, west of the Tiber. If you just want to shop and stroll, stay in North Rome by the Spanish steps and trendy boutique area.
Recommended Hotel: Hotel Artemide
We love this hotel's location, minutes from Termini, Rome's main train station, and Viz Nazionale, a main thoroughfare. It's walking distance to all the top sights – Trevi Fountain, Spanish Steps, Pantheon, Colosseum, you name it and the rooms are clean, comfortable and nicely modernized.
Book: Booking.com, Hotels.com
Check prices: TripAdvisor
---
---
Days 4-5: Florence
Florence is the birthplace of Renaissance art and is the perfect city for art lovers. Everything Florentines touch is fabulous – from food to fashion to gelato!
Top Sights & Attractions in Florence:
Michelangelo's famous David statue at the Accademia
the Uffizi Gallery for Renaissance art. Buy a Firenze Card to skip the insane lines
The Duomo is beautiful too!
Don't Miss: Florence is known for its gold and leather production so if you like to shop, this is a great place to pick up some high quality items.
---
---
Where to Stay in Florence
I recommend at minimum 2 nights. Luckily, accommodation in Florence can be good value if you're traveling off season, since there's lots of competition among hotels. I'd recommend staying in the center of town
Recommended Hotel: c-hotels Diplomat
A great location to explore Florence, with all of the major attractions in walking distance. Rooms are comfortable but basic and there are lots of restaurants and stores in the vicinity!
Book: Booking.com, Hotels.com
Check prices: TripAdvisor
---
---
Day Trip to Pisa
Another great day trip is to add Pisa, if you have more than 10 days in Italy; say 2 weeks. I loved this touristy town with its leaning tower and it's so close to Florence that it'd be a shame to miss it!
---
---
Days 6-7: Venice
Rick Steves calls Venice a "puddle of elegant decay" and… I can't help but agree.
The first time I visited Venice, I was a teenager and I loved the city of a hundred islands, each connected by fancy bridges and romantic gondolas. The second and third time I visited… Venice was a nightmare – jam packed with tourists hoards and locals eager to make their annual salary from just 3 short months.
Love it or hate it, Venice is a must see. In the Middle Ages, Venetians were clever merchants bridging trade from West to East and a wealthy, powerful city state throughout the 17th and 18th centuries. Today, few Italians live in the actual old city, as it's incredibly expensive and slowly sinking.
Top Sights & Attractions in Venice:
Cruise the Grand Canal at sunset
Be serenaded on a gondola ride
Visit the Doge's Palace and St. Mark's Basilica in the main square
See lovebirds at Rialto Bridge
Don't Miss: a day trip to the glass makers in Burano (or just a short glass demonstration) and a ride on a water taxi!
---
---
Where to Stay in Venice
I recommend 2 nights especially if it's your first visit to Venice. The city is best explored in the early morning and evenings after the tour buses and day trippers have left.
I'm warning you now the city is a shock to the wallet. But, it's the only place like it in the world, so just pay the premium and enjoy it! If you can, splurge on a romantic 5 star hotel for the experience of a lifetime.
Recommended Hotel: Paladio Hotel & Spa
Paladio is the sister hotel to Bauer Palazzo, the luxurious 5 star hotel along Venice's Grand Canal where George and Amal Clooney were married. This sister property, right across the water on Giudecca island, makes for a still dramatic but more affordable stay.
It was designed by a great Renaissance architect and the stunning gardens and huge rooms filled with elegant antiques give it an Old World charm.
With excellent customer service and a quieter location from Venice's city center, Palladio Hotel is a beautiful oasis away from all the noise. As a bonus, the hotel provides free water taxi service to and from its sister hotel on the Grand Canal.
Book: Booking.com, Hotels.com
Check rates: TripAdvisor
---
---
Days 8-10: Milan
Milan is Italy's industrious second city and the capital of Lombardy.
Known for its banking houses and glamorous fashion, Milan is a slick, commercial powerhouse in the north of Italy and one of the main reasons for post World War II Italy's revival.
Every country has its own tale of town cities. In Italy, there's the government and religious center in Rome while finance and capitalism take hold in Milan. A great Italian saying I loved goes something like "people go to Milan to sin and to Rome to ask for forgiveness"!
Top Sights & Attractions in Milan:
See the Duomo (Europe's 4th largest Church) and Piazza del Duomo
Walk through Galleria Vittorio Emanuele
Visit the Museo del Novocento
Listen to an opera at the world famous La Scala opera house
Explore the old fortress of the Dukes of Milan, Sforza Castle
Don't Miss: the rooftop of the Duomo where you can daydream high above the city among the church's spires. Just beware tickets are a nightmare – I recommend buying in advance or getting a guided tour.
---
---
Where to Stay in Milan
I recommend 3 days, 2 nights. Although the city is large, the metro station is quite good so you can get almost anywhere around town in 30 minutes thanks to easy subway access.
Recommended Hotel: Glam Hotel
Centrally located, hip and affordable, Glam Milano is located right in the heart of the city opposite Central Station and the subway.
The excellent location makes it a great base for day trips or to explore all Milan. Rooms are newly renovated, modern and quiet with some that overlook the grand square.
I will say the service here isn't great. When we booked, dinner came with our room (oddly enough) but we tried it one night and it was terrible – just skip it. There are lots of great restaurants around the hotel.
Go to Da Oscar for incredible pasta and especially pasta carbonara. It's a cozy restaurant, filled with locals, about 20 minutes from the hotel. Best meal we had in Milan and the portions are huge!
Book rooms: Booking.com, Hotels.com
Check rates: TripAdvisor
---
---
Days 11-14: Lake Como & Cinque Terre
Day Trips from Milan
If you have 14 days in Italy and can explore more, I would definitely recommend adding on the idyllic Italian Lakes region or the picturesque Italian fishing villages. I've done both and they're very different.
Choose Lake Como and Lake Maggiore if you want to swim and shop; choose Cinque Terre if you want to hike, eat and sunbathe. Or add short trips to both if you can't decide!
Lake Como is part of the Italian Lakes district near the Alps mountains. Both Como and Lake Maggiore are romantic throwbacks to the aristocratic old days. Idyllic, relaxing and glamorous!
Cinque Terre is the name of five picturesque fishing villages that line Italy's northern coast. These are some of the prettiest places I've ever seen and worth even a quick day trip (but better if you can stay overnight). I have a whole series about visiting Cinque Terre here.
Read more:
A Definitive Guide to Cinque Terre – Just In Time for Summer!
---
---
Planning a Trip to Italy
For Americans visiting Italy, there are 2 easy points of entry via flight: Rome or Milan. I would recommend booking an open jaw, arriving in 1 city and departing from the other to maximize the time you have.
There is so much to see and do in Italy that it would be a waste to backtrack just for an airport. I've written the sample Italy itinerary above starting from Rome but either works.
---
---
How much time to spend in Italy?
The itinerary I suggested is flexible, whether you have a tight 7 days or a leisurely 3 weeks.
Personally, I would recommend at least 10 days in Italy to explore leisurely but even better if you have 2 weeks! If you have 14 days in Italy, you can fit in some spectacular day trips.
For example, a day trip from Milan to Lake Como, the Italian Lakes region or Cinque Terre. Have more time? Add a day trip from Florence to Pisa and a day trip from Venice to the glass making islands of Murano and Burano.
For travelers who have been to Italy before and want to explore it's small towns, I really loved my trip to Northern Italy. Italy was a nation of city states for much of its history so regional differences throughout the country can be quite distinct!
Northern Italy is known for excellent local cuisine so I have written a follow up post focusing on charming medieval towns and incredible Italian cuisine here.
Read more:
7 Days in Northern Italy itinerary: Pastels, Prosciutto & Parmigiana
If I have the chance to explore more of Italy, I'd love to head down South and explore Positano, the Amalfi Coast and all the way to Sicily and Puglia! Also on my Italy bucket list? A road trip through the hill towns, spas and wine producers of Tuscany.
Below are some summary suggestions for various Italy itineraries.
---
---
Italy Itinerary 7 days
A classic itinerary to explore Italy's rich history, museums and romance.
Italy in 12 Days
The ultimate trip to Italy covering all of the country's best sights, cities and attractions.
| | | |
| --- | --- | --- |
| Days | City | Overnight |
| Days 1-3 | Rome | Rome |
| Days 4-5: | Florence & Pisa | Florence |
| Days 6-7: | Venice | Venice |
| Day 8: | Padua & Verona | Verona |
| Day 9: | Bergamo | Milan |
| Days 10-12: | Milan | Milan |
---
---
Italy Itinerary 14 Days
A leisurely Italian vacation focused on beautiful places, lakes and the sea.
3 Weeks in Italy
If you have 3 weeks in Italy, why not extend your time in the North?
Check out the medieval town of Bergamo, with it's Old City stacked on top of its modern day center or Parma, known for its cheese and prosciutto. Northern Italians know how to make the best food in Italy!
Other great additions to add to your Italy itinerary are Bologna, Varenna and Ravenna if you have more time.
---
---
Are you planning a trip to Italy? Let me know any questions in the comments below!
Visiting Italy – Trip Planning Checklist
There's so much to see and do in Italy that you can visit again and again and still discover new sights. I recommend concentrating on the big 4 cities (Rome, Venice, Milan & Florence) if it's your first time and then coming back to explore either Northern Italy or Southern Italy in more depth.
Go | Flight prices from the US to Italy are highly seasonal. You can set a fare alert here to be notified of discounts. Every fall & winter, I've seen great deals to Milan. One word of caution: avoid Alitalia at all costs!
Getting Around | A convenient way to explore Italy is via high speed train. You can search train schedules and book online here. Buy your tickets in advance to save on fares. Make sure to validate your ticket on the platform!
It also helps to speak a little Italian. Brush up on your Italian language skills with Rosetta Stone. You can take 10% off with promo code CJBT10.
Stay | Book hotels in advance to save, or check here for last minute deals. Many hotels in Italy are older so don't be surprised if even 5 star accommodation feels slightly dated. Opt for a room with a view instead of breakfast, as Italians don't eat breakfast in the same way Americans do and you'll probably be disappointed with their offering.
Alternatively, groups or budget travelers can check out Airbnb. 
Protect | Lastly, be sure to visit Italy with travel insurance. Whether you get injured and need to be hospitalized, your phone gets stolen, or a flight delay leaves you with nothing but the clothes on your back, travel insurance will help when you need it most.
A rail strike occurred during our trip, unexpectedly shutting down transportation for an entire day. Get a quote for your Italy trip here.
You Might Also Enjoy:
Italy Vacation Planning Articles
The First Timer's Guide to Italy: A Classic Itinerary
THIS is the Best Time to Visit Italy
What to Wear in Italy: A Packing Checklist
Northern Italy
The Most Beautiful Places in Northern Italy (that are still a secret!)
Headed to Northern Italy? Here's the Perfect 7 Day Itinerary
Exploring Bologna: Travel Guide
Quick Guides to: Bologna Day Trips & The Best Bologna Restaurants
Visiting Parma: The Center of Parma Ham & Cheese
7 Reasons to Explore Medieval Bergamo
Visiting Ravenna's Mosaics
Test Driving Fast Cars & Touring Car Museums in Italy's Motor Valley
Cinque Terre
Plan Your Trip: Travel Guide
How to Choose Which Village to Stay
A Blissful 3 Day Cinque Terre Itinerary
The Best Cinque Terre Airbnbs for Large Groups
Quick Guides: The Best Restaurants & Popular Hiking Trails
Inspiration: Photo Diary of the 5 Villages
The Italian Lakes
Exploring Lake Como: Travel Guide & Where to Stay
Quick Guides to: Varenna, Bellagio & Villa del Babianello
Visiting Lake Maggiore
Quick Guides to: Isola Bella & Villa Taranto
Discovering Hidden Lake Orta
Follow me @Sher She Goes on