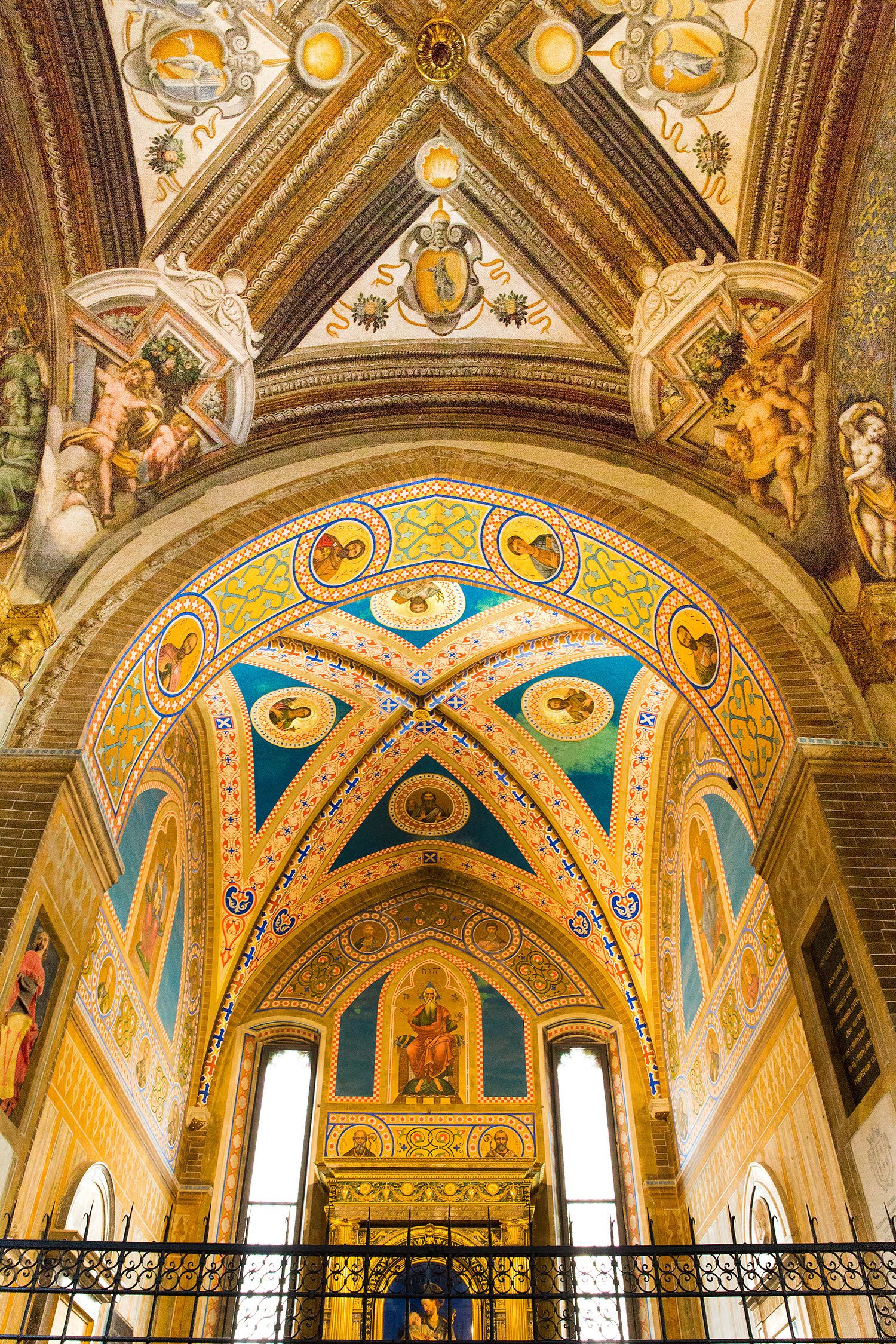 The Best Day Trips from Bologna
Bologna's train station connects the city to the rest of Italy, so it's the perfect city to base yourself if you want to explore Emilia-Romagna.
We budgeted 4 nights in Bologna and quickly covered the main sights in a day or so, so we spent the rest of our time exploring great foodie and medieval towns nearby.
From prosciutto di parma production in Parma, to the ducal town of Ferrara, here are 5 incredible day trips to take from Bologna!
ADVERTISEMENT
Day Trips from Bologna by Train
Bologna is part of Italy's high-speed train line and has frequent, fast connections all throughout Northern Italy. Because of its central location, we sent a day or two exploring the city and then used it as a base to explore more of Emilia Romagna's small towns.
You can either book tours, which come with a local guide and conveniently handle all transportation, or you can organize everything yourself and take the train. We've done both!
If you do want to take the train, browse train schedules online here and buy your tickets as soon as you have your dates. In Italy, train fares go up over time and some of the popular routes can sell out in peak summer season.
Before You Go:
Buy Train Tickets
Pin this post to save for later ⇟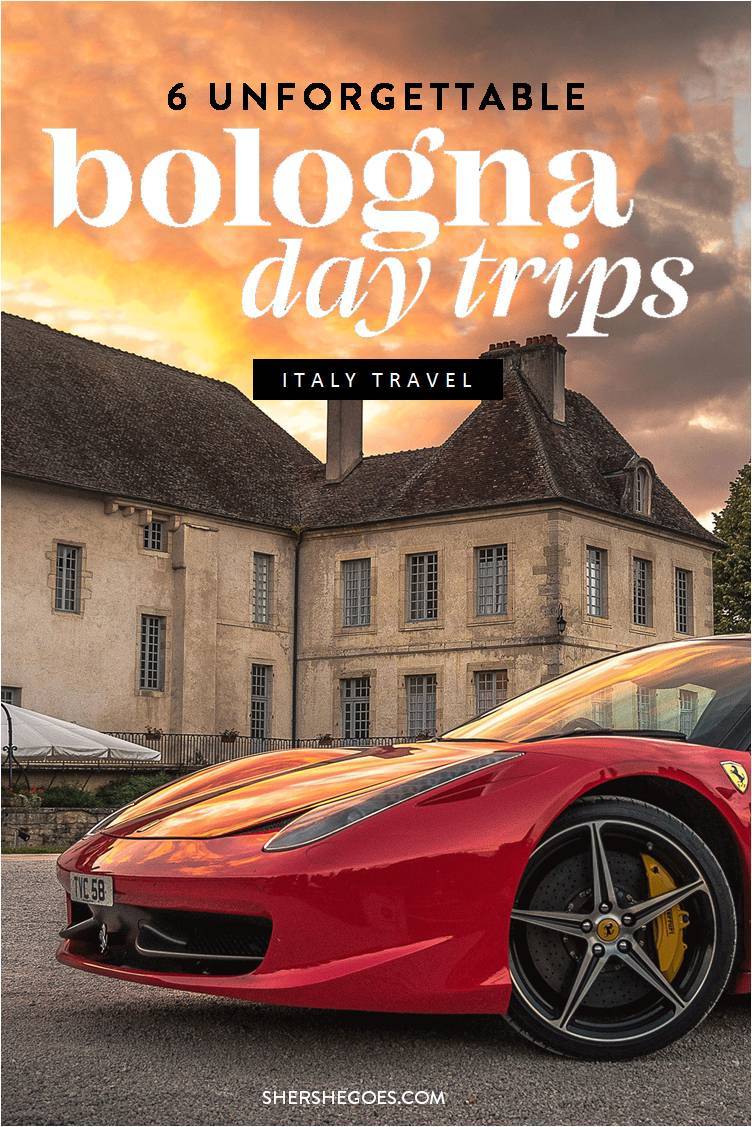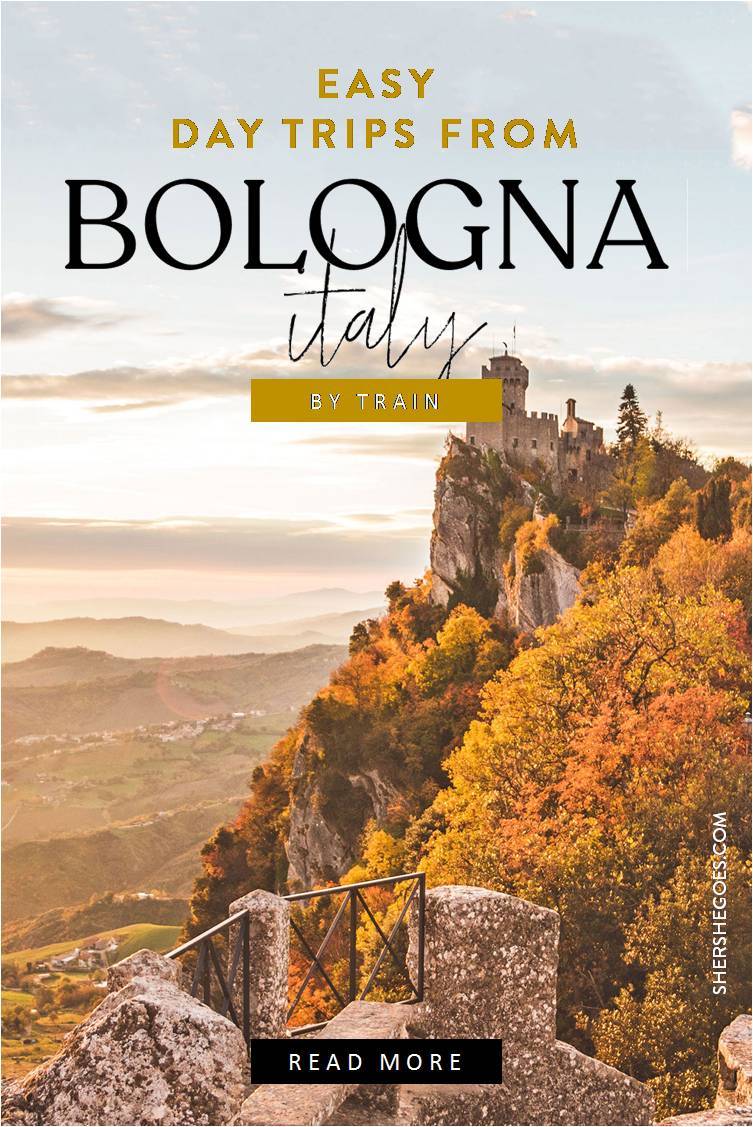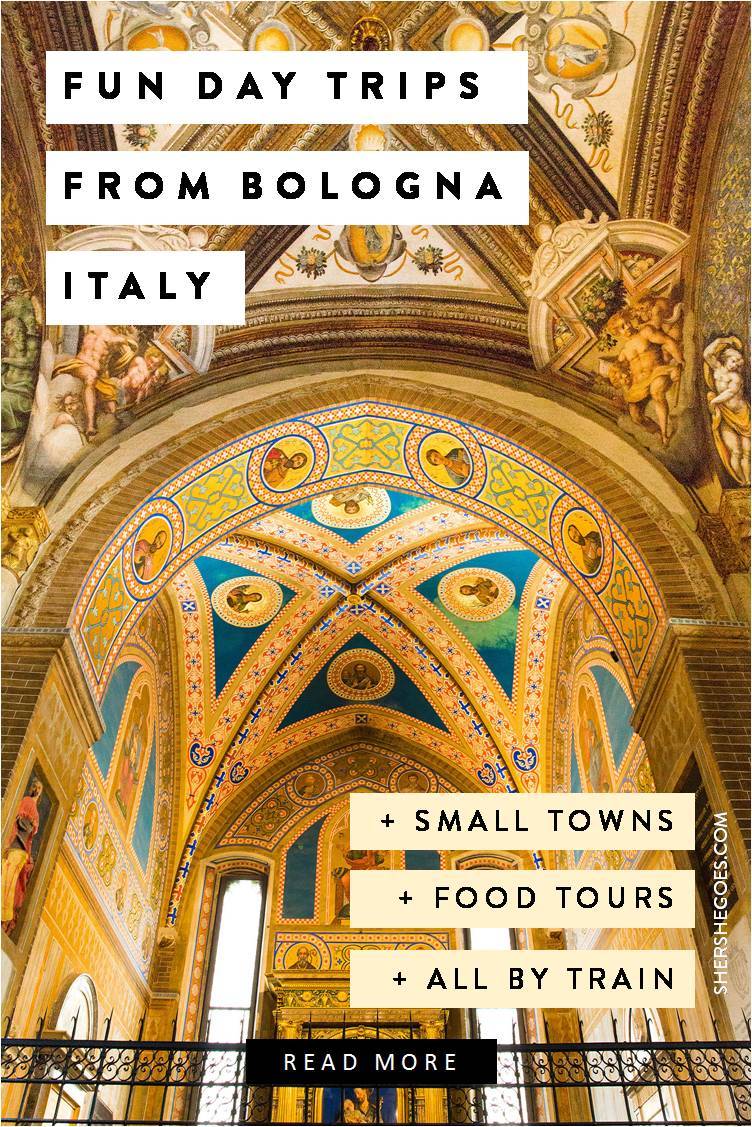 ADVERTISEMENT
---
---
Where to Stay in Bologna
Bologna's train station is about a 25-30 minute walk to Piazza Maggiore. If you're looking to use Bologna as a base to explore more of Emilia-Romagna, it's best to stay in a hotel close to the train station.
Here are 3 of the best hotels near Bologna Centrale:
1 | UNA Hotel Bologna – For a bright, modern hotel stay here. The breakfast has lots to offer (flaky croissants!) and the rooms are not only clean and comfortable but blissfully quiet. They even offer happy hour snacks at the bar!
Book rooms: Booking.com, Hotels.com | Check rates: TripAdvisor
2 | Starhotels Excelsior Bologna – Clean, modern rooms and an excellent on site dinner make this hotel a solid choice. Starhotels Bologna is right across the train station, so convenient if you have luggage.
Book rooms: Booking.com, Hotels.com | Check rates: TripAdvisor
3 | Mercure Bologna Centro – Mercure is a handy budget option right opposite the train station. They offer parking on site and the airport bus also stops right outside the front door. Rooms are clean, but slightly dated.
Book rooms: Booking.com, Hotels.com | Check rates: TripAdvisor
Read more:
Where to Eat in Bologna: The Best Restaurants
ADVERTISEMENT
---
---
Bologna Day Trips
1. Parma
Known for: parma ham & parmesan cheese
Train ride: 50-70 minutes
You've probably already heard of Parma. After all, it's the town that produces Parmigiano-Reggiano cheese and Prosciutto di Parma ham!
Parma makes for a great day trip from Bologna since it's only one hour away by train. Don't miss the town's famous octagonal baptistery, made from pink Verona marble, and consider attending an opera at the famous Teatro Regio. If you like art, the Galleria Nazionale has some famous works from Correggio
The historic center is really charming with pink and yellow Romanesque architecture. We started off with a city tour, then did some shopping and browsed the local food markets and ended our day at a delicious wine bar and restaurant.
Read more:
1 Day in Parma, Italy
We also spent a second day in the Parma countryside, visiting a parmesan cheese factory and a parma ham factory.
Note: if you're interested in touring Parma production factories, you'll need to book a tour. Most of these are family or community run operations, and so they usually are closed to public viewing unless a tour is coordinated in advance. You can book a joint parmigiano and prosciuttio tour here.
On our visit, one of the family members guided us through his family's facility sharing insight into the curing process, the production line and even the storage! The best part is there's a tasting experience at the end. We loved it!
Check availability & rates for the food tour here.
ADVERTISEMENT
---
---
2. Ferrara
Known for: the ancient Este dukes
Train ride: 20-45 minutes
Ferrara is a picturesque Renaissance town complete with a 14th century castle, thick defensive walls and a Romanesque Gothic cathedral.
For centuries, the town was ruled by the prominent Este family, whose dukes made the city a center for the arts. Check out Este Castle, with its murky moat and lavish rooms, and Diamanti Palace, distinctive for its diamond-shaped marble blocks. Ferrara is a really lovely Renaissance city and a UNESCO World Heritage site. The best way to explore is on bike!
This guided tour takes you all over the city with a local guide and covers transportation to and from Bologna.
Check availability and rates here.
---
---
3. Ravenna
Known for: Mosaics, UNESCO World Heritage Sites
Train ride: 1 hour
Ravenna is one of the most unique day trips you can take from Bologna. An ancient capital of the Byzantine empire, it's known for its early Christian mosaics.
The churches and monuments are quite famous for blending Roman, Byzantine and Gothic styles. All the building exteriors are quite plain, but the interior mosaics are perfectly preserved and brilliantly colorful.
Read more:
The Best Things to do in Ravenna
Art history lovers will love this city and in particular, this guided tour that explains the twisted history of the churches and art. There are great mosaic towns if you want to shop, fun wine bars and overall it's quite a relaxing atmosphere!
Check availability & rates here.
ADVERTISEMENT
---
---
4. Modena
Known for: balsamic vinegar, #1 Restaurant in the World
Train ride: 20-30 minutes
I first heard of the small town of Modena while watching Netflix's Chef Table. One of their episodes profiled Massimo Buttura aka, the chef behind Osteria Francescana, ranked the World's Number 1 Restaurant for several years running.
Unfortunately the restaurant was booked out the entire summer season when we looked, but Modena is worth a visit all on its own! The town is famous for its production of balsamic vinegar and also home to the famous Ferrari family.
The medieval city center is easily walkable, with most sights centered around Piazza Grande. It's a UNESCO World Heritage site with quaint cobblestone streets, a pretty 12th century Romanesque church and several great art museums. One of the most popular things is to tour a balsamic vinegar factory to learn all about the sweet, thick syrup.
Don't forget to visit the Enzo Ferrari Museum! This area of Italy is nicknamed the Motor Valley, for the abundance of car museums and luxury car manufacturers. From Lamborghini to Maserati, we toured them all on a speedy tour of Italy's best car museums.
Read more:
Motor Valley: 3 Days in Italy's Hottest Region
---
---
5. Maranello
Known for: fast cars Ferrari, Pagani & Lamborghini
If you like fast cars, there's another Ferrari museum in the town of Maranello.
Ferrari owners can take a special tour to see various parts of the production process (right on the floor, inches away from the cars) and see the different v8 and v12 car lines. The owners tour includes a look at the special projects warehouse, the Maranello museum and F1 simulator.
Unfortunately you have to own a Ferrari to take that tour (by calling your dealer to organize it) but anyone can buy a ticket to see the Maranello Ferrari museum here.
What's a bit more unique and fun is to take a Ferrari test drive tour, where you can actually drive the car! The tour sits you behind the wheel of a F430 and you drive for 30 minutes to an hour through Emilia Romagna's rolling countryside! The tour includes an internal camera to record the experience plus a ticket to the Maranello Ferrari museum.
Check availability and rates here.
---
---
6. San Marino
Known for: being the smallest country in the world
Train ride: 3.5 hours
Want to add another stamp to your passport? Take a day trip from Bologna to the Republic of San Marino, one of the world's smallest and oldest republics.
The picturesque, independent state is a remnant of Italy's city states and has somehow survived long past Milan, Florence and Venice. Completely surrounded by Italy and wonderfully green, it's got great wineries, peaceful rolling hills and a picturesque castle.
Head to the UNESCO listed capital, Città di San Marino, for a fun but touristy day trip. San Marino offers tax-free shopping so local Italians like to go for better prices!
This tour covers Piazza della Liberata square, the Basilica and a climb to the First Tower for pretty views of the Adriatic sea.
Check rates and availability here.
ADVERTISEMENT
---
---
Navigating Bologna Central Train Station
Bologna's train station is called Bologna Centrale and it's quite useful for visitors because it's a strategic stop in Italy's train network.
It connects both the north-south and the east-west routes so it's quite well-connected and it's one of the reasons why Bologna is such a great base for day trips.
With that being said, it's also one of the busiest train stations in Italy, with nearly 800 trains per day. One thing we didn't realize until it was too late, is that there are 3 platforms with the same numbers.
For example:
There's a central platform #20 plus #20-East and #20-West so you should read both your ticket and the schedule monitors very carefully to make sure you're on the right train!
On the monitors, you look up your train by the route number (not the destination) and then double check that there isn't a tiny east or west designation.
For our day trip to Ravenna we accidentally got on the wrong track and didn't realize until we were halfway to Verona – ugh!
There are 4 levels to the train station, so it can get confusing. But, the nice thing is all platforms are inter connected underground via walkway, stairs and elevators.
Here's a general guide:
Fast trains and trains stopping through Bologna will typically be in the central platform
Local trains that arrive / depart from Bologna will typically be on the western or eastern platforms
Buying Train Tickets in Italy
Train fares vary, depending on seasonality, how popular the route is, and how close to the date you are booking. Fares go up with time, so research where you want to go in advance and book all your tickets online before your trip.
Once you have your dates, you should book all departure trains right away. In some cases, we booked return trips, for other trips we weren't sure how long we wanted to spend, so we left those open to buy tickets the day of.
Remember to validate your ticket before boarding, as with all trains in Italy.
Before You Go:
Buy Train Tickets
ADVERTISEMENT
---
---
Which was your favorite Bologna day trip? Let me know in the comments!
Visiting Italy – Trip Planning Checklist
There's so much to see and do in Italy that you can visit again and again and still discover new sights. I recommend concentrating on the big 4 cities (Rome, Venice, Milan & Florence) if it's your first time and then coming back to explore either Northern Italy or Southern Italy in more depth.
Go | Flight prices from the US to Italy are highly seasonal. You can set a fare alert here to be notified of discounts. Every fall & winter, I've seen great deals to Milan. One word of caution: avoid Alitalia at all costs!
Getting Around | A convenient way to explore Italy is via high speed train. You can search train schedules and book online here. Buy your tickets in advance to save on fares. Make sure to validate your ticket on the platform!
It also helps to speak a little Italian. Brush up on your Italian language skills with Rosetta Stone. You can take 10% off with promo code CJBT10.
Stay | Book hotels in advance to save, or check here for last minute deals. Many hotels in Italy are older so don't be surprised if even 5 star accommodation feels slightly dated. Opt for a room with a view instead of breakfast, as Italians don't eat breakfast in the same way Americans do and you'll probably be disappointed with their offering.
Alternatively, groups or budget travelers can check out Airbnb. 
Protect | Lastly, be sure to visit Italy with travel insurance. Whether you get injured and need to be hospitalized, your phone gets stolen, or a flight delay leaves you with nothing but the clothes on your back, travel insurance will help when you need it most.
A rail strike occurred during our trip, unexpectedly shutting down transportation for an entire day. Get a quote for your Italy trip here.
You Might Also Enjoy:
Italy Vacation Planning Articles
The First Timer's Guide to Italy: A Classic Itinerary
THIS is the Best Time to Visit Italy
What to Wear in Italy: A Packing Checklist
Northern Italy
The Most Beautiful Places in Northern Italy (that are still a secret!)
Headed to Northern Italy? Here's the Perfect 7 Day Itinerary
Exploring Bologna: Travel Guide
Quick Guides to: Bologna Day Trips & The Best Bologna Restaurants
Visiting Parma: The Center of Parma Ham & Cheese
7 Reasons to Explore Medieval Bergamo
Visiting Ravenna's Mosaics
Test Driving Fast Cars & Touring Car Museums in Italy's Motor Valley
Cinque Terre
Plan Your Trip: Travel Guide
How to Choose Which Village to Stay
A Blissful 3 Day Cinque Terre Itinerary
The Best Cinque Terre Airbnbs for Large Groups
Quick Guides: The Best Restaurants & Popular Hiking Trails
Inspiration: Photo Diary of the 5 Villages
The Italian Lakes
Exploring Lake Como: Travel Guide & Where to Stay
Quick Guides to: Varenna, Bellagio & Villa del Babianello
Visiting Lake Maggiore
Quick Guides to: Isola Bella & Villa Taranto
Discovering Hidden Lake Orta
Follow me @Sher She Goes on