Emilia Romagna, Italy
The Emilia-Romagna region, located in northeastern Italy, is famous for many things.
Cuisine flourishes in Emilia-Romagna as cities including Reggio Emilia (Parmigiano-Reggiano cheese), Parma (Prosciutto di Parma) and Modena (balsamic vinegar) have helped put Italian cuisine on the global map with delicious food made with centuries-old traditions and recipes.
Education is also important in Emilia-Romagna, whose capital city Bologna houses the world's oldest university, the University of Bologna, which was founded in 1088 and consistently ranks among Italy's best universities to this day.
While the finer things of food and education are vibrantly celebrated in Emilia-Romagna, the region is also famous for something a little more adventurous…
ADVERTISEMENT
Motor Valley
Speed.
We're talking some of the world's greatest motor vehicles here, folks, as companies including Ducati, Lamborghini, Ferrari, and Maserati call Emilia-Romagna home.
This density of automobile production has earned Emilia-Romagna the moniker of Italy's "Motor Valley", and last month I was lucky enough to partner with the region for a 3-day tour throughout this lovely province of Italy.
Pin this post to read later ⇟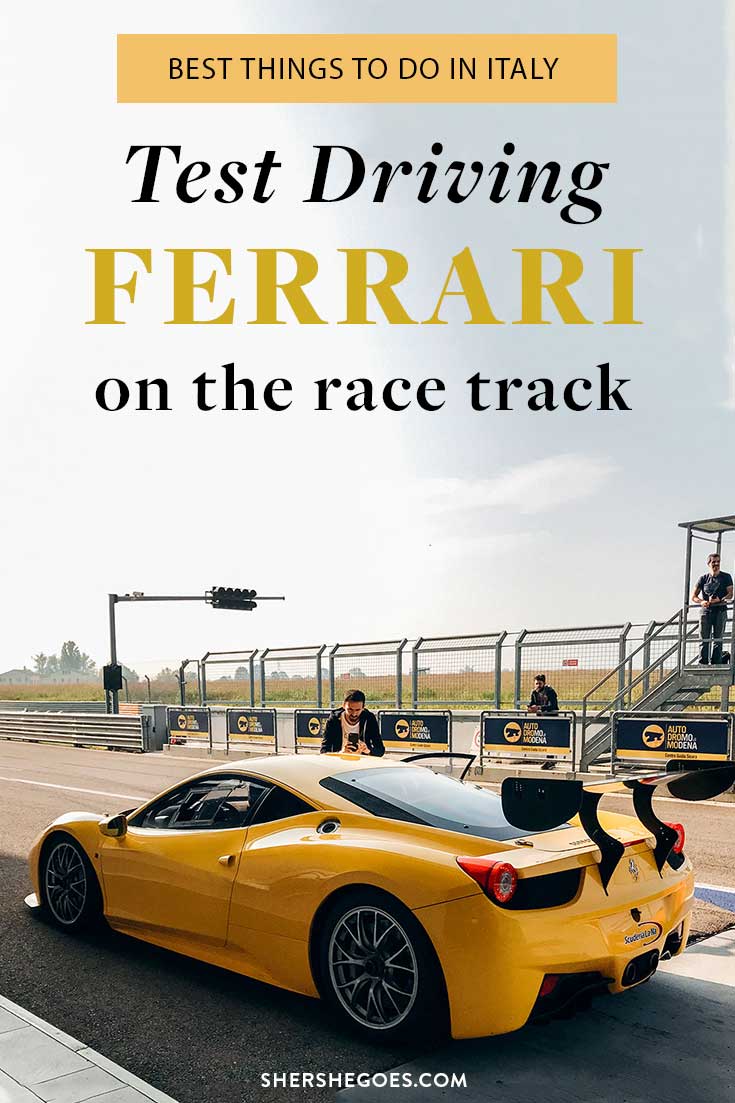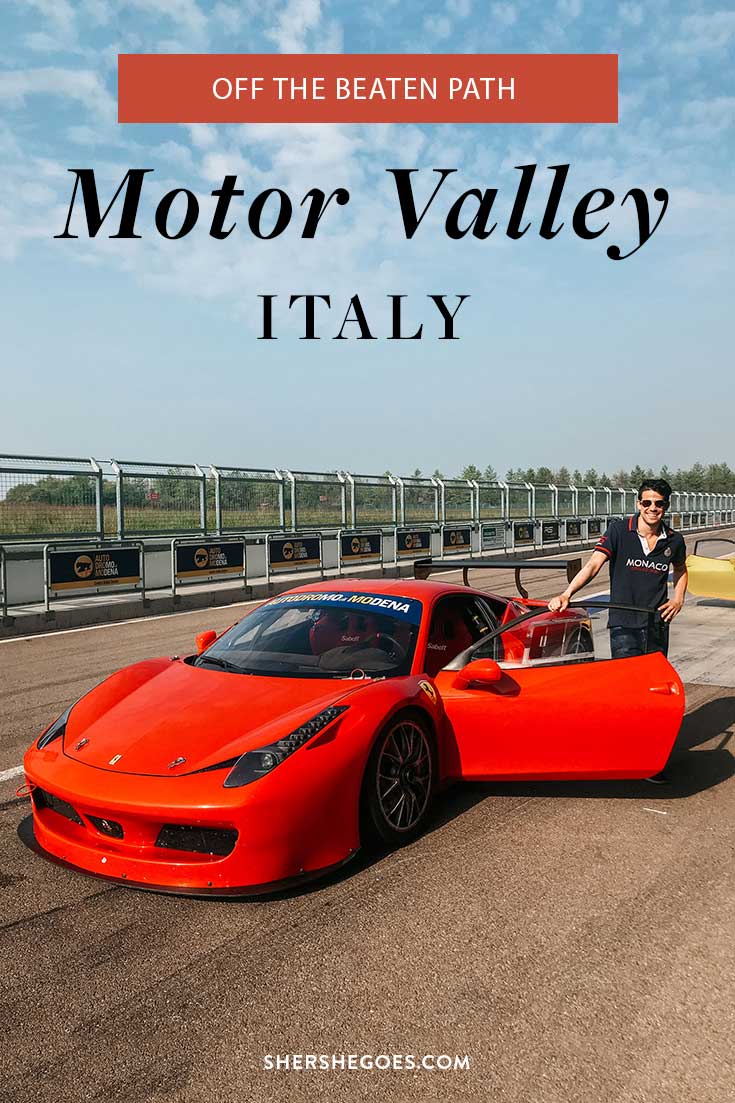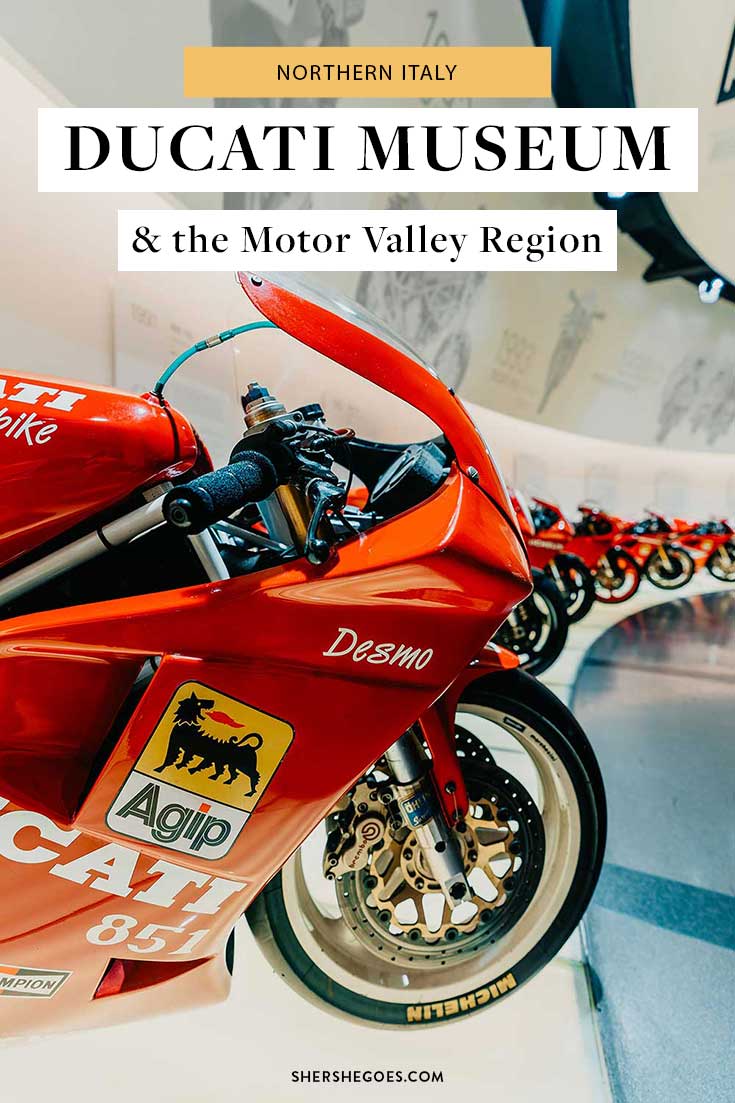 ADVERTISEMENT
---
---
Motor Valley Itinerary
If you also have the need for speed, keep reading for a fantastic 3-day itinerary through Italy's Motor Valley!
Day 1: Ducati & Lamborghini
Lying on the outskirts of Bologna, Emilia-Romagna's capital, is the factory and museum of Ducati, manufacturer of the sleekest and speediest motorcycles anywhere on the planet.
Ducati Museum
The Ducati production headquarters features a museum that is closed Wednesday and open from 9 until 6 every other day.
Entry is 17 euros per person (or 15 euros per person for groups numbering 10 or more), and guests can learn about Ducati's rich history by exploring a gorgeous showroom featuring scores of Ducati motorcycles from throughout the company's 90-year tenure.
The true highlight of visiting Ducati, however, lies in the guided factory tour.
ADVERTISEMENT
---
---
Offered at 10:15 and 3:00 every weekday except Wednesday, the guided factory tours (which cost 32 euros per person or 28 euros per person at the group rate) feature a comprehensive walk-through of the Ducati production lines.
No cameras or cellphones are allowed inside the factory, but the positive side of this is a chance to revel in a manufacturing marvel that, during Ducati's busy season, produces as many as 350 to 400 motorcycles per day!
Book a guided Ducati tour here.
ADVERTISEMENT
---
---
Lamborghini Museum
Roughly 40 minutes northwest of Bologna in the small town of Sant'Agata Bolognese lies the Museo Lamborghini, a standing testament to one of the planet's most exotic and expensive automobile companies.
Open weekdays from 9:30 to 6 (or 7, if visiting between April and October), the Lamborghini Museum offers museum entry and a guided tour for 75 euros per person.
Like Ducati, Lamborghini does not allow cameras or cell phones for the factory tour, but the experience is so unique and incredible that I doubt you'll have a tough time forgetting it, even without the photographic proof you were there!
ADVERTISEMENT
---
---
Lamborghini's very polished tour guides will walk you through the engine, chassis, and interior design lines for each automobile model – giving you the opportunity to see the literal nuts and bolts of cars that can easily start at $175,000 per model.
From there, you can check out the Lamborghini Museum proper which features a journey through Lamborghini's historical models on the lower level.
The upper level features a dazzling array of current Lamborghini models along with the museum's indisputable highlight: a real Lamborghini simulator where you can try your hand (and foot!) at paddle-clutching, downshifting, braking, and much more!
Book a guided tour of Lamborghini here.
Where to Stay in Bologna
Once back in Bologna, head to Piazza Maggiore, one of the city's many teeming town squares for a nice dinner and perhaps a glass of Lambrusco!
There are plenty of great hotels in Bologna, but my personal favorite is the Hotel Corona d'Oro, an elegant hotel lying just steps from the Two Towers, one of Bologna's most famous landmarks.
Book Rooms: Booking.com, Hotels.com
Check Rates: TripAdvisor
ADVERTISEMENT
---
---
Day 2: Ferrari
Moving to Modena for Day 2, it's all about the granddaddy of them all.
Ferrari.
The most famous name anywhere in luxury cars or motor sport, Ferrari is well worth an entire day's devotion on your tour through Italy's Motor Valley.
ADVERTISEMENT
---
---
Ferrari Museum
Spend the morning checking out the Museo Enzo Ferrari, housed in the former workshop of Enzo Ferrari's father.
Tickets are just 16 euros, and the museum is open daily from 9:30 until 6 (or 7 if visiting between April and October).
The museum features two main showrooms that showcase Ferrari's models across its luxury sports car and racing (primarily Formula 1, wherein Ferrari is the most decorated Constructor of all time!) divisions.
The museum also houses a Ferrari shop, where, amid the dazzling red and white, you can find tons of Ferrari swag to decorate your (or your friends' and family's!) wardrobe!
After spending all that time looking at Ferrari cars, you'll probably find yourself wondering what driving in one would actually be like, right?
Book a guided tour of the Ferrari Museum here.
ADVERTISEMENT
---
---
Ferrari Racing Track
Well, just a short distance away from Museo Enzo Ferrari lies the Autodromo di Modena, a racing circuit whose operators offer unbelievable experiences featuring the Ferrari 458 Challenge, a vehicle specifically designed for racing.
While packages involving laps around the circuit (as either passenger or driver) are pretty expensive (starting in the hundreds of euros), the experience – for those lucky enough – is one filled with speed, adrenaline, and unforgettable memories!
Where to Stay in Modena
A small but delightfully quaint town, Modena is known for its world-class restaurants, highlighted by the Osteria Francescana from 3-Michelin-star chef Massimo Bottura.
For a truly unique hotel experience, check out Modena's Hotel Castello, a secluded estate that was once the private residence of a Modena noble family!
Book Rooms: Booking.com, Hotels.com
Check Rates: TripAdvisor
ADVERTISEMENT
---
---
Day 3: Maserati
During your last day in Italy's Motor Valley, spend the day checking out the Emilia-Romagna region's incredible collection of Maserati cars, distinguished by the company's instantly recognizable trident logo!
Our journey through Maserati's luxury sports cars starts, however, with an Italian entrepreneur named Umberto Panini.
And, if you've never heard of Umberto Panini, odds are you've probably touched his work.
That's because Mr. Panini was the inventor of the famous sticker books that brightened the imaginations of millions of children worldwide!
ADVERTISEMENT
---
---
Parmigiano Reggiano Cheese Factory
Having made his fortune in Venezuela, Panini returned to Italy and started Hombre Farm, an estate featuring hundreds of cows producing – you guessed it – authentic Parmigiano-Reggiano cheese.
Fearing that Maserati, which was going through financial turmoil in the late 20th-century, would lose a significant amount of its collection to international auction, Panini stepped in and basically said, You know what, I've got so much money from these stickers, why don't I buy all these cars myself and keep them in Italy!
ADVERTISEMENT
---
---
Maserati Car Collection
What that means for visitors today is an incredible opportunity to, right alongside hundreds of cows and thousands of Parmigiano-Reggiano wheels, see dozens of Maserati models, from race cars used by the great British driver Stirling Moss to recent luxury vehicles!
Tours of Hombre are available on weekdays from 9 to 12 and 3 to 5, and again on Saturdays from 9 to 12.
And, remarkably, this entire experience is available with tickets starting at just 5 euros!
Overnight: Modena
Spend one last night in Modena before flying out from Bologna regional airport.
ADVERTISEMENT
---
---
Visiting Italy – Trip Planning Checklist
There's so much to see and do in Italy that you can visit again and again and still discover new sights. I recommend concentrating on the big 4 cities (Rome, Venice, Milan & Florence) if it's your first time and then coming back to explore either Northern Italy or Southern Italy in more depth.
Go | Flight prices from the US to Italy are highly seasonal. You can set a fare alert here to be notified of discounts. Every fall & winter, I've seen great deals to Milan. One word of caution: avoid Alitalia at all costs!
Getting Around | A convenient way to explore Italy is via high speed train. You can search train schedules and book online here. Buy your tickets in advance to save on fares. Make sure to validate your ticket on the platform!
It also helps to speak a little Italian. Brush up on your Italian language skills with Rosetta Stone. You can take 10% off with promo code CJBT10.
Stay | Book hotels in advance to save, or check here for last minute deals. Many hotels in Italy are older so don't be surprised if even 5 star accommodation feels slightly dated. Opt for a room with a view instead of breakfast, as Italians don't eat breakfast in the same way Americans do and you'll probably be disappointed with their offering.
Alternatively, groups or budget travelers can check out Airbnb. 
Protect | Lastly, be sure to visit Italy with travel insurance. Whether you get injured and need to be hospitalized, your phone gets stolen, or a flight delay leaves you with nothing but the clothes on your back, travel insurance will help when you need it most.
A rail strike occurred during our trip, unexpectedly shutting down transportation for an entire day. Get a quote for your Italy trip here.
You Might Also Enjoy:
Italy Vacation Planning Articles
The First Timer's Guide to Italy: A Classic Itinerary
THIS is the Best Time to Visit Italy
What to Wear in Italy: A Packing Checklist
Northern Italy
The Most Beautiful Places in Northern Italy (that are still a secret!)
Headed to Northern Italy? Here's the Perfect 7 Day Itinerary
Exploring Bologna: Travel Guide
Quick Guides to: Bologna Day Trips & The Best Bologna Restaurants
Visiting Parma: The Center of Parma Ham & Cheese
7 Reasons to Explore Medieval Bergamo
Visiting Ravenna's Mosaics
Test Driving Fast Cars & Touring Car Museums in Italy's Motor Valley
Cinque Terre
Plan Your Trip: Travel Guide
How to Choose Which Village to Stay
A Blissful 3 Day Cinque Terre Itinerary
The Best Cinque Terre Airbnbs for Large Groups
Quick Guides: The Best Restaurants & Popular Hiking Trails
Inspiration: Photo Diary of the 5 Villages
The Italian Lakes
Exploring Lake Como: Travel Guide & Where to Stay
Quick Guides to: Varenna, Bellagio & Villa del Babianello
Visiting Lake Maggiore
Quick Guides to: Isola Bella & Villa Taranto
Discovering Hidden Lake Orta
Follow me @Sher She Goes on