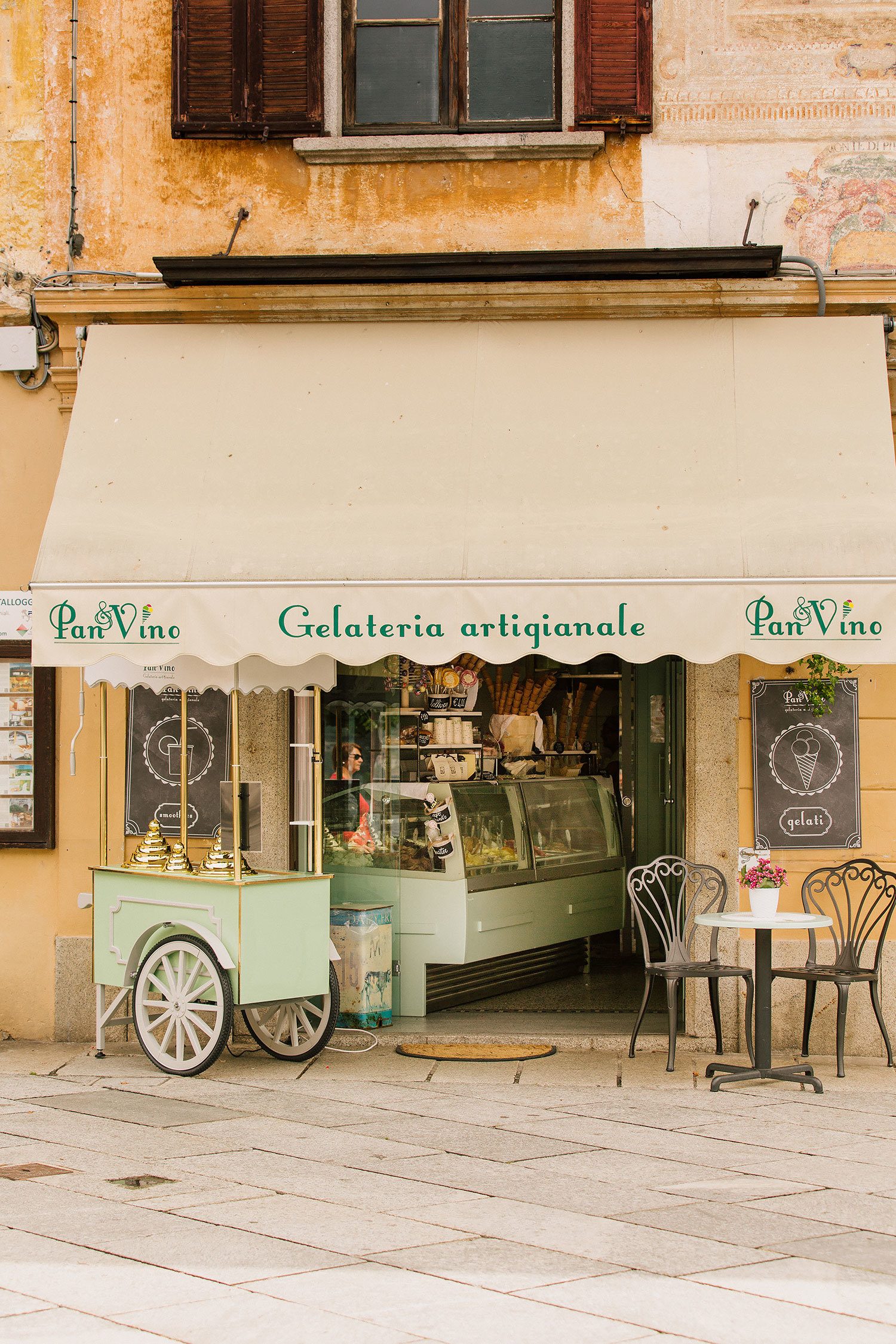 Lake Orta, Italy
If Lake Como is for the rich and famous and Lake Maggiore is for the garden lovers, Lake Orta is for travelers who like to be the first to discover hidden gems. This secret sister to the Italian Lakes is frequented by mostly the Milanese on the weekends, and practically empty otherwise.
Here's some insider tips for what to see and do in Lake Orta, with lots of photos so you can see it for yourself!
Or save this article to read later by pinning it ⇟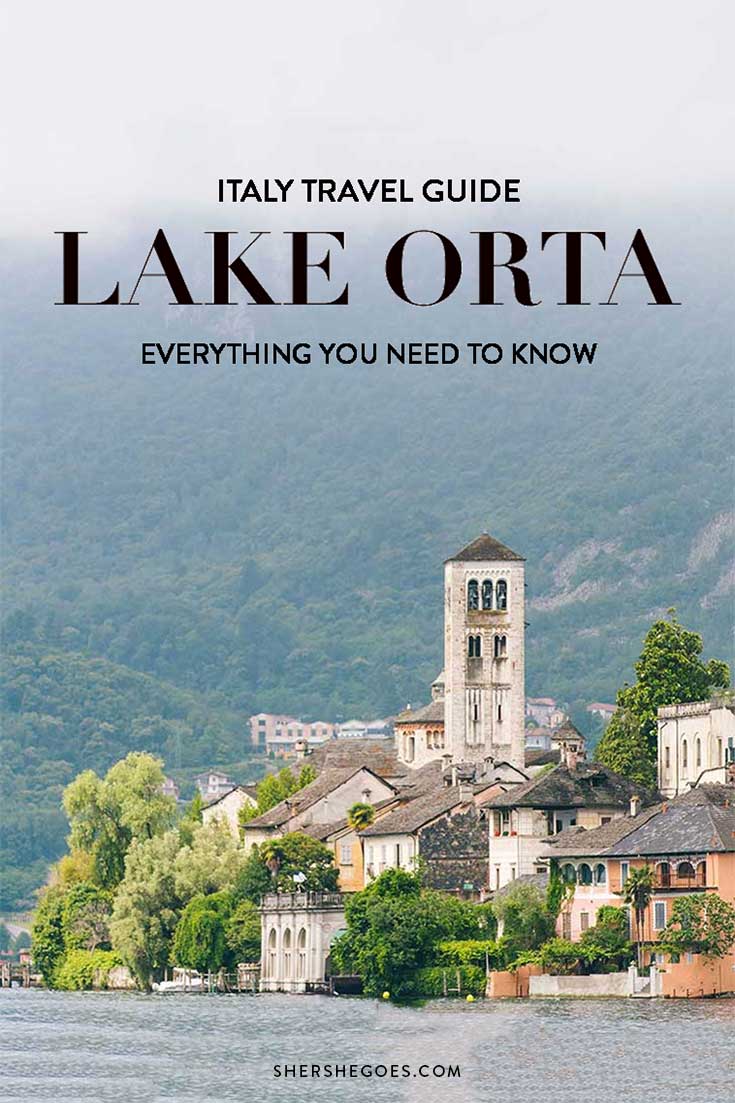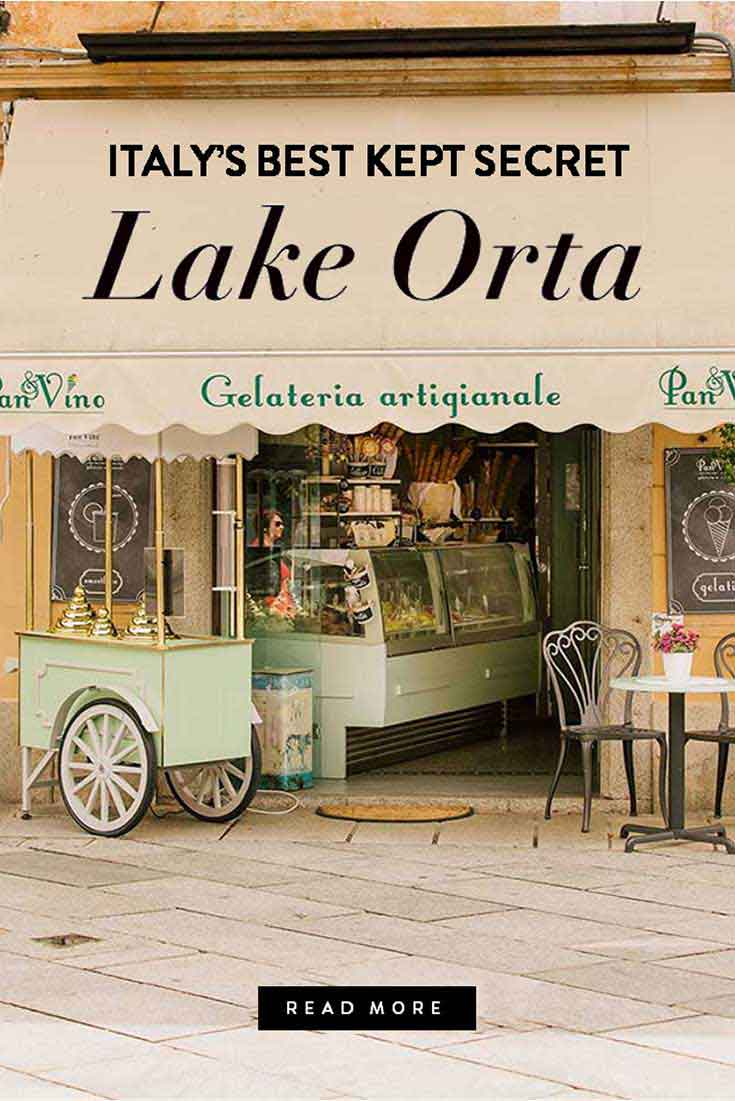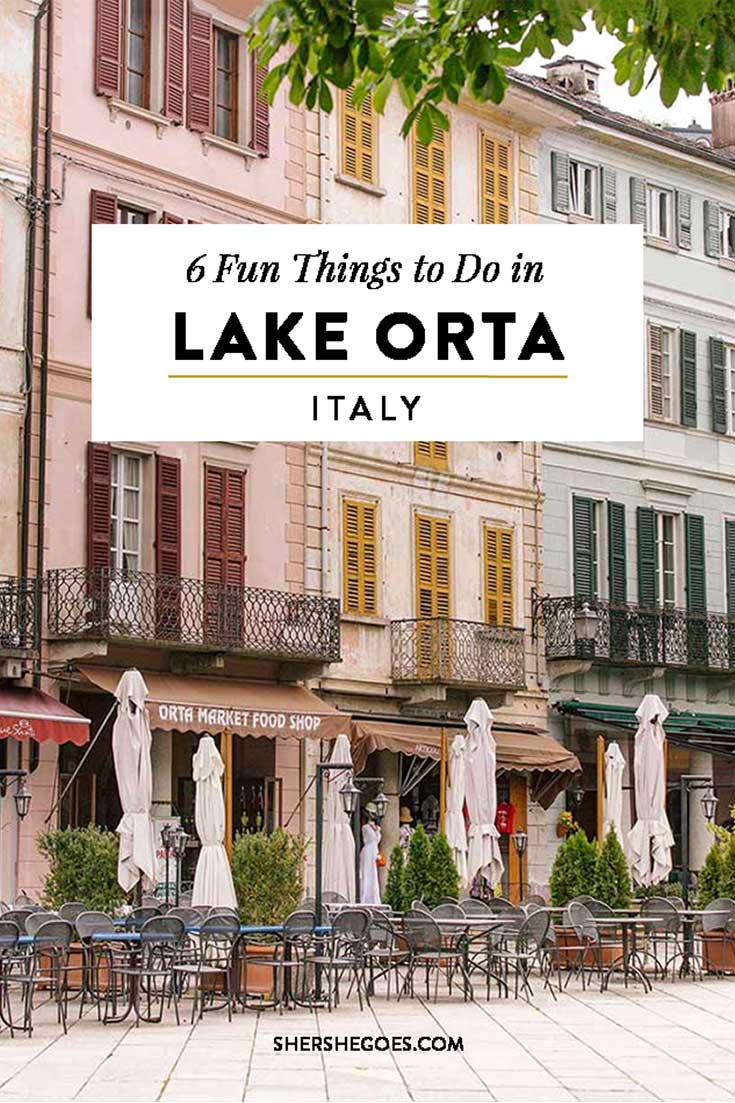 ADVERTISEMENT
---
---
Lago D'Orta can easily be visited on a day trip from Lake Maggiore.
Our Italian guide showed us the island and lakeside hot spots, but I didn't even realize at the time that it was an entirely separate lake! We spent a leisurely day exploring Orta's sleepy medieval town, island monastery and colorful piazza.
While it might not be as popular as the other lakes of Northern Italy, Lake Orta makes up for it in charm.
Read more:
The Most Beautiful Small Towns in Northern Italy
ADVERTISEMENT
---
---
Lago D'Orta
Lake Orta's nickname among the Milanese is La Cenerentola, or Cinderella, as local Italians think it's just as beautiful as its more popular neighbors and a bit of a hidden gem.
If you visit, you'll find the lake quite peaceful, with soaring mountains in the backdrop and misty low hanging clouds. Noticeably what you won't find are the huge tourist hoards which crowd Lake Maggiore and Lake Como!
I loved it! It felt really quaint and a bit old fashioned, but in a peaceful way. We first took a boat to visit the island monastery of San Giulio.
ADVERTISEMENT
---
---
Isola San Giulio
San Giulio Island is a tiny island in the middle of Lake Orta, easily walkable in under an hour.
The main thing to see is the Benedictine monastery, with its pretty pastel frescoes and opulent sculptures. Only a handful of nuns live on the entire island to take care of the basilica so San Giulio feels like a peaceful step back in time.
ADVERTISEMENT
---
---
Chiesa di San Giulio
Signs guide visitors around the church. Going one way, you can take "the way of silence" while the opposite path guides you to the "way of meditation".
After exploring the basilica of San Giulio, take the circular path outside which takes you on a walking route of the entire small island.
ADVERTISEMENT
---
---
San Giulio
Our guide mentioned there used to be families who lived on San Giulio but they've mostly left, leaving behind their dilapidated villas. I was really amused by all the funky door knockers they had!
San Giulio is a spiritual place – every couple yards you'll find meditation quotes and inspirational snippets of wisdom. I think you're meant to walk the main street of silence in contemplation.
From here, we took a boat to reach Orta's main town.
ADVERTISEMENT
---
---
Ferry to Orta
The boat ride itself was a short, calm ride and the perfect way to see all of Orta's beautiful waterfront villas. Most homes have their own dock and small boat, covered by curving ivy leaves.
Each palazzo on the shore is a slightly different shade of pastel, which stands out from the deep blue water and misty mountains. While all of the homes looked a bit old and faded, it definitely contributed to the romantic atmosphere!
After just a couple minutes, we reached Orta San Giulio, the main village.
ADVERTISEMENT
---
---
Orta San Giulio
Orta San Giulio is a small pedestrian town with a colorful main piazza and two important churches: a 12th century basilica and 19th century monastery. The town was originally named Lago di San Giulio, after the local patron Saint Julius.
Today, the town remains famous for religious pilgrimage due to its position on the slope of Sacro Monte, one of 9 sacred mountains in Northern Italy. There are over 20 chapels built into these cliffs, all dedicated to Saint Francis of Assisi, and UNESCO has classified Orta San Giulio on its World Heritage List.
Religious affiliations aside, Lake Orta is worth a visit for its romantic atmosphere. Enveloped by thick woodland, backed by tall mountains and occasionally hidden by misty fog, the medieval villages of Orta are captivating.
Aside from a day tripping tour group, we had the entire town to ourselves!
ADVERTISEMENT
---
---
Things to Do in Lake Orta
You can easily visit Lake Orta in one leisurely afternoon. The main sights are really not much at all – just leisurely exploration on food, a peek inside the pretty churches and some sunbathing or gelato by the docks.
1. Visit the Benedictine Monastery
Ferry captains will take you to the tiny church island for just 4 to 5 euros round trip. Learn about the local nuns and then explore the path which circles the monastery and takes you in a full loop around the island.
2. Climb Sacro Monte
Hikers will appreciate the fresh air and fantastic views high up on the mountain.
3. Swim at Orta Beach Club
If you want to go for a dip, don't do it at the harbor. All the constant ferry activity can be dangerous. Instead, head to Orta Beach Club for a proper swim or just sunbathe on their lounge chairs. You can also rent kayaks!
ADVERTISEMENT
---
---
4. Visit the Church of the Assumption
This quaint yellow church sits on a hill overlooking the town. Climb the steps for some great views of Piazza Mote and see where all the locals get married.
5. Grab Gelato at Pan Vino
This is the best gelato shop in town (maybe even the entire Italian Lakes region) and conveniently located right on the main piazza. Grab a cone, fill it with two of their house-made gelato flavors and enjoy it on the waterfront benches.
6. Visit During the Poetry Festival
In the 19th century, many writers and poets were drawn to Orta's mystical qualities and Friedrich Nietzsche, Lord Byron, Honoré de Balzac and Robert Browning were all frequent visitors. Orta holds a popular poetry festival each fall, where poets from all over the world get to indulge their imaginations for a week or so!
ADVERTISEMENT
---
---
Where to Stay in Lake Orta
Orta is not a tourist hot spot, so most accommodations in the area are family run, inexpensive hotels. Airbnb is a great option as well, especially if you plan to stay for a longer period.
But without a doubt, the place to stay in Lake Orta is Villa Crespi. This luxurious Moorish-style castle has exquisite apartments that are lavishly decorated.
There's also a fantastic on-site restaurant that has two Michelin stars where chef Antonio Cannavacciulo focuses on modern Mediterranean cuisine and incredibly fresh seafood. This is the place to treat yourself!
Book rooms: Hotels.com, Booking.com
Check prices: TripAdvisor
ADVERTISEMENT
---
---
From Milan to Lake Orta
Lake Orta is about 130 km from Turin, and about 70 km from Milan. We went from Milan via car and the journey took roughly an hour.
If you're not renting a car, you can take the train from Milan to Stresa, and then book a tour or private boat to take you to Orta. Check the Italy train schedule and buy tickets online here. In Italy, train fares increase with time, so book your tickets once you know your travel dates.
Before You Go:
Buy Train Tickets
ADVERTISEMENT
---
---
Which lake are you most looking forward to visiting?
Visiting Italy – Trip Planning Checklist
There's so much to see and do in Italy that you can visit again and again and still discover new sights. I recommend concentrating on the big 4 cities (Rome, Venice, Milan & Florence) if it's your first time and then coming back to explore either Northern Italy or Southern Italy in more depth.
Go | Flight prices from the US to Italy are highly seasonal. You can set a fare alert here to be notified of discounts. Every fall & winter, I've seen great deals to Milan. One word of caution: avoid Alitalia at all costs!
Getting Around | A convenient way to explore Italy is via high speed train. You can search train schedules and book online here. Buy your tickets in advance to save on fares. Make sure to validate your ticket on the platform!
It also helps to speak a little Italian. Brush up on your Italian language skills with Rosetta Stone. You can take 10% off with promo code CJBT10.
Stay | Book hotels in advance to save, or check here for last minute deals. Many hotels in Italy are older so don't be surprised if even 5 star accommodation feels slightly dated. Opt for a room with a view instead of breakfast, as Italians don't eat breakfast in the same way Americans do and you'll probably be disappointed with their offering.
Alternatively, groups or budget travelers can check out Airbnb. 
Protect | Lastly, be sure to visit Italy with travel insurance. Whether you get injured and need to be hospitalized, your phone gets stolen, or a flight delay leaves you with nothing but the clothes on your back, travel insurance will help when you need it most.
A rail strike occurred during our trip, unexpectedly shutting down transportation for an entire day. Get a quote for your Italy trip here.
You Might Also Enjoy:
Italy Vacation Planning Articles
The First Timer's Guide to Italy: A Classic Itinerary
THIS is the Best Time to Visit Italy
What to Wear in Italy: A Packing Checklist
Northern Italy
The Most Beautiful Places in Northern Italy (that are still a secret!)
Headed to Northern Italy? Here's the Perfect 7 Day Itinerary
Exploring Bologna: Travel Guide
Quick Guides to: Bologna Day Trips & The Best Bologna Restaurants
Visiting Parma: The Center of Parma Ham & Cheese
7 Reasons to Explore Medieval Bergamo
Visiting Ravenna's Mosaics
Test Driving Fast Cars & Touring Car Museums in Italy's Motor Valley
Cinque Terre
Plan Your Trip: Travel Guide
How to Choose Which Village to Stay
A Blissful 3 Day Cinque Terre Itinerary
The Best Cinque Terre Airbnbs for Large Groups
Quick Guides: The Best Restaurants & Popular Hiking Trails
Inspiration: Photo Diary of the 5 Villages
The Italian Lakes
Exploring Lake Como: Travel Guide & Where to Stay
Quick Guides to: Varenna, Bellagio & Villa del Babianello
Visiting Lake Maggiore
Quick Guides to: Isola Bella & Villa Taranto
Discovering Hidden Lake Orta
Follow me @Sher She Goes on