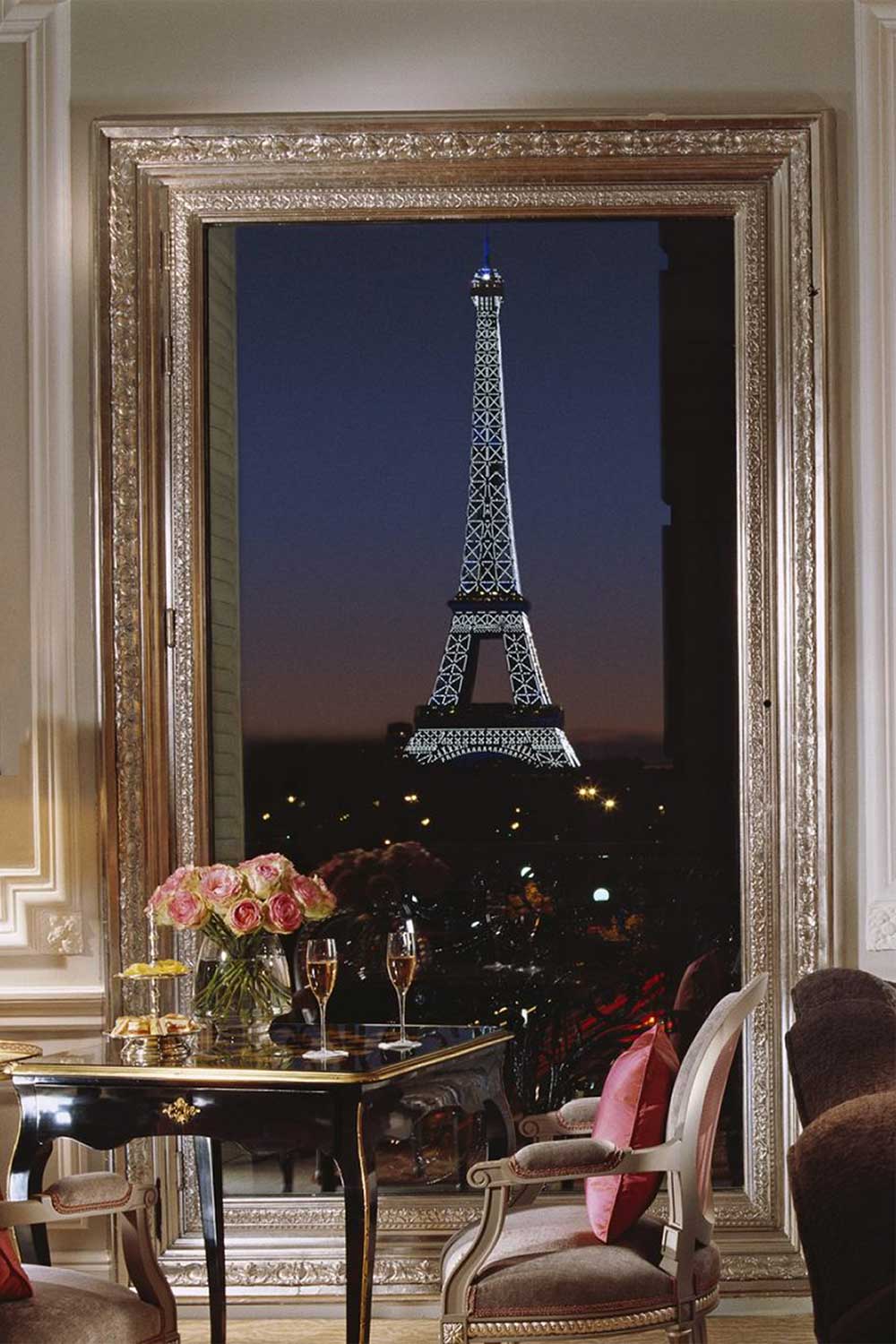 Paris Hotels with a View
Nothing welcomes you to Paris quite like a frontal view of the Eiffel Tower, picture framed in your hotel bedroom window.
The Iron Lady is one of the world's most recognized landmarks, and for a price, you can wake up to a view of her while eating breakfast on your balcony and go to bed with her twinkling lights lulling you to sleep.
Here are the handful of luxury hotels in Paris that offer beautiful views of the Eiffel Tower!
Or save this article to read later by pinning it ⇟
ADVERTISEMENT
Best Paris Hotels with a View
Stay in one of these amazing properties for unparalleled views. They cost a pretty penny, but can be worth it if you want that picture perfect moment!
On a budget? No worries, consider renting a Paris Airbnb instead. You can find small, but affordable apartments with views of the Eiffel Tower.
For more middle range hotels, keep reading!
Read more:
5 Incredible Airbnbs with Eiffel Tower Views
ADVERTISEMENT
---
---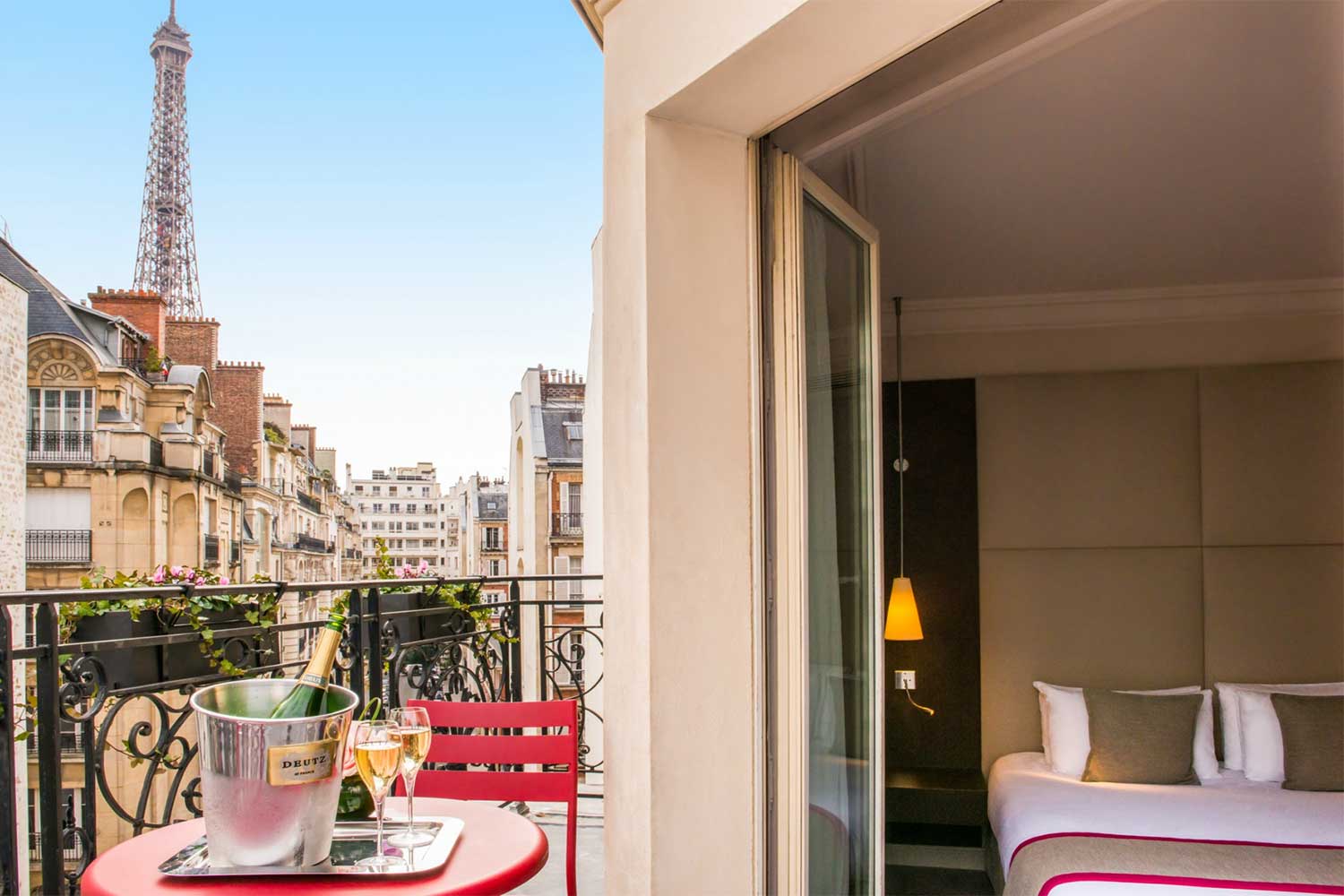 What area is the Eiffel Tower in Paris?
The Eiffel Tower is located in the 7th Arrondissement of Paris, a neighborhood that oozes wealth, privilege and charm.
This district has been fashionable since the days of Louis XIV, when the highest French nobility took up residence here, and continues to be known as one of the top richest neighborhoods in Paris.
So it comes as no surprise that some of the most luxurious hotels in France are located here, each boasting prime views of the Iron Lady – from the side, from the front, from balconies and atop roof terraces, you'll have unobstructed, amazing views of all of Paris.
ADVERTISEMENT
---
---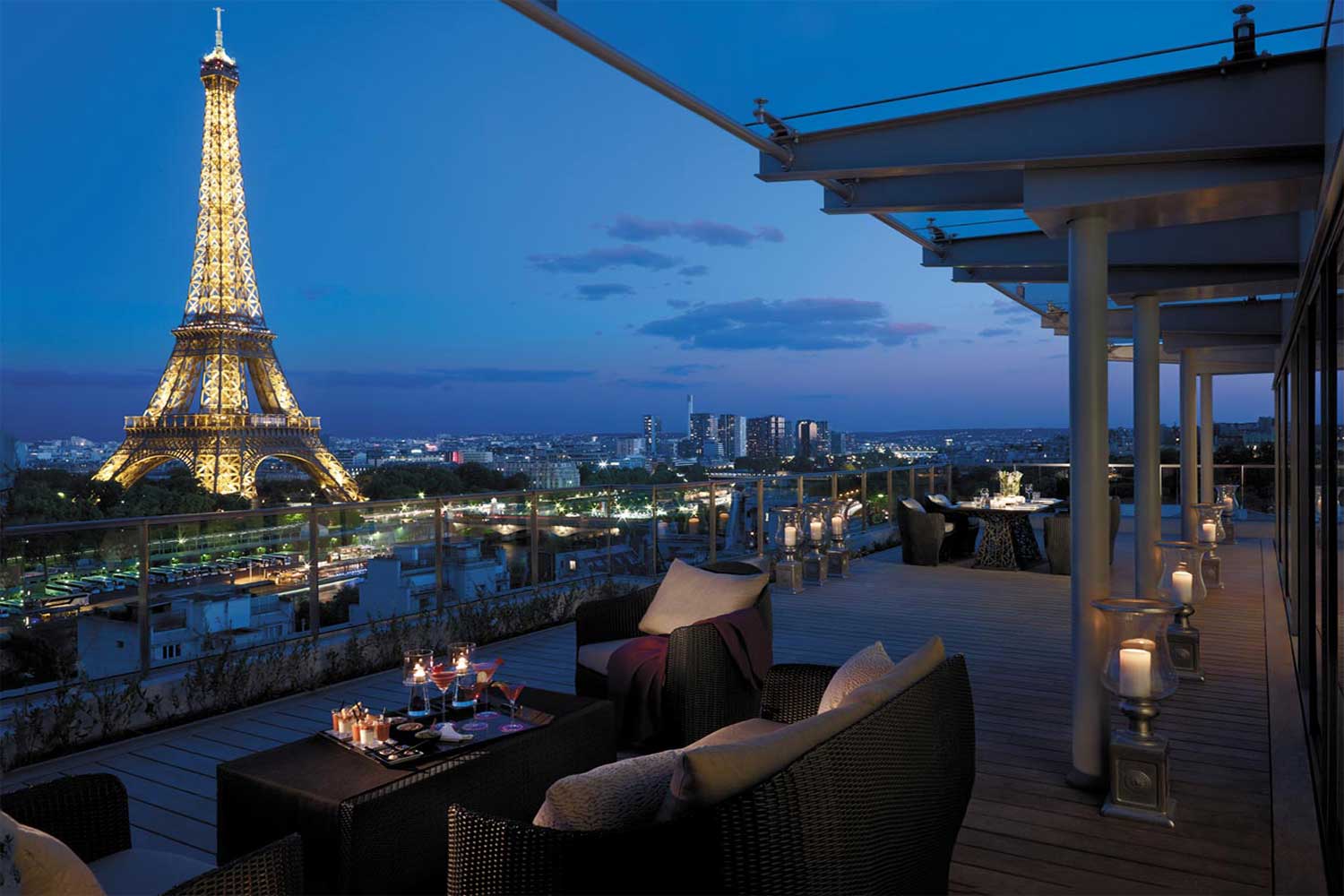 Staying in the 7th Arrondissement
While staying here isn't cheap, the experience is priceless.
In addition to the iconic Eiffel Tower, the 7th is home to a whole host of other famous Paris landmarks: the Champs de Mars, Musee d'Orsay, Musee Rodin, Hotel des Invalides and more. There are wide avenues, beautiful sidewalk cafes for people watching, world renowned restaurants to grab dinner and open air food markets to explore on sunny afternoons.
Whether you're a first time visitor or a die hard lover of Paris, there's no where more glamorous to base yourself than on the Left Bank.
Many of the hotels here are located in historic mansions, with beautiful architecture details, white glove service and spacious suites. There's great transportation too, with lots of metro, bus and RER lines criss crossing through!
Without further ado, here are all the Paris hotels with prime views of the tower.
ADVERTISEMENT
---
---
Best Hotels in Paris with a View of the Eiffel Tower
It's funny that we view the Eiffel Tower today as a symbol of Paris. When it was originally built for the 1889 World Fair, it was heavily criticized by designers. It was also meant to be temporary!
Lucky for us, the wrought iron beauty is a permanent fixture. Here's a complete list of beautiful Parisian hotels with views of the Eiffel Tower.
1. Balzac Eiffel Tower
---
2. Jardins d'Eiffel
ADVERTISEMENT
---
---
3. Eiffel Trocadero
---
4. Hyatt Paris
ADVERTISEMENT
---
---
5. Le Walt
---
6. Hotel Champ du Mars
ADVERTISEMENT
---
---
7. Hotel Raphael
---
8. Splendid Etoile
ADVERTISEMENT
---
---
9. San Regis
---
10. La Clef Tour Eiffel
ADVERTISEMENT
---
---
11. Le Metropolitan
---
12. Pullman Paris
ADVERTISEMENT
---
---
13. Sofitel Paris
---
14. The Peninsula
ADVERTISEMENT
---
---
15. Le Meurice
---
16. Plaza Athénée
ADVERTISEMENT
---
---
17. Shangri La
ADVERTISEMENT
---
---
Which hotel you would pick! Or, if you stayed in a great Paris hotel with a view, let me know in the comments!
You Might Also Enjoy:
Paris Vacation Planning Articles
3 Days in Paris: A Travel Guide & Itinerary
What to Wear in France (to Blend in with Chic Parisians!)
Where to Stay in Paris
Luxurious Hotels with Eiffel Tower Views
Cozy Airbnbs with a View of the Eiffel Tower
Popular Paris Sights 
Musee d'Orsay & The D'Orsay Clock
Notre Dame & its Rooftop Gargoyles
Paris Off the Beaten Path
Musee Jacquemart Andre and The Paris Pantheon
Where to Eat in Paris
Delicious Desserts in Paris
Lunch at Paul & a Romantic Dinner at Potager du Pere Thierry
Outside Paris
Day Trip to Giverny, Vernon & Auvers sur Oise
Exploring Normandy
Follow Sher She Goes on
Youtube | Instagram | Facebook | Twitter | Pinterest | Bloglovin