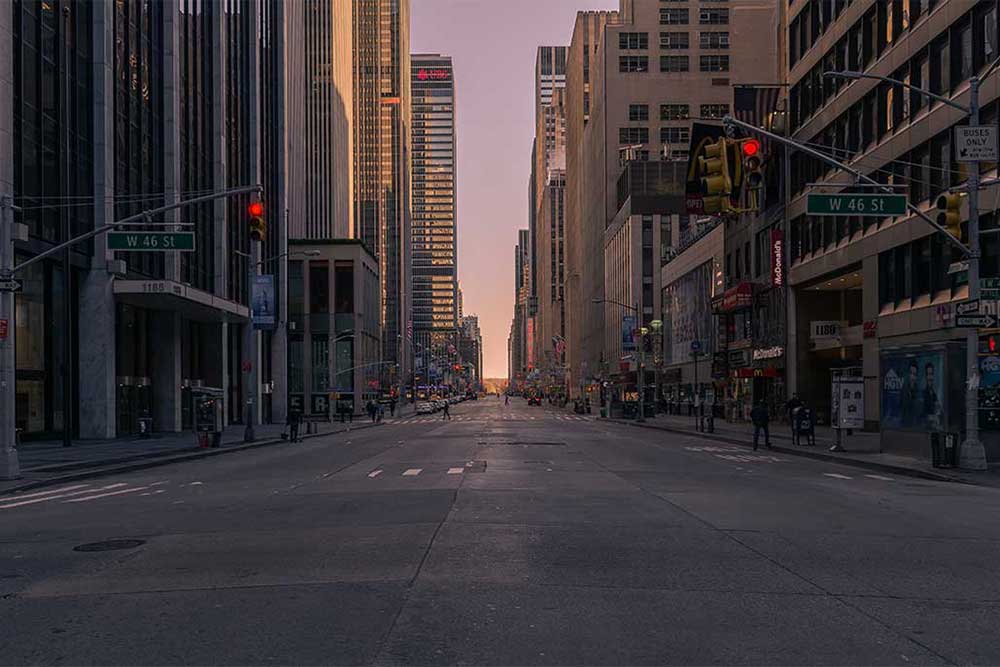 Getting Around New York City
Growing up in a one-stoplight, two-school, truly Southern town, I still remember well how overwhelming New York was when I first visited nearly 15 years ago (!) on a school field trip.
The lights were blinding, the people were everywhere, and getting around New York City simply terrorized my young and impressionable psyche.
For all the locals' talk of "But New York is so easy to navigate, it's a grid system, it's a grid system bro," most normal people realize figuring how to get around NYC is a nightmare.
ADVERTISEMENT
Knowing how to operate the subway and bus system, making the right decision between Uber and New York taxis, and being willing to walk just a little bit more can all be effective (cost and otherwise) ways to manage New York.
It's probably taken all 6 years I've lived in New York to feel truly comfortable getting around this crazy city!
But now that I have, I can enjoy spending time in the Big Apple without needing to feel like Christopher Columbus or Magellan to do so. Don't worry – today's post will distill 6 years of knowledge into one easy-to-digest guide, in minutes.
Keep reading for a local's ultimate guide to getting around New York City!
ADVERTISEMENT
---
---
How to Travel in New York City
There are so many ways of getting around NYC that I figured I'd break it down by transportation method. From getting into town from the airport, to navigating the NYC subway and bus, we've got it covered.
Click a link to jump straight to a section!
Keep reading, or pin this post to read later ⇟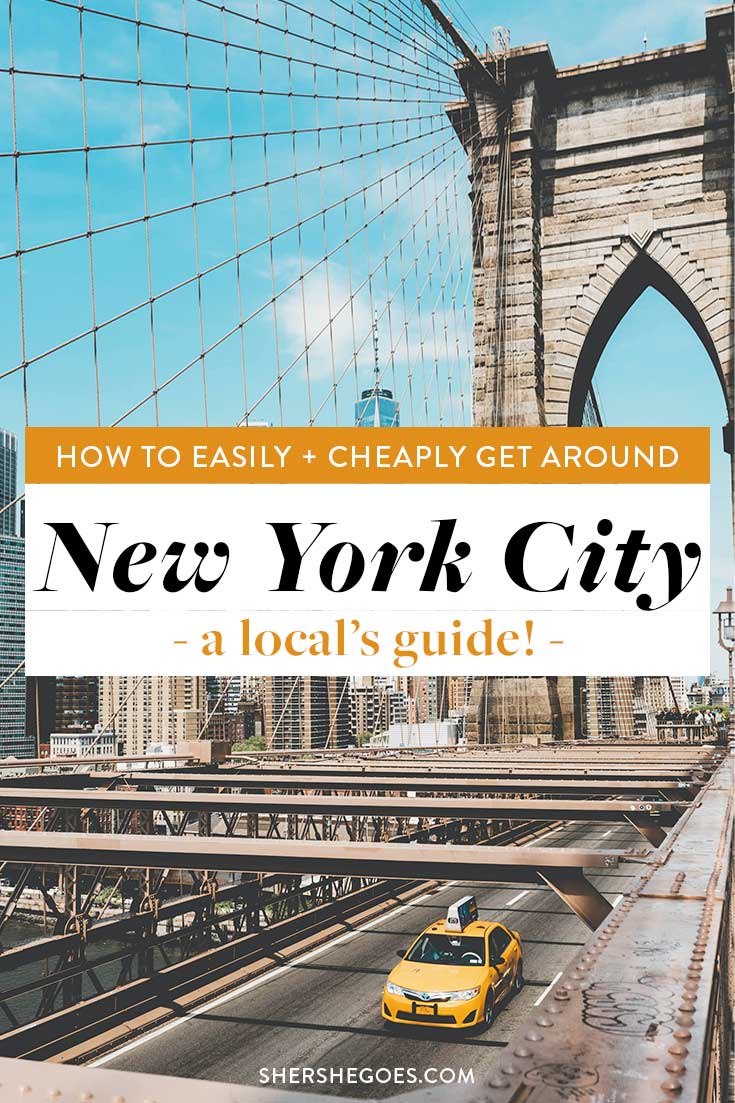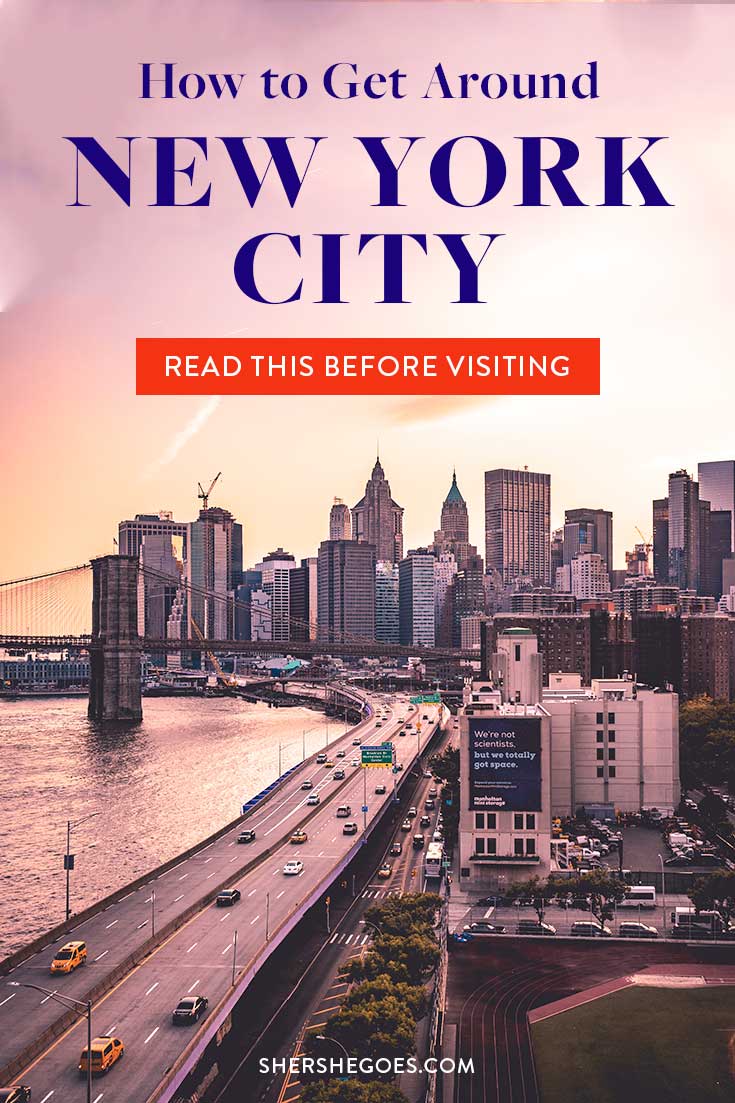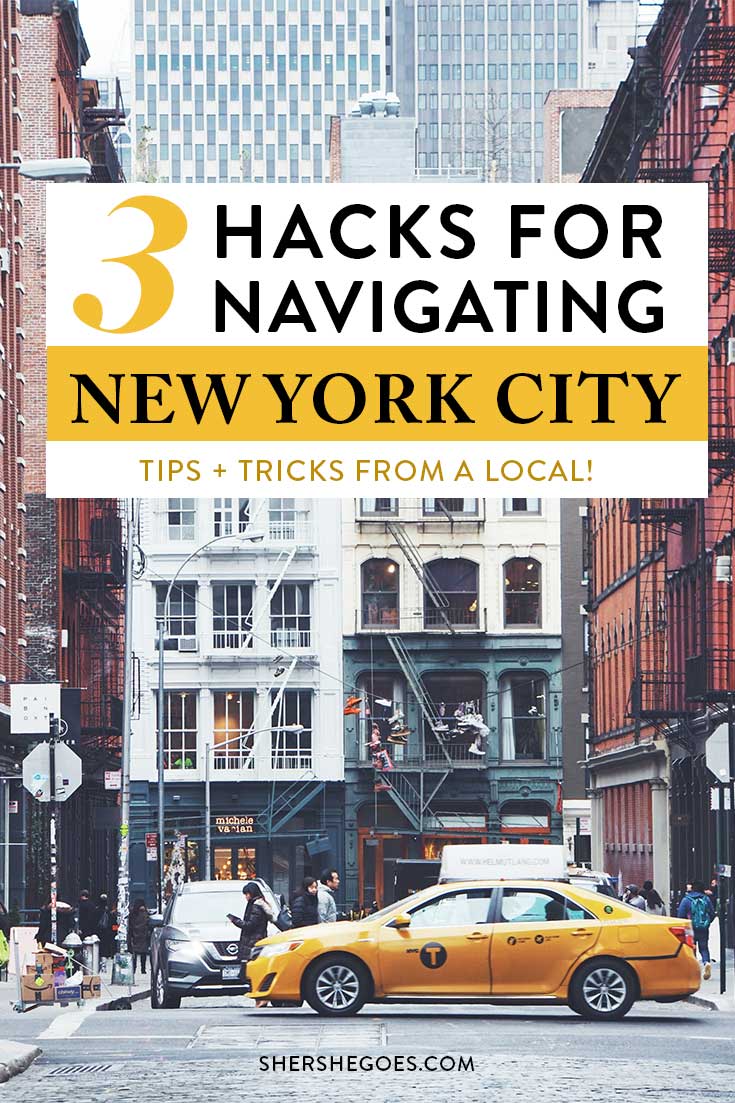 ADVERTISEMENT
---
---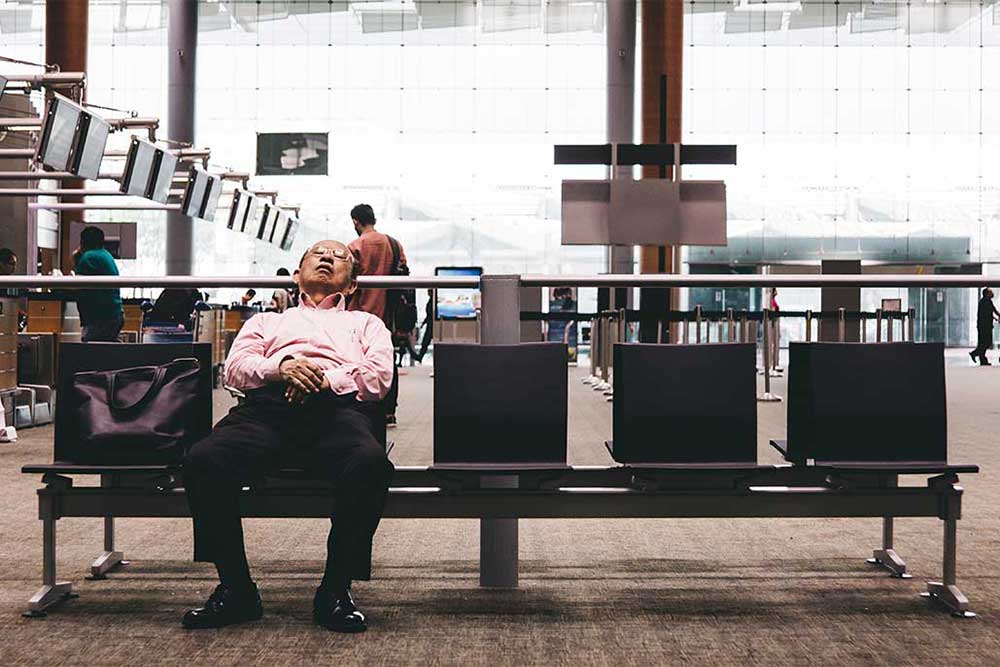 NYC Airport Transportation
Greater New York City has three major international airports:
Usually, international flights land in JFK or Newark while domestic flights land in LaGuardia.
We used to dread taking flights out of LaGuardia because the terminals were beyond old and cruddy. (I believe Joe Biden lovingly referred to it as stepping into a "third world country")
Luckily, LaGuardia went through a major renovation project and as of summer 2020, the first new terminal is now open! So if you fly through, let us know in the comments how it is :)
ADVERTISEMENT
---
---
How to Get to Manhattan from the Airport
Each airport offers ample public transportation and taxi services to reach Manhattan but the cost, duration, and convenience vary significantly.
Sifting through this can be daunting, so before worming your way to the Big Apple, use the following guide to aid your decision!
John F. Kennedy Airport
JFK to/from Manhattan by Subway
Cheapest Option but Also Most Painful
Reaching Manhattan via public transportation requires taking the JFK AirTrain, an airport-operated rail shuttle, to Jamaica Station, where passengers can transfer to a Manhattan-bound subway line.
While the total cost is just $7.75, the entire trip is tedious, typically taking 60-90 minutes.
JFK to/from Manhattan by Car Service
Most Hassle Free, Great for Families / Groups
If you're traveling as a couple or family, it's much more convenient to get a private car.
Unfortunately the NYC public transportation system is disgustingly decrepit, and if you're visiting for the first time with luggage, it can be a sweaty exhaustive mess to haul bags up and down flights of stairs (there are rarely working elevators in subway stations and the ones that are available are frequently treated as public bathrooms)
Instead, consider booking a private car like Go Airlink NYC.
These will pick up or drop you off right at your address and take care of your bags. Fares are a flat fee, depending on the type of car you choose and cost roughly $75. The fee is a flat fare for the group, so if you have a couple people in your party, it's really not bad!
You can check the fare for your party on Go Airlink here.
JFK to/from Manhattan by Cab
Convenient, but Can Be a Long Wait
While most New York City taxis use a running meter, regulations assess a flat, $52 fare to taxis traveling from JFK to any Manhattan location. After tolls, surcharges, and gratuity, fares can easily reach $70-85.
Catch a cab during peak hours, especially at a busy airport like JFK or LGA and you'll be waiting in the taxi stand for a while. Ridesharing apps are allowed but have to pick up in separate locations. You'll also need to ensure you have a working cell phone to use apps like Uber or Lyft.
If traveling from JFK to Manhattan by cab at an off-peak time ,covering the 14 miles from JFK to Midtown is a breeze – budget 25-30 minutes .
ADVERTISEMENT
---
---
LaGuardia Airport
LaGuardia to/from Manhattan by Bus
Cheapest Option but Also Most Painful
Located just nine miles northeast of Midtown, LaGuardia boasts efficient public transportation: simply board the Q70 bus at your terminal, transfer to the subway at Jackson Heights Station, and find yourself in Manhattan within 40-50 minutes.
Oh, and because the MTA allows free transfers between buses and subways, the total cost is a cool $2.75.
LaGuardia to/from Manhattan by Car Service
Most Hassle Free, Great for Families / Groups
You can book an airport shuttle from Go Airlink NYC to pick up or drop off right to your destination address.
This is a great option for couples or groups, since the fare is a flat fee for the car. Rates depend on the car you choose, but they generally are comparable to cab fares. The advantage of using a shuttle service is they'll have a sign with your name at the airport exit, so no need to wait in the taxi cab line.
You can check the fare for your party on Go Airlink here.
LaGuardia to/from Manhattan by Cab
Convenient, but Can Be a Long Wait
LaGuardia's proximity likewise benefits taxi riders, who can expect to reach Manhattan within 20-30 minutes during off-peak hours.
And, with New York's customary running taxi meters, fares are usually $30-$40: a brilliant price if you're traveling with people who can split the tab!
ADVERTISEMENT
---
---
Newark Airport
Newark to/from Manhattan by Public Transportation
Cheapest Option but Also Most Painful
Getting to New York from Newark is refreshingly straightforward: the Newark Airport Express train reaches Manhattan's Port Authority in under 40 minutes.
This convenience comes at some cost, though, as the combined New Jersey and New York tickets cost $15-$20.
Newark to/from Manhattan by Car Service
Most Hassle Free, Great for Families / Groups
You can book an airport shuttle from Go Airlink NYC to pick up or drop off right to your destination address.
This is a great option for couples or groups, since the fare is a flat fee for the car. Rates depend on the car you choose, but they generally are comparable to cab fares. The advantage of using a shuttle service is they'll have a sign with your name at the airport exit, so no need to wait in the taxi cab line.
You can check the fare for your party on Go Airlink here.
Newark to/from Manhattan by Cab
Convenient, but Can Be a Long Wait
Despite the elevated public transportation cost, the Airport Express is consistently preferable to a Newark taxi, which costs $50-$60 and still demands at least 40-60 minutes to reach New York.
With the New Jersey-New York tunnels often representing the city's most notorious traffic conditions, taxi rides over 75 minutes are a common occurrence.
ADVERTISEMENT
---
---
NYC Subway Guide
If you think the map above looks like a cross between all the multicolored wires connecting your television and a four-year-old trying to draw straight lines with his new Crayola box, you're in the right place.
Keep reading for a comprehensive NYC subway guide!
ADVERTISEMENT
---
---
Entering the Subway
While most New York subway stations have multiple street level entrances, not all entrances will be appropriate for your trip.
Make sure you check the entrance placard before going down the steps to see if a given entrance only serves certain routes.
For instance, one entrance may read "Uptown and The Bronx," which means you should only use this entrance if your destination is further uptown in Manhattan or in The Bronx.
If not, look across the street, where you'll see a different entrance serving "Downtown and Brooklyn."
No such label means you can access trains in both directions from that entry point.
ADVERTISEMENT
---
---
Buying your MetroCard
Using the vending machines located inside each station is the most efficient way to purchase your MetroCard.
The fare for a subway or local bus ride is $2.75
But, you can't just pay $2.75 in cash. You'll need to first purchase a metro pass, a flimsy looking card that you swipe at the subway entrance gates.
Types of Metro Passes
There are three different card options to choose from:
a one-time use Single Ride for $3.00 (white card)
a refillable MetroCard (yellow card) for $1.00 plus the amount of money you want to load
unlimited cards in either 7 day or 30 day increments
ADVERTISEMENT
---
---
Should you buy an unlimited card or a refillable card?
Each ride on the subway (or bus) costs $2.75.
Theoretically, if you will be exploring all over New York City for a long term period, you could potentially save money by buying a 7 day unlimited metro card instead of a refillable metro card.
You'll need to make at least 12 rides for the 7-day unlimited and 45 rides for the 30-day to make the unlimited cards cost-effective.
ADVERTISEMENT
---
---
Paying for a Metro Card
MetroCards can be purchased with cash, debit card (pin input required), or credit card (billing zip code input required).
If you're using an international credit card, input "99999" when prompted for your zip code – this signals to the vending machine that an international card is being used and allows the payment to process normally.
When using cash, try to deposit an amount such that you won't need change.
The MTA machines will only dispense change in coins (in an amount up to $9). When I first moved to New York I deposited a $20 bill for a $3.00 single ride, and as a result I was walking around with 17 heavy $1 gold coins in my pockets.
The moment where it seemed like I had won the penny slots in Vegas was pretty cool, though.
ADVERTISEMENT
---
---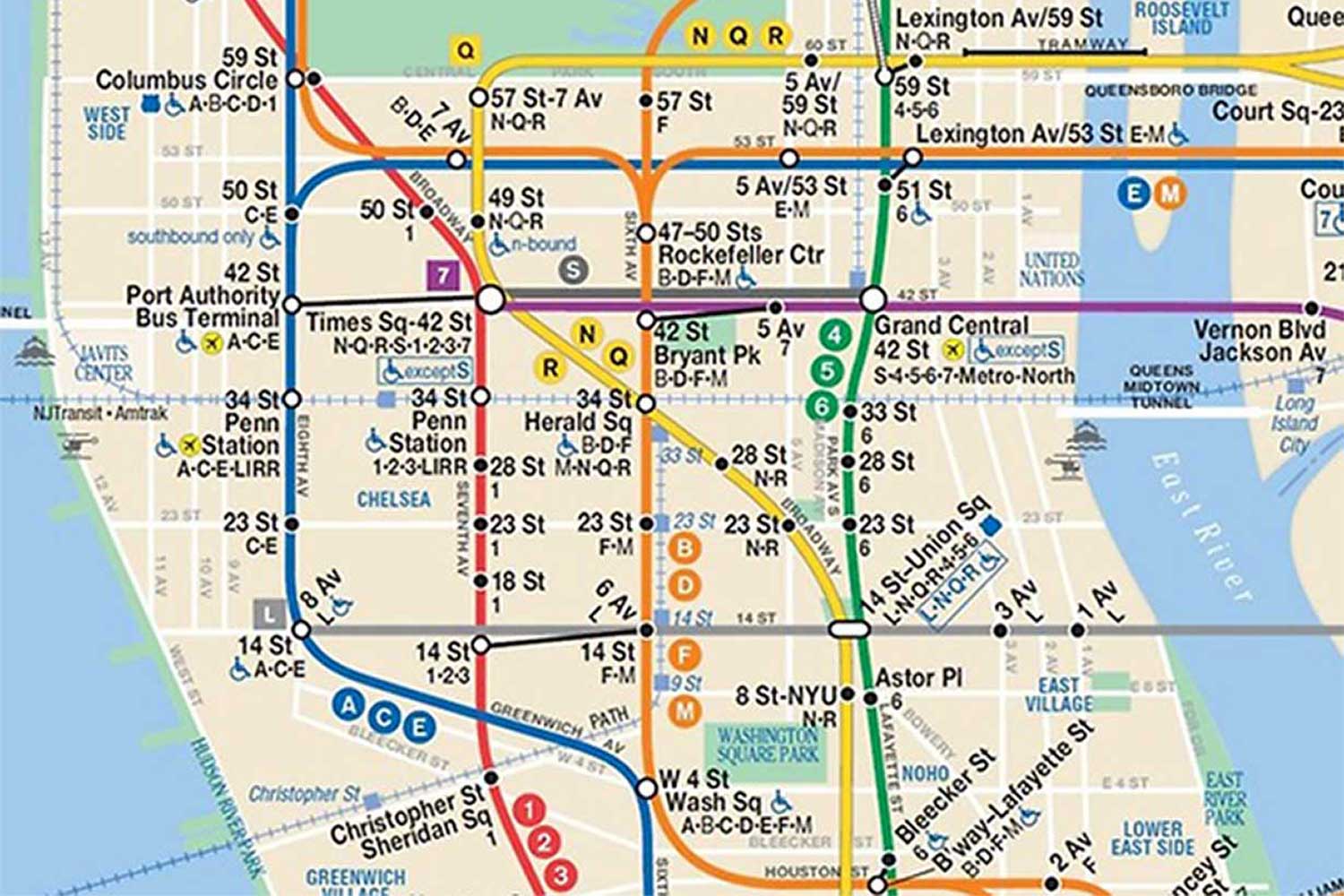 Express vs. Local Trains
Most NYC subway lines will simultaneously operate a local (making all stops) and express (skipping certain stops) line.
To figure out which line you're boarding, take a close look at the subway map and look for the lettered guides next to each station name.
Referring to the picture above, the B and D trains are the express trains on the BDFM line because the B and D letters only appear next to the West 4 Street, Herald Square, and Bryant Park stations, while the F and M letters appear on those stations as well as the intermediate 14 Street and 23 Street stations.
Most riders board the express line until they reach the station at which point the next express stop would be past their intended stop.
At this point you can switch to the local line, which is usually across the platform.
ADVERTISEMENT
---
---
Transferring Subway Stations
At some point you'll likely need to transfer subway lines.
Deep breath.
Ready?
Ok.
Luckily, transferring subway lines is painless. The placards marking the exits at any subway station will also let you know which direction to head for the other subway lines available at that station.
Just make sure not to exit through the turnstiles by mistake as this will require you to pay an additional fare when you reenter.
Lastly, make sure to check the subway schedules often, as construction and weekend schedules often impact service throughout the system.
Check out the MTA Weekender for real-time updates on station service! This is the official website of the New York City MTA system.
ADVERTISEMENT
---
---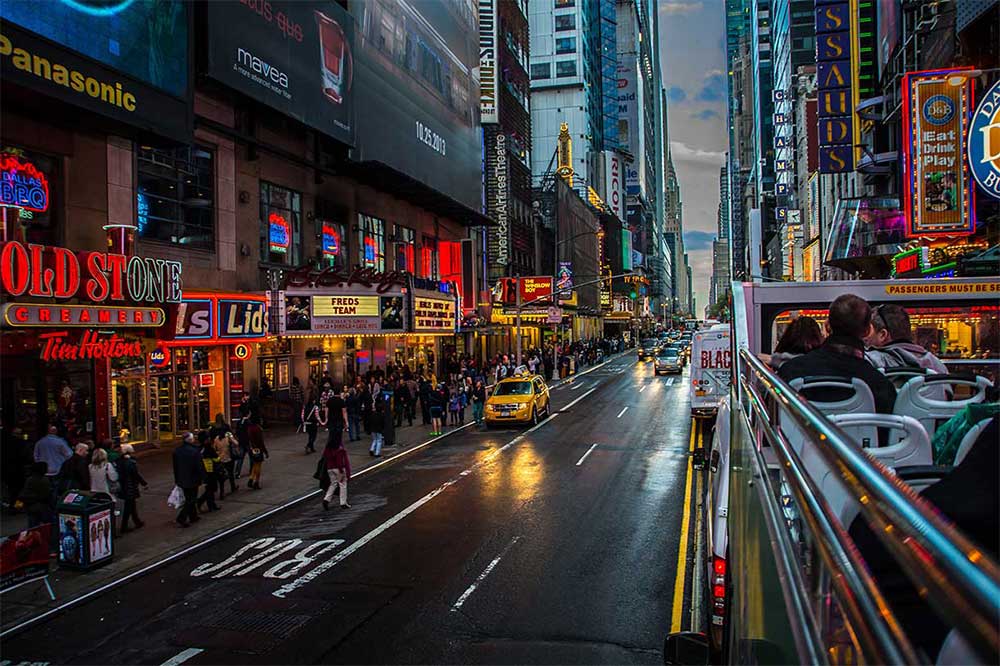 Bus Transportation in NYC
Now that you know how to ride the subway in NYC, let's talk about taking the bus!
As you can see from the maps above, most NYC subway lines follow a north-to-south pattern. While the ACE (blue) and BDFM (orange) lines crisscross through midtown Manhattan, traveling east-to-west ("crosstown" to use the local vernacular) using the subway often requires multiple transfers and is generally a pain.
So to fill the gap, there's the New York City bus system! It serves more than just that, but buses in NYC are especially convenient when you're trying to travel crosstown, without getting bogged in traffic.
On especially congested crosstown streets, the NYC buses will have their own bus lane, so it can be more convenient to take the bus crosstown than sitting in a cab.
Finally, transferring from subways to buses (and vice versa) is free, so there's no reason to avoid them!
ADVERTISEMENT
---
---
Select Bus Service
Paying for most New York buses is as simple as boarding, inserting your MetroCard, and enjoying the ride.
However, there are several "Select Bus Service" routes that work a little differently.
Designed to avoid congested boarding lines, the SBS lines employ a system where you pay before boarding. At a Select Bus Service stop, you'll see a sidewalk metro pass machine. Use the same MetroCard you bought for the subway and insert it into the terminal. It will give you a receipt – hold on to this!
When the bus arrives, you can get right on at any of the bus doors. SBS buses tend to be longer than the normal buses.
99% of the time, you won't need to show your receipt. But hold that receipt tight, because transportation officials are known to randomly board buses to verify purchase.
Finally, these SBS terminals only receive cards and produce receipts. You have to already have enough money on your MetroCard!
ADVERTISEMENT
---
---
Bus Schedules
Nothing is more frustrating than waiting an eternity for your bus, so take advantage of the following nifty trick.
Each bus stop has a map that also contains a clearly marked numerical code.
Text this code to "511123" on your cell phone and instantly receive a reply with the nearest bus's location and estimated time to arrival.
If you don't have time to check out the stop beforehand, you can find station codes and bus schedules for the entire MTA bus system here!
ADVERTISEMENT
---
---
Ride Sharing in New York City
For the longest time (Billy Joel. Shoutout.), getting around New York City by car simply meant hailing a yellow cab.
With Uber and other ride-sharing apps now popular, New York riders have significantly more choice in deciding the best way to get around NYC.
While I remain a fan of the old-fashioned yellow cab (full disclosure – I am likely in the minority here among New Yorkers), there are definitely circumstances where taking an Uber is more efficient and affordable.
ADVERTISEMENT
---
---
Uber NYC Options
Most New Yorkers utilize two main offerings – uberX and Uberpool.
uberX is a typical black car service, offering private transportation to your destination.
Uberpool functions as a carpool system and involves multiple pick-up and drop-off points along a given route.
Note that if your Uberpool picks your party up first, that doesn't necessarily mean you will be dropped off first – Uber's mapping algorithm determines the most efficient sequence of pick-ups and drop-offs.
ADVERTISEMENT
---
---
Other Ride Sharing Services in New York City
I use Uber as a catch all term.
There are actually a couple different companies that are popular in NYC like Lyft and Via.
Lyft is generally known to be a bit more affordable in comparison to Uber and offers economy, luxury and shared rides.
Via is even more budget friendly. With Via, you can take $5 rides in certain sections of Manhattan, but all rides are pooled – usually among 3 or 4 people.
ADVERTISEMENT
---
---
When to Take Uber vs. Taxis
I typically only take Uber when I'm facing a longer trip, at which point I opt for Uberpool.
If you're willing to meet new friends and deal with a bit of awkwardness getting in and out, your fare is usually (my rough estimates) 25-40% cheaper than a taxi.
For shorter to intermediate trips, I almost always opt for a yellow cab.
Enough Ubers are in New York that the wait is normally 2-5 minutes, but even still I always seem to see at least a half-dozen available yellow cabs pass by.
Tip: a yellow cab is available for hailing if its rooftop lights are illuminated
ADVERTISEMENT
---
---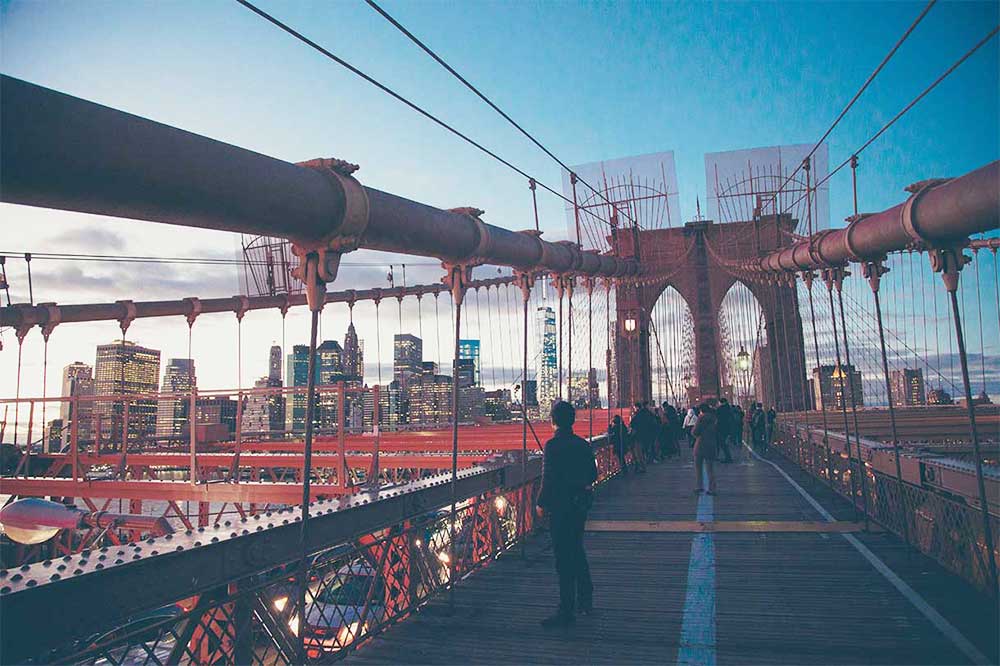 Walking Around NYC
If you've made it to this point, I'll reward you by saving my best advice for (almost) last: being willing to walk can often be the best way to get around NYC.
You'll get to see more of New York this way, and walking is honestly the quickest way to handle short to medium routes in the city.
Even to this day, I always choose to walk (provided there's no blizzard and I have the time) if the walk would be less than 25 minutes.
For my fellow walkers, here are 3 quick tips to help your feet find the way in New York!
NYC Insider Tip #1:
The sun sets over New York at a slightly southwestern orientation to the island of Manhattan.
I realize this navigation tip has been around for literally thousands of years, but sometimes it's just the sanity check you need to make sure you're going in the right (or wrong) direction.
ADVERTISEMENT
---
---
NYC Insider Tip #2:
A great street to pay attention to is Broadway, because it intersects the north-south avenues at major landmarks.
While most avenues are numbered (1st, 2nd, 3rd, 4th, 5th, 6th, 7th, etc), Broadway is one of the select few that has a name.
And, Broadway is one of the only major streets in New York City that runs diagonally on its journey from north to south.
Specifically, Broadway intersects:
8th Avenue at Columbus Circle
7th Avenue at Times Square
6th Avenue at Herald Square
5th Avenue at Madison Square Park
4th Avenue at Union Square
So, if you memorize these intersections, you'll have a good visual map for where you are in the city and whether you are headed "east" or "west".
ADVERTISEMENT
---
---
NYC Insider Tip #3:
Fifth Avenue is the dividing line when determining whether a specific street has the "East" or "West" prefix.
This one's a little trickier but can help immensely when you're trying to locate a specific address
In other words, the first building east of Fifth Avenue on 53rd Street would be 1 East 53rd Street, and the first building west of Fifth Avenue would be 1 West 53rd Street.
With few exceptions, this numbering system extends each avenue in increments of 100.
For example:
If an address is between 0 and 100 West 53rd Street, you know that it is between the first and second avenues west of the dividing line (aka, Fifth and Sixth Avenues).
If an address is between 101 and 200 West 53rd Street, you now know it is between the second and third avenues west of the dividing line, or Sixth and Seventh Avenues!
ADVERTISEMENT
---
---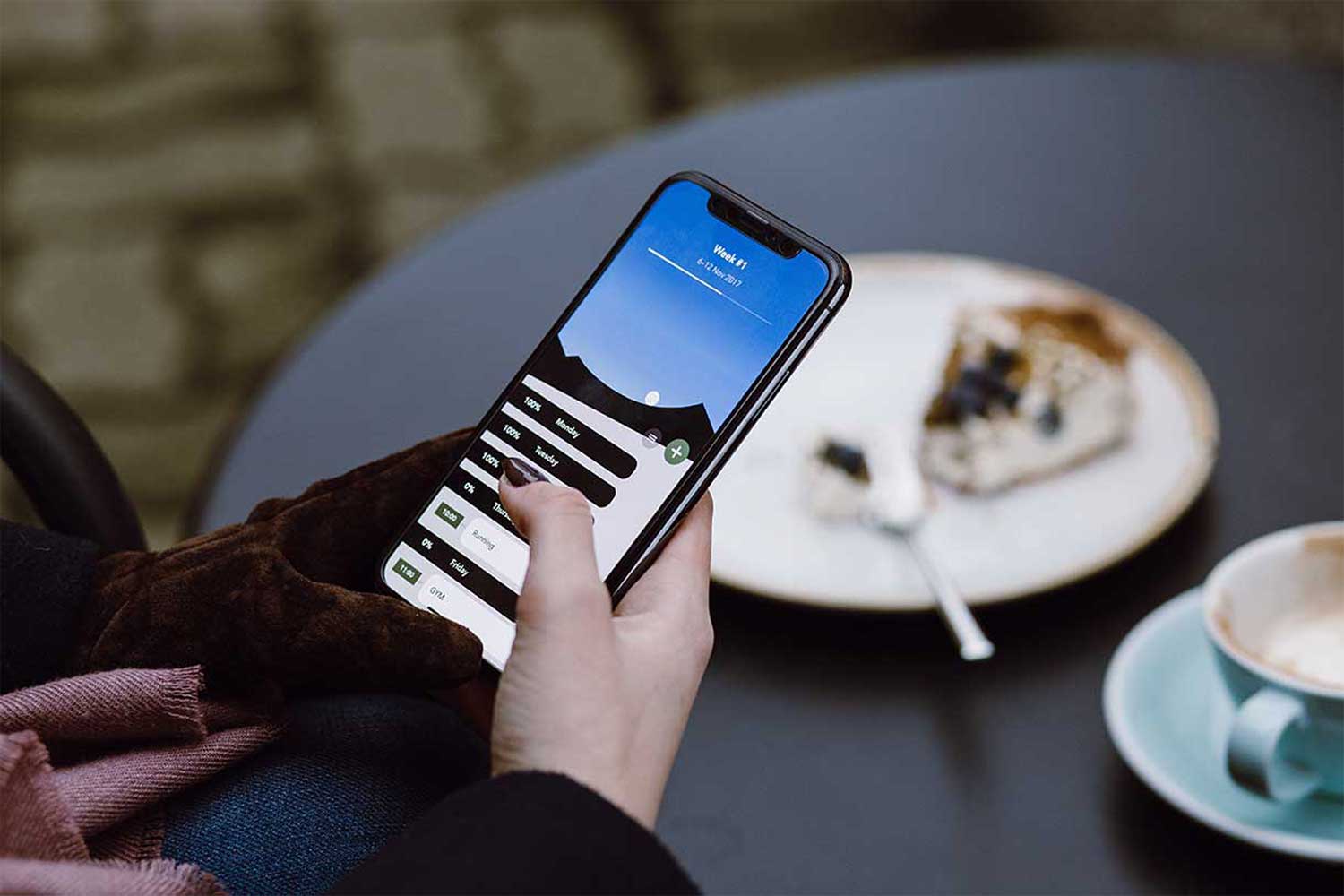 Best App for Getting Around NYC
Ideally maps and a penchant for exploration are the best way to travel in NYC, but sometimes we all must concede to the robot revolution.
As much as my old-school sensibilities hate to admit it, smartphone apps can be super helpful in New York – particularly in receiving real-time updates on delays or other major transportation news.
Here are 4 candidates for the best app for getting around NYC!
ADVERTISEMENT
---
---
1. Moovit
Like that of Google Maps, Moovit's interface offers a New York map overlaid with subway stations, bus stops, street names, major landmarks, and interstate and state road names.
Moovit also offers location-enabled "A to B" directions that include walking and public transportation directions.
Two great features – especially for visitors – are:
Moovit's Public Transit Index: which includes information including average wait time by subway station
Get Off Alerts: which provide automatic updates to your smartphone when you've arrived at your disembarking station
ADVERTISEMENT
---
---
2. Citymapper
Among the getting around NYC app offerings, Citymapper likely has the most extensive guidance for all forms of transportation, not just public transit systems.
When you select your departing and arriving points, Citymapper's software automatically surveys public transit systems as well as the PATH (a rapid transit system connecting major New Jersey and western Manhattan hubs), Citi Bike (New York's bicycle sharing program), and ferry schedules to give you the absolute fastest route.
Citymapper also has the most extensive bus map and schedule for New York's outer boroughs of The Bronx, Brooklyn, and Queens – crucial as buses are often the most effective public transportation method in these areas.
ADVERTISEMENT
---
---
3. KickMap
The folks at KickMap have some very strong, interesting, and thorough views on the shortcomings of New York City's historic and current public transportation maps.
They're certainly worth a read if you're into that kind of stuff (I'm a huge nerd, so I loved it)! The end KickMap product serves two incredibly useful functions for visitors and locals alike.
First, the KickMap interface integrates landmarks and neighborhoods among New York's subway stations, and it's all brilliantly done to scale.
Second, the KickMap actually depicts each subway line, (e.g., the BDFM line, which is colored orange, will appear as four separate orange lines for each letter, rather than one orange line with different letterings), which is incredibly helpful for quickly figuring out whether your train actually stops at a certain station.
ADVERTISEMENT
---
---
4. Exit Strategy NYC
The best app for getting around NYC is – for my money at least – Exit Strategy NYC.
This one benefits locals as much as tourists as its interactive interface lets you know exactly where to stand on the subway platform so that you depart the train across from the staircase or elevator that will most quickly lead you to your destination.
Many of New York's larger subway stations including Times Square and Grand Central are sprawling and getting off the train at a suboptimal location can still lead to a gruelingly long walk through crowds before you exit where you should!
Now, if only they could come up with an Exit Strategy NYC app for when I can politely ditch my friends after too long a night out….
ADVERTISEMENT
---
---
That's it. Whew!
Hopefully this guide to getting around NYC answered more questions than it generated, but if you still have any last-minute questions before (or during) your trip, feel free to drop me a note in the comments section!
Visiting NYC – Travel Checklist
New York City has 3 airports: John F Kennedy (JFK), the bustling international hub; LaGuardia (LGA), the run down smaller airport near Astoria Queens; and Newark Airport (EWR) which is actually in New Jersey. You can check for flight deals here for your upcoming trip – for better rates, make sure you include all 3 airports.
Be sure to visit New York with travel insurance. Whether you get injured and need to be hospitalized, or your phone gets stolen, or a delayed flight leaves you with nothing but the clothes on your back, travel insurance will help when you need it most. Get a quote for your trip here.
Everything about the city is expensive (sorry). From food to accommodation to sights, try to save up a healthy vacation fund and then enjoy the entire visit. I do recommend booking hotels in NYC – Airbnb is illegal in the city, so only book an Airbnb for nearby New Jersey. You can check here for last minute accommodation deals.
Getting around, on the other hand, is easy! The subway system is extensive and follows a North South grid (for the most part). If you want to avoid the grime, use Uber and Lyft on your phone or hail a cab by sticking out an arm. Cabs with lights on the roofs mean they're open and available!
You Might Also Enjoy:
Planning a Trip to New York City
A Neighborhood Guide to New York
Affordable NYC Hotels Under $200 / Night
The Best NYC Furniture Stores for Every Budget
Cultural Things to Do in NYC
An Insider's Guide to New York City Museums
The Most Photogenic Locations in Central Park
Cherry Blossoms on New York's Roosevelt Island
NY Botanical Garden: Orchid Evenings
Art After Dark at the Guggenheim Museum
Boating in Central Park for Kids
Fun Activities & Events
Institute of Culinary Education Class Review (+ Promo Code)
Seasonal Things to Do in NYC
The Best Fall Activities to Try in NYC
Holiday & Christmas Things to Do
Riding New York City's Holiday Train
New York City Eats & Restaurant Reviews
Guide to the Best Coffee Shops and Acai Bowls in NYC
Asian: Cha-An, Hatushana Sushi, Mihoko's 21 Grams, Jinya Ramen
Brunch: The Wren, The Meatball Shop, Brooklyn's Smorgasburg
Dinner: The Wayfarer, L'Artusi, Racines, Tamarind, Sociale
Fine Dining: Musket Room, River Café, The Modern, Annisa, Benoit
Getaways from New York City
Follow me @Sher She Goes on