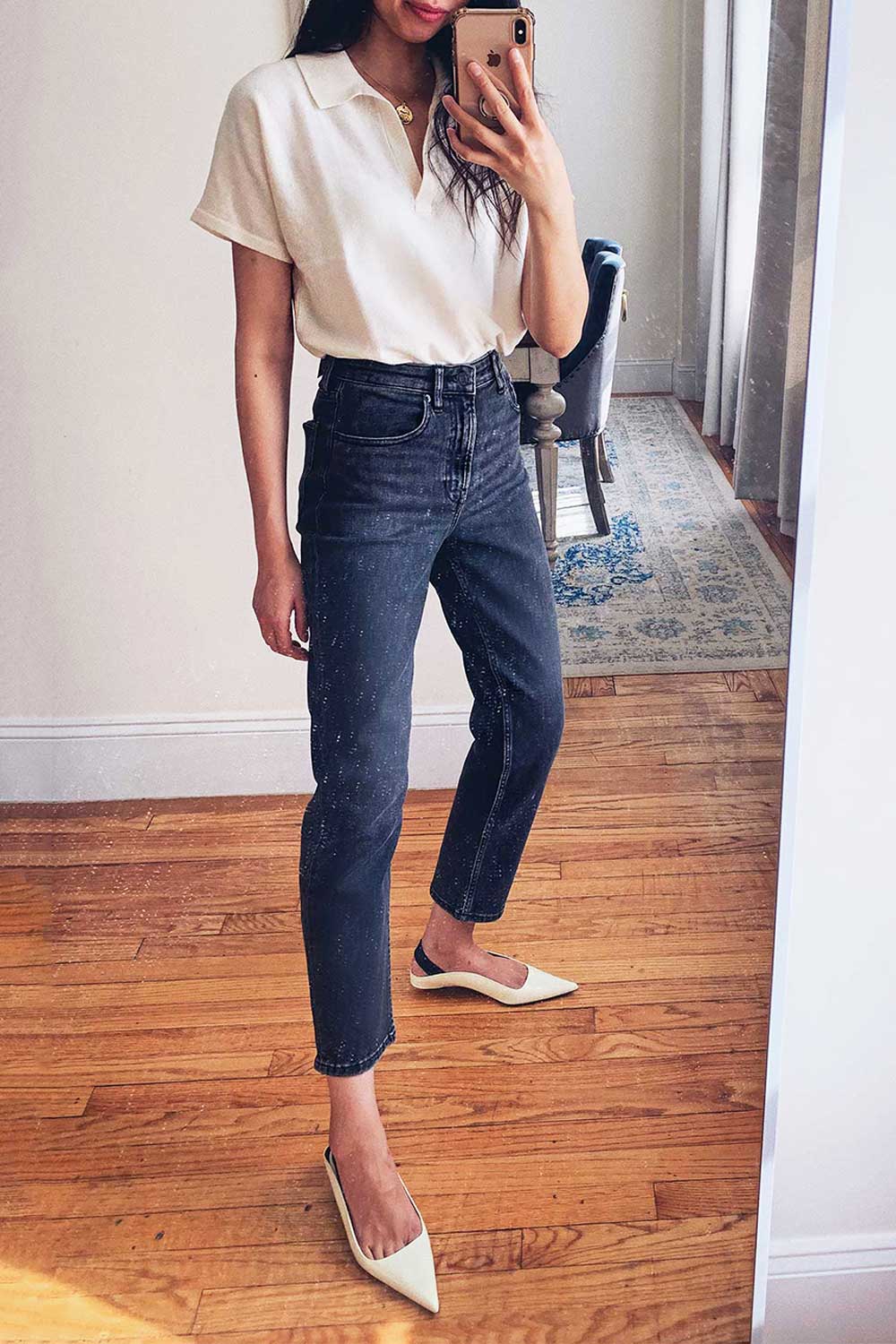 Everlane Jeans
We're just over a week in. How is everyone's social distancing going?
I was pretty freaked out for the first couple days, but have been feeling a little bit better this weekend as things have settled. I still watch the news… but turned off alerts and try to just check it once a day, at the end of the day.
The one thing we're all unsure about is just how long this 'work from home' and recession will last. So given all the future uncertainty, shopping is probably not what I should be doing – unless it's for groceries.
But I guess retailers are feeling the pinch too because I've gotten emails from every brand I've ever shopped with about how they're handling Covid-19. One email in particular caught my eye…
Everlane announced a one week sale on their hit denim. All their best selling styles are just $50 until end of today! So if you need some retail therapy, today's post is a review of my favorite Everlane jeans.
Pin this post to read later ⇟
---
---
Everlane Denim Review
Good denim is notoriously hard to find.
Everlane differentiates its jeans with transparent pricing and more responsible factories. Their signature denim is thick and substantial, but has enough stretch to mold to your body over time. But how's the fit?
I tried a number of Everlane's most popular jeans – here are the three styles I like most.
Everlane Super Straight Jean
Wearing Washed Black, Ankle
If you've been looking for the perfect pair of 'mom jeans', these are it.
Everlane's super straight jean feature a high rise waist and extra straight leg. The denim is thick and soft, with a 98% cotton 2% elastane blend. They don't really stretch but I like the stiffer denim look and feel.
In terms of shape, this is the only pair of straight leg jeans that I've tried (and I've tried many) that look flattering! Personally I like these a lot more than the 90s style jean or the Everlane cheeky. They're much more flattering on the leg while still remaining tight and fitted in the waist and bum.
I recommend taking your normal size.
Shop Super Straight Jean (4 colors, 2 lengths)
---
Everlane Wide Leg Modern Flare Jean
Anyone who knows me knows I'm usually wearing skinny jeans.
So in an effort to try something I new, I picked up these Everlane flares and was pleasantly surprised! They're a more modern twist on the iconic 70s jean, with a high 11″ rise and subtle flare leg.
I love the light blue color and the soft denim has just a hint of stretch, making them very comfortable to wear. They have a pretty high waist and I ended up buying the exact look off the model haha – the t shirt body suit is also fab.
I do wish these were an inch or two longer. I'd pick up your regular size for a glove like fit, or go one size up for breathing room.
Shop Modern Flare Jean (3 colors)
---
---
Everlane Wide Leg Jean
I loved Everlane's wide leg crop pant so when the jean version came out, I figured I'd give them a try.
Both the rise and leg are a bit exaggerated compared to the pants – higher waist, wider leg. Because of that, I wasn't initially sure how to style them..
But overall the quality is fantastic – rigid but soft denim, with a thick weight and a hint of stretch. I opted for the regular length, but they also come in an ankle version.
Shop Wide Leg Jean (2 colors, 2 lengths)
---
---
Are Everlane jeans good?
For the price, I think Everlane jeans are a great buy.
Are Everlane jeans comfortable?
Everlane denim tends to be thick and stiff.
I'd say the comfort factor is similar to jeans from high street stores like Zara or Mango, but the fabric is higher quality. It's on par with the Japanese denim you'd find in vintage Levis.
Personally I prefer stiffer, thicker denim because I think it's more flattering. It doesn't show every crease, lump or bulge but it's not going to feel like a soft pair of jeggings. If you like designer denim, that tends to be thinner and softer, you might not like these.
How much do Everlane jeans stretch?
I find that the waist and butt area of Everlane jeans tends to stay nice and tight.
Do Everlane pants run small?
Everlane pants seem to vary a lot in terms of fit and sizing, and the jeans are no exception. I've found that even the same style will have variations in fit and sizing, depending on the wash.
The nice thing is there are tons of reviews on each product page from other people who list their height and measurements, so that helps with ordering!
---
---
Best of Everlane
---

---
---
Read More:  in my travel packing checklist series:
Everlane Outfits & Reviews
Everlane Brand Review: Hits, Misses & Favorite Pieces
Everlane Denim: Trying 3 of the Best Selling Jeans
Everlane Cashmere Review: Testing Basics
How do the Everlane Leggings Perform?
Everlane Choose What You Pay Sale - Spring Try On Haul
Follow Sher She Goes on
Youtube | Instagram | Facebook | Twitter | Pinterest | Bloglovin