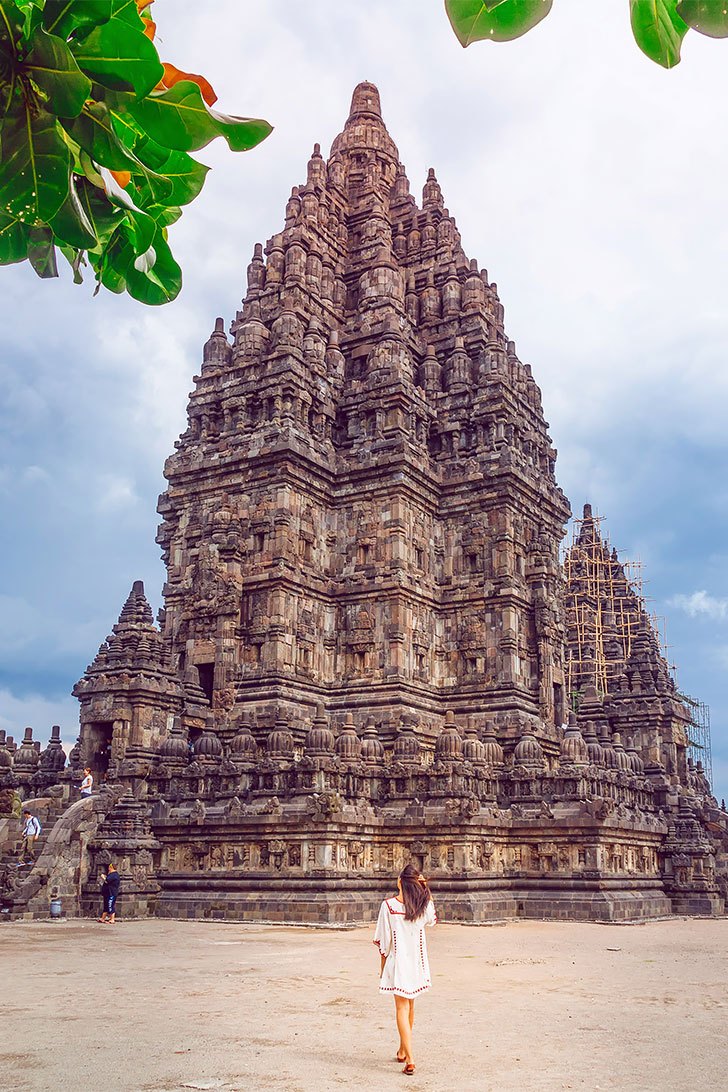 ---
Visiting Indonesia's Borobudur and Prambanan Temples
A visit to Yogyakarta is incomplete without seeing two historic temples, one Buddhist and one Hindu. I'm talking of course about Borobudur Temple and Prambanan Temple!
After posting this photo to Instagram, I got a ton of questions about Borobudur temple, the best time of day to visit Borobudur and Prambanan and a number of accommodation and transportation questions so I thought I would compile all the logistical information in one post.
A quick guide to Yogyakarta
Yogyakarta is the name of the city in Indonesia where these two magnificent temples are located. Locally the city is often referred to as "Jogja" or "Jogjakarta". In the Indonesian language, y's are pronounced more like j's. This confused me the first time I told someone I was going to Yoga-yakarta and they kept talking about "Jog-ja"! Also, candi is the word for a temple or shrine in Bahasa, the Indonesian language.
This post will cover:
A History of Borobudur Temple
The Rise of Prambanan Temple
Visiting Borobudur and Prambanan in One Day
Pricing & Entrance Fees for Borobudur and Prambanan
Borobudur Sunrise Ticket
Borobudur Accommodation – Recommended Hotels in the Area
Is the Borobudur Sunrise Ticket Worth It?
Borobudur and Prambanan Tour Options
---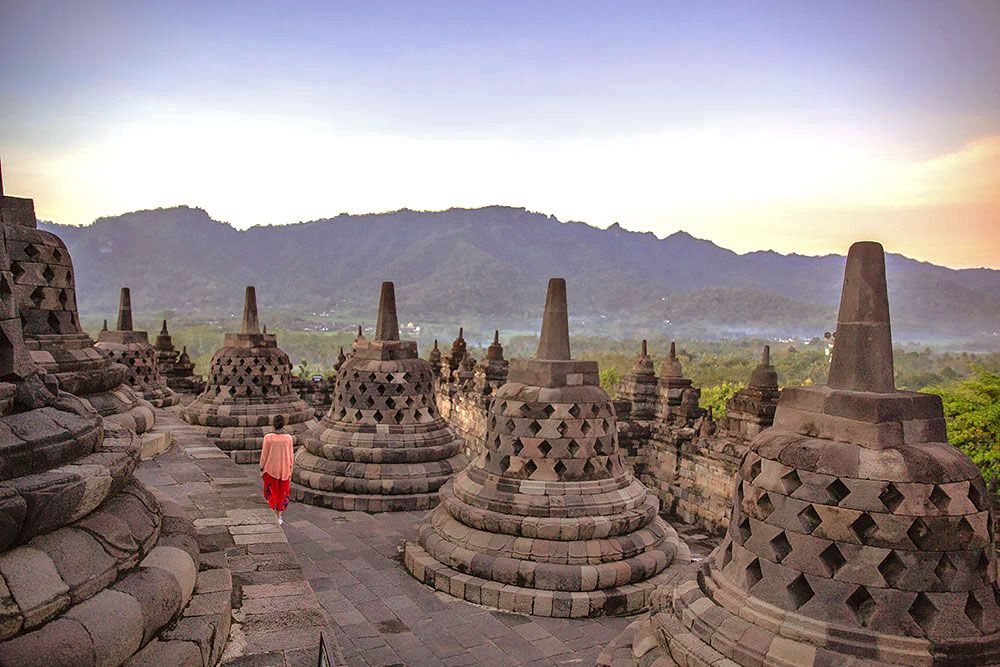 Borobudur Temple
Borobudur is a stunning monument to an ancient Buddhist civilization, which built the lotus-shaped pyramid sometime between the 8th and 9th centuries. Borobudur is located on the Indonesian island of Java, about 25 miles northwest of cultural capital Yogyakarta and approximately 9 miles south of Magelang.
Borobudur temple is built in three levels signaling first the world of desire and lust (Kamadhatu), the world of form (Rupadhatu) and the world without any form (Arupadhatu). In total, the temple consists of 6 terraces, 3 circular platforms and 504 buddha statues. The overall form of Borobudur is in the shape of mandala symbolizing the cosmetology of the universe according to Buddhist teachings.
Photography at Borobudur: If you're an avid photographer, you'll want to book the Borobudur sunrise entrance ticket, as this allows entry before opening time. More info below.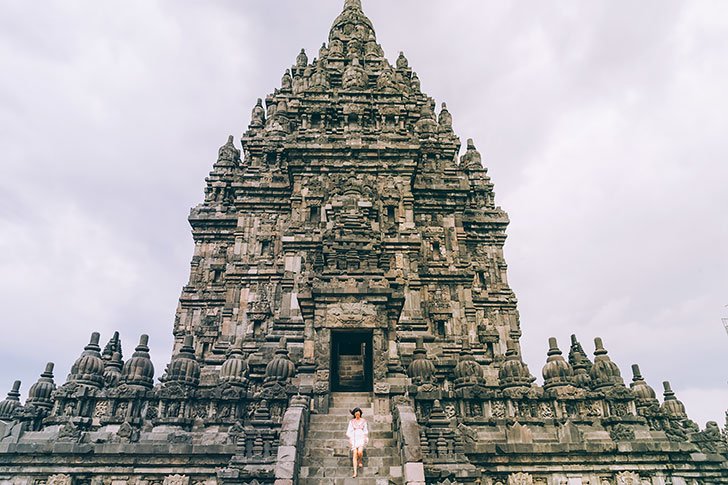 Prambanan Temple
Some time in the 9th century, the ruling Buddhist Sailendra Dynasty gradually lost power and the Hindu Sanjaya Dynasty arose. It is believed that the construction of Prambanan was meant to signal the rise of the new faith and rulers and ultimately supplant Borobudur.
Prambanan is also a UNESCO World Heritage Site and the largest Hindu temple in Indonesia. Unlike Borobudur, Prambanan has many individual temples surrounding one large towering central building. The temple is dedicated to the Trimurti, the expression of God as the Creator (Brahma), the Preserver (Vishnu) and the Destroyer (Shiva) and walking inside each of the temples you will find a statue dedicated to each expression.
The temple is located about 17 km (11 mi) northeast of Yogyakarta between the boundaries of Central Java and Yogyakarta provinces.
---
---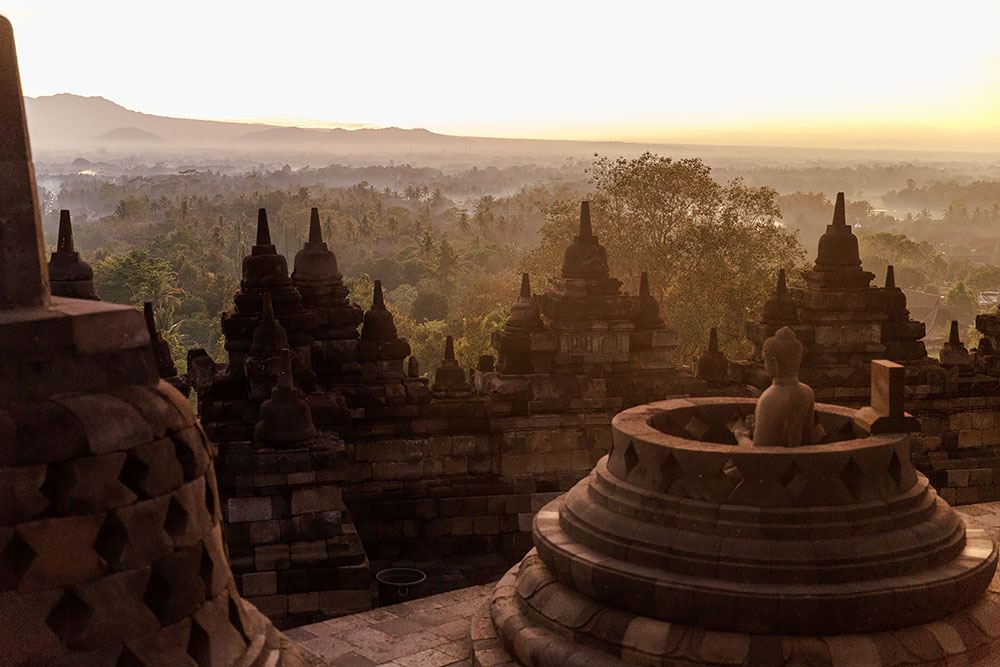 ---
How to see both Borobudur and Prambanan in One Day
Most visitors traveling to Yogyakarta want see both temples, as they're each quite distinct and worth their own visit. If you're tight on time, you can easily combine a visit to both Borobudur and Prambanan in one day. But, know that they are quite far from each other so the best way to do this is to either book a guided tour or rent a car while in Jogja.
I recommend viewing Borobudur at sunrise. The combination of seeing the sun slowly climb up over the pyramid and the early morning mist from the volcanic mountains creeping down the monument are a magical combination. I felt transported back in time to what the original British and Dutch settlers must have witnessed when they first went searching for the magnificent temple.
A special sunrise ticket must be purchased if you plan to see Borobudur at sunrise. Some people then choose to combine Prambanan in the latter half of the afternoon and see that temple at sunset. If you do plan to see both monuments, buy a Borobudur and Prambanan combo ticket as it will be cheaper.
For other Yogyakarta tourist attractions, read my Top 10 Sights in Jogja post or check out my Indonesia itinerary.
---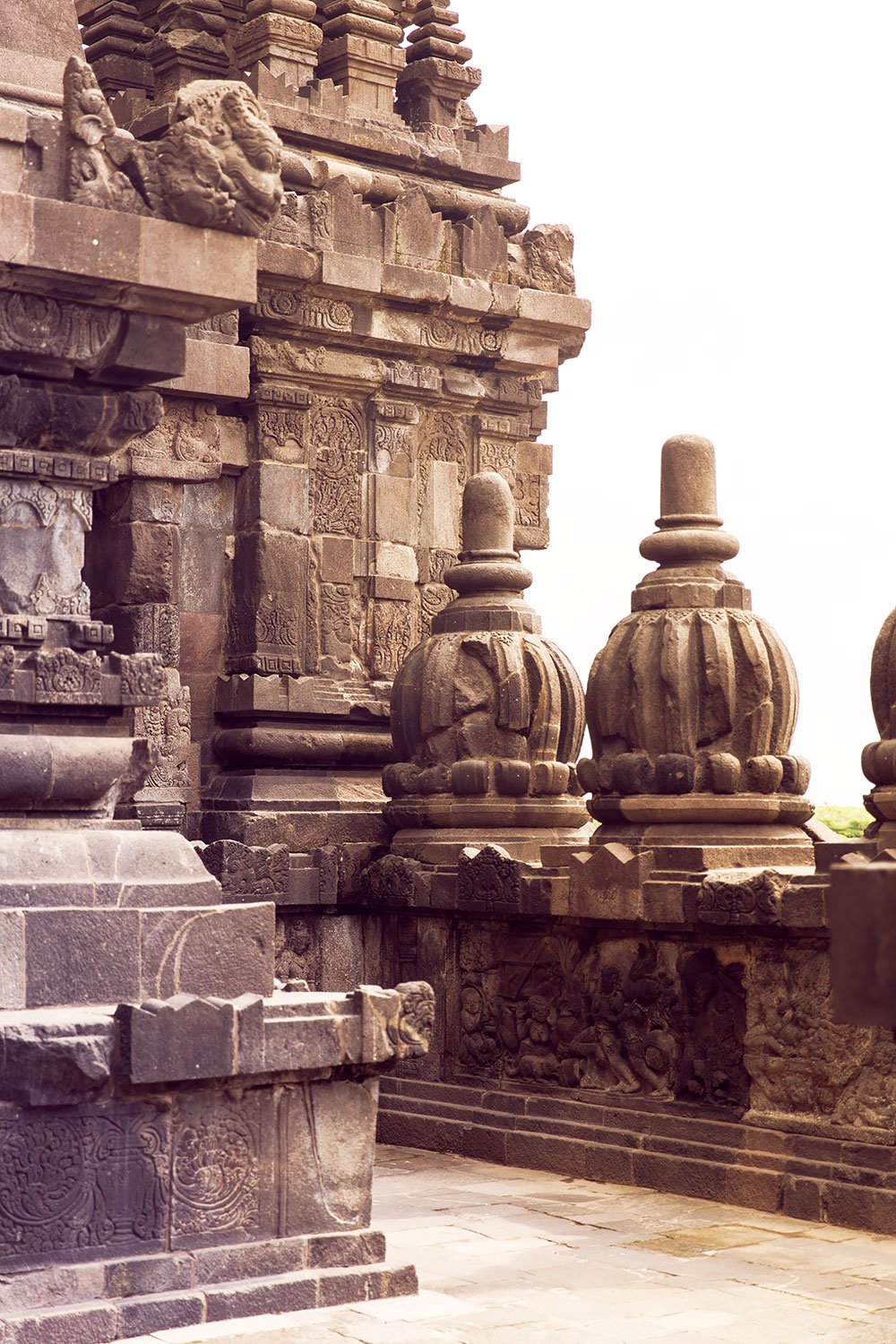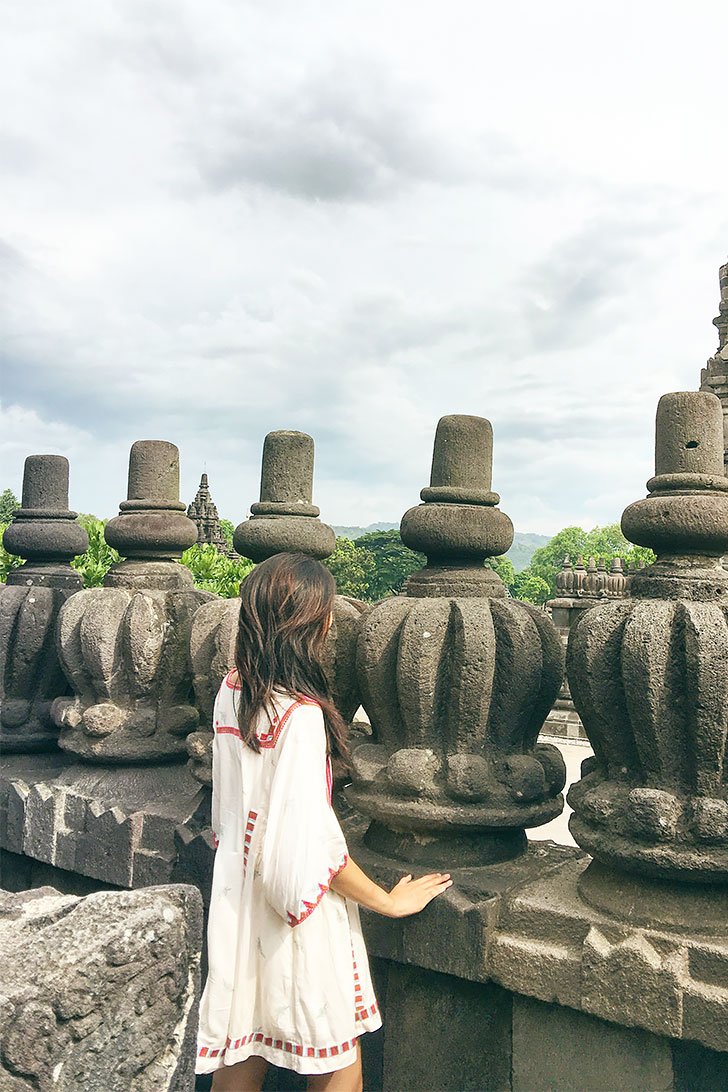 ---
Pricing & Entrance Fees for Borobudur and Prambanan
Temple Tour Hours: Both temples are open everyday from 6am to 5pm, including public holidays.
Weather: In Yogyakarta, the dry season is from April to October and is the best time to visit. Rainy season occurs from November to March and brings with it swarms of pesky mosquitoes.
Luggage Storage: available at Borobudur
Borobudur Ticket Price: For Foreigners, entrance fees during regular hours are $20 USD and can be paid in rupiah, debit or via credit card (mastercard/visa only). Tickets can be purchased online here.
Prambanan Entrance Fee: For Foreigners, it costs $18 USD and can be paid in rupiah, debit or via credit card (mastercard/visa only). Tickets can be purchased online here.
A Borobudur and Prambanan combo ticket is available as well for $32 USD. Tickets can be purchased online here.
---
---
What is the Borobudur Sunrise Ticket
This is a special ticket to buy if you want to go before regular opening hours to catch sunrise. A sunrise Borobudur ticket costs 400,000 IDR for adults and 200,000 IDR for children. If you're staying at the on-site hotel, Manohara, you still have to pay a top-up price for the sunrise ticket but it's a discounted rate of 250,000 IDR for adults and 125,000 IDR for children. I've quoted the "foreigner" ticket prices here.
I recommend going at sunrise not only for the best pictures but also for the best experience – Indonesia gets incredibly hot in the afternoon and with all the stone and exposed areas you'll be boiling in no time. I went to Prambanan around 2pm and was boiling hot.
Is the Borobudur sunrise ticket worth it?
In my personal opinion, the visit to Borobudur in the early am was magical. Walking towards the temple at night in darkness, Borobudur seemed to suddenly rise from the ground like a pyramid out of the jungle. As the sun rose, volcanic Mount Merapi in the distance emmited a beautiful hazy mist over the tops of the temple. What's really unique is that from the sky, the monument is structured in circular waves to resemble a lotus flower unfurling. You can see a great example of an aerial shot on my friend Mike's aerial photo here.
If you purchase the sunrise ticket, staff will give you a flashlight so that you can make your way over in the dark. Be careful of the steps up to the platform. As with most ancient structures the steps are high and uneven. I wore flip flops with a long dress and was perfectly fine but just watch your footing.
After you're done sightseeing, you can help yourself to a light traditional snack and a coffee back at the main entrance. If you return your flashlight, the museum gives you a souvenir scarf to keep which I thought was a nice touch.
---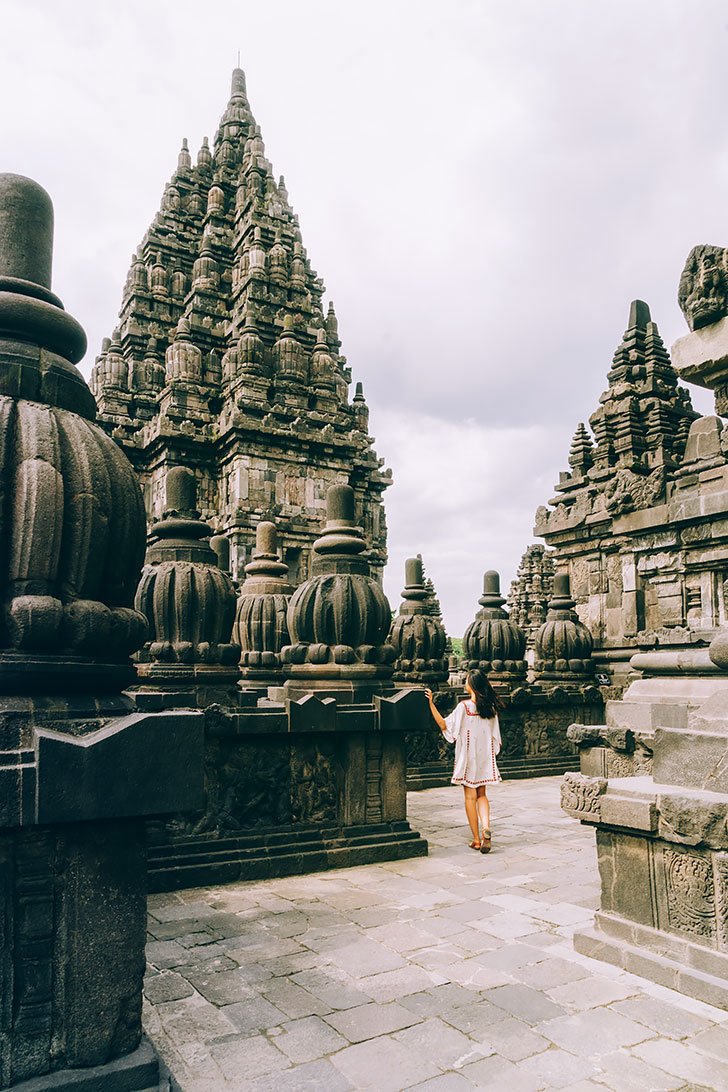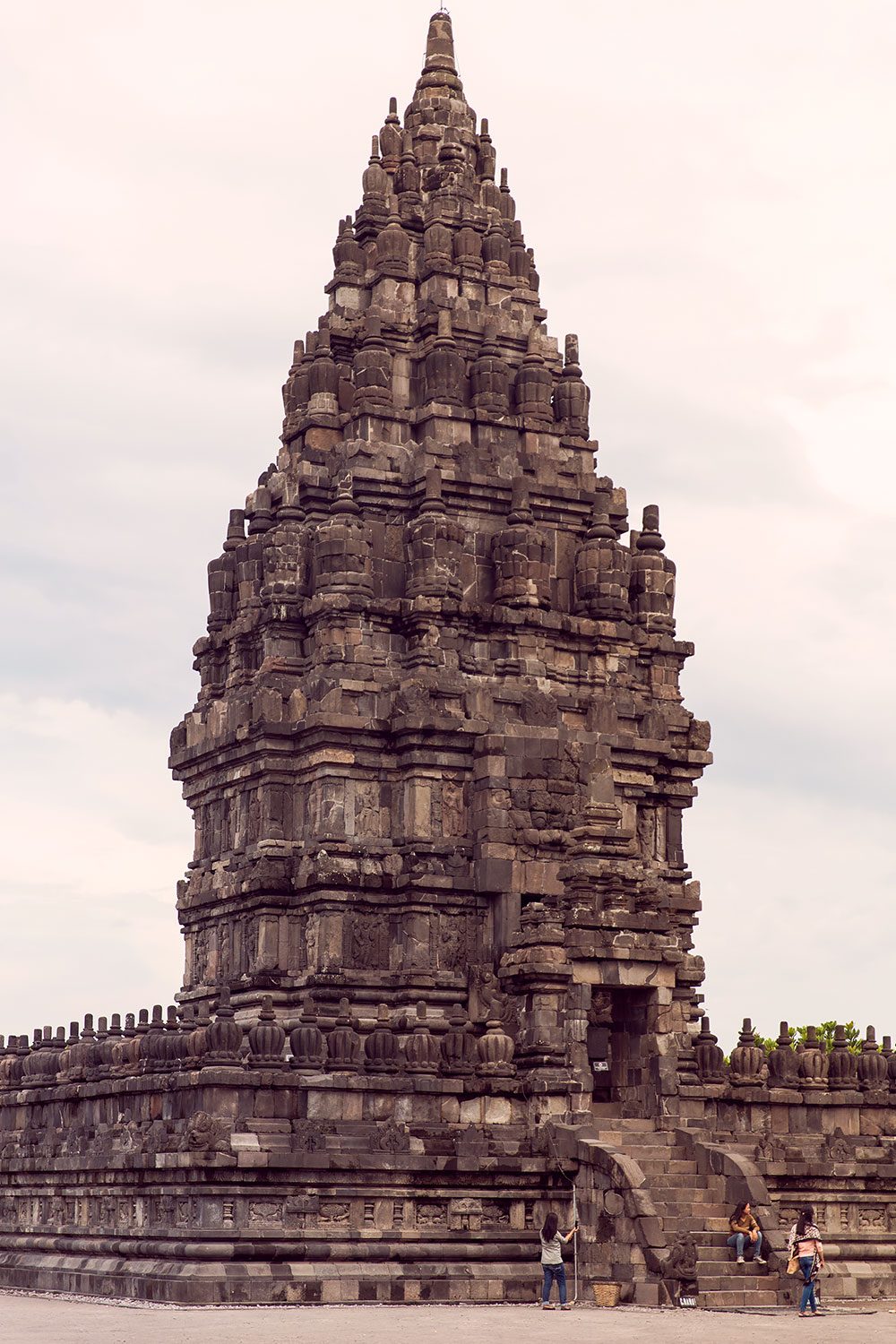 ---
---
Where to Stay in Yogyakarta
From the Yogyakarta airport, Borobudur temple is a one hour drive northward. If you're planning to visit at sunrise, you'll need to get up around 3am and be at the temple around 4:30am. In October when I went, the sun rose at about 5am. We arrived extra early but there were already tons of tour groups and tons of people staking out their spot on the top of the highest platform.
Photographers at Borobudur are allowed to use tripods although you cannot place a tripod on any of the stupas, buddhas or circular platforms. There is definitely a bit of jostling for "the perfect seat" in the dark but honestly the best time is the hour after sunrise when the entire temple is illuminated.
Recommended Hotels Near Borobudur
Because you'll need to make your way to the temple extremely early in the morning for the sunrise shot, I recommend staying at these hotels which are near Borobudur Temple:
1 | The Manohara Hotel Borobudur – The Manohara Hotel Borobudur in Yogyakarta is the hotel on the temple grounds and perfect for the late riser. Just roll out of bed, walk over and show up! A regular ticket is included with a room stay at Manohara, but you will have to pay 250K IDR (about $10 USD extra) if you want the special Borobudur sunrise tour. It appears that they raise this fee every couple months, info current as of November 2016. Accommodations are average but you're getting location.
Check rates on Booking.com | Hotels.com | Agoda and Read reviews on TripAdvisor
2 | The Phoenix – is a good choice if you plan to book a tour of the temples and want to stay longer to explore the city of Yogyakarta. The Phoenix is ideally located in the historic city center and is a beautiful, historic hotel with every level of comfort (including a stunning pool!).
Check rates on Booking.com | Hotels.com | Agoda and Read reviews on TripAdvisor
3 | Atria Magelang – is another good choice. Its located in Magelang, 9 miles (about a 15 minute drive) from Borobudur and more affordable.
Check rates on Booking.com | Hotels.com | Agoda and Read reviews on TripAdvisor
---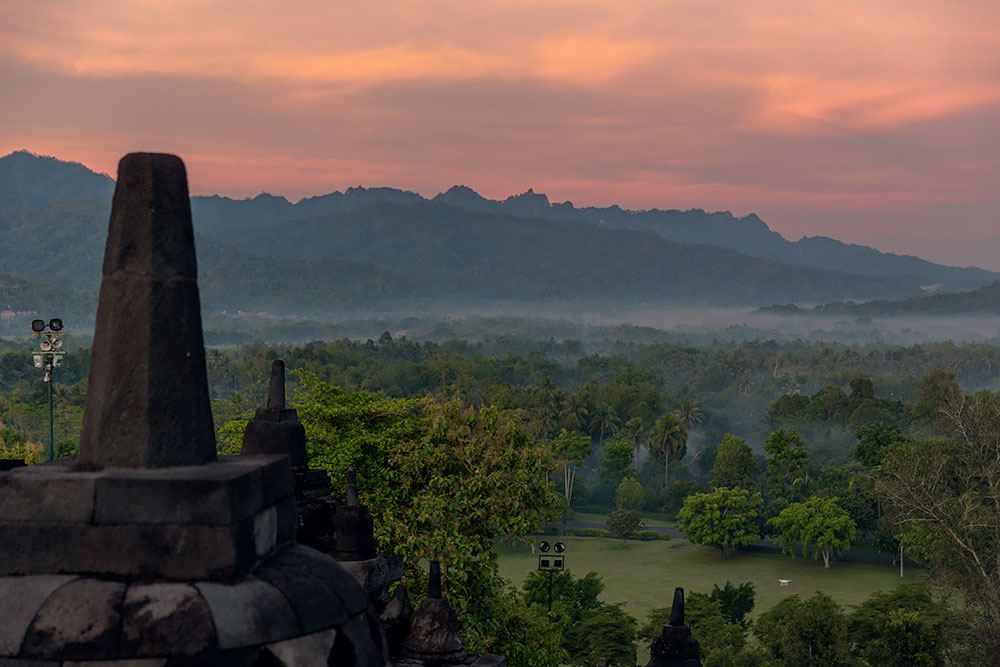 ---
Is the Borobudur Sunrise Ticket Worth It?
I thought the tickets were 100% worth it but I love photography and wanted to be able to capture the best photographs in the most magical light. I also visited in October, when sunrise starts at about 5am and the day already gets hot and strong lighting conditions by 6am. If I didn't pay for the sunrise ticket option, I would have missed the golden window, so to speak.
Another thing to consider is the mist. One of Indonesia's big industries is palm oil, which often leads to slash and burn forest clearing practices. This can make the sky quite hazy and misty. I thought the mist added extra mystery and flair to my shots and an Indonesian local told me that arriving a couple hours later would mean the mist settled over the tops of the temple, partly obscuring it. Weather and time of year is a factor to consider.
Finally, I thought the Borobudur sunrise ticket price – while not cheap (around $30 USD at time of writing) – was really worth the experience.
---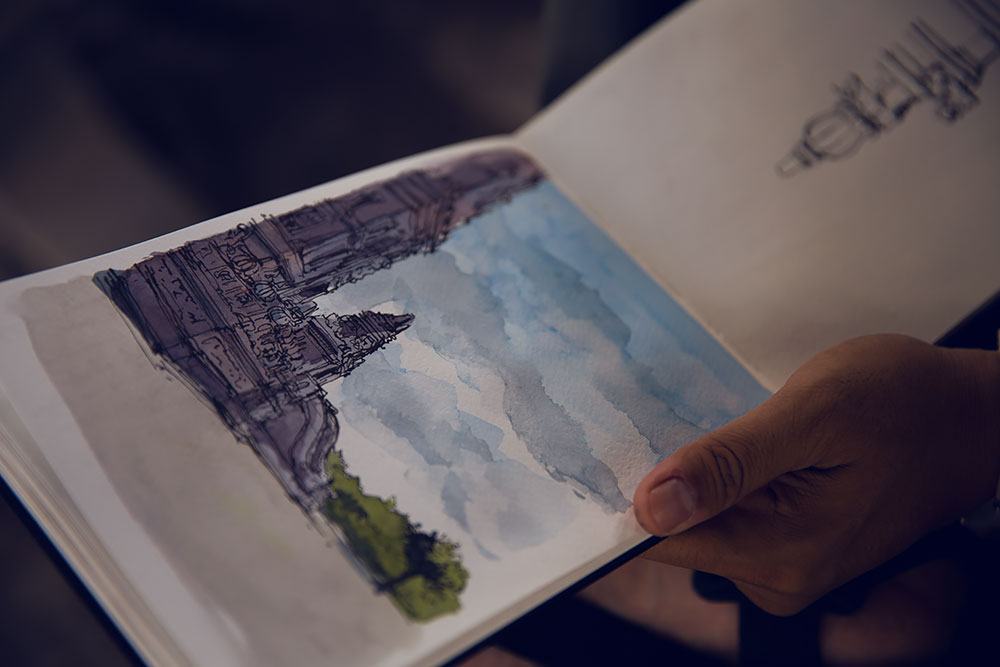 ---
---
Borobudur and Prambanan Tour Options
To get between the two temples, it's easiest to either rent a car in Yogyakarta or book a joint Borobudur and Prambanan tour. There are some tours which will pick you up in time for the Borobudur Sunrise tour and others which will just do both tours in one day.
Other tours of interest while in Yogyakarta include a hike to volcanic Mount Merapi where you can see the after effects of items destroyed in the last eruption, a visit to the beautiful light-filled cave Jomblang as well as tours of other smaller temples in Yogyakarta.
---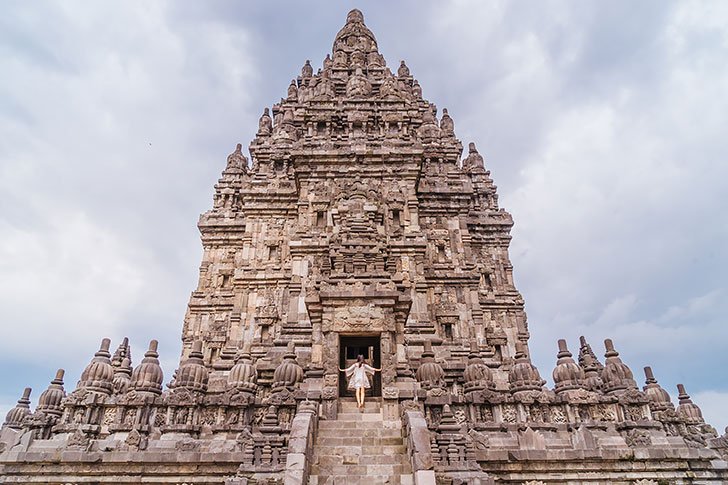 ---
---
Visiting Indonesia – Travel Checklist
Flights | From New York City, there are no direct flights to Indonesia but you can grab reasonably priced flights if you book early. Check often for routes and fares here. I've transferred in Doha and China and prefer Doha's modern airport via Qatar Airways.
If flying to Jakarta, fares will be slightly cheaper and from Indonesia's capital you can explore Bandung, Yogyakarta and Sumatra on short domestic flights. If your focus is Bali, note that flights from the USA will be slightly more expensive and typically will involve a 2nd stopover in Jakarta anyway.
Transportation | You can rent a motorized scooter to get around or book a tour to handle transportation if you're not comfortable. Taxis and Ubers will work in some areas, but not all. Bali especially has terrible gridlock traffic.
Accommodation | I highly recommend 'hotel hopping' Bali – the island is quite large and different neighborhoods have their own characteristics. Bali is also a fantastic place to splurge on a luxury resort – the options are endless, the views are unbeatable and the food is divine. We loved both Alila Villas Uluwatu and the Sofitel Nusa Dua.
Airbnbis a great way to stay in luxurious Balinese resorts for discounted rates – especially if traveling with a group.
Packing | Bring light fabrics and traditional summer wear for Bali along with mosquito spray. If you intend to visit Indonesia's other cities and famous temples, bring modest clothing. Indonesia is the world's largest Muslim country and can view short shorts and mini skirts as impolite. You can read my complete Bali packing list here.
Insurance // Lastly, be sure to visit Indonesia with travel insurance. Whether you get injured and need to be hospitalized, or your phone gets stolen, travel insurance will help when you need it most. I ended up getting seriously ill and visiting the hospital while in Solo, Indonesia and being taken care of was a lifesaver. Get a quote for your trip here.
You Might Also Enjoy:
Indonesia Vacation Planning Articles
Quick Guide: The Ultimate Indonesia Travel Guide
When is the Best Time to Visit Indonesia
At a Glance: 50 Incredible Things You Can Only Do in Indonesia
An Off the Beaten Path Itinerary: 2 Weeks in Indonesia
Java
Yogyakarta : 10 Highlights from Java's Cultural Center
UNESCO World Heritage: Exploring Borobudur & Prambanan Temple
Bandung Don't Leave Without Seeing These 7 Sights
Visiting Bali
Bali Packing List: What to Wear in the World's Largest Muslim Country
Where to Stay: Bali's Best Neighborhoods
Luxury Resorts in Bali with Epic Swimming Pools
Hotel Review: Alila Villas Uluwatu
More Beautiful Islands
A Raja Ampat Travel Guide: Scuba Diving, Hiking & How to Get There
Sun, Surf & Sea: Visiting Lombok & The Gili Islands