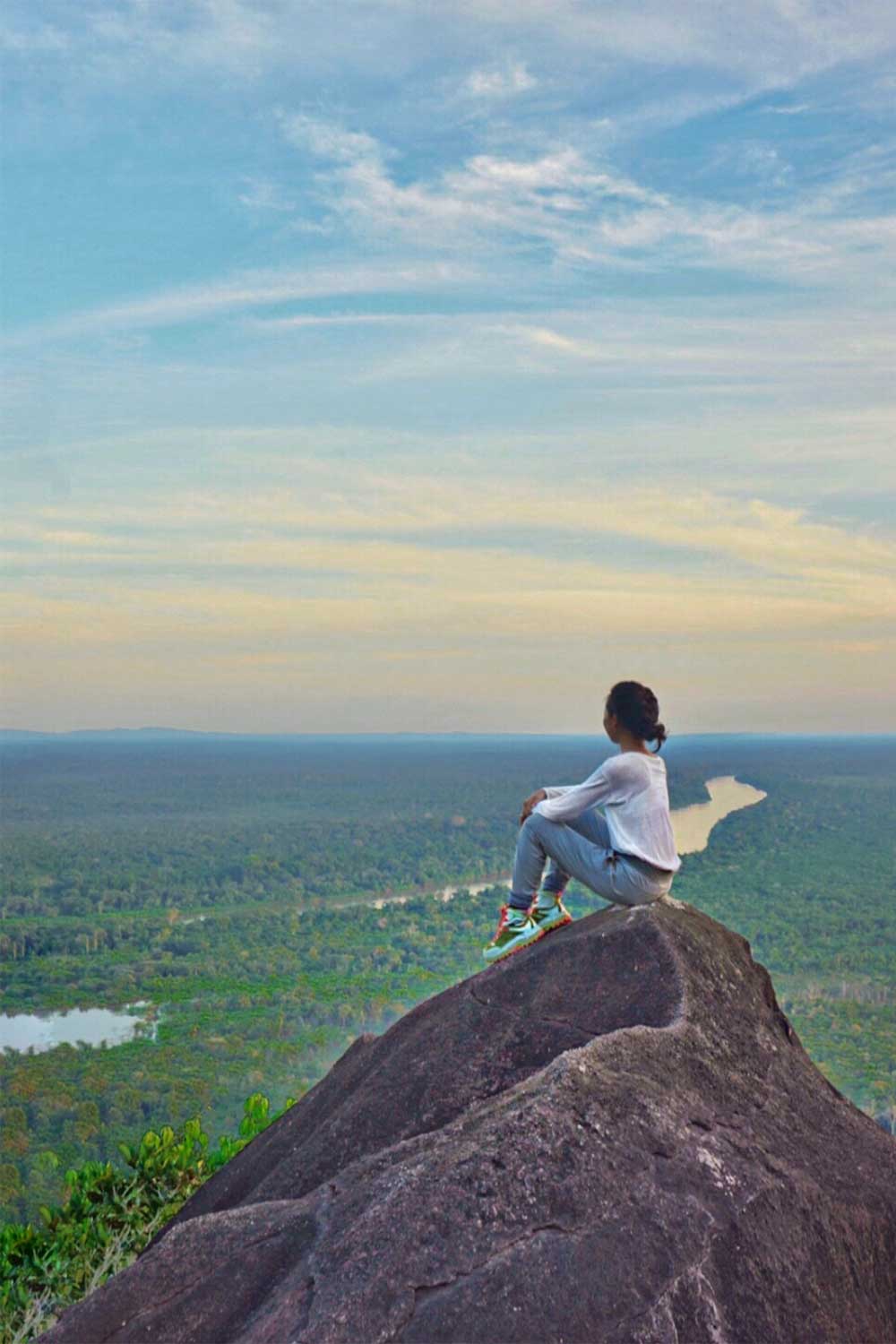 Guyana Travel
If you asked me about some of my favorite places in the world, I'd rattle off, "Paris, London, Shanghai, Copenhagen.."
Notice a pattern? They're all cities (ha).
I dislike hiking, I avoid the sun like the plague, and shriek at the immediate sight of a bug. So what was I doing, hundreds of miles deep in the jungle of Guyana?
On our 2 week trip in the country, we had frogs jumping out of our shower drain, a tarantula roommate and a friendly bird who popped on my cot not once, but twice.
And yet, Guyana remains one of the most memorable places that I've visited. While I still wouldn't classify myself as 'hard core' or 'extra adventurous', I think anyone willing to brave the outdoors should add Guyana to their travel bucket list – especially its jungle interior.
ADVERTISEMENT
Guyana is one of the world's last remote places. Steamier than a sauna and with more critters than humans, this small South American country offers more adventures in one week than most people will experience in a lifetime.
And let's face it, if I could brave its wilderness… anyone can!
Today I'm sharing our Guyana itinerary – covering everything we saw, did and experienced throughout our time in Georgetown and the jungle. There's not much info out there about Guyana in travel books so hopefully this will serve as a planning guide for any curious travelers out there craving somewhere new!
Keep reading or pin this article for later ⇟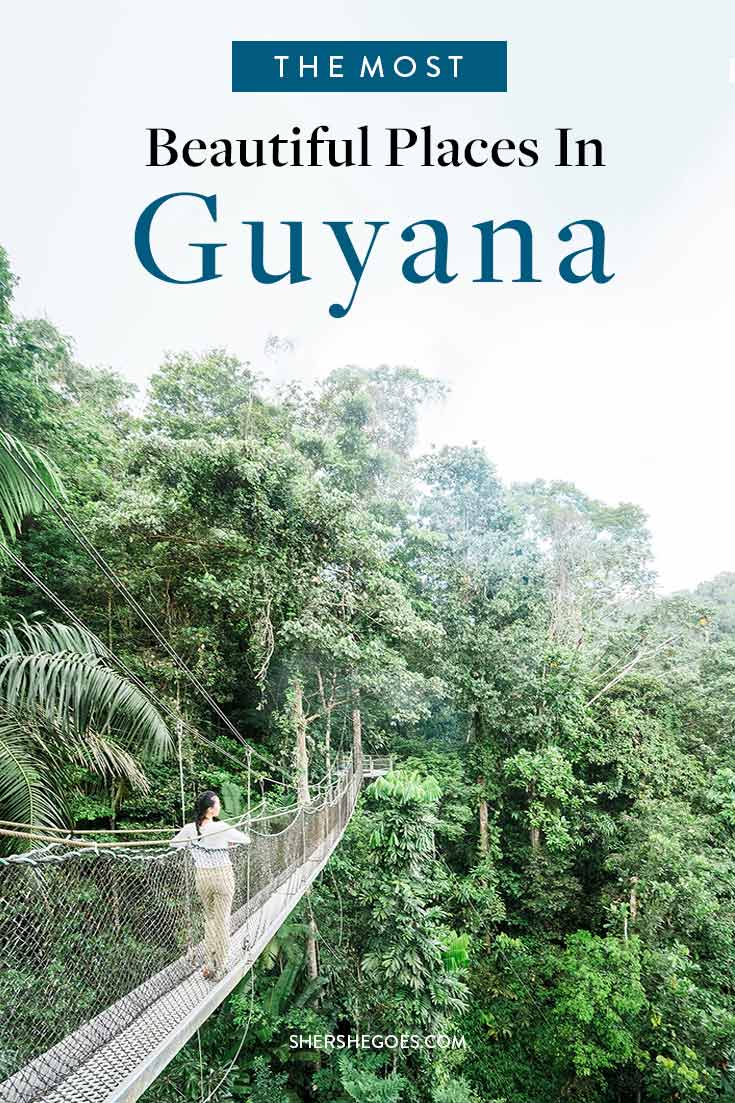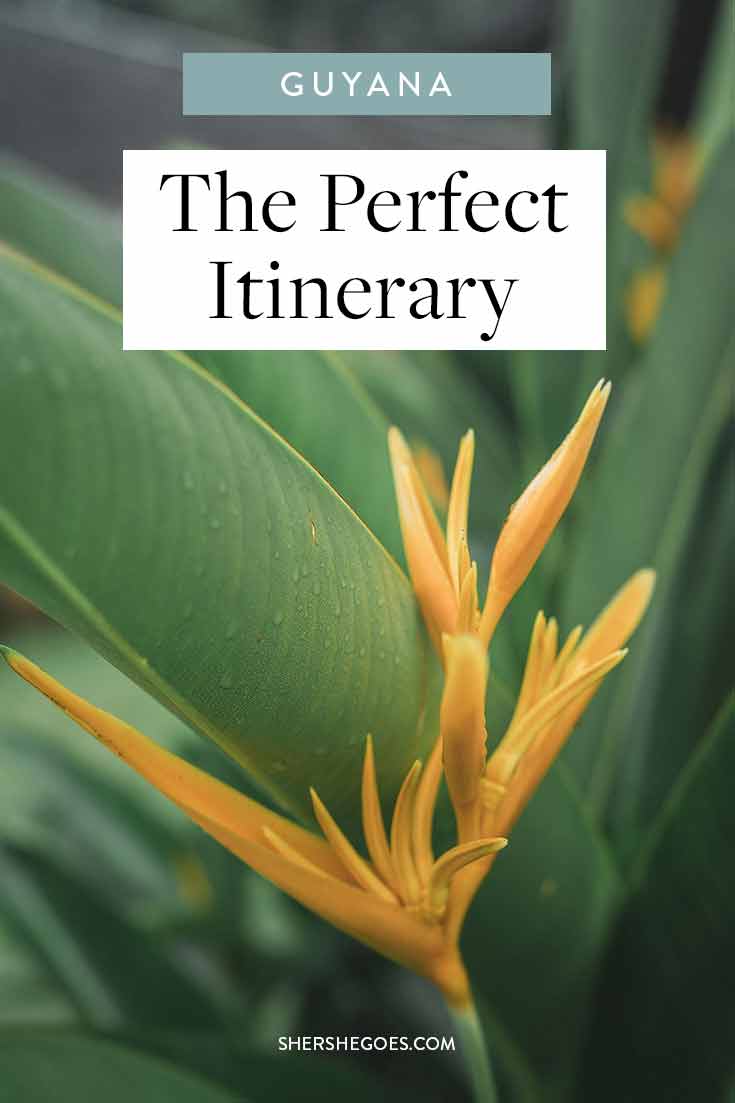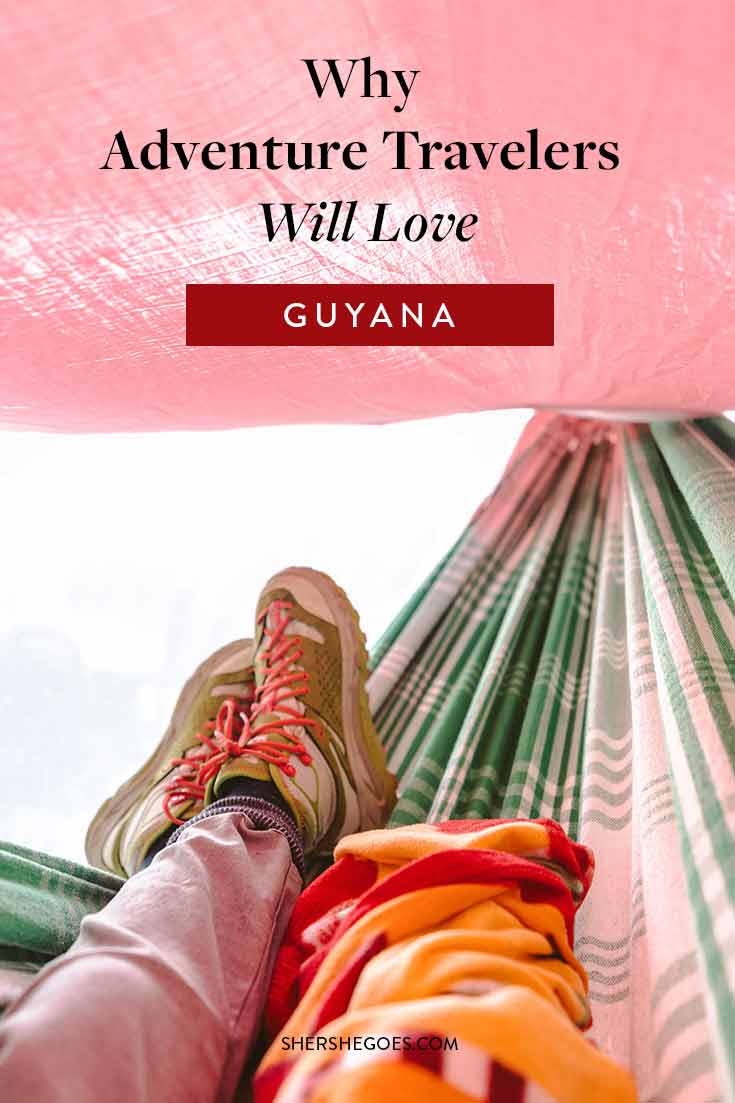 ADVERTISEMENT
---
---
The Guiana Shield
Guyana lies sandwiched between Venezuela, Brazil and French Guiana, in what's known as the Guiana Shield.
The Guiana Shield was formed more than 2 billion years ago as the last plateau on Pangea, the world's original supercontinent. Thanks to its ancient history and unique geology, the Guiana Shield is one of the most biodiverse regions in the world.
What does that mean exactly?
Well, expect mammals, fish, birds, plants and reptiles that you've never seen anywhere else! Forget roosters waking you up – try howler monkeys. Sharp toothed caiman lurk in the rivers while jaguars roam free at night.
ADVERTISEMENT
---
---
Even animals you think you're familiar with exist in Guyana…on another level. River otters are gigantic (officially called Giant River Otters) and anteaters are supersized (Giant Anteaters).
With more than 850 species of birds and some of the globe's most exotic fish, visiting Guyana is a paradise for bird lovers and anglers. Its highlands, sandstone plateaus and thick jungle are also a beacon to hardcore survivalists looking to test their skills.
I'm actually not kidding – Naked and Afraid has filmed in Guyana's interior more than once! So it's safe to say that visiting Guyana's interior requires a bit of planning.
Here's what to expect.
ADVERTISEMENT
---
---
Guyana Itinerary
Our Guyana itinerary took us to some of the most remote and pristine rain forest left on earth – and it did so sustainably.
One of the great things about visiting Guyana is its sustainable tourism model. All the hotels we stayed at were owned and operated by Amerindian villages and the lodges themselves were eco-friendly. Our guides grew up swimming in the rivers and navigating the forest trails by memory so they were incredible at introducing us to local plants, animals and Amerindian traditions.
I'm not going to lie – the accommodation was an adjustment for me. But I loved seeing how the architecture differed from hotel to hotel and appreciated the low environmental impact.
One thing that is easy?
Guyana is English speaking! No need to brush up on your Spanish; Guyana's history as a British colony distinguishes it as the only English speaking country in South America.
Highlights of Visiting Guyana
Now that I've properly prepared you… here's what you can look forward to experiencing in Guyana!
Colorful Georgetown, a lively capital with a Caribbean feel
Learning to live off the land (piranha fishing, archery, camping & more!)
Spectacular birds, like the eerie Harpy Eagle and hidden Great Potoo
Kaieteur Falls, the world's highest single drop waterfall
Night safaris to catch a glimpse of black caiman and jaguars
Getting to know the indigenous Macushi tribes
ADVERTISEMENT
---
---
2 Weeks in Guyana
Days 1-2: Arrive to Georgetown
From New York, we flew directly into Chedi Jagan International Airport and hopped into a cab.
The airport is a bit far from the capital, so budget at least an hour to transfer to your Georgetown hotel. On our first day, we settled in to our rooms at the charming Cara Lodge, originally home to the first Lord Mayor of Georgetown. It had beautiful colonial style architecture, a central courtyard and charming wooden beams.
We sprayed our clothing with Sawyers for mosquito protection, let them air out, and grabbed our first dinner of local Guyanese curries and stir fries before getting some rest.
On day 2, we explored Georgetown!
Read more:
The Best Things to Do in Georgetown
Where to Stay in Georgetown
Cara Lodge – A great place in town for comfortable, air conditioned rooms. The hotel is located in a Victorian style colonial house, with a gorgeous courtyard and great location convenient to downtown.
Book rooms: Booking.com, Hotels.com | Check rates: TripAdvisor
ADVERTISEMENT
---
---
Days 3-6: Rupununi River
In the morning, we headed to OGL airport.
Our guides had chartered a cessna for our group of 7 and it was the smallest plane I think I've ever been on! It's easiest to visit Guyana with a small group. Sometimes solo or couple travelers find that charters won't take off unless the flight is full (due to the cost). The cessna seats 13 if I remember correctly.
For the flights, they carefully weighed not only our bags, but us individually and our supplies. It was such a cool experience to fly over the rain forest and see the winding river through all the greenery.
Over the next 4 nights, we stayed at Rewa, an eco lodge on the Rupununi river.
Rewa is pretty isolated, surrounded by unbroken rainforest, small mountains and deep rivers. As a result, the lodge remains virtually unknown and the wildlife opportunities are endless.
Things to Do in the Rupununi
This was our favorite eco-lodge of the entire trip, with two bedroom huts, hammocks for relaxing and lots of activities to try out. Our local guides are Macushi Amerindians, and getting to learn survival skills from them was fun and unforgettable.
We spot spider monkeys and wake up to the call of active howler monkeys. At night we see snakes and glimpses of black caiman. Breakfast in the morning is on a flat viewing balcony overlooking the lake and one morning we get lucky and spot a family of giant river otters!
Another day, we hike Awarmie mountain, a twisty one hour climb up. The pace was heart pumping, especially for someone out of shape like me, but doable. The guides? They could race up in flip flops, carrying coolers of water and reach the peak in 15 minutes (LOL). Some had gone ahead to set up comfortable hammocks for us and organize dinner and supplies. Once we reached the top, the view was incredible.
We also canoe on a peaceful lake covered with giant water lilies. This is the national flower of Guyana and its impressive surface area can actually hold the weight of a baby! It's also where the elusive Arapaima fish live, the world's largest fresh water fish. We only see glimpses of their silvery scales when they come up for air but serious anglers can actually apply for a license to catch and release.
My favorite activity? Hands down it's our afternoon competitively trying to catch piranha. We enjoyed it so much I wrote about it in depth in a separate post!
Read more:
Learning to Fish for Piranha in the Amazon!
Where to Stay on the Rupununi
Rewa Lodge: This quaint lodge is deep in the jungle right on the riverbanks of the Rupununi. Thatched huts were comfortable and clean, with attached outdoor showers out back. The food here was delicious – we especially loved breakfast overlooking the water and the locally made peanut butter!
Rewa is quite popular for catch and release fishing and arapaima spotting.
ADVERTISEMENT
---
---
Days 7-8: Iwokrama Forest
On the morning of our 4th day, we're sad to depart Rewa. Our trusty guides take us down the river one final time, to Kwatamang landing, about 2 hours away by boat.
It's a 50 mile journey and our butts are sore from the metal canoes by the end of it. Then we hear that sometimes the journey can take up to 4 hours (depending on water levels) and we're grateful, ha!
From there we hop into rugged jeeps and make our way to Iwokrama.
Things to do in Iwokrama
The Iwokrama Rainforest is incredibly special. Over 1 million acres are protected by conservation and the tropical forest is a living laboratory for researchers. What makes it even more special is that the local Macushi tribe are involved in every aspect of the work.
We check in to Atta Rainforest Lodge, a lush hotel with more traditional style accommodation. The huts are comfortable and airy, and we love these ensuite bathrooms the best (haha).
Even better, the property is a short walk from the Iwokrama Canopy Walkway, where you can climb 750 meters high into the rain forest! There are 4 platforms that allow you to get up close to canopy species like golden winged parakeets and Guianan puffbirds. Unfortunately we didn't see much as we got caught in a torrential downpour minutes into making it to the top, but we did have a lot of fun.
Once the sun sets, we go on a night safari looking for jaguars.
Iwokrama forest has a healthy jaguar population due to its vast wilderness and protected status. We do spot one, but it's a healthy distance away so pack binoculars if you want the best view :)
Read more:
Everything You Must Pack for the Jungle
ADVERTISEMENT
---
---
Days 9-10: Surama
Our third and final stop in the Guiana Shield is to Surama, a small Amerindian community.
The inhabitants here are also from the Macushi tribe and it is actually Surama that pioneered the first entirely community run eco lodge. Accommodation here is in large round huts with airy ceilings.
Things to do in Surama
We visit the village school and learn more about the Amerindian culture, traditional dress and stories from the tribe at dusk.
The next day, we walk through the dense rainforest to the Burro Burro River and board local canoes on the lookout for more wildlife. Low water levels mean we get stuck on tree roots a couple times, but our trusty local guides navigate the river like experts.
The ride is incredibly peaceful. Parrots and other birds swoop ahead of us, pausing at intervals as if to say, 'come along now!' It feels like a scene out of Jurassic Park.
We even spot a Harpy Eagle nest with a baby eagle in it. Bring along a powerful zoom lens if you want to capture some incredible bird shots.
Read more:
What We learned About Amerindian & Guyanese Culture
ADVERTISEMENT
---
---
Day 11: Annai
On our last day in Guyana's interior, we arrived to Rock View Lodge, the perfect place to relax and unwind.
Lodging is basic, but comfortable and again eco-friendly. The property is very lush, with flowering trees, inquisitive monkeys and a refreshing pool out back. Maybe it's because of the wet humidity, but we discover a family of tiny frogs living in our bathroom shower drain!
My favorite part of the property is the old ranch house.
A mix of library, art collection, breakfast spot and after hours hangout, it's the perfect spot to get together for rum-and-lime-juice cocktails and our last group dinner in the jungle.
The lodge is a short drive from Iwokrama and is also handy as a departure point. Just behind the lodge is an open grassy field – the perfect spot to catch a flight :)
After a good nights rest, we pack our bags the next morning to catch our charter flight. Some adorable school children wait with us for a cute send off!
ADVERTISEMENT
---
---
Day 12: Kaieteur Falls
Kaieteur Falls is Guyana's most iconic and well known attraction. A natural wonder, the waterfall is situated in the heart of the country on the Potaro River, a tributary of the Essequibo.
Kaieteur Waterfall flows over a sandstone base into a deep gorge 741 feet below – that's 5x the height of Niagara! So if you've ever wanted to see the world's longest free falling waterfall, head to Guyana.
Tips for Visiting Kaieteur Falls
Kaieteur can be visited in a day trip and round trip tour packages are common from the capital.
The best thing about visiting Kaieteur is how isolated the visit is. Since Cessna planes must be chartered, each visit is taken by a small group, who has pretty much the only access for a 2 hour period.
Our guide took us to 3 viewpoints (which I cover in depth in this post) and explains more about the unique micro environment of Kaieteur. Not only is there the impressive waterfall, there's also Tank Bromeliad plants, vibrant red Cock of the Rock birds and teeny tiny Golden frogs.
It's yet another pinch-me moment on our Guyana trip and as our tiny plane departs, all of us have our faces pressed up against the windows for a last look.
Read more:
Planning the Perfect Trip to Kaieteur Falls: Know Before You Go
ADVERTISEMENT
---
---
Day 13: Back to Georgetown
I definitely recommend a full day in Georgetown at the tail end of your trip. For one thing, it was heaven to have air conditioning and a hot shower.
For another, there's always more to explore!
Things to do in Georgetown
Our last day was spent visiting some of the local markets. We signed up for a fun day with a local restaurant, Backyard Cafe, where the owner guided us through a fruit and vegetable market, showed us some of the grocery staples and then cooked us a phenomenal meal at his backyard restaurant.
And of course, if you haven't yet make sure to take a city tour.
You can explore iconic Stabroek Market, see St George's Cathedral and sample rum at the El Dorado factory. One reason the rum is so delicious in Guyana? Demerara sugar, which you can learn all about at the rum factory.
Read more:
What to Eat in Guyana
ADVERTISEMENT
---
---
Day 14: Departure
With just about 2 weeks in Guyana, we felt like we saw and did so much. But, there's even more to see! If you have more time, consider:
Visiting Caiman House to search for caiman
See Orinduik Falls
Explore Lethem, famous for local vaqueros (cowboys) and annual rodeo
Drive ATVs and Camp in the savannahs of the South Rupununi
Spend time on the Essequibo, Guyana's longest river and see the old Dutch forts
Read more:
All the Best Things to Do in Guyana
ADVERTISEMENT
---
---
A Final Caveat
Amenities in Guyana's jungle interior are limited. Expect clean and comfortable eco lodges made from traditional raw materials. Pack lots of bug spray and shower flip flops, as the bathrooms are open air and there's definitely no air conditioning. For more packing tips, check out our extensive rain forest packing list.
Getting around requires advanced booking so arrange a tour package to handle everything for you. Since Guyana's interior is sparsely populated, we took a mixture of small planes, canoes on the river and 4×4 trucks to get around.
If you ditch any expectations of luxury and open yourself up to nature, you'll have a great time in Guyana!
Visiting Guyana – Trip Planning Checklist
Flight Deals | Caribbean Airlines offers nonstop flights from New York and Miami to Georgetown. You can set a fare alert here to be notified of discounts.
Getting Around | Book a driver for Georgetown or a tour to handle transportation in the Amazon basin. Most arrangements must be set up in advance, for minimum parties of 4, due to the high cost of gas and overland vehicles as well as the limited internet communication in the jungle.
Accommodation | In Guyana's interior, accommodation is remote and consists of comfortable but simple eco-lodges run by local communities. Many do not have internet access, so it's best to book a tour package that will handle transportation, activities and accommodation for you. Or, you can call to make reservations online. In Georgetown, there are plenty of boutique and international hotels to choose from. 
Insurance | Lastly, be sure to visit Guyana with travel insurance. Hospitals and medical assistance are scarce in the jungle interior and yellow fever vaccinations are strongly recommended. Whether you get injured and need to be hospitalized, or your phone gets stolen, travel insurance will help when you need it most. Get a quote for your trip here.
You Might Also Enjoy:
Guyana Vacation Planning Articles
Quick Guide to Guyana
What to Pack for the Amazon Jungle Clothes + Recommended Gear
2 Weeks in the Guiana Shield: Our Guyana Itinerary
Explore All the Best Things to Do in Guyana
Visiting Georgetown: What to See & Do in Guyana's Capital!
Guyana's Interior: The Amazon Basin
Day Trip to Kaieteur, the World's Longest Free Falling Waterfall
Day Tour: Learning How to Fish for Piranha in the Amazon
Guyanese Food: What to Expect, Where to Eat & More!
Guyanese Culture & It's Amerindians
Photos of Guyana from our trip!
Follow me @Sher She Goes on