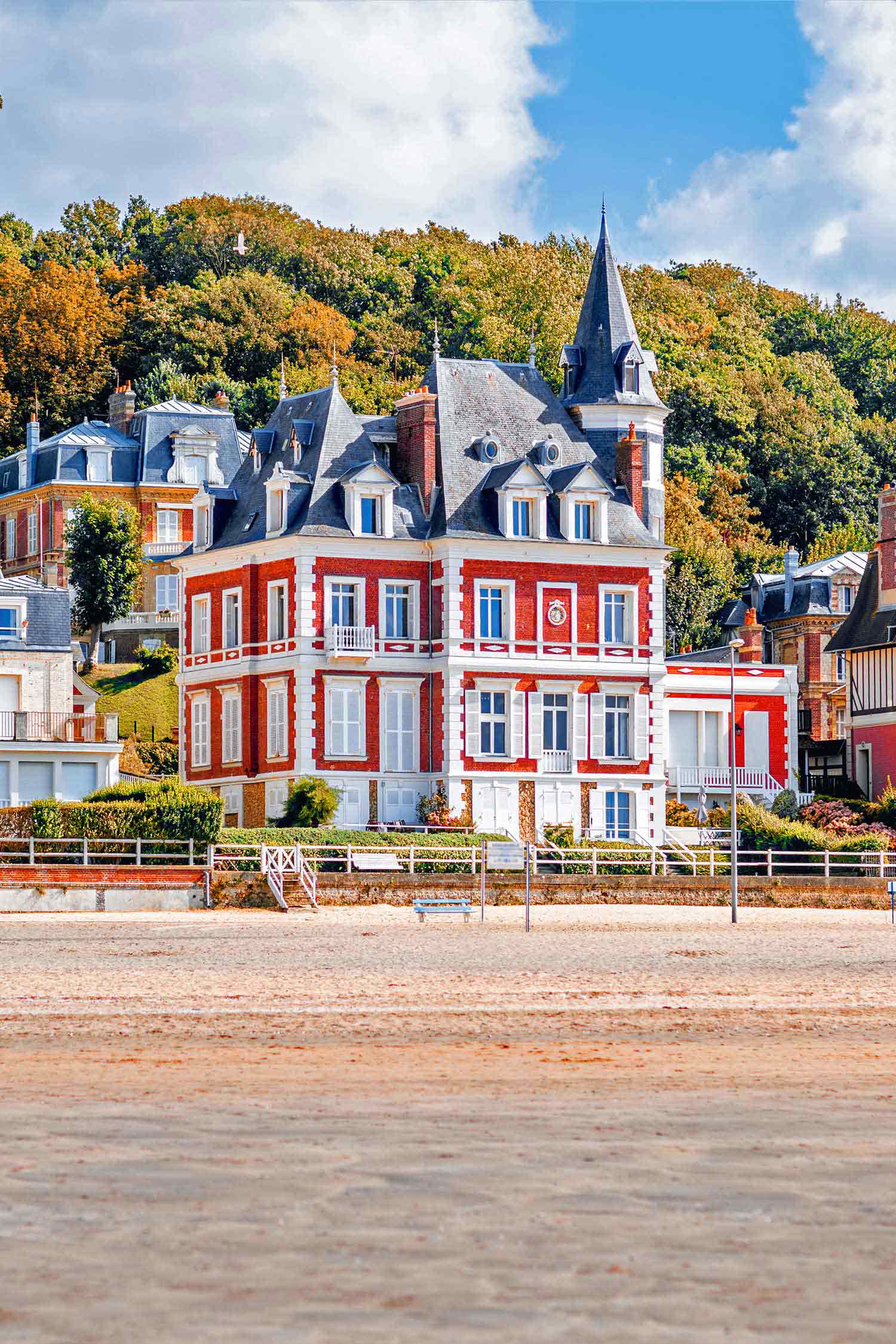 Normandy Towns
Normandy is flat-out gorgeous.
With its romantic coastline and idyllic countryside, it's easy to see why Normandy inspired the early Impressionist painters.
Claude Monet in particular painted several towns throughout northwestern France: the colorful garden of his home town in Giverny, the dramatic cliffs in Etretat and the weighty Gothic cathedral of Rouen – just to name a few.
Whether you love Impressionist art or prefer a digital camera as your medium, there are plenty of towns and landscapes throughout northern France to inspire you.
Keep reading for some of the most beautiful places in Normandy, France!
Or save this article to read later by pinning it ⇟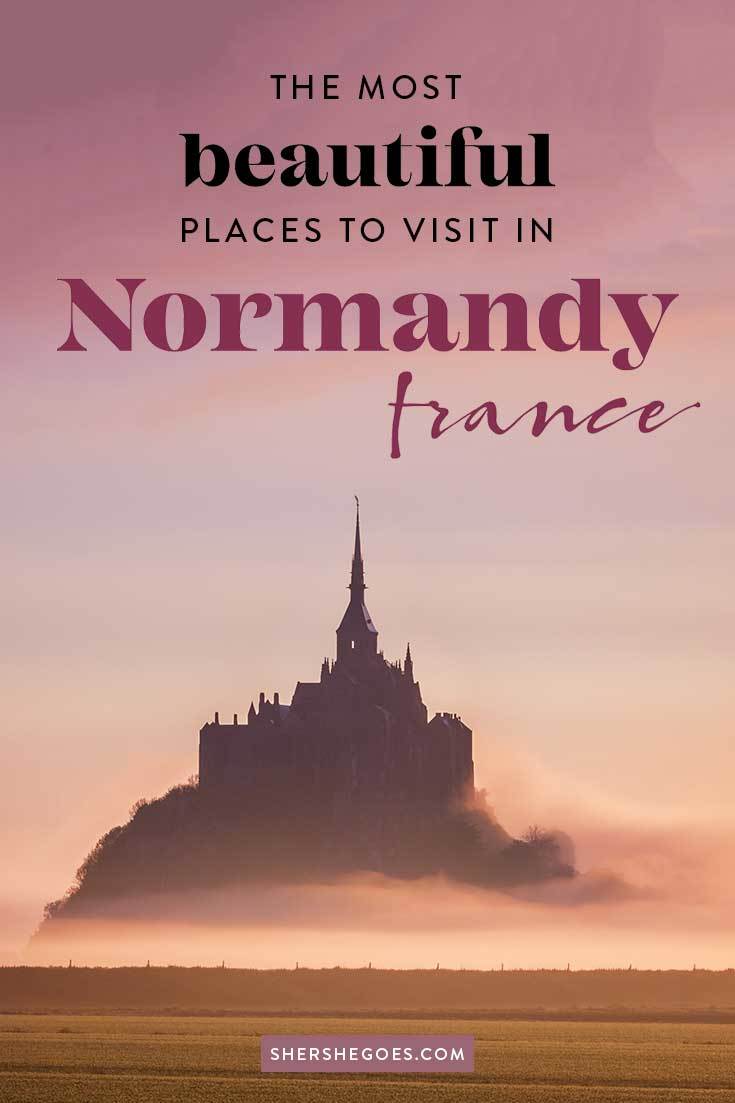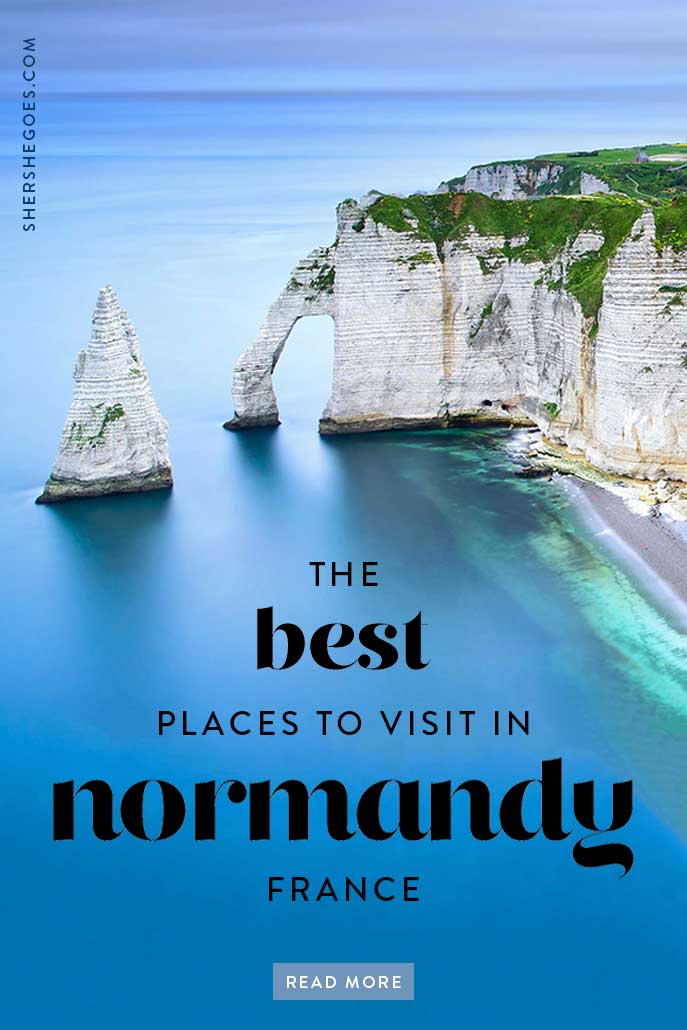 ADVERTISEMENT
The Most Beautiful Places in Normandy
Normandy spans France's northwest corridor, bordering the English Channel. Thanks to its geography, you can visit seaside escapes and dramatic cliff towns along the coast as well as pastoral fields and colorful Medieval towns in the interior.
In particular, Normandy is known for its half-timbered homes, Gothic churches, medieval castles and historic Abbeys. Many of the towns in Normandy were devastated by World War II – some have been restored to reflect their ancient heritage while others were dramatically rebuilt in a more modern fashion.
The result makes Normandy one of the most unique regions in France. Here are our picks for the most beautiful villages in Normandy!
Read more:
20 of the Best Things to Do in Normandy!
Rouen
Rouen is Normandy's largest city and the mixes modern-day with a medieval past. The Old Town is easily identified by the cathedral of Notre Dame, where Richard the Lionheart is buried.
Wander the windy cobblestone streets a bit further and you'll find a gorgeous astrological clock as well as the church which marks the spot Joan of Arc was burned at the stake.
Read more:
Everything You Must Do in Rouen
ADVERTISEMENT
---
---
Caen
Caen is one of two popular towns in Normandy from which to see the D Day beaches. Founded by William the Conqueror and later heavily damaged in the Battle of Normandy, Caen today retains a medieval chateau and excellent WWII museums along with modern hotels, restaurants and shops.
Read more:
How to See Normandy Beach
ADVERTISEMENT
---
---
Bayeux
Nearby Bayeux is the other town close to the Landing Beaches and WWII memorials. Unlike Caen, Bayeux was spared damage during the Allied invasion and today retains medieval charm and a beautiful Romanesque cathedral.
The most famous sight in town is the Bayeux Tapestry, an 11th century work of art that tells the story of William the Conqueror's invasion of England.
Read more:
Visiting Normandy Cemetery in Remembrance of D-Day
ADVERTISEMENT
---
---
The Northern Coast
Normandy's coastline borders the English Channel and is famous for a successive chain of seaside towns. From glamorous beach resorts to scenic coastal towns and bustling industrial harbors, the northernmost section of Normandy is characterized by great beaches, seafood and views.
Honfleur
Honfleur is a pretty port town on the Seine. Originally one of France's primary ports for trading with North America, it was overtaken by Le Havre when too much mud flooded its harbor and prevented large ships from docking.
That misfortune has turned out to be a blessing in disguise. Today, Honfleur is one of France's prettiest medieval port towns, with colorful mansions, restaurants, galleries and yachts all jostle for a piece of the harbor.
ADVERTISEMENT
---
---
Le Havre
At first glance, Le Havre might not meet your traditional standard of beauty. Practically razed to the ground during World War II, post-war Le Havre was rebuilt cheaply in concrete.
That's not to say it's ugly.
Rather, the town's architects embraced concrete to create a modern concrete jungle of geometric columns. Less Soviet blocks and more concrete chic, Le Havre was meticulously designed to a grid system, with uniformity, spaciousness and light filled interiors. In fact, Le Havre was recognized by UNESCO for its unique architectural style!
ADVERTISEMENT
---
---
Fécamp
You might have heard of Fécamp from a Guy de Maupassant novel, as the French writer lived in this seaside village for many years.
Fécamp is a pretty resort town on the coast of Normandy, surrounded by tall white cliffs. The town is most famous for its Benedictine abbey. In the Dark Ages, Abbatiale de la Ste-Trinité, was established here and claimed to have acquired drops of Jesus' blood, by way of a floating tree that had washed up on the beach. As a result, the town quickly became the most important pilgrimage site in Normandy.
ADVERTISEMENT
---
---
Yport
The charming fishing village of Yport is like a step back into the past. Yport has a unique location on the coast between the forest and the sea.
The traditional town is blissfully empty of tourists, with quaint fisherman cottages and winding cobblestone streets. Yport and makes for a great escape off the beaten path!
ADVERTISEMENT
---
---
Etretat
The small village of Etretat sits on France's northern coast, and is most famous for its chalk-white cliffs. Natural arch formations and fresh sea breezes have made Etretat the favorite of both Impressionist painters and modern-day visitors. Head out to the little chapel on the northern cliff and spot the natural arch which looks like an elephant diping his trunk into the sea.
ADVERTISEMENT
---
---
Barfleur
Barfleur is one of the prettiest towns in Normandy and resembles a classic Norman fishing village, with small boats, a quaint harbor and stone houses. The town is known for its great seafood, coastal paths and scenic beaches.
ADVERTISEMENT
---
---
The Pays d'Auge
Away from the sea lies the agriculturally rich section of Normandy, characterized by rolling green fields, apple orchards and thick forests.
This is rural France at its finest, where you'll find delicious Norman food products like Camembert cheese, Calvados apple brandy and local cider. With plentiful dairy cows, Norman cuisine is rich in butter, cream and cheese and you could spend days eating to your heart's content.
ADVERTISEMENT
---
---
Mont St-Michel
On a tiny island between Brittany and Normandy, the abbey of Mont St Michel is breathtaking. At high tide, the sea completely encircles the island, submerging the foot path under dangerous currents (there is a futuristic bridge to take instead).
Built in the Gothic style, Mont St Michel is one of Normandy's most famous sights and prettiest places to visit.
ADVERTISEMENT
---
---
Giverny
While exploring the countryside outside Paris, Claude Monet stumbled upon the peaceful town of Giverny and immediately designed to relocate. Here, he built a house and custom garden and spent the last 43 years of his life painting prolifically.
Visit Giverny from spring to fall to see the garden in full bloom. There's nothing quite like it!
Read more:
What to Know Before Visiting Giverny
ADVERTISEMENT
---
---
How to Get to Normandy by Train From Paris
Normandy is pretty close to Paris.
You can easily see towns like Giverny, Vernon and Auvers-sur-Oise from Paris on a short day trip. The train takes under an hour and runs several times a day.
If you want to visit the D Day beaches, it's a bit farther. It's certainly possible to see the landing beaches on a day trip from Paris but it will be a long and exhausting day.
We recommend taking the train from Paris or a scenic river cruise on the Seine, and stopping overnight in either Rouen, Bayeux or Caen. More information on getting from Paris to Normandy can be found in this post.
The best way to get around is by car, so that you have the freedom to drive along the coast and stop where you wish!
Read more:
How to Get from Paris to Normandy
Where to Stay in Normandy
Since Normandy's best sights are spread out, it makes the most sense to base yourself in Normandy for a couple of days to properly explore. Find deals on Normandy hotels here.
For a great city, choose the regional capital Rouen
ADVERTISEMENT
---
---
Visiting Normandy – Travel Checklist
We took a red eye to Paris from JFK, then sailed on the Seine to Rouen on a river cruise. You can check for flight deals here and set an alert for your dates.
It's also easy to take the train from Paris to cities throughout Normandy. Check my post here for more logistical information on taking the train in France and how not to buy tickets.
In Normandy, there's so much to see over a large area that I'd recommend basing yourself in a city for a couple nights to take day trips, then moving to another city. For the D Day beaches, Bayeux and Caen are both popular bases. Check here for deals on Normandy hotels.
Lastly, be sure to visit Paris with travel insurance. Whether you get injured and need to be hospitalized, your phone gets stolen, or a flight delay leaves you with nothing but the clothes on your back, travel insurance will help when you need it most.
During our recent trip, riots in Paris shut down the city center and forced a closure of all the main sights (the Louvre, Versailles, etc). Get a quote for your trip here.
You Might Also Enjoy:
Normandy Vacation Planning
How to Get from Paris to Normandy
Cruising on the Seine River from Paris to Rouen
The Most Beautiful Places in Normandy
21 of the Best Things to Do in Normandy
Normandy Towns
Quick Guide to Rouen, Normandy's Capital
Paris to Normandy Day Trips: Vernon & Auvers-sur-Oise
Visiting Giverny & Monet's House
WWII Memorials
How to See Normandy Beach & D-Day Sites
Visiting the Normandy Cemetery in Remembrance of D-Day
Follow me @Sher She Goes on