Visiting Grenada
Last month, I had the pleasure of visiting Grenada for the first time. Grenada and the Grenadines is a small trio of islands in the Caribbean, near the West Indies and quite far south nearer to South America than Florida.
I spent a total of five days on the island, staying right on Grand Anse beach and filled the days with sun, sand and relaxation.
In today's post, I'm sharing all the best things to do in Grenada!
Quick jump to:
Or save this article to read later by pinning it ⇟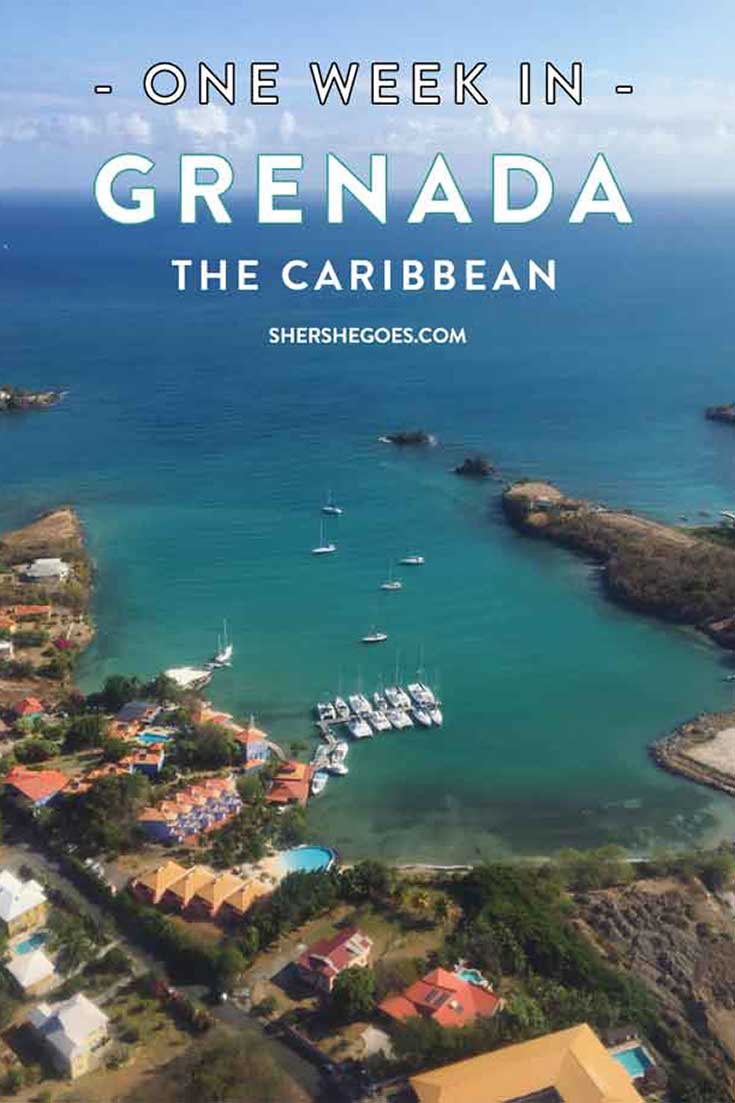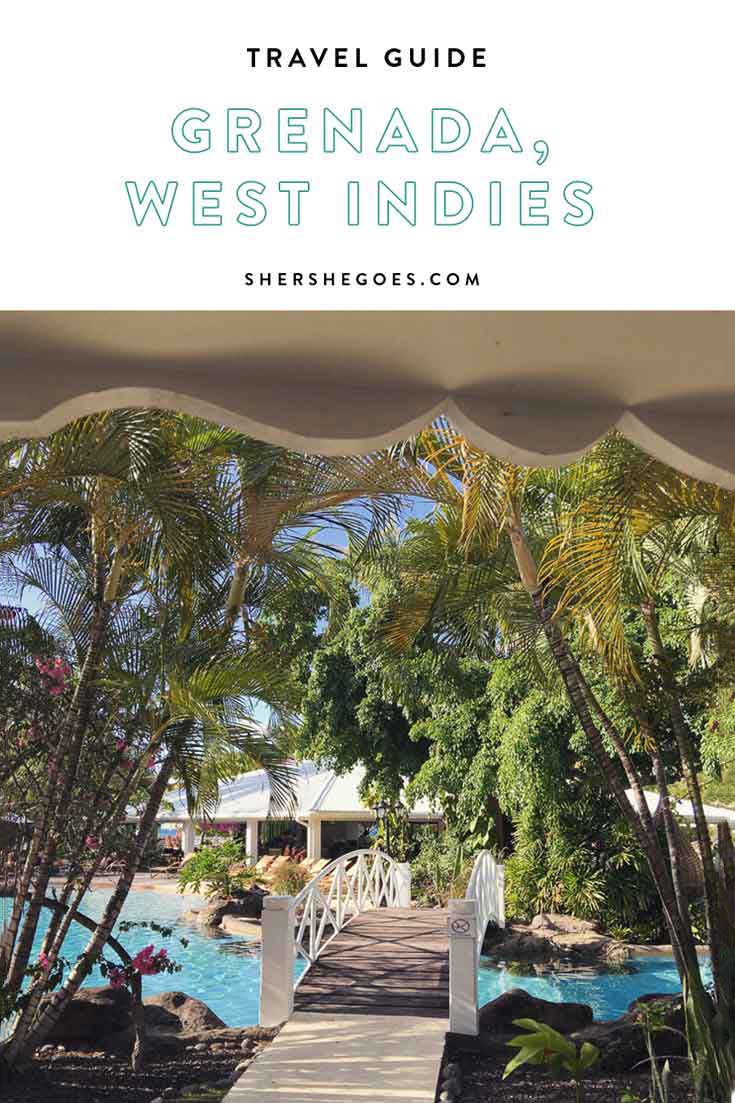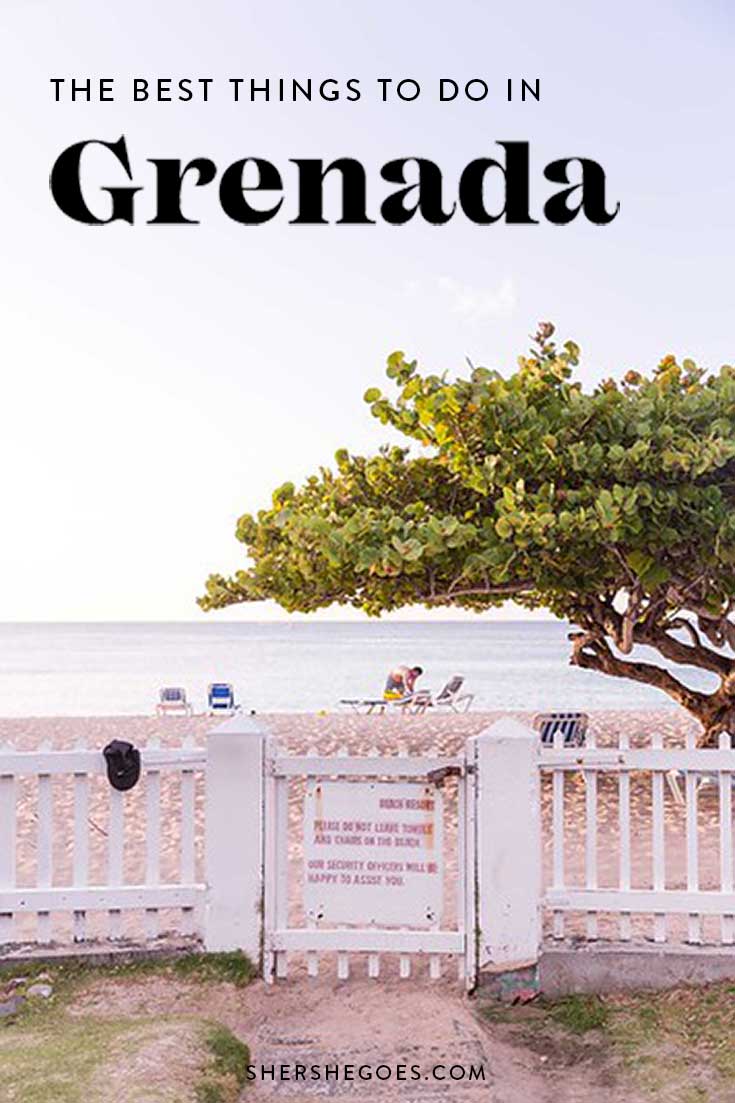 ADVERTISEMENT
---
---
The Best Things to Do in Grenada
While researching for the trip, I didn't find much out there. I'm not quite sure why Grenada doesn't seem to receive much traffic (it also gets often confused for Granada, Spain) but now having been, I wholeheartedly recommend it.
The island is perfect for diving and sailing while on the interior, Grenada boasts a lush national park and rain forest so you get a great mix of beach and jungle – which was fascinating to me. Most people seem to do a quick day stopover aboard a Caribbean cruise ship but I also noticed lots of British expats with homes on the island!
Here are just some of the amazing things to do on Grenada!
1. Swim on Grand Anse Beach
Most of the luxury hotels in Grenada are located along Grand Anse, a beautiful beach with lush palm trees, soft white sand and gentle waves.
Our hotel, the Radisson Grand Anse, had some of the most beautiful landscaping that I've ever seen and lots of waterfall pools, swim up pools, bridges and hammocks.
It was a paradise that we didn't want to leave! You can read a full review of the property in our earlier blog post here.
Beaches in Grenada are public so you'll find lots of locals relaxing, tanning and swimming! It's such a fun atmosphere and you can even walk into some of the other hotel properties if you want to snorkel, rent a boat or scuba dive.
Read more:
The Top Scuba Diving Sites in Grenada
ADVERTISEMENT
---
---
2. Eat Authentic Jerk Chicken
For the best local food, head to 'Wall Street' a small strip of restaurants and stores. There you'll find a Caribbean Grill Master restaurant with amazing jerk chicken, kebabs, Carib beer and ice cream smoothies!
Our advice?
Ask for an ice cream milkshake combining chocolate and nutmeg. Grenada is known as the 'Spice Island' since it exports so many rich spices, including rich dark chocolate cacao beans and nutmeg. The shake is delicious!!
ADVERTISEMENT
---
---
3. Explore St. George
The bustling capital of St. George is a great spot to have lunch and do a short walking tour. Walk uphill (bring sturdy travel shoes) to see the Carenage, fort, market and churches. From the Radisson (or any hotel on Grand Anse beach), it's a short 15 minute drive into town.
Fort George sits above the town center, originally built for strategic fortification to guard the harbor entrance. This is a great spot for a good view and to take some pictures of the colorful houses below!
To get to St. George, you can take a taxi but we thought it was more fun to hop on the crazy, loud and fun local minibuses (bus #1) to get to Saint George's. The minivans stop right outside the hotel on the main road every couple minutes.
Or, if you want a complete experience, book this guided tour of St. George that includes an English speaking guide as well as trips to a spice plantation and distillery! You'll get round trip transportation taken care of and even get to taste Grenada's local specialties: rum and chocolate!
ADVERTISEMENT
---
---
4. Try Local Fruits like Soursup
In St. George, there's a small mall near the cruise dock where you can pick up some souvenirs.
Don't miss the delicious frozen fruit smoothie stand where they whip up fruit smoothies of every kind. Try the soursup smoothie if you're adventurous (it's been studied and found to help fight cancer!)
ADVERTISEMENT
---
---
5. Climb Seven Sisters Waterfall
In Grenada's center, you'll find Grand Etang volcanic lake and rainforest trails. We took a hike to see Seven Sisters waterfall which was a challenging uphill climb!
6. Visit Concord Waterfall
Next, we took a second visit to Concord Falls, which is much more easily accessible by car. If you have time it's fun to do both – Seven Sisters is more remote and feels like you've stumbled on a local hideout while Concord waterfall is a larger singular fall with some tourist infrastructure.
7. Swim in Annandale Falls
Finally, Grenada has a third waterfall, Annandale Falls, a picturesque grotto where 30 feet of water cascades down into a small pool. For convenience, we booked an all day tour that included a drive to take us around to all these picturesque waterfalls!
ADVERTISEMENT
---
---
8. Visit River Antoine Rum Factory
Almost every Caribbean island produces great rum, and Grenada is no exception!
River Antoine Rum Distillery dates back to 1785. It gets its name from the River Antoine, and is the oldest functioning water powered distillery left in the Caribbean! Despite the factory being ancient enough to be an antique, it remains a working distillery today.
We loved tasting the rum here – in small doses though, because this stuff is 75% proof! The strong rum is only available in Grenada so pick up a couple bottles as souvenirs for friends and family back home who love the potent stuff.
The factory is located on Grenada's northeast coast, in the parish of St. Patrick, so it's convenient to include this as part of an all day tour of the island.
ADVERTISEMENT
---
---
9. Tour a Nutmeg Plant
I really enjoyed the island drive as you get to see how diverse and lush Grenada is.
Mangoes and banana trees sprout right on the side of the road, footpaths are overgrown with tiny pineapple shrubs and beautiful inland mansions and old shells of houses remain from Hurricane Ivan.
Don't leave the Spice Island without a proper spice tour.
We visited a nutmeg plant, all locally operated, and learned about all of the island's main agricultural exports. Nutmeg is one of Grenada's top spice exports and is used in everything from your basic seasoning to mace, massage oil, syrup… even garden mulch and nail varnish!
Local nutmeg plants are a main employer on the island and all the employees were incredibly friendly.
ADVERTISEMENT
---
---
10. Stop by the Chocolate Museum
Come here to learn about the island's most delicious dark chocolate export. There's artisan chocolate pieces for sale and ice cream shakes as well.
We bought a ton of chocolate bars to take home – my favorites are the salty-licious 71% dark chocolate and the nib-a-licious 60% dark bars!
ADVERTISEMENT
---
---
11. Go Scuba Diving
You definitely have to take advantage of the island's pristine diving waters and spend a morning or two underneath the sea.
We scuba dived every morning of our trip, exploring different reefs each time and couldn't get enough! We saw turtles, lots of local reef fish and the world's only underwater sculpture park, all of which were a treat.
Some of Grenada's most popular dive sites include:
Monday through Friday seemed to be the touristy days, and frequent stops are made to the Underwater Sculpture Park (the first in the world!) where you can see sunken sculptures and local reef life intertwined.
Advanced divers probably want to dive on the weekend, where the expats and locals take diving seriously and head to deeper waters like Grenada wreck sites. We've mentally bookmarked them for when we get our advanced certification!
For our full diving experience, you can read this post about scuba diving in Grenada.
ADVERTISEMENT
---
---
12. Go Sailing
There are many charter options in Grenada available for hire and most opt for a one way cruise southward starting from St Lucia and ending in Grenada, in order to travel windward.
ADVERTISEMENT
---
---
13. Hop over to Carriacou Island & Petite Martinique
If you have a week or longer, budget some time to hop over to neighboring Carriacou island to explore for a couple days.
The easiest way to is fly (flights are offered daily from the main island to Carriacou and Petite Martinique) but there are also daily ferry options and the slower mail boats, which can go to St. Vincent and the Grenadines.
14. Have Lunch at Belmont Estate
Belmont Heritage Estate is a historic cocoa plantation that dates back to the 1700s.
The large property includes a museum and a modern day restaurant. Take a guided tour to learn about the original Scottish owners, present day Grenadian owners and relax long enough to enjoy lunch!
ADVERTISEMENT
---
---
15. Experience Fish Friday
We didn't get to try this, but we heard about it often from locals and wished we had!
Fish Friday takes place (you guessed it) every Friday in the town of Gouyave, a small village on Grenada's west coast. The town is well known for its seafood and is the fishing hub of Grenada.
Book transportation here to take you into the street festival, wander the food stalls and listen to the live music! Fish Friday is a Grenadian tradition so it's a great way to mingle and experience the local culture.
What kind of food can you expect? Freshly caught seafood like lobster, conch and shrimp, jerked marlin, fish cakes and refreshing beers.
Book:
Fish Friday transportation here
.
ADVERTISEMENT
---
---
Best Time to Visit Grenada
The steamy tropical climate is tempered by northeast trade winds for a year round balmy climate. I spoke to locals who recommended January to April as the driest and best time to visit (rainy season occurs from June to November).
Though if you're looking to experience a Caribbean party like no other, the raucous August Carnival is a brilliant time to be in Grenada.
Getting In
From New York City, you can easily hop on a direct flight to Grenada's Maurice Bishop International Airport, making it an easy destination to visit, whether you have a long weekend or a full week! Set a flight alert here to be notified of deals.
One thing we recommend is to book your transportation in advance. When we landed, we were immediately swarmed by taxi operators as we left the airport and we didn't have any local currency to pay them. Grenada uses Eastern Caribbean dollars – try to exchange currency in advance if you can!
If you want a seamless arrival and departure, you can book a taxi private comfortable transfer here to pick you up and drop you off directly to your hotel. They'll pick up from both the airport and cruise terminal, so it's really convenient!
Book:
Private Transfer
ADVERTISEMENT
---
---
Where to Stay in Grenada
The best place to stay in Grenada is on Grand Anse Beach. It's centrally located on the island and where you'll find all the high end resorts. The capital is a short drive away, while the beach is at your feet! For more of a secluded feel, head south to Morne Rouge.
Read more:
Hotel Review: The Radisson Grenada on Grand Anse Beach
We stayed here and loved every second! It's nothing fancy, but it is clean and comfortable and has extensive lush grounds as well as a prime spot right on the beach. It's near the top of the hotel strip, so you're within walking distance to restaurants, scuba schools and bus pick ups to head into the capital.
Check rates: Booking.com, Hotels.com
Read: Our Review, TripAdvisor
Other fantastic hotels in Grenada:
This hotel was right next door to the Radisson and where we walked over each morning to the EcoDive scuba shop. We didn't see the rooms, but the grounds were similar to the Radisson's and also had beachfront access.
Check rates: Booking.com, Hotels.com | Read reviews: TripAdvisor
This luxury resort down south in Morne Rouge. This property is much more secluded and close to some beautiful scuba diving spots. It's also quite popular with honeymooners and romantic couple getaways!
Check rates: Booking.com | Read reviews: TripAdvisor
ADVERTISEMENT
---
---
Getting Around
Grenada is a truly beautiful island and quite unique in the Caribbean in that is has a rainforest interior and beach exterior. You could spend your entire trip laying out on the beach, but you'd be missing out if you didn't at least see the waterfalls, spice plantations and beautiful estates in the interior!
If you want to experience as much as possible, within a limited period of time, it's easiest to book a tour. This is what we did to see Grenada's interior and what we would definitely recommend for cruise visitors.
Here's a couple of the most popular tours in Grenada:
Grenada All Day Tour
This full day tour will show you everything beautiful that there is to experience in Grenada. With round trip transportation from your hotel or cruise ship, you'll tour St George, a spice plantation, the River Antoine rum distillery and also visit Concord Waterfall and Grand Etang rainforest.
If you're only in Grenada for a short time, there's no better way to get a complete picture of the island than this! We did this tour and especially loved learning about Grenada's history, sampling rum and tasting local chocolate.
Check availability and rates here.
7 Sisters Waterfall
Grenada's waterfalls feel blissfully un-touristy. They're hidden deep on the island's lush interior and surrounded by green forest, local vegetables and muddy climbing paths. A great way to experience Grenada properly is to see 7 sisters waterfall and Concord Waterfalls, especially if you enjoy hiking!
Check availability and rates here.
Belmont Estate Heritage Tour
Belmont is a working cocoa plantation. The rural site is home to a historic museum, cocoa bean fermentary and a great lunch buffet! The food is always fresh, delicious and authentically Grenadian.
Check availability and rates here.
ADVERTISEMENT
---
---
Local Transportation in Grenada
On the other hand, if you prefer to stay at your all inclusive resort and just want a short half day trip to see St. George, you can take advantage of the local minibus. #1 passes between the beach strip and the capital and is what the locals use!
The pick up is right in front of the Radisson, so it's convenient if you're staying at the hotel.
Note: this is a bumpy ride in a local minivan. It gets crowded, wasn't air-conditioned and the drivers often like to blast music. We took it a couple times and thought it was fun, but it probably isn't the transportation mode for everyone. All the locals are friendly and it's definitely safe.
ADVERTISEMENT
---
---
Is Grenada on your Caribbean bucket list?
Visiting St George, Grenada – Travel Checklist
We took a direct flight from New York into Maurice Bishop International airport (GND) via Jet Blue. For any Caribbean destination, Jet Blue offers competitive fares – you can check for flight deals here.
If you're visiting Grenada for the beach, stay right on Grand Anse Beach. This is the best part of the beach and the most scenic place to stay – it's also where all the hotels tend to concentrate! You can spend all day at the resort and beach, or head into town. Book accommodation in advance to save.
Lastly, be sure to visit Grenada with travel insurance. Whether you get injured and need to be hospitalized, or your phone gets stolen, travel insurance will help when you need it most. Get a quote for your trip here.
You Might Also Enjoy:
Grenada Vacation Planning Articles
11 Can't Miss Activities in Grenada
Scuba Diving in the World's First Underwater Sculpture Park
Beachfront Living at the Radisson Grenada
Follow Sher She Goes on
Bloglovin | Facebook | Twitter | Pinterest | Instagram
---
Our trip to Grenada was hosted by the Grenada Tourism Board. Our decision to write this post and all opinions within are our own.