Black Tie Event & Wedding Guest Dresses
Here are some stunning formal gowns for any black tie events or weddings you may have. They're sophisticated, sexy and (relatively speaking) affordable!
Black Tie Dresses for Women
ADVERTISEMENT
Black Tie Dresses
For women, 'black tie' might as well mean black hole.
It's hard to define, guaranteed to suck up time and energy in finding the one.. and just plain confusing.
Men have it so easy! For them, black tie means tuxedo – but let's face, life is easier for them too.
So for my ladies out there, here's a quick guide to Black Tie dress codes and some formal dress options that pack a punch but won't break the bank.
Keep reading, or pin this article to save it for later ⇟
click the product images to shop
ADVERTISEMENT
---
---
What Does a Woman Wear to a Black Tie Event
Essentially, black tie events require long gowns. It certainly doesn't have to be, but long gowns are an easy way to satisfy the 'formal' requirement.
Black Tie Weddings
Black is typically not considered a 'wedding guest friendly' color… but the exception is for black tie weddings!
What Fabric to Wear to a Black Tie Event
Since black tie events are considered an evening affair, you'll want to look for more dramatic and weightier fabrics.
Skip dresses in cotton, jersey, knits, corduroy, denim, linen or flannel. Typically, dresses in these fabrics are thinner and lighter, and designed for day wear.
Instead, look for evening fabrics like velvet, silk, lace, satin, tulle, chiffon or taffeta.
Dresses in these fabrics typically have great movement and drape to them. They're richer, plusher and weightier and the dresses are therefore a bit more dramatic and formal.
ADVERTISEMENT
---
---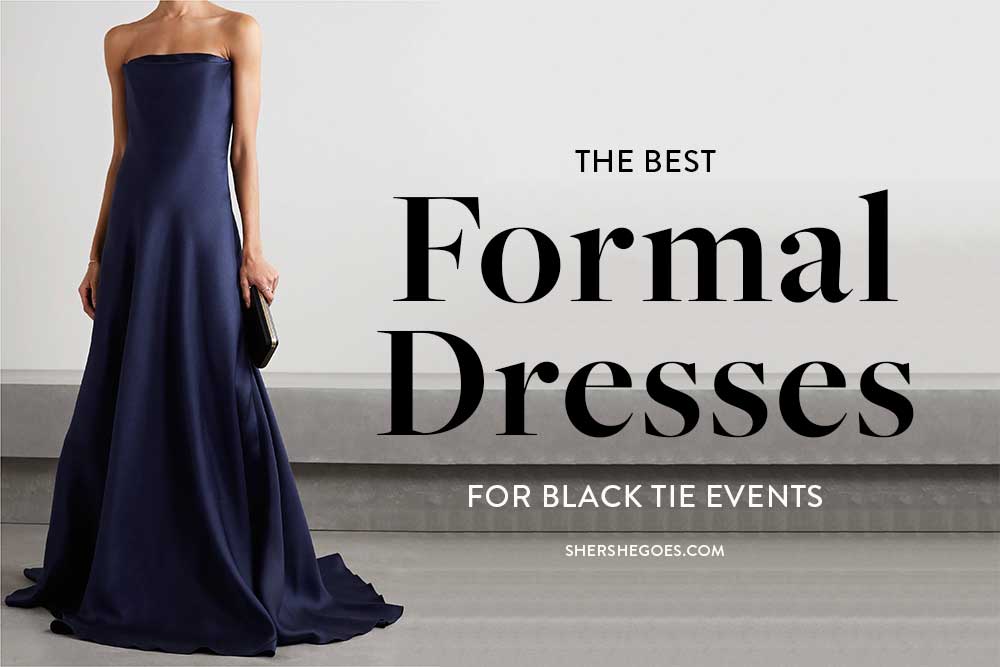 Black Tie Accessories
But fabric isn't the only thing that can make a statement!
You can easily formalize a simple dress by adding accessories or looking for dramatic details. Try putting your hair up in a formal updo or pulling it back in a twist for an elegant look.
Bring out your statement jewelry! Sparkle and gems always make outfits look more formal.
You can also look for design features, like a giant bow or deep low back. Or, look at colors – glittery metallics, deep jewel tones and statement shades like red or yellow can add flair.
Even prints can be evening appropriate. Look for dark florals, jacquard, or texture.
ADVERTISEMENT
---
---
What Shoes to Wear to a Black Tie Event
Footwear always depends on the location!
If you'll be indoors in a ballroom, feel free to wear your highest stilettos. But, personally, I always love being prepared and packing a comfy (but still glamorous) flat shoe. There's nothing worse than cutting your time on the dance floor short just because your feet ache!
These comfortable flats from Margaux are a great example. They're a slip on flat, but the bow detail and rich suede keep it elegant and elevated.
ADVERTISEMENT
---
---
Best Black Tie Dresses (2021)
Best Long Velvet Gown: Amazon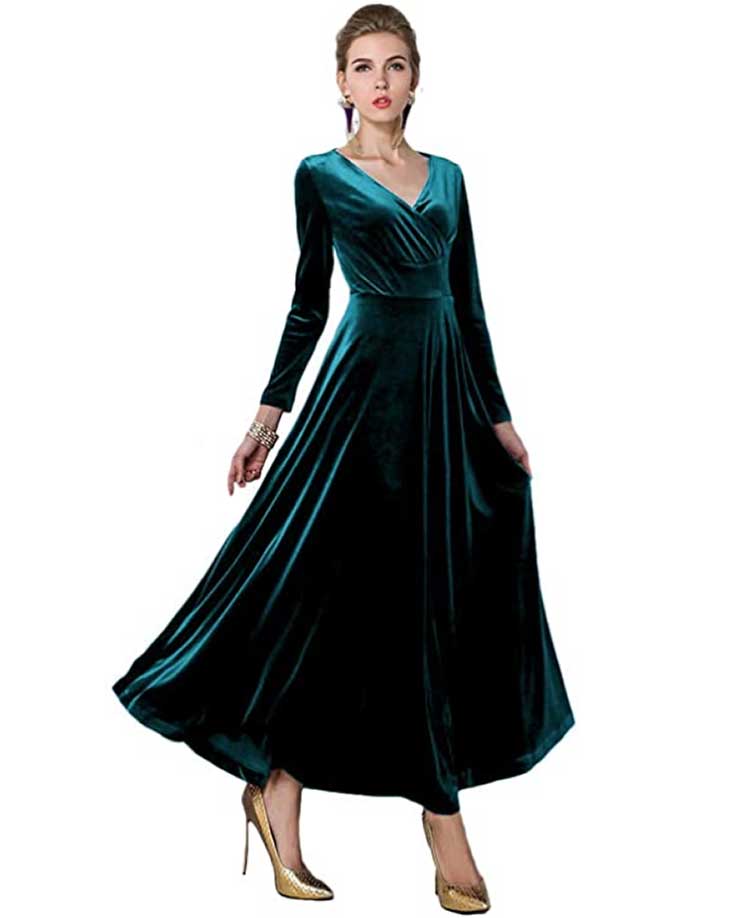 I purchased this long sleeve velvet dress for a holiday party a while back, but it would be a great dress for any formal occasion!
The flowy dress has a really classic look and comes in a range of dark colors.
The neckline has a crossed wrap detail that accentuates the waist, while the floor length skirt flares and moves as you walk!
ADVERTISEMENT
---
---
Best Formal Silk Gown: Nicholas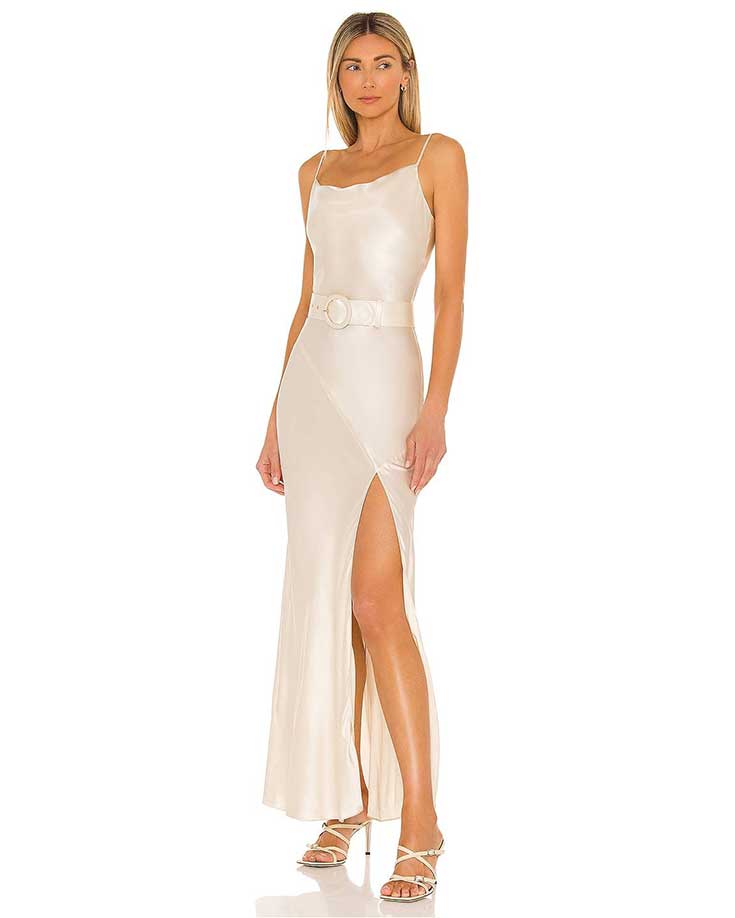 I always love the simplicity of a slip dress.
This stunning option is made from 100% silk, which allows it to drape beautifully and flow as you walk. It has a built in bandeau bra, adjustable straps and optional waist belt!
Best of all, there's a dramatic thigh high slit!
ADVERTISEMENT
---
---
Best Formal Metallic Dress: Sabina Musayev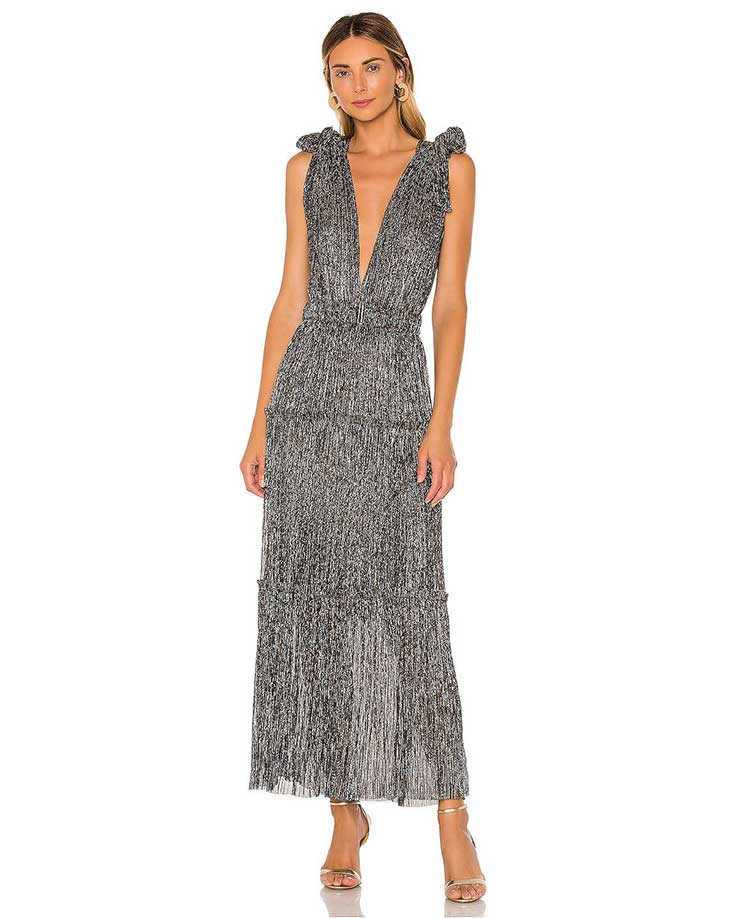 I'm obsessed with Sabina Musayev's dresses.
They're dramatic, they're sexy and they're available in tons of slightly different variations.
This particular evening dress is in a shimmery silvery metallic. It has a tiered maxi skirt that will look so cute as you shimmy on the dance floor, and a deep plunge v neck to elongate your neck and torso.
I also like the knotted details at the shoulders, and the detachable belt!
ADVERTISEMENT
---
---
Best Black Strapless Gown: Betsy & Adam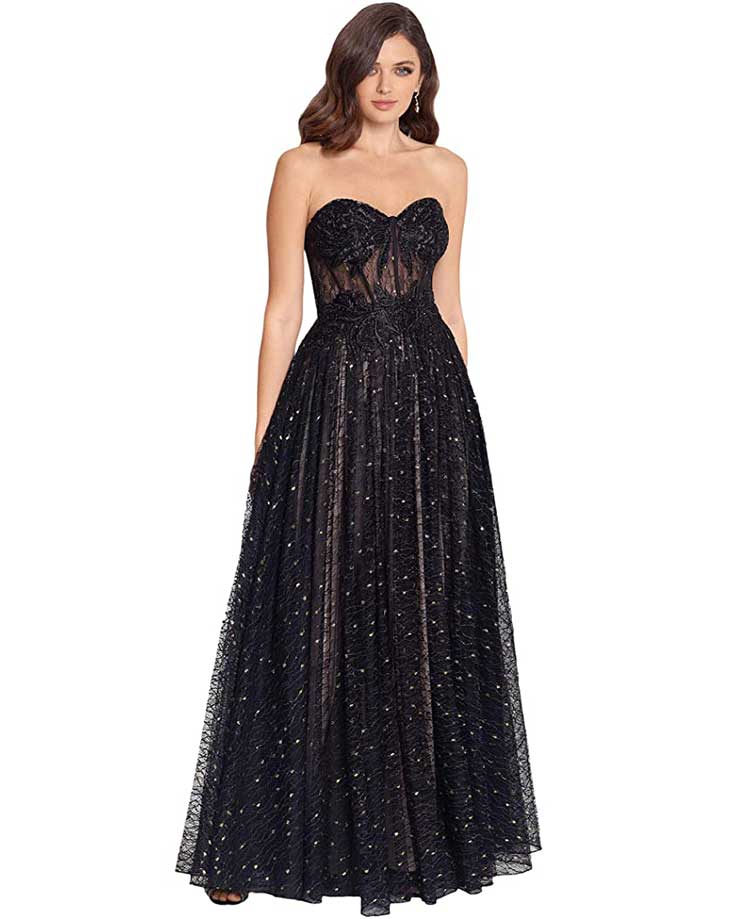 This dramatic dress would be perfect for prom or a fun party.
It's strapless and has a flattering sweetheart neckline. I love the illusion mesh bodice that has a floral lace pattern.
The flared floor length skirt has a really dramatic contrast to the fitted bodice, and the overall glittery pattern is just so delicate and pretty!
ADVERTISEMENT
---
---
Best Floor Length Sequin Gown: Alex Evenings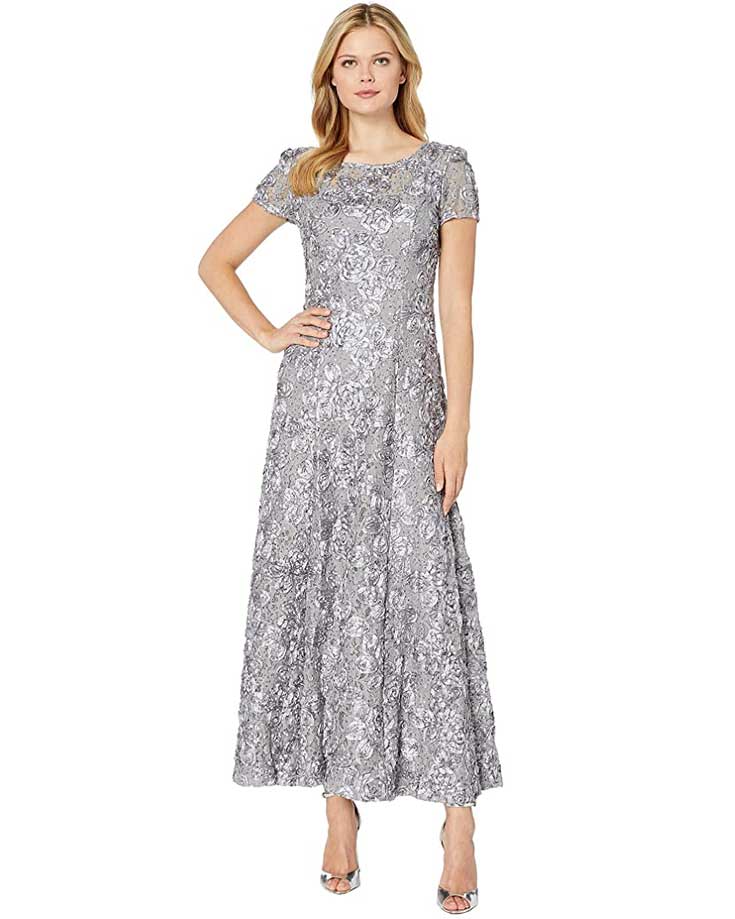 I could see this gorgeous sequin number as a Mother of the Bride dress.
It has a round neckline, v shape back and sheer short sleeves. The column silhouette is really flattering, and the shimmering sequins give it such a pretty glow!
It's comfy, it's elegant without being flashy, and it's not white or black!
ADVERTISEMENT
---
---
Best Lace Formal Dress: Tahari
Sometimes you don't want a dress that drags on the floor.
This pretty dress has a gorgeous, vintage like 1920s feel. The color is rich and vibrant, and the shimmering beads and lace pattern are so glitzy!
ADVERTISEMENT
---
---
Best Formal Column Dress: Vince Camuto
For an elegant option, check out this column dress from Vince Camuto.
It has a velvet bodice and banded waist to accentuate your frame. I like the straight hemline and subtle shimmer in the skirt.
It's slimming and leg lengthening so very flattering on petite and straighter body types!
ADVERTISEMENT
---
---
Shop Formal Attire for Women
---

ADVERTISEMENT
---
---
Read More: in our event style series:
What to Wear to Weddings
The Best White Jumpsuits for Brides
The Best Sheath Dresses for Wedding Guests
Dresses
The Cutest Midi Dresses for spring & summer
The Prettiest Square Neck Dresses *cottage core*
The Best Fit and Flare Dresses - flattering on every body type
The Most Stunning Formal Dresses you won't believe are on Amazon!
Holiday Season
The Best Ugly Christmas Sweaters - festive & themed!
The Best Amazon Holiday Dresses - cute, but affordable!
Follow me @Sher She Goes on