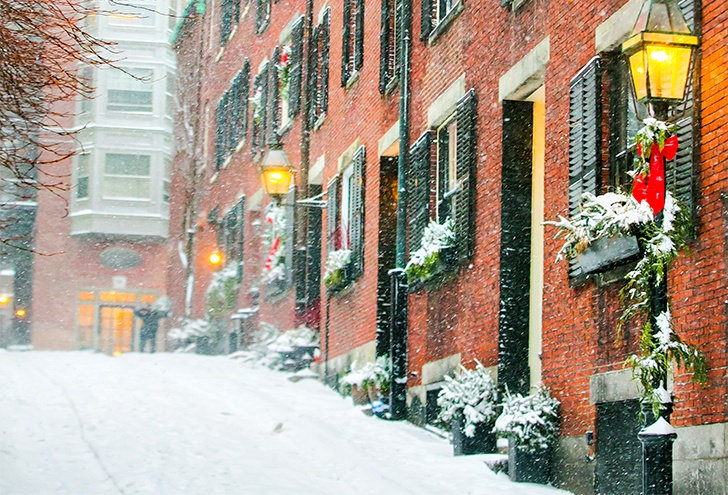 Where to Stay in Boston
Boston is a delightfully complex city, at once a cornerstone metropolis of the American northeast and a provincial town fiercely proud of its role in shaping United States history.
Whether you're taking a family trip to see Paul Revere's house or the Boston Tea Party harbor, using Boston as a launching pad for a romantic New England getaway, or exploring potential colleges among greater Boston's 120 colleges and universities, there is plenty to see and do in the Massachusetts capital.
Keep reading for our recommendations for where to stay in Boston, Massachusetts!
ADVERTISEMENT
---
---
Best Hotels in Boston, MA
To summarize, here's a handy chart of our recommended Boston hotels. All include free wifi and are known for comfort, great locations and great customer service.
Best Boston, MA Hotels – Summary Comparison Chart
Below is more information about each hotel and why we recommend it!
ADVERTISEMENT
---
---
Boston Harbor Hotel
Located on picturesque Rowes Wharf, the Boston Harbor Hotel offers unparalleled luxury in a setting for lovers of land or sea!
You don't have to take our word for it, though – just ask Forbes, which recognized the Boston Harbor Hotel as the entire city's only five-star waterfront hotel!
ADVERTISEMENT
---
---
Fairmont Copley Plaza
Located in Boston's exclusive Back Bay neighborhood, the Fairmont Copley Plaza has been welcoming guests to its luxurious quarters for over 105 years.
With 366 guest rooms, 17 gorgeously appointed suites, a 3,000 square foot rooftop health center, and OAK Long Bar + Kitchen, one of the hottest spots in Boston's burgeoning culinary scene (if you like charcuterie boards, you must check this place out), this downtown hotel checks all the boxes for a great Boston vacation!
ADVERTISEMENT
---
---
Lenox Hotel
Also located in the hip Back Bay neighborhood the Lenox Hotel offers an equally luxurious but perhaps more hip and boutique experience compared to its more classically refined neighbor at the Fairmont.
With a phenomenal location near many of Boston's most popular attractions and 10 room and suite options featuring finishes including real wood-burning fireplaces and four poster beds, the Lenox Hotel is a hidden gem in the Back Bay!
ADVERTISEMENT
---
---
Boston Park Plaza
Located directly on the gorgeous Boston Common, the Boston Park Plaza has been affording guests stunning views of the Common, Beacon Hill, and downtown Boston for over 90 years.
Remember that age is just a number, however: a recent $100 million renovation has upgraded the Park Plaza with all the amenities and finishes of an ultramodern hotel, all while retaining its classic charm!
ADVERTISEMENT
---
---
Four Seasons Hotel Boston
Overlooking Boston's verdant Public Garden, the Four Seasons Hotel Boston blends classic luxury with New England simplicity.
With a mix of rooms, suites, and luxury residences plus a full-service spa and award-winning restaurant offering the best of New England seafood (lobster, clams, or oysters, anyone??), the Four Seasons Hotel Boston puts a touch of luxury on every last finish.
ADVERTISEMENT
---
---
And that's it! Our guide to Boston's best hotels to make the most of your stay.
Whether you're looking for a picturesque hotel along Boston Harbor, a boutique hotel for budget travelers or a family friendly hotel for kids, these top hotels in Boston are sure to please.
ADVERTISEMENT
---
---
You Might Also Enjoy:
Boston Vacation Planning Articles
Boston Travel Guide: 7 Wicked Cool Things to Do in Boston
Where to Stay in Boston: A Neighborhood & Accommodation Guide
Where to Eat in Boston
4 Incredible Restaurants You Must Try in Boston
Don't Miss Boston's Breweries: Our Day at Harpoon
Greater New England
How to Spend an Epic Summer in Nantucket
Sailing in Maine: Our Windjammer Experience
Follow me @Sher She Goes on