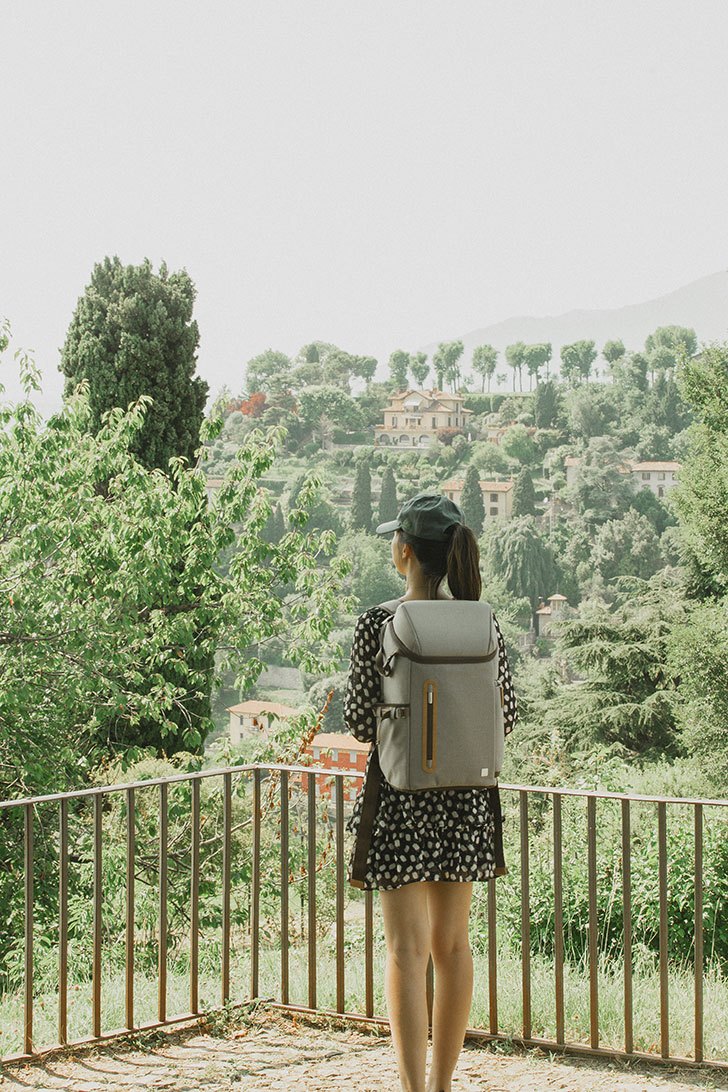 Moshi Bags
After carrying around a regular backpack for ages and stuffing it to the brim with heavy camera gear, I knew I needed something different.
I was tired of opening up my entire camera bag to grab my dslr and found myself hesitating to pull out my camera for street style shots or spontaneous moments because of how long it took.
After a trip to Indonesia last year, I saw that a couple fellow travelers had these fancy camera backpacks with side pockets where they could easily whip out their DSLRs in just a matter of seconds.
I immediately wanted one of those!
ADVERTISEMENT
I tried a couple different camera backpacks in the past and found them to be bulky, heavy and cumbersome. I like to travel light and am always short on space so I never seemed to find the perfect camera backpack – until I discovered Moshi accessories!
Moshi is a design-focused line that makes accessories for all your gadgets.
Think sleek laptop cases, edgy bluetooth headphones and stylish backpacks and bags. I want almost everything they make but decided to start with 2 products: the Arcus backpack with the added camera insert and the Vacanza weekender bag.
They have different names, but together look like a matching set, which is nice for travel. I've used the Moshi Arcus backpack in particular for ~5 months now, so I decided it was time for a review!
Keep reading to learn how it's held up with travel and constant use, what fits inside and how it functions as a camera backpack.
ADVERTISEMENT
---
---
Moshi Arcus Backpack Review
Camera backpacks tend to be much more expensive than regular travel backpacks so I wanted to make sure that the Arcus was worth it.
After using it throughout Italy, Copenhagen and Asia, it's certainly held up!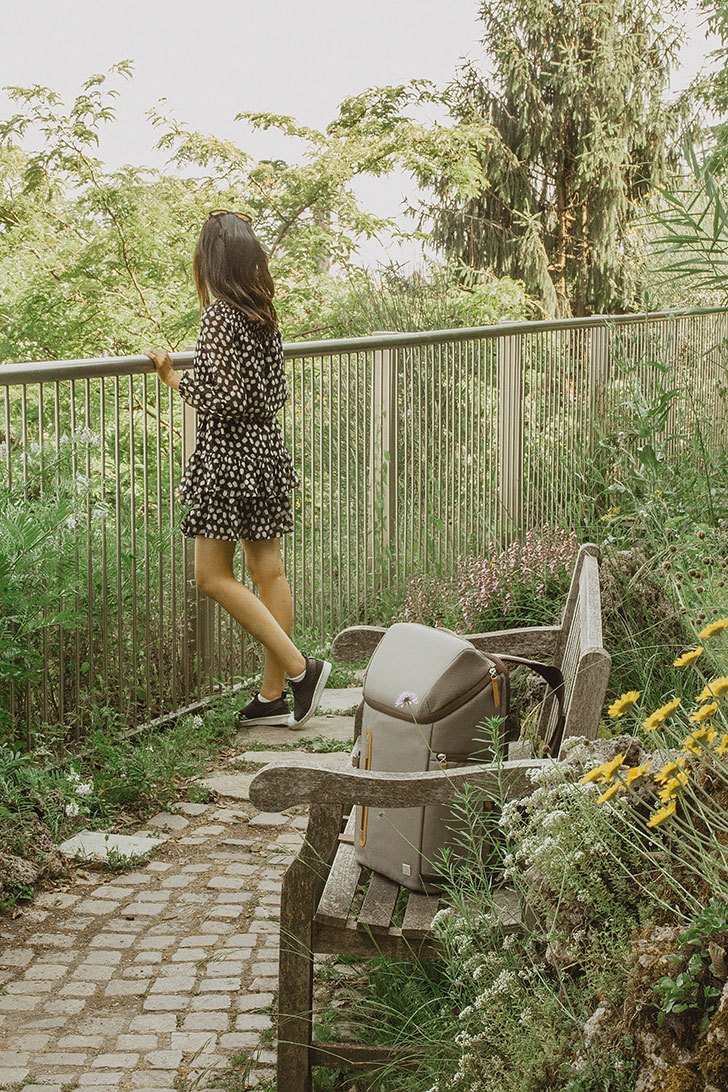 Moshi Arcus Backpack with Camera Insert
Moshi Accessories is a San Francisco-based brand known for its Apple, Android and Kindle accessories.
All of their products are extremely durable and designed to protect your expensive gadgets – think computers, tablets, phones, etc. The reason why I like Moshi so much is that their products have a focus on minimalist design – sleek, but beautiful.
The Arcus Backpack is the first Moshi product they have that offers a specific camera slot for photographers so I had to have it!
First, as a standalone backpack the Arcus is gorgeously sleek.
It has a hard top exterior and comes in two colors, black and gray. I opted for the gray Arcus backpack because I liked the contrast orange piping although black would likely hold up better in the long term to disguise stains and wear.
Note that the Arcus isn't a camera backpack, per se.
You have to purchase their separate camera insert if you want that "easy open and go" option to grab your DSLR quickly.
At first, I was hoping for an all-in-one solution but now that I've had the chance to use it for a couple months I like that the camera insert is flexible.
I can use the Arcus as a regular backpack on travel days when I need a basic carry on piece and I can also use it to hold just camera gear when I'm on a photography mission.
ADVERTISEMENT
---
---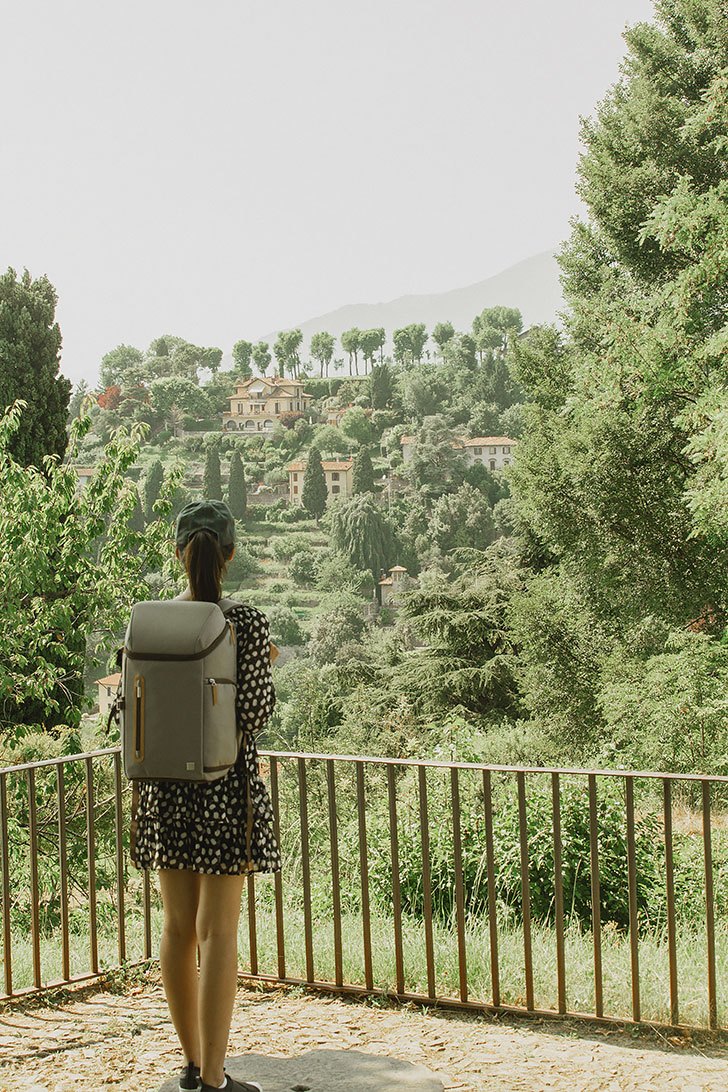 My Camera Travel Gear
Currently, my travel photography gear includes a Canon 5D Mark III body, a 24-70mm lens and a 70-200mm lens.
I've narrowed it down to just these 3 items because a) they already weigh a ton and b) the zoom flexibility gives me pretty much everything I need for on the go moments.
I also bring my 15″ laptop so that I can offload photos each evening and edit quickly.
I used to use an Everlane backpack and while everything fits, my lenses were on top of each other because width wise, the Everlane backpack can't quite fit them all side by side.
It also has a button closure and drawstring opening which was a huge pain to open and close so I either kept my camera out all day or never took it out all. Neither of these really made much sense, ha. Looks wise, it looked like my bag was constantly about to explode.
My lenses started to get nicks and dings from not being adequately protected and my back got sore from carrying around gear that didn't get used. It wasn't ideal, to say the least!
ADVERTISEMENT
---
---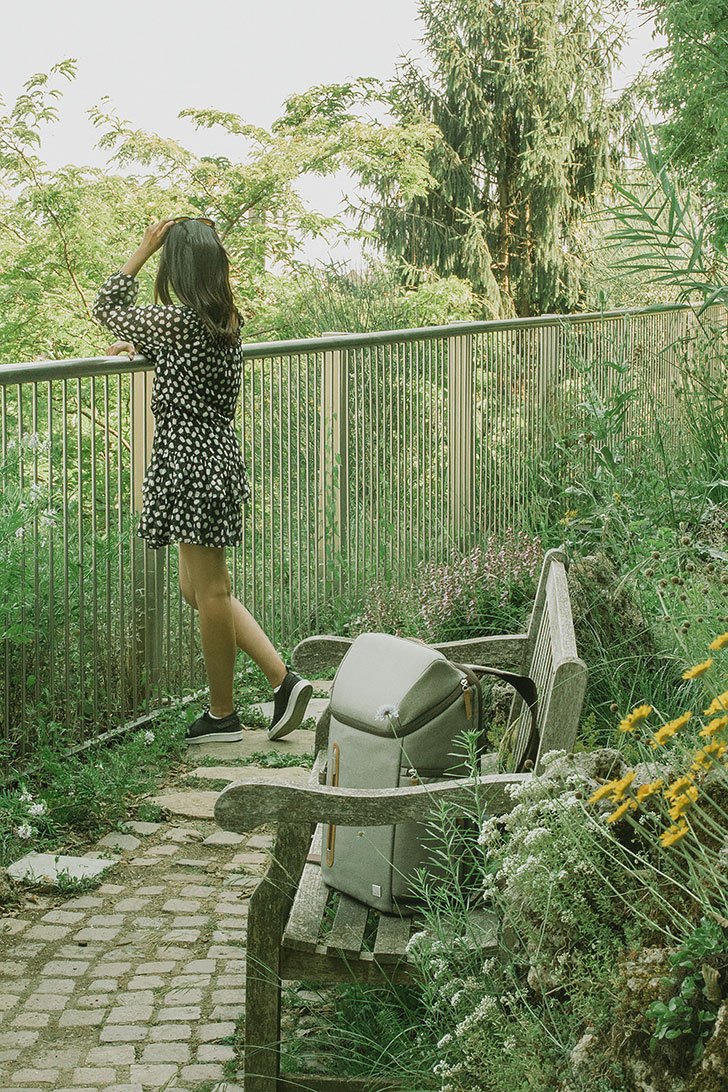 What Fits?
In short, a whole lot!
The top rounded section is crush proof, with a dense casing. I store my larger 70-200mm lens here or on days when I'm not bringing it, I store sunglasses, my GoPro, basically anything that I want to protect.
In the back there's a slim padded slot between the main body and your back.
Here's where I put my laptop and also my iPad or any papers/brochures because the soft slot makes it perfect for slim items.
The bottom camera insert section is where I put both my camera body and my 24-70mm lens. The pocket flap has mesh and zippered sections where I also store my extra SD cards in this wallet case and spare batteries, chargers, etc.
On travel days I remove the camera insert (it flattens compactly) and put a change of clothes and my other electronics.
This side access section is my favorite part of the Arcus!
ADVERTISEMENT
---
---
Finally, is it comfortable?
The straps are well padded and everything feels really secure.
When I load in all my gear, it's naturally pretty heavy and on hot days, it can get a little sweaty toting everything around, but that's normal!
Overall, I love this camera backpack for how much it fits on the inside yet how sleek it looks from the outside!
Pin this to save for later
---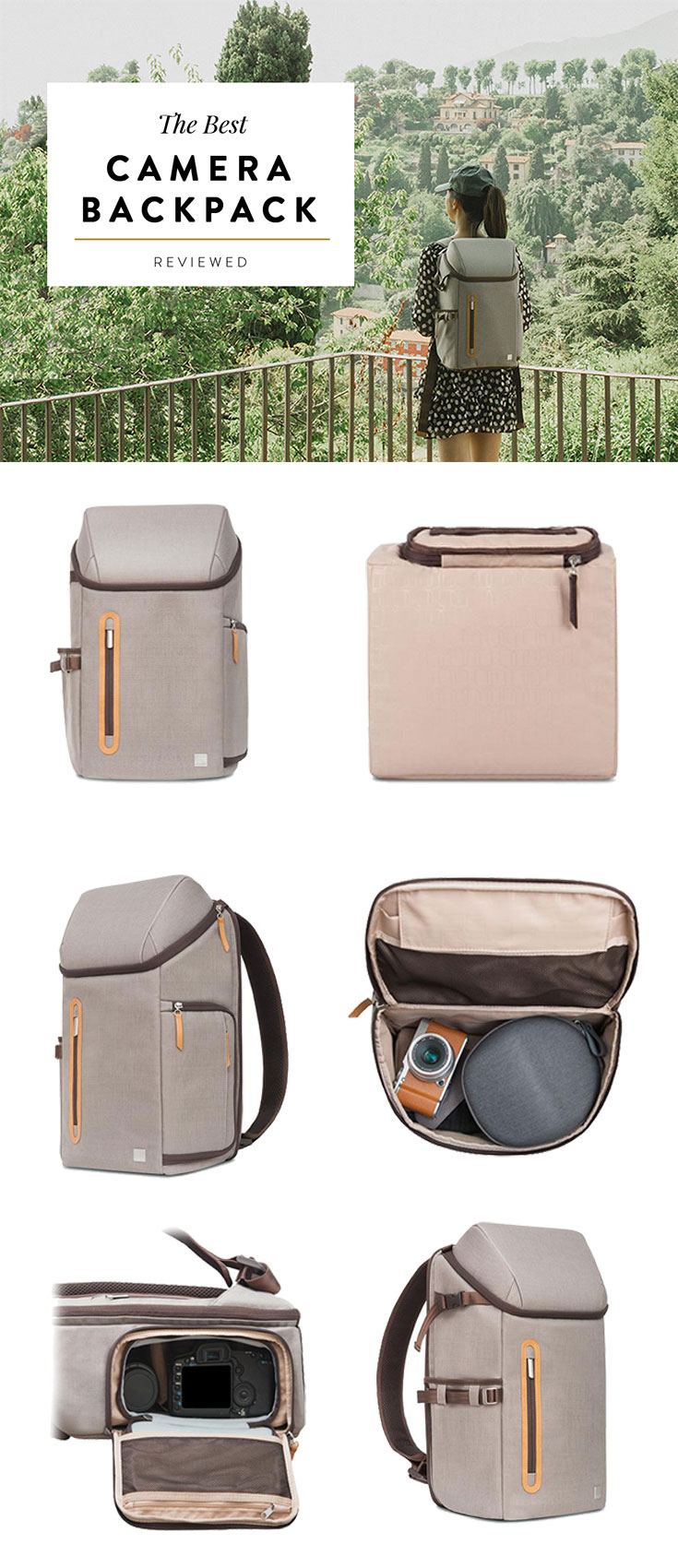 ADVERTISEMENT
---
---
Follow me @Sher She Goes on