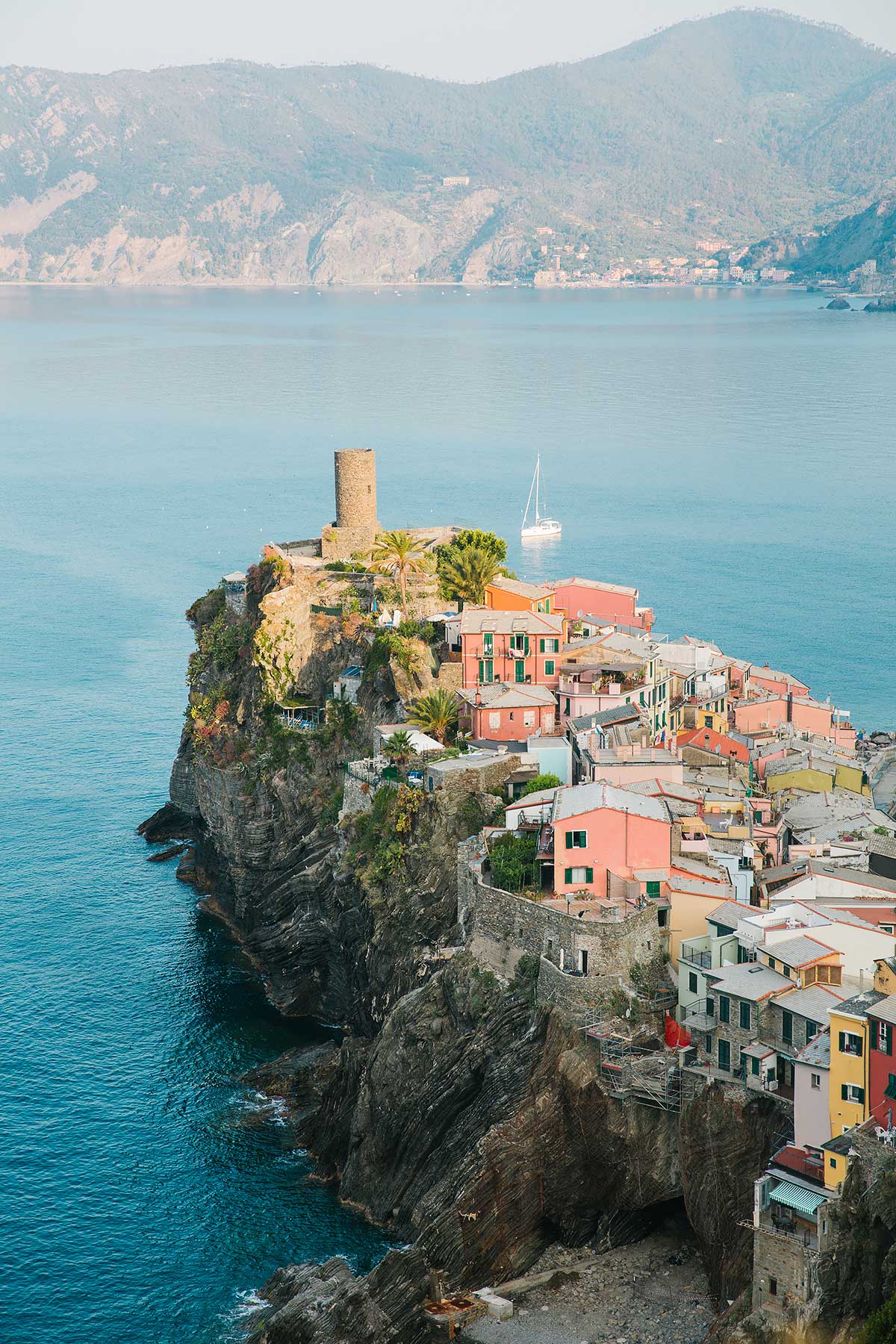 Hiking the Cinque Terre
A popular way to enjoy Cinque Terre is to hike the walking path connecting each of the five towns.
The most popular trail is #2 (the Sentiero Azzurro, or 'Blue Trail') which is composed of 4 individuals paths that follow the coast.
Today I'm sharing some tips for hiking in one of Italy's most popular destinations!
Or save this article to read later by pinning it ⇟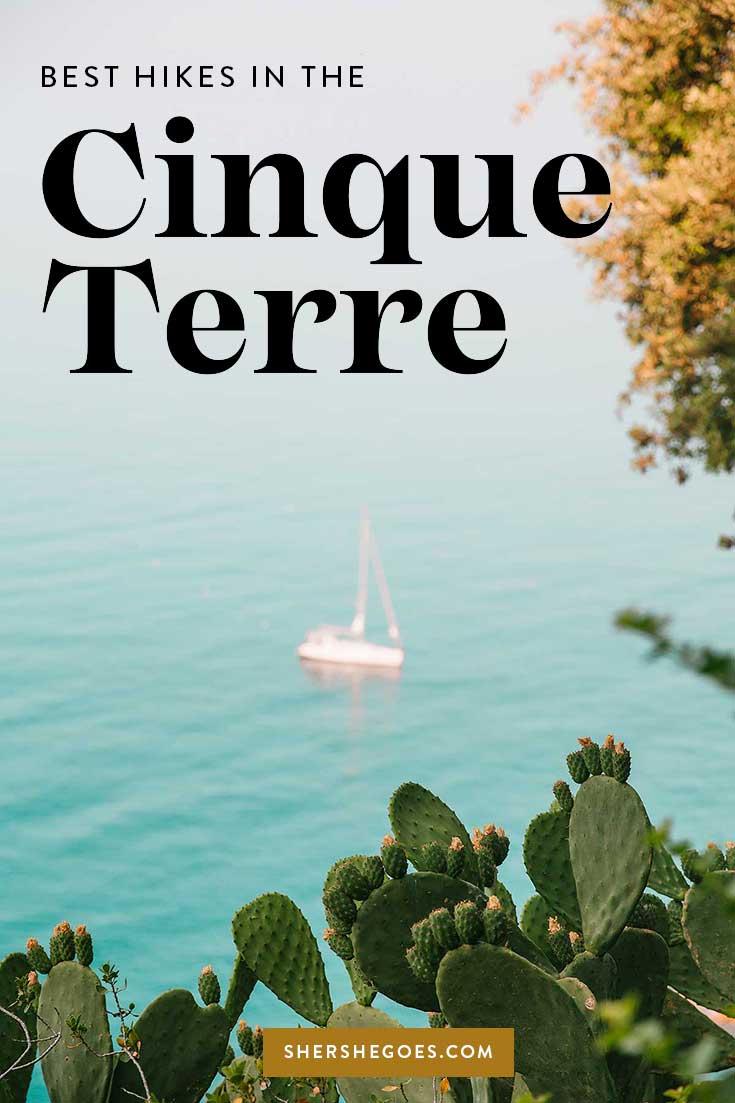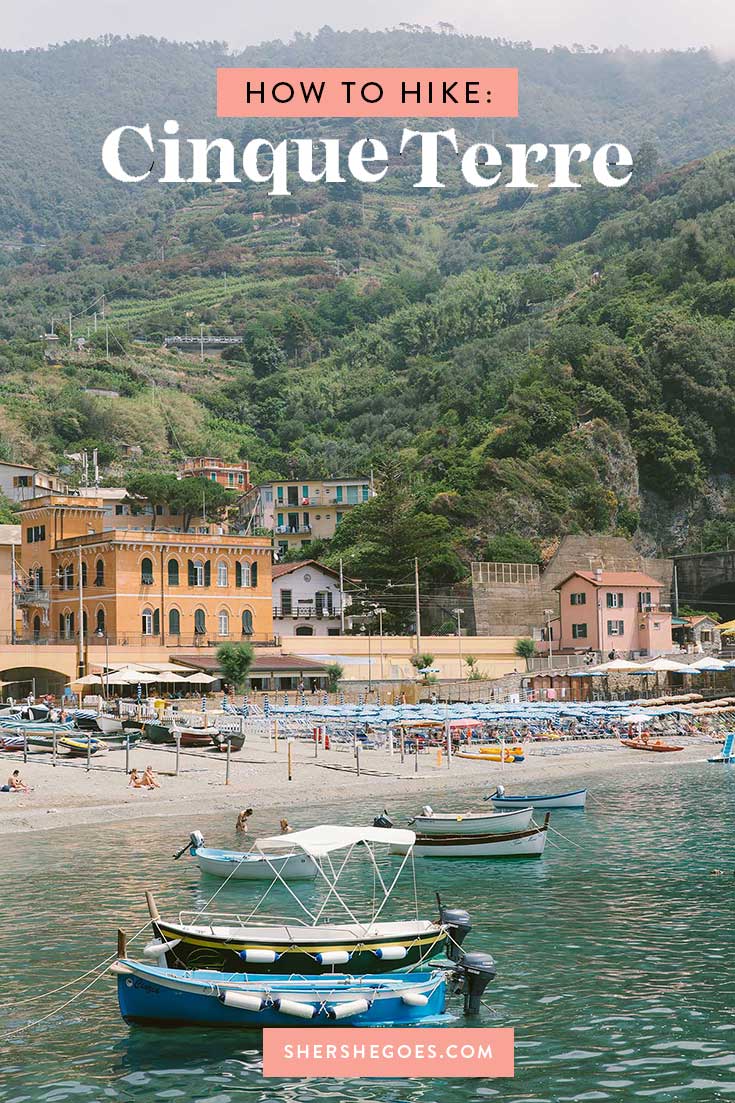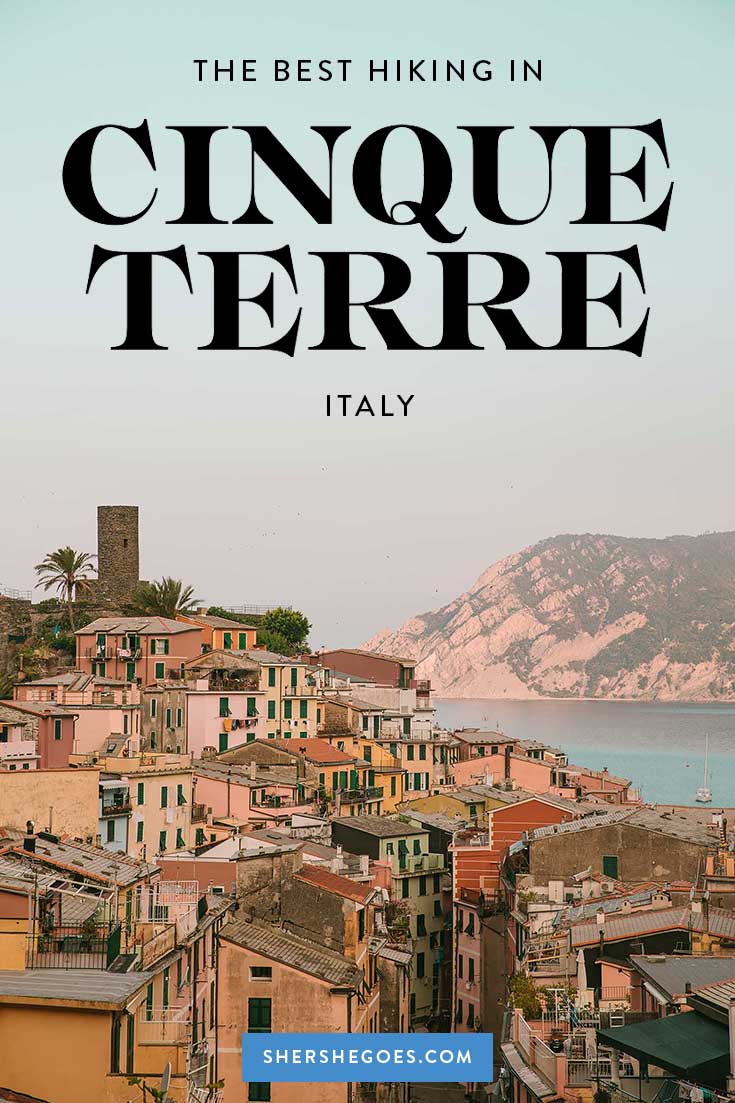 ADVERTISEMENT
---
---
Cinque Terre Hiking Map
| | |
| --- | --- |
| Trail Route | Time |
| Monterosso – Vernazza | approx. 1.5 hour hike |
| Vernazza – Corniglia | approx. 1.5 hour hike |
| Corniglia – Manarola | approx. 1 hour hike |
| Manarola – Riomaggiore ("Lover's lane") | 30 minutes |
ADVERTISEMENT
---
---
Cinque Terre Trail Status
Only 2 of the 4 trails are open; the other 2 are closed due to storm damage. The blue trail is not the only trail, just the most popular and in peak season gets quite crowded.
There are other trails above the villages that should be less trafficked, but they are away from the water, hotter and also considerably steeper.
In fact, Rick Steves recommends hiking it up to each village's local church and cemetery but I have to admit I just was not feeling that steep a climb in the heat.
For those in shape, you can walk the entire route in about six hours. But, most people prefer to spread the route out over a couple days so they can stop and enjoy the towns.
Read more:
Everything You Need to Know Before Visiting Cinque Terre
ADVERTISEMENT
---
---
The Cinque Terre Card
If you know that you'll be in town for a couple days and want to hop between towns, consider one of these Cinque Terre cards to save money.
A Cinque Terre Trekking Card costs €7.50 for an all day hiking pass or €14.50 for 2 days. These trekking cards cover all the trails as well as local shuttle buses but not the trains
A Cinque Terre Treno Multi-Service Card includes all the hiking and shuttles above plus the trains. It includes the local train line which connects each Cinque Terre town as well as Levanto and La Spezia. Costs €16 for 1 day or €29 for 2 days. Make sure to validate tickets in the green machines before boarding.
If you're an early morning hiker, before 8am, I did notice that the check points were not yet open on trails. Trails can get quite crowded in peak summer tourist season so I recommend starting as early as possible.
You can also purchase a combo Cinque Terre Card and Guided tour here which includes transportation.
ADVERTISEMENT
---
---
Which Way Should You Hike?
This is totally a matter of personal preference and where you're lodging. You can hike Cinque Terre from either direction (Monterosso heading south, or Riomaggiore heading north).
The southern most route, from Riomaggiore to Manorola, is known as Lover's Lane as village girls and boys from the two towns used to sneak away to meet on that path (make sure you spot the kissing statue and tunnel carved with love messages).
This section of the #2 trail is wide, flat and paved and therefore the easiest, so if you're an unsure hiker you may want to start here. (As of 2018, this trail is unfortunately closed due to a mudslide).
For something even more adventurous, consider paragliding over Cinque Terre for epic views! More details here.
Read more:
Follow this Easy Cinque Terre Itinerary
ADVERTISEMENT
---
---
I Hate Hiking… Which Trail Is An Absolute Must?
If you only want to hike one trail for the experience, I'd recommend the blue trail between Monterosso and Vernazza. This is the hardest hike, with lots of stairs and narrow passages, but is the most rewarding!
The complete hike takes around 2 hours and includes a panoramic view of all 5 towns.
Also don't skip the walking path to the left of Monterosso's harbor (if your back is to the water). This is a flat loop around the town's newer park and cemetery with some very pretty views!
Read more:
All the Best Food We Ate in Cinque Terre
ADVERTISEMENT
---
---
I just want a photo…do I need to hike?
If you really really don't want to hike, but just want to snap a couple pictures, here's what I recommend:
Stay in Vernazza and head towards the train station. Find the stairs leading upward and climb, climb climb for ~10 minutes. You'll find a beautiful shot overlooking the back of the town jutting out to the sea.
Want one more beautiful shot?
Again, starting from Vernazza this time head towards Monterosso. You can find the exact spot where to start for either of these options in Rick Steves Italy guidebook.
ADVERTISEMENT
---
---
The Best Cinque Terre Village to Stay
One of the most picturesque hikes is the route connecting Vernazza and Monterosso so if you love to hike, either of these towns would make a convenient base.
If you stay in La Spezia or another larger town that's not in the Cinque Terre, you will have to factor in at minimum, 1 hour additional on the train.
Read more:
Where to Stay in Cinque Terre
ADVERTISEMENT
---
---
Here's 2 great Cinque Terre hotels:
1. Santa Marta in Vernazza is an affordable lodging pick with recently renovated rooms and air conditioning (a rarity in Cinque Terre!).
Check rates and availability here.
2. Hotel Palme is a lush, secluded property on Monterosso's hill with beautiful view and within a short walk of the beach. Rooms are clean and light filled, some with balconies.
Check rates and availability here.
ADVERTISEMENT
---
---
Are you a hiker? Let me know in the comments which your favorite Cinque Terre hike was!
Visiting Italy – Trip Planning Checklist
There's so much to see and do in Italy that you can visit again and again and still discover new sights. I recommend concentrating on the big 4 cities (Rome, Venice, Milan & Florence) if it's your first time and then coming back to explore either Northern Italy or Southern Italy in more depth.
Go | Flight prices from the US to Italy are highly seasonal. You can set a fare alert here to be notified of discounts. Every fall & winter, I've seen great deals to Milan. One word of caution: avoid Alitalia at all costs!
Getting Around | A convenient way to explore Italy is via high speed train. You can search train schedules and book online here. Buy your tickets in advance to save on fares. Make sure to validate your ticket on the platform!
It also helps to speak a little Italian. Brush up on your Italian language skills with Rosetta Stone. You can take 10% off with promo code CJBT10.
Stay | Book hotels in advance to save, or check here for last minute deals. Many hotels in Italy are older so don't be surprised if even 5 star accommodation feels slightly dated. Opt for a room with a view instead of breakfast, as Italians don't eat breakfast in the same way Americans do and you'll probably be disappointed with their offering.
Alternatively, groups or budget travelers can check out Airbnb. 
Protect | Lastly, be sure to visit Italy with travel insurance. Whether you get injured and need to be hospitalized, your phone gets stolen, or a flight delay leaves you with nothing but the clothes on your back, travel insurance will help when you need it most.
A rail strike occurred during our trip, unexpectedly shutting down transportation for an entire day. Get a quote for your Italy trip here.
You Might Also Enjoy:
Italy Vacation Planning Articles
The First Timer's Guide to Italy: A Classic Itinerary
THIS is the Best Time to Visit Italy
What to Wear in Italy: A Packing Checklist
Northern Italy
The Most Beautiful Places in Northern Italy (that are still a secret!)
Headed to Northern Italy? Here's the Perfect 7 Day Itinerary
Exploring Bologna: Travel Guide
Quick Guides to: Bologna Day Trips & The Best Bologna Restaurants
Visiting Parma: The Center of Parma Ham & Cheese
7 Reasons to Explore Medieval Bergamo
Visiting Ravenna's Mosaics
Test Driving Fast Cars & Touring Car Museums in Italy's Motor Valley
Cinque Terre
Plan Your Trip: Travel Guide
How to Choose Which Village to Stay
A Blissful 3 Day Cinque Terre Itinerary
The Best Cinque Terre Airbnbs for Large Groups
Quick Guides: The Best Restaurants & Popular Hiking Trails
Inspiration: Photo Diary of the 5 Villages
The Italian Lakes
Exploring Lake Como: Travel Guide & Where to Stay
Quick Guides to: Varenna, Bellagio & Villa del Babianello
Visiting Lake Maggiore
Quick Guides to: Isola Bella & Villa Taranto
Discovering Hidden Lake Orta
Follow me @Sher She Goes on