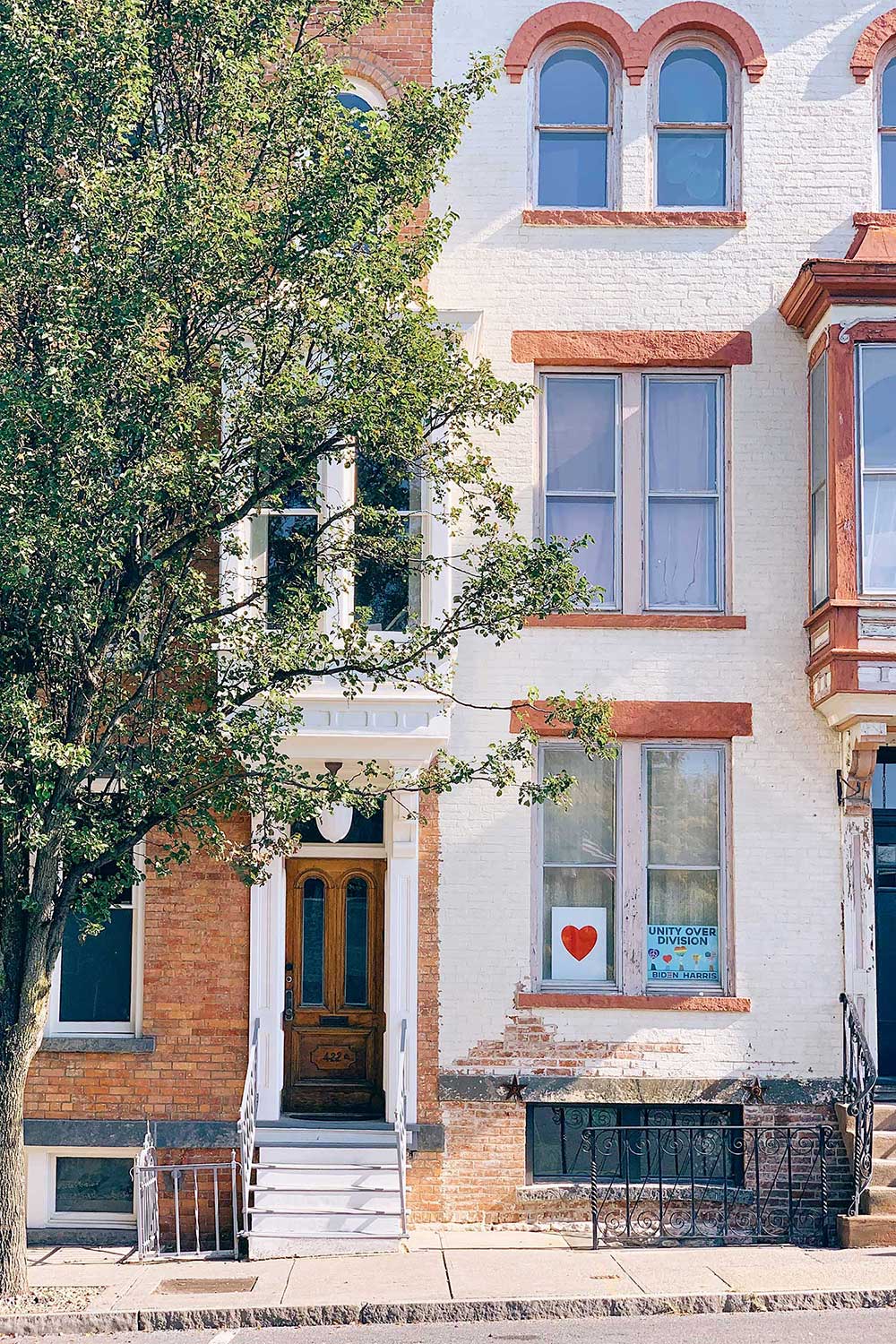 Hudson, New York
Hudson is like the Goldilocks of upstate New York.
It's not too big, it's not to small… and there's convenient public transportation, making it an easy getaway for my fellow New Yorkers.
You can spend a leisurely weekend in just the town of Hudson if you take the train up, or you can drive up and explore the Hudson Valley region, with its incredible restaurants, local farms, art galleries, historic homes and vintage shopping.
I just got back from a girl's trip to Hudson and although it was the second time I've been, the town totally surprised me!
Here's a travel guide to Hudson, NY covering everything to see, do and eat on a weekend trip from New York City.
ADVERTISEMENT
---
---
Quickly jump to:
Keep reading, or pin this article to save it for later ⇟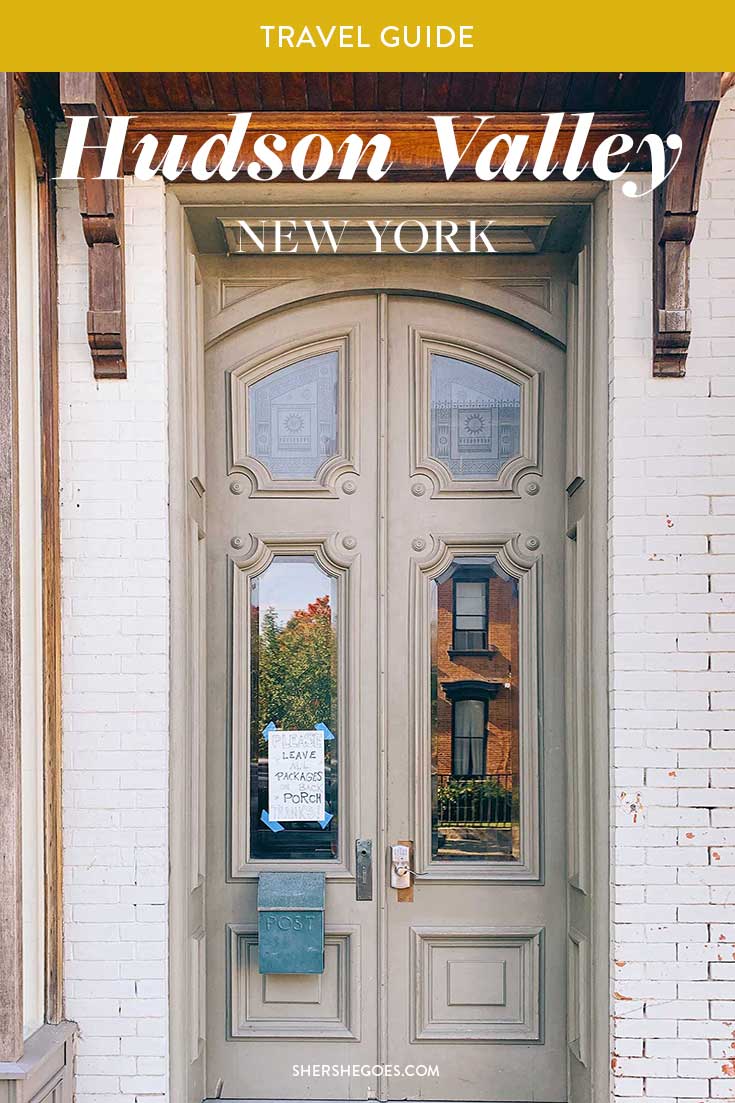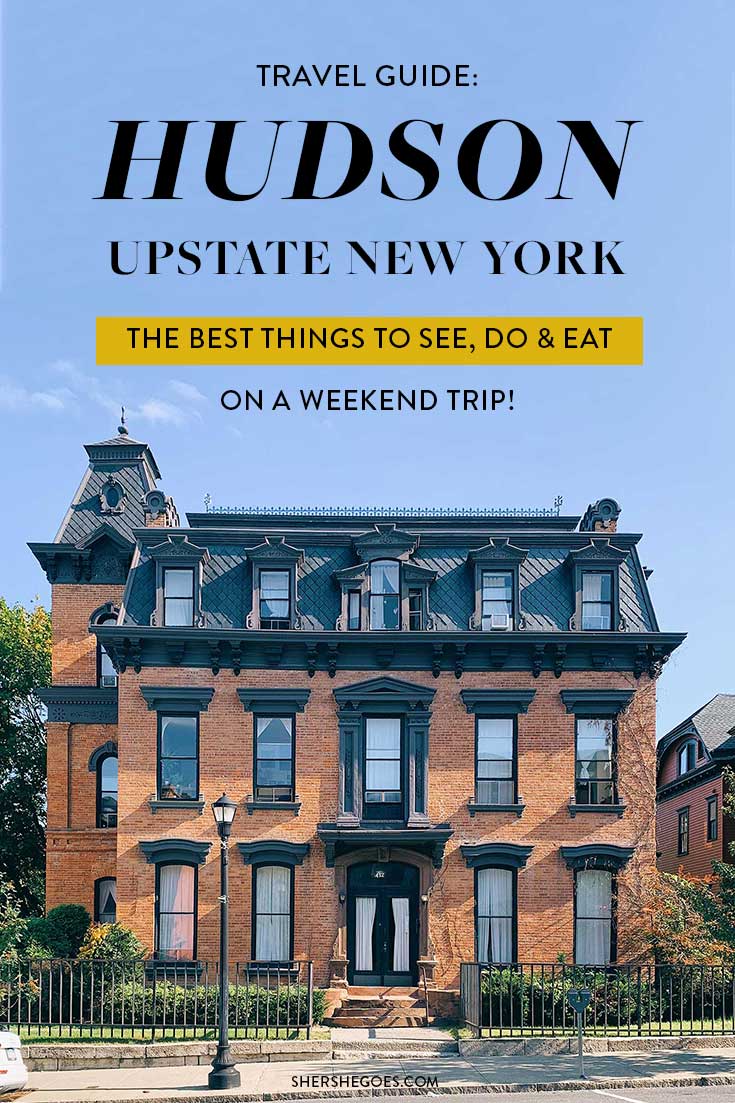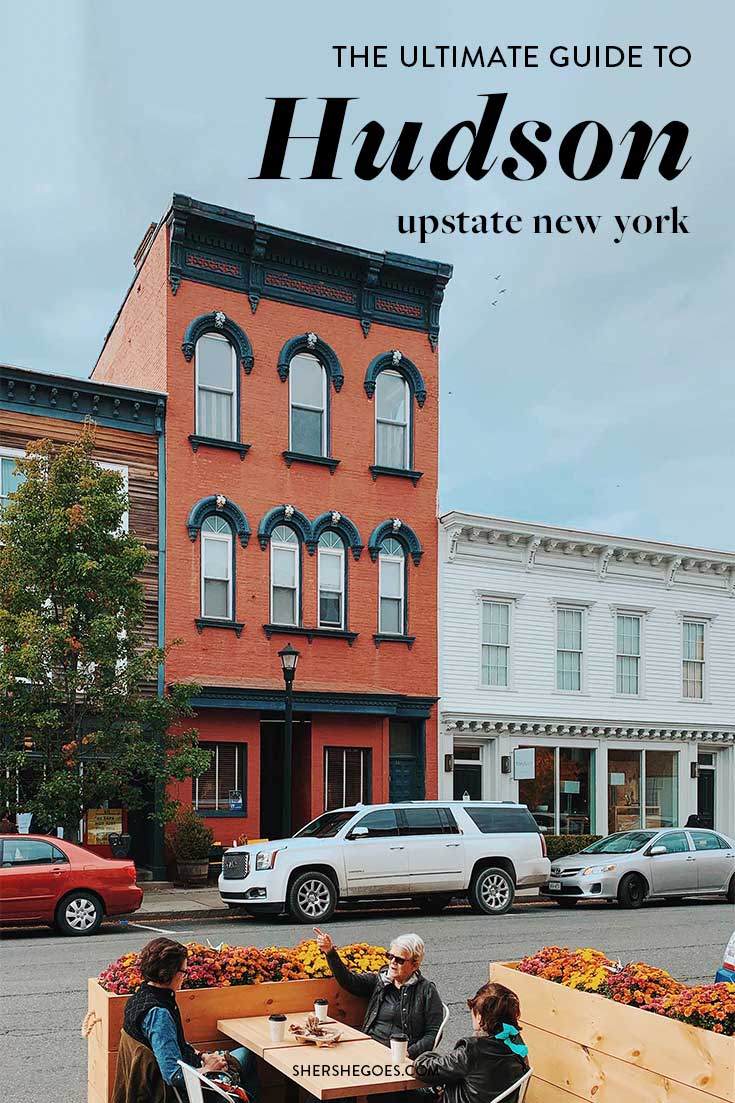 ADVERTISEMENT
---
---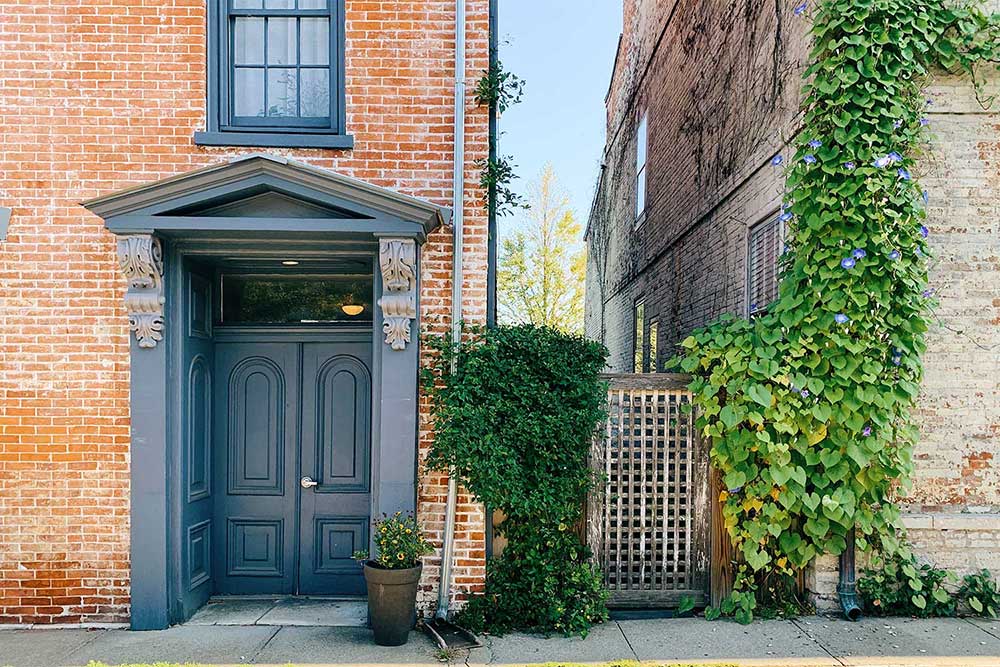 What Hudson is Famous For
Hudson was the first city to be chartered by the United States.
Named after the famous English explorer Henry Hudson, the town has had quite the cycle of booms and busts.
Originally settled by the Mohican Indians, the land was first purchased by the Dutch in the early 1700s, then by Quaker whalers after the Revolutionary War.
The Quakers were worried the British might return after the war to re-seize land, so they left the coastally unprotected towns of Nantucket and New Bedford looking for a more inland location.
They settled on Hudson, due to its prime location at the head of the Hudson River, and soon developed the area into a busy port town. They even laid out out a proper city grid!
You'll still find whale logos in town today, on some street signs and business logos.
ADVERTISEMENT
---
---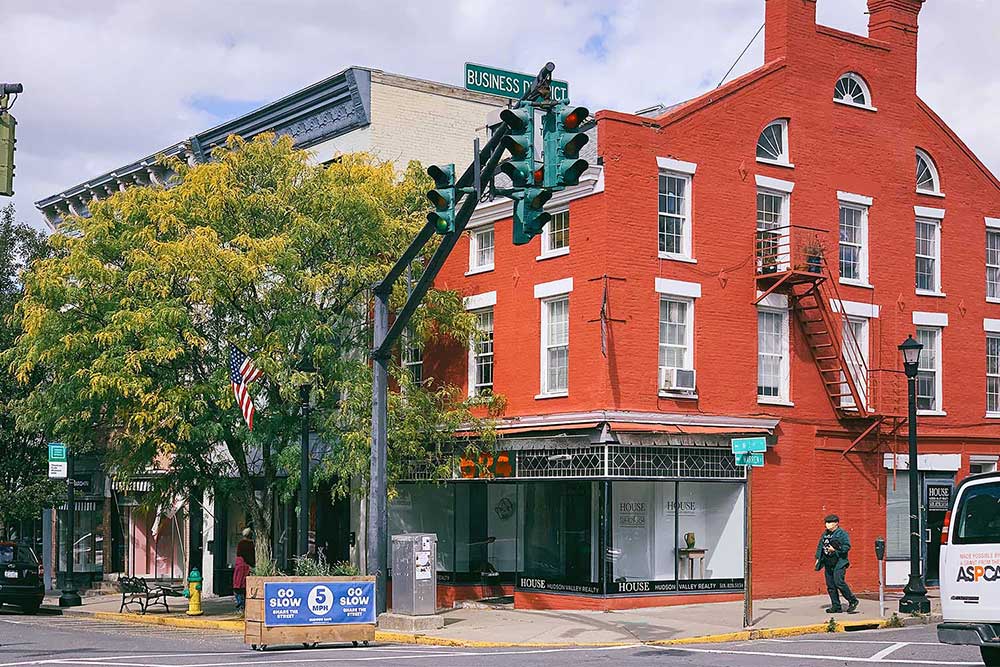 By the 19th century, Hudson became the center of inspiration for landscape painters in the Hudson River School of art.
The town transitioned from a rich seaport to a bustling industrial town, with factories making fire engines, brickworks, iron cement and more.
Wealthy merchants and factory owners built many of the impressive homes found throughout Hudson today. They built a motley mix of architecture styles – everything from Federal to Victorian to Queen Anne – but all of the grand buildings, whether neglected or beautifully restored, are still charming.
When industry left the northeast in the late 20th century, Hudson wasn't spared.
Read more:
The Best Airbnbs & Vacation Rentals in the New Paltz
ADVERTISEMENT
---
---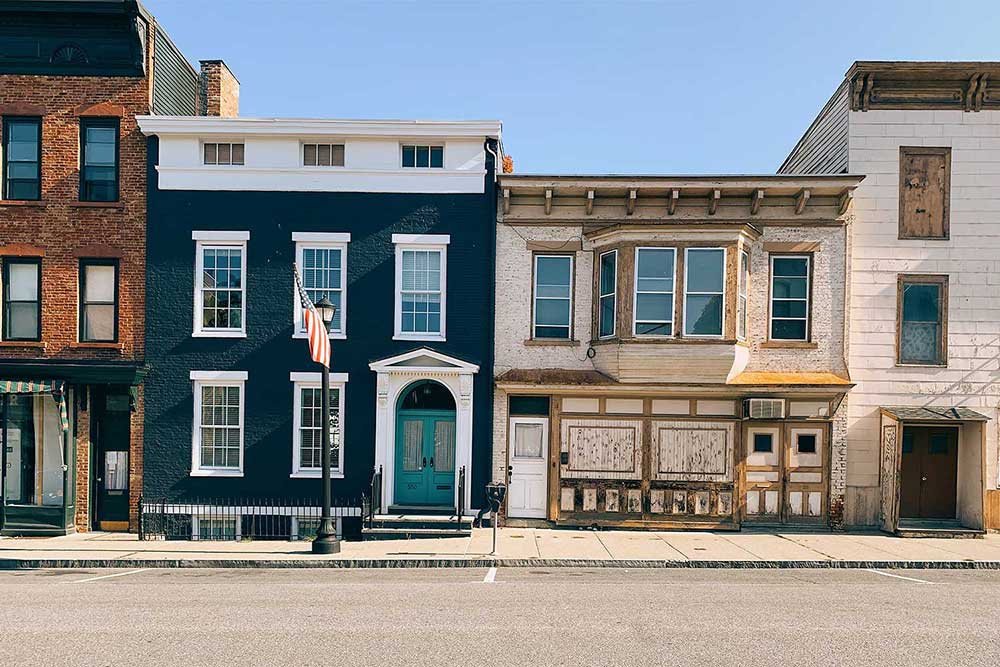 The town fell into neglect for many years… until it was rediscovered and refreshed by antique dealers, who liked the old architectural buildings. Artists and writers followed, and the rest is history.
Today, Hudson's hip-happening!
The city is one of the most architecturally diverse cities and urban transplants have opened everything from cheese shops to taco stands, traditional art galleries to coffee shops mixed with motorcycle dealerships.
Fun Fact: Hudson is home to the highest percentage of self employed people in all of New York State!
ADVERTISEMENT
---
---
How to Get to Hudson from New York City
NYC to Hudson via Public Transit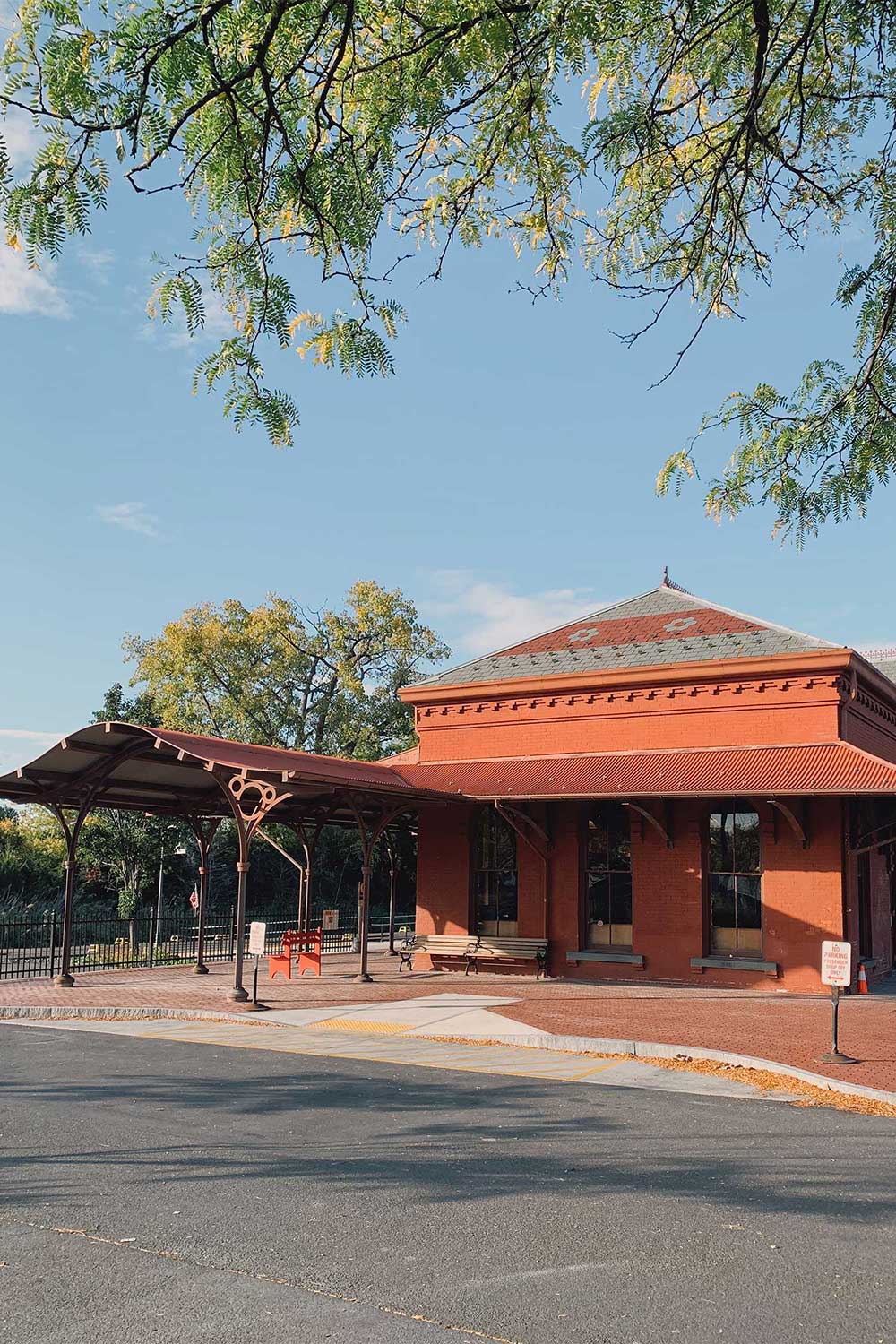 Hudson is one of the few towns along the Hudson River with its own train station, making it convenient for those of us without a car.
To get there, take Amtrak from New York Penn Station. It's about a 2 hour ride, one way, and the train is pretty comfortable.
Download the Amtrak app on your phone to browse the schedule and book tickets.
I recommend booking your tickets in advance, because prices vary significantly depending on how far out you book, and what day and time you're riding.
For example, the Friday night train fare cost us $66 USD a person, but the return trip on a Monday morning was only $39 USD.
In general, Amtrak fares are pretty overpriced.
Once you arrive, Hudson's train station is conveniently located near town, about a 5-10 minute walk from bustling Warren Street.
Tip: The train route follows the Hudson River and the views are beautiful! Sit on the right side for the best view.
ADVERTISEMENT
---
---
Do You Need a Car to Visit Hudson?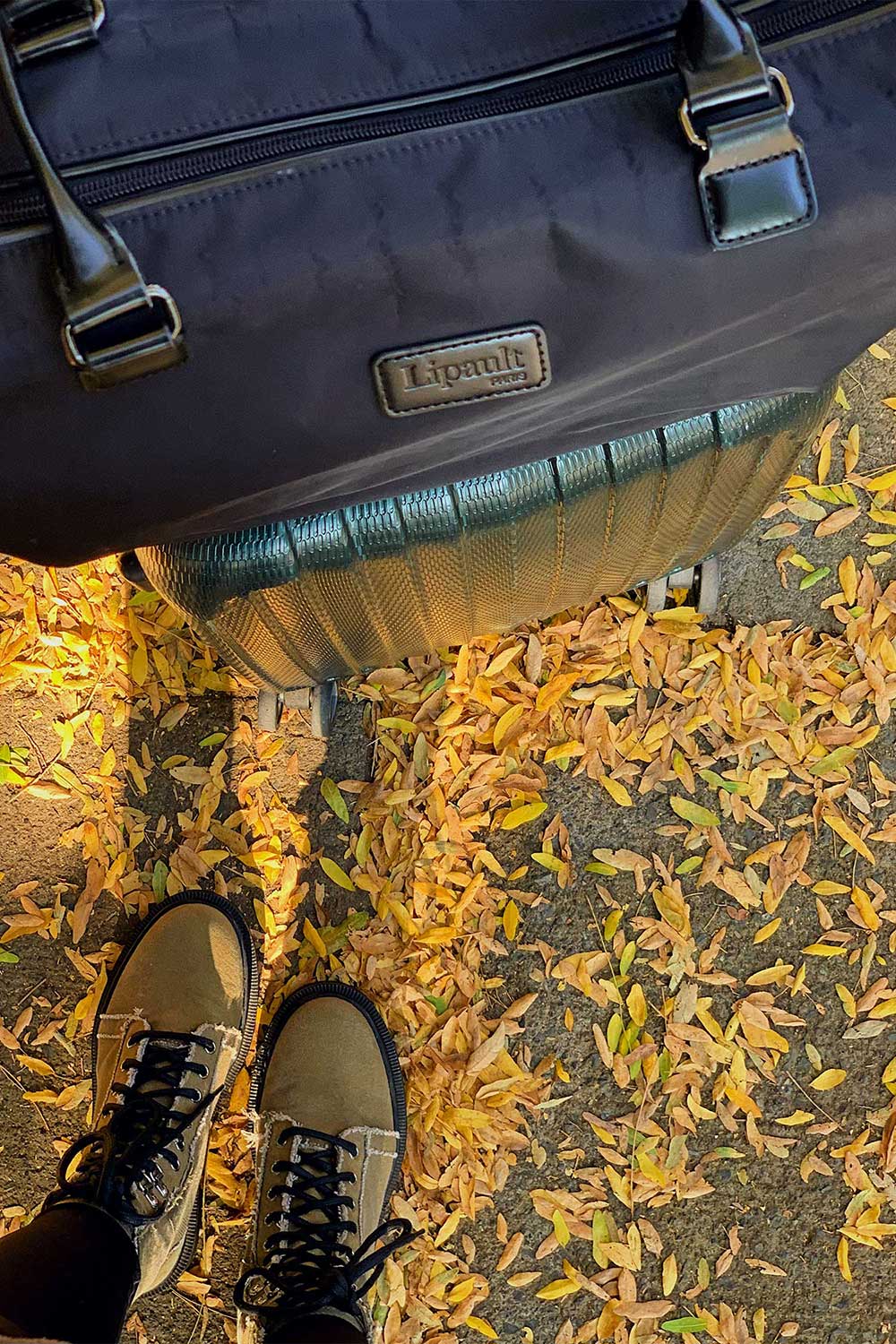 While you can get to Hudson easily via the train, if you can, I suggest driving.
Hertz and Sixt have affordable car rentals all over the city. I've used both in the past, just depending on car availability and price.
I also recommend checking out Auto Europe, which aggregates rental rates from all the car rental companies.
Check rental car rates for your dates here.
From NYC, the 120 mile drive is incredibly scenic and straightforward, passing through farm country with some beautiful views, especially in fall.
Plus, having a car gives you so much more flexibility, since part of the appeal of visiting Hudson is exploring the surrounding Hudson Valley area.
I've been to Hudson both with and without a car, and I'd say it's just more convenient to have a car.
When we tried using Ubers and Lyfts to get around, we had a really difficult time finding drivers even in peak season. We waited 20 minutes to find a driver, and then couldn't find one at all when we needed a return ride.
You can also use local cab companies, but they charge about double what ride-sharing apps cost. There are lots of great activities just 30-45 minutes outside Hudson that are only convenient if you can drive yourself!
Read more:
The Best Airbnbs & Vacation Rentals in the Hudson
rivertow
ADVERTISEMENT
---
---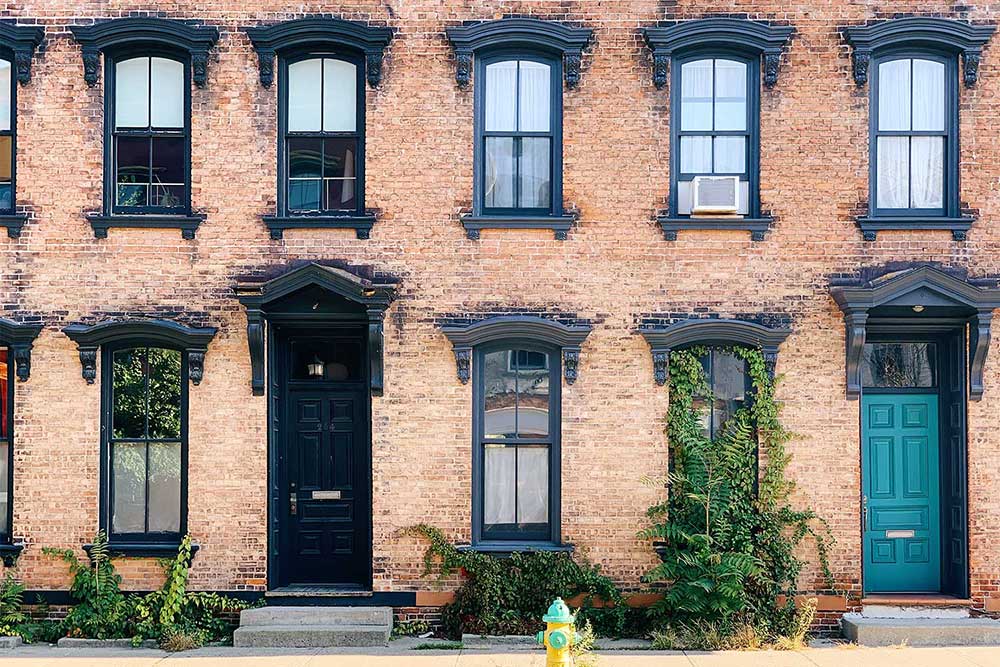 How Many Days to Spend in Hudson
Hudson is a bit like the 'Downtown' or 'Brooklyn' of Upstate New York.
It's exploded in popularity, with lots of new restaurants, bars and boutiques opening all along Warren street.
There's enough to see and do to keep you busy for a day or two, so Hudson is a great small town to use as a base for exploring the Hudson Valley region.
For the outdoors-y, you're at the foot of the Catskill Mountains, with plenty of great hiking and skiing options.
For the culture aficionados, there's dozens of antique shops, independent art galleries, award winning restaurants and pick-your-own organic farms.
If you have time for a long weekend trip, I'd suggest 3 nights and 2 days in Hudson.
If you're coming from New York City, you can take the Friday late afternoon train after work, and arrive in time to relax and have dinner and drinks.
Then you have the full weekend to explore the town and surrounding Columbia County, before grabbing an early morning Monday train back to the city.
Read more:
The Cutest Small Towns in New York State
ADVERTISEMENT
---
---
Where to Stay in Hudson
As I mentioned, Hudson is a great town to base yourself in to explore the Upper region of Hudson Valley.
Aside from the great shops and restaurants in town, Hudson is within a 30-40 minute driving distance of great hiking and famous historical sites.
Here are 3 of the best hotels in town, but I have a full guide on where to stay in Hudson with more tips!
ADVERTISEMENT
---
---
The Inn at 34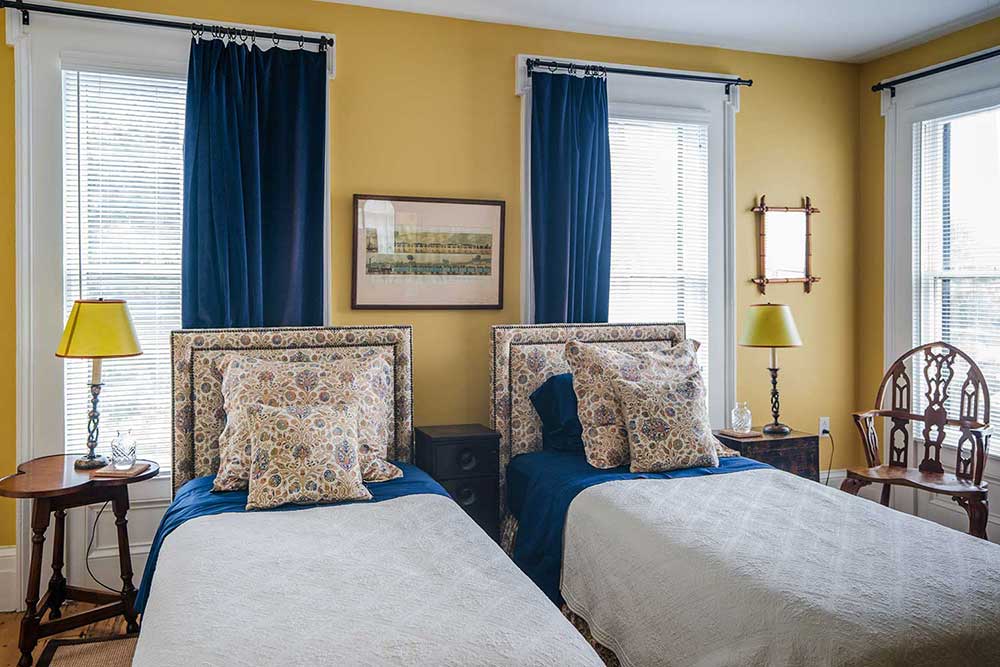 Lots of people who come to Hudson love antiques.
If that's you, you'll love this luxurious historical inn, run by a lovely couple Robert and Marie, who have liberally decorated the house with stunning art and antique furniture.
We stayed here on our first visit to Hudson and loved the décor. All of the rooms are unique in layout and furnishings, and the hospitality here is warm and personable.
The owners live and work at the inn, grow their own herbs and vegetables, and even bake their own bread and pastries.
Best of all, this is one of the best lodging options in town that includes breakfast with your stay. It's homemade and served communally in the ground floor dining room each morning, so it's a nice way to meet other travelers. (Well, at least it was on our trip pre-covid!)
This is a great option for couples and travelers who like a more personal vacation experience.
Book rooms: Booking.com, Hotels.com | Check rates: TripAdvisor
ADVERTISEMENT
---
---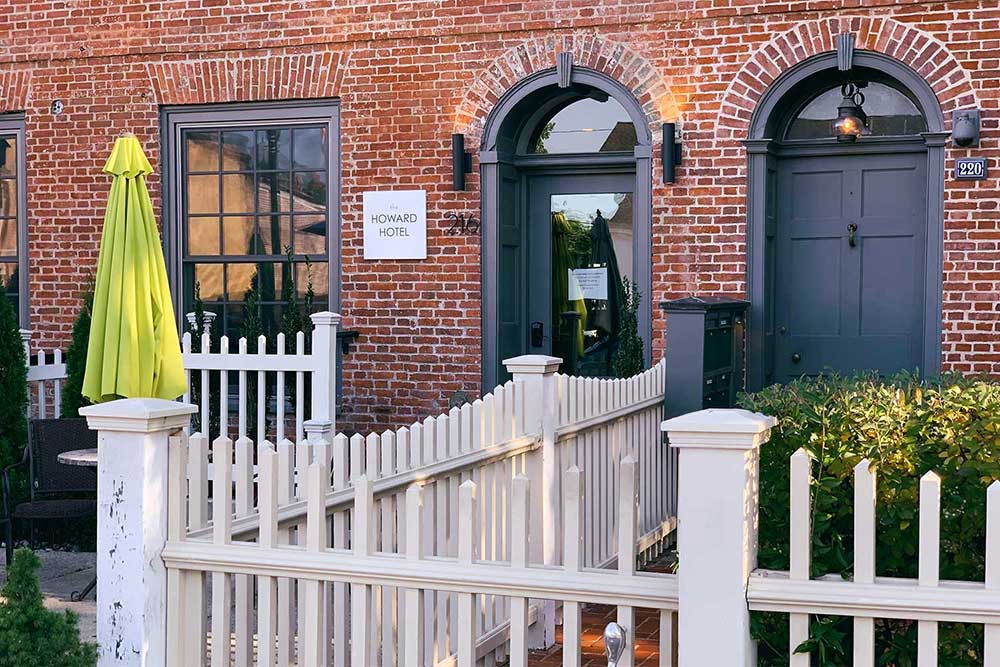 On our most recent visit, we stayed at The Howard. The modern inn has clean spacious rooms and is connected to popular Italian restaurant Ca'Mea.
The beds were incredibly comfortable and the bathroom was all marble and tile, with sustainable bath amenities.
What's nice about this property is everything is modern and updated. I'm talking keypad entry, smart TVs with Netflix, and an all day coffee and tea station.
If you're extra cautious about COVID and want to be in-and-out without interacting with a front desk or other travelers, The Howard is perfect.
Finally, this property has a great location right on Warren Street. It's a quick 5 minute walk from the train station and near all of the popular restaurants and shops in Hudson. Stay here if you don't have a car!
Book rooms: Booking.com | Check rates: TripAdvisor
ADVERTISEMENT
---
---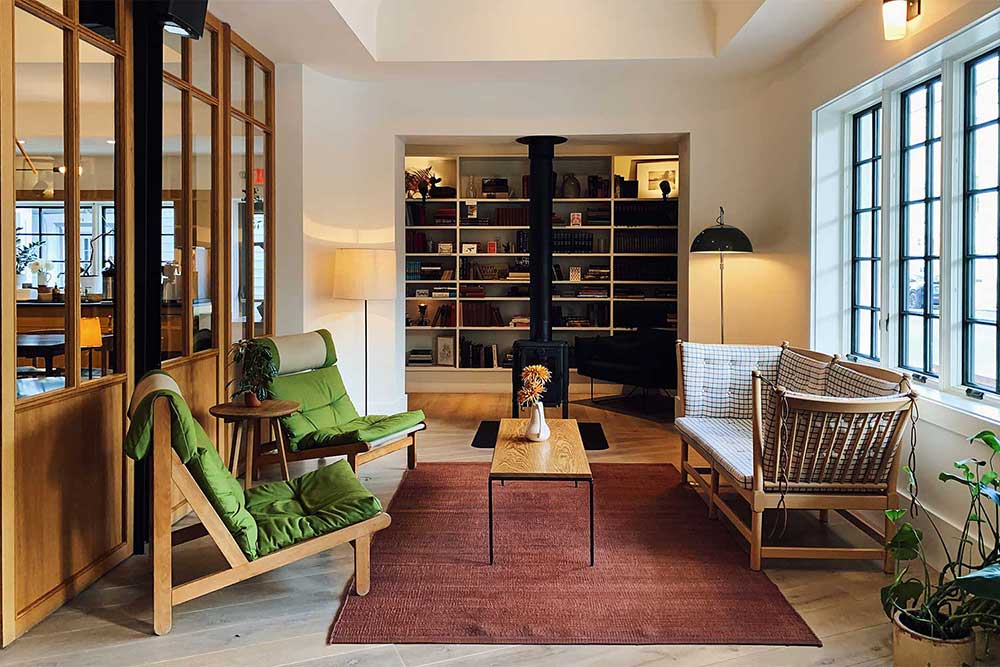 The city's most unique boutique hotel is definitely Rivertown Lodge.
The historic landmarked building was once an old movie theater, but today has been completely transformed into a two story, 27 room modern hotel.
The lobby, bar and rooms are decorated in a cozy Scandinavian-meets-Hipster style. Guests can borrow vintage bikes to ride around town and take advantage of the beautiful bar and tavern.
We had brunch at the on-site restaurant, which has moved outdoors due to Covid. Everything was delicious!
If you like thoughtfully designed hotels and unique food, stay here! This is a great option if you have your own car (otherwise it's a far 25 minute walk from the train station).
Book rooms: Booking.com | Check rates: TripAdvisor
ADVERTISEMENT
---
---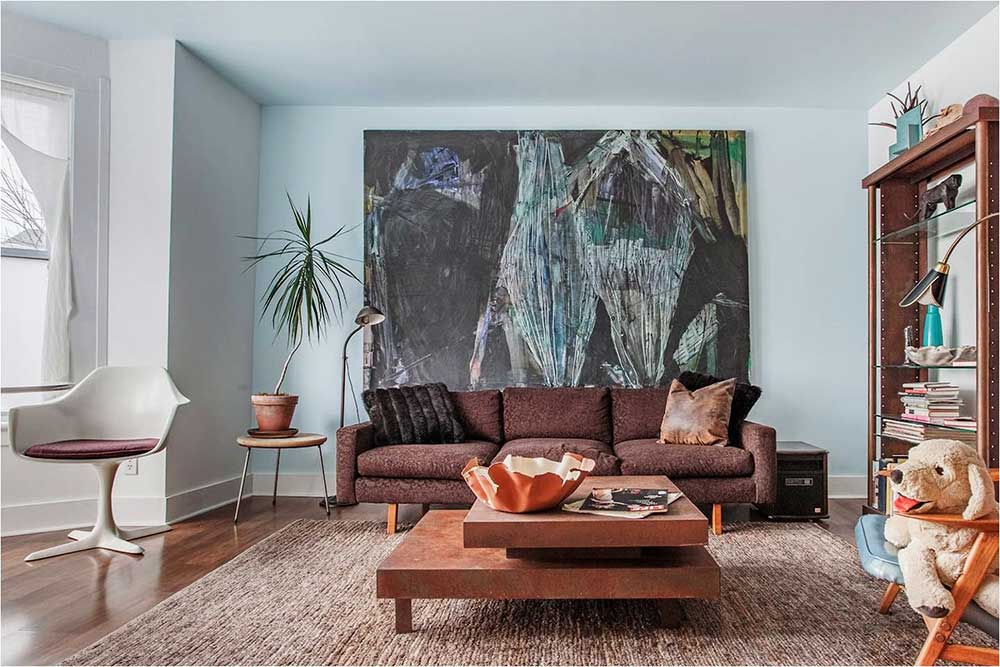 And of course, if you prefer to be more isolated, there are plenty of Airbnbs and VRBO home rentals in Hudson.
Most are less conveniently located but if you have a car and are traveling with a group or family, renting a home is very convenient! You can read our guide to Hudson's best airbnbs here.
Book Hudson house rentals here.
ADVERTISEMENT
---
---
Best Things to Do in Hudson
Here are the best things to do in Hudson, New York!
1. Walk Along Warren Street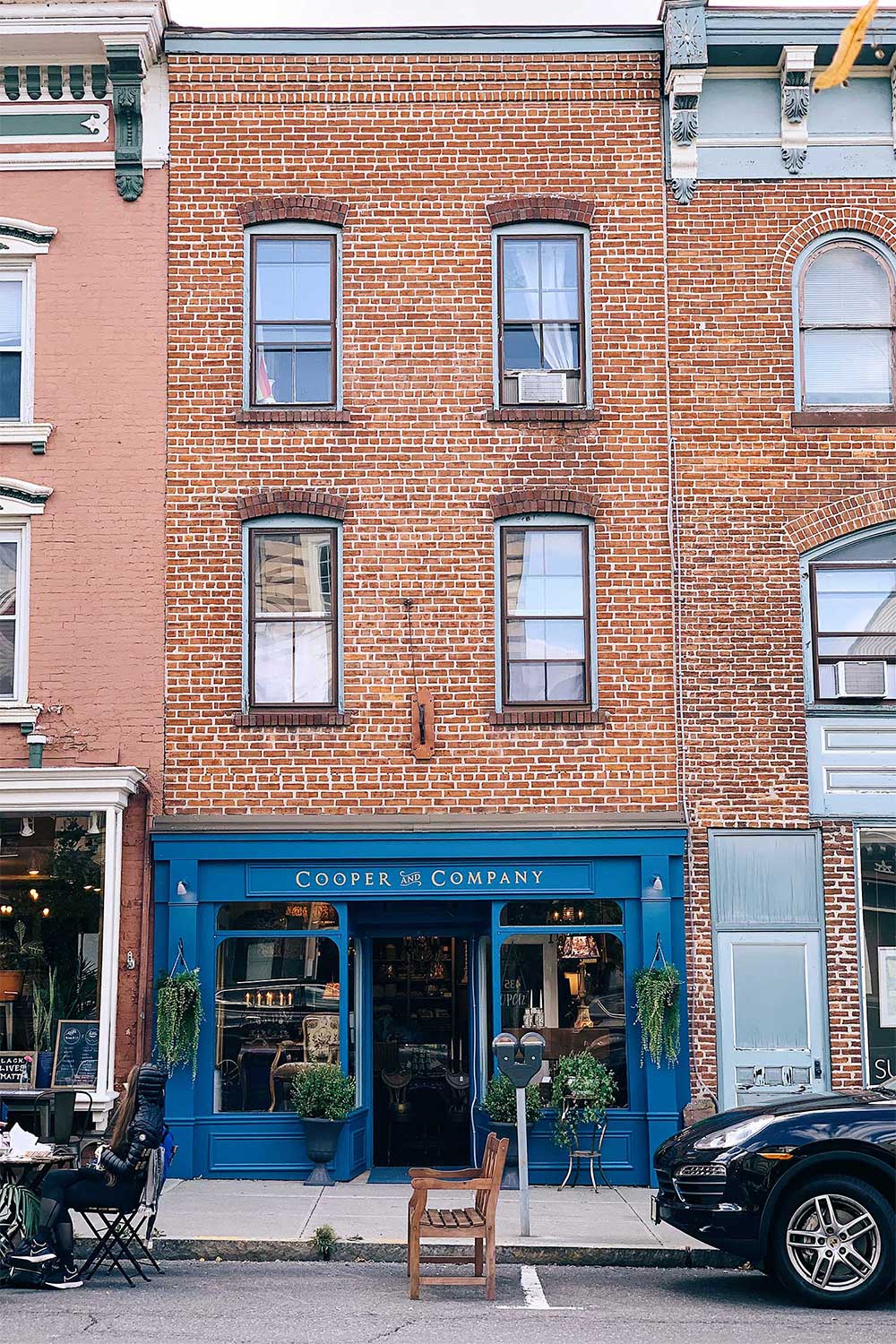 Start off your weekend with a walk down Hudson's main boulevard: Warren Street!
Downtown isn't so much a section as it is this mile long single street. Very colorful and photogenic, you could easily spend the entire day popping in and out of the stores on Warren if you like to shop.
There's art galleries, jewelers and home goods stores, but the main thing you'll find on Warren Street are antique dealers.
If you're not into shopping, walk on Warren anyway to see the 100+ year old buildings, many of which have been restored and painted in pretty shades of pastel.
If you get tired, Warren Street is also home to Hudson's best restaurants, bakeries, coffee shops and cocktail bars!
ADVERTISEMENT
---
---
2. Shop Till You Drop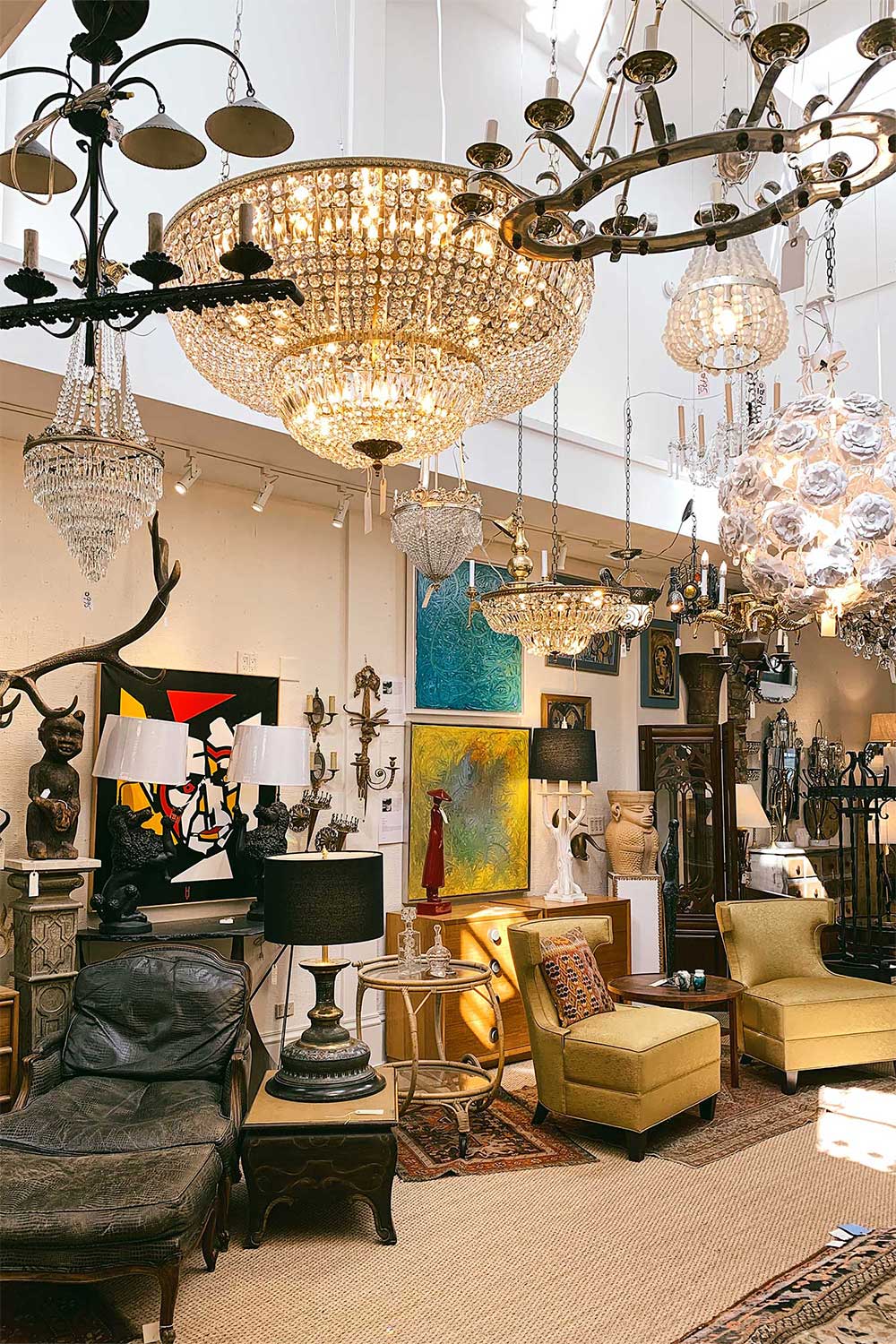 Antiques dealers were the first to revitalize Hudson, so you'll find a seriously impressive range of home furniture shops in town.
In fact, Hudson might just be the antique hot spot of the Hudson Valley and entire New York region!
With over 60 shops and a massive waterfront warehouse, you could literally spend all day in and out of the shops, hunting for vintage treasures.
You never know what you'll find…
But one guarantee, it won't be a bargain ;)
ADVERTISEMENT
---
---
3. Try the Pastries at Breadfolks Bakery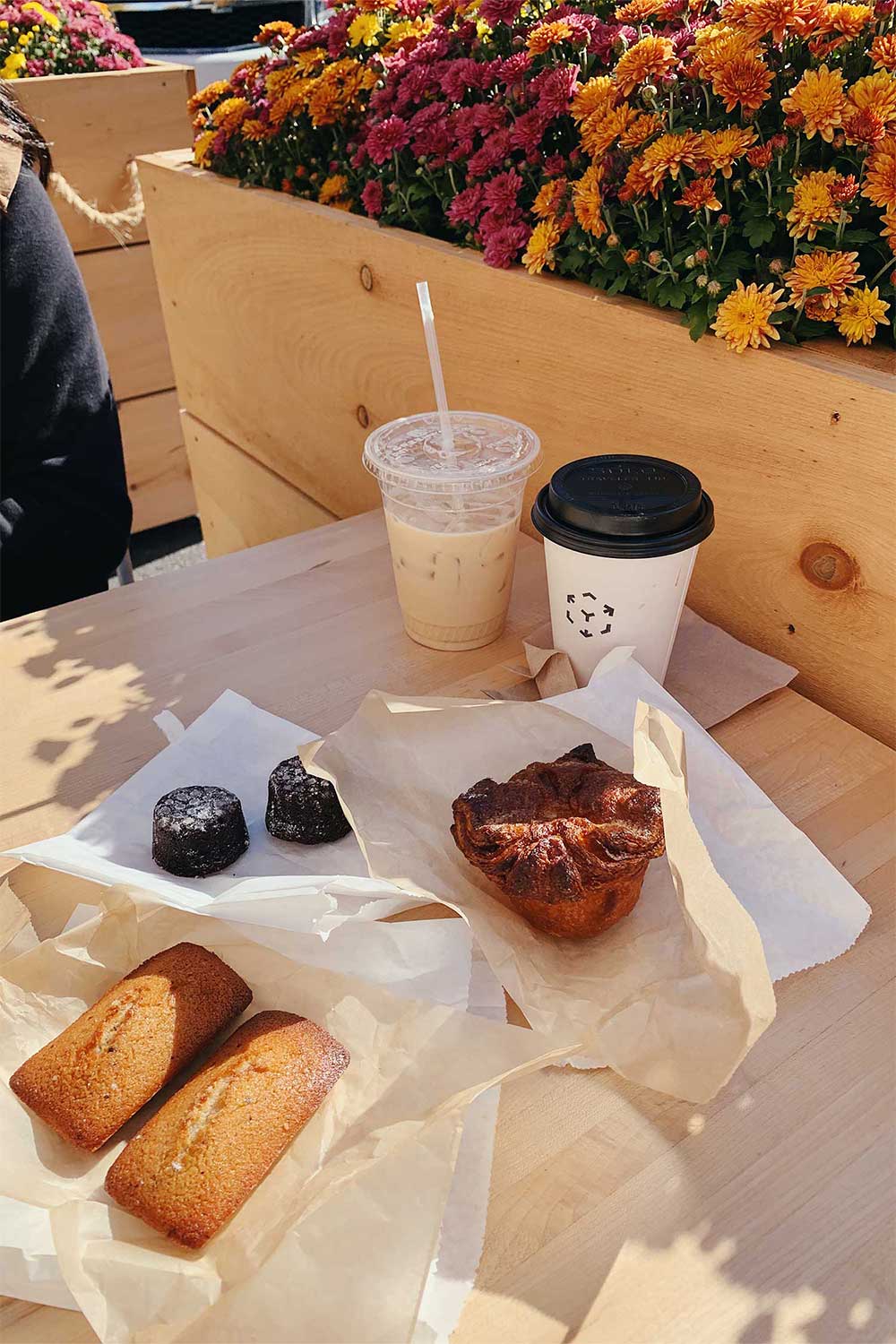 On our first day in Warren, we noticed an exceptionally long line of people waiting outside this dark storefront. It turns out – the shop was a bakery and coffee shop!
Breadfolks just opened in August 2020 but it's already become the most popular stop in town.
The organic bakery offers a range of coffee, teas and matcha drinks that are delicious, but the main draw is their fresh baked bread.
Ditch your attempts at making sourdough and grab the real deal here instead. Their savory croissant sandwiches, Danishes and selection of petit fours are heavenly.
We loved it so much we came back 3 times!
Make sure to try the kouign amann and pistachio financiers.
ADVERTISEMENT
---
---
4. Look for Vintage Treasures at the Antique Warehouse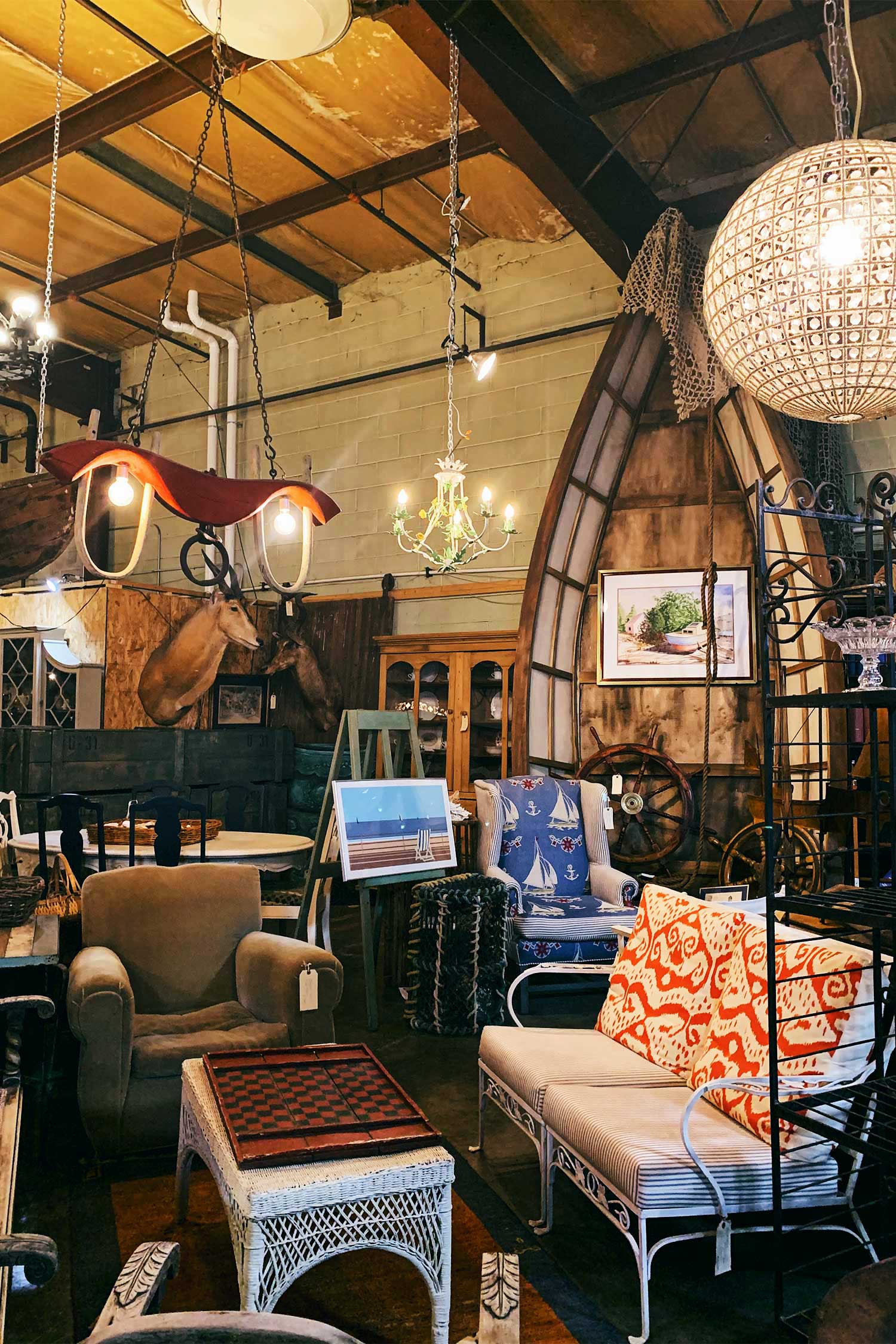 We spent nearly all day on Warren, going inside every antique boutique that caught our eye. Our favorites were Magic Hill and Finch.
But if you want a less curated and more treasure trove approach, head just outside the main drag to the Antiques Warehouse.
This massive lot is like a flea market of stores all mish-mashed together. There's antique doors, chandeliers, cabinets, clothes, shoes, jewelry – everything you could want.
My friend nabbed vintage Ferragamo varina heels for $50, a gorgeous old Coach bag for $40 and lots of other great finds.
To get here, head towards the train station and walk about 5-10 minutes south, towards Hudson Basilica. Warehouse 21 is right behind, in an empty parking lot. (Google Maps wasn't quite accurate, just walk ~5 minutes farther)
It's worth the walk!
ADVERTISEMENT
---
---
5. Take in the View at Henry Hudson Riverfront Park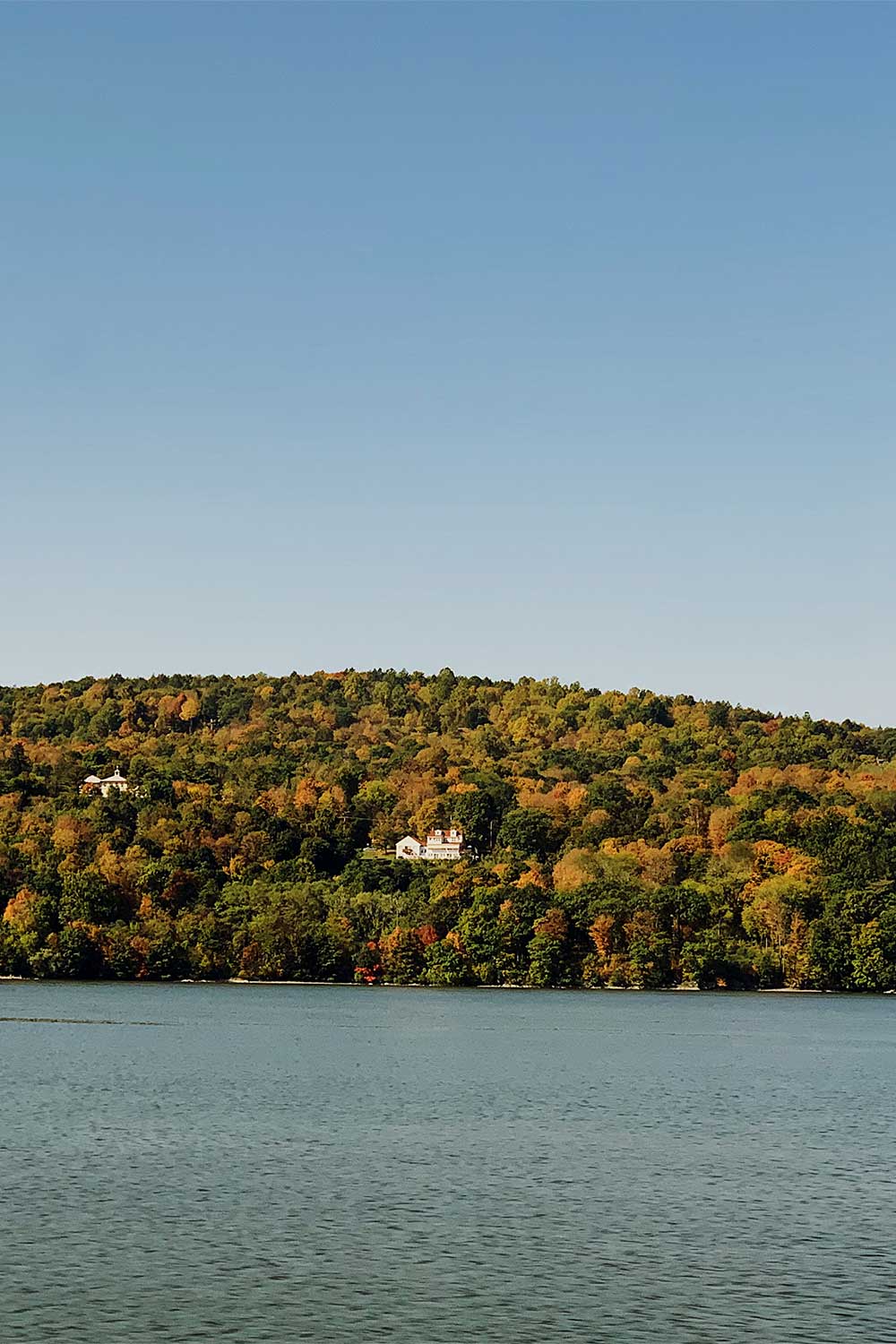 Henry Hudson Riverfront Park is located at the edge of town right along the water.
If you need a break from all the shopping, the quiet benches and relaxing views make for a nice short escape. Sit and watch the boats go by or see the colorful changing of the leaves in fall!
The park isn't that well maintained, so I'd suggest going on a sunny afternoon. Even better, stop by Talbott & Arding in downtown Warren to pick up a to-go picnic!
They're a local provisions shop with a pretty extensive menu of sandwiches, salads and cookies. We especially loved their gourmet cheese and meat selection. Everything they offer is simple and delicious!
ADVERTISEMENT
---
---
6. See Hudson's Historic Homes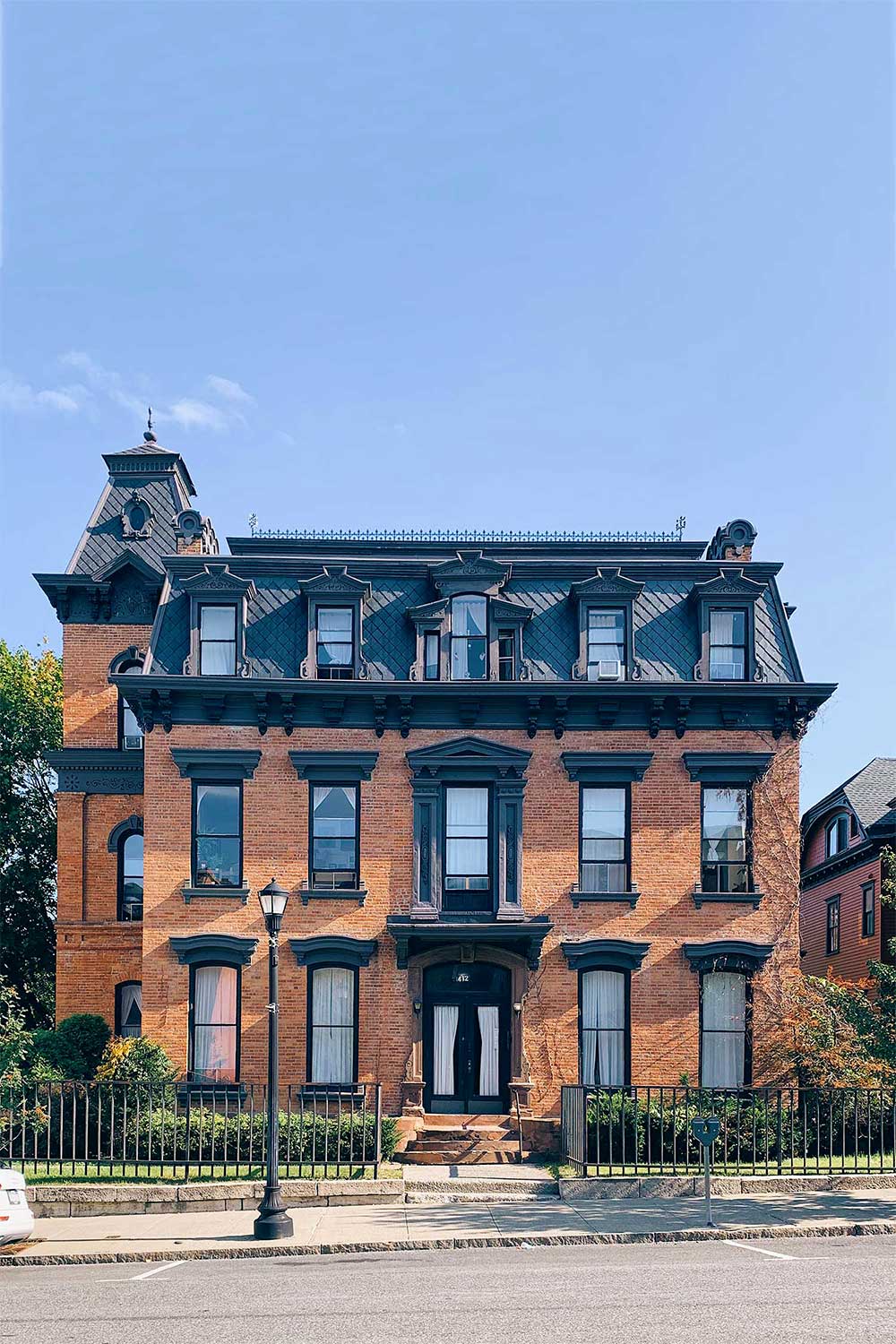 Hudson's architecture makes this town SO photogenic.
The Quakers created the city's original grid layout of 50 by 120 foot lots, but wealthy merchants built their homes in a variety of grandiose styles.
You'll find everything from asymmetrical Queen Anne homes with wrap around porches to colorful Victorians with towers and turrets.
There are also symmetrical Georgian estates and grand Italianate mansions.. and all the various home styles are mixed right in next to each other!
Most of the large buildings were once banks and factories, but have been converted into residential and commercial buildings as part of the (expensive) restoration process. We couldn't help but look at all the real estate listings in town.
If you want to learn more about Historic Hudson and the local preservationist efforts, occassionally historic homes undergoing restoration will be open for tours. A couple years ago, the Dr. Oliver Bronson House was quite popular to visit.
Check out Design Hudson to see if you can take a tour!
ADVERTISEMENT
---
---
7. Eat at Hudson's Best Restaurants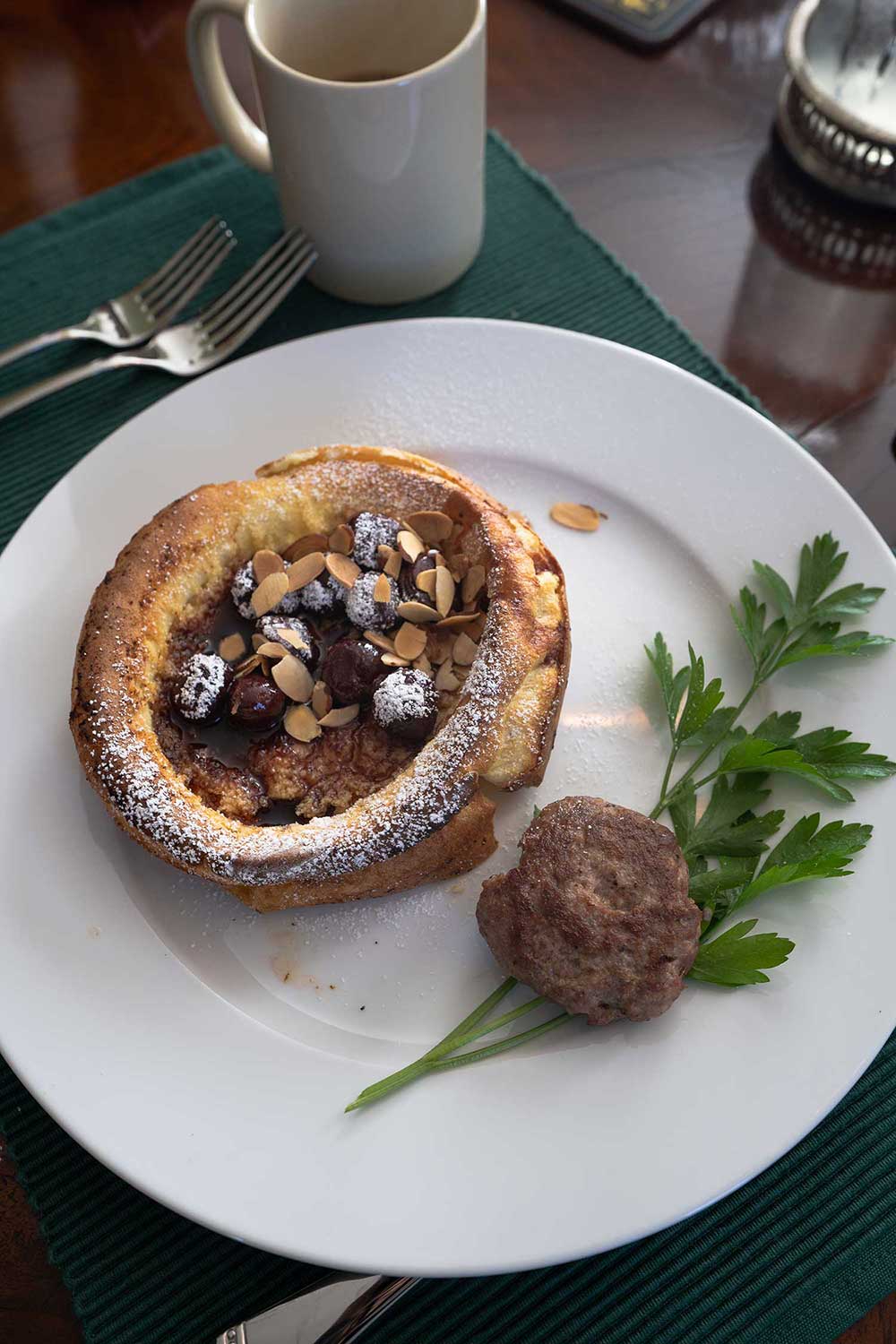 You know how I said Hudson felt like Brooklyn?
The restaurant scene in Hudson is no exception. There are tons of choices when it comes to places to eat in town, many of which source local ingredients, offer farm-to-table meats and organic produce and are beautifully designed.
We (unfortunately) didn't get to eat everywhere but everywhere we tried was very good.
Refuel with comfort pub food at 235 Warren Bar and Grill. The unassuming bar had such great burgers and entrees that we came twice! Try the fried calamari, burgers, fish & chips, pumpkin pasta and pan roasted chicken with mashed potatoes – everything was excellent.
Ca'Mea was great for rich Italian food and Rivertown Lodge had a delicious savory brunch.
ADVERTISEMENT
---
---
8. And Try a Cocktail (or two!)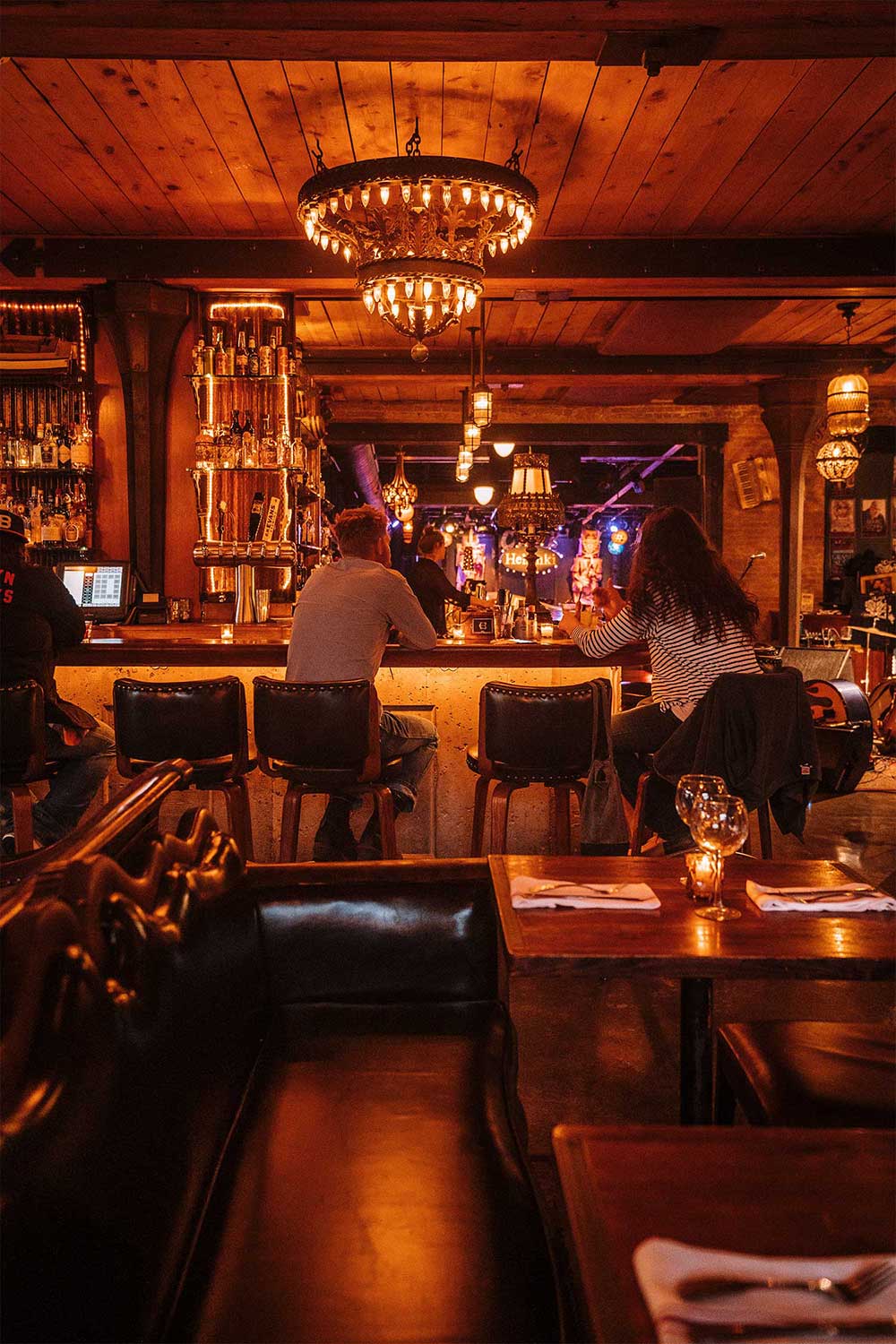 For entertainment, stop by Helsinki Hudson for live music, great drinks and finger lickin' good barbecue.
For cocktails, head behind a nondescript antique store to find Backbar, a cool funky cocktail bar that serves small Malaysian style plates and a delicious slushy mezcal, made with chili infused aperol and fire smoked agave syrup.
For a classy evening, order wood fired pizzas at Oak Pizzeria Napoletana. They have everything from cheese and charcuterie boards to seafood, plus an extensive wine list.
ADVERTISEMENT
---
---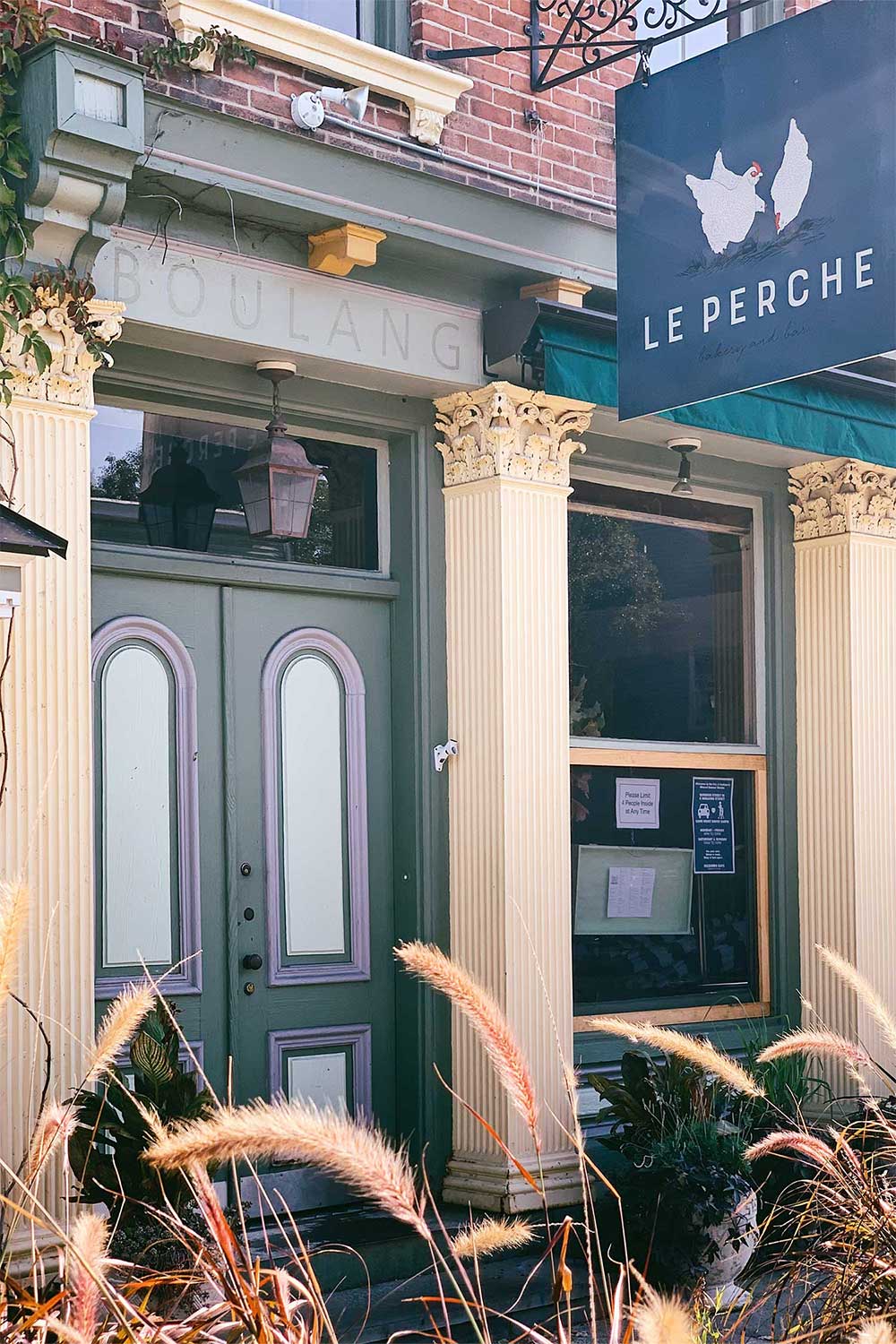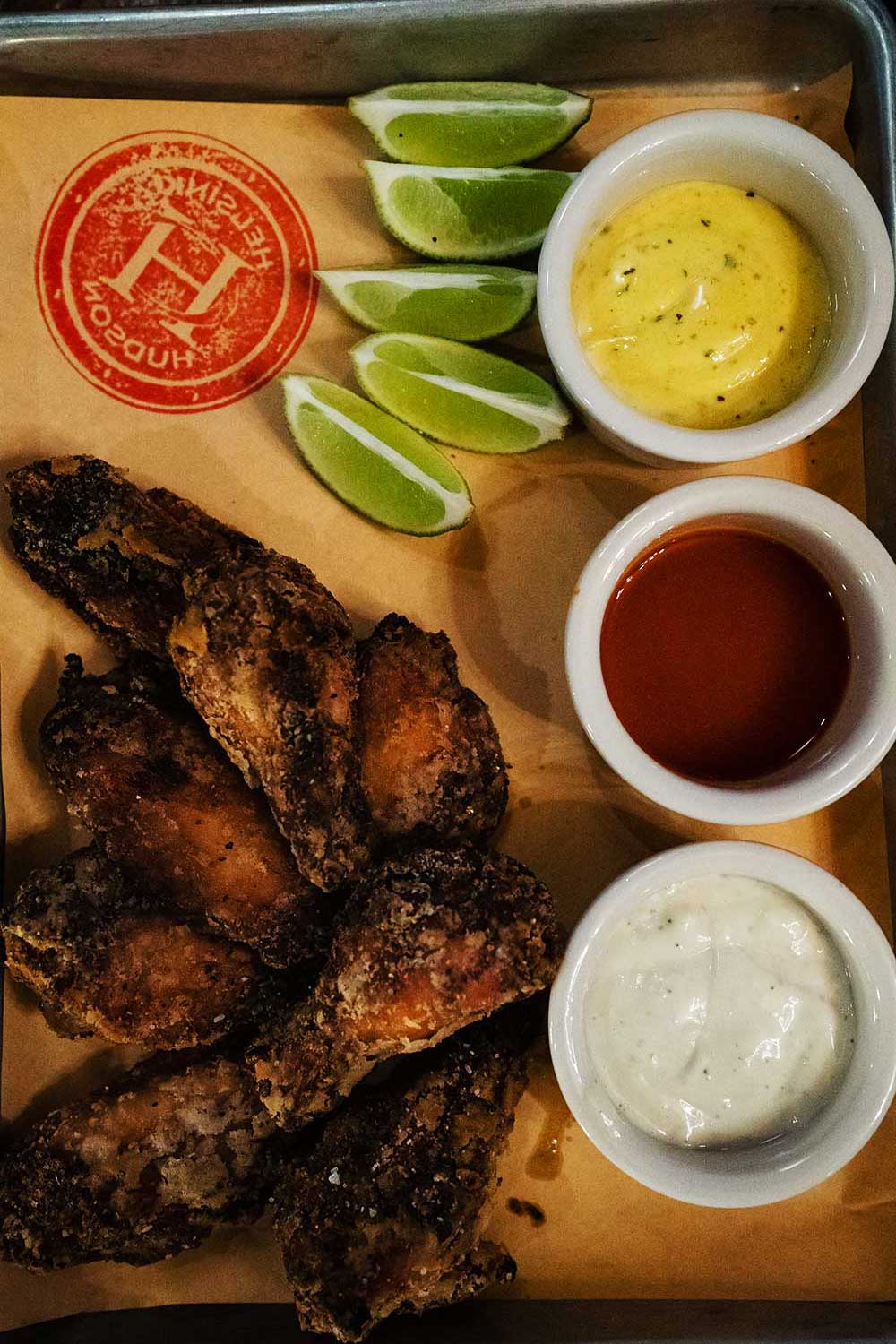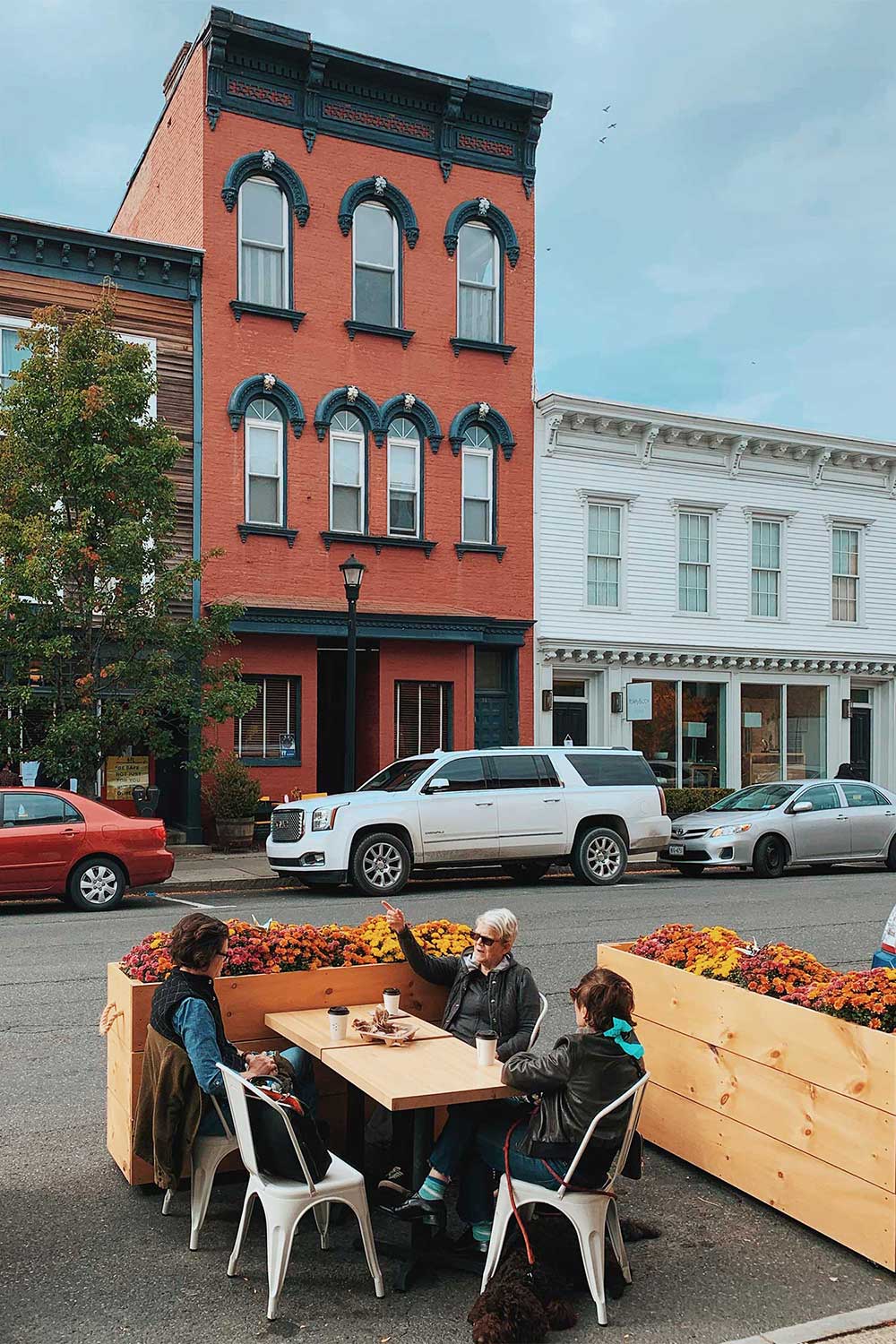 Here's a short list of some of the best restaurants in Hudson:
225 Warren Bar and Grill for delicious, affordably priced comfort food
Helsinki Hudson for live music and great BBQ
Talbott & Arding for soups, salads, sandwiches and cheese plates (to go)
Ca'mea for Italian classics and fresh made pasta
Rivertown Lodge for brunch, small plate and cocktails
Moto Coffee for waffles and coffee inside a motorcycle shop
Le Perche for French
Grazin' for burgers
Food Studio for Vietnamese
Lil Deb's Oasis for Latin
Try to make reservations for dinner if you're visiting in peak season, like summer or fall.
ADVERTISEMENT
---
---
9. Watch a Performance at the Historic Hudson Opera House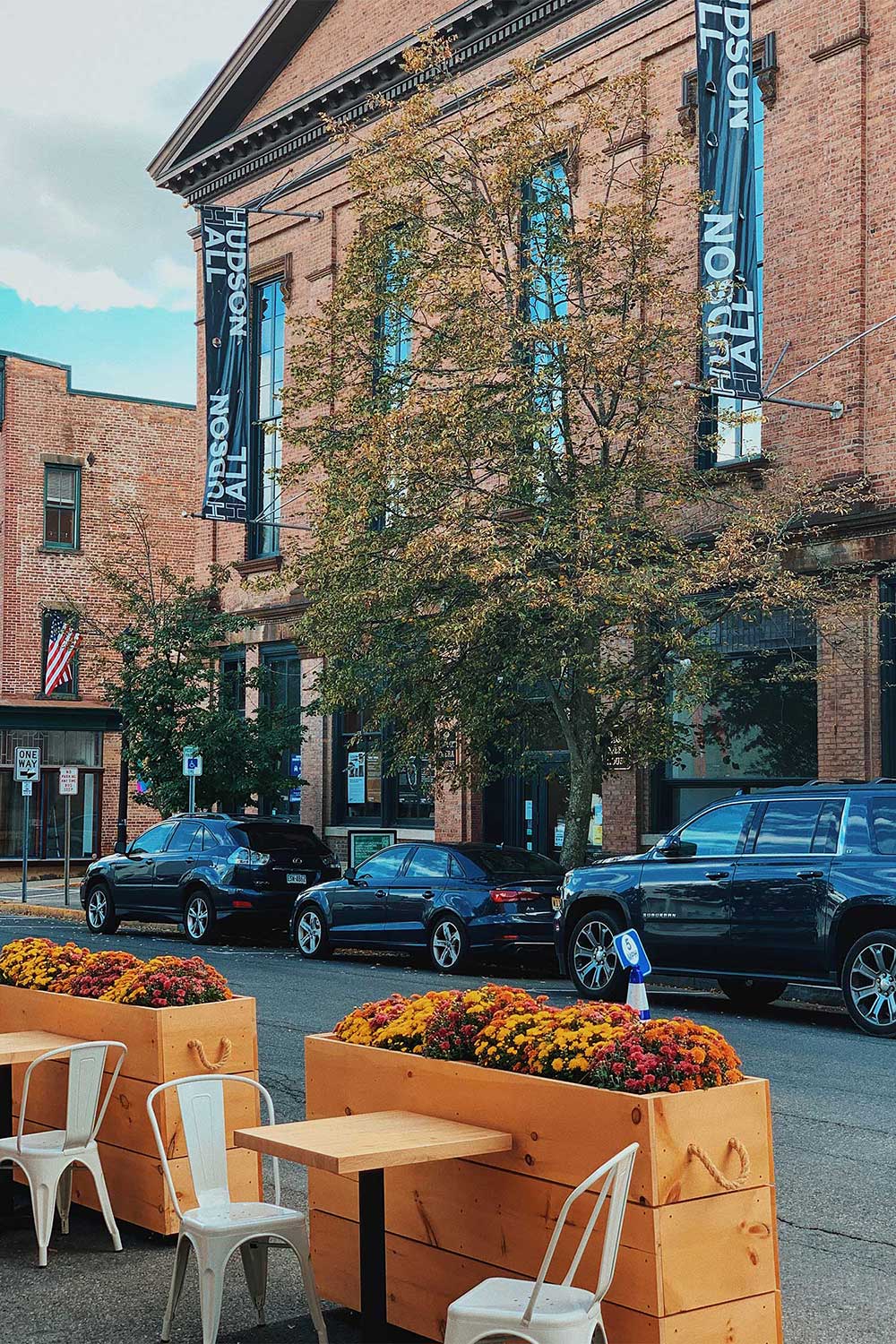 Hudson is also home to the oldest theater in New York state.
At one point, the Hudson Opera House was the venue of choice for prestigious individuals like Susan B. Anthony, Teddy Roosevelt and Ralph Waldo Emerson.
The historic Opera House was recently restored in 2017, after sitting abandoned for over 50 years. Not only are the acoustics excellent for music, it doubles as a popular event space for weddings, galleries, festivals and more.
We didn't go in, but admired the view from the excellent bakery across the street :)
ADVERTISEMENT
---
---
10. Explore the FASNY Museum of Firefighting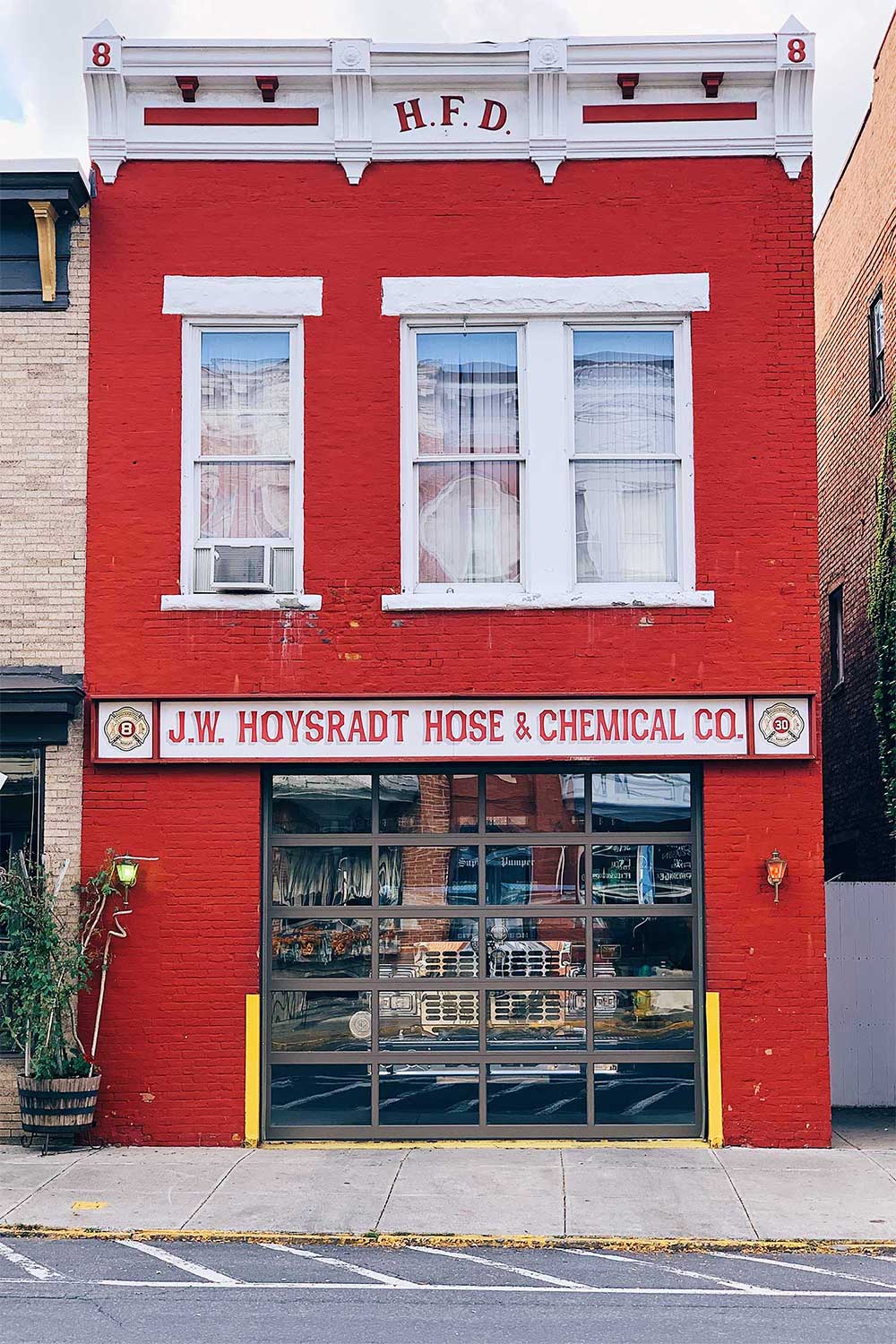 Just outside town, you'll find the FASNY Museum of Firefighting.
It's a great place to take kids, with plenty of firefighting vehicles, equipment and objects on display. The museum also houses firefighters' gear and lots of immersive displays that you can explore on a self guided tour.
ADVERTISEMENT
---
---
11. See the Hudson-Athens Lighthouse
One of the most elegant lighthouses on the Hudson River is this iconic landmark, right in between the towns of Hudson and Athens.
It was originally built in 1874 and still works today to navigate ships around the middle ground flats of the Hudson River.
From July to October, you can tour the lighthouse up close on the second Saturday of each month. Just check their events page before you go for the ferry schedule.
The boat ride takes about 10 minutes and afterwards, you can pop over to Athens to visit the town across the river! That's also where the better views are (and then after, pop into Crossroads Brewing Co).
Hudson Cruises also offers scenic cruises on the river. They do a popular sunset tour, Friday evening Murder Mystery tours and Sightseeing cruises in fall foliage season.
ADVERTISEMENT
---
---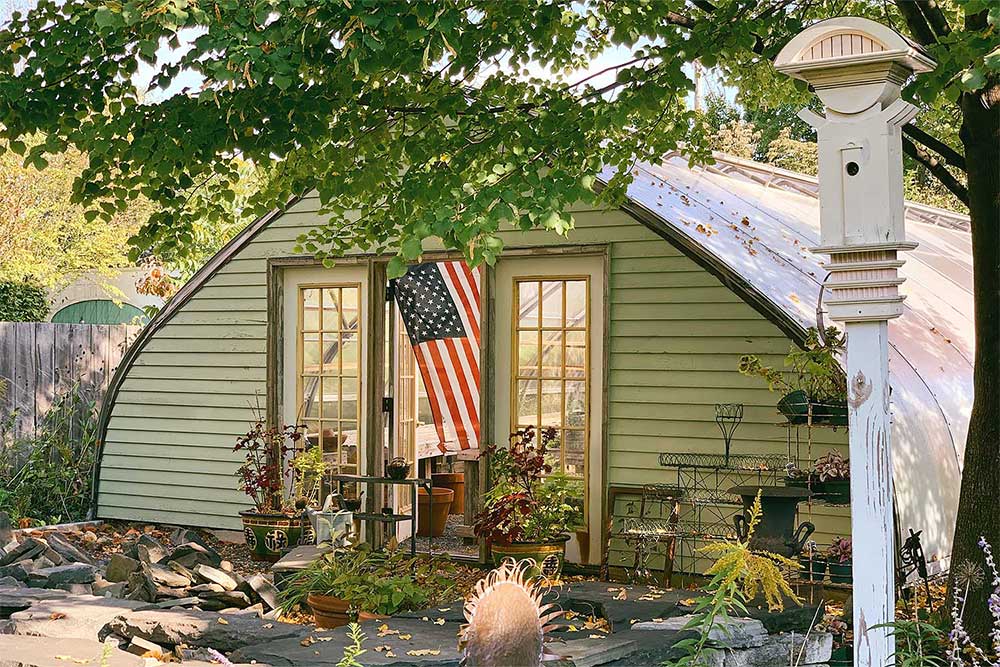 Day Trips From Hudson, NY
Here are some fun day trip options from Hudson!
12. Explore Opposite the River
Just across the Hudson River, you can explore the quaint small towns of Athens and Catskill. In Athens, there's the popular Crossroads Brewery. In Catskill, you'll find a Main Street and lots of cool new shops.
13. Pick Up Fresh Produce at a Local Farm
There are a couple orchards 20-45 minutes outside Hudson. If you want fresh produce, or to pick your own berries and peaches, head to an orchard on a weekend afternoon!
ADVERTISEMENT
---
---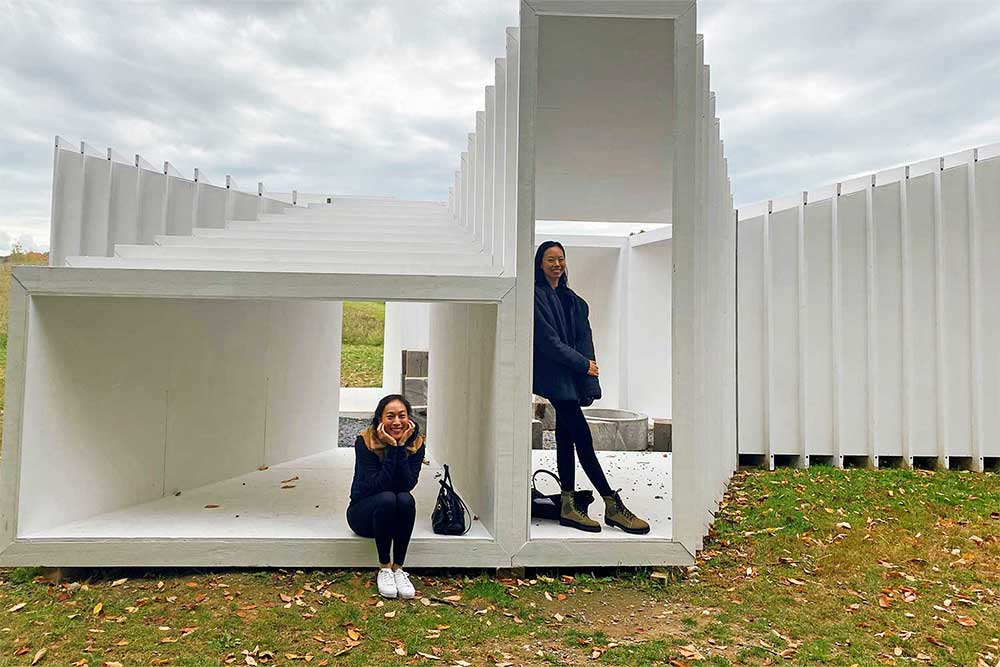 16. Play in Art Omi
This outdoor sculpture park is great for adults and kids. Pack a picnic and make a day of it – this place is huge!
Giant sculptures dot the backwoods of Art Omi and all of them are unique. Most blend into the countryside. Read more about visiting Omi sculpture park here.
17. Explore Opus 40
Quarryman Harvey Fite created this large environmental sculpture park in Saugerties.
It's unlike anything I've ever seen, with curved pedestals, platforms and stone ramps across 6 acres of a bluestone quarry.
ADVERTISEMENT
---
---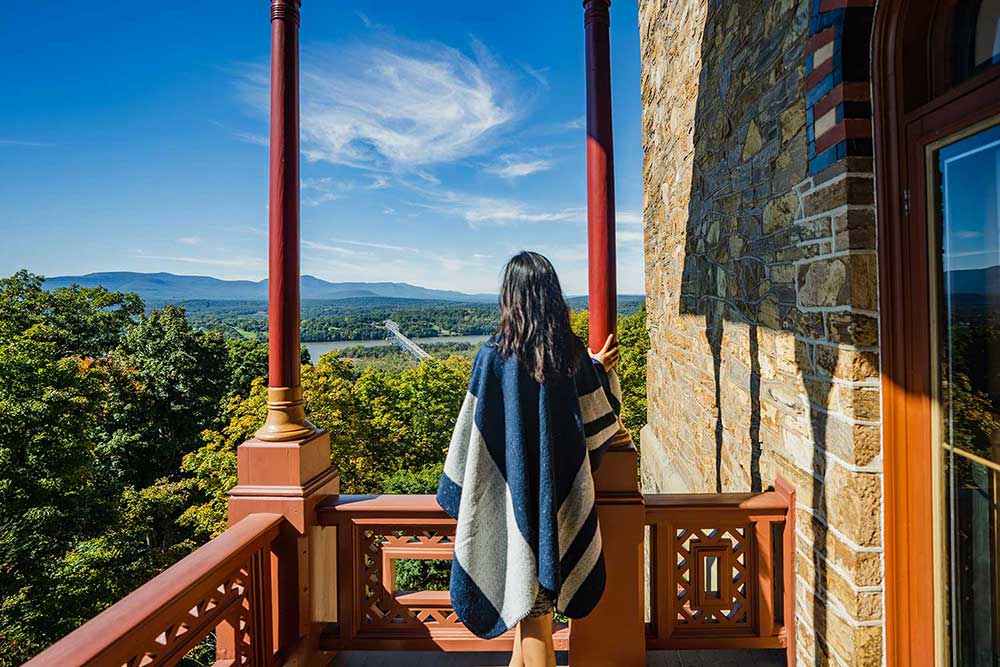 18. Explore Olana State Historic House
Frederic Edwin Church was one of America's most famous landscape artists in the late 1800s. He painted massive canvases of the Hudson Valley from his home at Olana.
Today, you can visit his compound to see the best views of Hudson Valley for yourself. Only guided visits are allowed, so call ahead in advance to reserve a time.
When we visited, we were pretty blown away by the home. Church was a master of the Hudson River School and loved traveling the world – especially the Middle East. His home is like an omage to his travels, with a mix of Victorian, Persian and Moorish architectural styles. It's really unique!
You can also skip the 90 minute guided tour to just explore the grounds (Church owned 18 acres of land). There's a perennial garden that's really pretty and on the day we visited, a Vintage Car group had overtaken the parking lot with cute cars.
ADVERTISEMENT
---
---
19. Visit Thomas Cole National Historic Site
If you liked Olana, there's another painter's home and grounds nearby.
Thomas Cole is another famous American landscape painter and at the National Historic Site, you'll find his old art studio, restored as it would have been in his time.
Guided tours are available to see Cole's art work and home. Don't miss the stunning view of the mountains!
20. Walk to Bash Bish Falls
Want something a little more active?
Head to nearby Taconic State Park to get your steps in. The park straddles New York and Massachusetts and is just a 30 minute drive from Hudson.
Inside, you can fish, hike or see the waterfall!
ADVERTISEMENT
---
---
21. Hike the Greenport Conservation Area
For an entire day of greenery, head to "the countryside" of Greenport Conservation.
On this 736 acre conservation area, you'll find plenty of scenic landscapes, views of the Hudson River and Catskill Mountains, and over 7 miles of hiking trails.
There's even a fully wheelchair accessible trail!
22. Meditate at Won Dharma Center
For something a little different, head to the Won Dharma Center for a spiritual awakening.
The bold architecturally modern building offers both daily meditations and longer retreats (check the schedule before you head out) as well as self-guided meditation walking trails.
ADVERTISEMENT
---
---
It's funny looking back over the years. I've been to the Hudson Valley many times, and each visit has been so different. I guess it just goes to show there's lots to do in the area!
Have you been to the Hudson Valley? What do you recommend?
Visiting NYC – Travel Checklist
Road Trips | There's so much to see and do in Upstate New York, but one thing you need is a car. I recommend taking a road trip in Spring and Summer, or in early Fall to see the leaves change.
Hertz and Sixt offer affordable car rentals from New York City. You can also price compare on Auto Europe, an aggregator that pulls rental rates from all the car rental companies. Check rental car rates for Hudson Valley here.
Accommodation | Upstate New York has tons of hotel options – from luxurious Gilded Age getaways to romantic b&bs and quaint inns. In peak season, book hotels in advance to save, or check here for last minute deals.
If you have a group of people or want to stay in the countryside, rent a house on Airbnb. It's especially great if you want to hike and don't mind being a little farther from town!
Insurance | Lastly, be sure to visit Upstate New York with travel insurance. Whether you get injured and need to be hospitalized, or your phone gets stolen, travel insurance will help when you need it most. Get a quote for your trip here.
You Might Also Enjoy:
Getaways from New York City
Hudson Valley
The Best Things to Do in Hudson
Visiting Art Omi: An Outdoor Sculpture Park
The Best Airbnbs & Vacation Rentals in Hudson
Where to Stay in New Paltz: Cozy Cottages, Vacation Rentals & More! 
Where to Stay
The Best Airbnbs in Hudson, NY
The Best Airbnbs in New Paltz, NY
Follow me @Sher She Goes on