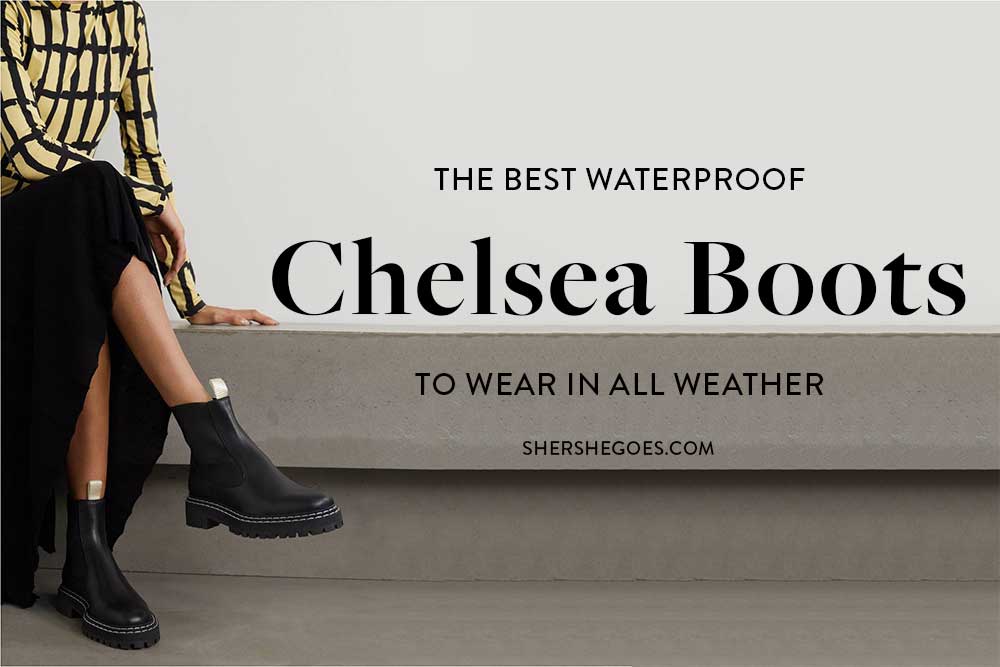 Best Waterproof Chelsea Boots
Most Stylish Waterproof Chelsea Boot: Sam Edelman
Best Waterproof Chelsea Rain Boot: Dolce Vita
Best Waterproof Winter Chelsea Boot: Blundstone
Most Comfortable Waterproof Chelsea Boot: Chaco
Best Water Resistant Suede Chelsea Boot: Nisolo
Best Waterproof Leather Chelsea Boot: Sorel
ADVERTISEMENT
Waterproof Chelsea Boots for Women
I have a pair of rain boots, but honestly I almost never reach for them.
Instead, I'd much prefer a classic ankle boot that's also water proof (or at least water resistant). No need to change footwear after stepping outside and seeing the sky, and no need to worry about clunky rubber boots that chafe and blister.
So instead, I searched for the perfect chelsea boots that are solidly waterproof. Here's the absolute best waterproof boots out there, that don't sacrifice functionality or style!
Keep reading, or pin this article to save it for later ⇟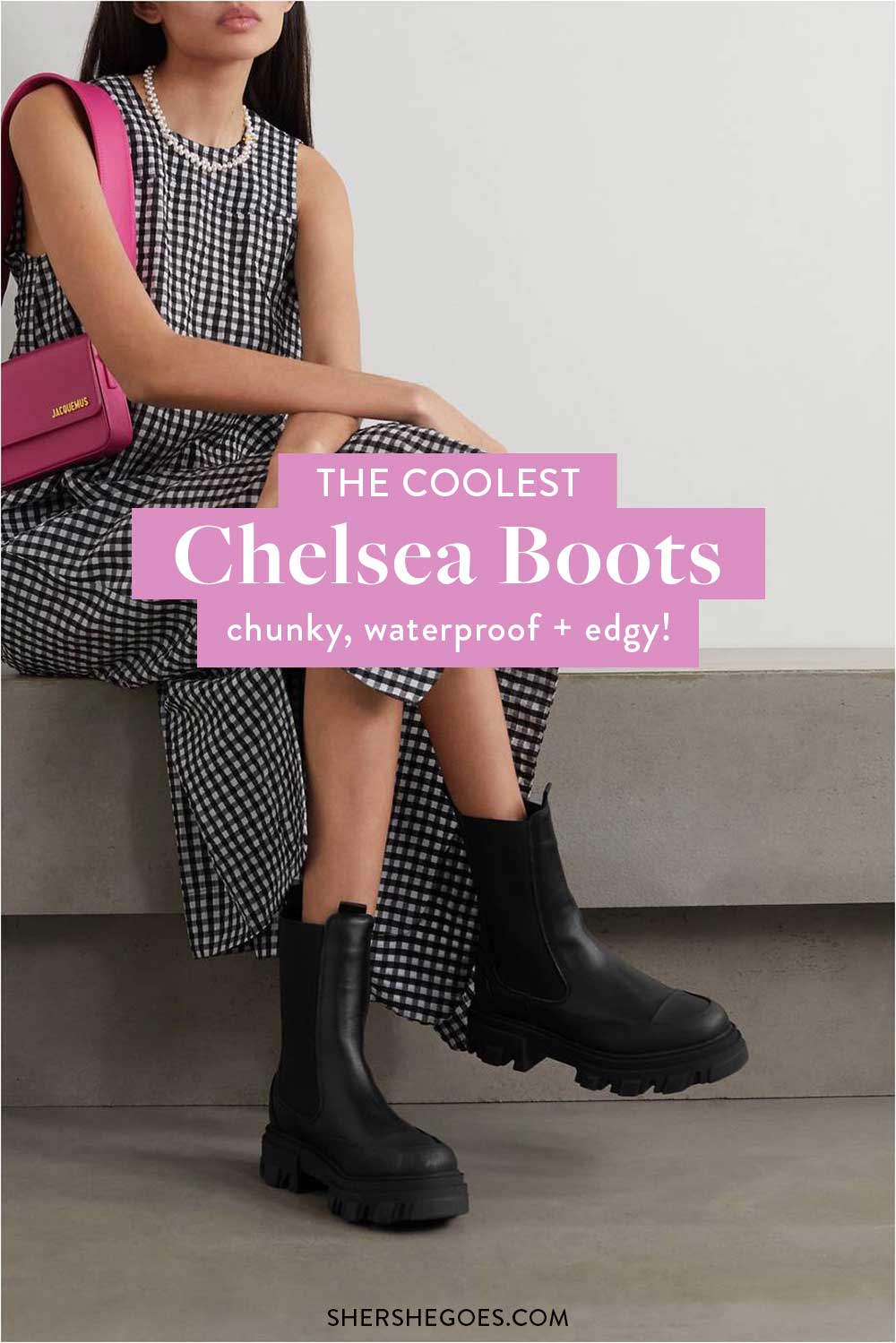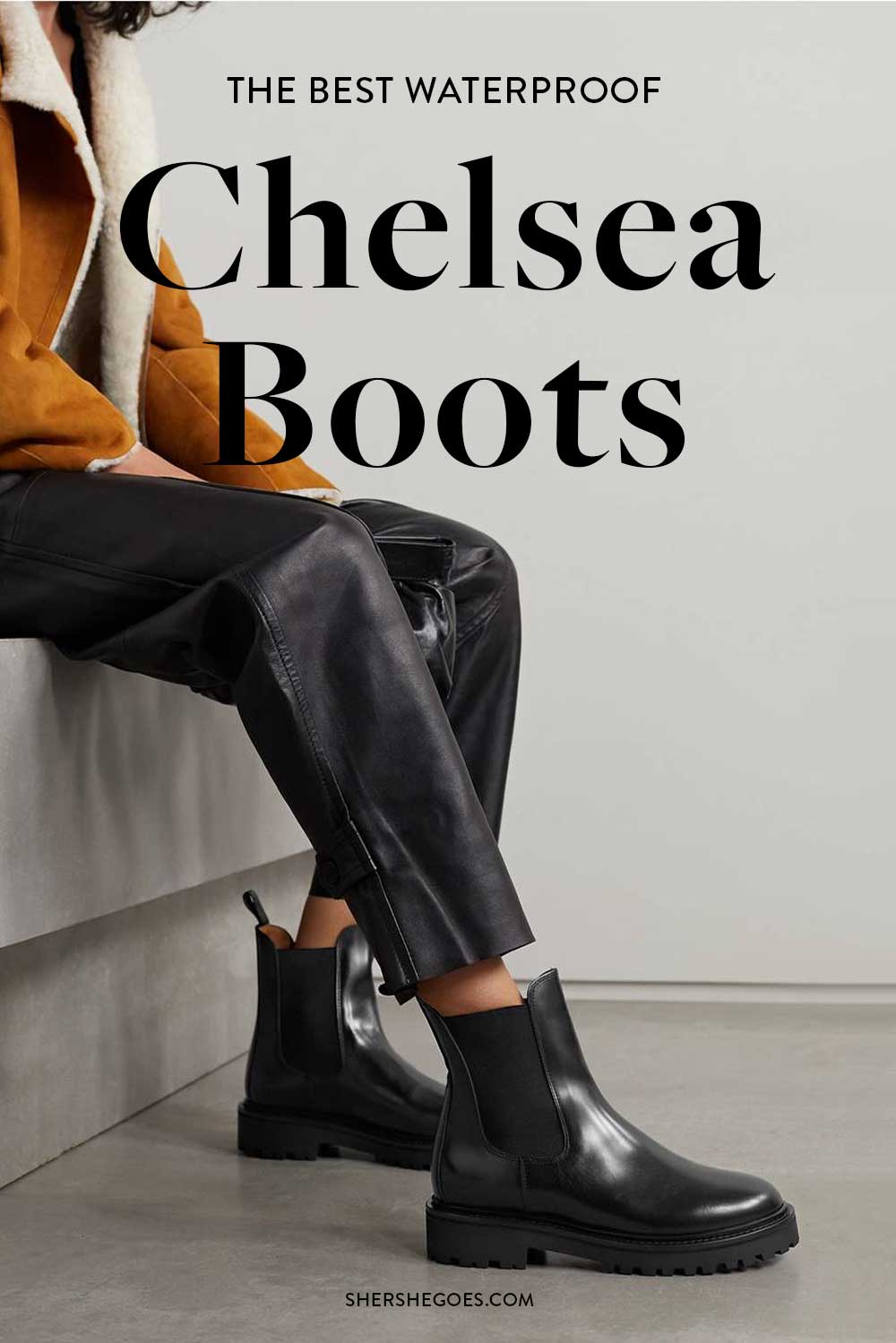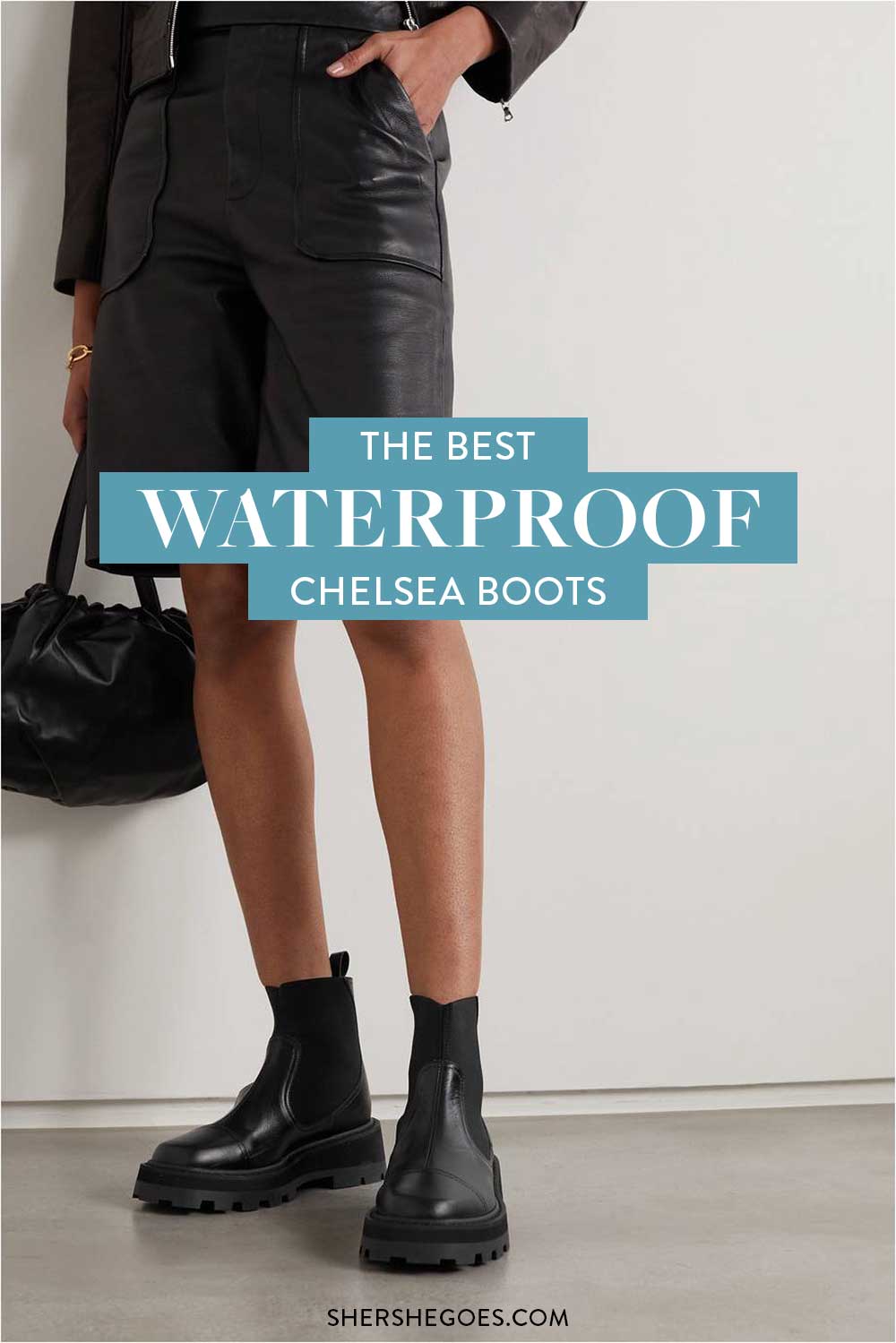 ADVERTISEMENT
---
---
Best Waterproof Chelsea Boots (2021)
Most Stylish Waterproof Chelsea Boot: Sam Edelman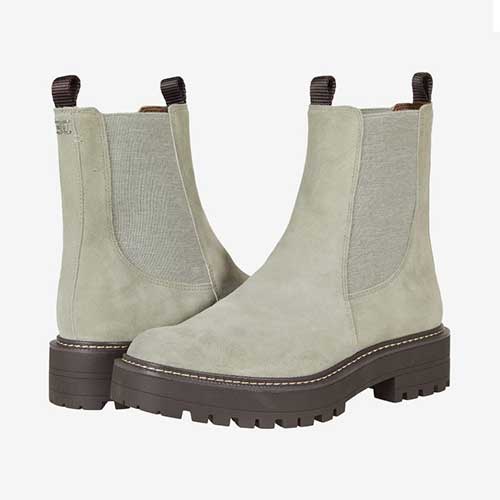 I love these chunky Sam Edelman boots.
They have a rugged sole and sleek suede uppers. The combination of the edgy sole and sleek form-fitting shaft are so stylish!
And best of all, they come in a range of fantastic colors.
ADVERTISEMENT
---
---
Best Waterproof Chelsea Rain Boot: Dolce Vita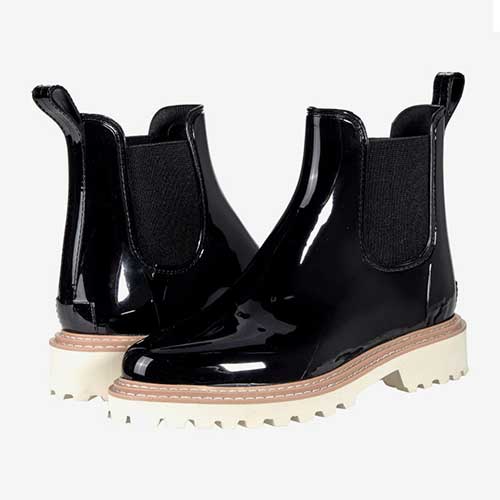 I raved about a pair of chunky Dolce Vitas in this post, but then I discovered they also make a waterproof version!
These sporty boots have a sleek almond toe and shiny rubber finish. I love the contrasting colors and chunky soles!
ADVERTISEMENT
---
---
Best Waterproof Winter Chelsea Boot: Blundstone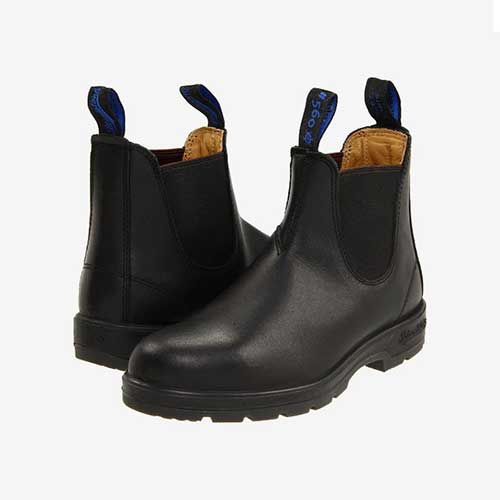 Blundstone is famous for its sturdy boots.
If you're looking for waterproof protection and warmth, you'll want these Blundstone chelsea boots. They're made from leather with a thinsulate liner for extra warmth in the winter.
They have firm tread, are sturdily built and fit so nicely they're easy to take on and off.
These are one pair of boots that can handle anything!
ADVERTISEMENT
---
---
Most Comfortable Waterproof Chelsea Boot: Chaco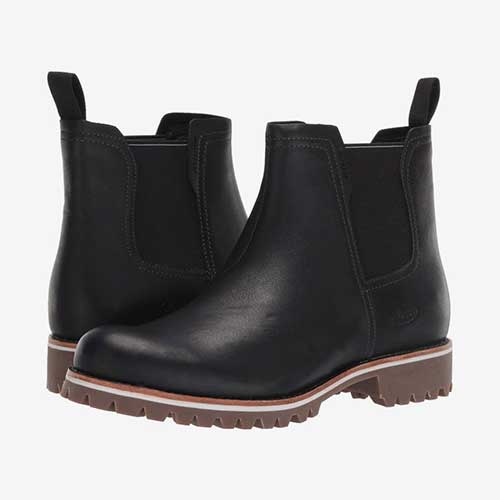 Chaco's chelsea boots will keep you equally comfortable in city streets as in the mountains.
These slip-on boots are made of full grain leather and have been completely sealed and waterproofed, down to the seams. It might be pouring outside but your toes will be comfy, warm and dry!
I love that the chelsea boots also have removable cushioned footbeds and that the soles are rubberized and non-marking with extra traction.
If you love spending time outdoors, no matter the weather, you'll love Chaco.
ADVERTISEMENT
---
---
Best Water Resistant Suede Chelsea Boot: Nisolo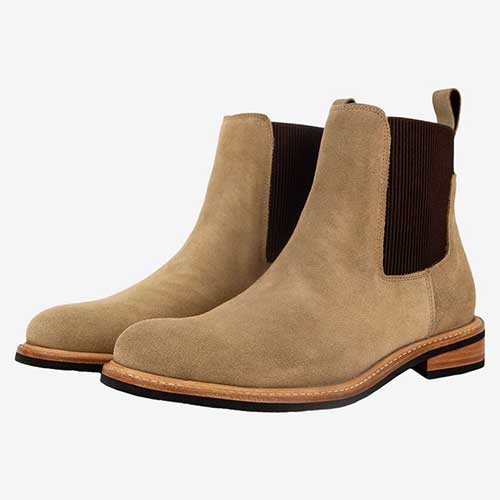 Nisolo makes stylish chelsea boots that are sustainably made.
This pair strikes the perfect balance of comfort and fashion. It has a custom rubber sole that's thin and lightweight, so they're very easy to walk in.
The leather (or suede) options are all waterproof and the round toe silhouette makes them wearable everyday, in any outfit.
ADVERTISEMENT
---
---
Best Waterproof Leather Chelsea Boot: Sorel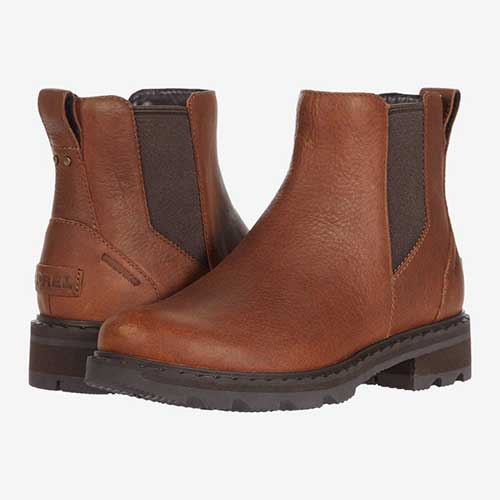 Sorel makes fantastic shoes.
These brown chelsea boots are no exception. Made from full grain leather, they're sleek and durable and will have you feel like you're walking on clouds.
The slip-on boots are also fully waterproof, so they'll keep you dry in the slickest conditions. Finally, the cushioned footbed make them supremely comfortable and snuggly!
ADVERTISEMENT
---
---
Shop Chelsea Boots for Women
---

ADVERTISEMENT
---
---
Read More in my favorite Comfy Shoe series:
Most Comfortable Shoes
The Most Comfortable Flats EVER
The Most Comfortable Sandals for Summer
The Most Comfortable Boots for Winter
The Most Comfortable Heels (you can actually walk in)
Best Sneakers
The Best White Sneakers that Go with EVERYTHING
Cute Casual Sneakers to Wear Anywhere
Best Boots
The Best Chelsea Boots to Wear All Year Round
The Best Lace Up Boots for Military Inspired Chic
The Best Over the Knee Boots that Make a Statement!
The Best Shearling Boots to Stay Cozy this Winter
The Best Black Combat Boots That Go with Everything
Cozy At Home Shoes
The Best Mules for Easy Slip on Style
The Best Loafers to Look Polished but Stay Comfy
Shoe Reviews
The Best Travel Shoes in Every Style - Sneakers, Slip Ons, Flats & Sandals
Everlane Flats - These 5 Pairs are Extra Comfortable
OluKai Shoes: Sneaker & Sandal Review
Where to Get Stuart Weitzman Boots on Sale
Designer Inspired
The Best Cap Toe Ballet Flats to Get the Chanel Look, for Less
Classic Chanel Inspired Slingbacks (Two Toned)
The Best Chanel Inspired Espadrilles to Rock All Summer
The Best Manolo Blahnik Lookalikes
The Best Over the Knee Boots that Rival Stuart Weitzman Lowlands!
Follow me @Sher She Goes on