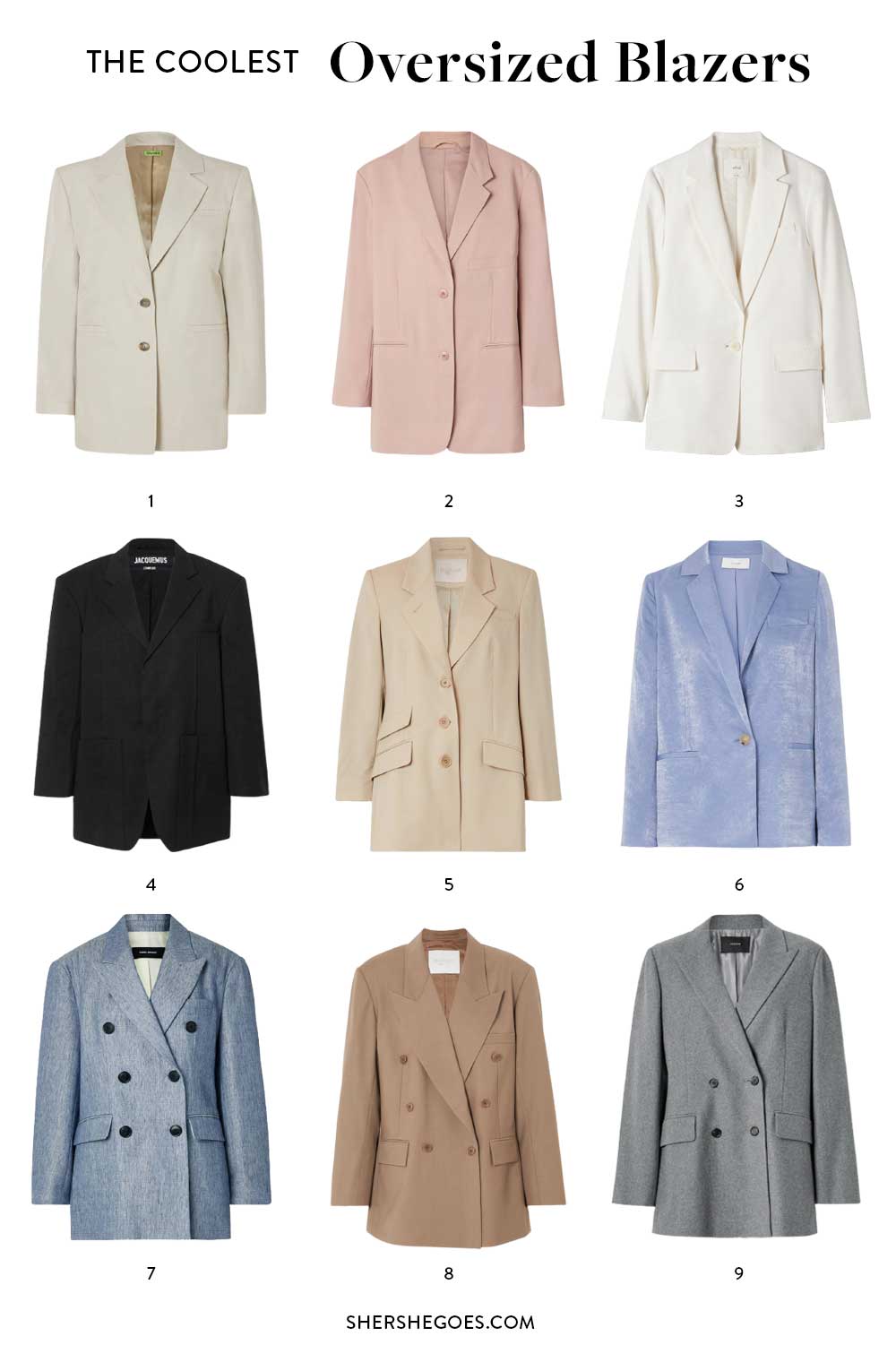 Thank you to Zappos for sponsoring this post!
The Best Oversized Blazers (2021)
Fashion trends are famously cyclical.
In the 1990s, baggy was the word.
Bell-bottom jeans, oversized hoodies, and extra long T-shirts ruled the streets as teenagers were exhibiting pent-up suburban angst in the form of very large clothes.
By the 2010s, aided by the explosion of health-conscious diets and workout routines, slim-fitting clothes were in vogue .
Men and women alike were more confidently willing to show off their figures – even at the expense of setting aside 10 minutes every morning to fit into super tight skinny jeans.
Now, the VSCO girl-pioneered trends have baggy clothes trending again, and a prime example of this trend is the oversized blazer.
Pairing the otherwise formal blazer look with the casual, oversized look is a perfect way to bring a laid-back sophistication to your wardrobe.
Keep reading for our 5 favorite oversized blazers for women!
Keep reading, or pin this article to save it for later ⇟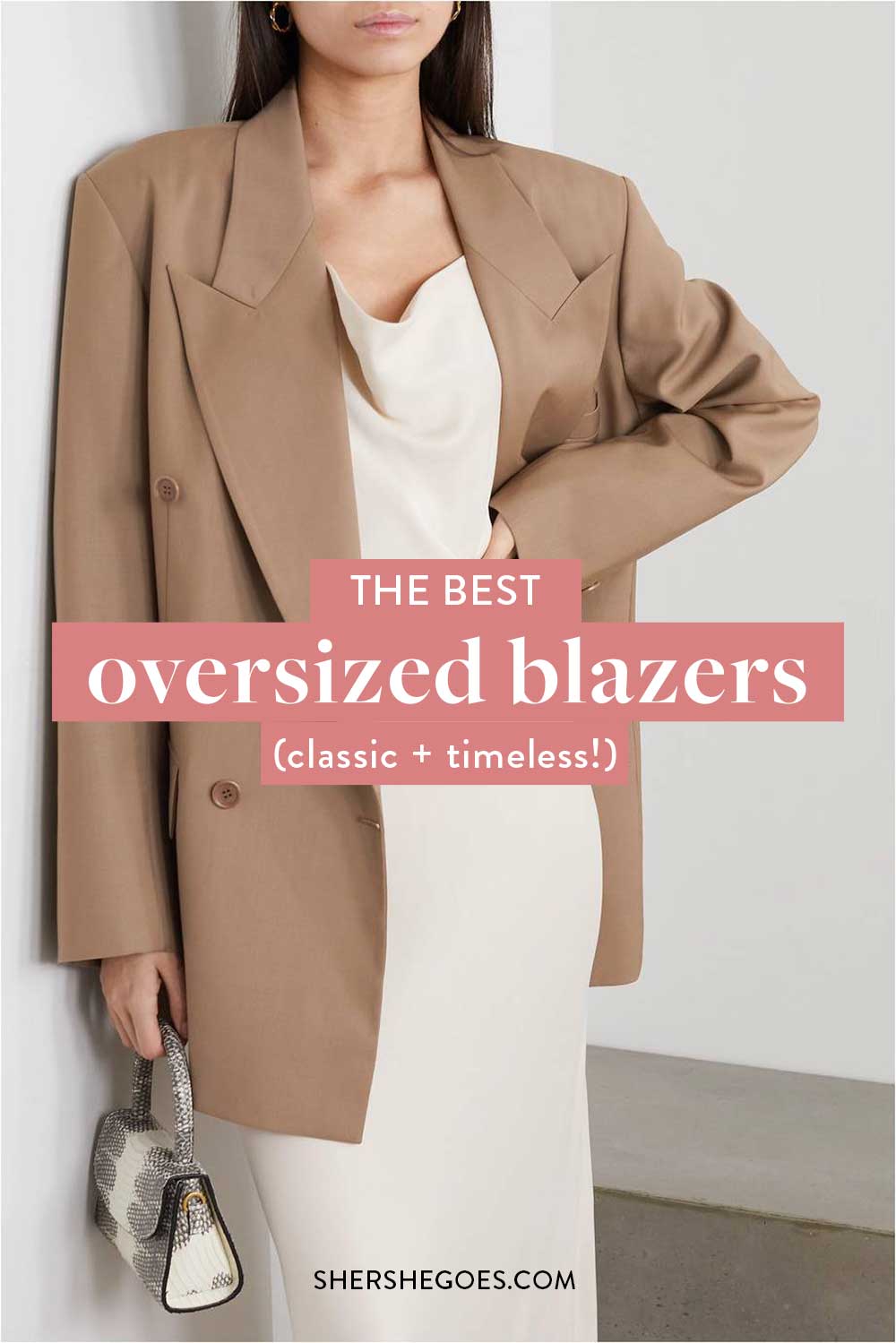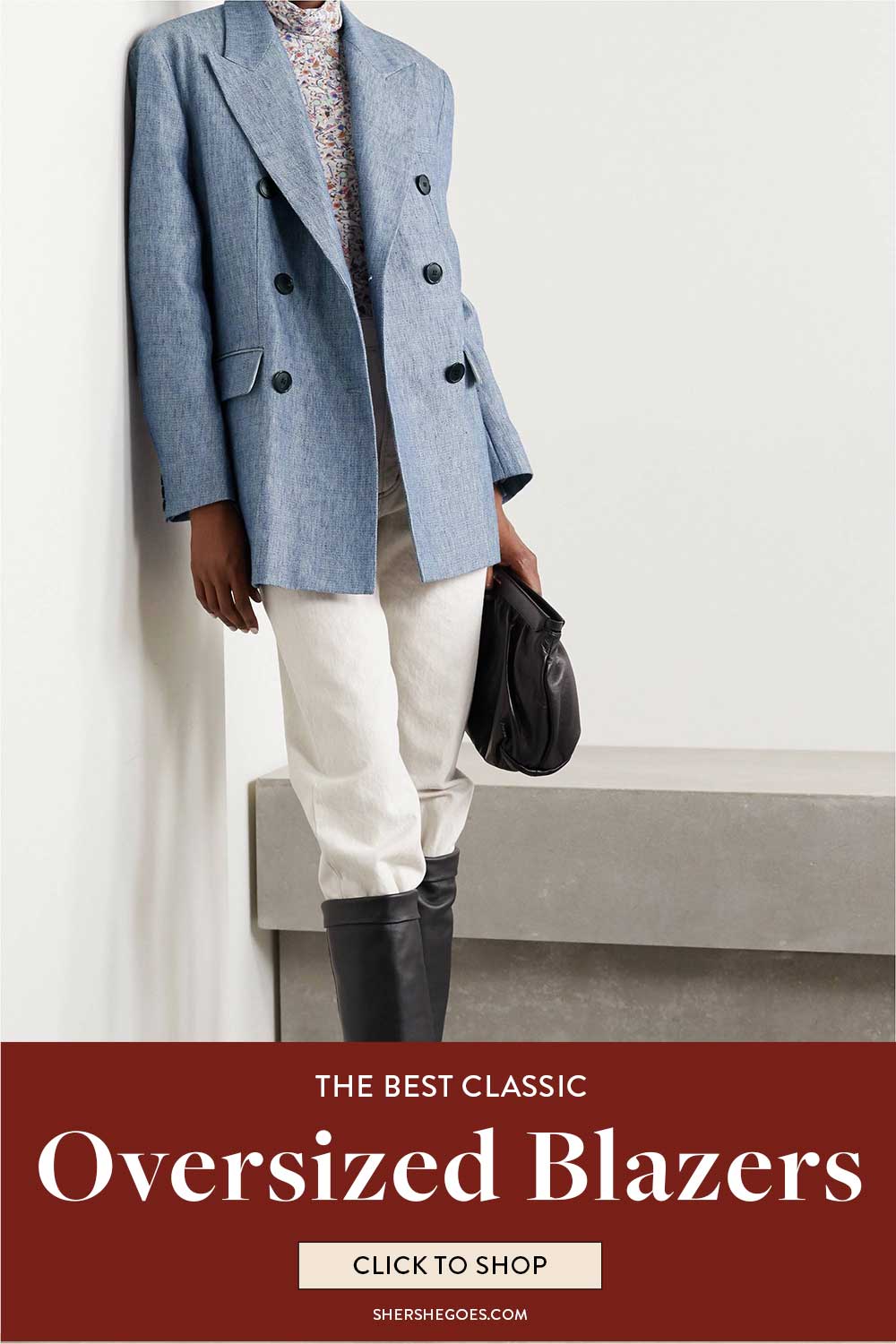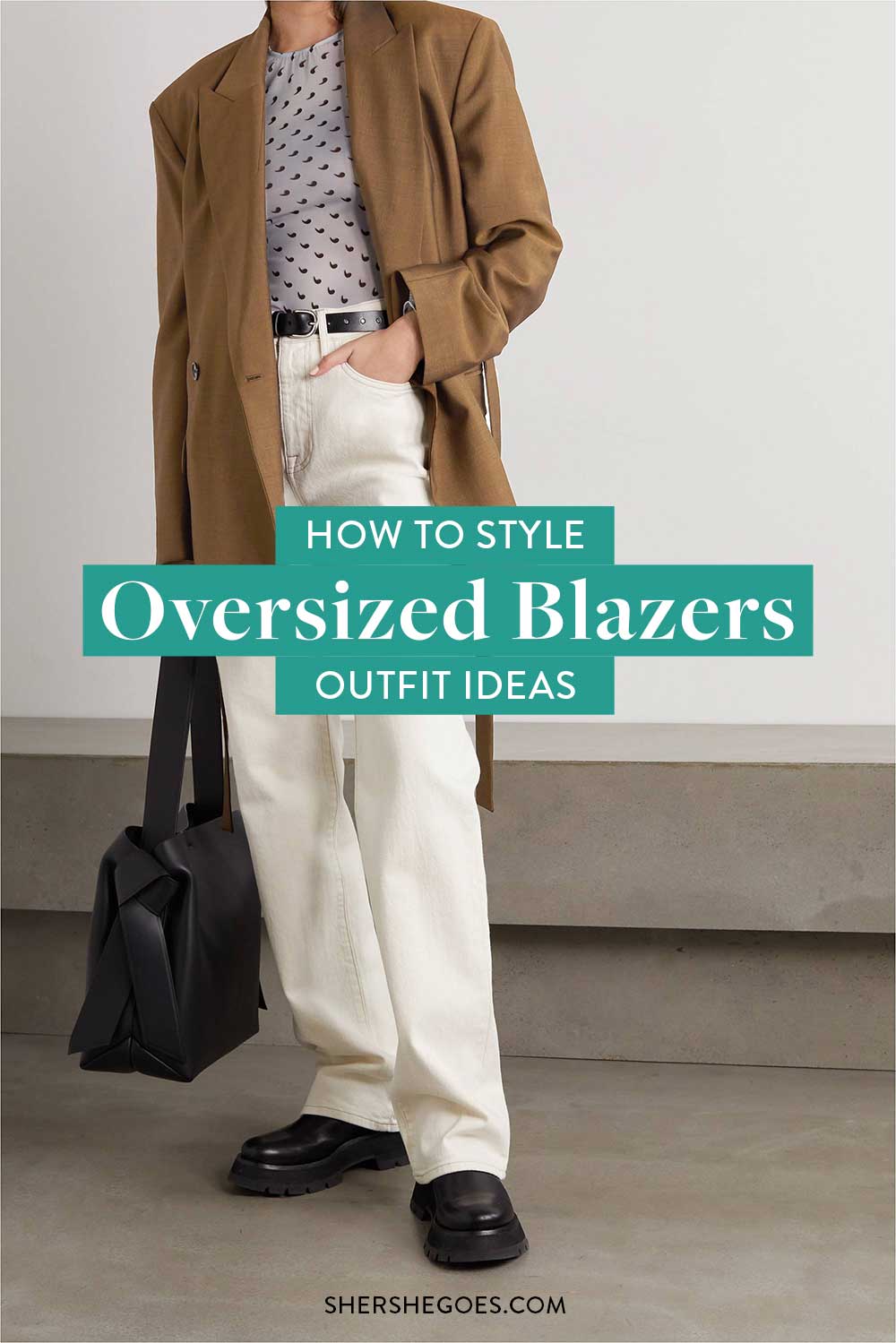 ---
---
The Best Women's Oversized Blazers (2021)
Did you get the memo? Blazers aren't just for work, anymore.
Especially when no one's going into the office, anyway! Check out our 5 favorite oversized blazers below!
Top Oversized Blazer Looks
---
---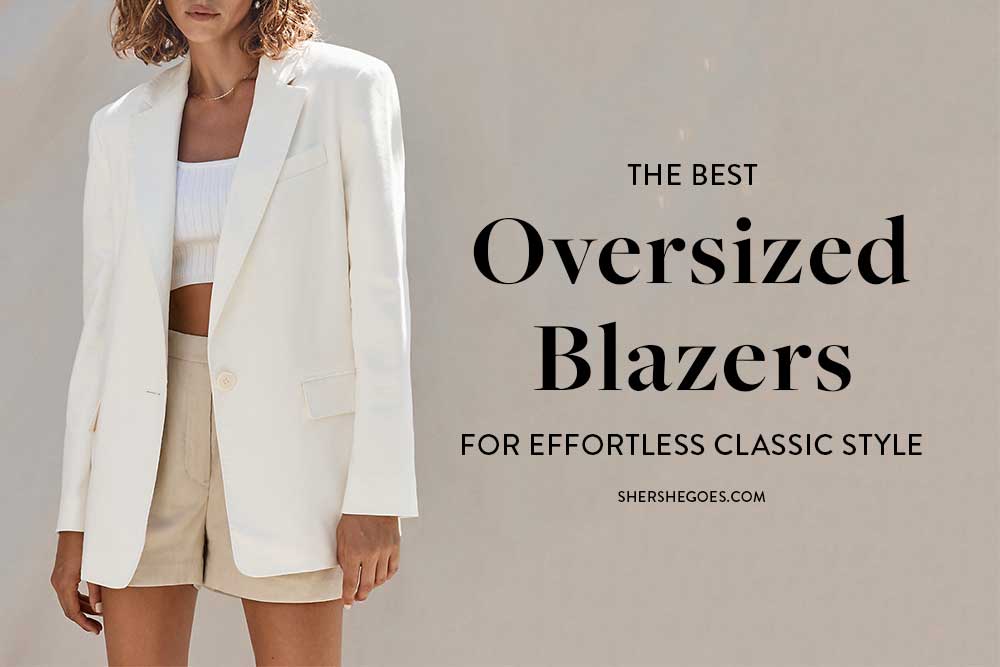 The Best Oversized Blazers
Best Oversized Boyfriend Blazer: BCBG
One of the first things the oversized blazer naturally recalls is the girl who's happily wearing her boyfriend's (much larger) coat on a chilly evening.
This boyfriend blazer from BCBG Max Azria tastefully honors this childhood classic with a cute, simple, and stylish oversized blazer!
---
---
Best Oversized Black Blazer: M.M. LaFleur
M.M. LaFleur continues to wow me with its unique designs, and this oversized blazer is no different.
Made with a specialized wrinkle-resistant fabric, this blazer balances the oversized look with a nifty single-button closure that effects a flattering hourglass shape!
---
---
Best Oversized Plaid Blazer: Madewell
Rocking patterned blazers is always risky (for men or women!), but luckily Madewell is making it really easy on us here.
Featuring a subtle yet distinct plaid pattern, this oversized blazer is the perfect way to bring some oversized fashion statements to the table, as well!
---
---
How to Style Oversized Blazers
---
Looking for outfit ideas for how to wear an oversized blazer? Head to our Blazer styling article here, or watch our Blazer lookbook on Youtube:
How to Style Oversized Blazers: 20 Blazer Outfit Ideas (Lookbook)
---
---
Read More in my favorite Comfy Shoe series:
Most Comfortable Shoes
The Most Comfortable Flats EVER
The Most Comfortable Sandals for Summer
The Most Comfortable Boots for Winter
The Most Comfortable Heels (you can actually walk in)
Best Sneakers
The Best White Sneakers that Go with EVERYTHING
Cute Casual Sneakers to Wear Anywhere
Best Boots
The Best Chelsea Boots to Wear All Year Round
The Best Lace Up Boots for Military Inspired Chic
The Best Over the Knee Boots that Make a Statement!
The Best Shearling Boots to Stay Cozy this Winter
The Best Black Combat Boots That Go with Everything
Cozy At Home Shoes
The Best Mules for Easy Slip on Style
The Best Loafers to Look Polished but Stay Comfy
Shoe Reviews
The Best Travel Shoes in Every Style - Sneakers, Slip Ons, Flats & Sandals
Everlane Flats - These 5 Pairs are Extra Comfortable
OluKai Shoes: Sneaker & Sandal Review
Where to Get Stuart Weitzman Boots on Sale
Designer Inspired
The Best Cap Toe Ballet Flats to Get the Chanel Look, for Less
Classic Chanel Inspired Slingbacks (Two Toned)
The Best Chanel Inspired Espadrilles to Rock All Summer
The Best Manolo Blahnik Lookalikes
The Best Over the Knee Boots that Rival Stuart Weitzman Lowlands!
Follow Sher She Goes on
Youtube | Instagram | Facebook | Twitter | Pinterest | Bloglovin