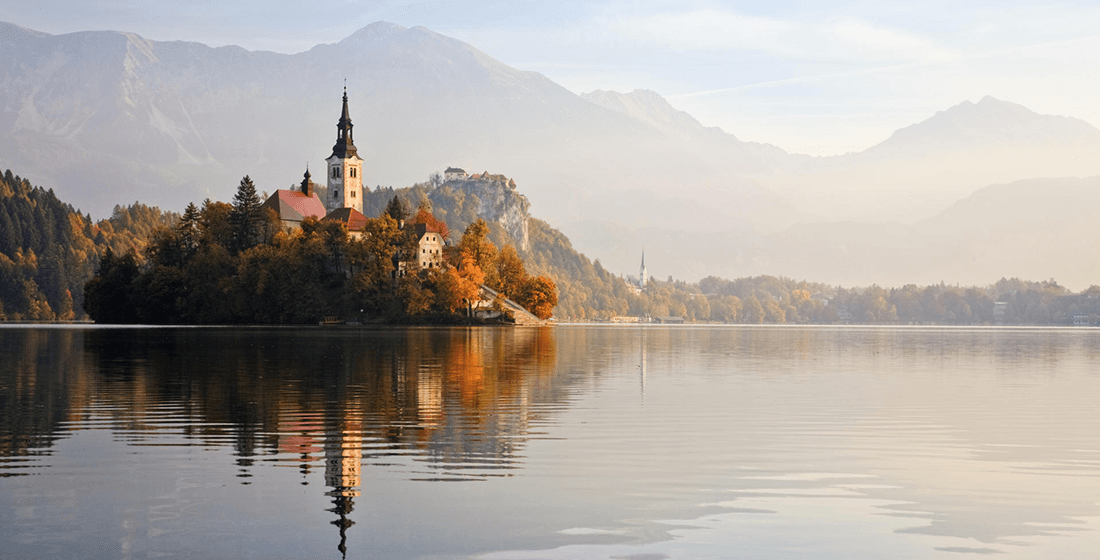 Slovenia Travel Guide
Slovenia is often overshadowed by its neighbors – it doesn't have the grandeur of Venice, the buzz of Croatia or the rugged beauty of Switzerland. That's not to say it's not worth visiting!
Home to snow-capped peaks, turquoise green rivers and culinary delights, Slovenia has a captivating rural charm and a classically European style of life. The idyllic area of Bled is home to a fairy tale castle and island while the capital of Ljubljana is a quaint, pastel colored town overflowing with bridges, pedestrian foot traffic and sidewalk cafes.
I visited Slovenia on a whirlwind 15 day tour of Croatia and Eastern Europe but Slovenia was one of the most unexpected and pleasant parts of the trip. Read on for my complete guide of where to go and what to see in Slovenia.
ADVERTISEMENT
Best Things to Do in Slovenia
I was pleasantly surprised by Slovenia. It's home to Ljubljana, a college town slash cosmopolitan city and Lake Bled, a fairy tale castle in the middle of an enchanting lake. Here are the things you absolutely can't miss!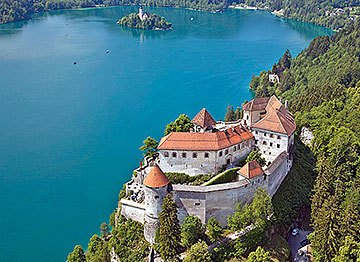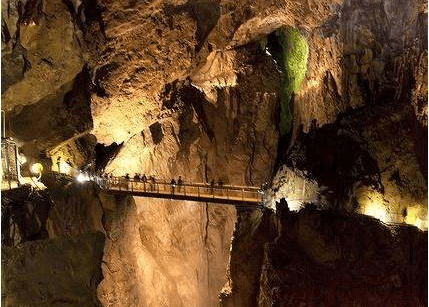 2. Go Underground at Slovenia's Skocjan Caves
Melodramatic underground tunnels, prehistoric human remains and dizzying bridges make the Skocjan caves a must see. Also worth seeing are the Postojna Caves.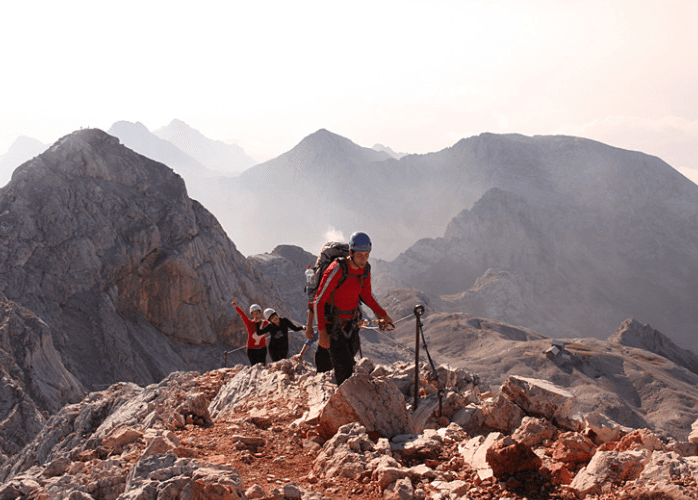 3. Climb Mt. Triglav
A classic Slovenian past time, hiking the Julian alps is rewarding and exhilarating.
ADVERTISEMENT
---
---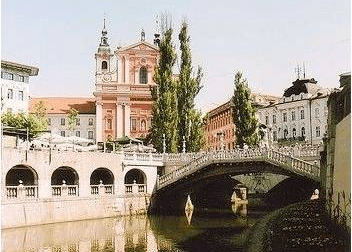 4. Relax in Ljubljana
Slovenia's capital city is big enough to be interesting and lively yet small enough to walk on foot in an afternoon. The city has beautiful bridges, charming cobblestone streets and excellent food!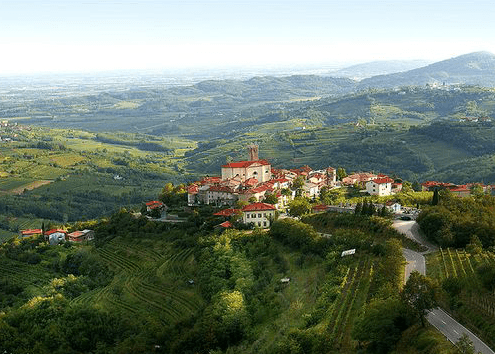 5. Wine & Dine in Slovenia's Karst Region
Slovenia's Vipava Valley is ripe with vineyards producing some of the best merlots in the world.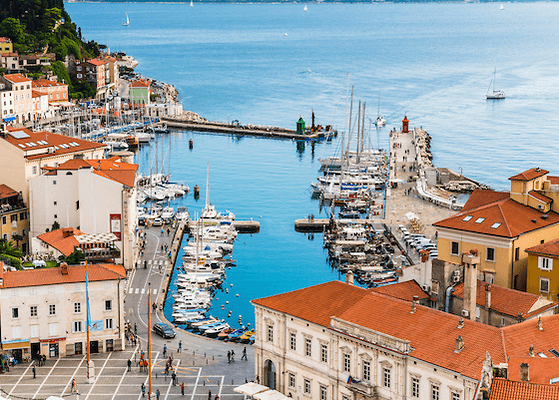 6. Escape to Piran
This Adriatic coastal town is the 'Venice' of Slovenia. Enjoy fresh seafood, wander the narrow streets and people watch in this beautiful medieval port.
ADVERTISEMENT
---
---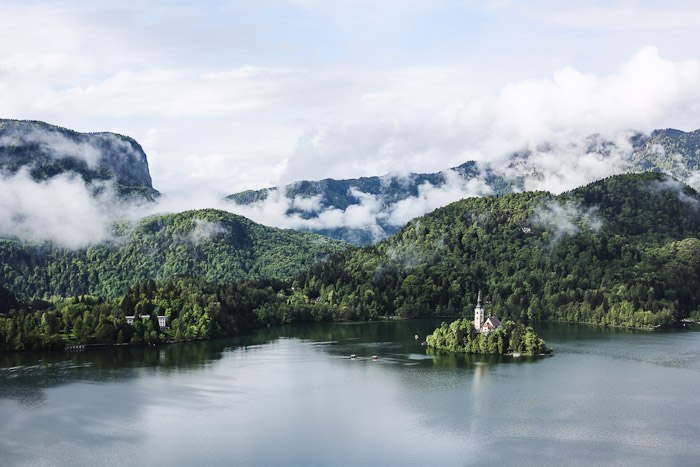 Planning a Trip to Slovenia
I visited Slovenia on an extended two week vacation throughout Croatia and its neighboring countries. The focus of my trip was to visit Croatia – Dubrovnik, Split, and the Dalmatian Coast are great new spots to visit if you've already been to Italy, France and the like.
Fortunately I had additional time for day trips and excursions to Croatia's neighboring countries and was able to see Bosnia and Herzegovina, Montenegro and Slovenia on the same trip. I was most pleasantly surprised by Slovenia as the people, food and natural beauty are spectacular.
In hindsight, I wish I had planned more in advance, as there are so many things to do and see in Slovenia. I always love Lonely Planet's guidebooks and would recommend picking up a copy of their Slovenia Guidebook to get the most out of the country's highlights if you're looking to see more than just Bled and Ljubljana.
If you are focused on Croatia and have time for side trips, Rick Steve's book on Croatia and Slovenia has the best advice to fully explore the best of both countries.
Keep in mind that while Slovenia is part of the EU and uses the Euro, Croatia uses their own currency, the Croatian Kuna.
ADVERTISEMENT
---
---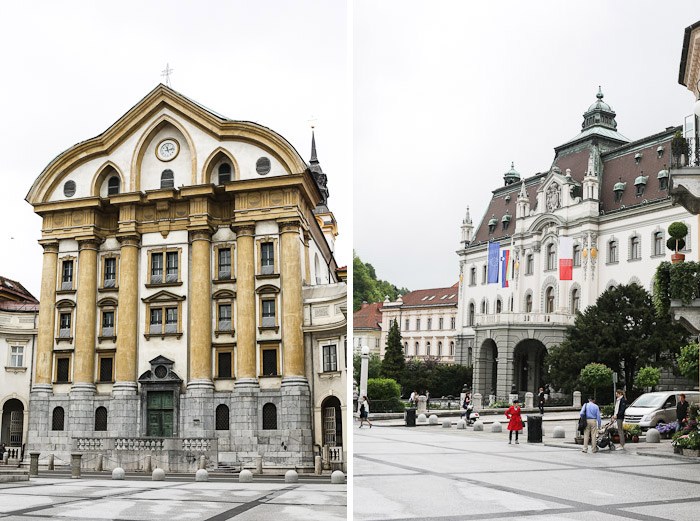 Visiting Slovenia in a Long Weekend
I visited Slovenia for three days after a whirlwind trip across Croatia, Bosnia and Eastern Europe and followed the route above for a condensed but adventurous weekend hitting all of the must see spots.
If you're traveling on your own, read my Slovenia in a Weekend guide for a day by day itinerary. I cover Ljubljana in 24 hours, the beauty of the underground caves at Postojna and of course, fairytale-esque Lake Bled with its picturesque hiking, lazy afternoons on the water and awe inducing cliff side castle.
If I had more time, I would have looked into hiking Mt. Triglav, visiting the other caves at Skocjan and staying longer in Ljubljana – it really is a beautiful, vibrant town.
ADVERTISEMENT
---
---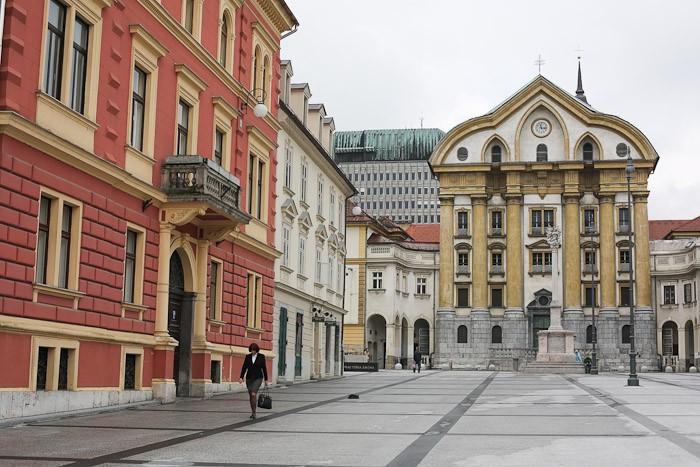 The Best Slovenia Tours
Bled and Bohinj Tour – This full day guided tour takes you to Slovenia's majestic mountains and valleys. Experience stunning views of the Julian Alps, relax at crystal-clear Bohinj Lake (Slovenia's largest glacier lake) and visit Bled Castle and Bled Island.
Check availability here or read more about my experience here.
Postojna Cave and Predjama Castle Tour – This tour takes to you to the fascinating Postojna Caves and Predjama Castle. I've been to many underground caves around the world but Postojna is really impressive.
It's so huge you take ride an electric train through its cave halls! This cave and castle are perhaps Slovenia's most popular attraction so don't miss it!
Check availability here or read more about my experience here.
Medieval Monuments & Wine Tour – This full day tour takes you to northeast Slovenia with a focus on history, religion and wine.
Notable sights on the way include Ptuj, Slovenia's oldest town, Maribor Gothic Cathedral, medieval Zice Carthusian Monastery and wine tasting in the sunny vineyards of Slovenia's Štajerska region
Check availability here
Ljubljana Food Tour – This small group sightseeing tour is for the foodies. In 3 hours, you'll taste the culture, history and flavors of Slovenia – from cheeses to meats to wine to cake to schnapps. Yum!
Check availability here or read more about my experience here.
Slovenian Coast Day Trip – If you love warm waters and the Mediterranean, this is the tour for you. It visits Piran, Slovenia's version of Venice, includes a fresh seafood lunch and my personal favorite – takes you up close and personal to Lipizzan horses, some of the most beautiful in the world.
Check availability here.
ADVERTISEMENT
---
---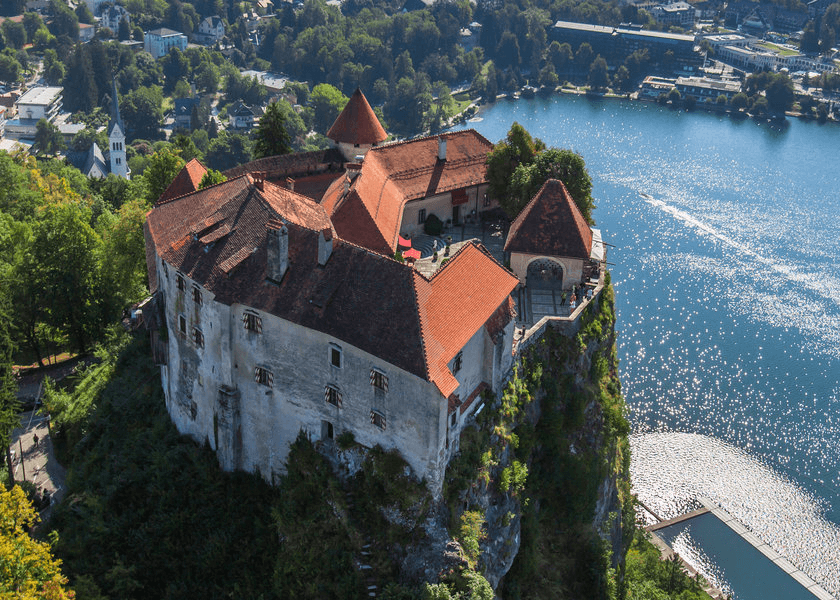 Getting Around Slovenia
The easiest way to enter Slovenia is by flying directly into Ljubljana, the nation's capital. Set an alert for flight deals here.
Because the country does not have inter-domestic flights I recommend renting a car and having the freedom to drive around at your leisure. Slovenia's capital has many national car rental companies. I typically use Auto Europe to aggregate prices from all the car companies and then book directly.
Where to Stay in Slovenia
Most sights and excursions can be booked when you arrive, however make sure to book your hotels in advance.
The secret is out on Slovenia and more and more tourists visit each year. Bled in particular is incredibly popular and you'll need to book accommodation ahead of time in the peak season, as there are limited hotels in the area.
Of course, you can always try Airbnb.
Recommended Hotels in Slovenia:
A beautiful hotel right in the center of Ljubljana (it's just 5 minutes from the picturesque old town where the bridges are!).
Great breakfast, modern rooms and friendly staff who have lots of recommendations to make your visit to Ljubljana a great one!
Book: Booking.com, Hotels.com | Check prices: TripAdvisor
We stayed here and had an amazing view of Lake Bled, the Julian alps and Bled castle directly from my bedroom (see the photo below!).
It was the best hotel we stayed at in Slovenia, purely for the unbeatable view. It was also quite affordable!
Book: Booking.com, Hotels.com | Check prices: TripAdvisor
ADVERTISEMENT
---
---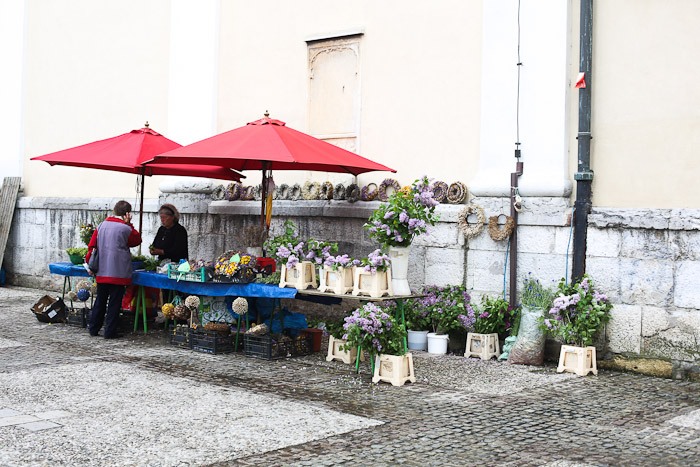 Slovenian Food
Slovenian cooking borrows from its nearby neighbors: Italy, Austria, Hungary and the Balkans.
There is a local obsession with fresh and locally sourced ingredients. I remember the food being all around delicious, especially so in the capital Ljubjlana.
If you go, you must try the cakes and desserts at Zvezda, where you can get a prime people watching seat in the outdoor café and look out on the square. Slovenian wine, both red and white, is a local specialty.
Slovenian People
I must admit I didn't have any preconceived notions about Slovenia as none of my friends or family had went before me. In fact, I (shamefully) didn't even really know it existed!
I was pleasantly surprised by my brief visit in Slovenia as the country is full of enthusiastic, welcoming people and their English was perfect.
Of course speaking English isn't really a reason to go to a destination, it was more that I was surprised at how universally people seemed to be able to speak it and how perfectly fluent they were.
A waitress told me they devour American and English tv shows/films.
I learned later on in my trip that in the days of old Yugoslavia, Slovenia was the most open of the republics and that despite a small population of only 2 million people, Slovenes are over represented in international sport, science, academics and philosophy! Talk about world class.
ADVERTISEMENT
---
---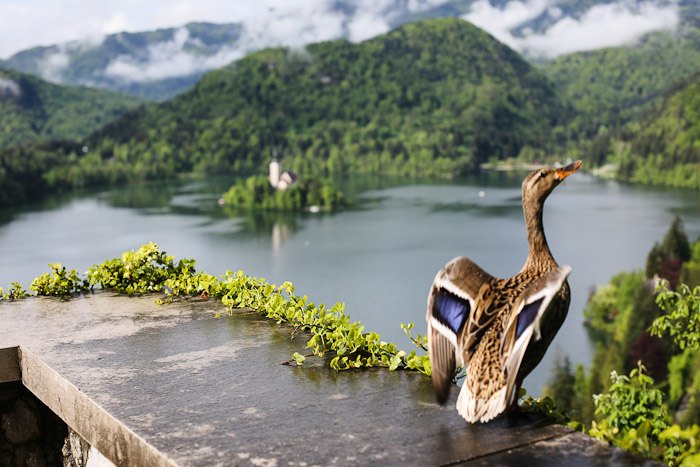 Other Slovenia Points of Attraction
If you love the outdoors you will love Slovenia.
There are great museums and historic churches but the alps, fresh air and plentiful mountain hikes and trails make it a great travel destination for anyone who loves fresh air pursuits.
Climb to the country's tallest mountain, Mt. Triglav, a challenging but accessible peak for anyone in good physical shape. Try rafting on the Soca river or horse riding, ballooning, caving and diving. If you like a more leisurely vacation, you can always sunbathe on Slovenia's Adriatic coastline.
ADVERTISEMENT
---
---
Have you been to Slovenia? Did you go on your own or with a tour? Let me know in the comments below if I've missed your favorite travel spot!
Visiting Slovenia – Travel Checklist
The most expensive part of the trip to Slovenia are flights. Check for flight deals in advance in order to save. For hotel bookings, we relied on Booking.com.
For more help with planning your vacation to Slovenia, we relied heavily on Rick Steve's Croatia & Slovenia Travel guide. The local advice for admissions, times, maps and pricing was pretty invaluable. If you plan to kayak or swim – I recommend bringing along a GoPro to take some fun photos!
Finally, make sure to visit Slovenia with travel insurance. Whether you get injured and need to be hospitalized, or your phone gets stolen, or an injury forces you to cancel all or part of your vacation, travel insurance will help when you need it most. Get a quote for your trip here.
You Might Also Enjoy:
Slovenia Vacation Planning Articles
6 Fun, Fairy-tale Things to Do in Slovenia
Essentials of Slovenia Itinerary: Highlights from 4 Days
Slovenia Points of Attraction
Stalagmites & Stalactites in Slovenia's Postojna Caves
Rowing Up to Fairy Tale Bled Island
24 Hours in Slovenia's Capital of Ljubljana
The History Behind Bled Castle
An Unforgettable Lunch in Ljubljana
Follow Sher She Goes on