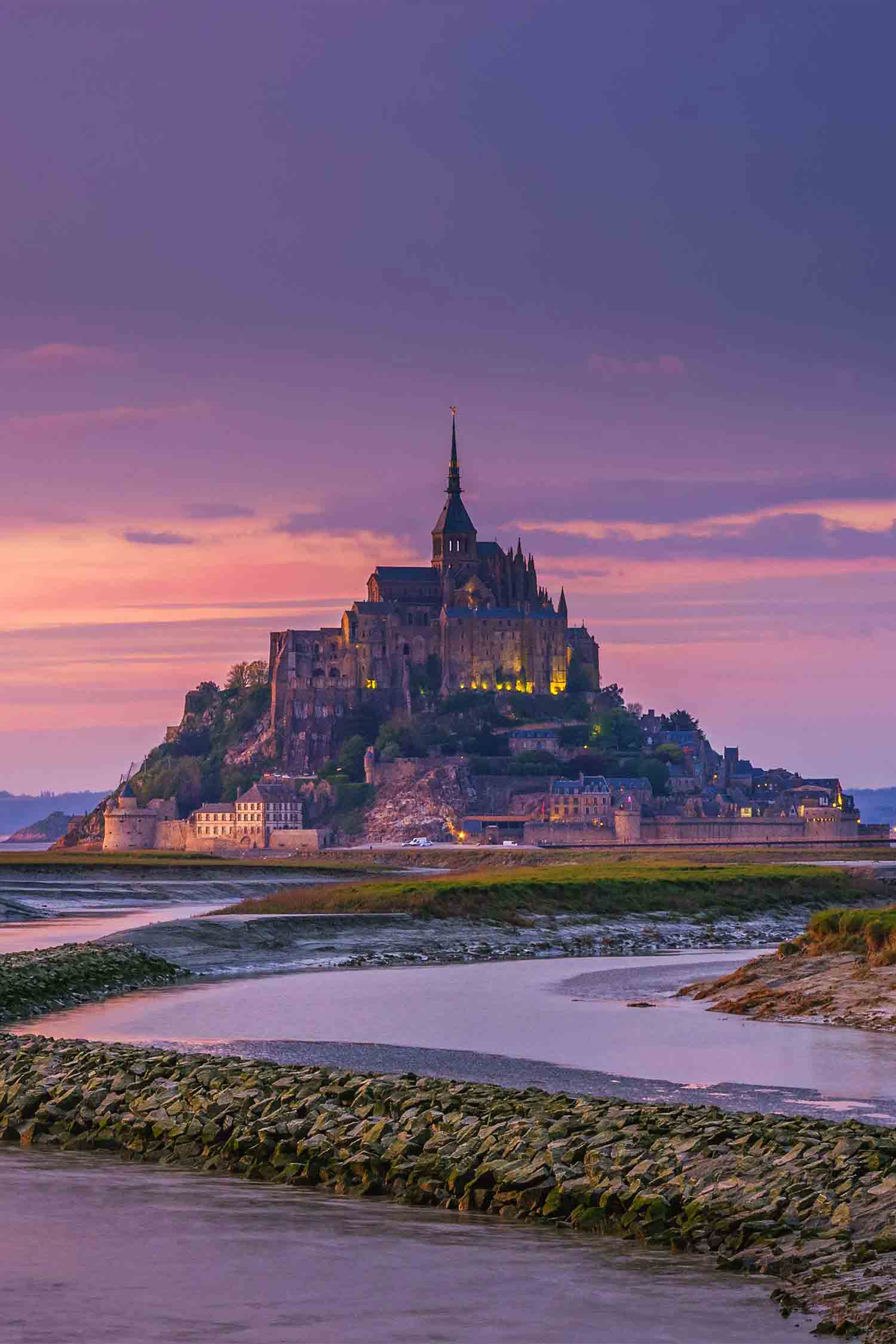 Visiting Normandy
Anyone who visits Normandy today is most likely visiting for the D Day landing beaches. Veterans of the World War, our parents generation, young people – it's impossible to visit France's landing beaches and not feel the impact.
But Normandy has much more to offer than just memorials and mausoleums. In fact, as I dug deeper into the region and visited its capital city Rouen and smaller villages, I discovered that Normandy has always played an out sized role in European history.
Here's a quick guide to the best of Normandy and an overview of the best things to see and do in the area.
Or save this article to read later by pinning it ⇟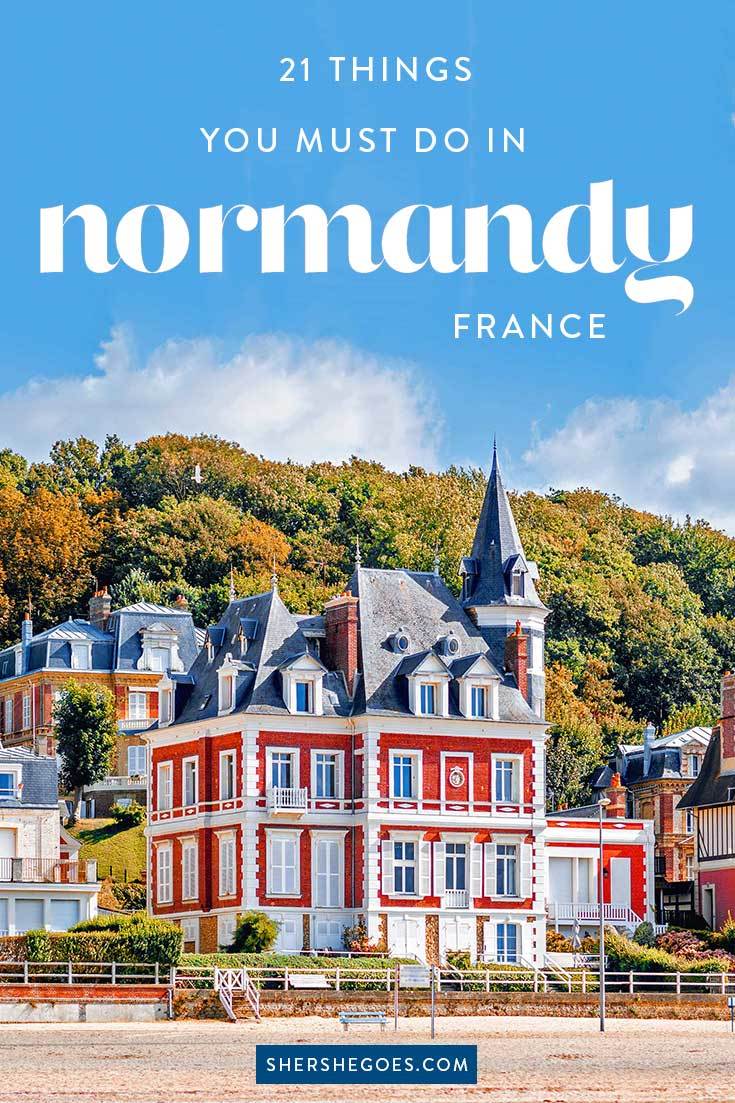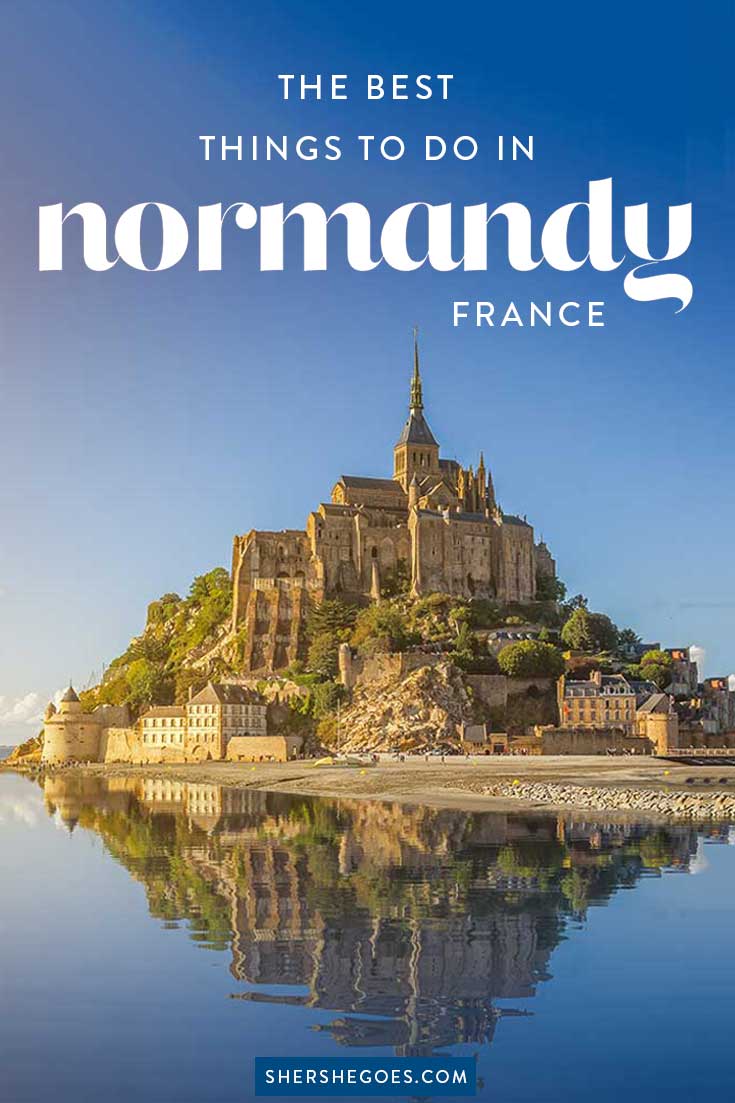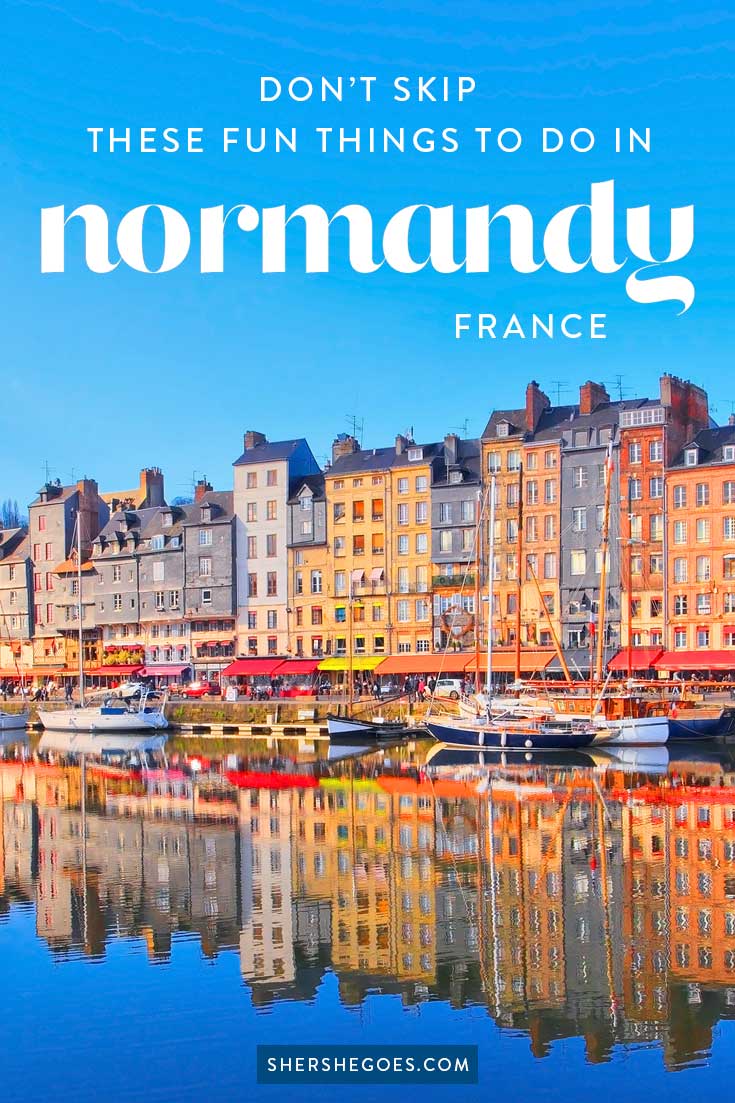 ADVERTISEMENT
Normandy, France
Before I dive into the top sights, I think Normandy is best appreciated with a brief background on its dramatic history.
Normandy is one of the 18 regions of France and concentrated on its northwest, bordering the English Channel. Due to its geography, you'll find large scale industrial port towns, quaint seaside resorts and rolling green hills filled with sheep and beautiful mountains.
It's a place that inspired the great Impressionist painters Monet and van Gogh, and produces bountiful harvests each year of creamy Camembert cheese, tart apple desserts and fiery Calvados apple brandy.
Because the region is spread out, your best bet (if exploring on your own) is to rent a car. Or, you can take day trips from Paris via train. We also really enjoyed taking a river cruise on the Seine, which cuts through Normandy to the English Channel.
Read more:
The Prettiest Towns in Normandy
ADVERTISEMENT
---
---
History of Normandy
The region is not only enchantingly beautiful – it's packed with momentous events throughout history. In 1066, William the Duke of Normandy crossed the English Channel to seize England and its throne for its own, sparking 400 years of intertwined relations between England and Normandy.
During the Crusades, Richard the Lionheart ruled both England and the Duchy of Normandy while Joan of Art was burned at the stake in the regional capital, Rouen. In June 1944, the Allied powers chose five beaches along the Normandy coast as the base for their offensive campaign to free Europe from Nazi powers.
Today you can find traces of English culture throughout Normandy and in some ways the rugged beauty and coastal villages feel very similar to the Cornwall and south England. With Normandy's pivotal role throughout European history, there's lots to see and do in the region.
Read more:
Exploring Rouen, a Medieval City Jewel
ADVERTISEMENT
---
---
Where to Stay in Normandy
Since Normandy's best sights are spread out, it makes the most sense to base yourself in Normandy for a couple of days to properly explore. Find deals on Normandy hotels here.
For a great city, choose the regional capital Rouen
Looking for something unique? France has some beautiful chateaus in Normandy that are now hotels.
1 | Chateau du Landin: This charming and traditional French Chateau was built in the reign of Louis XV. Spacious rooms overlook the Seine and birds serenade you as a morning wake up call. If you want a relaxing stay, come here!
Book rooms: Booking.com, Hotels.com
Check prices: TripAdvisor
2 | Chateau Stork: A charming old estate in a beautifully green, lush section of Normandy that you can book on Airbnb! Enjoy homemade breakfast, antique furniture, modern amenities and the scent of blooming apple trees with a friendly local host.
Book: Airbnb
ADVERTISEMENT
---
---
Things to Do in Normandy
Here are the best sights and things to do in Normandy. We've included a great mix of medieval towns, and seaside beach towns, grand cathedrals and moving D-Day memorials.
1. Soak in Mont Saint Michel
The Abbey of Saint Michel is a UNESCO World Heritage Site and one of the most visited places in France. Dating back to the 8th Century, this beautiful monastery is where Saint Michael told the Bishop of Avranches to build a church in 708 and was a popular pilgrimage destination in medieval times.
The monastery is built on the steep slopes of a skinny strip of land in the English Channel, where Normandy and Brittany meet.
In high tide, it isolates itself as an island from mainland France, entirely surrounded by the sea. In low tide, it's possible to complete a "traditional crossing" like the medieval pilgrims once took.
Monks have lived here for over a thousand years, even during the tumultuous Hundred Years War. Climb 300 steps to the highest point on Mont-Saint-Michel to see the peaceful Abbey Church. Don't miss the beautiful panoramic views on the abbey's west side.
Book a Tour
here for Mont Saint Michel
ADVERTISEMENT
---
---
2. See the White Cliffs of Étretat
Étretat, on Normandy's Côte d'Albâtre coastline, is famous for its white limestone cliffs. The natural arch formation has inspired French painters through the ages, from Gustave Courbet to Claude Monet.
Reaching 90 meters high, the cliffs flank both sides of the seaside resort town Étretat and look quite similar to the English town of Dover.
You can stroll along the top of the cliffs by taking the GR21 trail. For a gravity defying view, climb the steps and over the grass to see the Needle, or L'Aiguille, a 70 meter high rock jutting out of the ocean.
Prefer to lounge on the beach?
Étretat has beautiful beaches and villas dating from the Belle Epoque era. Two of the most famous include Villa Orphée and Villa La Guillette, the latter of which was built for the French author Guy de Maupassant. There is also the haunting French Château du Tilleul, which isn't open to the public but worth a look from the outside.
Book a Tour
here for Étretat
ADVERTISEMENT
---
---
3. D-Day Beaches
Normandy played a key role in World War II. The Allied powers chose 5 landing beaches along the coast to invade Normandy and drive out the Nazis.
This is one of the most memorable things to do in Normandy. With countless museums and memorials spread across 50 miles, your best bet is to hire a tour guide who can provide transportation and insight into the events of D-Day.
Our guide provided both from a historical perspective and a local point of view. We visited the D-Day beaches twice, once with and once without a guide, and appreciated it much more the second time.
Remnants of German bunkers, military machinery and harbor equipment can still be seen today. For the complete guide to visiting Normandy for WWII, check out my post on the Normandy beaches here.
Book a Tour
here for D Day
ADVERTISEMENT
---
---
4. Pay Respects at the Normandy American Cemetery
Over 9,000 soldiers are buried in perfectly aligned white gravestones at the Normandy American Cemetery in Colleville-sur-mer.
The memorial overlooks Omaha Beach and comprises a reflecting pool and chapel. There is also a semicircle garden dedicated to those missing in action. If you wish to visit a particular grave, you can look up the plot on the memorial website and staff will help you when you arrive.
Don't forget to visit the museum right outside the cemetery. It's a recent addition, and chronicles the history of the Allied landings, prolonged fighting and eventual liberation of Paris. We spent a couple of hours on the overall site, as part of our Viking river cruise. Viking even organized a small ceremony for the veterans on board.
If you are interested in learning more about the D-Day invasion and only have time to visit one place, the American Cemetery is incredibly moving.
Book a Tour
here for D Day
ADVERTISEMENT
---
---
5. Explore Caen
William the Conqueror built the Château de Caen in 1060, once he was the King of England. The Romanesque building is made from Caen's butter yellow limestone and is one of the largest medieval monuments in Europe.
Walk through the ramparts, visit the 12th century chapel and discover more of Normandy's long history. In the Middle Ages, the castle was a royal fortress. During the Hundred Years War, the English used it as their base and built additional fortifications. Later in World War II, the Chateau served as an army barrack for infantrymen.
Today, the Museum of Normandy and Caen Museum of Fine Arts are housed in the castle. The Fine Arts Museum is one of the best in France.
Don't miss the modern looking tomb of William the Conqueror and the Jardin des Simples, a medicinal herb garden filled with plants common during the Middle Ages.
Book a Tour
here for Caen
ADVERTISEMENT
---
---
6. Marvel at the Bayeux Tapestry
Another relic of the Medieval Ages? The historic Bayeux Tapestry.
Over 1,000 years old, the ornate tapestry depicts the Norman conquest of England through the Battle of Hastings, where William, Duke of Normandy, crossed the English Channel to fight his cousin Harold, Earl of Wessex for the English throne.
William's wife Matilda is said to have created it. Surprisingly well-preserved, the 230 feet long tapestry shows 58 different scenes in exquisite (and sometimes gory) detail, with fierce battle scenes, religious allegories, and even bawdy depictions of 11th century life.
It's a miracle this survived intact to present day!
Back in the Middle Ages, the tapestry was brought out a couple of times a year to show people their history – almost like a Medieval comic strip. If you visit the museum, it's worth getting the audio guide to understand all the nuances.
ADVERTISEMENT
---
---
7. Get Lost in Charming Bayeux
While you're in Bayeux, take a stroll through the old city center. A quaint, well-preserved town of half-timbered houses, Gothic architecture and elegant mansions, Bayeux is one of Normandy's most beautiful and charming small towns.
In the center of the Old Town is the Cathédrale Notre-Dame, which originally housed the Bayeux Tapestry. Built over several centuries, it blends various architectural styles – from Romanesque to Gothic and is worth a visit.
You can also explore the crypt, with its stained glass windows and vivid frescoes.
Book a Tour
here for Bayeux
ADVERTISEMENT
---
---
8. Soak in Rouen's History
Rouen is a larger version of Bayeux, with over 2,000 charming half-timbered homes in the old historic center. Many of them stand higgly piggly next to each other in color coordinating shades of pastel.
Spot the Gros-Horolodge clock tower, an astrological clock in the center of town with a beautiful gilded clock face, and the Church of St Joan of Arc, built on the spot where she was martyred.
Also, don't miss Rouen's church. Notre Dame Cathedral is an iconic landmark that can be seen almost anywhere in the city. Its spires reach 151 meters into the sky and for years it was the tallest building in the world (until Cologne's cathedral stole the spotlight). Richard the Lionheart, who ruled both as King of England and Duke of Normandy, is buried inside the church.
Make sure to stay overnight in Rouen. Each summer, the city puts on a light show illuminating the facade with dazzling lights.
Book a Tour
here for Rouen
ADVERTISEMENT
---
---
9. Relax in Claude Monet's House & Garden
Claude Monet's house makes for a great day trip from either Rouen or Paris. His former residence is located in the quaint Normandy town of Giverny, and includes a country house and sprawling gardens.
From spring to fall, the garden comes alive with vibrant colors. Monet carefully planted his garden to bloom with different flowers for each month of the season, and designed them to look like natural wildflowers.
Our favorite part of the garden is the famous water garden, where Monet painted his 'Water Lilies' series. Walk over the Japanese bridge and stare at the weeping willows and serene lily pads. You can also tour his home. The manor house has been preserved, with his living quarters and studio kept as it was when he lived there.
If you have time, it's worth driving to the nearby towns of Vernon and Auvers-sur-Oise, where many Impressionist artists painted some of their most famous works.
Book a Tour
here for Monet's House
ADVERTISEMENT
---
---
10. Explore Charming Evreux
Looking for a quaint town in Normandy to visit? Evreux, located halfway between Paris and Rouen, fits the bill with its charming historic center.
The main attraction is its 11th century cathedral which has beautiful Romanesque arches, Gothic elements and stained glass windows. It also has an Art Museum built in a 15th century episcopal palace that houses European paintings and ancient artifacts.
Like Rouen, it also has a Horological clock, la Tour de l'Horlodge, and Abbey, l'Abbaye de Saint-Taurin.
ADVERTISEMENT
---
---
11. Try Tasty Norman Cuisine
Normandy offers some mouthwatering regional specialties that you can't miss.
First, the cheeses. Creamy Camembert is the most famous, but there are also Neufchâtel cream cheese, stinky Livarot and milky Pont l'Evêque. The best way to try them all is on a food focused tour in the Norman countryside.
Second, the apples. From apple cider to apple donuts, you'll love Normandy's fantastic sweet apples. Don't miss Normandy's most famous export, calvados, a brandy made from fermented and distilled apples, which is often served with ice cream as a palate cleanser.
Finally, Normandy's long stretch of coastline means great seafood. Try the oysters, fish stews and scallops along its port towns. Don't expect to go on a diet here! Normandy cuisine is often cooked in butter and cream, thanks to the dairy cows who graze on its green pastures.
Book:
a Normandy Food Tour
ADVERTISEMENT
---
---
12. Admire Pretty Honfleur
Honfleur, located in Normandy's Calvados department, is a charming old port town just across the Seine from Le Havre.
The old sea port was once a popular departure point for Canada, and its charming harbor was quite the inspiration for the Impressionists. You can find an extensive collection of Impressionist art in town at Musée Eugène Boudin.
Today, Honfleur remains one of the most charming towns in Europe, with cobblestone streets, colorful slate houses and tons of moored sailboats. For the best view in town, head to Quai Saint-Etienne!
Also check out:
Saint Catherine's Church
Lieutenance building
Maritime Musuem
Book a Tour:
to explore Honfleur
ADVERTISEMENT
---
---
13. Explore Unique Le Havre
Also on the estuary of the Seine River is the city of Le Havre. But where Honfleur oozes Medieval charm, Le Havre offers concrete modernity.
To understand how two close cities could look so different, turn back to World War II. Le Havre is France's largest port after Marseille and occupies a strategic position on the English Channel. It was a heavily fortified German stronghold during WWII, so the Allies resorted to heavy bombings to recapture the city.
Post war, Le Havre, like many French towns, needed to be almost entirely rebuilt. But while most cities opted to restore their old architecture, Le Havre moved in a new direction. Architect August Perret embraced concrete, creating a city with bold, block-like towers. For its radical reconstruction, Le Havre was declared a UNESCO World Heritage Site.
ADVERTISEMENT
---
---
14. Glitz It Up in Deauville
For a slice of Britain in France, head to Deauville!
The fun seaside resort is one of the country's best beach destinations, where you can walk the boardwalk, sunbathe in vintage striped cabanas, bet on a polo match or cheer on the sailing regatta.
It's also quite a glamorous beach getaway. Visit during the 100 days of summer and you'll find the town swarmed with wealthy Parisians (Deauville is just an hour from Paris by train). In fact, it's so popular the town is often nicknamed Paris' 21st arrondissement!
Deauville is a glamorous destination, with incredible spas, gourmet restaurants and high-end boutiques like Cartier and Gucci. It's also home to one of the most beautiful casinos in Europe. Pack your most fashionable outfits!
A great time to visit? September for the annual film festival where screenings all over town celebrate American cinema.
Book a Tour:
to explore Deauville
ADVERTISEMENT
---
---
15. Wander Trendy Trouville
Neighboring Trouville-Sur-Mer is Deauville's twin. Together, they're frequently called the Parisian Riviera but in fact, Trouville is just a bit older and slightly less upscale. It's also more family friendly.
Trouville has the same glamorous villas, beautiful boardwalk and glitzy casino as Deauville, but it also offers a thriving fishing port. The classic fish market stocks all the seafood restaurants in town so don't forget to try some traditional Norman seafood specialties while you're here!
Trouville first became trendy in the 19th century, when aristocrats from Napoleon III's court came to the sea to promenade. Monet and his Norman mentor Boudin painted many picturesque scenes of the 19th century elite strolling on the broad boardwalk.
Book a Tour:
to explore Trouville
ADVERTISEMENT
---
---
16. Explore Dieppe
If you can't get enough of the sea, Normandy has even more options. The seaside town of Dieppe is a popular fishing town known for its pebbly beach and fun boardwalk. What makes it unique are the manicured lawns that border the sea!
Dieppe was named for its deep waters, and long distance cod fishing was once one of the town's main industries.
During World War II, Dieppe was the site of extensive Canadian casualties. The Allies pushed through Normandy in the summer of 1942 but were met with fierce German resistance at Dieppe. Today you can find a number of Canadian war memorials dedicated to the fallen.
Other things to do in Dieppe?
Visit Château-Musée de Dieppe
See the baroque Eglise Saint-Rémy
See the International Kite Festival
ADVERTISEMENT
---
---
pc: @michele_mp
17. Visit Château de Fontaine-Henry
Castle lovers won't want to miss Normandy's most stunning chateau.
Château de Fontaine-Henry is located in lush Lower Normandy, near Caen. Built in the 13th century, the building was enhanced over the centuries with Renaissance and Gothic embellishments. Inside, you'll find beautiful antique furniture and paintings.
Don't forget to explore the grounds as well. The castle is surrounded by thick forest and has three beautiful gardens:
the medieval Jardin Notre Dame
the meditative Hortus Conclusus
the Greek themed Herbe du Pranasse
ADVERTISEMENT
---
---
18. See the Ruins of Château Gaillard
The small commune of Les Andelys is home to the ruined castle of Château Gaillard. The fortress was built at the end of the 12th century by Richard the Lionheart.
It changed hands several times over the Hundred Years War and eventually was plundered by local villagers for its valuable stone building materials. Today, it's definitely a ruin, but the remains of the inner bailey, upper court and dungeon are available to tour.
If you climb up the steep hill to the castle, you'll be rewarded with a great view of the Seine and Andelys village. Afterwards, head into town for a coffee and browse the antique shops for a fun deal!
ADVERTISEMENT
---
---
19. Walk the Ghostly Ruins of Jumièges
The Abbey of Jumièges was a Benedictine Abbey founded in the 7th century, and was once the most religious monument in Normandy. Under William the Conqueror, the abbey was revered as an international center for learning.
Unfortunately, it slowly declined in the Hundred Years War and came to a final end in the French Revolution. It was ultimately ransacked for valuable building material and today stands in ruins.
But that's not to say the historic abbey isn't worth a look! Head here to see ghostly arches and glowing white stone of the abbey outline. It looks a bit eerie against all the green grass!
ADVERTISEMENT
---
---
20. Wander Pretty Le Bec-Hellouin
The country village of Le Bec-Hellouin was named one of the most beautiful villages in France. With a recognition like that, you simply can't miss it!
Le Bec-Hellouin has half-timbered houses, lots of open green space and small streets blooming with flowers. But aside from its pretty facade, the village is most known for its religious past.
In 1034, a Norman knight founded the Abbaye du Bec in town and it quickly became a major Christian center of learning – not only in France but all of Europe.
After a tumultuous period during the Hundred Years War and French Revolution, the abbey returned to its religious heritage and today, Benedictine monks have returned to live and study.
ADVERTISEMENT
---
---
Where in Normandy are you most looking forward to?
Visiting Normandy – Travel Checklist
We took a red eye to Paris from JFK, then sailed on the Seine to Rouen on a river cruise. You can check for flight deals here and set an alert for your dates.
It's also easy to take the train from Paris to cities throughout Normandy. Check my post here for more logistical information on taking the train in France and how not to buy tickets.
In Normandy, there's so much to see over a large area that I'd recommend basing yourself in a city for a couple nights to take day trips, then moving to another city. For the D Day beaches, Bayeux and Caen are both popular bases. Check here for deals on Normandy hotels.
Lastly, be sure to visit Paris with travel insurance. Whether you get injured and need to be hospitalized, your phone gets stolen, or a flight delay leaves you with nothing but the clothes on your back, travel insurance will help when you need it most.
During our recent trip, riots in Paris shut down the city center and forced a closure of all the main sights (the Louvre, Versailles, etc). Get a quote for your trip here.
You Might Also Enjoy:
Normandy Vacation Planning
How to Get from Paris to Normandy
Cruising on the Seine River from Paris to Rouen
The Most Beautiful Places in Normandy
21 of the Best Things to Do in Normandy
Normandy Towns
Quick Guide to Rouen, Normandy's Capital
Paris to Normandy Day Trips: Vernon & Auvers-sur-Oise
Visiting Giverny & Monet's House
WWII Memorials
How to See Normandy Beach & D-Day Sites
Visiting the Normandy Cemetery in Remembrance of D-Day
Follow me @Sher She Goes on