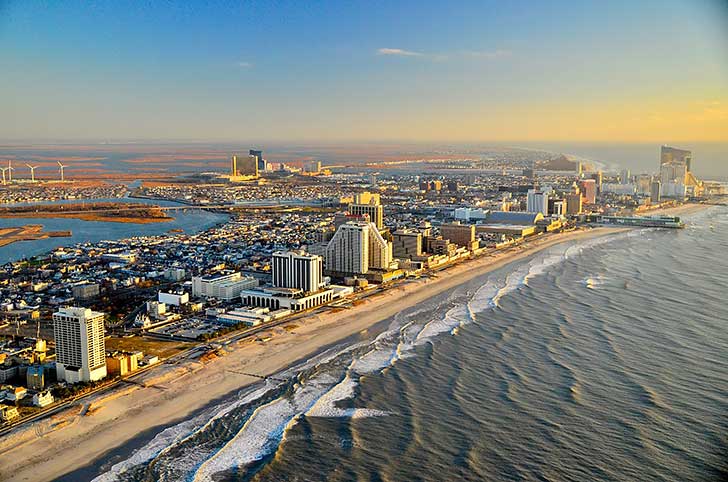 Where to Stay in Atlantic City
Although Atlantic City may be best known as the place to head when you're feeling lucky, there is so much more than casinos to this New Jersey oceanfront locale!
Whether you want to relax in luxurious spa accommodations, check out some top notch shopping spots, or take a stroll down the world famous boardwalk, there is plenty for everyone to enjoy.
Keep reading for my favorite spots to stay in Atlantic City!
---
---
Best Hotels in Atlantic City
Here's a quick summary of our recommended Atlantic City hotels. All include free wifi and are known for comfort, good location and great customer service.
Best Atlantic City Hotels – Summary Comparison Chart
Below is more information about each hotel and why we recommend it!
---
---
1. Caesar's Hotel & Casino
As you might expect, it would be pretty difficult to review hotels in a casino city without mentioning Caesar's, one of the premier resorts anytime there's a blackjack table nearby!
Known for having one of the cleanest casinos and best selections for dining and nightlife options, Caesar's should be at top of every list for getting the quintessential Atlantic City experience.
---
---
2. Harrah's Resort Atlantic City
Standing 45 floors above the Atlantic City marina, Harrah's Resort offers some of the most stunning waterfront views anywhere in the mid-Atlantic. Find yourself in one of the suites with a Jacuzzi bathroom, and you will swear you're in heaven.
Outside the rooms, a full-service casino, theater shows, and 13 (!) dining options – including an award-winning waterfront buffet – are sure to leave you wondering why you'd ever want to leave!
---
---
3. Tropicana Resort & Casino
Named in honor of the most famous Old Havana casino, Tropicana Resort & Casino Atlantic City does a fantastic job of bringing some tropical charm and ambience up north.
With amenities such as one of the largest Atlantic City casinos, an IMAX theatre, and an address directly the famous boardwalk, the Trop (as it's known to locals) is definitely one of the best all-around Atlantic City options. They offer gigantic, newly renovated Atlantic City Suites that work well for bachelor/bachelorette parties, families or group getaways.
---
---
4. Atlantic Palace Suites
As the name suggests, the Atlantic Palace Suites exclusively offers suite accommodations complete with multiple rooms, kitchenettes (which are perfect for grilling out or saving on an extended stay!), and balconies that face the Atlantic City boardwalk.
The Suites also offers direct beach access, which is perfect for a quick dip (or to cool down if you get on a heater at the casinos down the road!)
---
---
5. Marriott's Fairway Villas
Marriott's Fairway Villas are a perfect place to take an off-the-beaten-path trip to Atlantic City. Located about 20 miles north of the boardwalk, the Fairway Villas offer gorgeous, colonial-style villas in the heart of New Jersey's Abescon Highlands region.
---
---
And that's it! Our guide to Atlantic City's best hotels to make the most of your stay.
Whether you're looking for ultra-luxurious comfort, the best location in town, or no-frills budget cheap hotels, these top hotels in AC are sure to please.