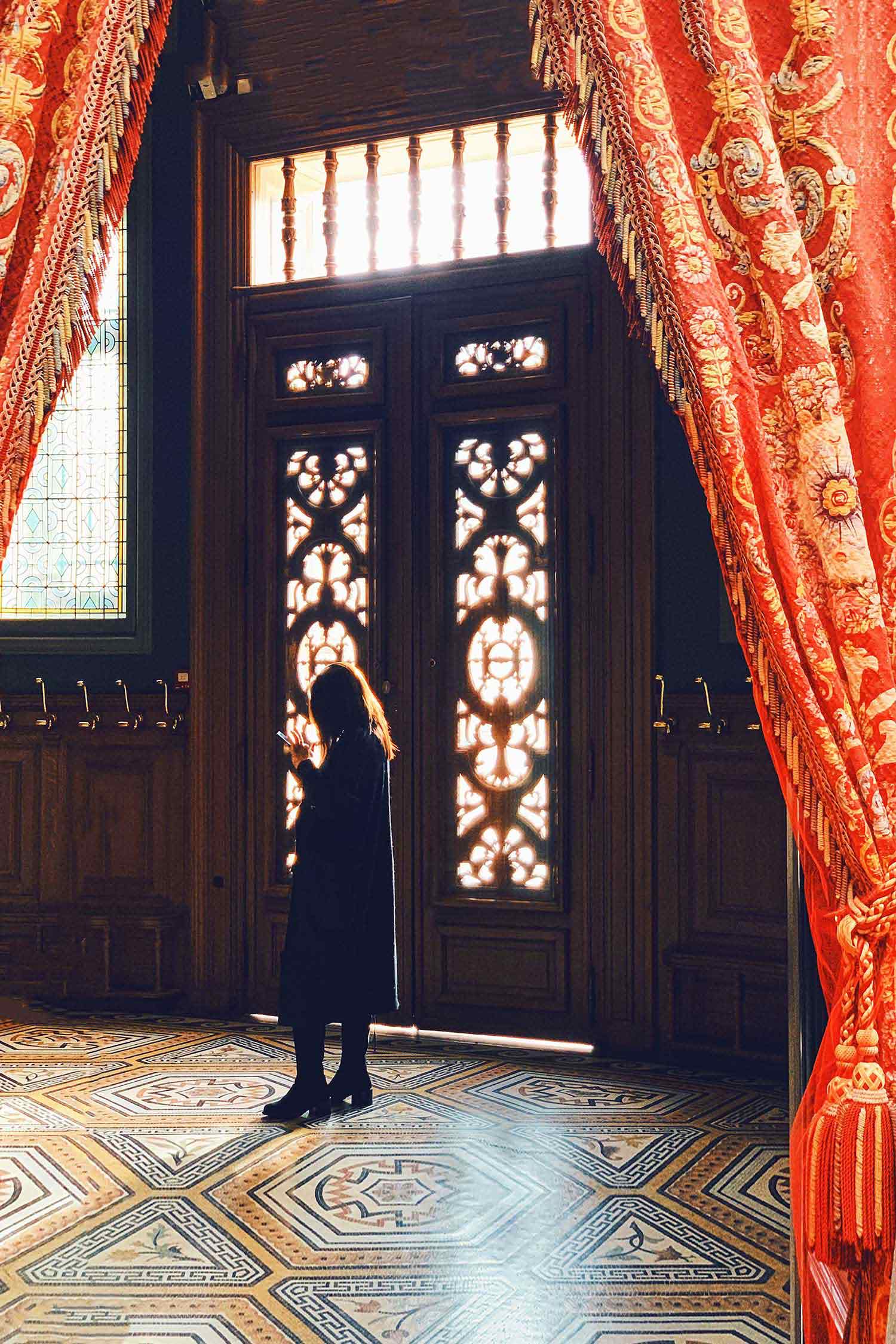 Paris & the Heart of Normandy
My mom and I take an annual trip together each year. Usually, we pick a place neither of us has been to before and I spend weeks researching, organizing and planning. My mom is, as I like to say, direction challenged, so I know I have to carefully arrange everything down to the tiniest detail.
In December 2018, we decided to take a last minute trip and I know I didn't have the energy or inclination to plan anything strenuous.
So when we heard about a river cruise along the Seine River, from Paris to Normandy, we figured it would be the perfect stress free trip to a destination that we love.
We've sailed with Viking previously (recap here) so we knew first hand how relaxing they can be and how well taken care of they make you feel! Today I'm reviewing our Paris cruise, what we thought about the excursions, Normandy tour and more!
Keep reading if you're looking for an in depth review of Viking River Cruises' Paris to the Heart of Normandy sailing.
Quickly jump to:
Or save this article to read later by pinning it ⇟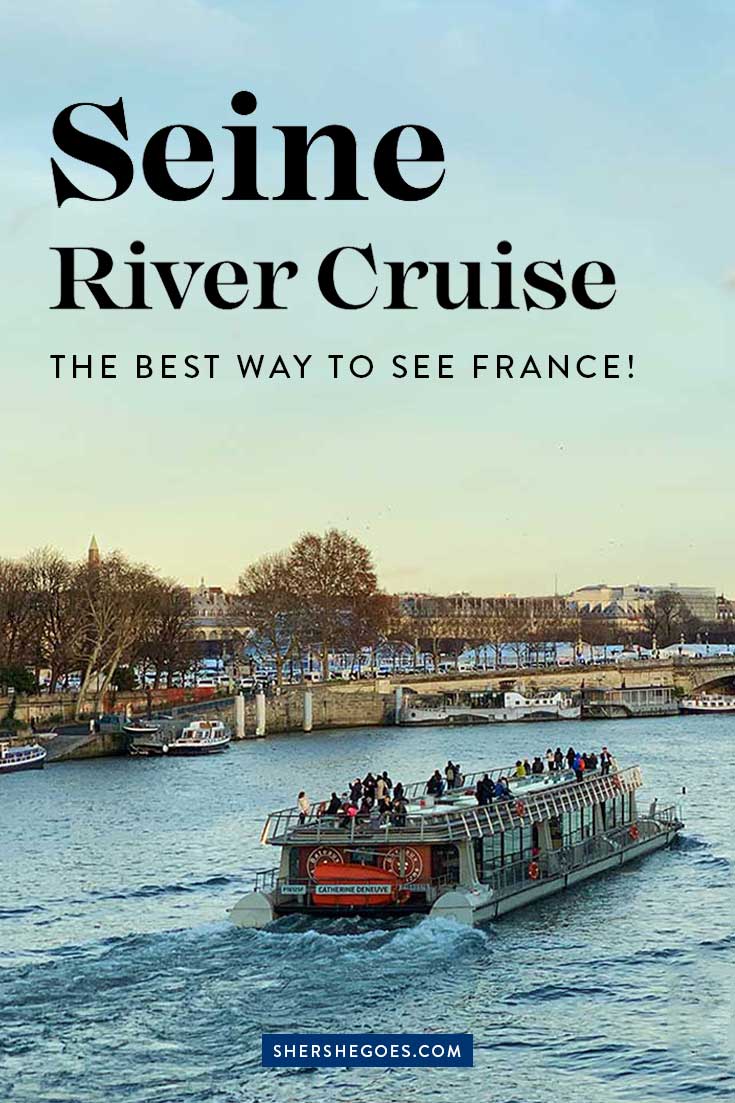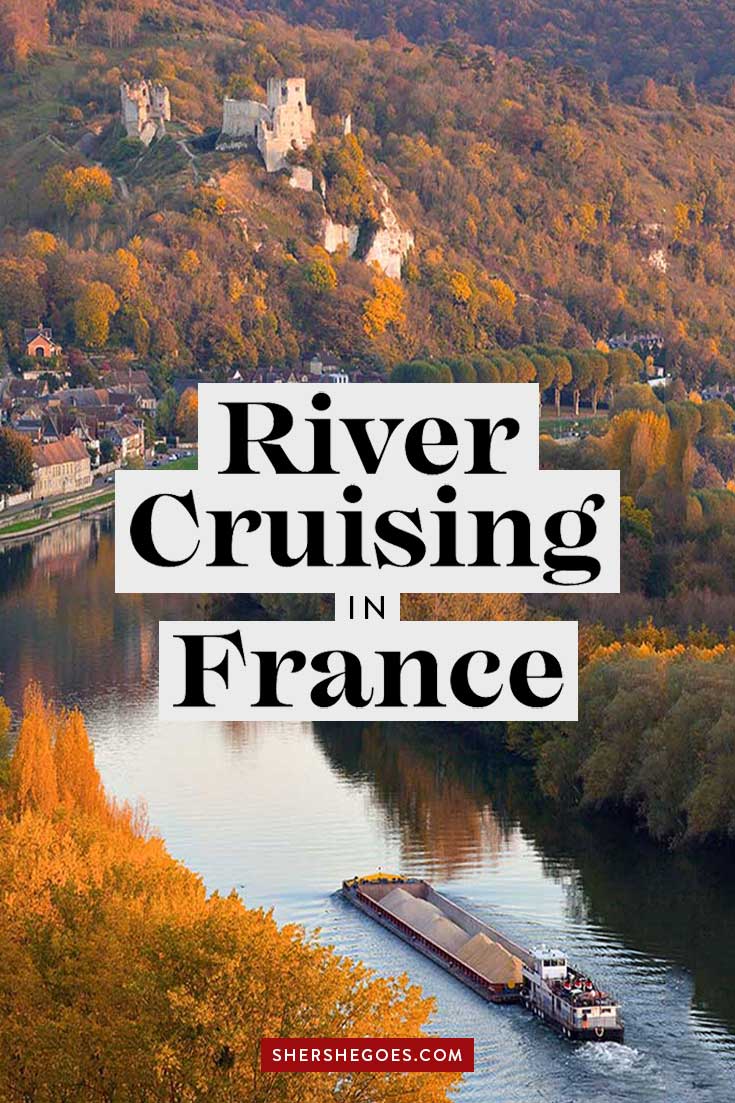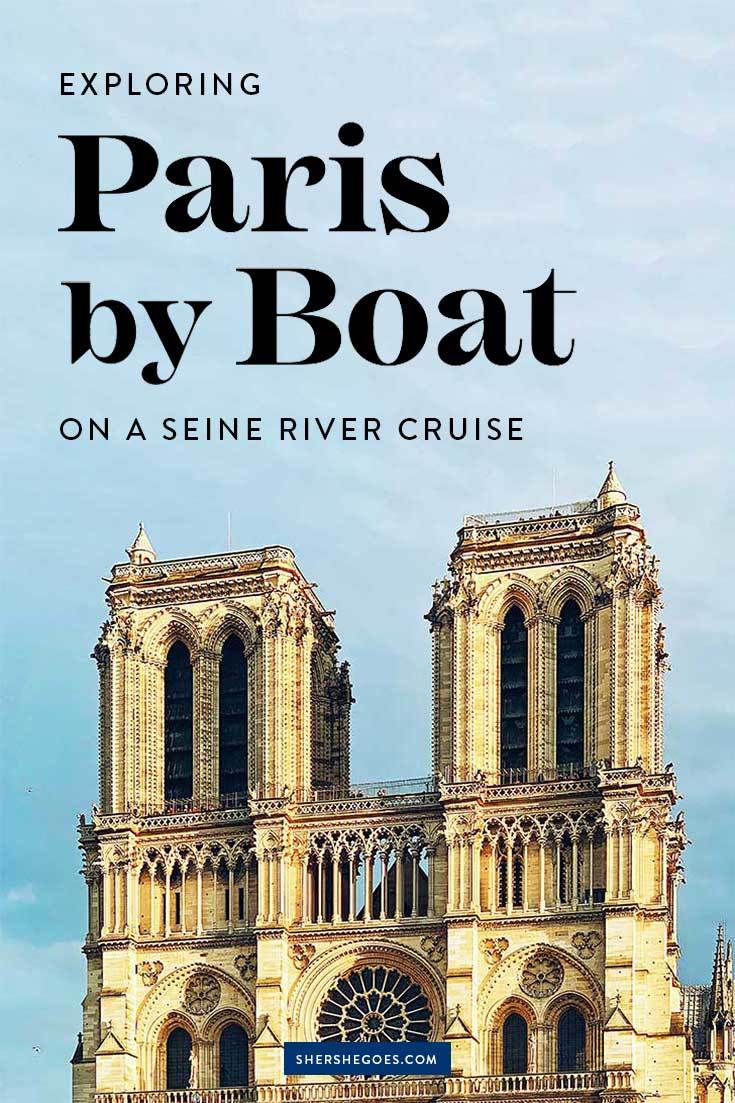 ADVERTISEMENT
Viking River Cruise Review: Paris to Normandy
The Paris to Normandy route is perfect for history buffs and especially World War II history aficionados. The route dives deep into Normandy, a French region on the northern coastline that faces the English Channel.
Originally settled by Vikings, it has a long history of famous battles and fierce fighters, from the Vikings who originally settled the area, to the Norman conquest of England and the Hundred Years War where Joan of Arc was famously burned at the stake.
But most likely, you've heard of Normandy for the role it played in WWII. Five Normandy beaches were the landing sites for Operation Overlord in June 1944, where the Allied powers coordinated a massive offensive invasion to free German occupied France and begin the end of Nazi military superiority.
June 2019 will mark the 75th anniversary of D Day so there's no more momentous time to visit Normandy. Here's a snapshot of our 7 day itinerary and what we saw and learned each day.
ADVERTISEMENT
---
---
Day 1: Arrive in Paris
We took a red eye flight from JFK to Paris and since our our flights are booked through Viking, their reps meet us at the airport. The transfer is easy, and after a roughly 1 hour drive, we pull up to the ship!
Our ship is the Viking Rolf, a beautiful and modern glass structure. We grab lunch, unpack in our cabin and have half a day to explore. We opt to see St. Germaine en Laye, the small city nearby, which Viking offers as a bonus excursion.
This residential suburb is about 30 minutes west of Paris and one of the most affluent neighborhoods for Parisians to live in. It's known for its Château, which the German Army used as their headquarters in World War II. If you want an excellent view of Paris, head up to the long stone terrace in front of the castle!
In the evening, we have a welcome lecture from the Program Director, eat dinner, and listen to opera singers in the lounge.
Read more:
See the Best of St. Germaine in 1 Day (coming soon)
ADVERTISEMENT
---
---
Day 2: Paris Sightseeing
On our first full day, we wake up early for breakfast and a full day of exploring Paris. The included tour is part bus, part walking tour through Paris' most iconic sights, like the Eiffel Tower, Notre Dame and Champs-Élysées.
We've been to Paris many times before, and I lived in the city for a bit as a student, so we opt to skip the guided tour but take the Viking coach into town to embark on our own little pre planned tour. I stock up on my favorite macarons (Pierre Hermé), do some shopping and savor the feel of being back in my favorite city in the world.
If this is your first time to Paris, Viking has a number of optional tours that you can take advantage of, like a guided tour of the Louvre Museum and a guided walk through Montmartre and its famous basilica.
At night, we return to the ship for dinner and start our cruise on the Seine.
Read more:
A Quick Guide to the Best of Paris
ADVERTISEMENT
---
---
Day 3: Giverny & Vernon
In the morning, we drove through Giverny and Claude Monet's home.
If you take the cruise in spring/summer, you'll have a chance to see his home and beautiful gardens, where Monet painted his most famous works. I visited as a student and my favorite section was the Japanese bridge and water lilies.
We were visiting in winter, so instead we traveled to Auvers-sur-Oise, a provincial town where many Impressionist artists lived and painted. The village is most famous as the resting place of Vincent Van Gogh, who rented a boarding house near the main square.
In the afternoon, we explored the medieval town of Vernon, most famous for its half timbered houses. Make sure to spot the Maison du Temps Jadis, the House of Past Times, which dates back to the 15th century!
Read more:
Visiting Auvers sur Oise, the Resting Place of Vincent Van Gogh
ADVERTISEMENT
---
---
Day 4: Rouen, France
In the morning, we had a leisurely morning cruising the Seine, passing a series of locks upstream to reach the heart of Normandy: its capital Rouen.
This medieval city was extremely important in the Middle Ages and today boasts beautiful architecture, a gilded astronomical clock and impressive Gothic cathedral.
It's also the burial site of Richard the Lionheart and the resting place of Joan of Arc, who was burned at the stake in the old market square, Place du Vieux Marché.
We took a guided walking tour to explore the heart of the Old Town and had free time to browse the Christmas markets. At night, the Rouen Cathedral lights up for a pretty night show that you'll want to see.
Read more:
Best Things to Do in Rouen, France
ADVERTISEMENT
---
---
Day 5: D Day Beaches
Day 5 was the highlight of the cruise: a jam packed day through the historic beaches of Normandy.
There are 2 simultaneous tracks offered: one to visit the American memorials and another to visit the British and Canadian memorials. We opted for the American tour.
It took us to Arromanches with its Mulberry harbors and D Day Landing Museum, the German gun batteries at Longues-sur-Mer and lunch at the local golf club.
After lunch, we had a moving visit to the American Cemetery, where Viking had organized a beautiful memorial service and honored the veterans on board.
The long, emotional day ended with a short stop at Omaha Beach, a haunting stretch of coastline facing the English Channel. Our guide for the day was excellent.
Read more:
Visiting Normandy Beach & France's WWII Memorials
ADVERTISEMENT
---
---
Day 6: Les Andelys, France
Our day kicked off with a massive downpour, as if France felt the emotional after effects of our visit to the sobering WWII memorials yesterday.
By early afternoon, we sailed into Les Andelys, a small town fortified in the Middle Ages by Château Gaillard. Today, the castle is a crumbling ruin, but it's worth the steep climb for the excellent view of the Seine and village below.
We took a guided walking tour into town and afterwards had free time to browse through the cute antique stores and cafes.
Read more:
The Prettiest Small Towns in Normandy
ADVERTISEMENT
---
---
Day 7: Back to Paris
On the agenda for our last full day was a visit to Mantes-la-Jolie, the town where Napoleon Bonaparte and Josephine spent their final days. Unfortunately, lock workers were going on strike so we sailed straight for Paris.
We had booked the optional tour to Versailles, but Yellow Vest protesters had amped up their demonstrations and effectively shut down Paris. With everything in the capital closed, Viking organized an excellent alternative: a visit to the Château de Chantilly.
This phenomenal castle belonged to the Orléans family and houses the Musée Condé, one of the finest collections of art paintings in France after the Louvre. The grounds are beautifully landscaped and the horse staples alone could be mistaken for another Château.
Few visitors get to see Chantilly because there isn't easy public transport nearby, so it was incredible to be able to see it with Viking!
ADVERTISEMENT
---
---
Paris to Normandy Itinerary
This is our second time sailing with Viking. Previously, we explored the Rhine River on their Basel to Amsterdam cruise – you can read more about our itinerary and experience here.
Viking handles everything, so these river cruises make for the perfect leisurely vacation. You get to sit back, enjoy a very comfortable ship, excellent meals and soak in local culture, history and sights with some knowledgeable guides.
For each day of the sailing, there is 1 included tour and typically, an optional tour where you can book an add on excursion if you wish.
Here's a recap of our daily itinerary with Viking:
Day 1
Arrive in Paris, France
Day 2
Explore Paris
Day 3
Morning: Visit Auvers sur Oise

Afternoon: Explore Vernon

Day 4
Explore Rouen
Day 5
All day trip to Normandy Beaches & WWII Museums
Day 6
Morning: Sailing on the Seine

Afternoon: Visit Les Andelys

Day 7
Arrive in Paris in morning. Excursion to Château
I would recommend this trip if you enjoy World War II history and want a deeper understanding of French culture.
ADVERTISEMENT
---
---
The Viking Rolf
I wrote an in-depth review of our experience with Viking River Cruises after we took our first cruise on the Rhine River. Head over to this post if you want more detail on our experience with the booking process, flights, tours, staff, ship and cabin.
As always, the staff on board really make such a great impression. They joke with you, remember your meal preferences and treat you with such warm hospitality.
I wanted to share some travel tips for this specific Paris & Normandy itinerary.
Depending on the season that you visit, the itinerary will be slightly modified. Giverny and Monet's house is only open from late March to late October. Winter cruises, which we took, will visit Auvers-sur-Oise instead, swapping Monet for Van Gogh!
Since it was winter, we did not really use the balcony. If you're visiting in good weather, you might like the spacious suites, which have an extra sitting room.
ADVERTISEMENT
---
---
Cruising on the Seine River
Viking's river cruise fleet is modern, beautiful and light filled. But, the longships are a bit too big to turn around in Paris proper, so our cruise docked outside the city in the port of Le Pecq, which sits at the foot of the Chateau of Saint-Germain-en-Laye.
The distance is roughly 20 km from Paris. If you want to go into the city, you can take a taxi (about a 30 minute ride), or you can walk to the RER in Saint Germain (10 minute walk) and take the metro into the city.
Note: mooring sites can change – verify the port on your travel documents.
As someone who has been to Paris many times, I didn't mind at all. Viking offered shuttle service into Paris, but instead we took them up on the shuttle to see St. Germain-en-Laye. This residential suburb is like a mini Paris, with beautiful architecture, quaint outdoor cafes and some small shops.
St. Germain-en-Laye is one of the wealthiest neighborhoods surrounding Paris. Check out the 12th century church and castle, and make sure to soak in the view of Paris in the distance. You can even walk back from the Chateau de St. Germain to the ship; it is roughly 15 minutes downhill.
If it's your first time visiting Paris, I'd recommend extending your stay either before or after the cruise to explore Paris in depth.
ADVERTISEMENT
---
---
Food on Board
Viking always has great food on board. Often when we got back to the ship, there would be a hot beverage or snack offered and for the drinkers, there is house wine and beer offered at both lunch and dinner.
What I really liked, was the introduction to Normandy cuisine! Typically, Viking has one dinner on board where the dining room transforms from a seated 3 course meal service to a more casual, colorful local food day.
ADVERTISEMENT
---
---
Normandy Food
We had a buffet style 'Taste of Normandy' complete with a huge melted cheese wheel (raclette), tons of charcuterie, mouth watering cheese board and my personal favorite: fresh, hot mussels (moules)! The staff were dressed up in Breton striped shirts and one entertainer played the accordion!
If you're a big foodie, try the optional food tour. It includes a taste of local ciders, Normandy's famous Calvados brandy and special cinnamon apple tarts.
ADVERTISEMENT
---
---
Visiting the Normandy Beaches
With the 75th anniversary of D-Day coming up, I'm sure many people are interested in the Paris to Normandy cruise for the visit to the Normandy beaches.
Viking offers two tracks – you choose which one you prefer.
Commonwealth D Day Memorial
The Commonwealth tour focuses on the Norman conquests which impacted the British Commonwealth and includes a visit to the Bayeux Tapestry. It drives through Gold and Juno Beaches where the British and Canadians landed, respectively; the Pegasus Museum; and the Bény-sur-Mer Canadian cemetery and British cemetery at Ranville.
American D Day Memorial
The American tour focuses on the American landing site of Omaha and visits the American cemetery in Colleville-sur-Mer, among others.
Our jam packed day started early, as the ship docks in Rouen and it took us about 2 hours each way by motorcoach to get to the landing sites. Our local guide for the day was excellent. She was full of so much information and really brought World War II history to life on the bus ride.
We felt like we got to see many different World War II monuments, from machinery remnants to museums to the beaches themselves.
Read more:
Spending a Day at Normandy Cemetery
ADVERTISEMENT
---
---
Visiting the Normandy American Cemetery
Visiting the cemetery was especially moving – the American Cemetery spans 172 acres and contains 9,380 burials. It's sobering to see the rows of white gravestones. If you wish to visit a particular grave, look up the plot online so the museum staff can help you locate it during the short visit.
Viking organized a small appreciation ceremony for past veterans, of whom there were many on our tour, which was touching. We had time to walk down to the on site museum as well, which chronicles Operation Overlord in detail.
While the Normandy beaches wasn't the original reason we chose this itinerary, they ended up being the most memorable day of the trip. I spent the next couple days reading everything available on Wikipedia about Operation Overlord, World War II and Eisenhower.
If you wish to learn more, here are some movies and reference articles:
ADVERTISEMENT
---
---
Planning to Take a River Cruise? Get Free Shipboard Credit!
Travel tip: Travel advisers can make your cruising experience unforgettable. If you want more information on upgrades, on board perks and shipboard credits, shoot me an email! I can connect you to my travel adviser who specializes in cruises around the world.
shershegoes [@] gmail . com
If you have any questions about the Viking Paris to Normandy cruise, let me know in the comments!
Visiting Normandy – Travel Checklist
We took a red eye to Paris from JFK, then sailed on the Seine to Rouen on a river cruise. You can check for flight deals here and set an alert for your dates.
It's also easy to take the train from Paris to cities throughout Normandy. Check my post here for more logistical information on taking the train in France and how not to buy tickets.
In Normandy, there's so much to see over a large area that I'd recommend basing yourself in a city for a couple nights to take day trips, then moving to another city. For the D Day beaches, Bayeux and Caen are both popular bases. Check here for deals on Normandy hotels.
Lastly, be sure to visit Paris with travel insurance. Whether you get injured and need to be hospitalized, your phone gets stolen, or a flight delay leaves you with nothing but the clothes on your back, travel insurance will help when you need it most.
During our recent trip, riots in Paris shut down the city center and forced a closure of all the main sights (the Louvre, Versailles, etc). Get a quote for your trip here.
You Might Also Enjoy:
Normandy Vacation Planning
How to Get from Paris to Normandy
Cruising on the Seine River from Paris to Rouen
The Most Beautiful Places in Normandy
21 of the Best Things to Do in Normandy
Normandy Towns
Quick Guide to Rouen, Normandy's Capital
Paris to Normandy Day Trips: Vernon & Auvers-sur-Oise
Visiting Giverny & Monet's House
WWII Memorials
How to See Normandy Beach & D-Day Sites
Visiting the Normandy Cemetery in Remembrance of D-Day
Follow me @Sher She Goes on