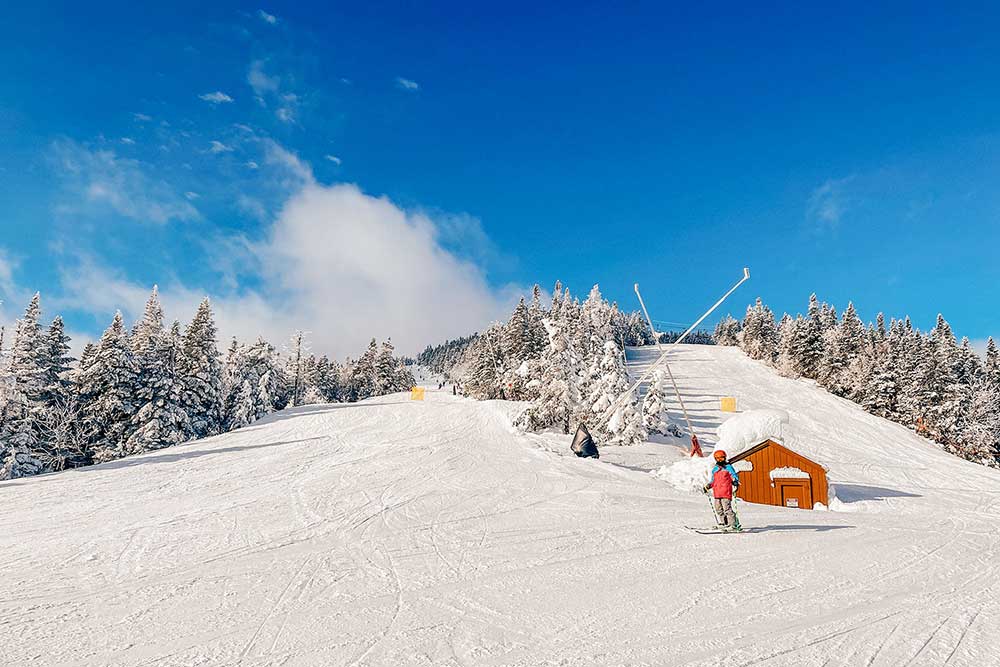 How to Plan a Ski Trip
So you're looking to plan a ski trip?
Whether it'll be a group ski trip, family ski trip or your first time ever skiing, I've got you covered! I just learned how to ski last year as an adult and now I wish I had learned earlier!
Here's everything I wish I had known about planning a ski trip.
In this post:
ADVERTISEMENT
---
---
Keep reading, or pin this article to save it for later ⇟
Skiing for the First Time
.
Best Time to Go on Ski Trips
Skiing gets more and more popular every year.
Add erratic snow conditions and shorter seasons due to climate change, and you get a lot of people all trying to snow on a limited amount of weekends each year.
I absolutely recommend skipping holidays and long weekends.
Everybody and their mother is looking to ski at the same time and it's not fun to wait in long lift lines or share a crowded mountain with experienced skiers zooming past you, especially as a first timer.
If you have a flexible schedule, skiing mid-week is the best option!
ADVERTISEMENT
---
---
I know that's not practical for most people, but you can also try to avoid the biggest crowds by arriving early (right when lift lines open) or skiing from lunch time through late afternoon.
Also keep in mind that peak snowfall varies each year.
Typically, ski resorts with the longest season will open right before Thanksgiving weekend and close around early April. But, snowfall can be unpredictable early in the season.
Larger resorts have snowmakers, but creating enough snow depends on certain weather conditions. If you go too early in the season, you may find the mountain only has very limited trails open.
The best ski conditions occur from January through February, with some areas of the country still receiving snowfall in March and April.
Spring skiing in warm temperatures and sunny skies is really fun! But go too late, and you'll be skiing in wet slush.
So plan around your schedule but keep in mind snow conditions, crowds and time of year!
ADVERTISEMENT
---
---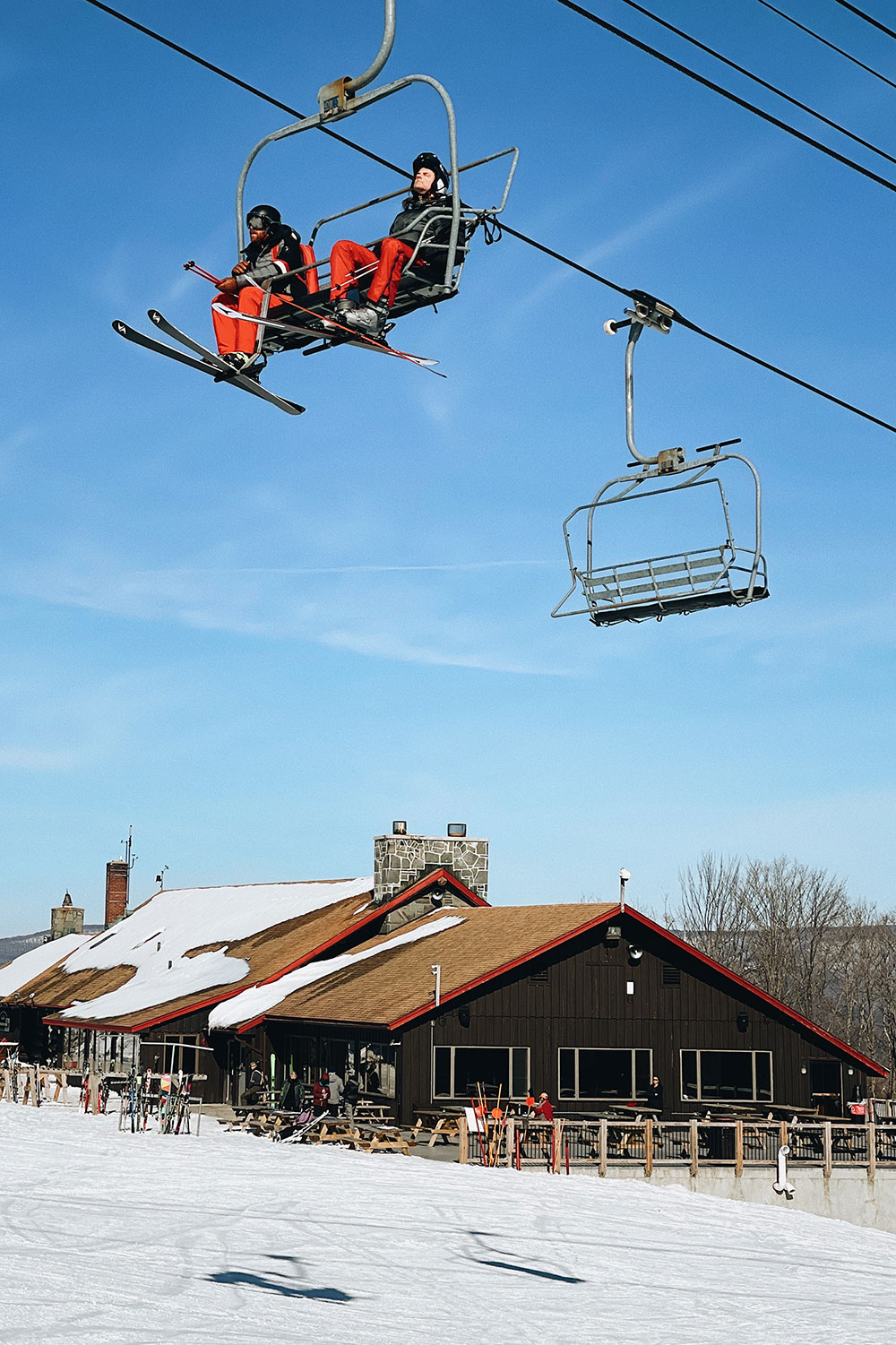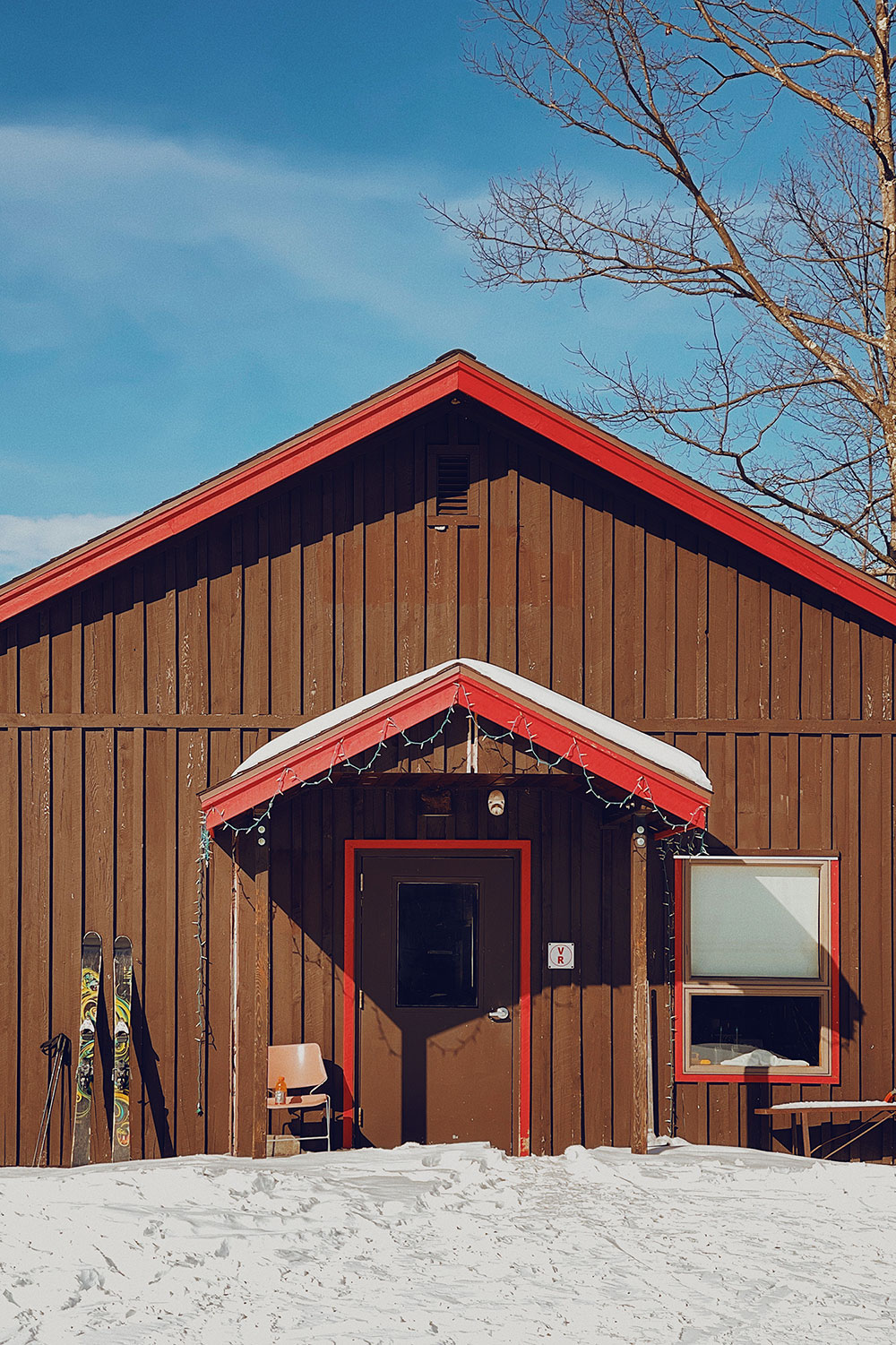 .
Book In Advance to Save
Let's face it – everything about skiing is expensive, from flights to hotels to lift tickets. Make sure to book everything well in advance!
Flights
Living on the East Coast, I started learning to ski closer to home.
There are tons of great ski resorts in the Northeast, from local mountains like Belleayre to bigger famous options like Stowe.
But I know the East Coast gets a reputation for being the 'Ice Coast', so I can understand if you're looking to head to the West Coast!
ADVERTISEMENT
---
---
If your ski trip involves flights, make sure to set fare alerts and book way in advance. Last minute flights can easily burn through your budget!
Also, make sure to look at baggage fee policies. I always find it tough to pack just a carry-on bag for winter trips and nearly impossible for ski trips (with all the extra ski clothing). Sometimes a basic fare can cost more than other options once you factor in bag fees!
Check flight prices for your dates here.
Lift Tickets
With the pandemic, many resorts sell only a limited number of lift tickets each day.
So, if it's your first time skiing and you don't have a season pass, you should reserve lift tickets for the specific dates you want to ski well in advance!
Some resorts also use a dynamic pricing model, where weekend and holiday tickets cost more than mid-week tickets. And you should always try to purchase online in advance, instead of at the ticket counter in person on the day of!
ADVERTISEMENT
---
---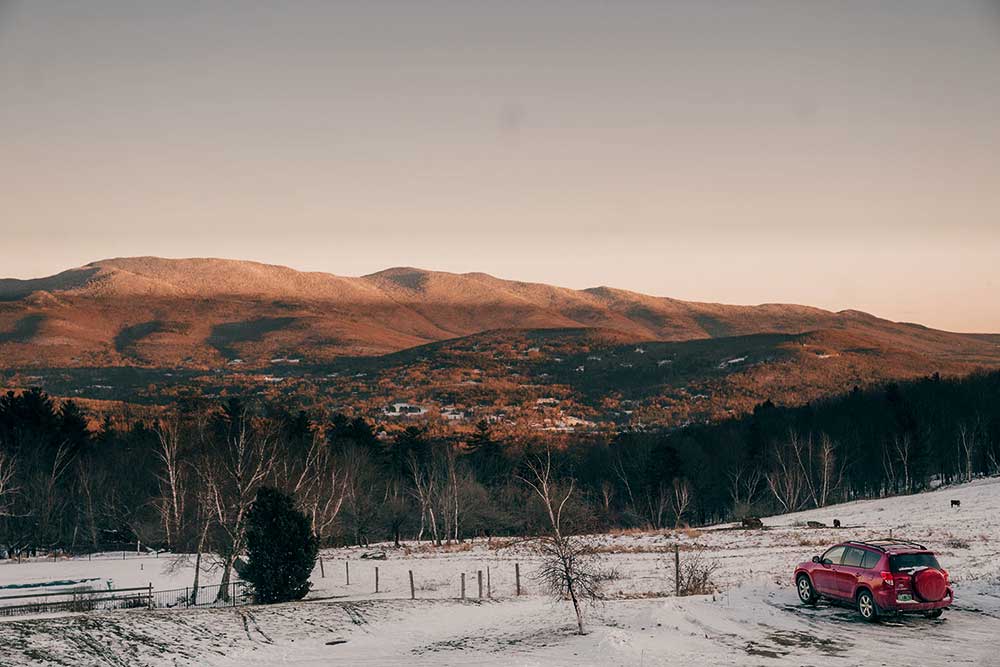 .
Plan Your Transportation
Usually, you'll also need a car during your ski trip.
For example, in Colorado most of the ski resorts are a 3-4 hour drive from Denver airport. Likewise, the ski resorts around Lake Tahoe are a 1-2 hour drive from the closest major airport of Reno.
Make sure to reserve a rental car for your ski trip!
Not only does it give you more flexibility, it's also really helpful to transport heavy and bulky ski gear.
Keep in mind most mountain areas get heavy snow and ice, so you'll want to rent (or have) a car with either all-wheel drive (AWD) or four-wheel drive (4WD).
You might also want to get ice chains for your car tires. Some rental car places don't like to rent them, as they can damage the car, so either buy your own or rent from shops in the area.
Check rental car rates for your dates here.
ADVERTISEMENT
---
---
.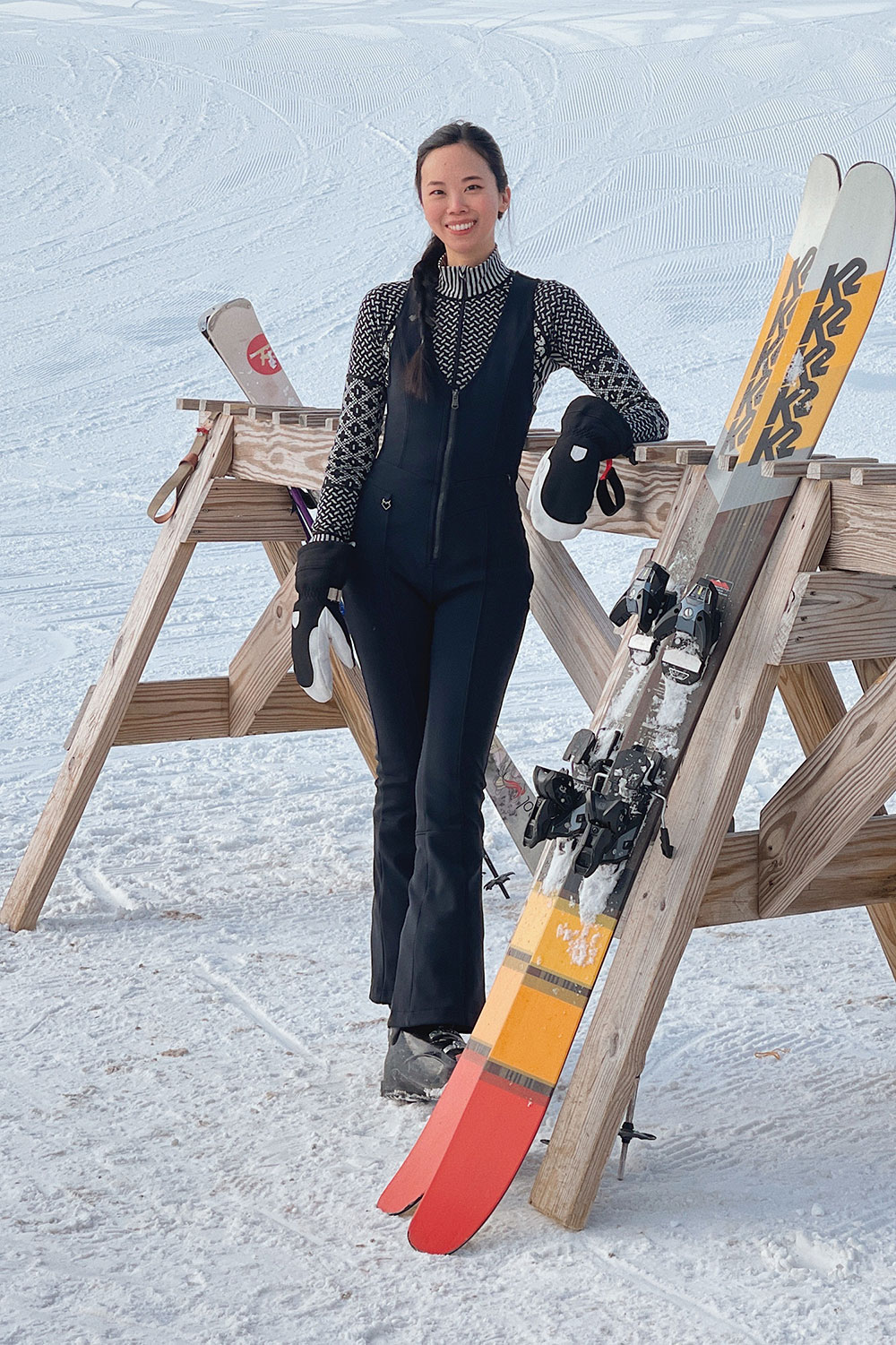 What to Pack for a Ski Trip
The most important thing is to pack properly for a ski trip!
There's nothing worse than being cold and wet on the mountain, since there's no way you'll enjoy the experience. Dressing in layers is key, and also having the right kinds of layers.
In general, for cold weather you want 3 layers (at a minimum):
ADVERTISEMENT
---
---
Ski Trip Checklist
For skiing and snowboarding, you'll want some extra gear and accessories as well, to protect you from the elements:
I have a roundup of my favorite ski and cold weather clothes here.
ADVERTISEMENT
---
---
Waterproof snow pants are a must.
Pick up an inexpensive pair on Amazon. I used this fleece lined snow pant and this snow bib as a beginner.
While they may not have been the most fashionable, they keep me warm and dry! I have a whole series reviewing more fashionable ski looks here.
Mittens
I highly recommend wearing waterproof mittens instead of gloves.
Mittens keep your hands warmer by letting hot air circulate between your fingers. Mittens also let you layer a pair of thin tech gloves inside for extra warmth, or hold hand warmers.
I use this pair of leather mittens from Hestra.
I love how warm and toasty they are, and that the inside liner is removable and washable. The cuffs are also extra long, so they go over your ski jacket and prevent snow from falling in if you fall!
Browse Hestra mittens here.
ADVERTISEMENT
---
---
Ski Goggles
I learned the hard way how important sunglasses are to protect your eyes.
On our trip to Antarctica, we forgot to pack them and our eyes nearly bled from exposure to the bright sun and harsh wind on our first excursion.
The sun reflects off white snow and can easily blind your eyes, so make sure to pack a pair for your first ski trip! Typically ski resorts will rent helmets but not goggles, so buy your own before you arrive at the mountain.
This brand makes inexpensive goggles that get the job done. Don't wait to purchase goggles from the ski resort. They typically only carry the higher-end brands and expensive ($250+) models!
ADVERTISEMENT
---
---
But, don't think you need to spend a fortune on ski gear – especially as a beginner.
If you're not sure you'll love skiing, you can rent ski clothing at some mountains.
Or, if you're a beginner and traveling with friends and family that ski regularly, ask to borrow ski gear from each other. Chances are they'll have multiple pairs of gear and won't mind!
Finally, it can be hard to pack for a ski trip with just a carry-on bag.
Winter clothes and outerwear alone can easily fill up small luggage so I've found that I often need to check a bag to accommodate ski gear as well.
Here are some of my favorite hard case suitcases and zipperless luggage.
ADVERTISEMENT
---
---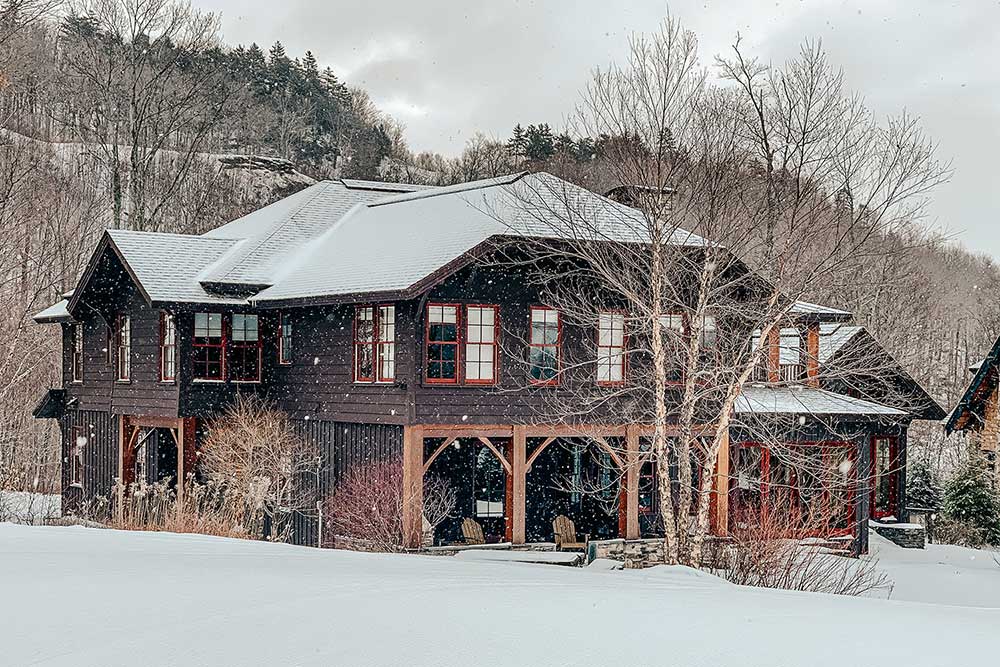 .
Picking a Ski Resort
There are ski resorts all over the US (and the world!) So when you're starting out, your head might be spinning with all the options.
Vail Resorts is one of the largest ski resort conglomerates in the country, with over 40 resorts including the world-famous options like Aspen, Vail, Beaver Creek and Stowe. They offer a season pass, the Epic Pass, that includes all-access to resorts in their portfolio.
Ikon Resorts is another popular American ski conglomerate, that offers a seasonal pass called the IKON Pass. Popular resorts you access with the IKON Pass include Squaw and Big Bear in California, Jackson Hole in Wyoming, Deer Valley in Utah, Big Sky in Montana, and many more.
If you're taking a ski trip for the complete experience (a large mountain, lots of trails, a cute downtown with shops, great dining options, etc) look into Vail or Ikon's resorts for the bells and whistles.
If your focus is primarily on learning how to ski and snowboard, you might want to focus on lowkey resorts closer to home. Local mountains tend to offer great beginner terrain and everything from equipment rentals, lessons and lift tickets will be more affordable too!
ADVERTISEMENT
---
---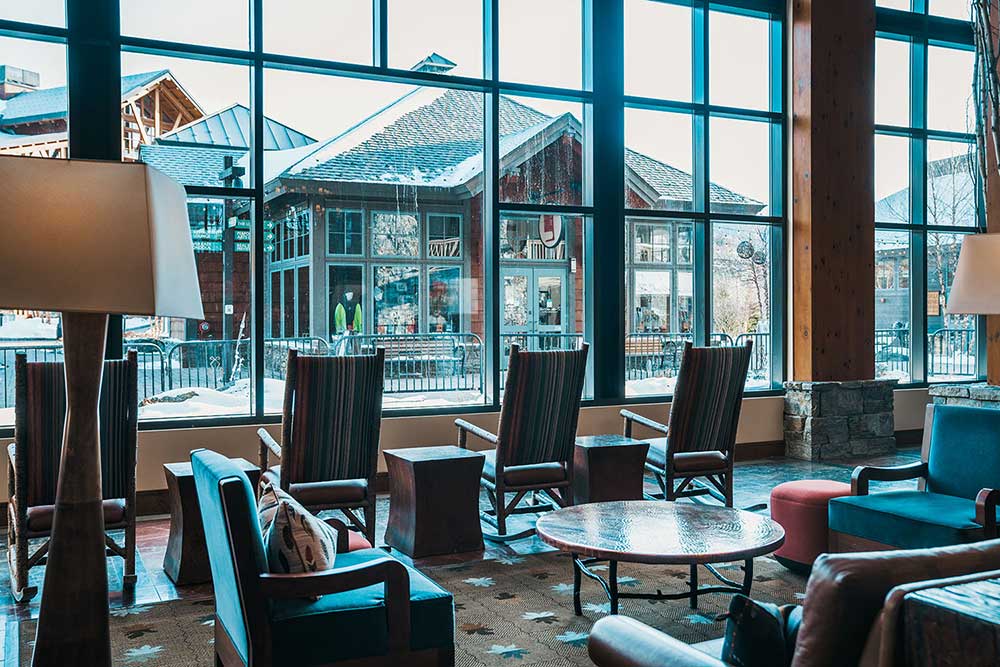 .
Pick Convenient Lodging
It's best to stay as close to the mountain as possible.
Ski school (where lessons are held) and chairlift times usually open in the morning, between 7:00am to 8:30am, depending on the resort. It's more convenient to minimize drive times so you can get to the resort as early as possible!
You don't need a fancy ski-in, ski-out hotel for your first time (although it's very nice!), but try to stay as close to the resort as possible. Packing up the car with gear, driving, and finding a parking spot can suck the energy out of you in the morning.
ADVERTISEMENT
---
---
And there's nothing worse than arriving too late to find the parking lot full, and having to schlep your gear all the way across the parking lot and onto a shuttle.
For group ski trips, we like to rent a condo or house so that everyone has room to spread out. It's also really nice having a full kitchen and laundry access!
Browse VRBO rentals for your dates here.
Hotels in town are another really nice option, since they'll be near restaurants and bars for après-ski. Some hotels will have rooms for you to store your ski and snowboard gear, and hot tubs to relax in after a long day outside!
Browse hotels for your dates here.
ADVERTISEMENT
---
---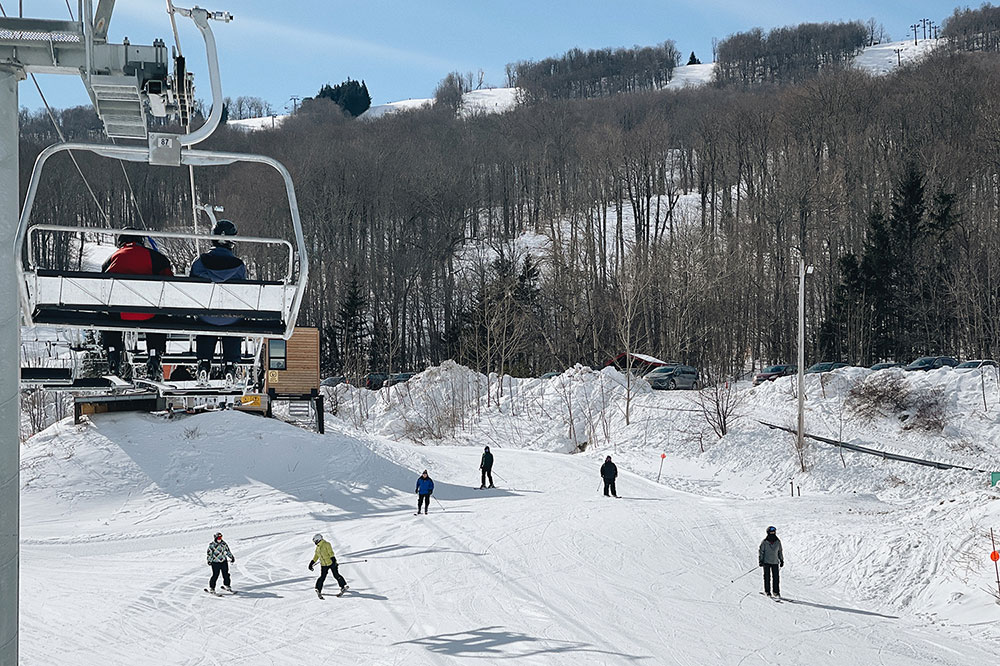 .
Ski Lessons
Skiing and snowboarding are a lot more fun when you know what you're doing.
So my personal opinion is you absolutely want a lesson to learn how to ski or snowboard for the first time. If you have friends or family who can dedicate time to teach you, that's a great option too!
Learning to ski is time consuming and you'll likely fall a bit in the beginning. A good instructor can make a big difference in learning proper form and technique, and ensure that you don't get injured!
Plus, during your lesson you typically get to jump to the front of the lift line. A great instructor can also challenge you and guide you down more difficult runs as your skills improve.
ADVERTISEMENT
---
---
The one con is lessons with professional instructors can get expensive. Ski school typically costs anywhere from $100-600 per day, depending on the mountain and type of lesson.
I recommend taking lessons at a local mountain to get lots of practice in before you head to a splashy resort like Vail or Aspen.
When you're just starting out, you'll be sticking to beginner green and easy blue trails. There's no need to spend $200 per day on a lift ticket and equipment if you're staying in the learning area!
ADVERTISEMENT
---
---
Private vs. Group Lessons
Group lessons are also great.
There's typically a big difference in price between groups and privates, so try taking a small group lesson. If you go with a friend or group mid-week, you can often end up with your own 'private' lesson for the cost of a group option!
As you get better, you can consider private or small group lessons with your own group of friends and family members.
Once you get the fundamentals down (going from 'pizza' wedges to 'french fry' turns), you can practice on your own from there.
Then if you want to hone intermediate to advanced skills, you can book 1-on-1 lessons to unlock the entire mountain for you!
Ski schools typically limit capacity, so that instructors can give each student attention. Spots sell out very quickly during peak season, so book lessons as soon as you purchase your lift tickets.
ADVERTISEMENT
---
---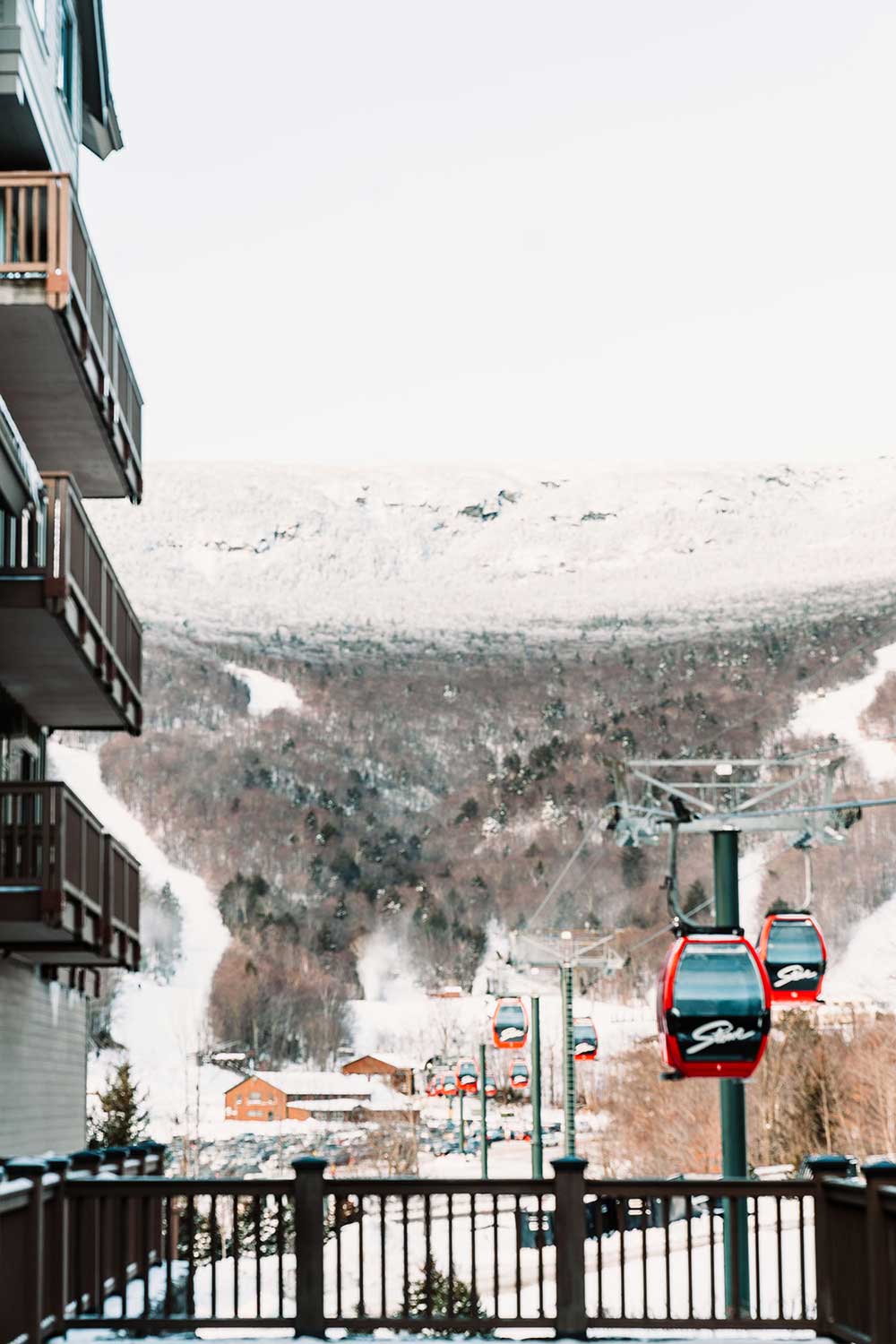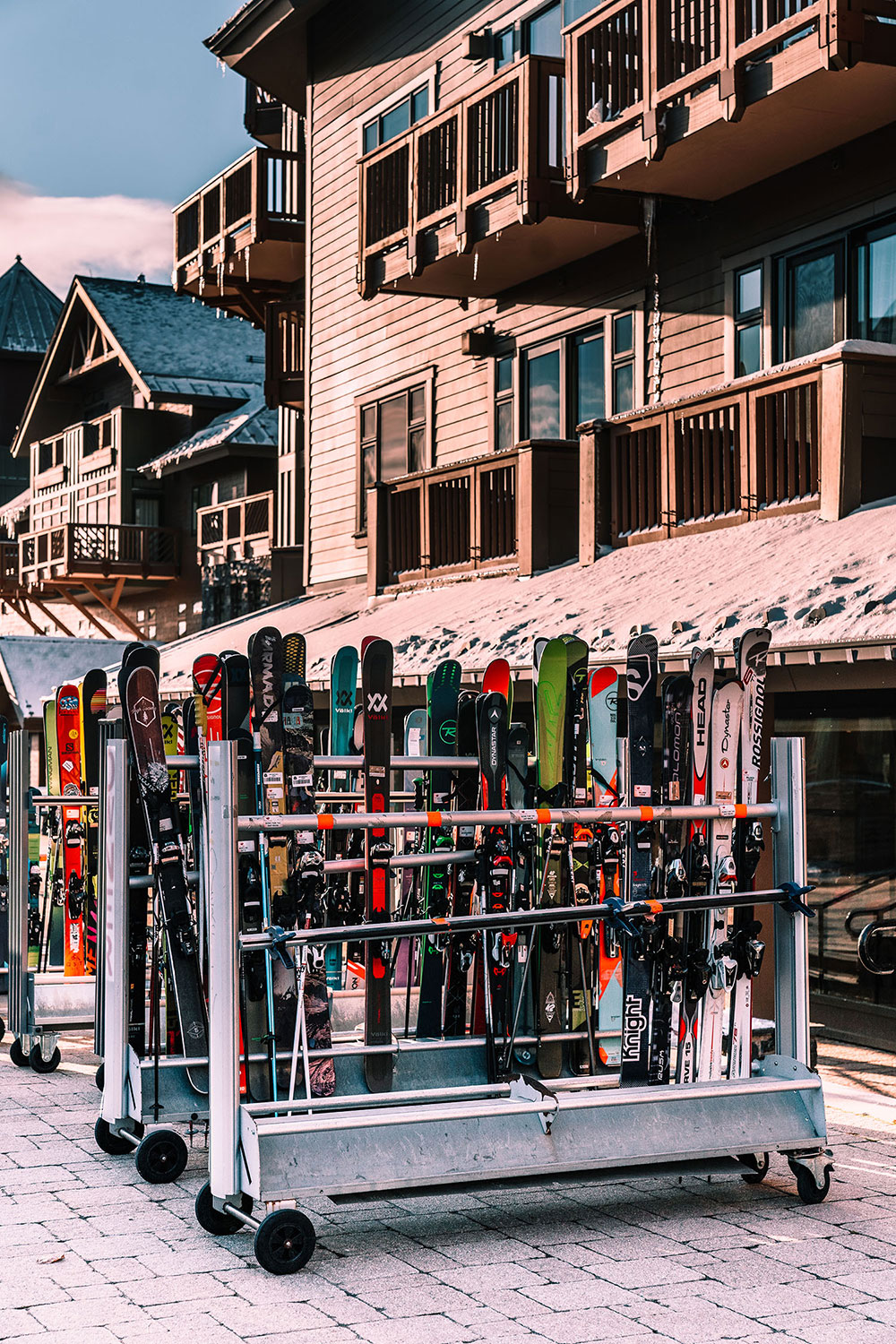 .
Rent Gear the Day Before
To ski, you'll need ski boots, skis, poles and a helmet.
You can rent them from the mountain directly, or from any ski shop in town. It's more convenient to rent directly at the resort, but often cheaper from a local store.
Either way, I recommend renting your ski gear and picking it up the afternoon before you plan to ski. That way, you avoid the early morning crush, long wait times at the shop and you can make sure everything fits before you actually hit the slopes.
Most rental shops don't charge you more for picking up gear the afternoon before your rental starts!
ADVERTISEMENT
---
---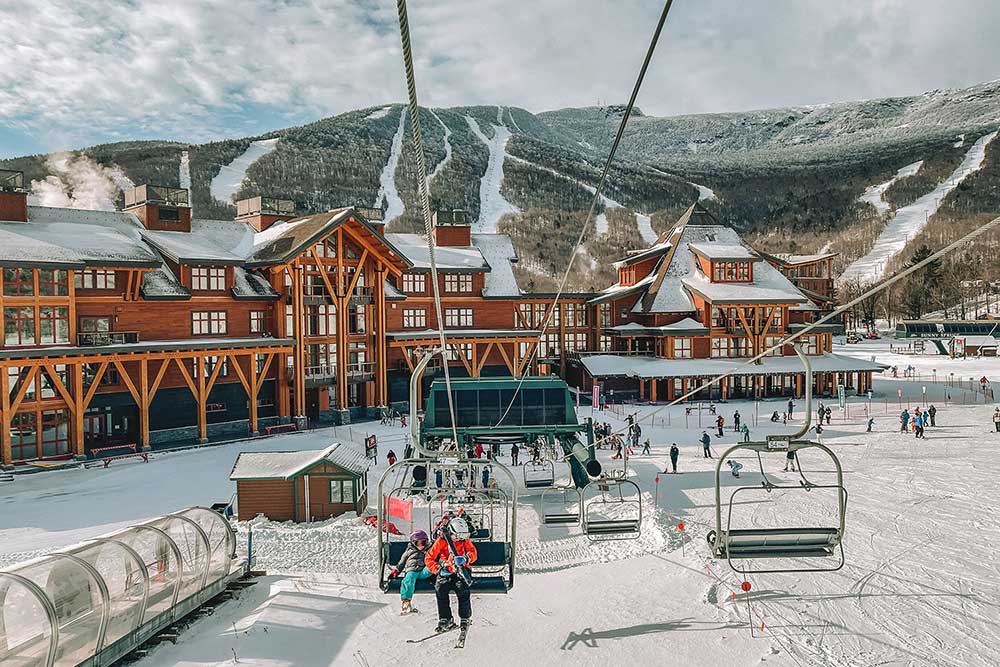 .
Plan Ahead
You'll have the best experience if you give yourself a day or two to acclimate to the mountain before skiing. Some ski mountains are at a higher elevation. The altitude can give you a headache or give you altitude sickness if you rush to ski right away.
Make sure to drink plenty of water to stay hydrated and get sleep the night before.
If you have fun on your first day skiing, you'll have a much better experience for the rest of your trip.
I also recommend getting a healthy, hearty breakfast the morning of. My go to is usually cold brew coffee and a bowl of oatmeal with some fruit and granola on top.
I also like to stash some trail mix or a granola bar in my ski jacket pocket! It's nice to have a little snack in the middle of the day when you're on a slow lift.
ADVERTISEMENT
---
---
Finally, I always recommend getting to the ski hill early.
It takes quite a bit of time to put on your ski boots and carry your gear to the lift. Parking lots fill up fast and it's more convenient to nab a spot as close to the resort as possible.
Plus, the ski resort will be the least crowded first thing in the morning!
If you wait to arrive by 10:30am, you'll show up along with everyone else haha.
Usually on group ski trips, I'll take a lesson in the morning and everyone will ski on their own throughout the day. We'll meet up for lunch and also try to meet up at the end of the day for a final run together.
Some mountains are huge, so it's easy for a group to get separated and cell service can be spotty. Having a plan for the first run, lunch and last run is a nice way to all get together!
ADVERTISEMENT
---
---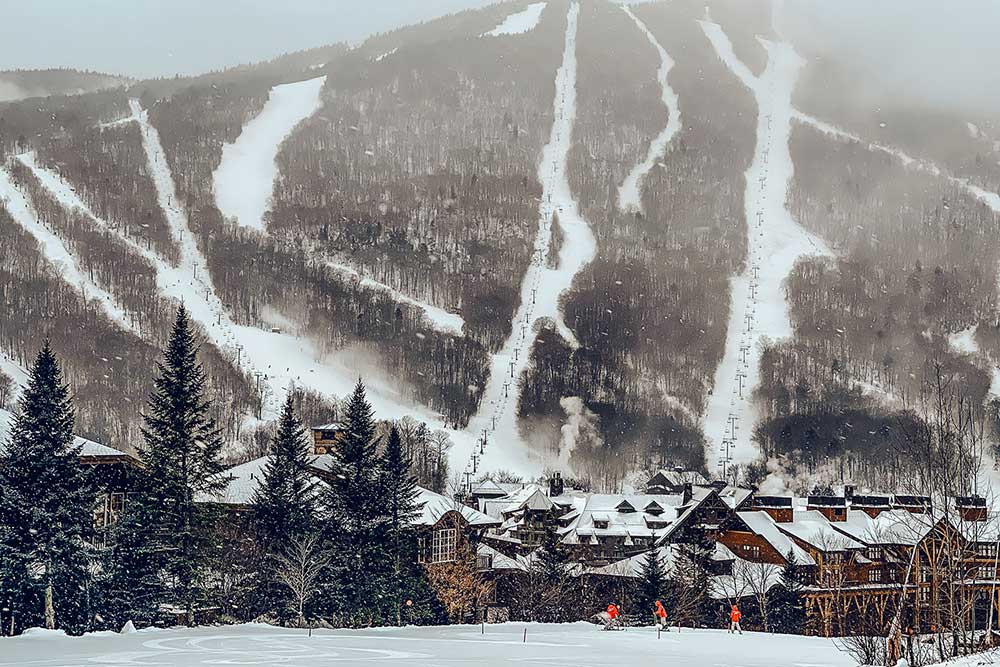 .
You Can Do More Than Just Ski
Skiing can be tough on your legs and physically exhausting after a couple days. So build some time in your itinerary to explore the local town!
Many mountains offer non-ski activities like ice skating, tubing, snow-showing and snowmobiling. Mix in ski and snowboard days with more relaxing days where you get a massage or relax in the hotel hot tub!
Some towns even have really unique activities.
In Big Sky, you can take a snowmobile ride to nearby Yellowstone National Park. In Vail, you can take a snowcat up the mountain to a 5 course dinner.
In Canada, you can go dog sledding or in Vermont, take a horse-drawn sleigh through the woods!
ADVERTISEMENT
---
---
And there you have it! My tips for ensuring you have the best time on your ski trip.
Shop Women's Ski Bibs
---

ADVERTISEMENT
---
---
Ski Wear Haul
SKI CLOTHING TRY-ON HAUL: do cute ski pants exist ?? | women's ski pants + bibs review
ADVERTISEMENT
---
---
ARE DESIGNER SKI PANTS WORTH $$$? | luxury ski pant try-on (bogner, cordova, holden, helly hansen)
I posted a couple try-on hauls of all the ski wear brands that I've tried. You can check them out on my Youtube channel here.
I also did a livestream on Amazon Live chatting all about dressing for the cold.
I talk about winter fashion essentials, ski gear and cute (but affordable) ski clothes that you can shop on Amazon!
Watch a recap of the video here. Make sure to follow my Amazon shop page to join future livestreams!
Ski Wear Haul
I posted a couple try-on hauls of all the ski wear brands that I've tried. You can check them out on my Youtube channel here.
ADVERTISEMENT
---
---
ADVERTISEMENT
---
---
ADVERTISEMENT
---
---
Read More: in our ski style series:
Ski Trip Packing Essentials
What to Wear Skiing: Packing List Must Have's
The Best Ski Pants for Women (Stylish & Functional)
I Found the CUTEST Women's Ski Pants (Video)
Are Designer Ski Pants Worth It? (Try-On Haul)
The Best Ski Sweaters for Apres-Ski 
Planning the Perfect Ski Trip
What to Know Before Skiing in Vermont for the First Time
Ski Trip Recaps + Mountain Guides
Lake Tahoe, California: Heavenly, Kirkwood & Northstar
Montana: Big Sky
Vermont: Stowe
Catskills, New York: Belleayre Mountain
Quebec, Canada: Mont Tremblant
+ More Ski Vlogs on Youtube
Follow me @Sher She Goes on