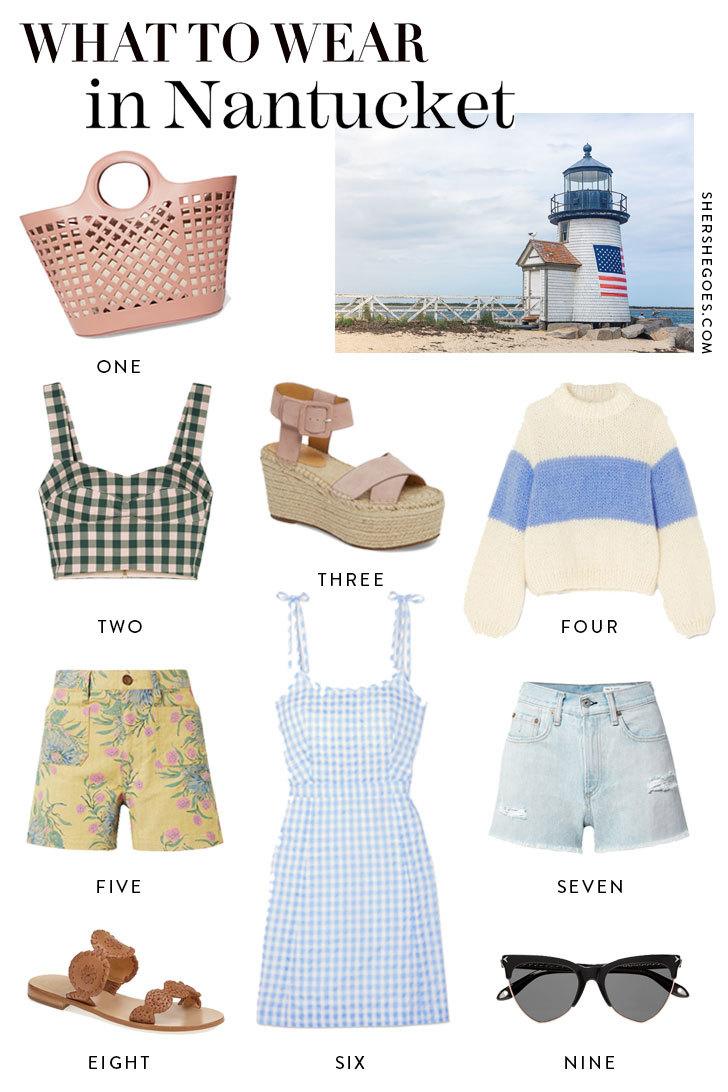 Nantucket Packing List
For a visit to the Grey Lady, think preppy but casual. Annual summer visitors keep it casual but classic in Nantucket: pearls, monograms and pulitzer, lilly pulitzer.
Here's a look at what I wore for our summer trip to Nantucket and what you should pack for a vacation to Cape Cod!
ADVERTISEMENT
Keep reading or save this article for later ⇟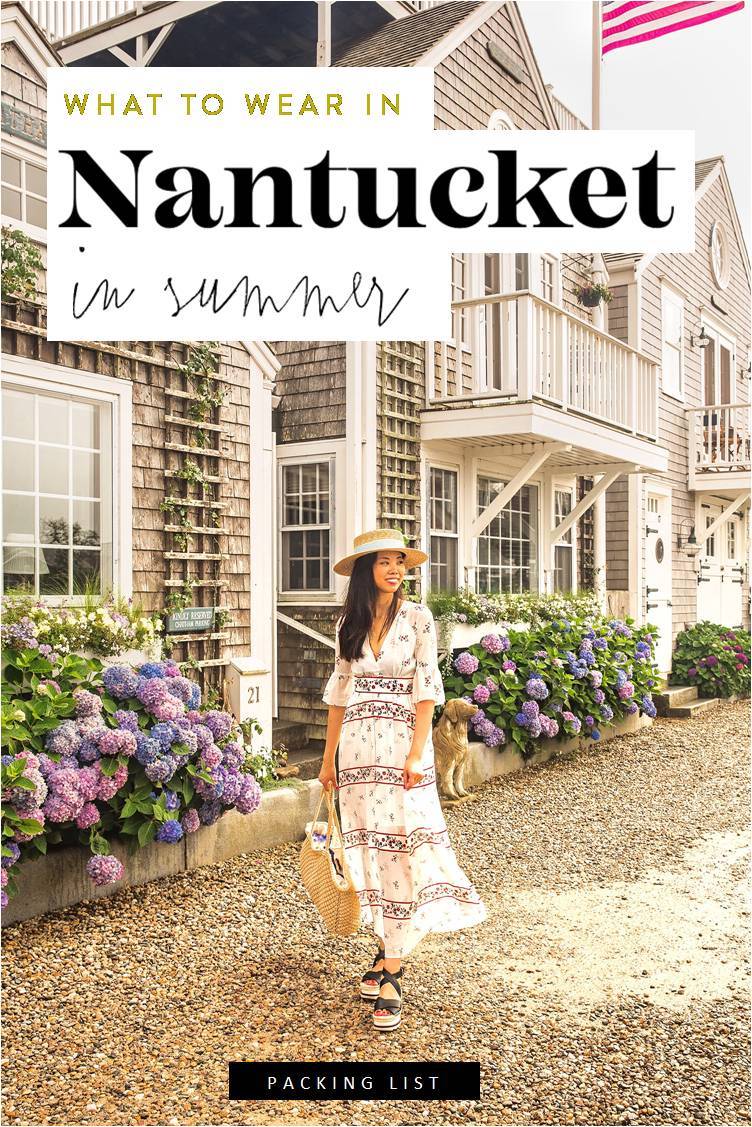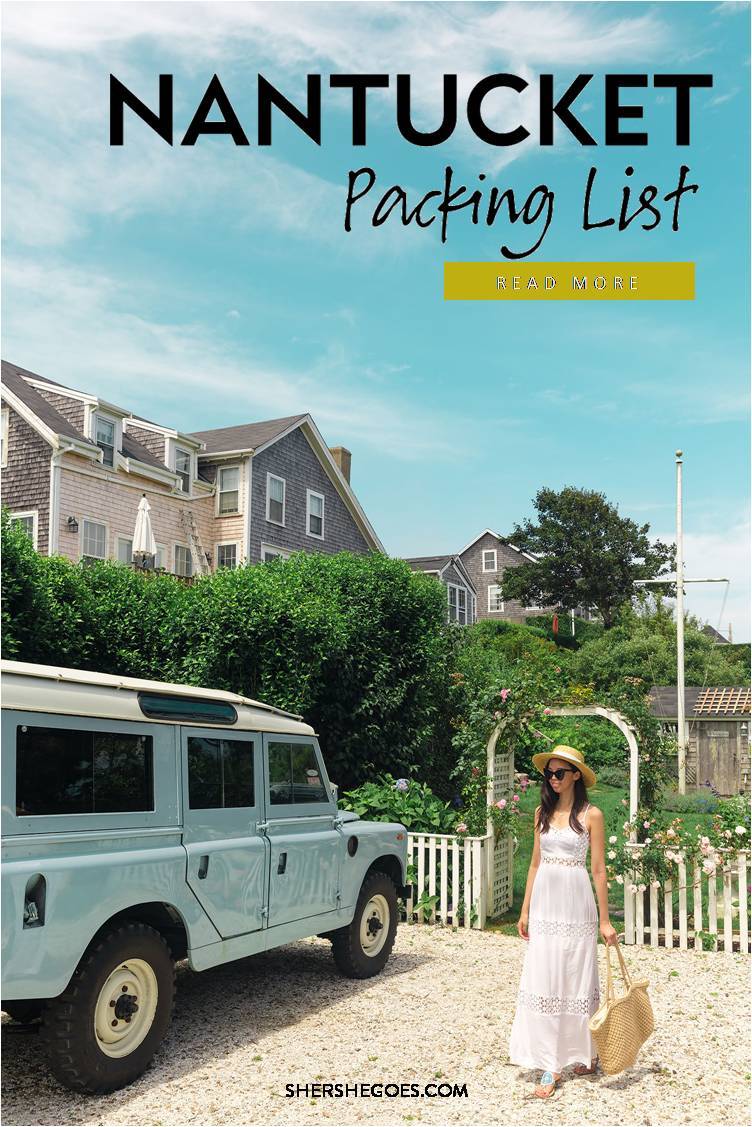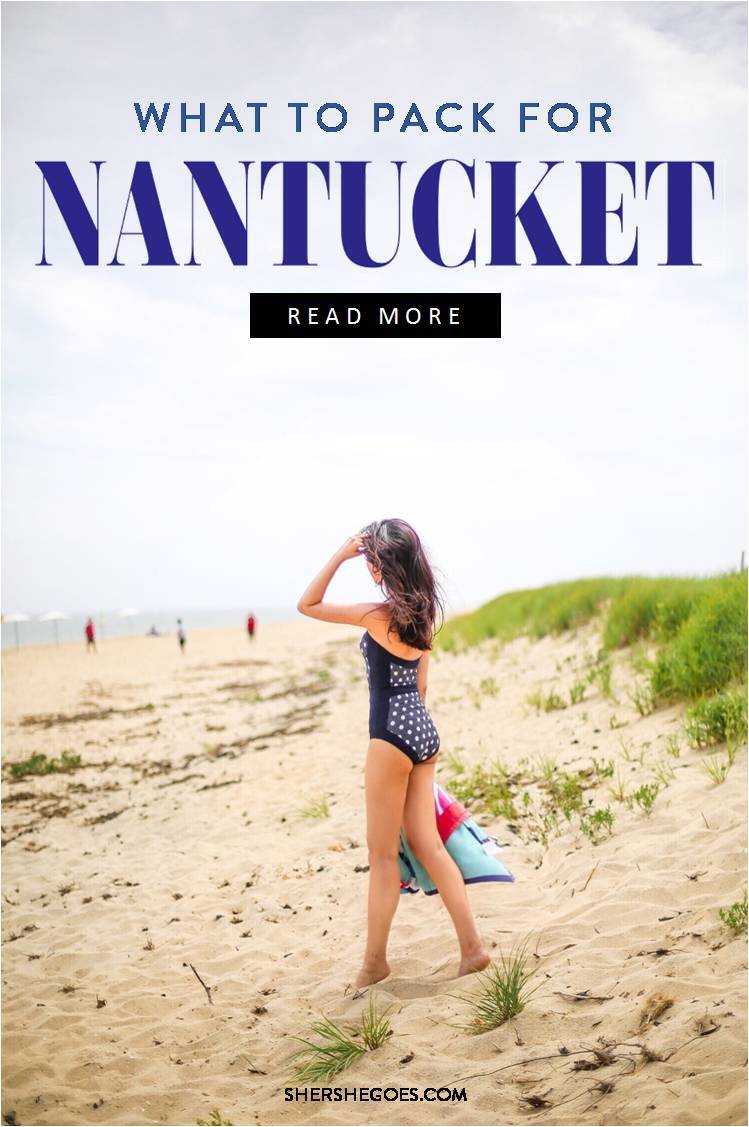 ADVERTISEMENT
---
---
What to Wear in Nantucket in Summer
1. Casual Clothing
…preferably monogrammed (ha).
While the rich certainly summer on Nantucket, you wouldn't know it based on the way people dress!
It's a very relaxed island, and most people sport conservative yet classic staples. Think breezy linen dresses, crisp white jeans, casual sandals and cable knit sweaters.
The vibe was much less 'scene-y' than say, the Hamptons.
Save the "extra loud" prints for back home and the skimpy bodycon dresses for NYC – the fun going out bar here is more dive bar than upscale nightclub. For the guys, don't forget a pair of faded Nantucket Reds!
ADVERTISEMENT
---
---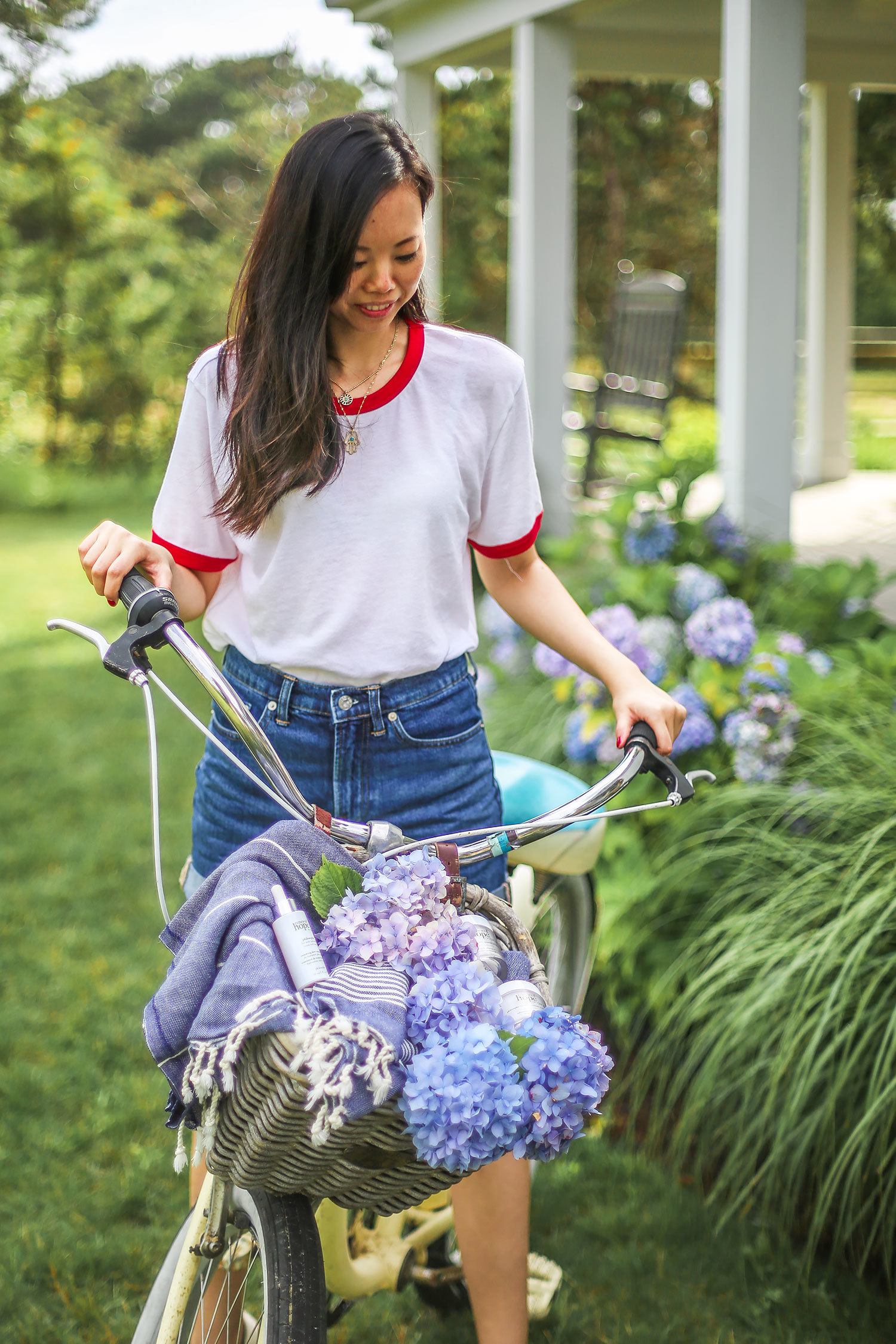 I packed a couple of denim shorts, soft cotton tees and white dresses.
1 / Colorblocked Tee
Super super soft – I live in these t-shirts all summer long! Also great for home lounge wear. Available on:
Nordstrom, Zappos & Alternative Apparel
2 / High waisted Shorts
Comfortable, relaxed fit but still super flattering. You can cuff the bottoms or leave the raw hem exposed
ADVERTISEMENT
---
---
2. Rain Gear
In the evenings and early mornings, the fog can lay quite a chill, so pack a couple Patagonia pullovers and cozy sweatshirts to layer up.
If you forget to pack warm layers, don't worry – there are tons of souvenir shops on the island selling cute 'NANTUCKET' sweatshirts and tees. If you visit Cisco brewery, they also sell some really soft, cute gear!
It can also rain quite frequently, so bring along a good rain jacket and umbrella.
Read more:
10 Fun Things to Do in Nantucket
ADVERTISEMENT
---
---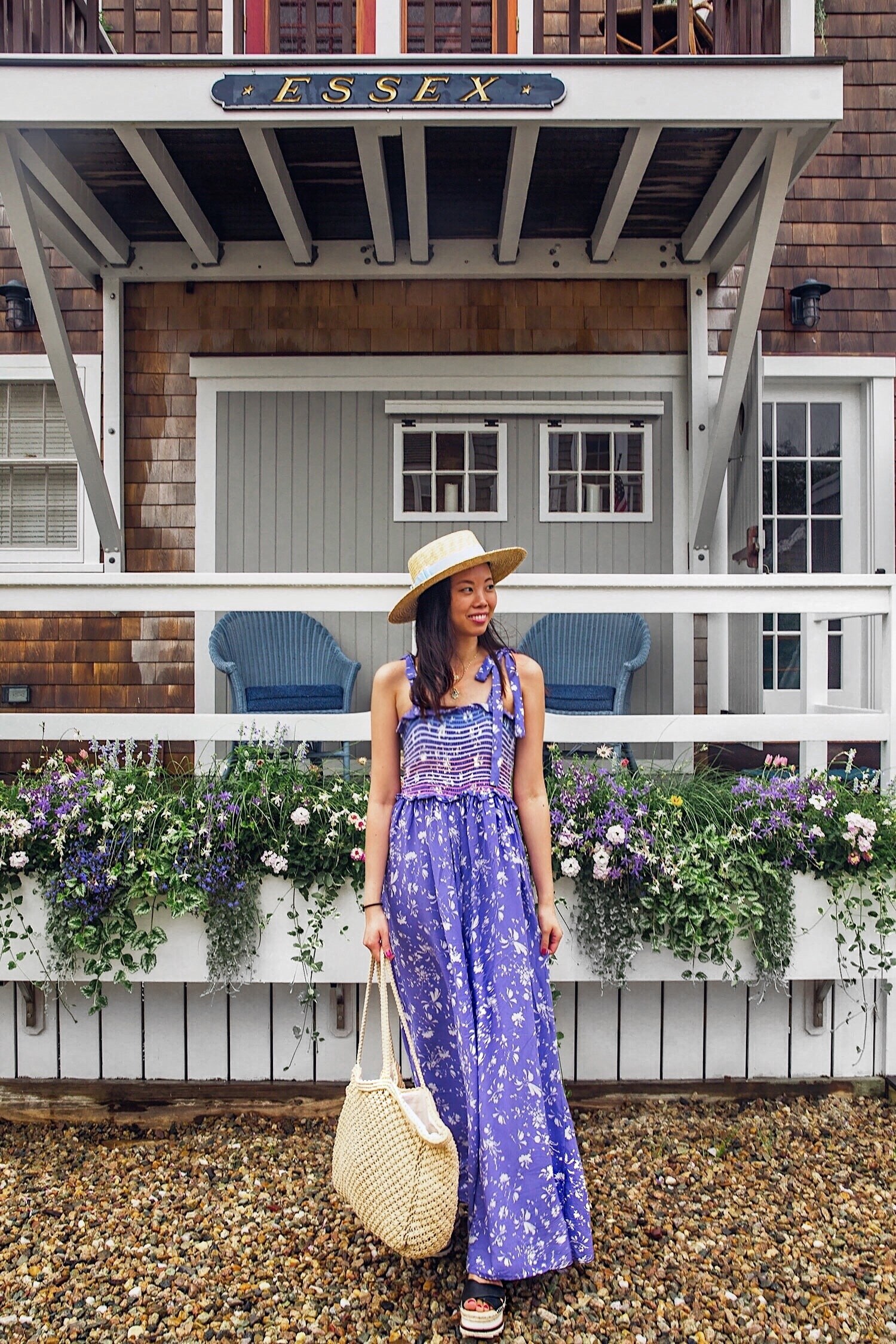 1 / Purple Jumpsuit
I've been obsessed with this breezy, comfy jumpsuit since I bought it for my trip to Mexico. It comes in 2 other colors if purple isn't your thing, and looks like a dress but has super wide legs!
The top straps are entirely adjustable, it has pockets, I mean I could really go on.. :) Do yourself a favor and pick it up! Available at:
Nordstrom, Shopbop, Macy's, Revolve
2 / Marc Fisher Platform Sandals
These are adorably chunky, and super comfortable – I can walk all day in them! They're the perfect shoe for maxi dresses or slightly too long pants that could do with a slight hem :)
ADVERTISEMENT
---
---
3. Accessories: Pearls, Stripes & Pastels
Pack a classic pearl necklace and anything striped that you own. As a close alternative, polka dots will do!
Nantucket is very laid back, so a pretty white boho dress or printed Lily shift will be just fine for even the ritziest dinner spot.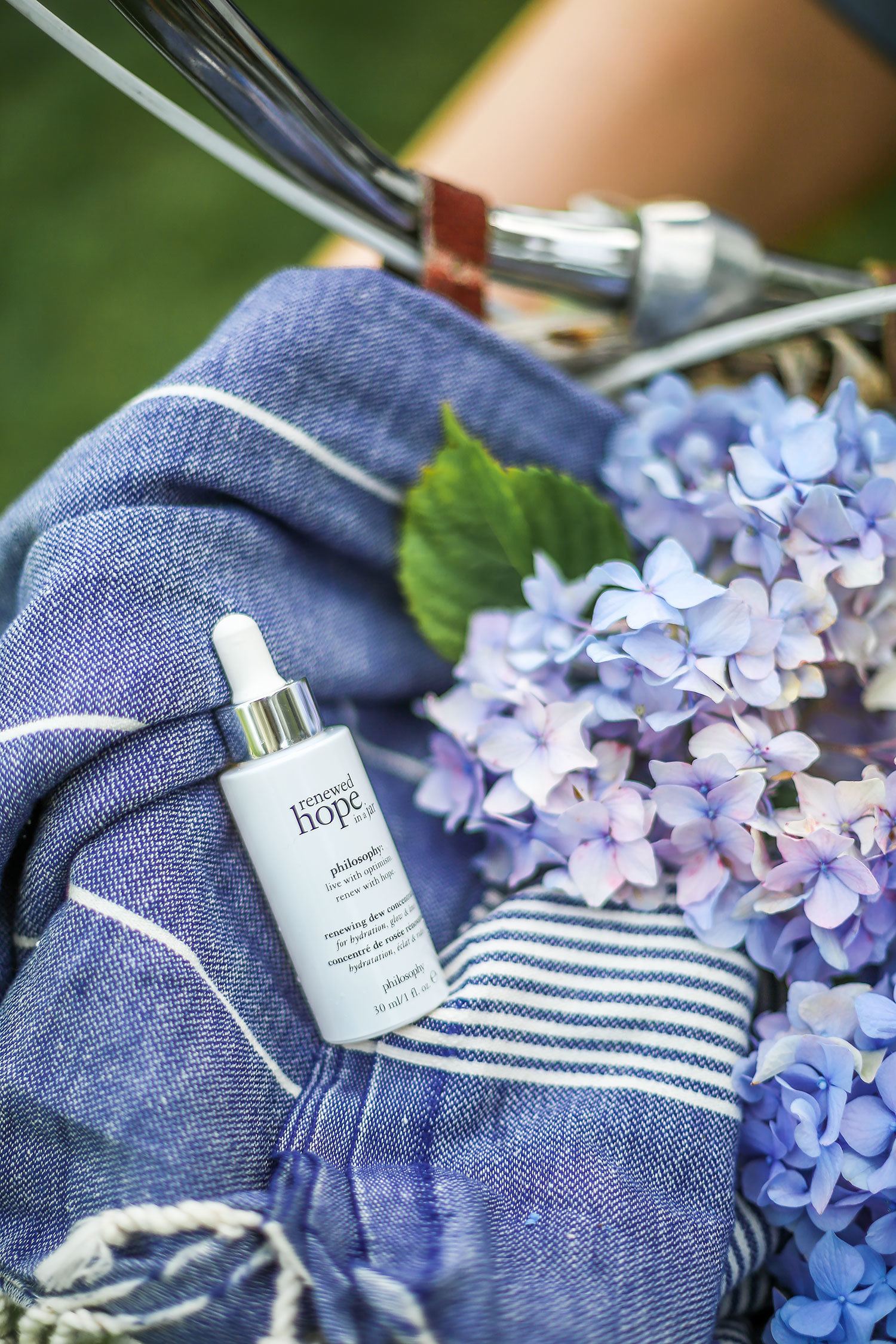 Philosophy Hope in A Jar Serum
I used the extremely hydrating Hope in A Jar line all throughout July and loved it. It's the perfect moisturizing formula: non greasy, lightweight and they offer day creams both with and without SPF.
I try to always keep up with my skin care routine, especially when I know I'll be out in the sun or dehydrated!
ADVERTISEMENT
---
---
4. Comfortable Sandals & Boat Shoes
Downtown Nantucket has quaint cobblestone streets so pack comfortable canvas slip on shoes or comfortable leather sandals.
If you know you want to go sailing, boat shoes are a great thing to pack as well! For dressier dinners, think cute summer wedges over heels.
I wore converse shoes for riding around the neighborhood. White sneakers go with everything!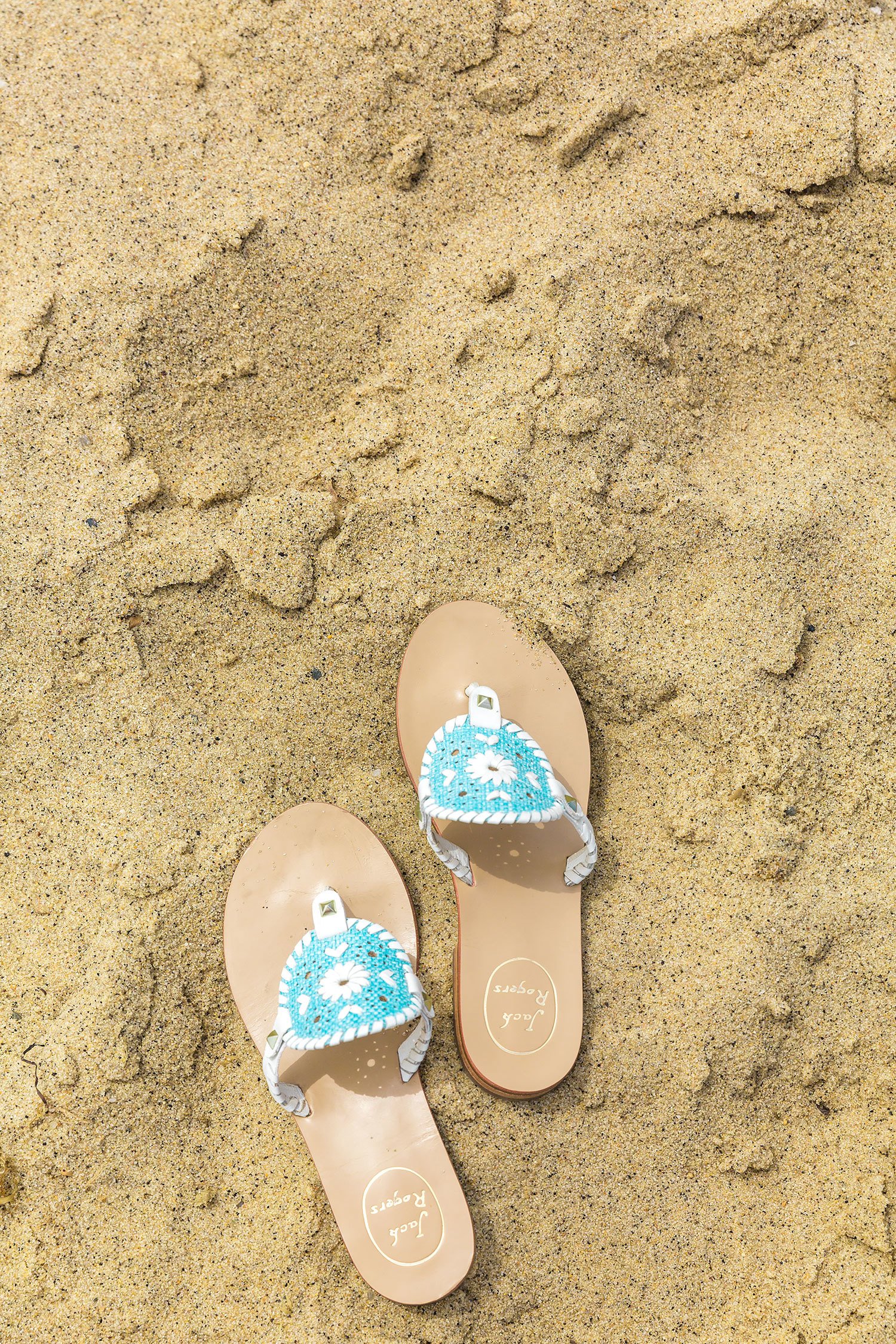 Shoe brands like
will have you blending in perfectly!
ADVERTISEMENT
---
---
5. Swimsuit
Don't forget your swimsuits and cover ups!
I also recommend a large beach tote / day bag. From running around town to sightseeing, this woven bag was perfect! Also pack sunscreen and a wide-brimmed hat to protect your skin too!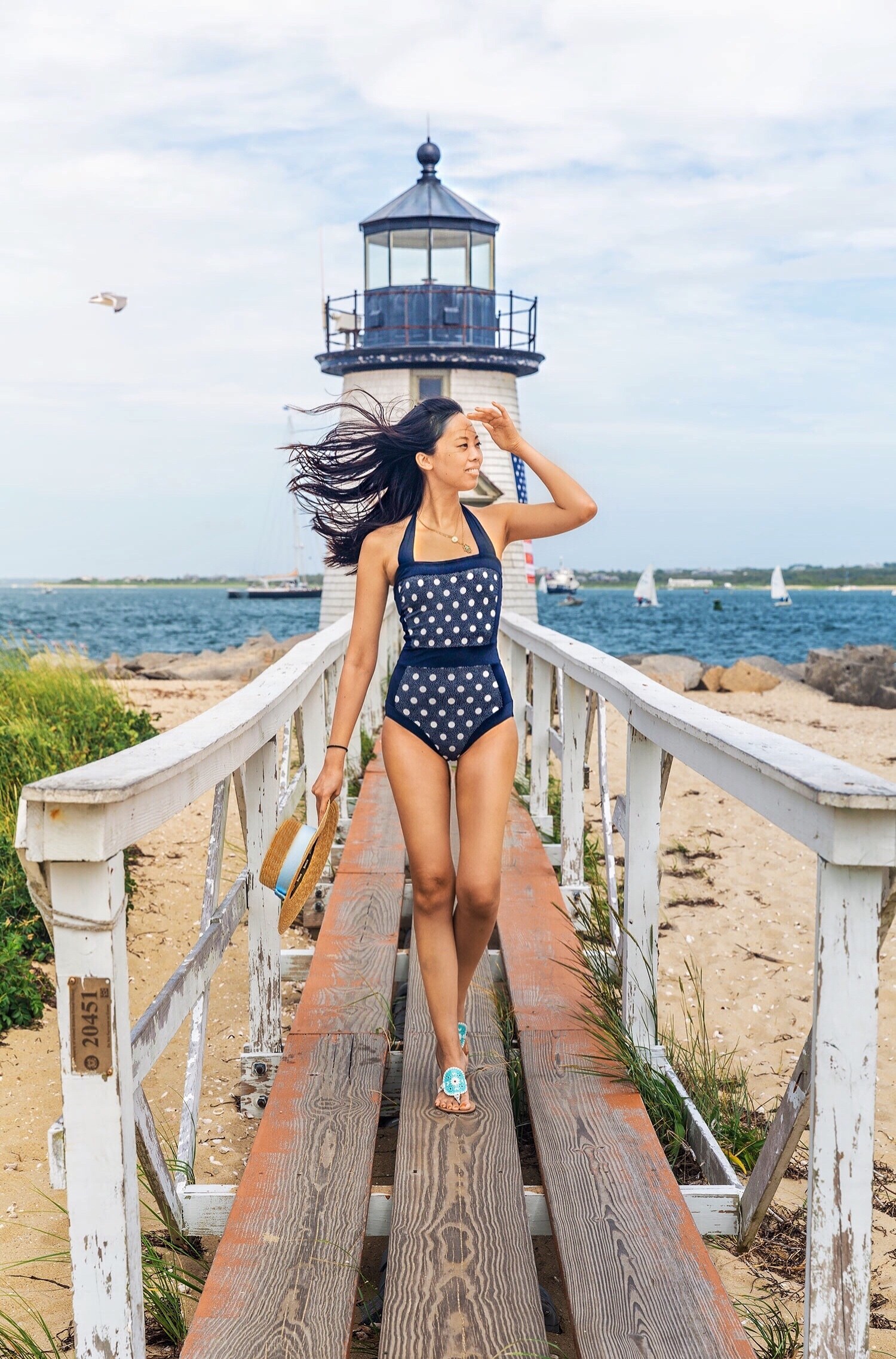 ADVERTISEMENT
---
---
6. Cash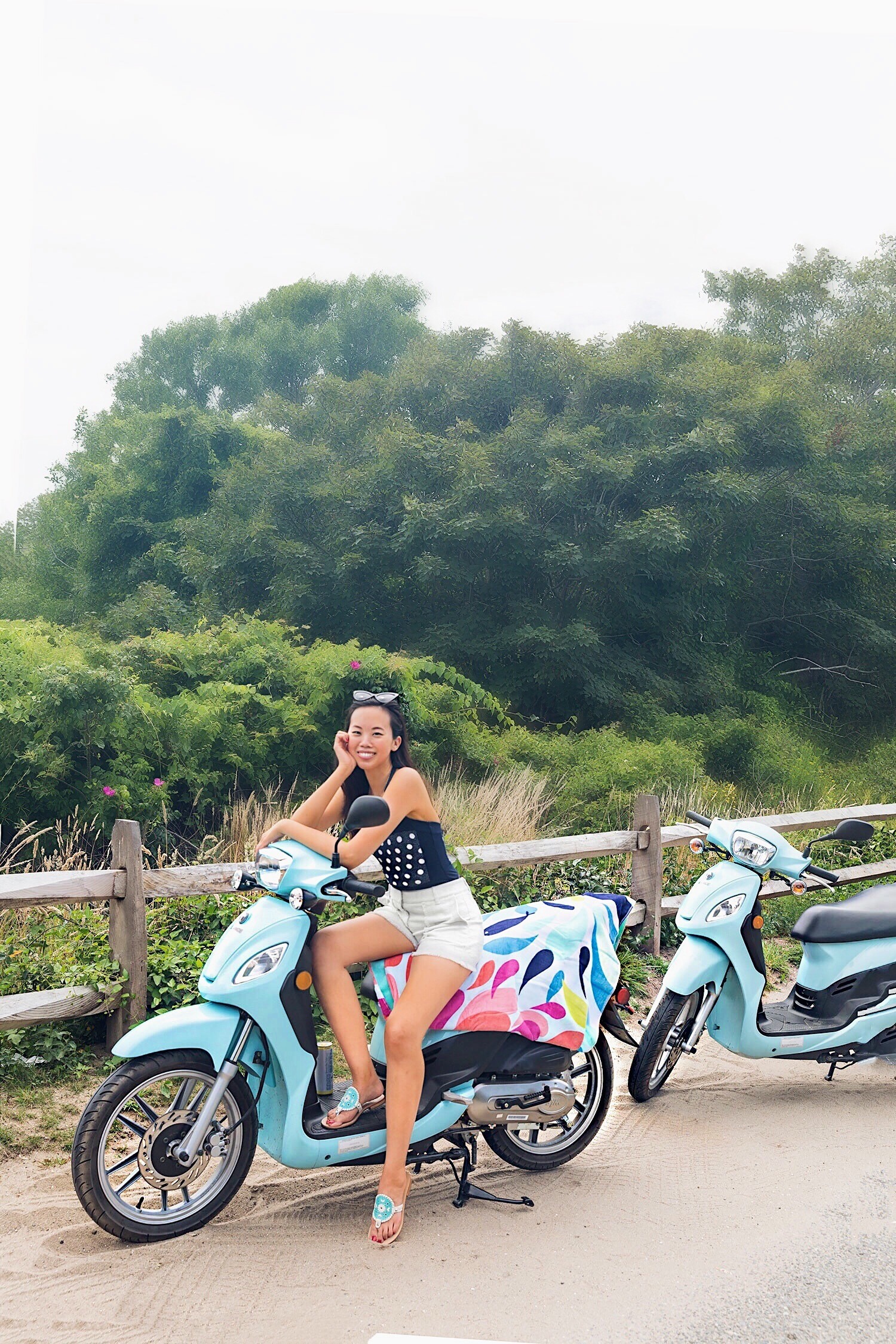 Finally, one thing that really surprised me about Nantucket was that almost everything is cash only.
For example, all the taxis we took were cash only and rates are per person. Most restaurants are cash only as well. I've never been to such an upscale vacation spot in the US with such an emphasis on cash!
Fill up at the atm before you get on the island. There are limited banks and with prices as high as they are, extra ATM fees are not fun.
Nantucket isn't friendly on the wallet, so budget ~$200 per day, at the least, to feel comfortable.
Read more:
Where to Stay in Nantucket
ADVERTISEMENT
---
---
And that's it! Let me know if I'm forgetting anything you need on Nantucket.
Shop Outfits for Nantucket

ADVERTISEMENT
---
---
Visiting Nantucket – Trip Planning Checklist
Flight Deals | Jet Blue offers nonstop flights from NYC to Nantucket. The flights are short and affordable, but occasionally fog disrupts routes. Alternatively, you can fly to Boston and then take the ferry. Set a fare alert here to be notified of discounts. September is a great time to visit to avoid the crowds!
Accommodation | Nantucket is a pricey weekend escape, so book hotels in advance to save, or check here for last minute deals. Not sure whether to pick a boutique or b&b or even what part of town to stay in? Read my Nantucket accommodation guide.
If you have a group of people, rent a house on Airbnb. It's not only more charming and affordable, it's more fun! 
Insurance | Lastly, be sure to visit Nantucket with travel insurance. Whether you get injured and need to be hospitalized, or your phone gets stolen, travel insurance will help when you need it most.
Nantucket's reputation as the Grey Lady means flights are delayed often. In our case, our flight was canceled and then our rebooked flights were delayed for 12 hours! Get a quote for your trip here.
You Might Also Enjoy:
Nantucket Vacation Planning Articles
The First Timer's Guide to Visiting Nantucket
Don't Miss: 10 Best Things to Do in Nantucket
The Ultimate Guide Where to Stay in Nantucket
The Best Nantucket Airbnbs: Oceanfront, Cottages, Group Rentals & More
3 Days in Nantucket: A Classic Long Weekend Itinerary
What to Wear in Nantucket Hint: Think Preppy
Boston Vacation Planning Articles
Boston Travel Guide: 7 Wicked Cool Things to Do in Boston
Where to Stay in Boston: A Neighborhood & Accommodation Guide
Where to Eat in Boston
4 Incredible Restaurants You Must Try in Boston
Don't Miss Boston's Breweries: Our Day at Harpoon
Greater New England
Sailing in Maine: Our Windjammer Experience
Follow me @Sher She Goes on