Beautiful Photos of Cuba
Cuba is a photographer's dream.
Grand dilapidated European architecture, charming locals engaging in daily life at all hours of the day, vintage cars from the 50's that look brand new – every moment was just waiting to be captured on camera.
Get inspired to visit with these colorful images of Cuba!
Or pin this article to save it for later ⇟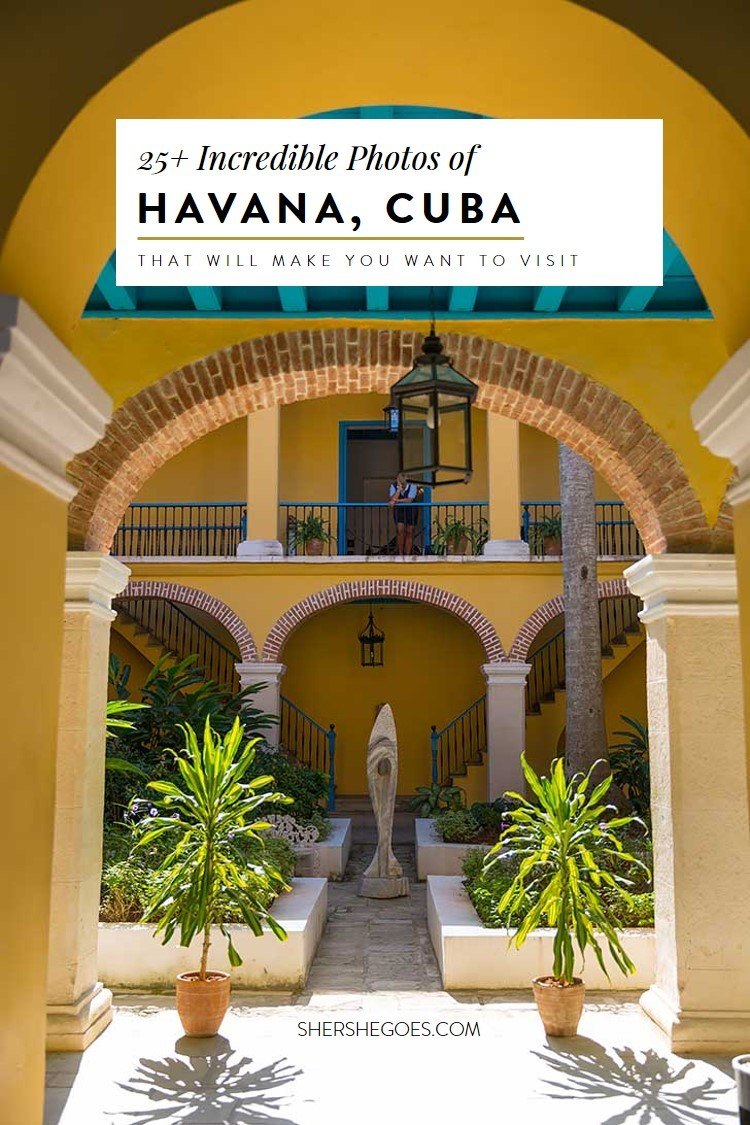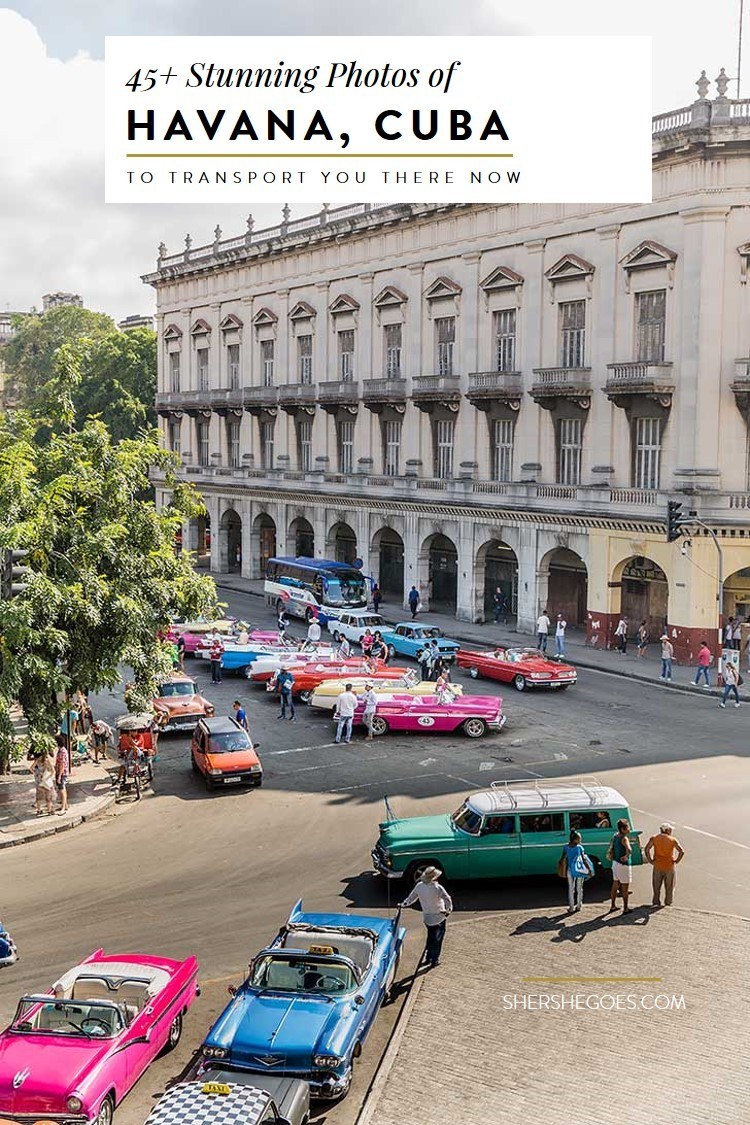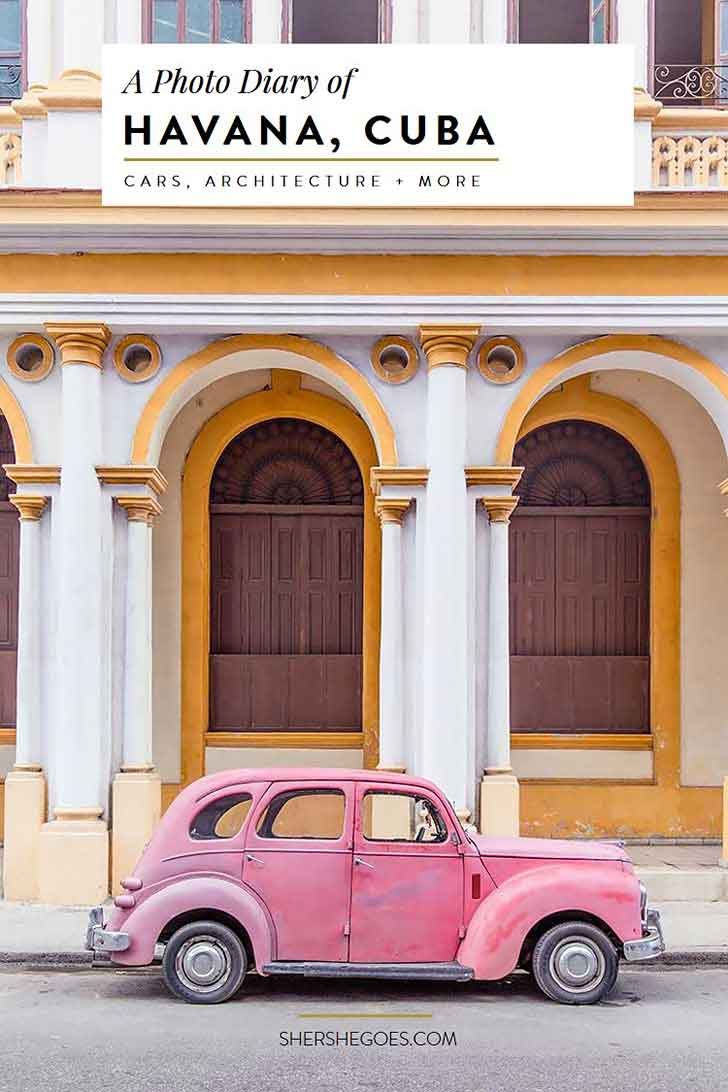 ---
---
Best Places to Visit in Cuba
I visited 3 cities in Cuba: Havana, Cienfuegos and Santiago de Cuba.
All three are easily visited in a one week trip but the majority of the photos featured in this article were taken in Havana.
Cienfuegos and Santiago are much smaller coastal towns, and lacked the classic Spanish architecture that Havana boasts (you know, the tall skinny double doors and beautiful archways).
We started by sailing all the way east to Santiago and gradually sailed westward to end our journey at Havana, saving the best city for last.
Read more:
Where You Should Stay in Havana
---
---
Havana's Beautiful Architecture
The first thing you notice about Cuba's capital city, Havana, is the architecture and light.
Havana boasts grand apartments that reminded me of Madrid and is bathed in this magical hazy light, in a way that photographs beautifully – like Paris. The disrepair and peeling paint emphasize the effects of the American embargo but don't take away from the magnificence of these classical buildings.
I love photographing interiors and architecture, so here are a couple shots of beautiful doors and archways around Casco Viejo de la Habana, the Old Town center.
Read more:
How to Travel to Cuba as an American
---
---
Havana's 4 Main Squares
Fancy A Virtual Walking Tour?
Havana has four main squares that are easily walked in a loop:
Plaza Vieja (old square)
Plaza de la Catedral
Plaza de San Francisco
Plaza de Armas.
Think 30 minutes direct walking end to end, but if you're anything like me, you'll linger in each square to walk through the archways, pop into a street side cafe for a cafe au lait or stop by the magnificent Cathedral to listen in on Sunday mass.
Read more:
20 Incredible Things to Do in Havana
---
---
Where to Eat in Cuba
After all that walking, I'm sure you've worked up an appetite. Should you dine at a casa particular or a regular restaurant (which are all government run)?
It's up to you but know that the most typical meal served to tourists is a 3 course set menu where the main course options are beef or lobster. I found most restaurants served tough meat, but I also didn't expect it to be fresh given how expensive it is to raise cattle.
Read more:
The Best Restaurants I Found in Havana
---
---
I don't say that to discourage you from eating out in Cuba. I think locals quite appreciate extra income and some of the restaurant buildings are spectacular. Here are some interior design shots of the beautiful restaurants.
Apparently all cattle on the island of Cuba belongs to the government and so it's quite expensive – hence why it appears on menus of tourists restaurants!
Read more:
25 Things I Learned About Life in Cuba
---
---
Cuba's Vintage Cars
Cuba is widely known for its vintage cars and you'll find the largest selection and most pristine vintage models in Havana. I snapped cars parked standing still, cars available for rent and cars barreling down the street and still can't get enough of the 'classic car' shot!
Read more:
What to Pack for Cuba
---
---
Renting a Vintage Car in Cuba
Take a Ride Down the Malecón and zip around the main historical and cultural sights. You can rent a car by the hour (anywhere from $35 – 50 USD) or for the day.
Don't book in advance – I recommend renting on the spot when you see a car color or model that you like. The fancier the car, the more in demand and pricier it will be.
---
---
Definitely ride along the Malecón, the long highway through the beach which then loops through National Theater and political buildings.
Havana can be seen from the passenger seat in one large loop. Don't forget to stop for some cultural visits!
In particular, I loved seeing Revolution Square, the Capital building, National Theater and Museum of the Revolution.
---
---
Havana's Famous Sights
There are some can't miss sights in Havana that you should visit.
My favorite was the Gran Teatro de La Habana! Check out the beautiful arched balconies which overlook Havana's streets and the attention to detail.
Make sure to both go up the staircase and around to the back to check out the theater. Today the Grand Theatre is home to Cuba's National Ballet group. The day I went, the museum was actually closed for renovations but (somehow) the guards let in our tour group.
I believe it's fully up and running now, with ballet shows that you can purchase tickets to!
---
---
The Museum of the Revolution
Another can't miss?
The Museum of the Revolution.
The name alone drew me to visit but I had the hardest time trying to find the actual entrance. I was relying on Google Maps on my phone and it kept pointing out a general area which looked like a glass structure surrounded by vintage tanks and standing army guards.
It seemed intimidating to say the least and I wandered in circles until I finally found the proper entrance on a completely different street!
I managed to enter just 30 minutes before close and quickly snapped some photos. How pretty are the ballrooms? Many are under restoration and I just know they'll be stunning when complete.
---
---
Other Famous Cuba Sights
Take one last look at this colorful, beautiful city before heading home. Other fun things to do in Cuba:
party the night away at the Buena Vista social club
take in a baseball game
day trip to Ernest Hemingway's house
If you fancy more photos, you can check out a couple Instagram only shots under #shershegoes_cuba (and hit follow if you aren't already!)
---
Are you planning to visit Cuba?
Visiting Cuba – Travel Checklist
Flights | Traveling to Cuba is unpredictable, given the political relations between the U.S. and Cuba. When I visited in the end of 2016, President Obama had relaxed restrictions and as a result, airlines and cruises actively promoted travel to Cuba so long as your journey fell under the approved visitation categories. Today's climate is slightly more dicey, but you can check here for flight deals.
Insurance | Be sure to visit Cuba with travel insurance. Whether your flight is cancelled, your camera & electronics get stolen or you get and need to be hospitalized, travel insurance will help when you need it most. Get a quote online for your trip here.
Tours | If you want the same quality of accommodation and food you're used to at home, I would suggest visiting with a cruise company. Cruises offer gourmet, all you can eat meals, western style accommodation with hot showers and air conditioning, plus often there is the option to get wifi on board. Browse cruises to Cuba here.
If you're up for an adventure and more easy-going, give casa particulars a go. You can book a tour with Intrepid on a People to People visa. They organize everything, explore Havana, Vinales, Cienfuegos and Trinidad while supporting local businesses – check out the itinerary and more info here.
You Might Also Enjoy:
Cuba Vacation Planning Articles
How Americans Can Travel to Cuba FAQ + Everything You Need to Know
20 Fun Things to Do in Cuba Cigars, Cars & More!
What to Pack for Cuba to Beat the Heat
Havana, Cuba
40 Breathtaking Photos of Cuba for Trip Inspiration
25 Things I Learned About Life in Cuba
Where to Stay in Havana: A Guide to Accommodation Types
Where to Eat in Havana: Some Restaurant Suggestions!
Follow Sher She Goes on