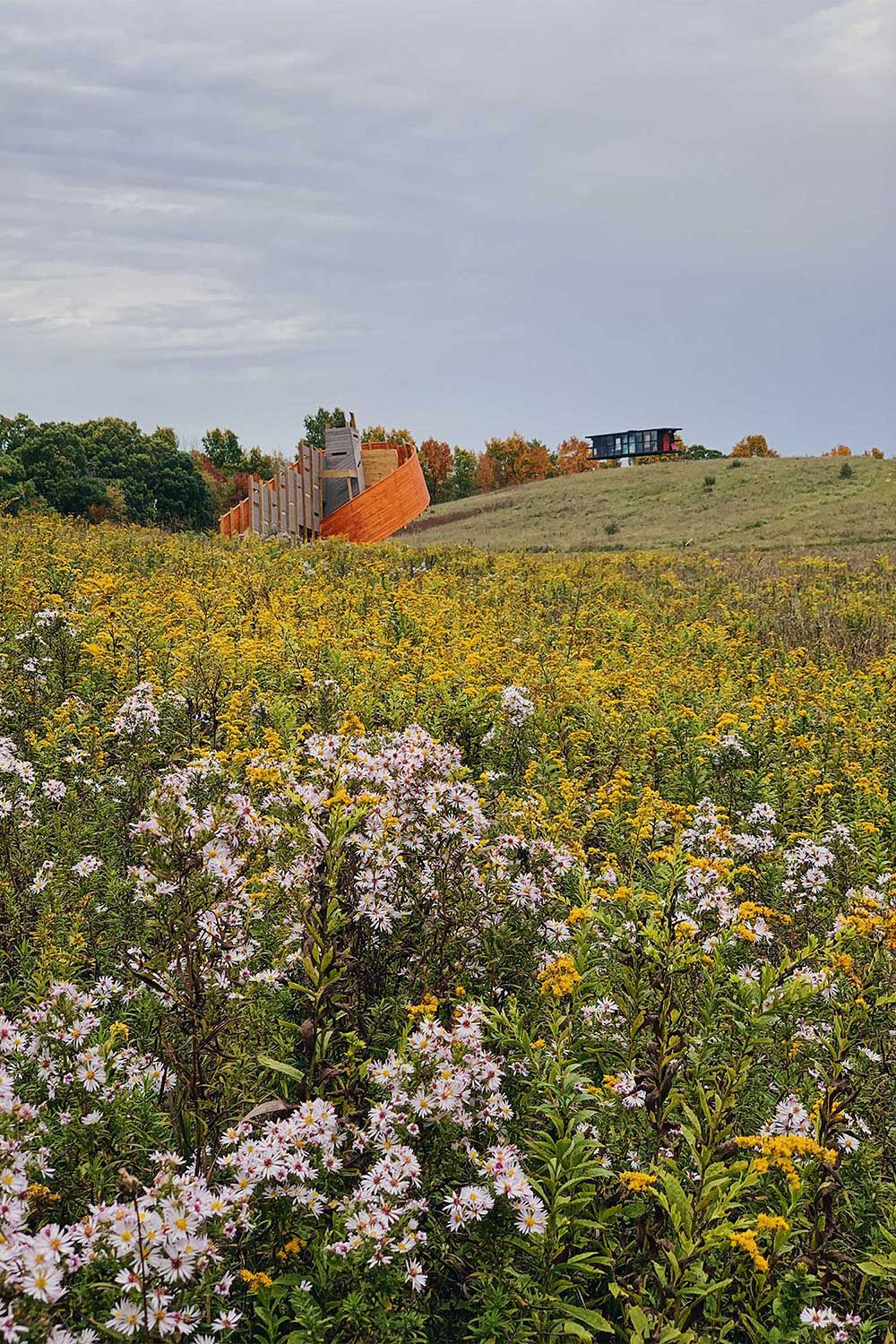 Art Omi
On our extra day in Hudson, we decided to get some fresh air and started looking for day trips nearby. When I stumbled on Art Omi, I knew we had to visit!
Art Omi is an outdoor sculpture park in Ghent, New York, where contemporary art is artfully scattered around 120 acres of rolling green hills.
Since we went in fall, the leaves were a pretty blend of yellows, oranges and reds, and it felt like the perfect escape from the city.
Here's everything you need to know about visiting Art Omi!
ADVERTISEMENT
Keep reading, or pin this post to read later ⇟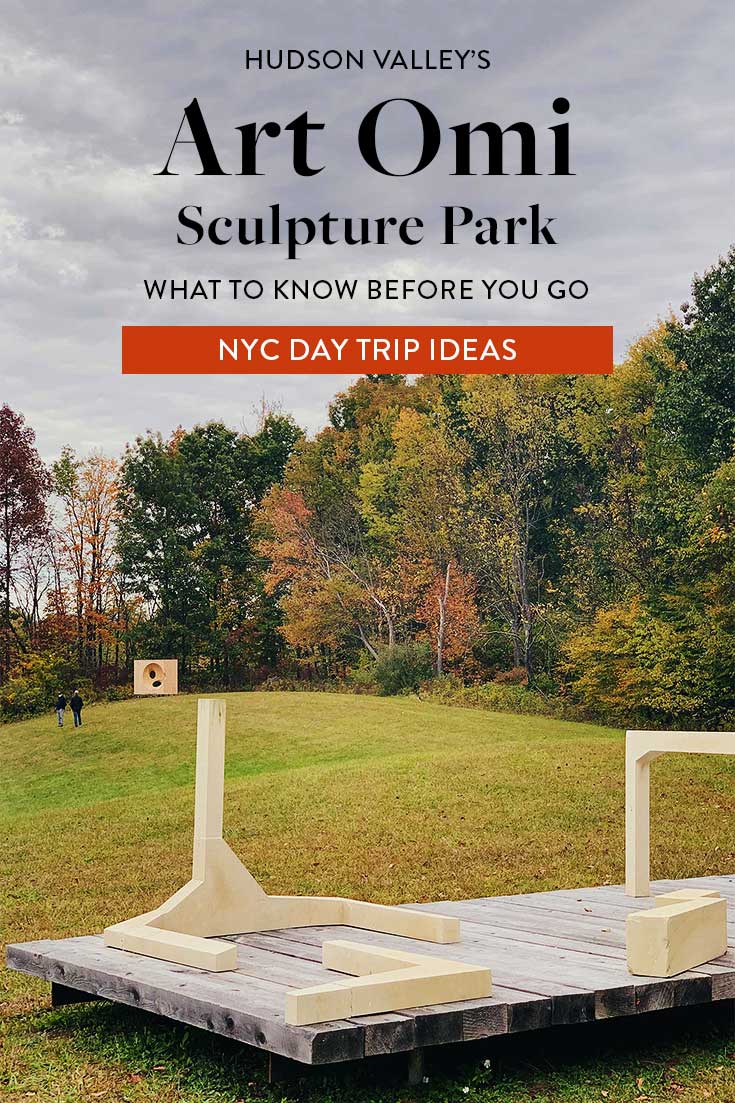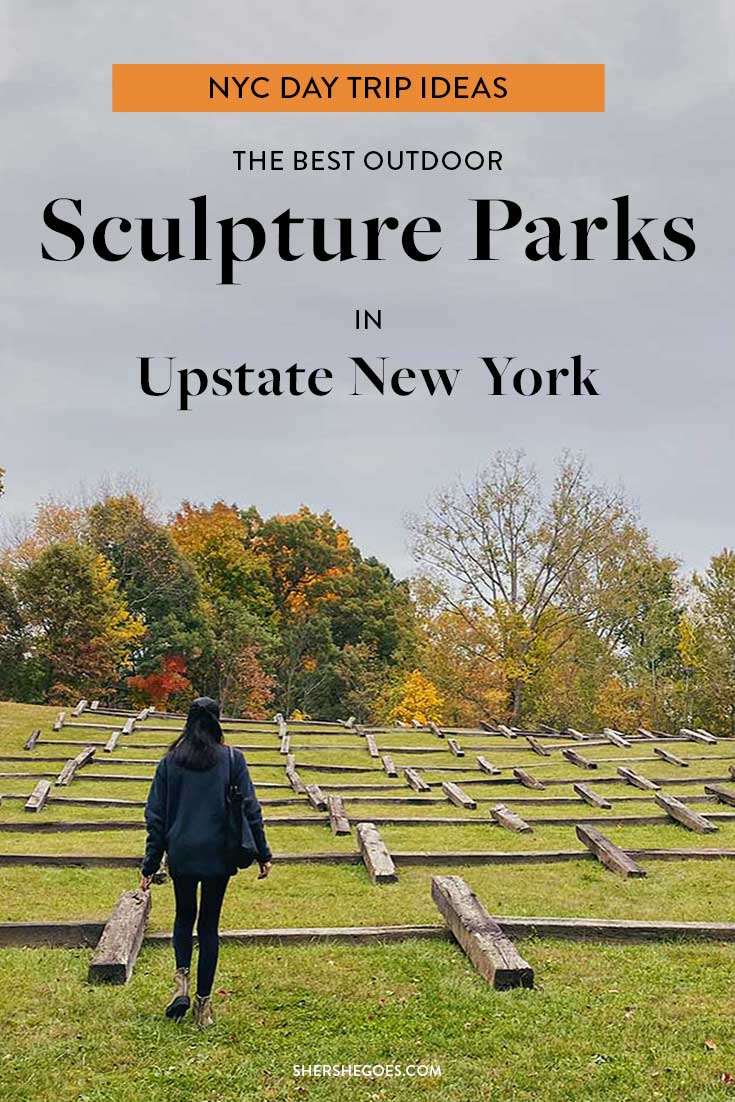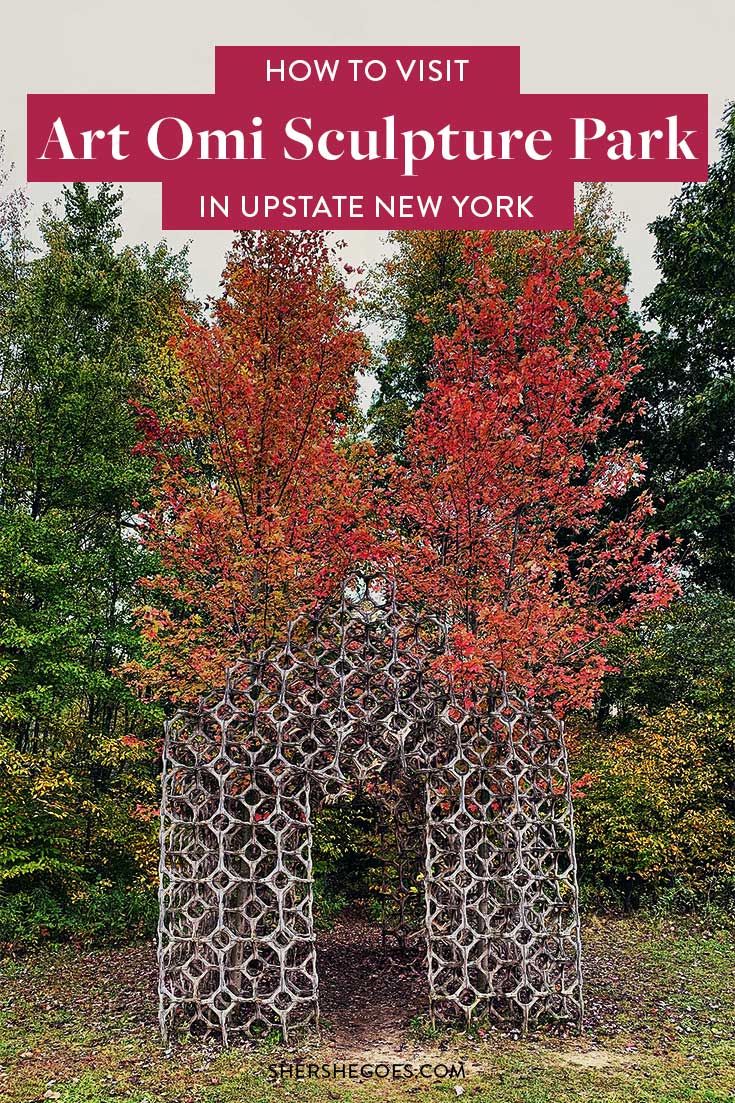 ADVERTISEMENT
---
---
A Hudson NY Day Trip
The Hudson Valley has a number of well known outdoor sculpture parks and world class art museums, like Dia: Beacon, Storm King Art Center and Opus 40.
Art Omi is like the small ignored cousin – it doesn't get half the recognition of the more famous spots!
Maybe it's a local secret?
Storm King is the most famous outdoor sculpture park and features a hit list of famous Modern Artists. In comparison, Omi stocks less well known and more diverse artists and architects.
Read more:
The Best Things to Do in Hudson
ADVERTISEMENT
---
---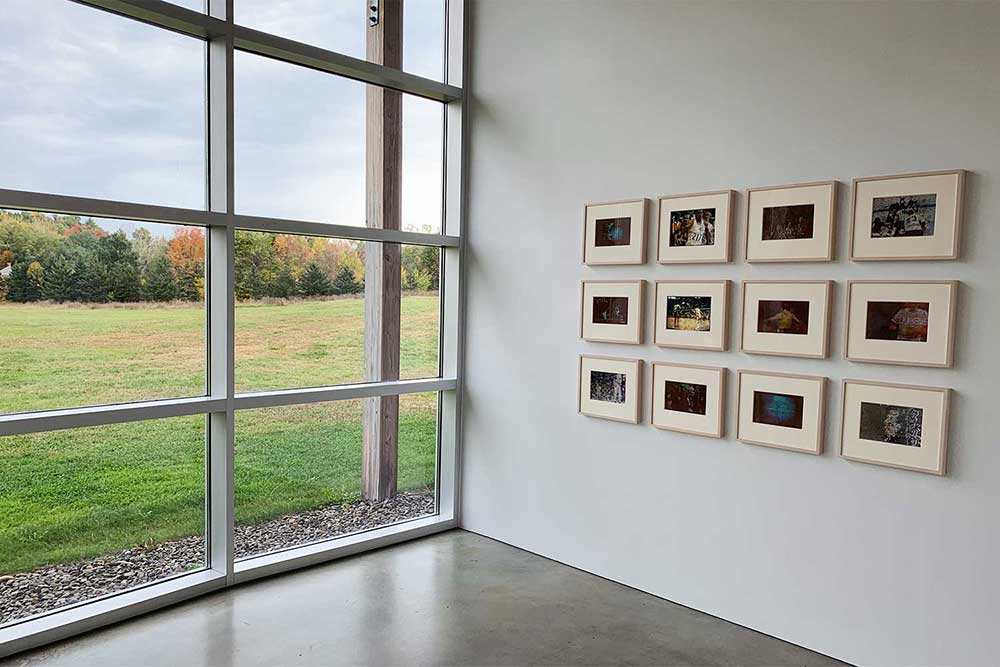 Sculpture and Architecture Park
The art rotates and new pieces are always added in, but currently Art Omi has over 50 sculptures to explore. Each of the large scale works have their own (very socially distant) spot in the valley.
What we really liked was how the forest, rolling hills and wetlands camouflage the sculptures so that as you walk through the park, you see some obvious sculptures but others feel like you've "stumbled" on some kind of hidden piece.
On the day we visited, we saw tons of people enjoying the art and fresh air (I guess it is one of the few activities left to us in a pandemic), and the nice thing is you can even bring dogs! And kids too.
Read more:
Where to Stay in Hudson: Hotel Guide
ADVERTISEMENT
---
---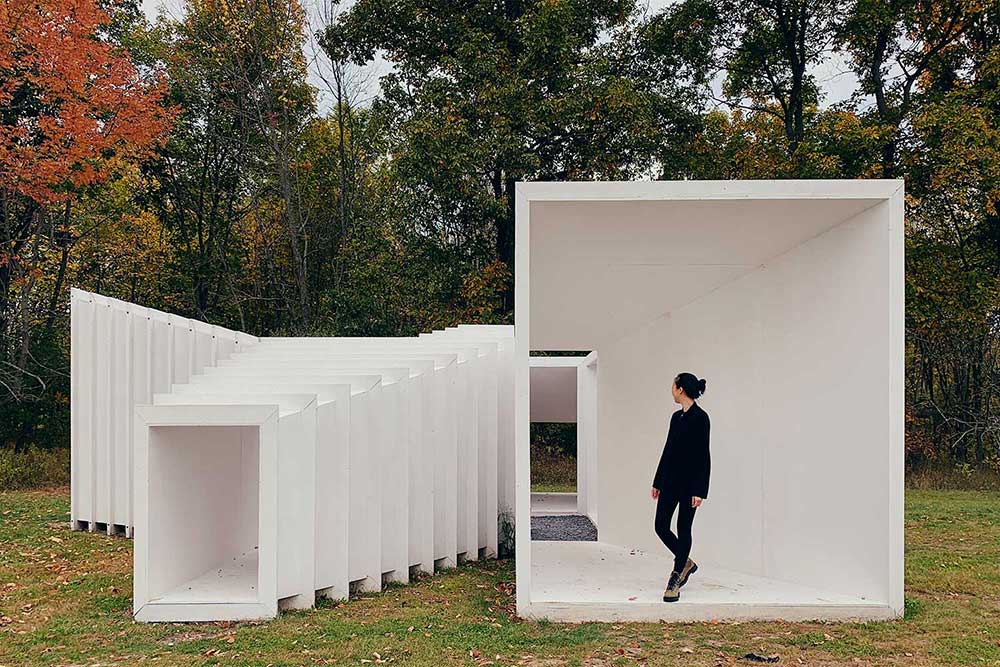 While you can't climb the art work, some of the sculptures are interactive – with ramps, tunnels and benches that offer breathtaking views of the Hudson Valley landscape.
Plus the art work rotates in and out, so even if one person in your group has previously visited, there's always more to see!
The park is open to the public from dawn to dusk every day and admission is free. In 2020, it seems like they've added a ton of new pieces in July and August, so it's the perfect time to go!
Read more:
The Cutest Small Towns in New York State
ADVERTISEMENT
---
---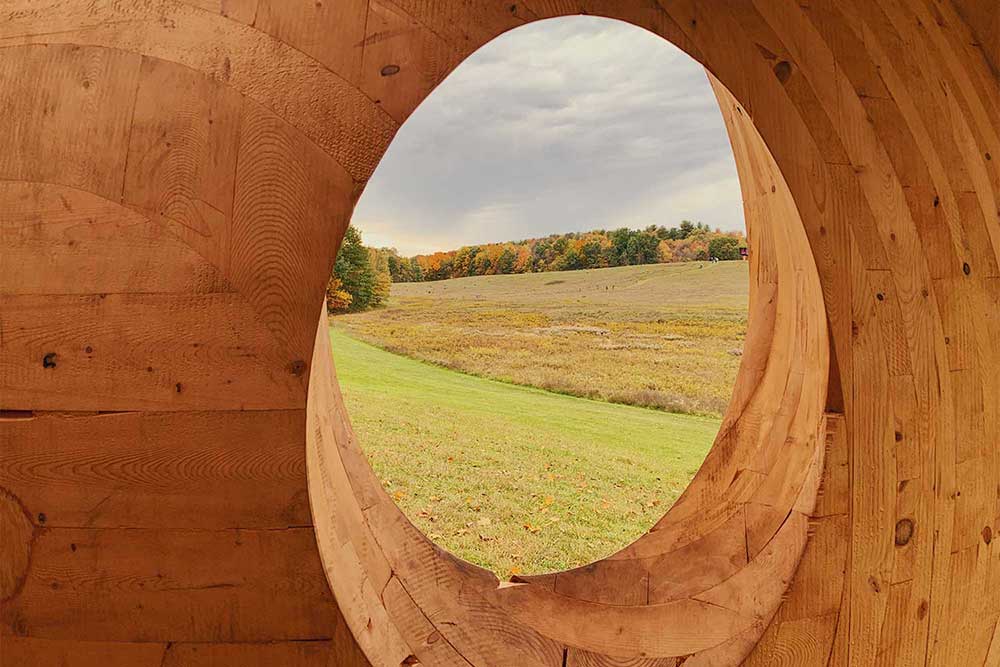 Getting There
From the town of Hudson, it was about a 15 minute drive. The best time to visit is in the fall, when the leaves change!
Note: I recommend renting a car to visit the Hudson Valley if you want to take day trips.
We originally planned to visit both Art Omi and then a local orchard for pumpkin picking and apple cider donuts, but found it almost impossible to get a cab. We had to call it a day after waiting 40 minutes at Art Omi for a car!
Hertz and Sixt have affordable car rentals all over New York. I've used both in the past, just depending on car availability and price. I also recommend checking out Auto Europe, which aggregates rental rates from all the car rental companies.
Check rental car rates for Hudson Valley here.
ADVERTISEMENT
---
---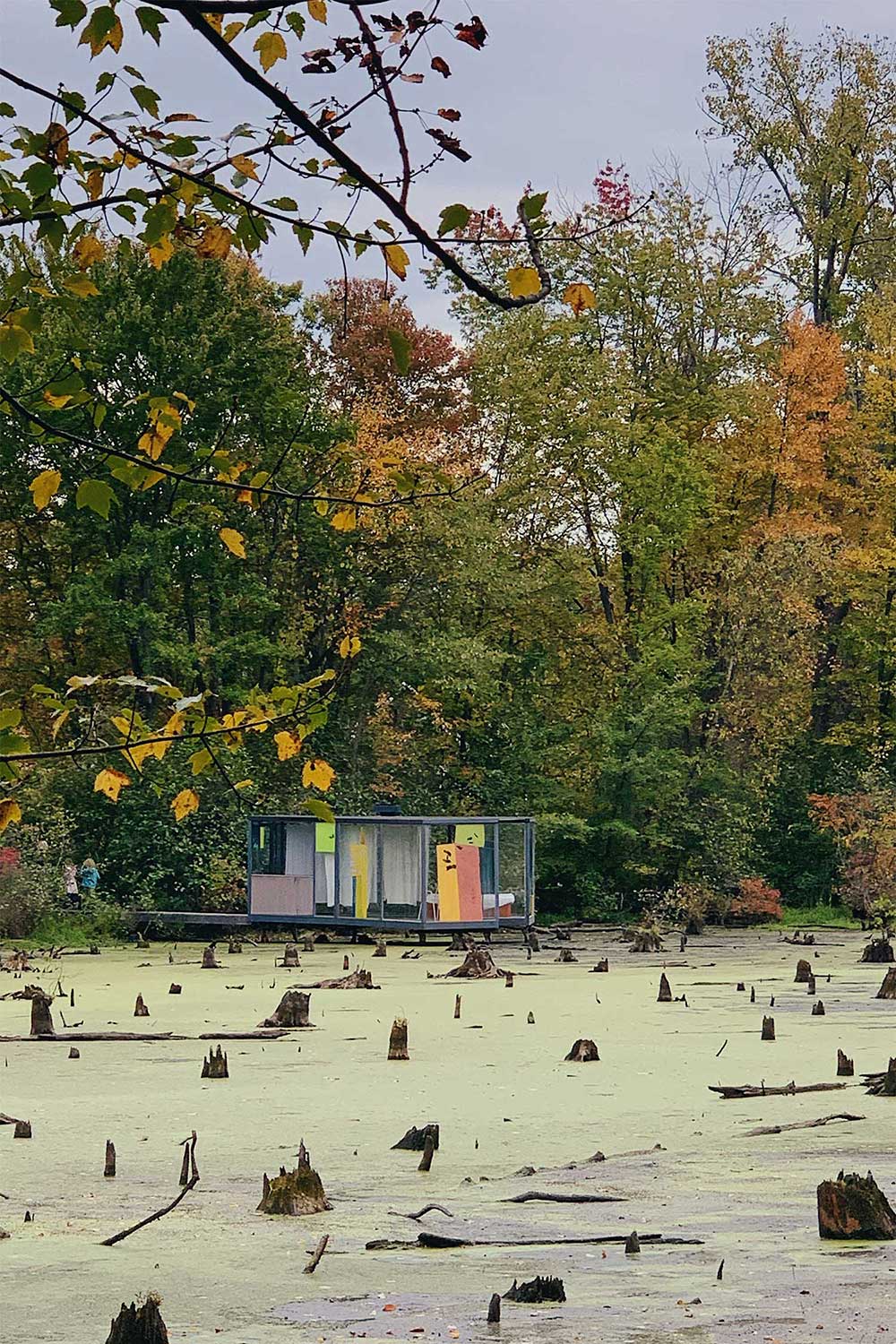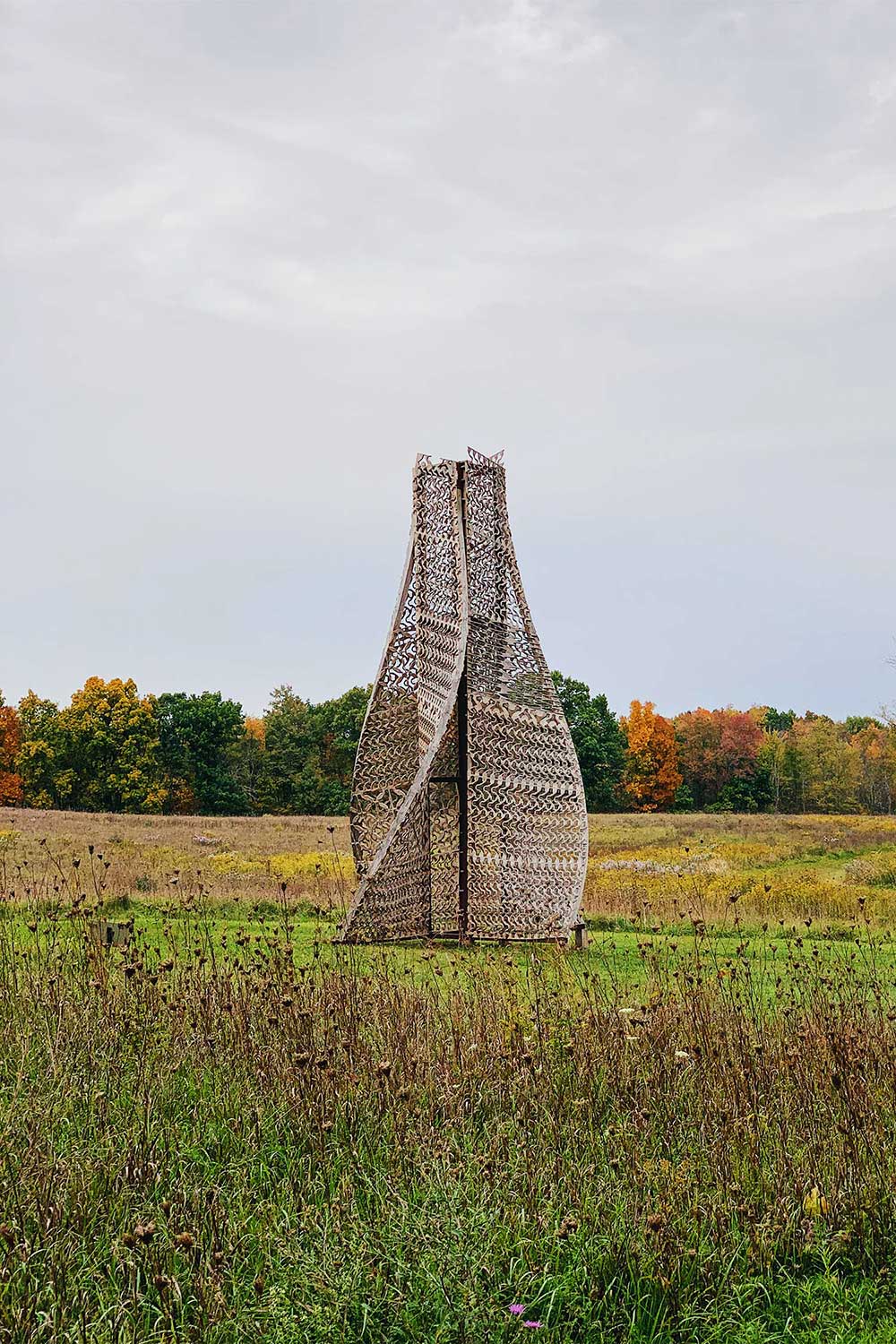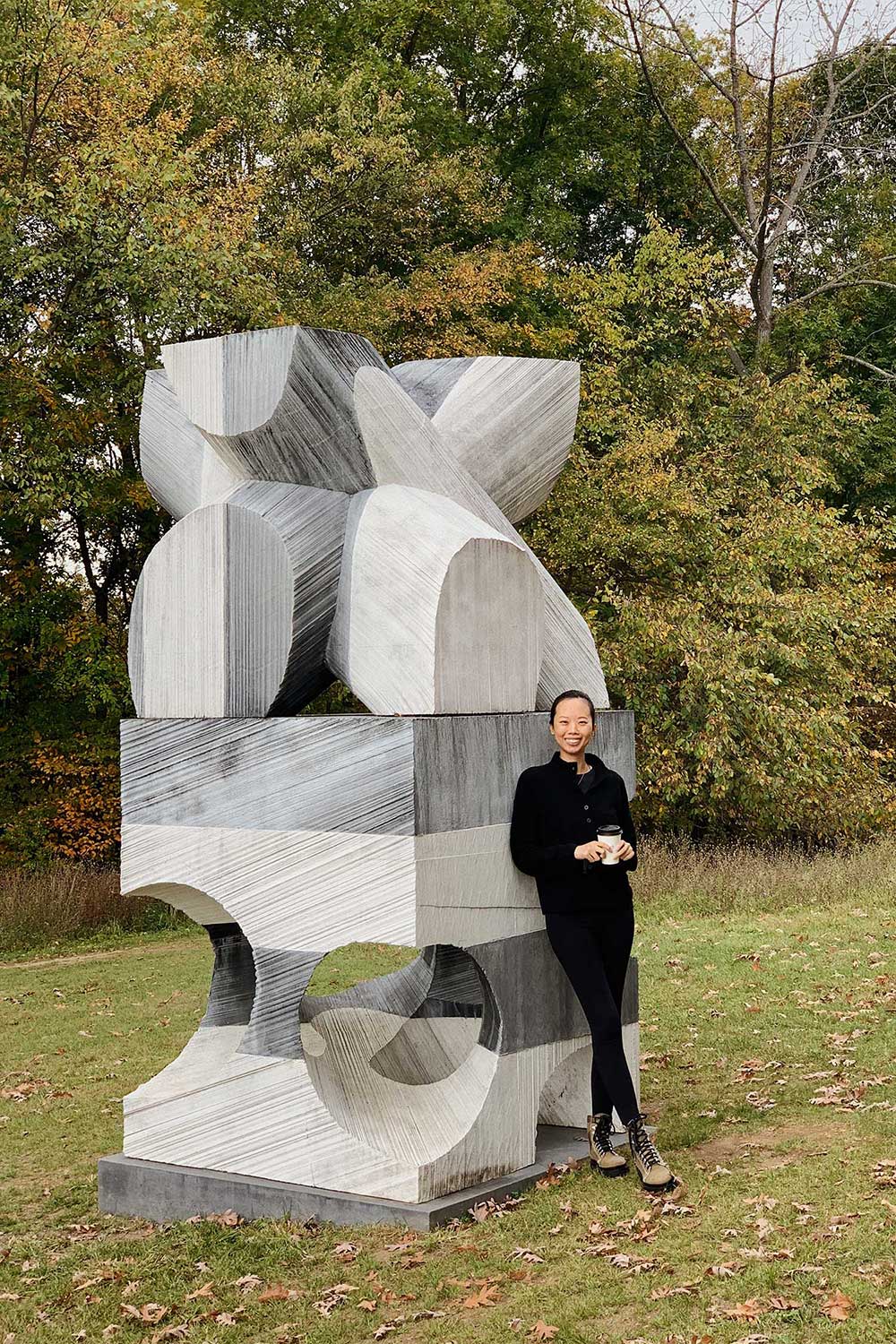 Free Admission
Art Omi Sculpture & Architecture Park is open every day from dawn to dusk, but the welcome center is open from 9am to 5pm.
Admission is free!
Read more:
The Best Airbnbs & Vacation Rentals in the Hudson Valley
ADVERTISEMENT
---
---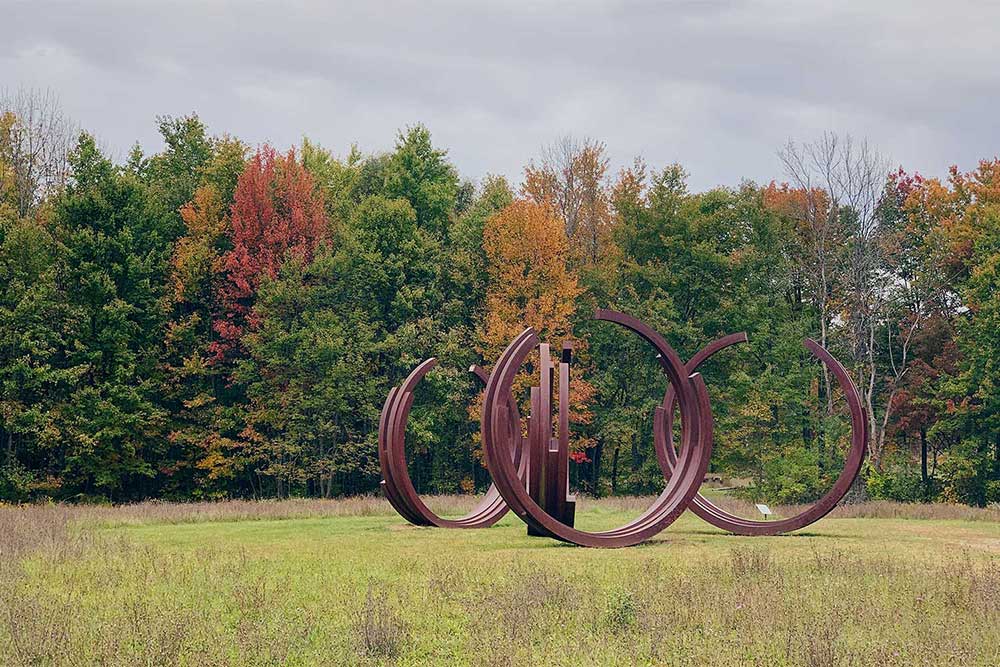 Open Year Round
Note: due to COVID, the bathrooms in the Visitors Center are closed off. Instead, they've added portable toilets by the parking lot.
How Long to Visit
I'd plan about 2 hours to visit the sculptures in the entire park, more time if you like to walk leisurely and enjoy each sculpture.
The grounds are a mix of forest, open fields, wetlands and hills so it's surprisingly large! There's plenty of maps at the Benenson Center if you want to make sure you see everything.
Read more:
The Best Airbnbs & Vacation Rentals in the New Paltz
ADVERTISEMENT
---
---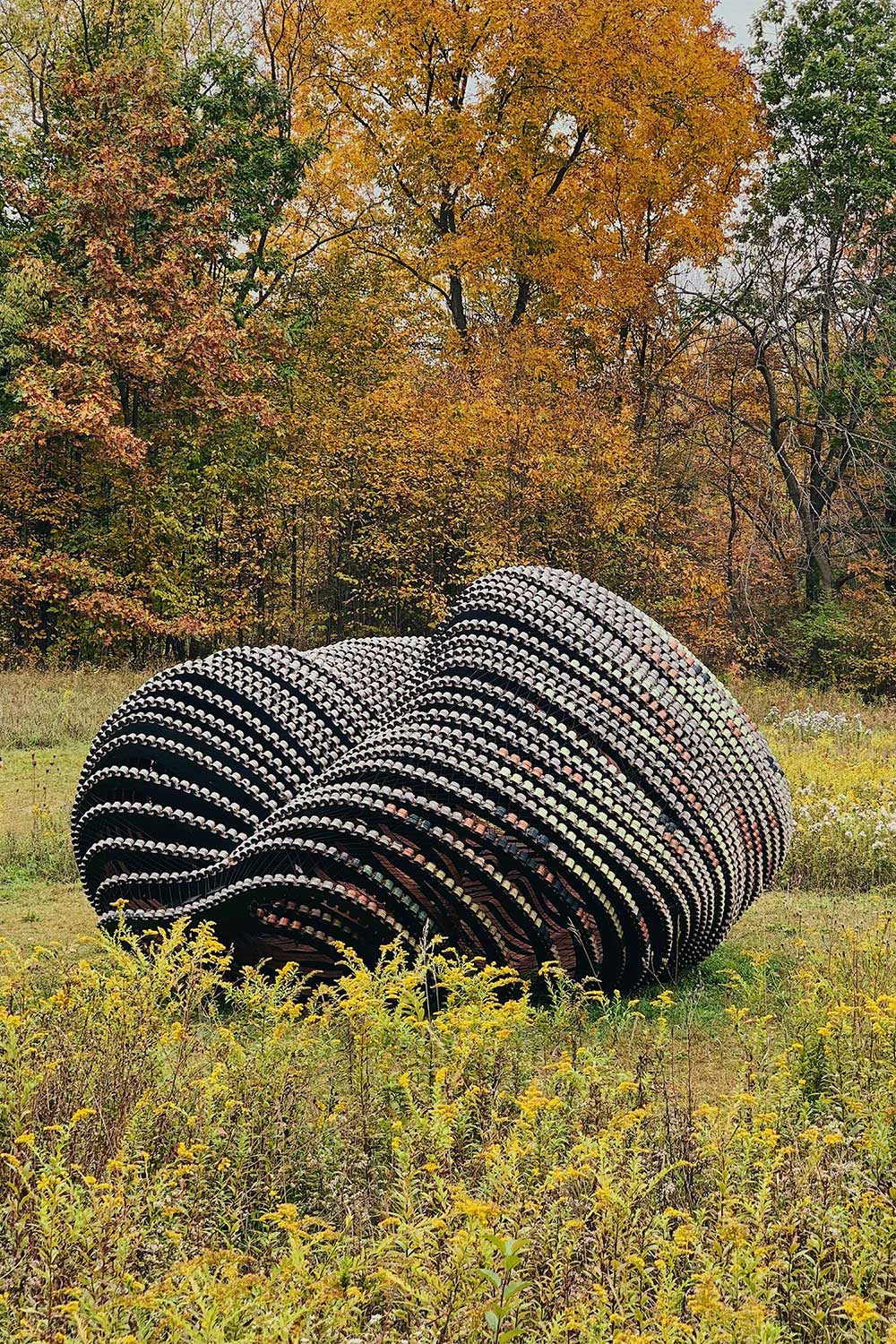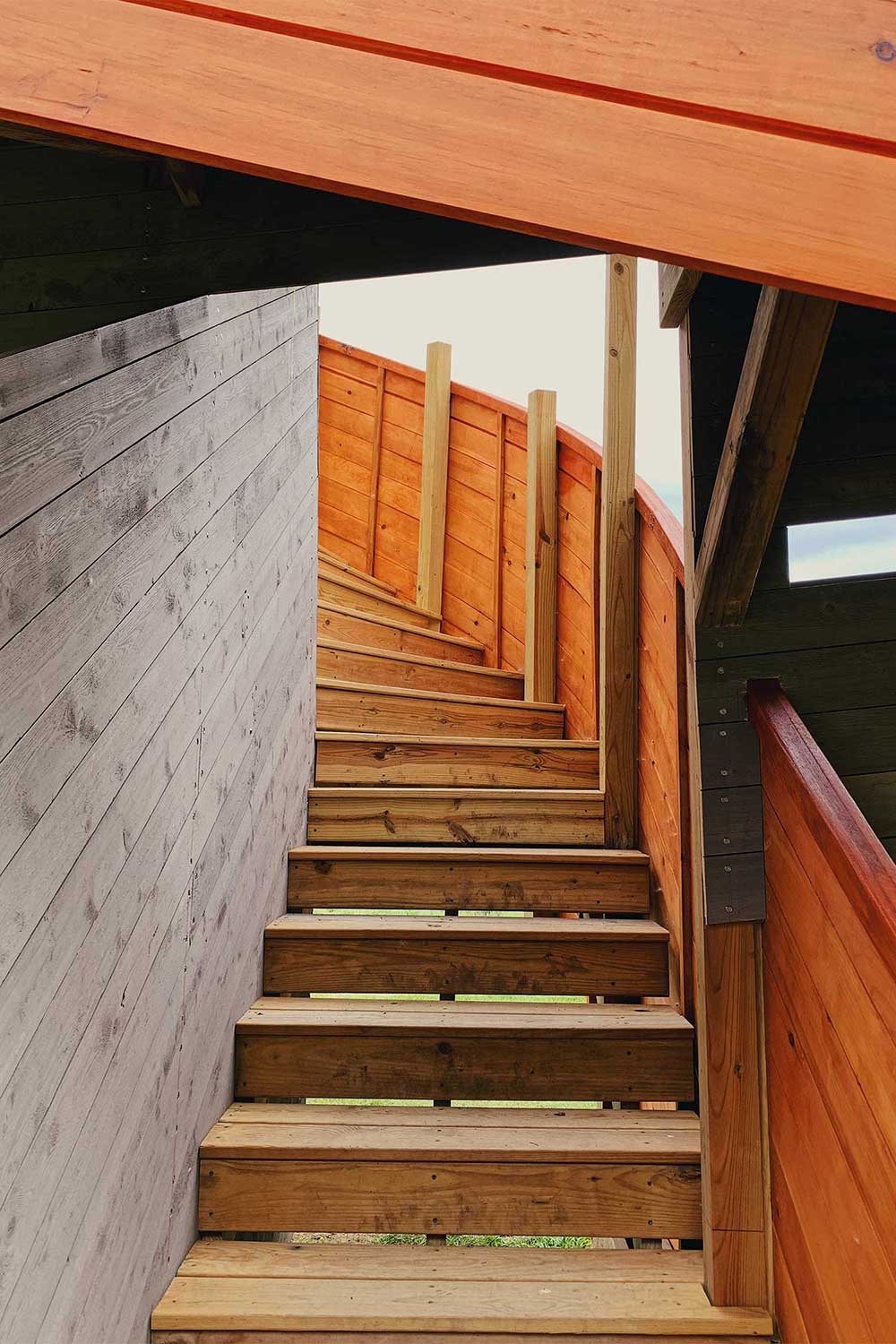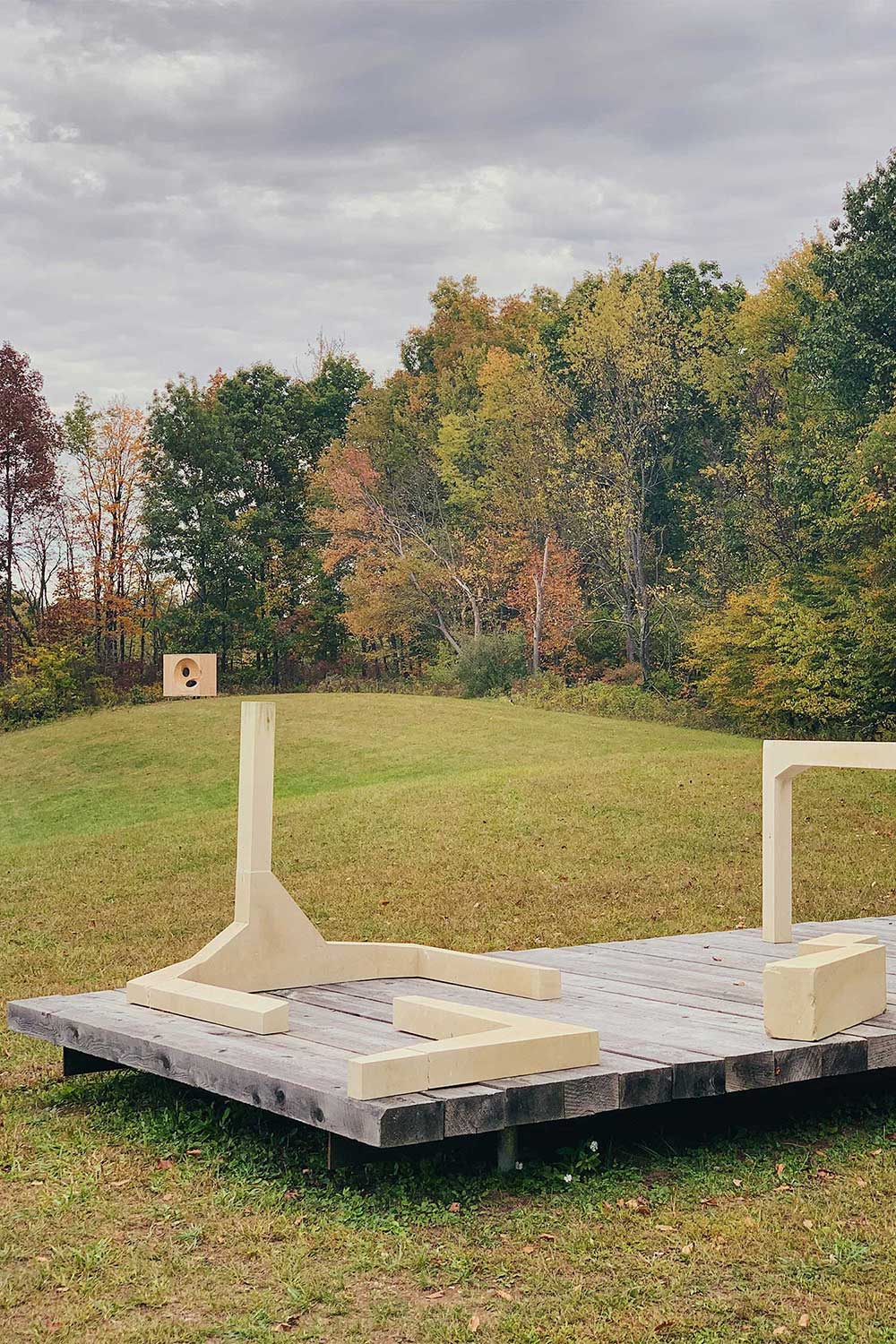 Visiting During COVID
In New York City, some museums are slowly opening. If you don't feel comfortable visiting an indoor museum, Art Omi is a nice option.
With over 120 acres of field and forest, it's a great outdoor activity and there's plenty of space to socially distance.
Masks are required and parking is limited to keep everyone safe.
Picnic in the Park
If you're visiting the Hudson Valley, you can make a day of it and picnic in the park.
You can bring your own food (there's a small picnic area), or pre-order a lavish picnic spread from Art Omi themselves.
ADVERTISEMENT
---
---
Outdoor Sculpture Parks
Here's just a couple of the outdoor sculptures that we loved!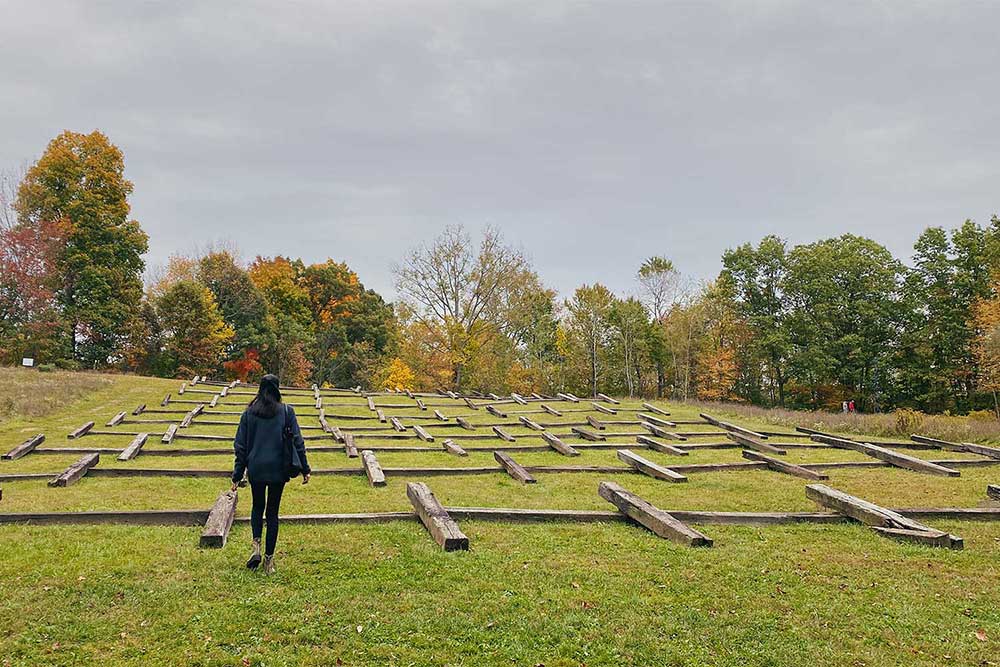 Richard Nonas, Smoke
Totemic sculptures made of wood in a horizontal, non traditional kind of art experience.
Definitely a large one!
---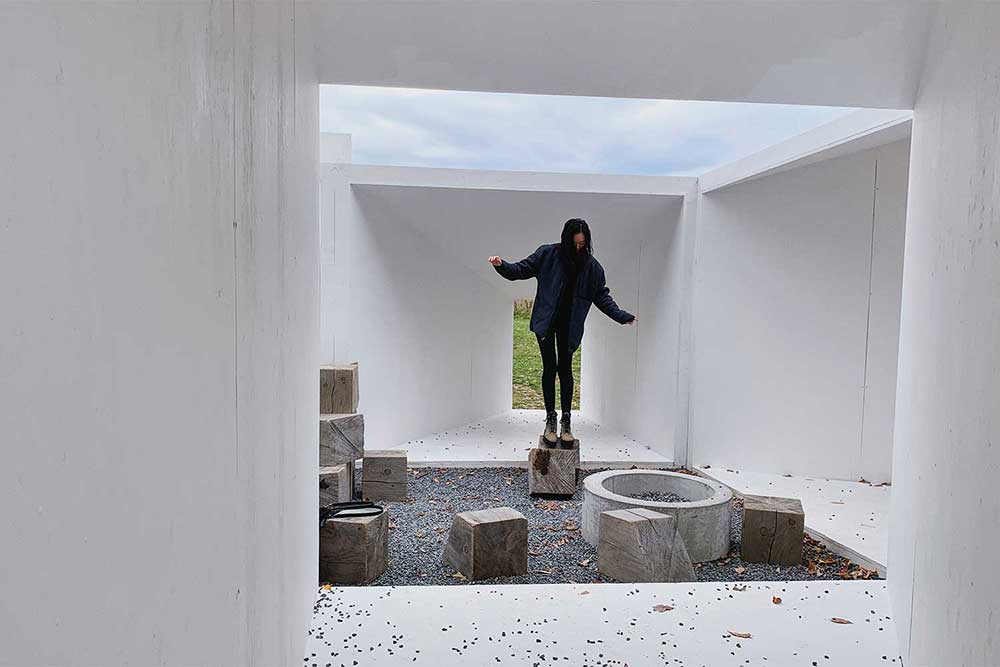 LevenBetts, Zoid
A geometric piece of art centered around a trapezoid.. that also is meant to explore the idea of a living environment. The signage noted the 'zoid' is meant to combine shelter, a gathering place full of light, and a home.
Fun to walk in and out of!
---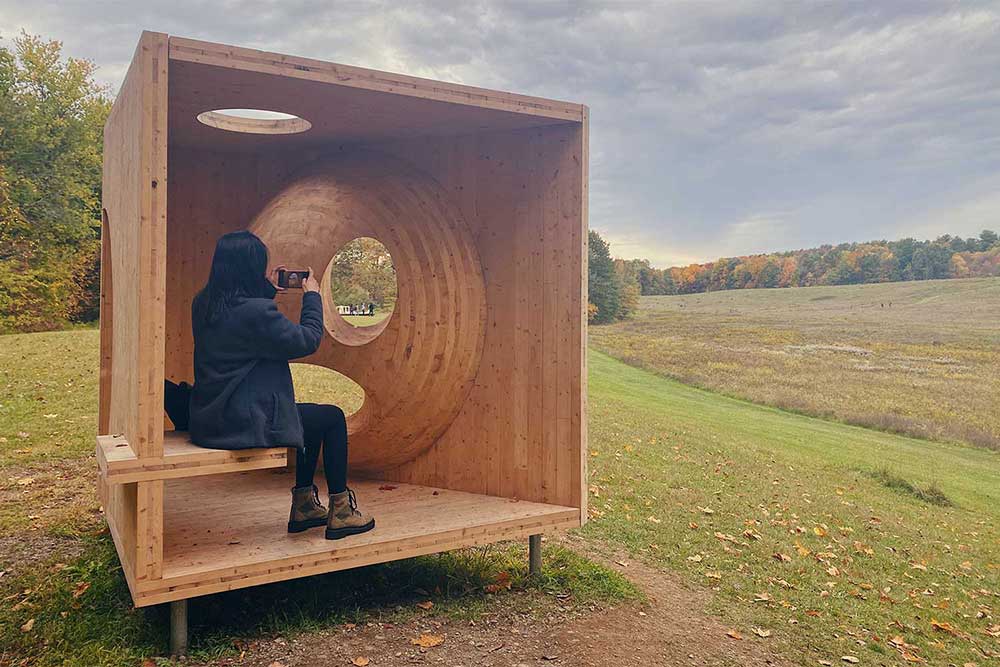 Steven Holl, Obolin
A sculpture made from a single piece of cross-laminated timber. The three cutouts mark the exact location of the sun's vector on the Summer and Winter Solstices and at 2pm on the Equinox.
Also just a great view of the landscape!
ADVERTISEMENT
---
---
Visiting NYC – Travel Checklist
Road Trips | There's so much to see and do in Upstate New York, but one thing you need is a car. I recommend taking a road trip in Spring and Summer, or in early Fall to see the leaves change.
Hertz and Sixt offer affordable car rentals from New York City. You can also price compare on Auto Europe, an aggregator that pulls rental rates from all the car rental companies. Check rental car rates for Hudson Valley here.
Accommodation | Upstate New York has tons of hotel options – from luxurious Gilded Age getaways to romantic b&bs and quaint inns. In peak season, book hotels in advance to save, or check here for last minute deals.
If you have a group of people or want to stay in the countryside, rent a house on Airbnb. It's especially great if you want to hike and don't mind being a little farther from town!
Insurance | Lastly, be sure to visit Upstate New York with travel insurance. Whether you get injured and need to be hospitalized, or your phone gets stolen, travel insurance will help when you need it most. Get a quote for your trip here.
You Might Also Enjoy:
Getaways from New York City
Hudson Valley
The Best Things to Do in Hudson
Visiting Art Omi: An Outdoor Sculpture Park
The Best Airbnbs & Vacation Rentals in Hudson
Where to Stay in New Paltz: Cozy Cottages, Vacation Rentals & More! 
Where to Stay
The Best Airbnbs in Hudson, NY
The Best Airbnbs in New Paltz, NY
Follow me @Sher She Goes on