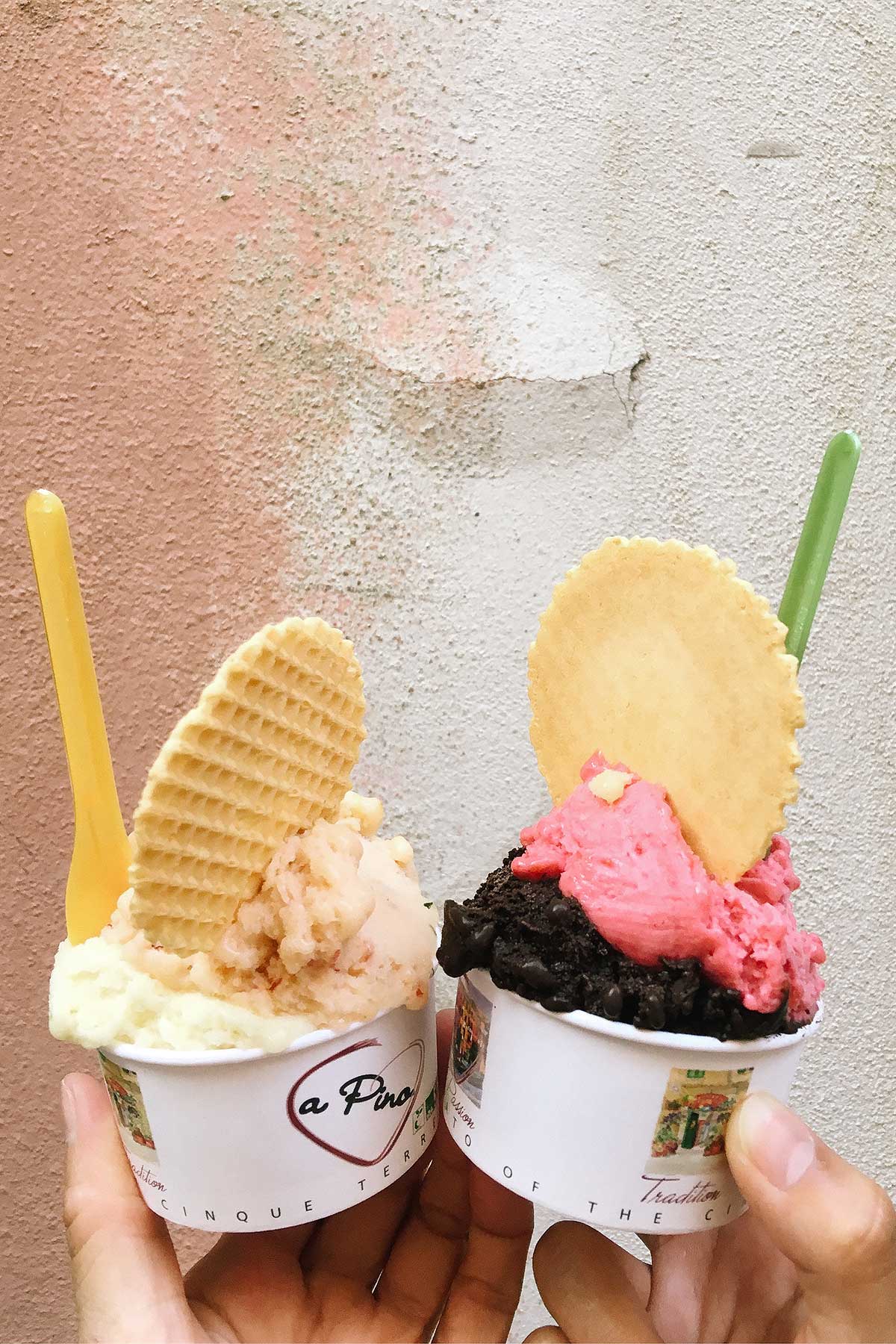 Cinque Terre Food
After spending almost 3 weeks traveling around Italy, I have to say I wasn't expecting much from Cinque Terre food wise. I figured it would be a gorgeous resort town, with restaurants that catered to tourists. Boy was I wrong!
Yes, there were some misses but overall the food was fresh, flavorful and delicious. Cinque Terre is located in the Italian province of Liguria, a predominantly coastal region where basil and lemon grow like weeds. Naturally, local specialties include pesto, lemon slushies and aperol spritzes. Just kidding about that last one.
We ate a good mix of pizzas, pastas and seafood. I covered must-have local dishes in my huge Cinque Terre travel guide, so you can check out that post for fun cooking classes, Italian dishes and wines.
This post will focus on just the restaurants which stood out during our Cinque Terre vacation!
Or save this article to read later by pinning it ⇟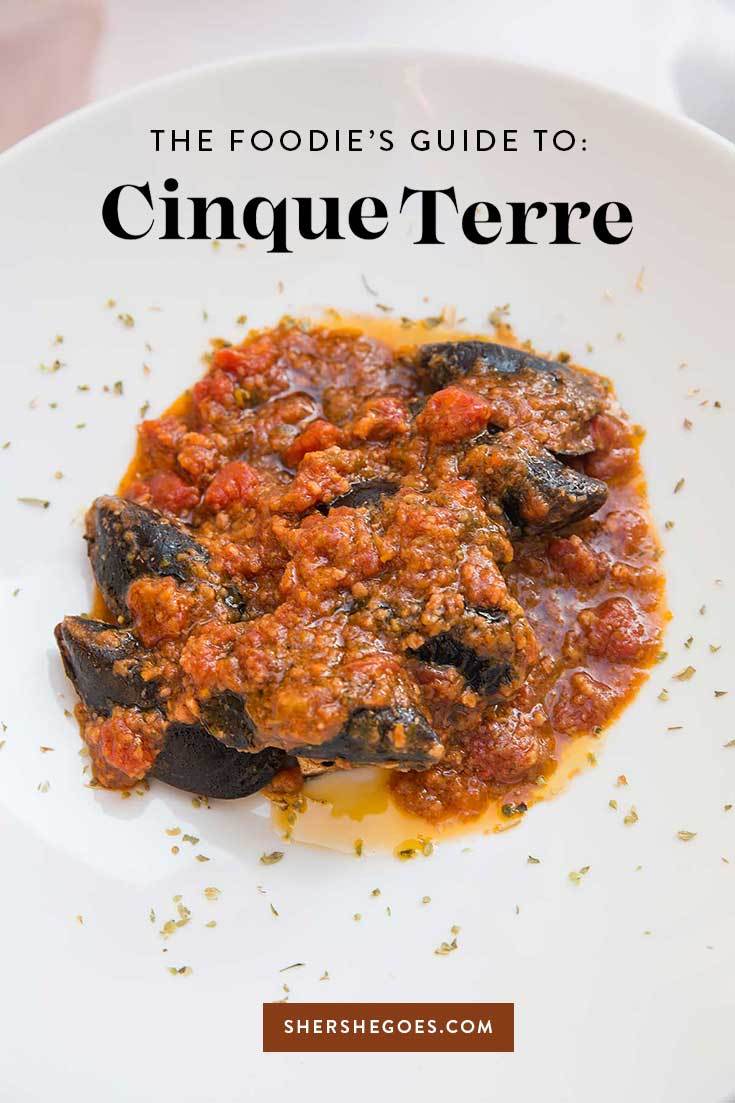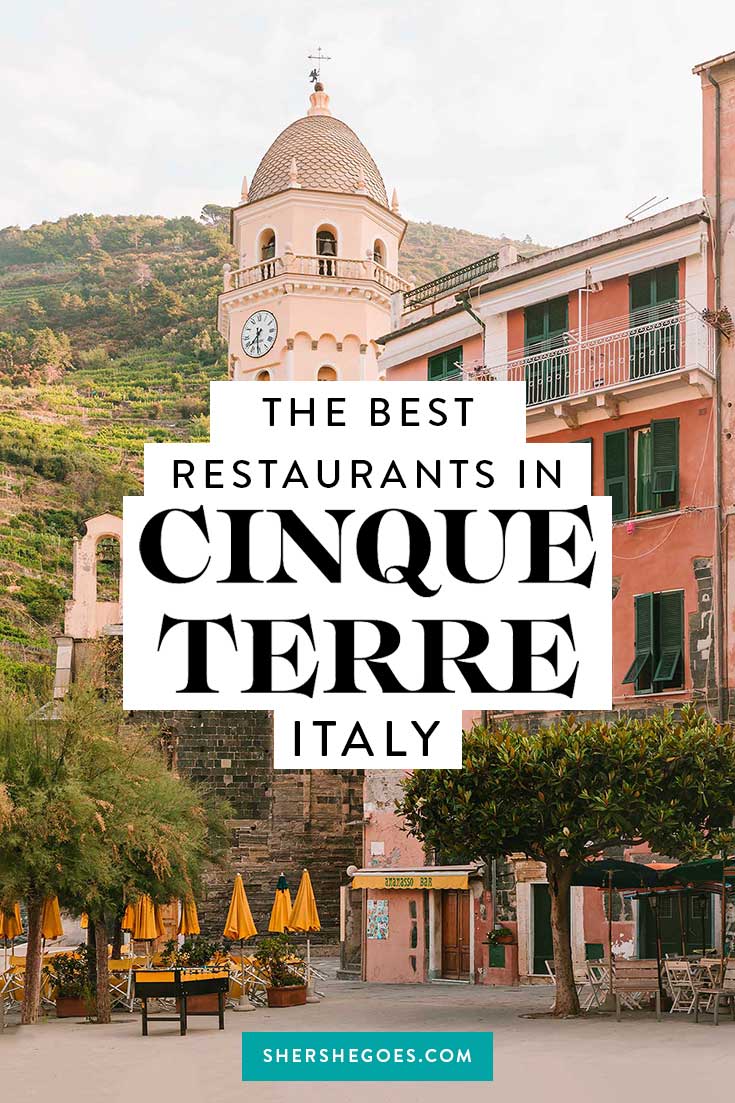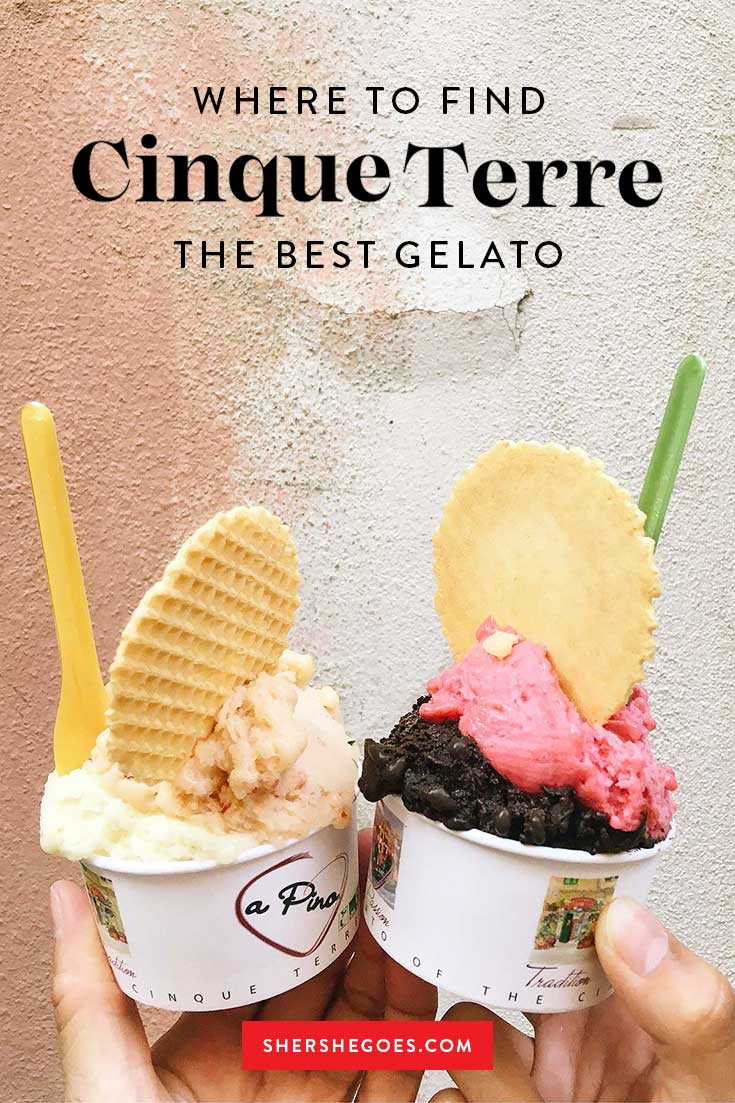 ADVERTISEMENT
---
---
Breakfast in Italy
Italians don't typically eat breakfast and certainly not the way Americans do, with heaping portions of bacon, eggs, etc. I would pick a hotel that doesn't provide breakfast as the Italian version is to plop some yogurt single packs in a small fridge and call it a day. Why pay for that?
Instead, grab a fresh espresso and cornetto (croissant) from a local neighborhood bar and have a quick breakfast standing up, the Italian way! Trust me, you'll enjoy fresh Italian espresso. Ask for a lungho or tall espresso if you're used to the American kinds – otherwise the default is a very concentrated 'short' espresso.
If you're not a big coffee person, almost all hotels will have a small coffee machine to make quick drinks on the go even if they don't provide breakfast.
ADVERTISEMENT
---
---
Best Cinque Terre Restaurants for Lunch
For the most part, we grabbed something to go for lunch so that we could continue to explore. Excellent options are foccacia, pizza, little cones of fried seafood and sandwiches. If you intend to hike extensively, I would recommend picking up a sandwich or foccacia to go. Otherwise, for short hikes you can stop into town for fresh food on the go!
Lunch Box, for fresh-squeezed juice and take-away paninis & sandwiches. (Vernazza)
Nessun Dorma, for the hands-down prettiest view of Cinque Terre. Try the various bruschetta and grab an aperol spritz to beat the heat! (Manarola)
Read more:
How to Hike the Best of Cinque Terre's Trails
ADVERTISEMENT
---
---
Best Restaurants for Dinner
One of the nicest things about Cinque Terre's restaurants is that they have both great ambience and great food! Lots of restaurants have outdoor seating, with popular dinner spots situated near the waterfront.
While all the food we had in Cinque Terre was great, my one criticism of some places were that the portions were tiny. I suppose that is the Italian mentality that you should eat multiple courses for dinner so each is a little smaller than you might anticipate. Below I've listed recommendations for great Cinque Terre restaurants that I really enjoyed:
Osteria: despite the rather bland name, we loved this spot for fresh pasta and seafood. We tried the seafood pasta, pasta with clams and walnut ravioli pansotti as well as the huge plates of garlicky mussels (Monterosso)
Ristorante al Pozzo: great pastas here as well, but portions are a bit small. (Monterosso)
Belvedere: the fish stew here is incredible. (Monterosso)
La Cantina di Miky: homemade pastas with an emphasis on seafood, beach views and fresh pesto bruschetta (Monterosso)
Al Castello: for a fancy sunset dinner with a view, located inside the castle. (Vernazza)
Read more:
The Complete Cinque Terre Travel Guide
ADVERTISEMENT
---
---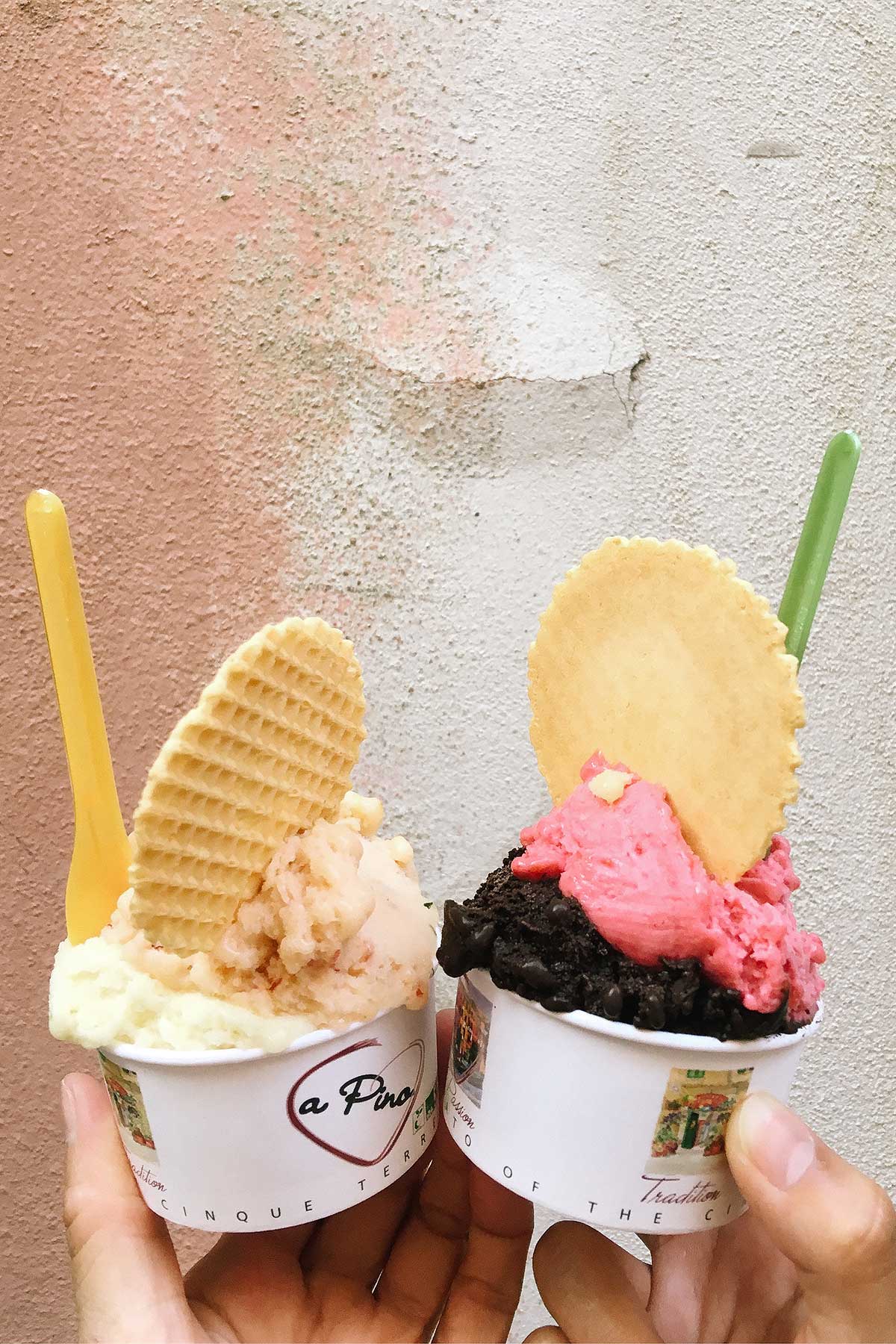 Best Gelato in Cinque Terre
I could eat gelato every day, twice a day. Most gelato shops that we went to had great, rich flavor with an assortment of different sorbets and gelatos to try. If you want the little amaretto cracker, it's typically 0.50 to 1 euro extra. Generally, a small size is good for 2 scoops, medium for 3 scoops and large for 4 scoops.
All the shop owners understand English, but they'll appreciate you speaking Italian. For cone or cup size, say piccolo for small, medio for medium and grande for large.
Gelateria Il Porticciolo: super rich, intense flavors. We went here twice! (Vernazza)
Gelateria Vernazza: rich, flavorful gelato – get the dark chocolate for something seriously decadent! (Vernazza)
Read more:
A 3 Day Cinque Terre Itinerary
ADVERTISEMENT
---
---
Liguria, Italy
If you're a foodie, I recommend staying in either Vernazza or Monterosso. Vernazza is smaller and more picturesque, with some great restaurant options on the harbor. Monterosso is larger and has even more restaurants, with a focus on fresh seafood places as well as lots of lodging options.
Santa Marta in Vernazza has recently renovated rooms with air conditioning (a rarity in Cinque Terre!). Private bathrooms, in-room TVs and comfortable, clean rooms make this one of the better new options in Vernazza.
Check current rates and availability here.
Hotel Palme is a lush, secluded property on Monterosso's hill with a beautiful view and short walk to the beach. Rooms are clean and light filled, some come with balconies.
Check current rates and availability here.
Read more:
Where to Stay in Cinque Terre
ADVERTISEMENT
---
---
Enjoy your trip to Cinque Terre! Let me know in the comments if you have any restaurants to recommend.
Visiting Italy – Trip Planning Checklist
There's so much to see and do in Italy that you can visit again and again and still discover new sights. I recommend concentrating on the big 4 cities (Rome, Venice, Milan & Florence) if it's your first time and then coming back to explore either Northern Italy or Southern Italy in more depth.
Go | Flight prices from the US to Italy are highly seasonal. You can set a fare alert here to be notified of discounts. Every fall & winter, I've seen great deals to Milan. One word of caution: avoid Alitalia at all costs!
Getting Around | A convenient way to explore Italy is via high speed train. You can search train schedules and book online here. Buy your tickets in advance to save on fares. Make sure to validate your ticket on the platform!
It also helps to speak a little Italian. Brush up on your Italian language skills with Rosetta Stone. You can take 10% off with promo code CJBT10.
Stay | Book hotels in advance to save, or check here for last minute deals. Many hotels in Italy are older so don't be surprised if even 5 star accommodation feels slightly dated. Opt for a room with a view instead of breakfast, as Italians don't eat breakfast in the same way Americans do and you'll probably be disappointed with their offering.
Alternatively, groups or budget travelers can check out Airbnb. 
Protect | Lastly, be sure to visit Italy with travel insurance. Whether you get injured and need to be hospitalized, your phone gets stolen, or a flight delay leaves you with nothing but the clothes on your back, travel insurance will help when you need it most.
A rail strike occurred during our trip, unexpectedly shutting down transportation for an entire day. Get a quote for your Italy trip here.
You Might Also Enjoy:
Italy Vacation Planning Articles
The First Timer's Guide to Italy: A Classic Itinerary
THIS is the Best Time to Visit Italy
What to Wear in Italy: A Packing Checklist
Northern Italy
The Most Beautiful Places in Northern Italy (that are still a secret!)
Headed to Northern Italy? Here's the Perfect 7 Day Itinerary
Exploring Bologna: Travel Guide
Quick Guides to: Bologna Day Trips & The Best Bologna Restaurants
Visiting Parma: The Center of Parma Ham & Cheese
7 Reasons to Explore Medieval Bergamo
Visiting Ravenna's Mosaics
Test Driving Fast Cars & Touring Car Museums in Italy's Motor Valley
Cinque Terre
Plan Your Trip: Travel Guide
How to Choose Which Village to Stay
A Blissful 3 Day Cinque Terre Itinerary
The Best Cinque Terre Airbnbs for Large Groups
Quick Guides: The Best Restaurants & Popular Hiking Trails
Inspiration: Photo Diary of the 5 Villages
The Italian Lakes
Exploring Lake Como: Travel Guide & Where to Stay
Quick Guides to: Varenna, Bellagio & Villa del Babianello
Visiting Lake Maggiore
Quick Guides to: Isola Bella & Villa Taranto
Discovering Hidden Lake Orta
Follow me @Sher She Goes on