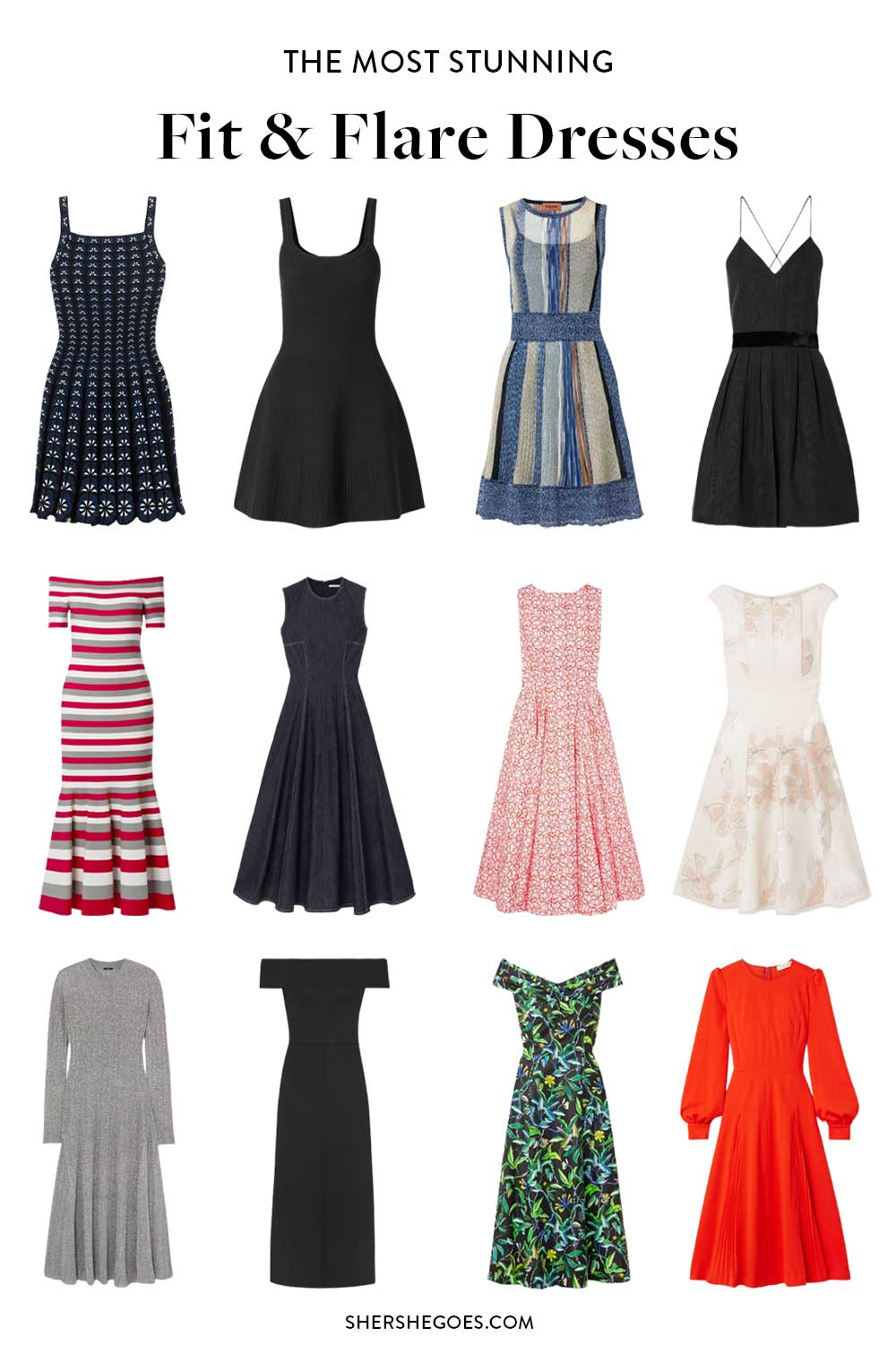 The Best Fit and Flare Dresses (2021)
They say good things come in threes, but I've always found that pairs more often bring perfect harmony and balance.
Peanut butter and jelly.
Salt and pepper.
Spaghetti and meatballs.
Maybe I'm thinking too much about food.
Nonetheless, the beauty of pairs also extends to the fashion world, especially with the fit and flare dress.
Fitted at the top to show off your figure and flared at the bottom for a casual, flowing look, the fit and flare dress is the look for spring and summer…which both happen to be right around the corner!
Keep reading for our 6 favorite fit and flare dresses of 2021!
Keep reading, or pin this article to save it for later ⇟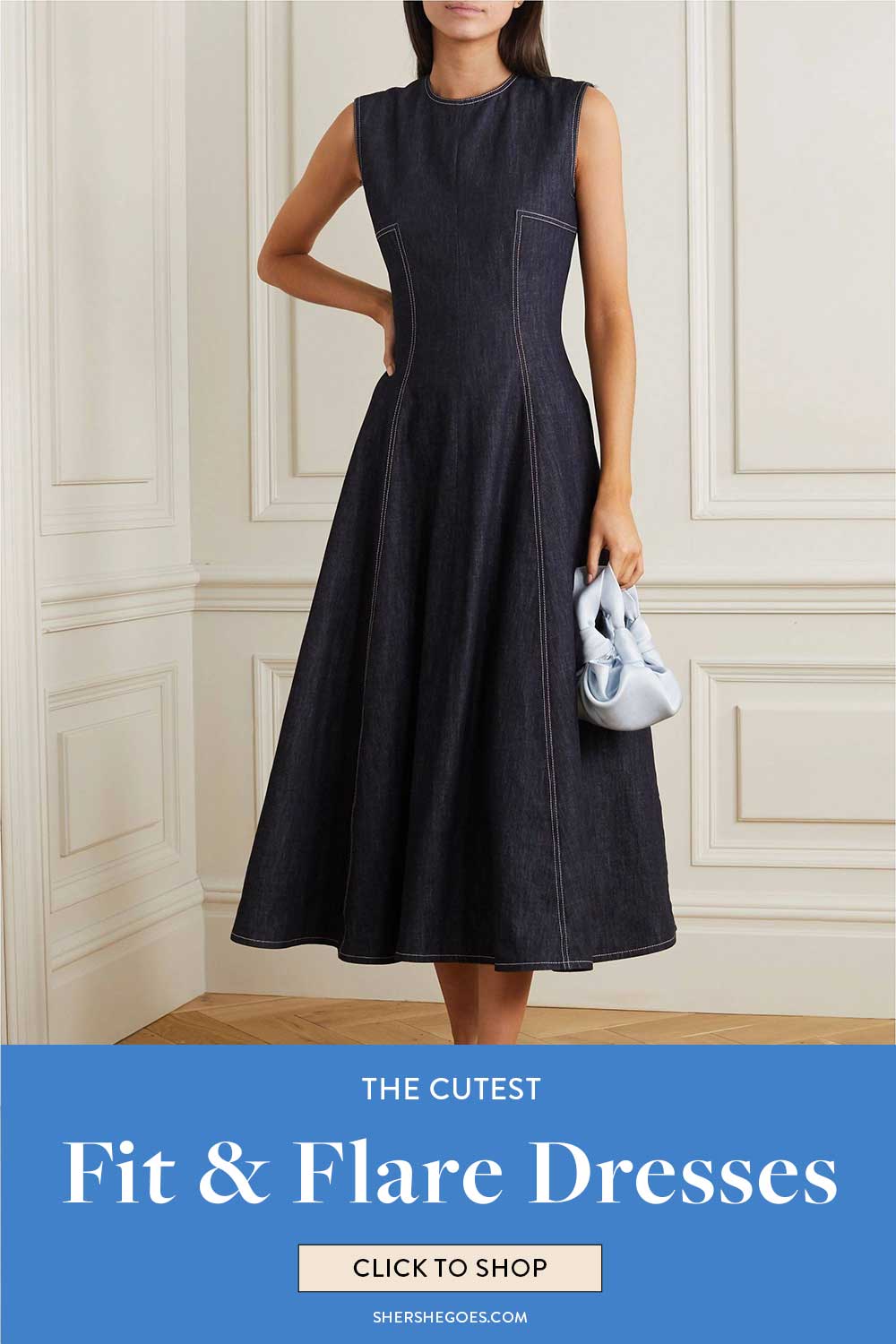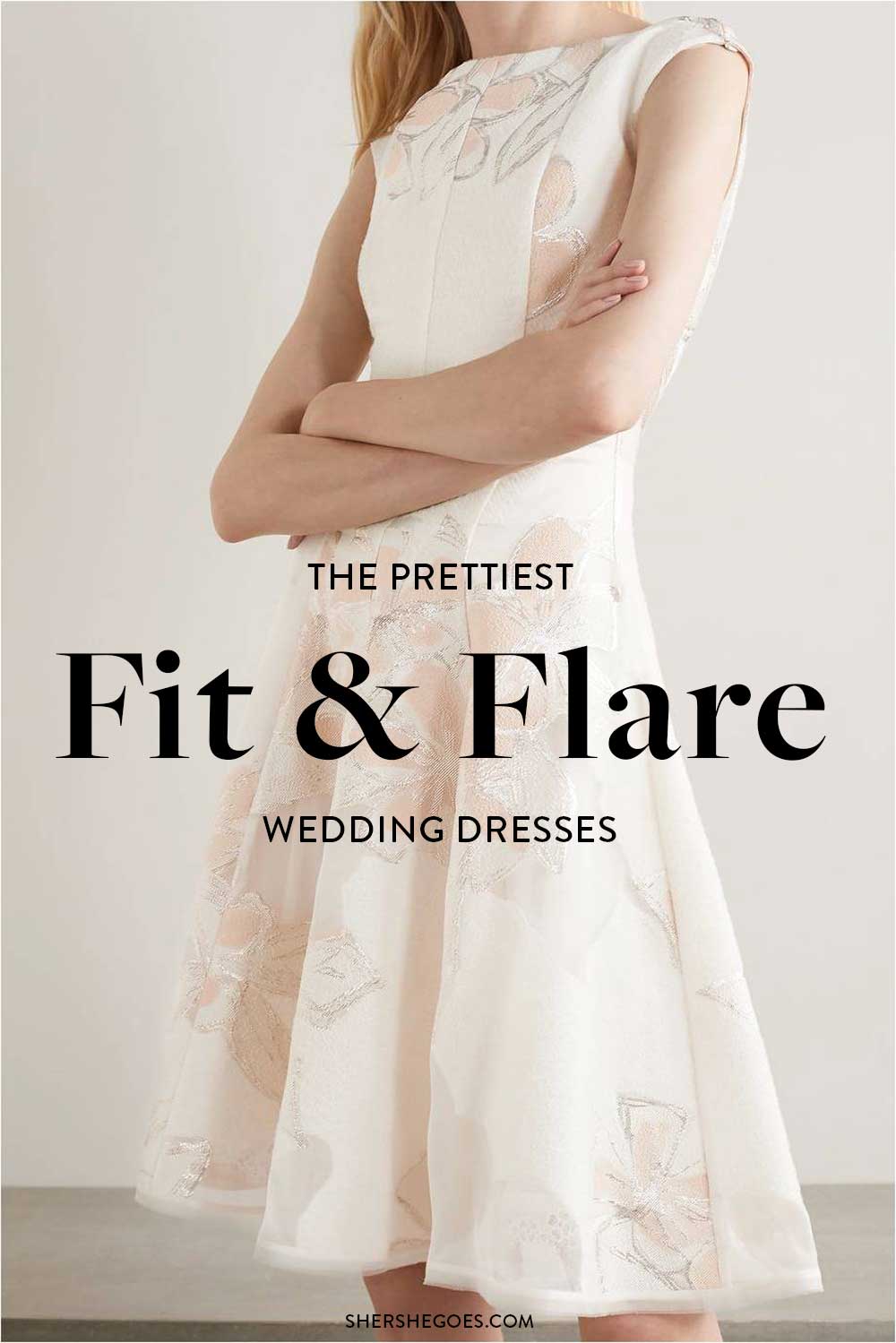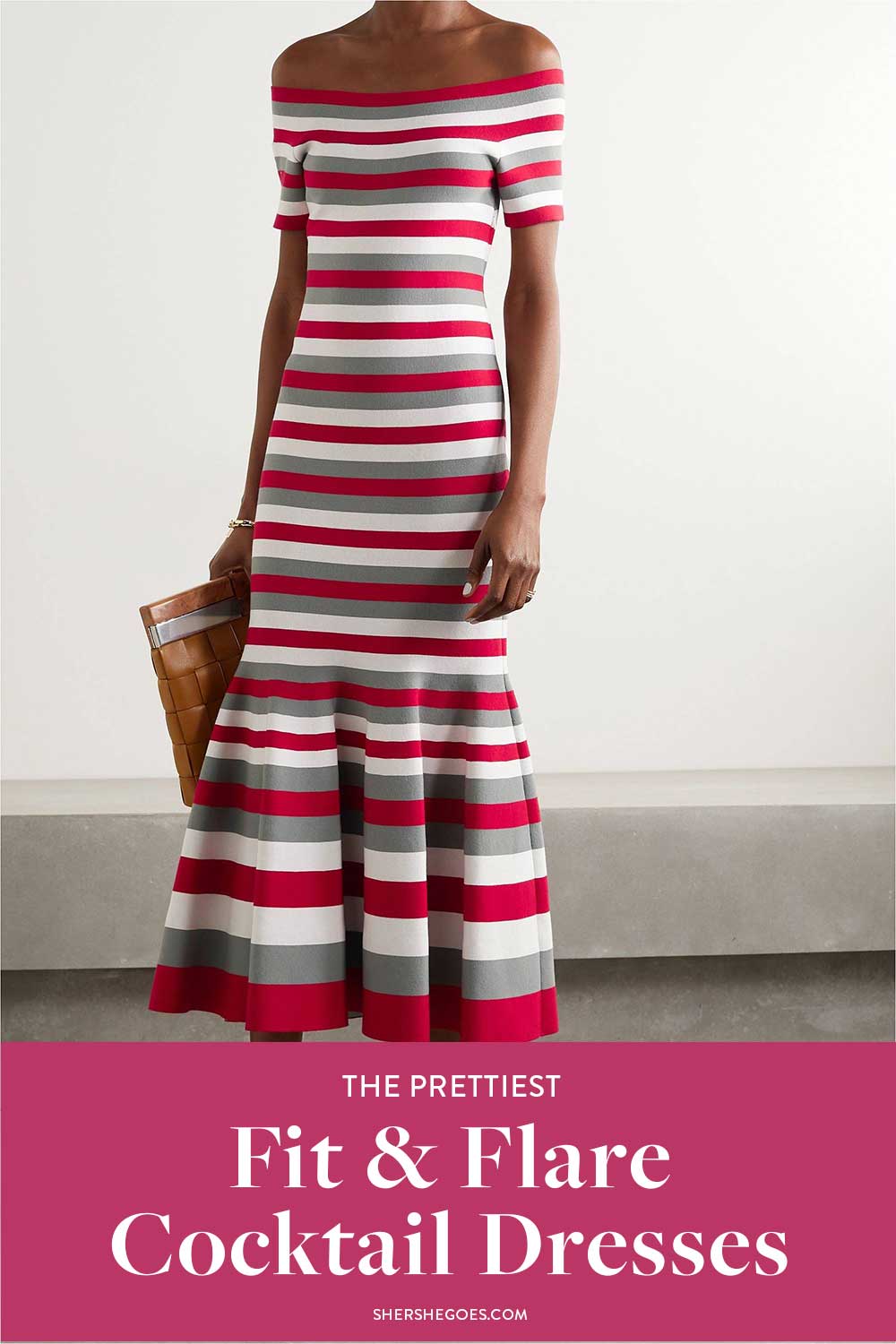 ---
---
The Best Fit and Flare Dresses (2021)
Spring and summer are just around the corner, so get your warm-weather wardrobe ready with the 6 best fit and flare dresses of 2021!
Top Fit and Flare Dresses
---
---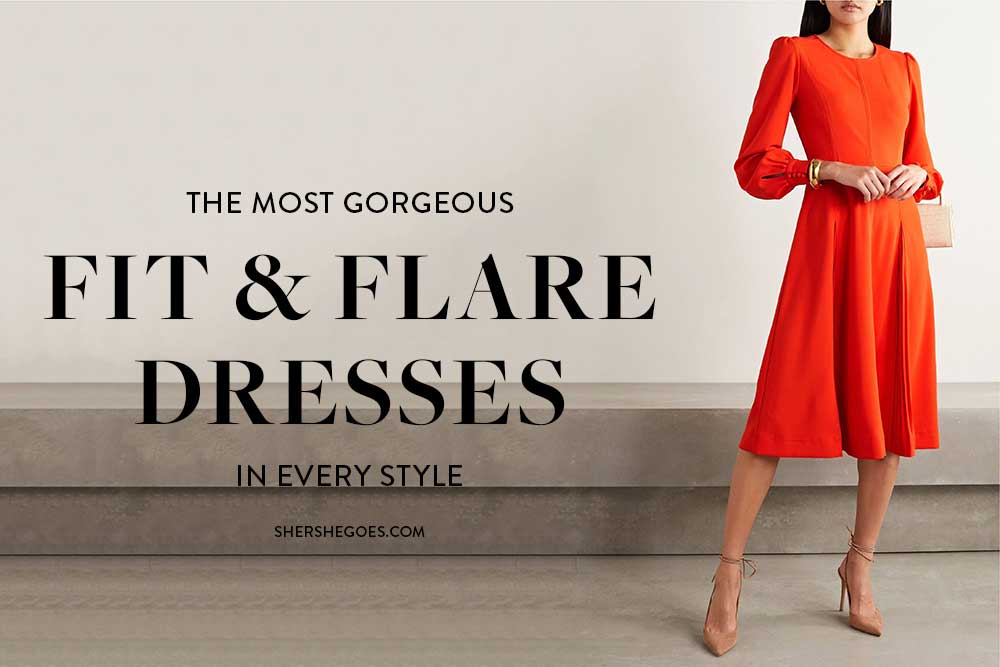 The Best Fit and Flare Dress Styles
Best Casual Fit and Flare Dress: Ralph Lauren
By their nature, fit and flare dresses commonly have a casual flair (see what I did there) to them.
This fit and flare dress from Ralph Lauren takes that chill, casual vibe a step further thanks to its pointed collar, cute waist bow, and roll-tab sleeves!
---
---
Best Fit and Flare Wedding Dress: Anthropologie
Fit and flare wedding gowns are becoming increasingly popular, and I absolutely love this one from BHLDN presented by Anthropologie.
This wedding gown is (relatively speaking) very affordable, and it would make my entire career as a blogger if this dress found its way down the aisle on someone's lucky day!
---
---
Best Fit and Flare Cocktail Dress: Ted Baker
While Ted Baker is probably more commonly known as a menswear brand, I have to say that its women's line has really come on strongly in the past few years.
This "skater" fit and flare dress adds some unique touches, including a Bardot collar and ruffled layer hem cut!
---
---
Best Fit and Flare Midi Dress: M.M. LaFleur
Fit and flare dresses may tend to be casual, light, and fun, but that doesn't mean the same style can't also be sophisticated and elegant, as proven here by M.M. LaFleur.
This sleeveless, A-line cut, 100% polyester fit and flare dress is definitely the one you want to reach for when you make a statement.
---
---
Best Sleeveless Fit and Flare Dress: Lilly Pulitzer
If you are surprised that this Lilly Pulitzer dress doesn't look like a Vera Bradley bag minus the handles, I was surprised, too!
Luckily the brand brings its quality craftsmanship and cute cuts to a more understated design with this beautifully blue fit and flare dress!
---
---
Best Fit and Flare Dress with Sleeves: Adrianna Papell
If you wanna bring the fit and flare style to the colder weather months, check out this gorgeous fit and flare dress with sleeves from Adrianna Papell.
Featuring a wide flare and oversized waist bow, this dress strikes the perfect middle ground between formal and fun!
---
---
Shop Women's Fit and Flare Dresses
---

---
---
Read More: in our summer style series:
Summer Essentials
Everything You Need for a Classic Summer Wardrobe
The Best White T Shirts in Every Style
The Best Classic White Button Down Shirts
Summer Dresses
7 Easy, Comfortable T Shirt Dresses for Summer
The Most Chic Slip Dresses to Dress Up or Down
The Best Fit and Flare Dresses
The Best White Dresses on Amazon
25 Cute & Affordable Amazon Dresses
Summer Shoes
The Most Comfortable Summer Sandals
The Best Minimalist Strappy Sandals
The Best Classic White Sneakers
Review: Olukai Sandals
Review: Everlane Flats
The Best Chanel Espadrille Lookalikes
Summer Accessories
The Best Sun Hats that Offer Full Sun Protection
7 of the Cutest Straw Basket Bags
Summer Linen
The Cutest Linen Dresses for Hot Summer Nights
The Best Men's Linen Pants - Summer Casual
The Best Women's Linen Pants for Coastal Chic Style
The Best Women's White Linen Pants - Simple, Clean & Breathable!
Summer Swim
The Best Online Sites to Shop for Swimwear
The Best Swimwear Brands at Every Price Point
The Best Swimsuits for Small Busts
Amazon Fashion Finds: Modest Swimsuits
The Best High Waisted Bikini Bottoms to Keep Everything Tucked In
Follow Sher She Goes on
Youtube | Instagram | Facebook | Twitter | Pinterest | Bloglovin