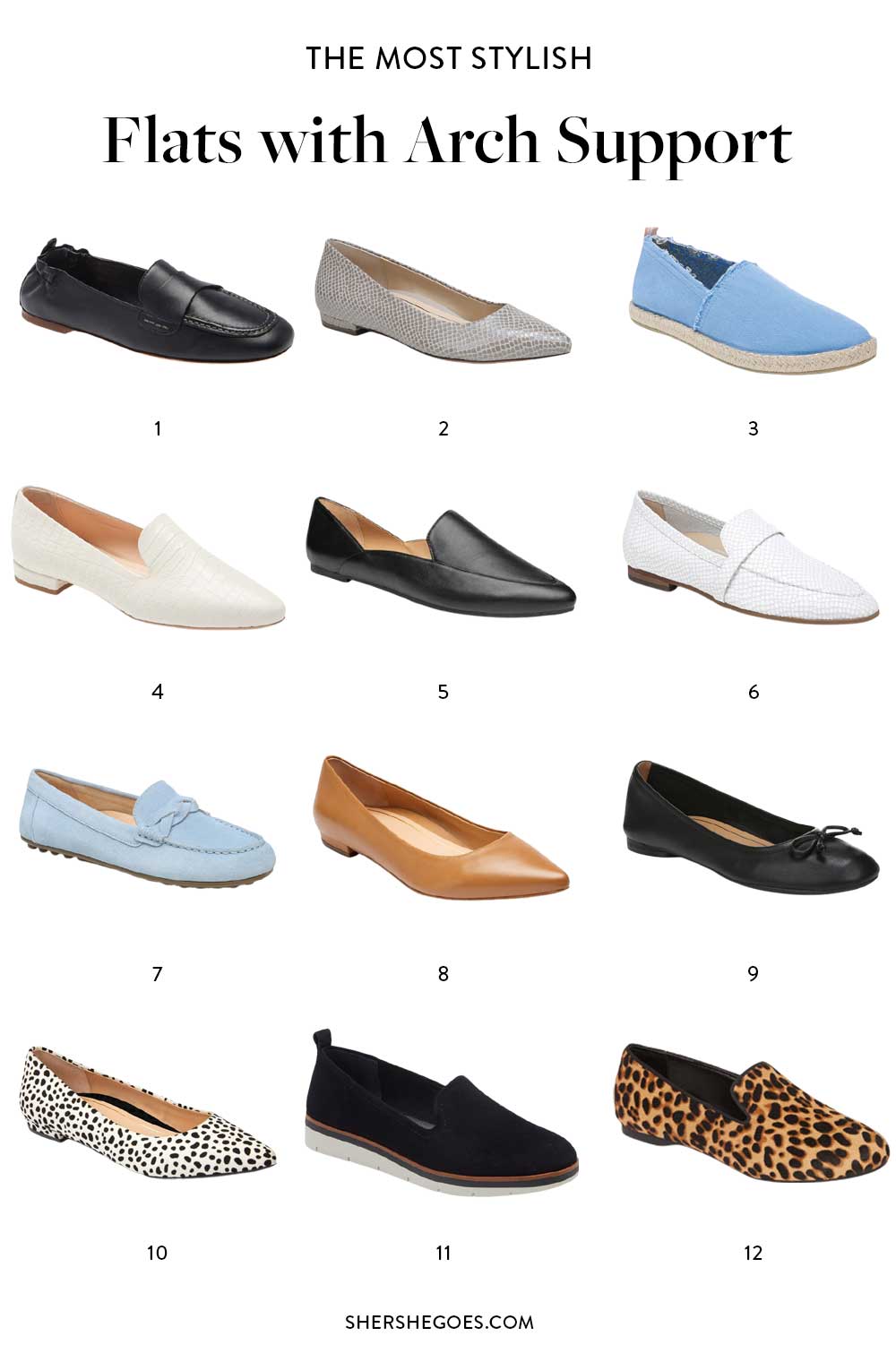 Thank you to Zappos for sponsoring this post.
Flats with Arch Support
Men always think flats are comfortable.
But women know that just because a shoe doesn't have a heel, doesn't mean it's easy on the feet. Poorly made flats with little to no arch support can wreck havoc on your feet.
If you're looking for stylish, but comfortable flats that have arch support, you'll love these shoe brands!
ADVERTISEMENT
Keep reading, or pin this article to save it for later ⇟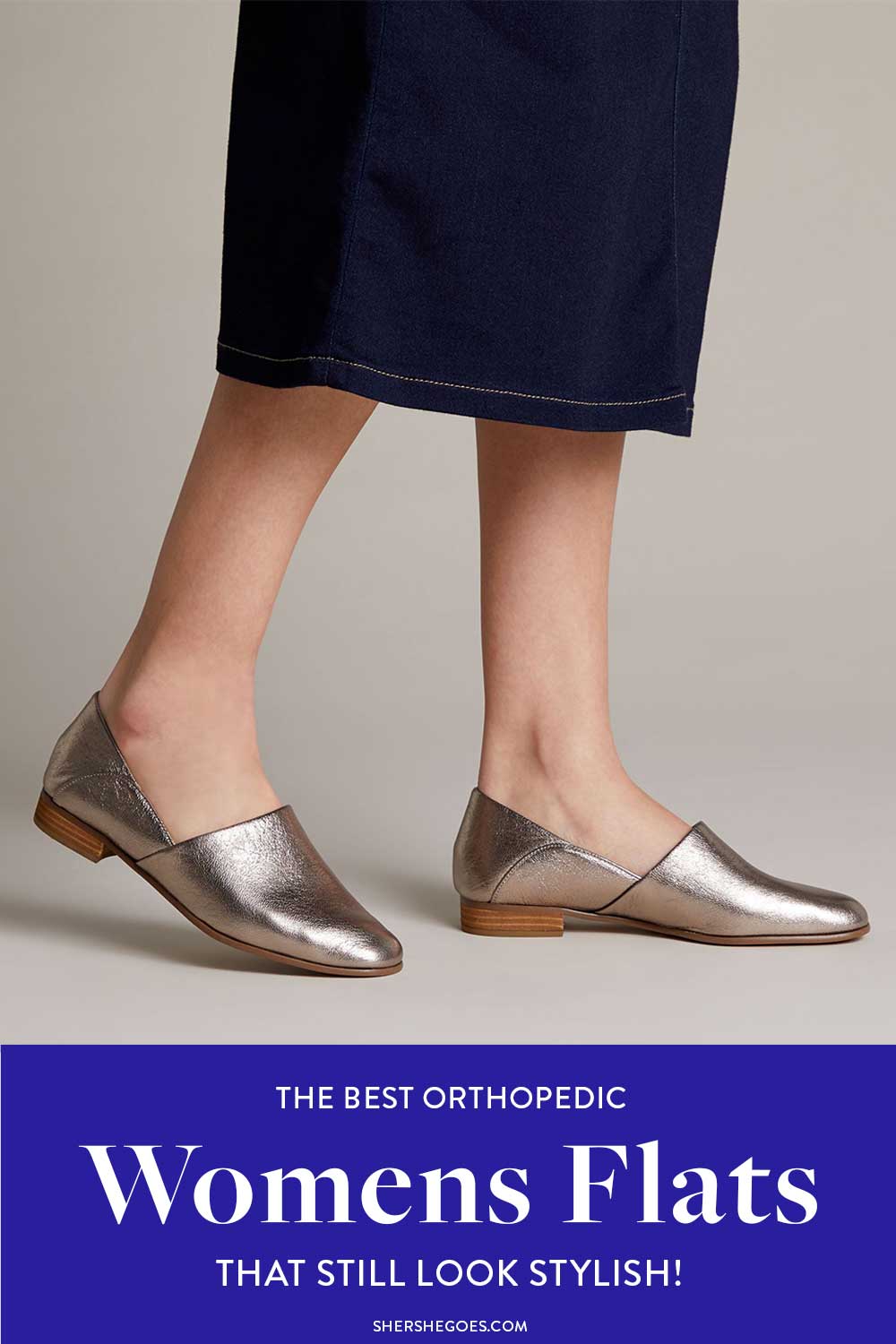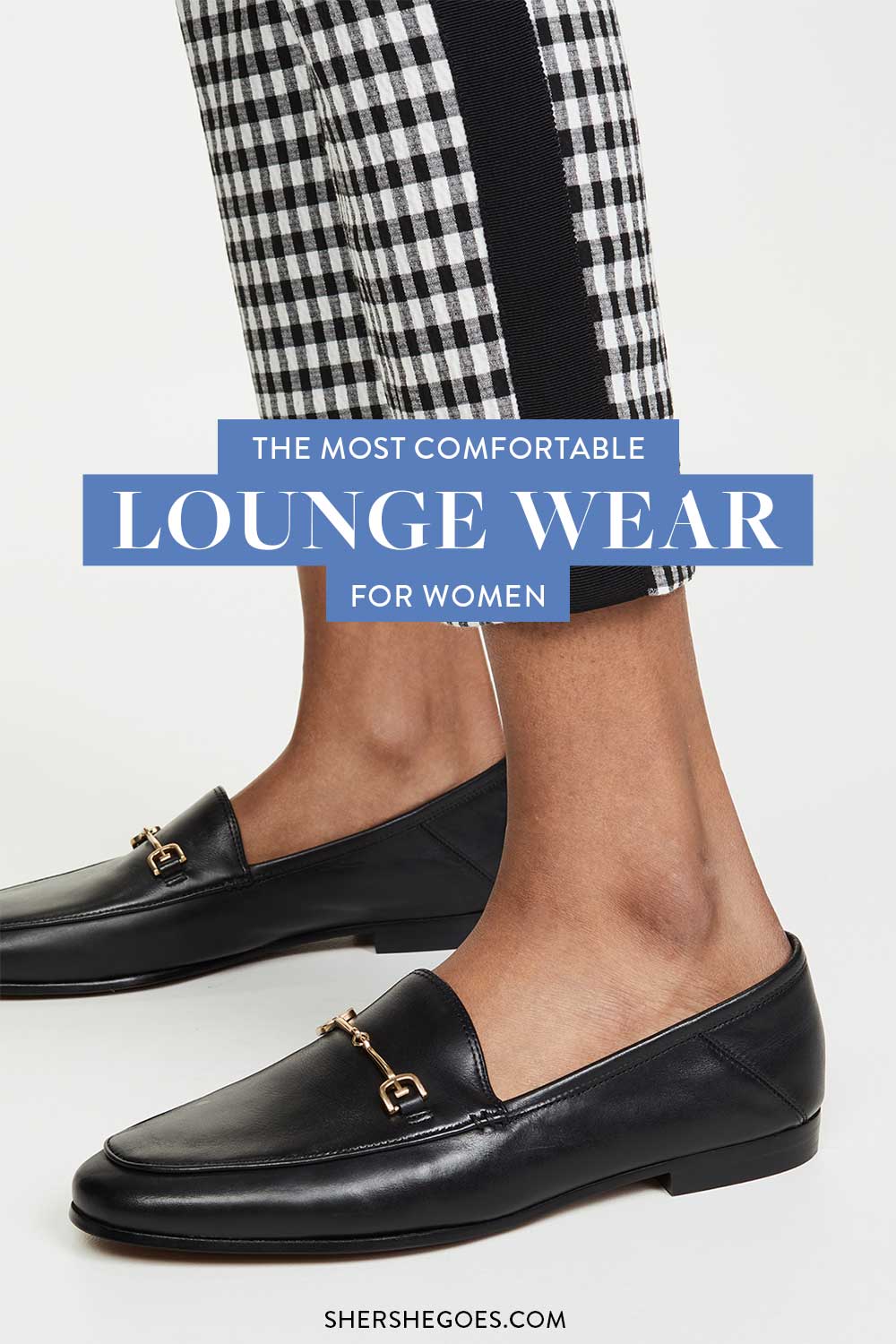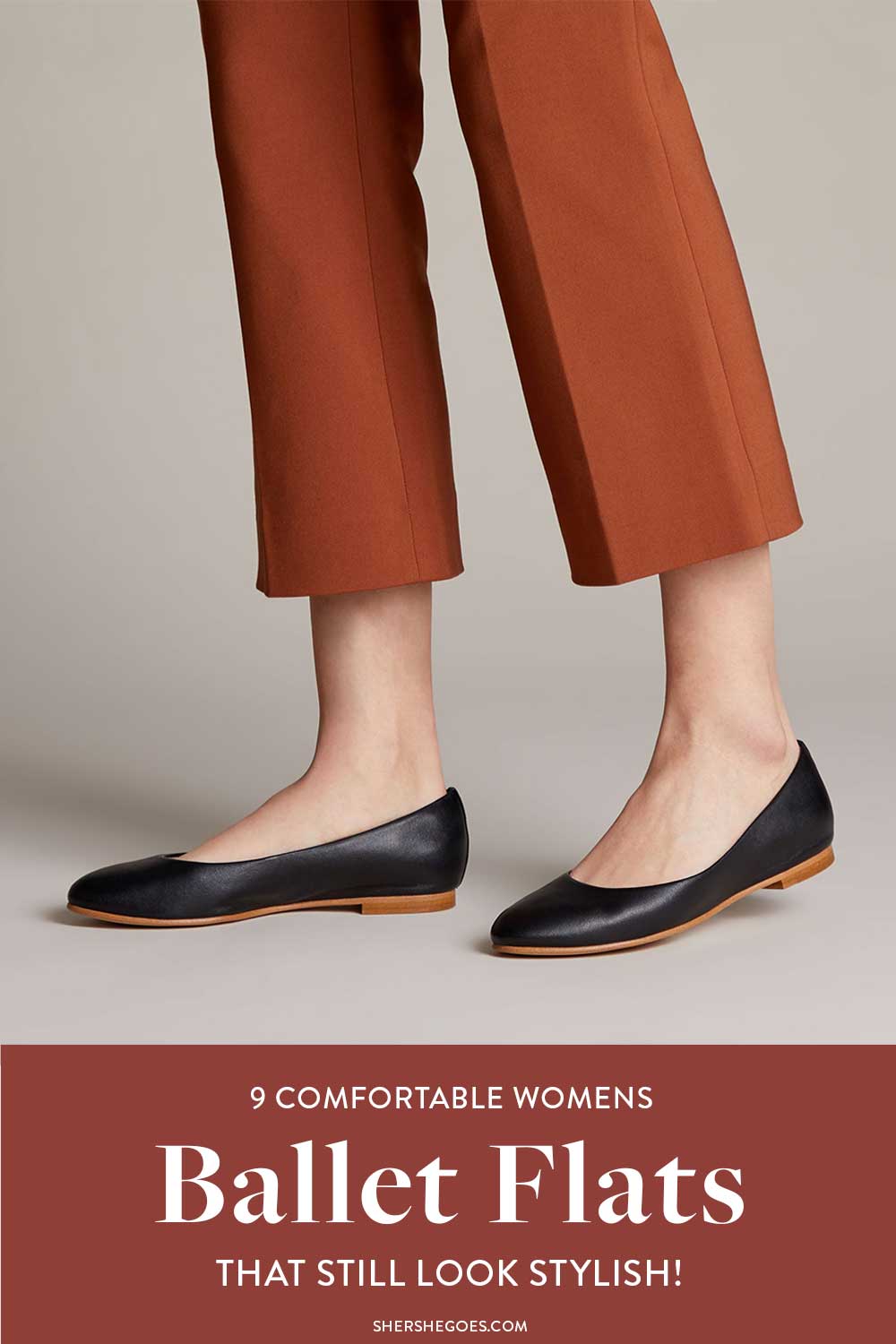 ADVERTISEMENT
---
---
Arch Support Shoes
Walking on hard, flat surfaces all day without support can shock the body.
Corns, bunions, blisters and plantar fasciitis can all show up on your feet as a reaction to poor arch support in your shoes.
And while there are great cushioned shoes out there.. most of them look orthopedic. So we've rounded up the most stylish flats that have arch support, and still look chic!
Below for comfortable ballet flats, loafers, slip on shoes and slides that are cute and podiatrist approved.
The Most Comfortable Flats with Arch Support
ADVERTISEMENT
---
---
Best Flats with Arch Support (2021)
Most Luxurious Ballet Flats with Arch Support: Margaux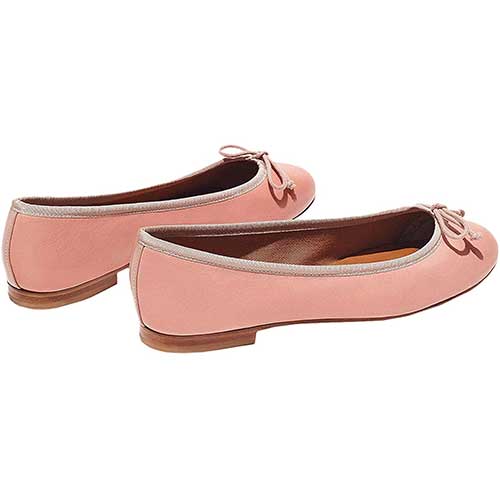 Margaux has perfected the classic European style ballet flat… and added arch support for those of us who want to look stylish but can't sacrifice a limb to do so!
Their classic flats are beautifully made from soft Italian nappa leather.
The draw cord around the top can customize the fit of the shoe, while the supportive insoles have a plush foam foot bed and breathable lining for comfort all day long.
The best part is these ballet flats have a slight heel to add further support for delicate arches.
ADVERTISEMENT
---
---
Most Dainty Flat with Arch Support: Vionic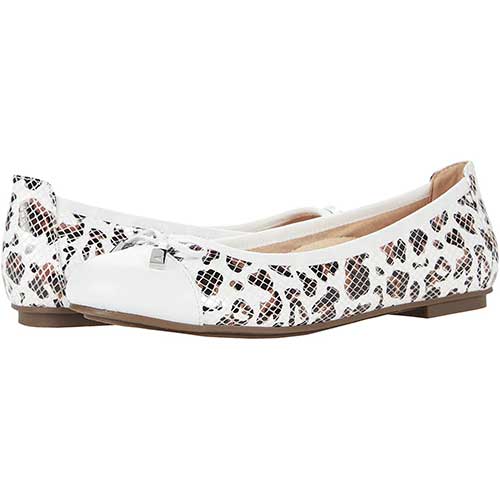 Vionic carefully crafts its footwear to aid anyone suffering from plantar fasciitis.
These elegant ballet flats complement almost anything you have in your closet, and they're designed to perfectly conform to your feet.
They have EVA cushioned foot beds that not only provide a soft, bouncy feel as you step, but they're removable and washable.
The sole is made of flexible, lightweight rubber and overall they fit like a dream, right out of the box!
ADVERTISEMENT
---
---
Best Ballet Flat with Arch Support: Sam Edelman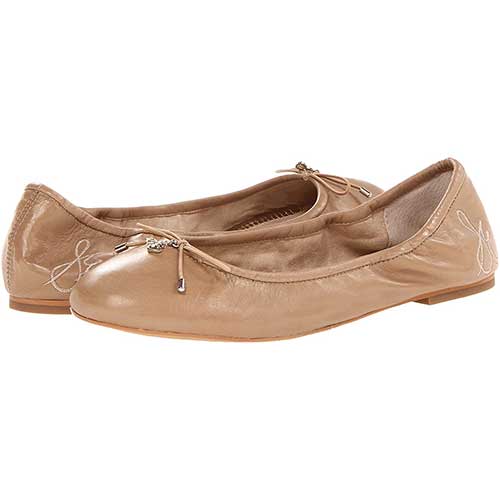 These Sam Edelman flats are a great affordable and comfortable ballet flat option.
They have a padded leather insole, flexible elastic color and bow charm on the vamp.
The leather on these is really soft, and they're flexible enough to avoid rubbing on your heels or small toes.
Plus, they're available in 13+ colors and prints!
ADVERTISEMENT
---
---
Best Machine Washable Flats with Arch Support: Clarks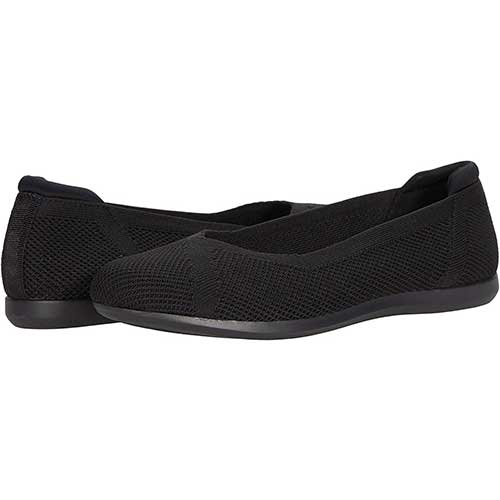 If you're looking for a comfortable fabric flat with arch support, try these from Clarks.
The black knit slip-ons feature the brand's patented Cloudstepper technology, with layers of cushioned padding an a moisture wicking foot bed.
The uppers are breathable, the knit fabric keeps them flexible and the shoes are machine washable!
What more could you ask for?
ADVERTISEMENT
---
---
Best Scalloped Ballet Flats with Arch Support: Skechers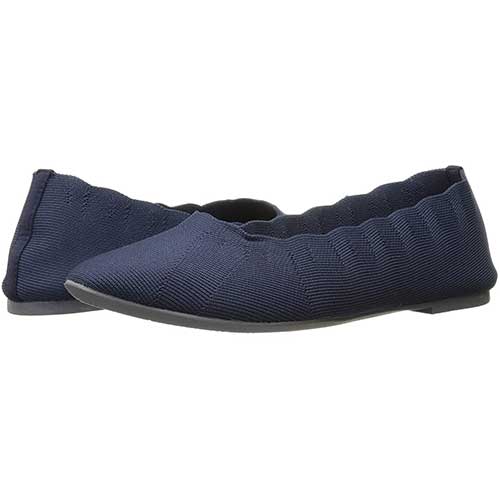 These flats are a best seller from Skechers and it's easy to see why.
The stretch woven fabric makes them so comfortable to slip on to, while the scalloped collar makes them sleek and stylish.
The almond toe prevents them from looking orthopedic, while the air cooling memory foam cushion inside makes them so comfortable for long periods of time.
My mom purchased a pair of these for a trip to Europe, where we knew we'd be walking on cobble stone streets all day long.
I packed stylish (but not supportive) flats. I ended up wearing the Skechers and can personally vouch for the comfort factor in these!
ADVERTISEMENT
---
---
Most Comfortable Leather Loafers: Naturalizer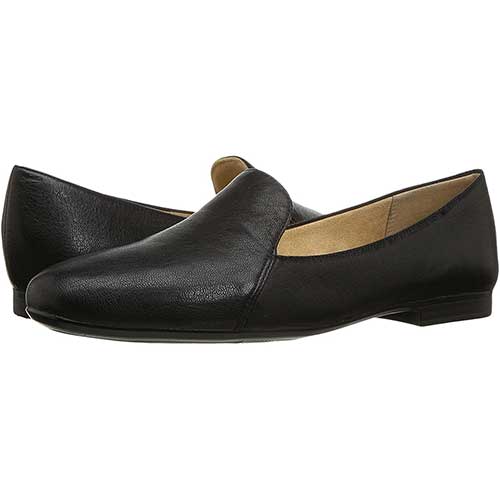 Naturalizer specializes in comfortable footwear.
These slip on loafers have great arch support and utilize contoured technology to create a footbed with perfect arch support.
Plus, the leather on these is so soft so they're very sleek and tailored looking, but still comfortable for long periods of time.
I could see these with day dresses, trousers for work or casual denim shorts and a white tee!
ADVERTISEMENT
---
---
Most Stylish Loafers with Arch Support: Trotters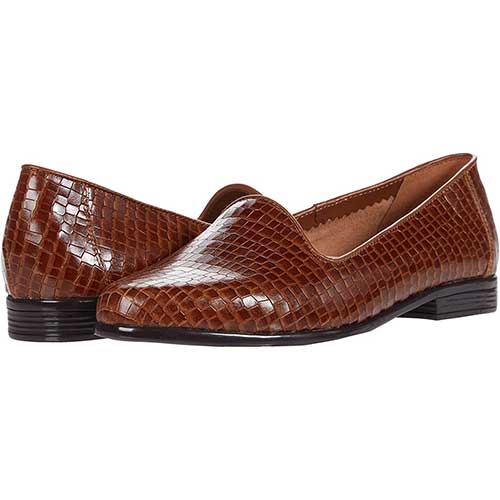 I think Trotters makes really stylish, classic looking loafers.
These have a croc print on the leather uppers and a soft textile lining inside.
The foot beds are cushioned for extra arch support, and the stacked heel and durable outsole makes them strong enough to last for several years.
ADVERTISEMENT
---
---
Best Innovative Flats with Arch Support: Mahabis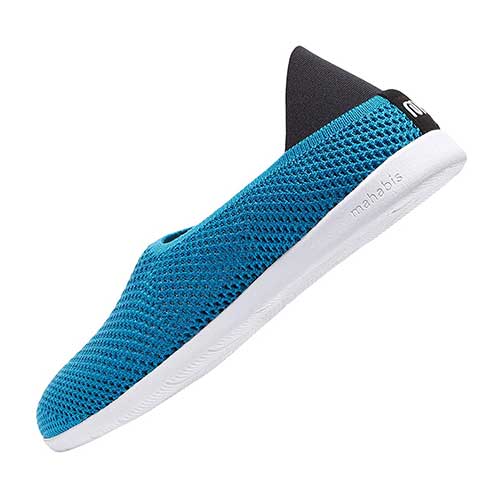 Mahabis is a unique brand that focuses on luxurious comfort.
They specialize in all day slipper-like footwear that gently relieves tired feet. These slip on casual flats are made from a specialty blend of wool and polyester, to regulate your foot temperature while keeping you warm.
The versatile rubber sole means you can wear these indoors or out, and the adaptable foam foot bed molds to the shape of your feet.
Finally, the neoprene heel cradle grips your heels for a secure fit, so they won't come off as you walk. These are a great flat for those who suffer from plantar fasciitis.
ADVERTISEMENT
---
---
Best Fabric Flats with Arch Support: UGG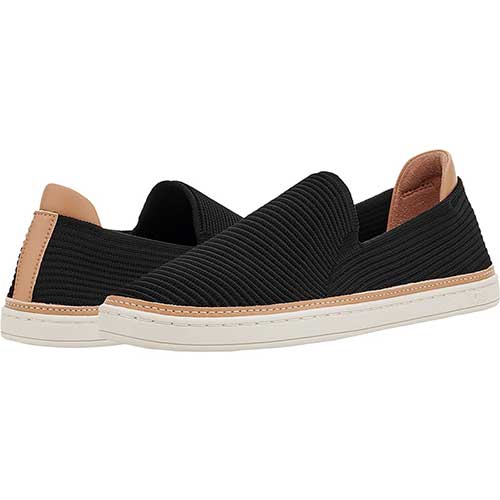 I swear by UGGs.
These flexible casual sneakers are sporty, cute and easy to wear for hours at a time.
The interior has foam and extra cushion for support, and the slip on style makes them so easy to wear for errands and trips to the mall.
They're not heavy to walk in and they look so cute! I honestly wish UGGs would make more casual spring and summer shoes in addition to their regular boot line up.
ADVERTISEMENT
---
---
Best Slip On Flats with Arch Support: Sofft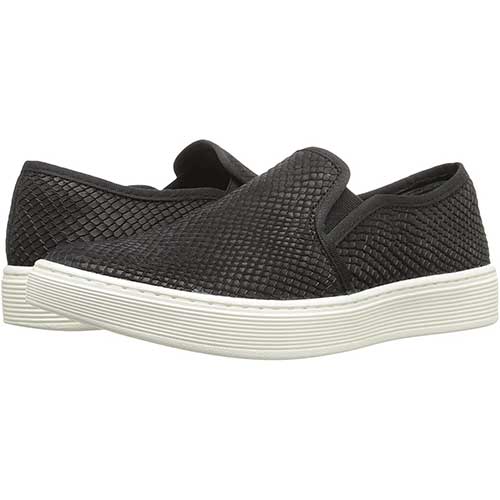 This easy going slip on sneaker from Sofft checks all the boxes.
A leather lined foot bed with added cushioning and arch support… a lightweight and flexible outsole.. and a texture, fun printed style!
These run true to size and are extremely comfortable, even without socks or inserts.
Best of all, they look stylish and youthful while still providing the comfort of orthopedic footwear.
ADVERTISEMENT
---
---
Best Sandals with Arch Support: Birkenstock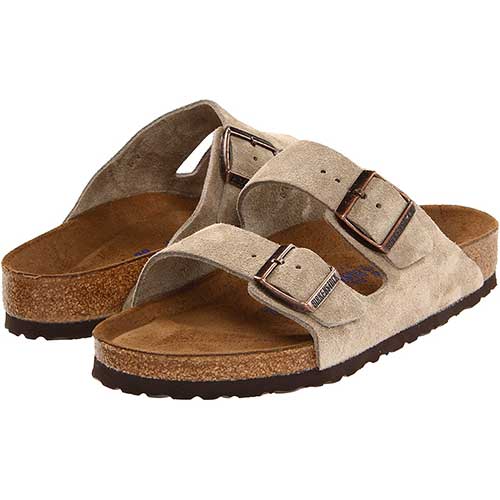 Birkenstocks are a long standing favorite for a reason – the family has been creating their classic comfortable sandals for over 240 years!
These stylish sandals feature an extra layer of foam cushioning.
The raised toe bar encourages the natural gripping motion of your feet, to encourage a supportive walking motion and stimulate circulation in the legs.
Meanwhile, the contoured foot bed has four arches to evenly distribute your weight and ensure proper posture as you walk.
Slip into these comfy sandals and your feet will thank you!
ADVERTISEMENT
---
---
Read More in my favorite Comfy Shoe series:
Most Comfortable Shoes
The Most Comfortable Flats EVER
The Most Comfortable Sandals for Summer
The Most Comfortable Boots for Winter
The Most Comfortable Heels (you can actually walk in)
Best Sneakers
The Best White Sneakers that Go with EVERYTHING
Cute Casual Sneakers to Wear Anywhere
Best Boots
The Best Chelsea Boots to Wear All Year Round
The Best Lace Up Boots for Military Inspired Chic
The Best Over the Knee Boots that Make a Statement!
The Best Shearling Boots to Stay Cozy this Winter
The Best Black Combat Boots That Go with Everything
Cozy At Home Shoes
The Best Mules for Easy Slip on Style
The Best Loafers to Look Polished but Stay Comfy
Shoe Reviews
The Best Travel Shoes in Every Style - Sneakers, Slip Ons, Flats & Sandals
Everlane Flats - These 5 Pairs are Extra Comfortable
OluKai Shoes: Sneaker & Sandal Review
Where to Get Stuart Weitzman Boots on Sale
Designer Inspired
The Best Cap Toe Ballet Flats to Get the Chanel Look, for Less
Classic Chanel Inspired Slingbacks (Two Toned)
The Best Chanel Inspired Espadrilles to Rock All Summer
The Best Manolo Blahnik Lookalikes
The Best Over the Knee Boots that Rival Stuart Weitzman Lowlands!
Follow Sher She Goes on
Youtube | Instagram | Facebook | Twitter | Pinterest | Bloglovin