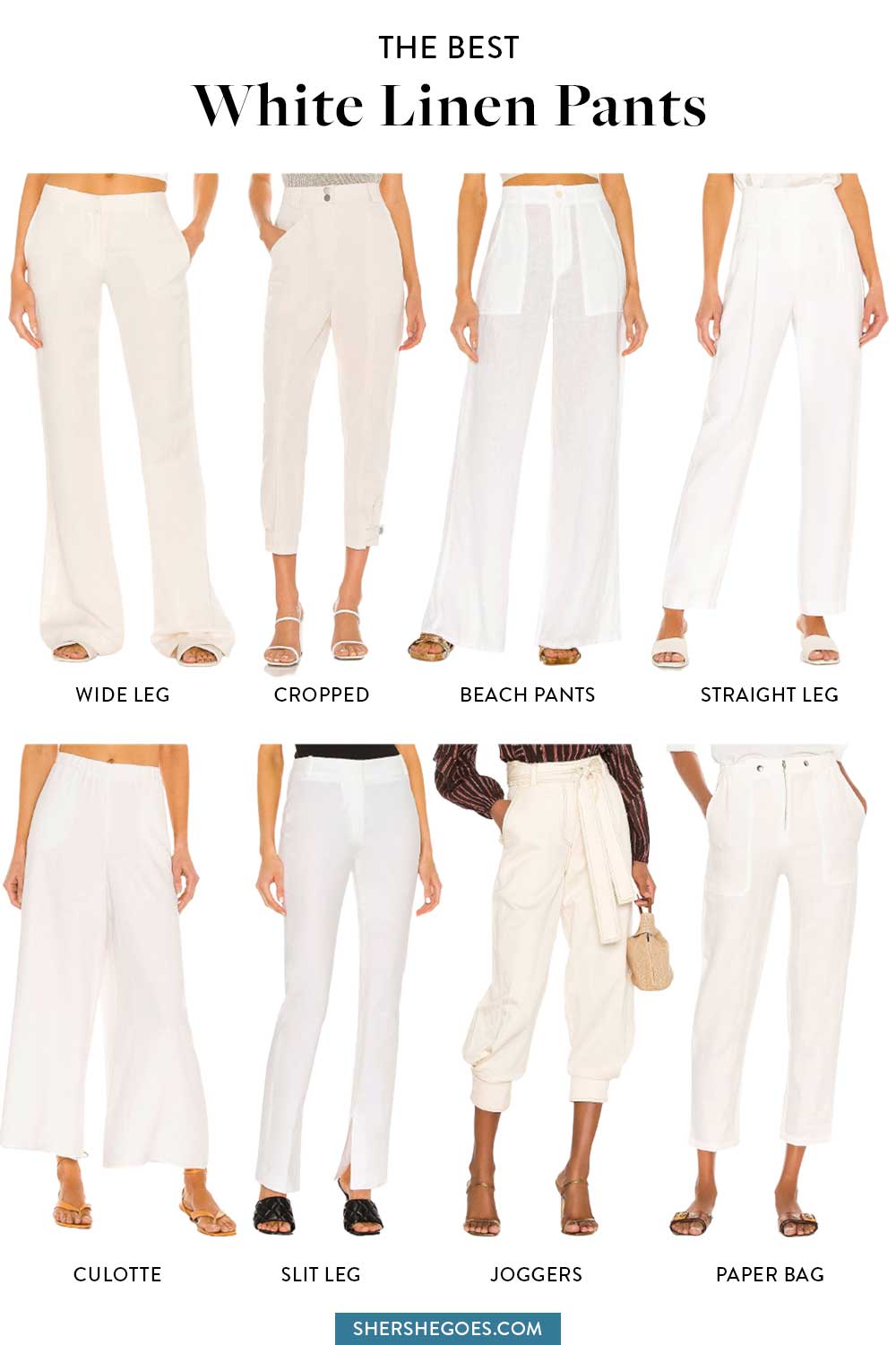 White Linen Pants
White pants and summer go hand in hand.
And linen and the sweltering heat are a match made in heaven.
So white linen pants?
Eureka! The perfect summertime bottom.
Here are the best white linen pants for summer, that you'll want to wear every. single. day.
ADVERTISEMENT
Keep reading, or pin this article to save it for later ⇟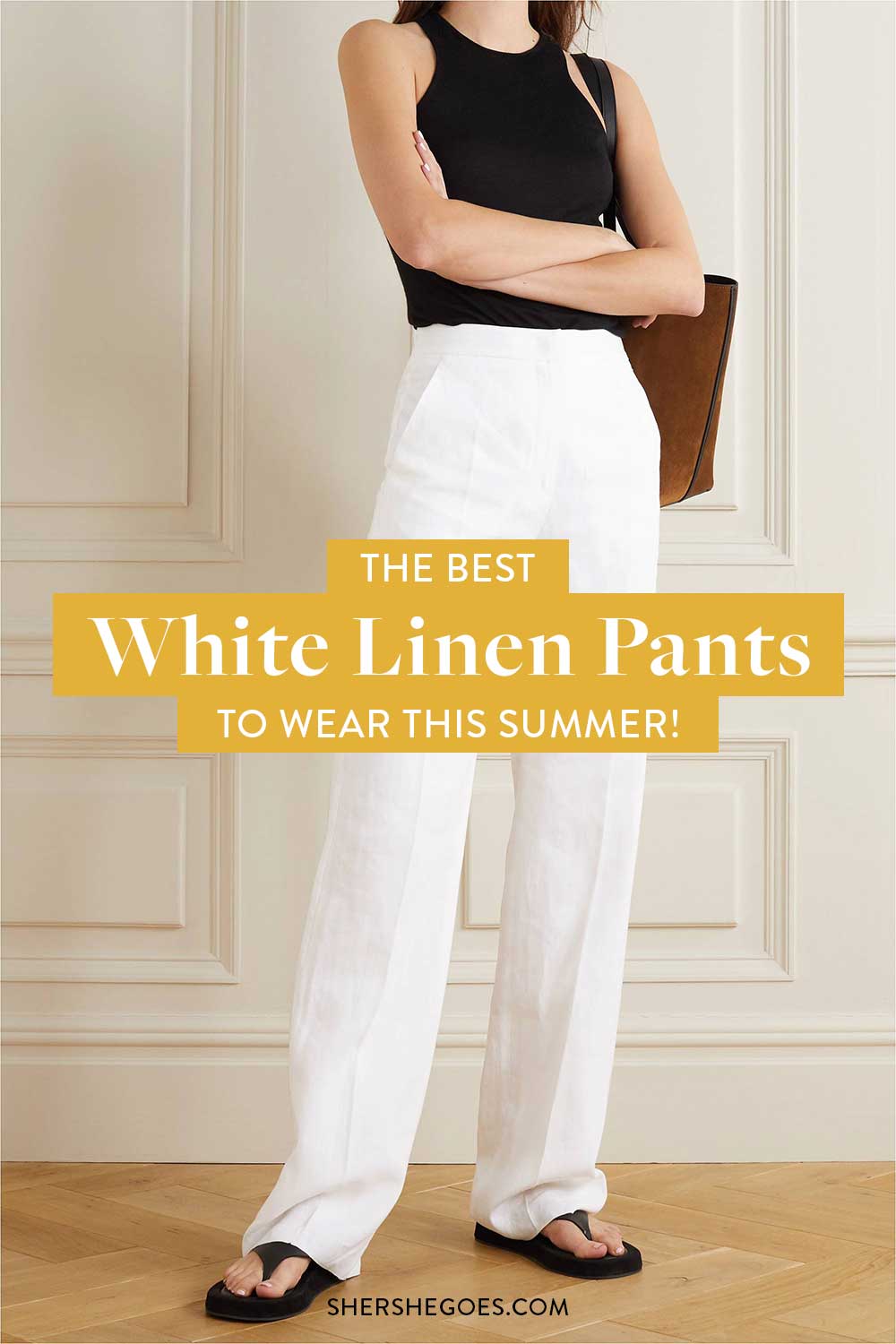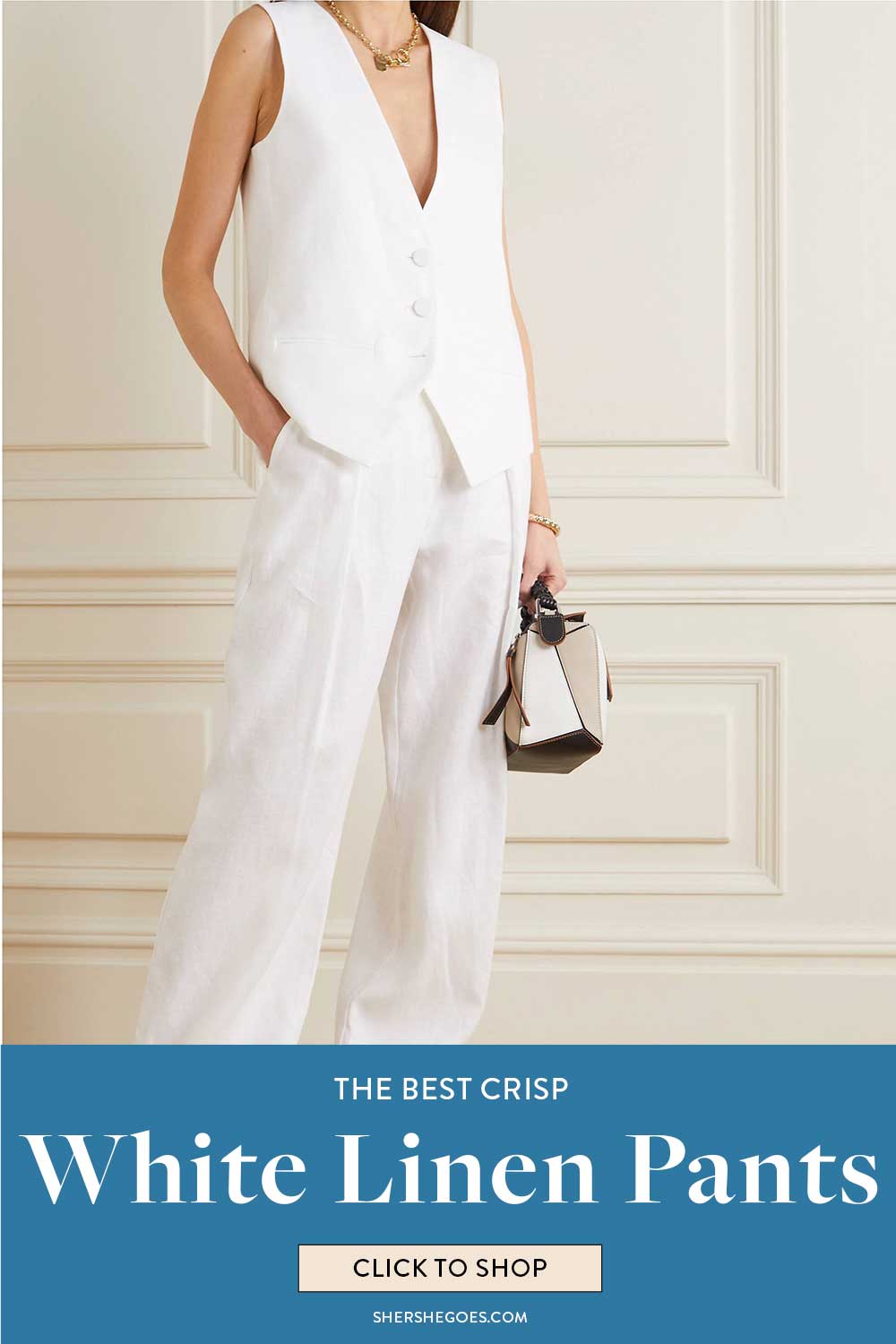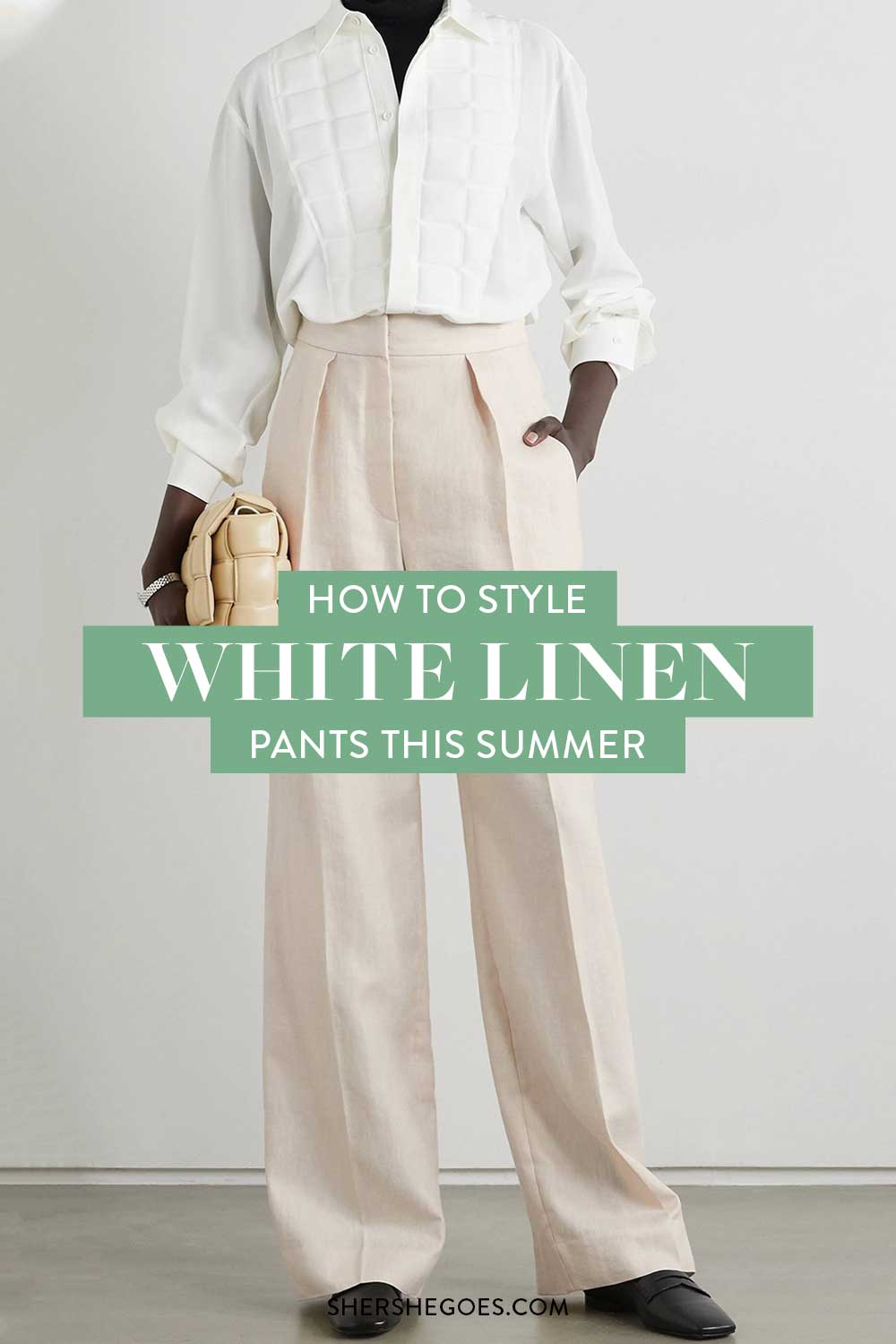 ADVERTISEMENT
---
---
White Linen Pants for Women
Linen is strong, lightweight and dries quicker than cotton. I think we all agree breezy linen is one of our must-have summer fabrics.
But finding the right fit of linen pants can be a matter of debate. No matter what pant style, hem length or occasion you're dressing for, we've rounded up some of the best white linen pants on the market.
Women's White Linen Pants
ADVERTISEMENT
---
---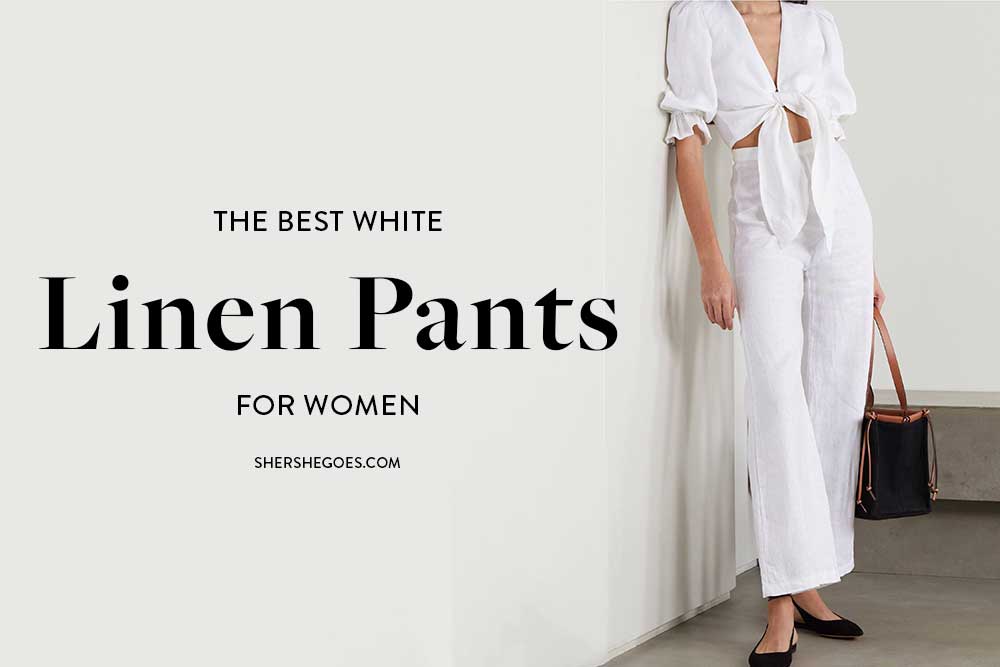 Best White Linen Pants
Most Affordable White Linen Pants: Amazon Essentials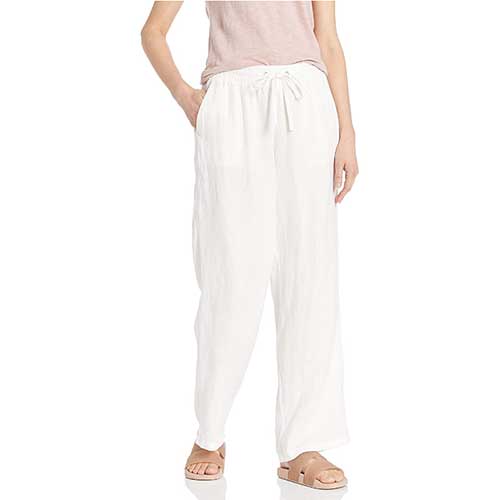 For a simple, everyday pair of casual linen pants, this Amazon option fits the bill.
They're made from 100% linen in a loose style cut for easy, minimalist style. They have a flexible drawstring closure and aren't sheer!
Best of all, they're machine washable.
ADVERTISEMENT
---
---
Best Drawstring White Linen Pants: Tommy Bahama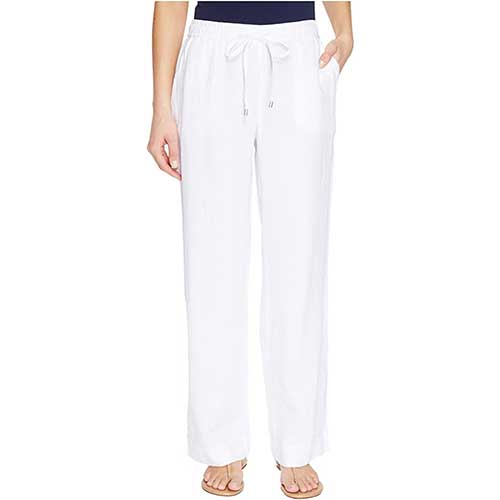 Tommy Bahama specializes in comfy, laidback summer style.
These white linen pants are a nice soft option for the beach. They run slightly large, but are billowy and loose so you can feel the summer breeze.
Great quality for the price!
ADVERTISEMENT
---
---
Best White Linen Pant Suit: Reformation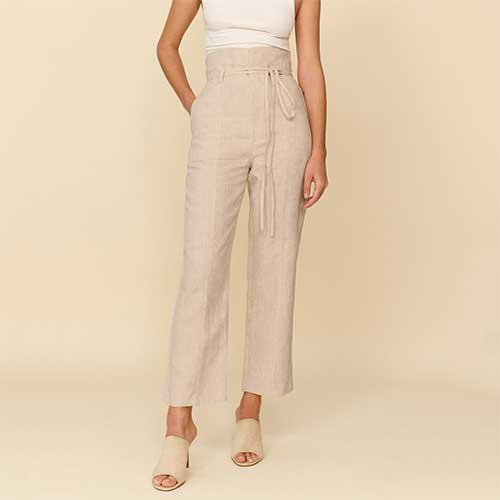 For something a bit more sleek and fitted, try Reformation.
These high-waisted linen pants are the perfect option for hot girl summer. With a flattering ankle length, accentuating waist belt and straight leg, they can dress up any basic white tee to create a smart casual summer outfit!
ADVERTISEMENT
---
---
Best White Linen Pants for the Beach: Roxy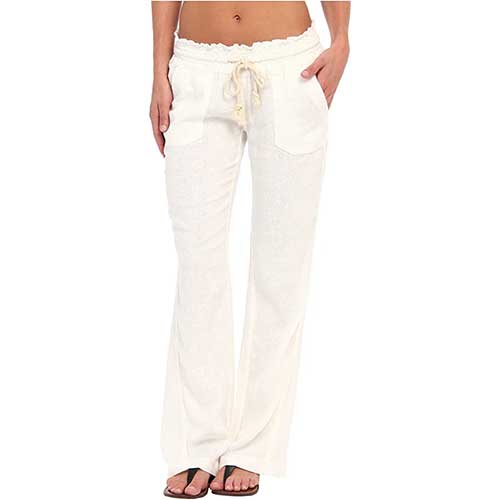 For all your beachside vacations, you'll want a cozy pair of long, loose white linen pants.
These run nice and long, perfect to curl up on the back porch for a barbeque or to walk along the sandy beach. We love the smocked waistband, adjustable drawstring and abundance of pockets (both in the front and rear!)
They're a linen viscose blend for the perfect marriage of breeziness and softness.
ADVERTISEMENT
---
---
Best White Linen Pants for Petites: NYDJ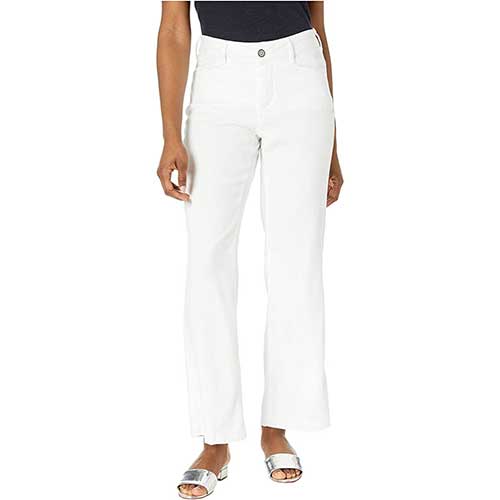 On the other hand, if you're petite, you might prefer a shorter inseam option.
These NYDJ linen trousers have a wide leg silhouette, with tucking and darting in the waist and rear to lift your bum.
They run true to size and are super comfortable!
ADVERTISEMENT
---
---
Best Wide Leg White Linen Pants: Revolve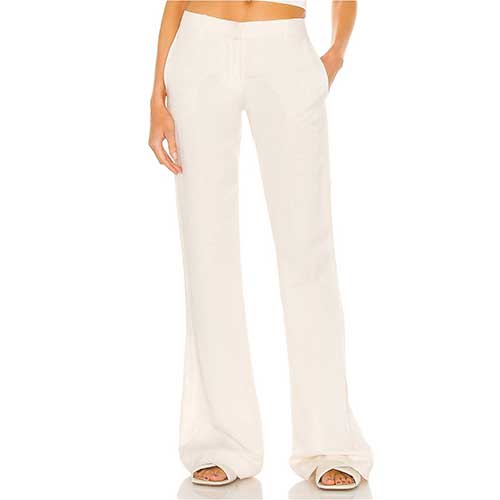 Revolve offers some of the most versatile white linen pants on the market.
They all run a bit on the trendier side, but if you prefer a more fitted look, you'll be pleased at the variety of styles and options! .
In particular, we love these affordable wide leg linen pants and these sleek slit leg white linen trousers (that have a matching linen blazer)!
ADVERTISEMENT
---
---
Best Plus Size White Linen Pants: Eileen Fisher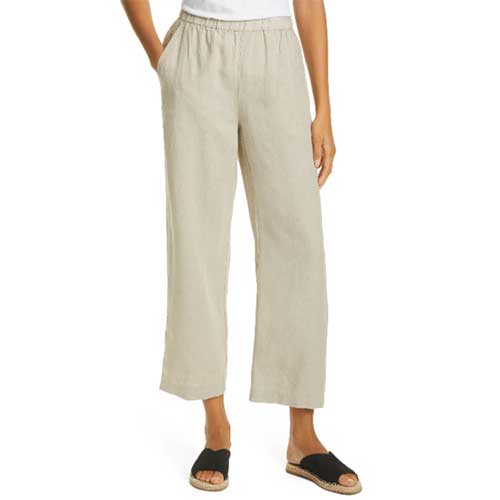 Eileen Fisher is a brand that's long been known for her organic and high quality approach to timeless basics.
So it's natural that she'd make some truly fantastic linen pant options!
These popular full length linen trousers are available in regular and plus size options and feature an elastic waistband for a comfortable fit. With a straight leg style and tencel linen blend fabric, they're easy to pair with your existing wardrobe and machine washable!
ADVERTISEMENT
---
---
What to Wear Under White Linen Pants
It's important to wear the right kind of underwear with white linen pants.
High quality linen will often be just the slightest bit see through, so nude seamless underwear can help keep everything under wraps!
Try a simple hi cut brief like these from Wacoal, or these invisible edge thongs from Commando (which come in a variety of colors)!
If you prefer a bit more support, Spanx makes a cult favorite panty that has compression and tummy control. They look like a regular pair of briefs (no Bridget Jones moments with these on), but offer a supportive, comfortable and line-free look and feel.
What Shoes to Wear with White Linen Pants
The beauty of white linen pants is that they're so versatile.
You can pair them with just about anything! Wear a simple white crop top and some leather slides for a classic summer look.
Or, pair a flowy cottage core top with some wedge espadrilles for a feminine girly outfit.
White linen trousers can even pair nicely with dad sneakers – throw on a loose blazer and add an oversized clutch and you look sleek and sophisticated!
ADVERTISEMENT
---
---
Shop Women's White Linen Pants
---

ADVERTISEMENT
---
---
Read More: in our summer style series:
Summer Essentials
Everything You Need for a Classic Summer Wardrobe
The Best White T Shirts in Every Style
The Best Classic White Button Down Shirts
Summer Dresses
7 Easy, Comfortable T Shirt Dresses for Summer
The Most Chic Slip Dresses to Dress Up or Down
The Best Fit and Flare Dresses
The Best White Dresses on Amazon
25 Cute & Affordable Amazon Dresses
Summer Shoes
The Most Comfortable Summer Sandals
The Best Minimalist Strappy Sandals
The Best Classic White Sneakers
Review: Olukai Sandals
Review: Everlane Flats
The Best Chanel Espadrille Lookalikes
Summer Accessories
The Best Sun Hats that Offer Full Sun Protection
7 of the Cutest Straw Basket Bags
Summer Linen
The Cutest Linen Dresses for Hot Summer Nights
The Best Men's Linen Pants - Summer Casual
The Best Women's Linen Pants for Coastal Chic Style
The Best Women's White Linen Pants - Simple, Clean & Breathable!
Summer Swim
The Best Online Sites to Shop for Swimwear
The Best Swimwear Brands at Every Price Point
The Best Swimsuits for Small Busts
Amazon Fashion Finds: Modest Swimsuits
The Best High Waisted Bikini Bottoms to Keep Everything Tucked In
Follow me @Sher She Goes on