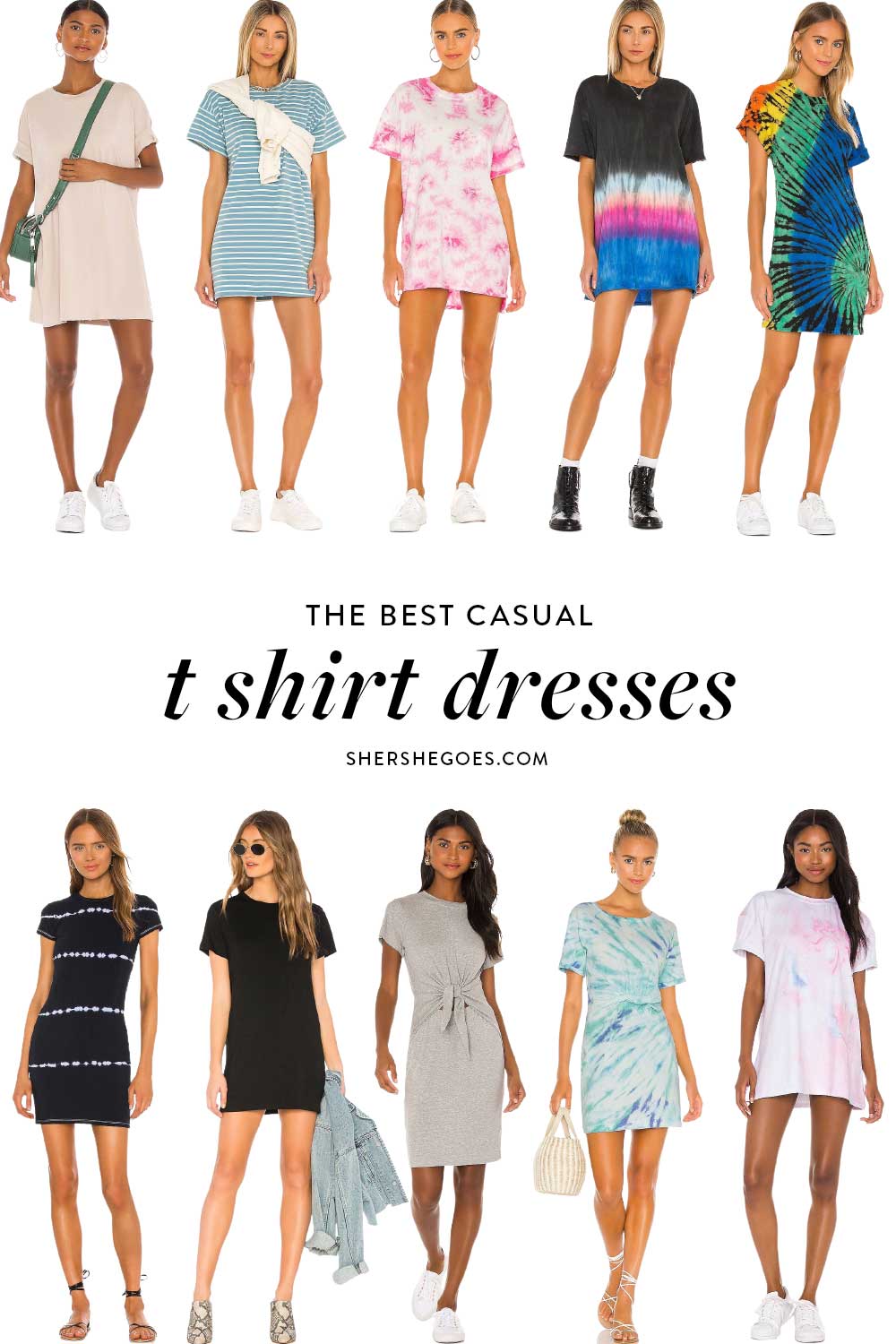 The Best T Shirt Dresses (2021)
As current fashion trends continue centering around a theme of "as casual as humanly possible while still looking chic," the popularity of the T shirt dress has accordingly exploded.
This is about the happiest any fashion trend has made me in SUCH a long time!!
First of all, I hate wearing pants.
Like, without going into too much detail, I wear pants about as infrequently as is humanly (or legally) possible.
With that being said, sometimes even wearing a full-fledged summer dress is more work than I want (or need, frankly, for casual outings) to put into my spring and summer outfits.
Mercifully, the T shirt dress evokes the effortlessly casual vibe of jeans and a t-shirt without, you guessed it, the hassle of pants!
I'm truly obsessed with the T-shirt dress wave, so I may have gone overboard with this post.
Either way, keep reading for my 9 favorite T shirt dresses for this spring and summer!
ADVERTISEMENT
Keep reading, or pin this article to save it for later ⇟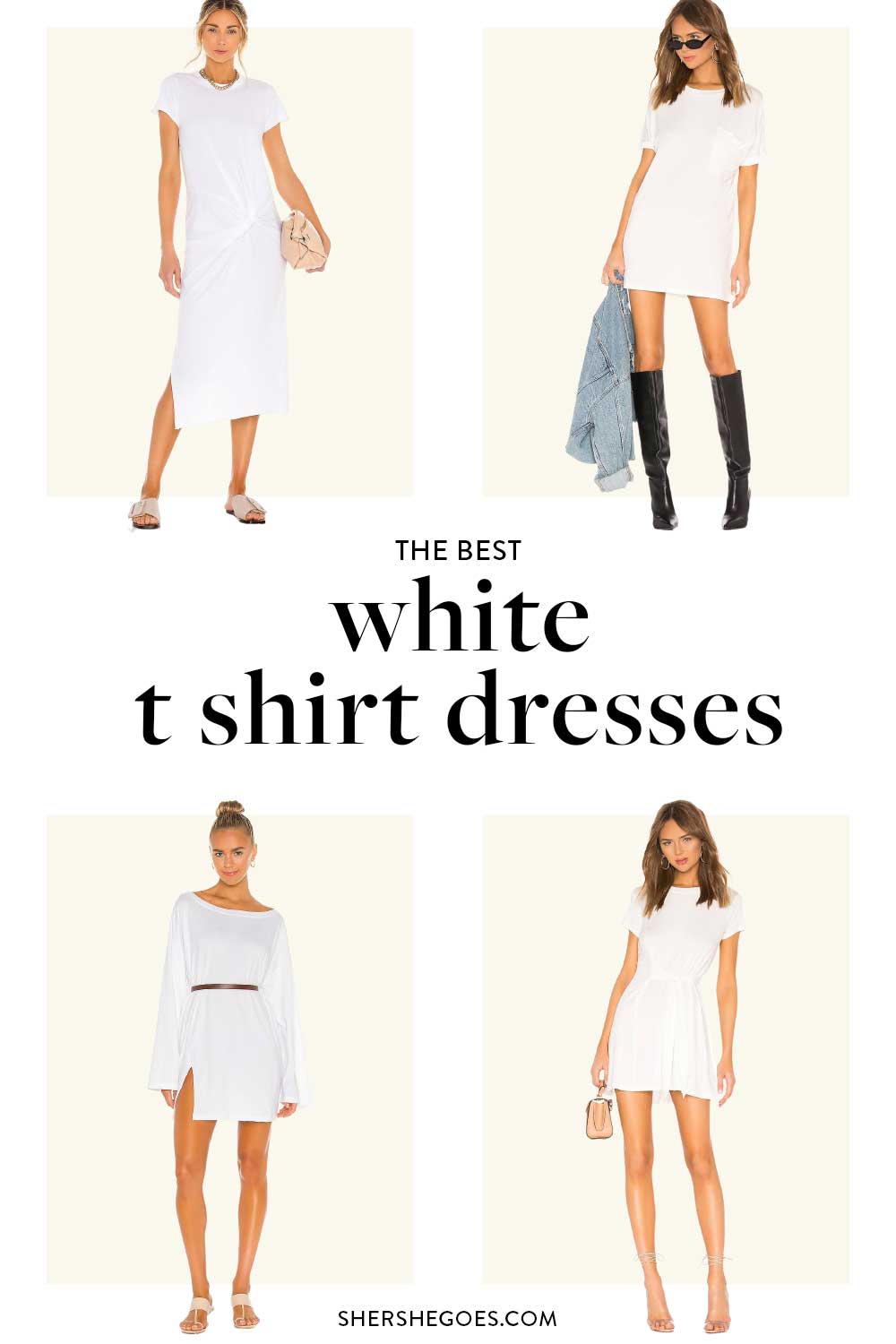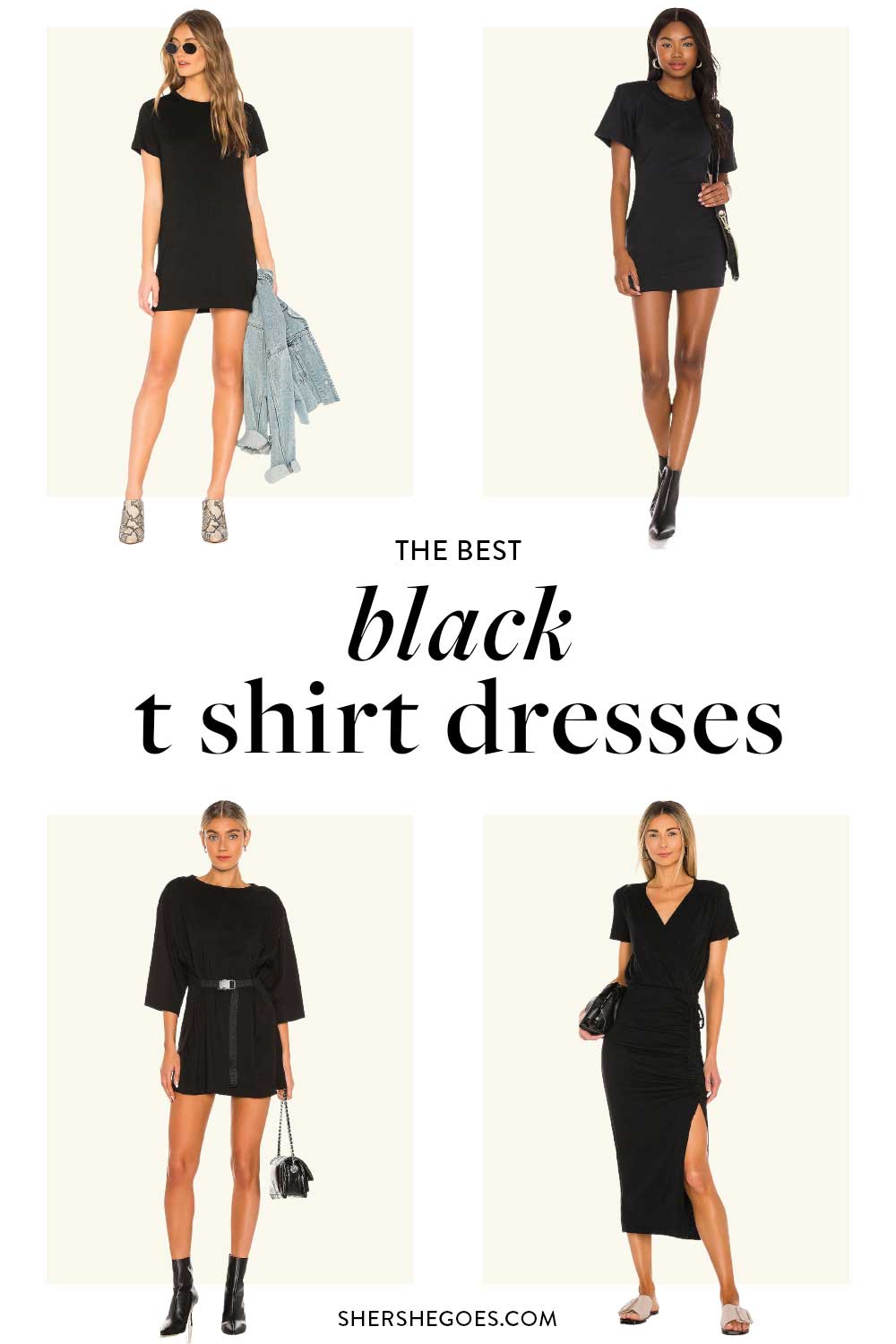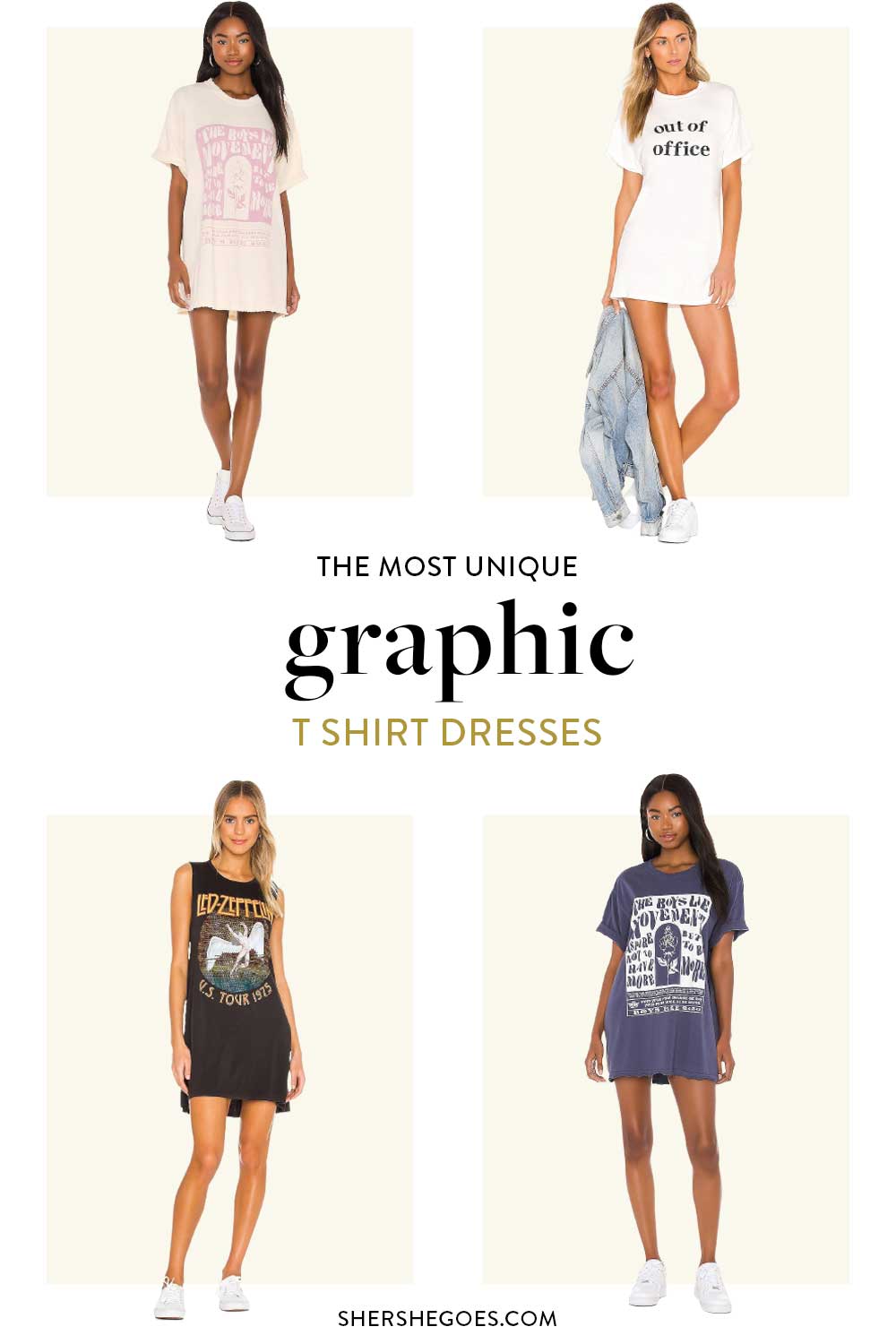 ADVERTISEMENT
---
---
The Best T-Shirt Dress Styles (2021)
Who doesn't want to dress down when they're dressing up?
From white to black, to oversized and tie dye – here are our favorite T shirt dresses to rock that casual vibe all summer long!
Top T-Shirt Dress Brands
ADVERTISEMENT
---
---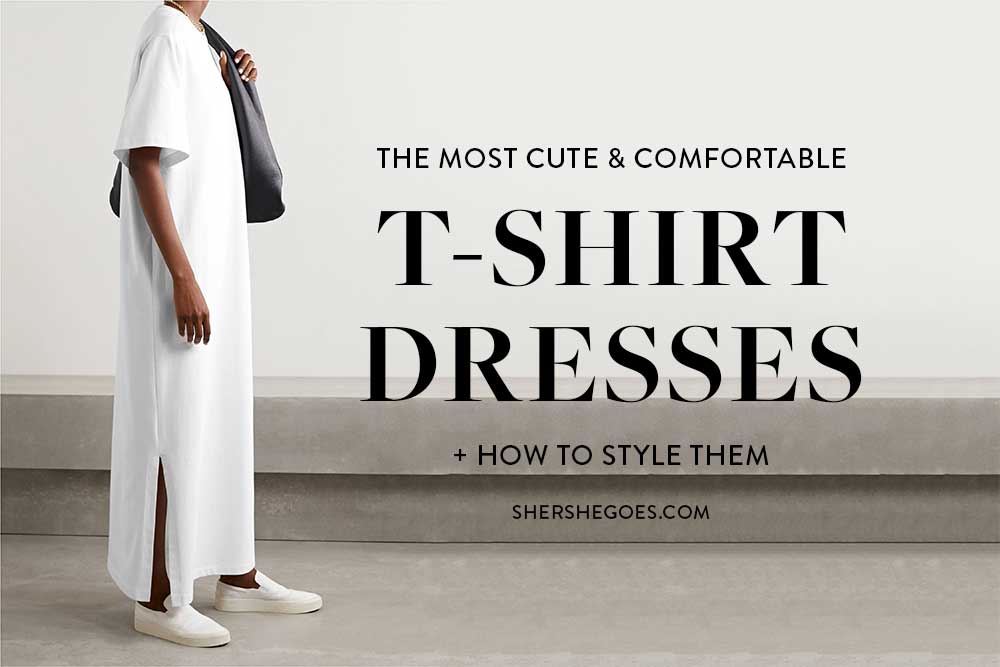 The Best T-Shirt Dresses
Best Oversized T Shirt Dress: Hanes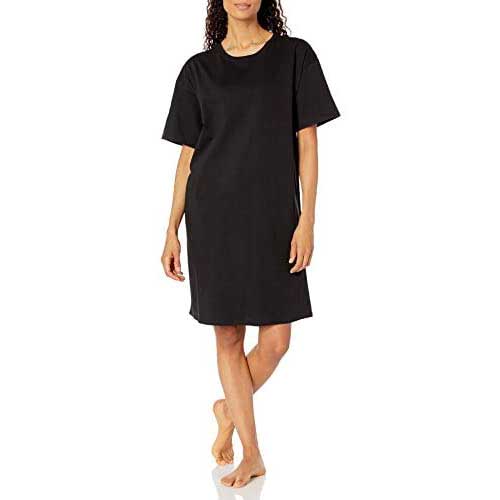 Although labeled as nightshirt, don't be led astray by our first T shirt dress option from Hanes.
Made entirely with super soft cotton, this especially oversized T shirt dress works equally well whether you're going to bed or casually meeting a friend on a chill Sunday afternoon, for example!
ADVERTISEMENT
---
---
Best Cotton T Shirt Dress: Everlane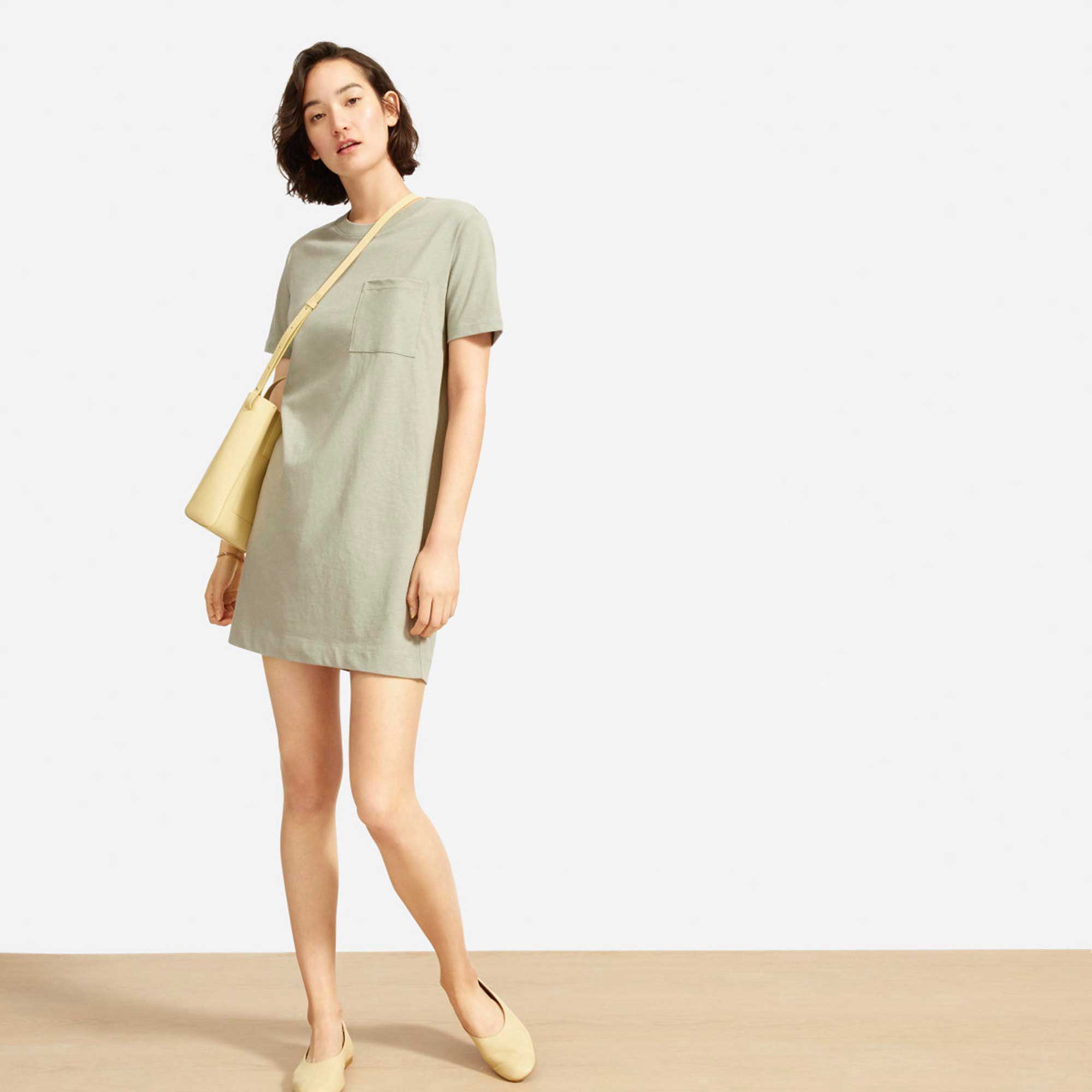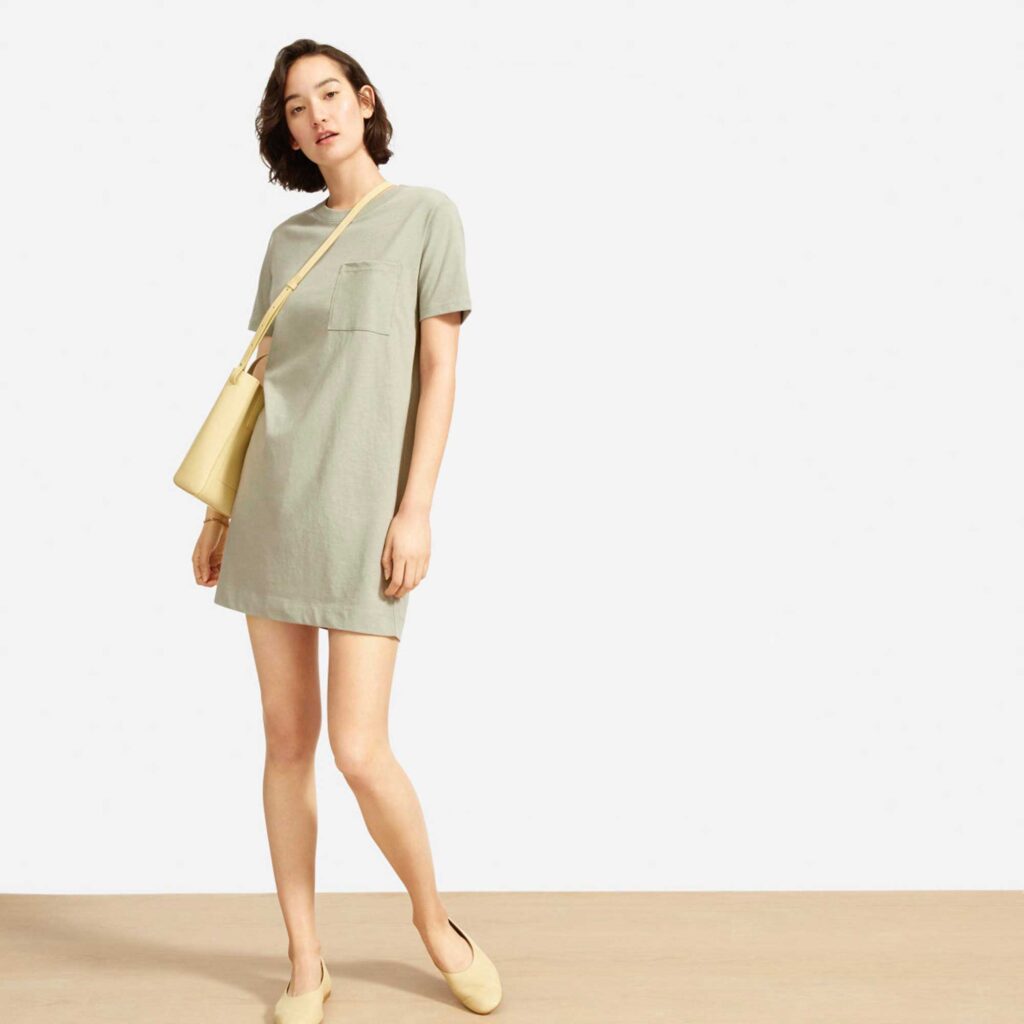 At the risk of exposing too much New York bias, this cotton T shirt dress from Everlane is the perfect option for chill Brooklyn hipster vibes.
Inspired by vintage (see, I told you!) t-shirts, this cotton Everlane T-shirt dress includes a relaxed fit, set-in sleeves, and a convenient front chest pocket.
ADVERTISEMENT
---
---
Best Black T Shirt Dress: Toad&Co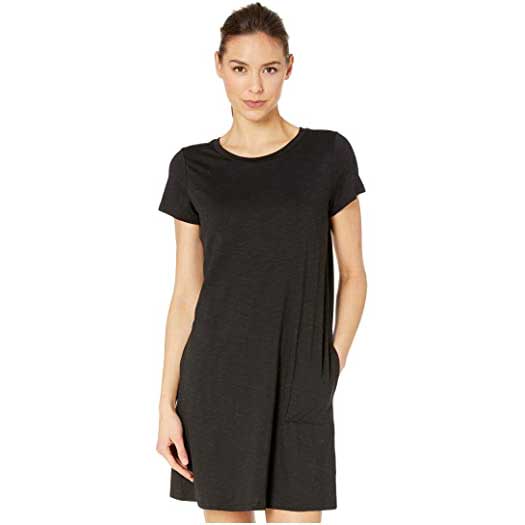 I've written a feature on Toad&Co in which I highlight how much I love this brand's mission to create clothing that transitions seamlessly form the pristine outdoors to the bustling social scene.
This black T shirt dress from Toad&Co perfectly achieves that brand vision thanks to its comfortable cotton fabric, moisture-wicking treatment, and inclusion of at least 20% recycled content during manufacturing!
ADVERTISEMENT
---
---
Best T Shirt Dress with Pockets: Arc'teryx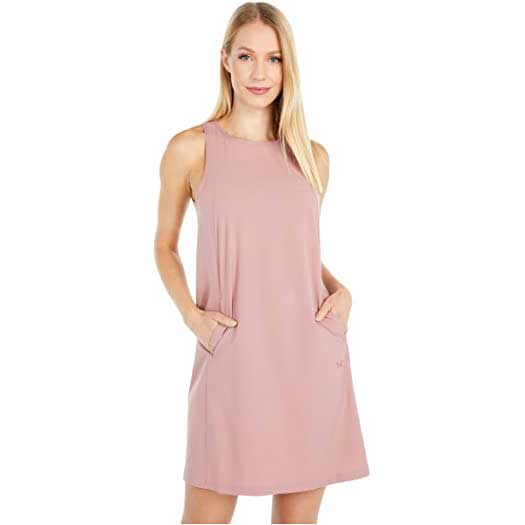 If you're surprised to see Canadian outfitters Arc'teryx making T shirt dresses, I was too!
The highly respected outerwear brand has ventured into urban wear over the past few seasons, yielding us this adorable t-shirt dress with a relaxed fit, quick-drying fabric, and discreetly located zippered pockets!
ADVERTISEMENT
---
---
Best Plus Size T Shirt Dress: Universal Standard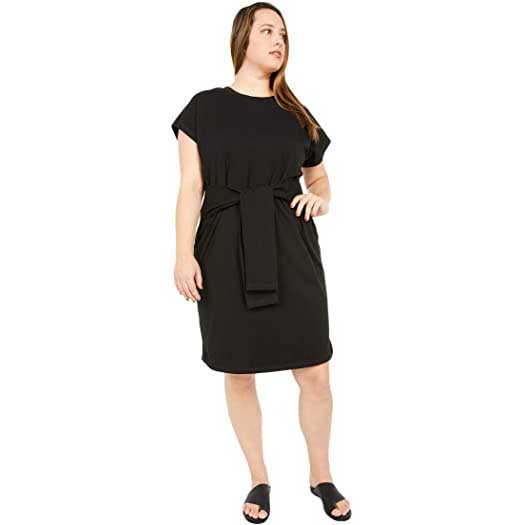 Roomy, flowing, casual, relaxed.
It's as if T shirt dresses were intentionally designed for the bigger beauties among us!
My favorite plus size T shirt dress comes from Universal Standard and is highlighted by a flattering crew neckline, cute waist bow, and incredibly supple fabric made from a blend of modal and Peruvian cotton!
ADVERTISEMENT
---
---
Best Maxi T Shirt Dress: Michael Kors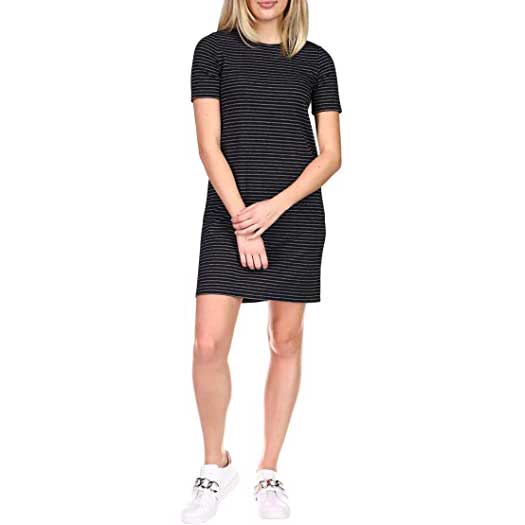 After checking out some lovely yet casual T shirt dresses, let's take a look at our first option that's admittedly more dress than T-shirt.
Coming from Michael Kors and made entirely with sleek polyester, this maxi T shirt dress also offers a short-sleeve crew neck, straight hemline, and subtle striped pattern!
ADVERTISEMENT
---
---
Best Midi T Shirt Dress: Daily Ritual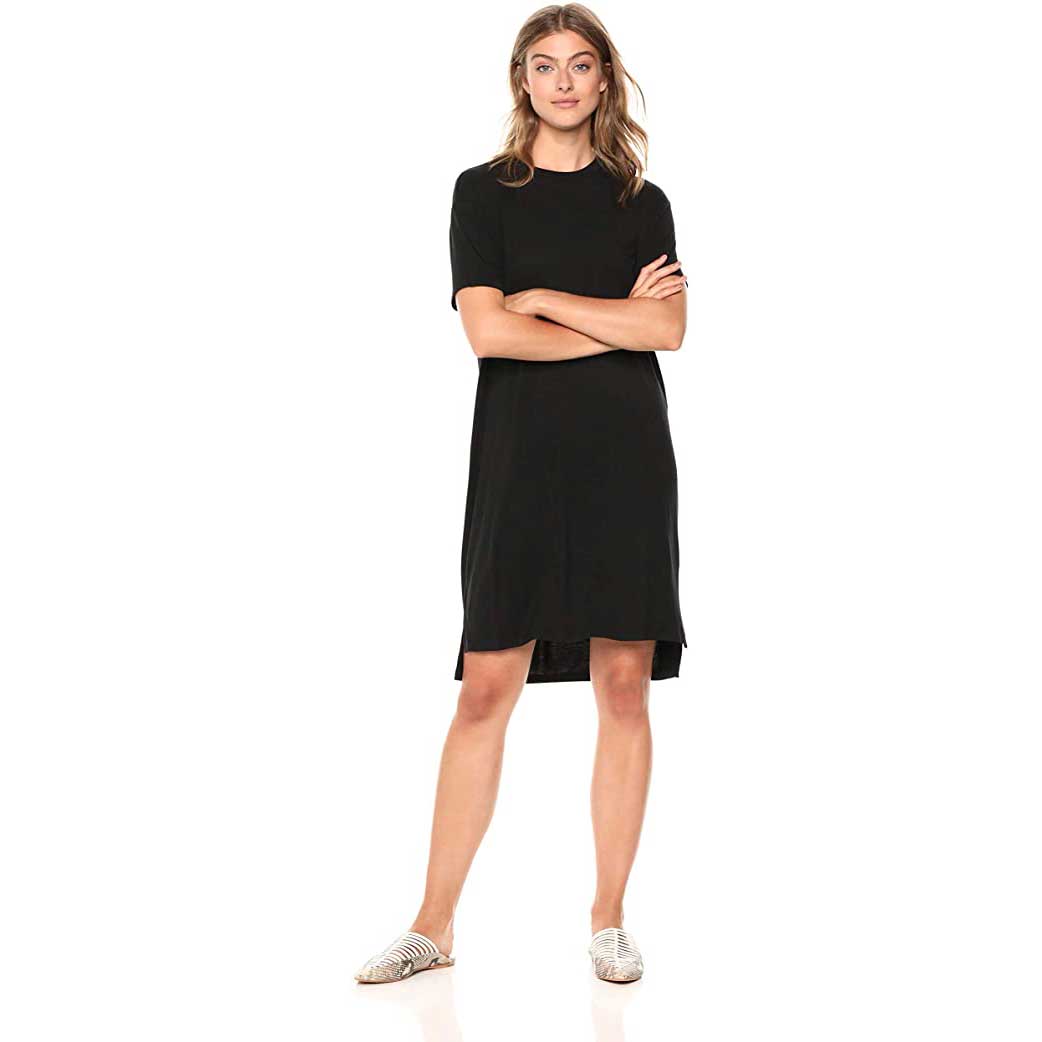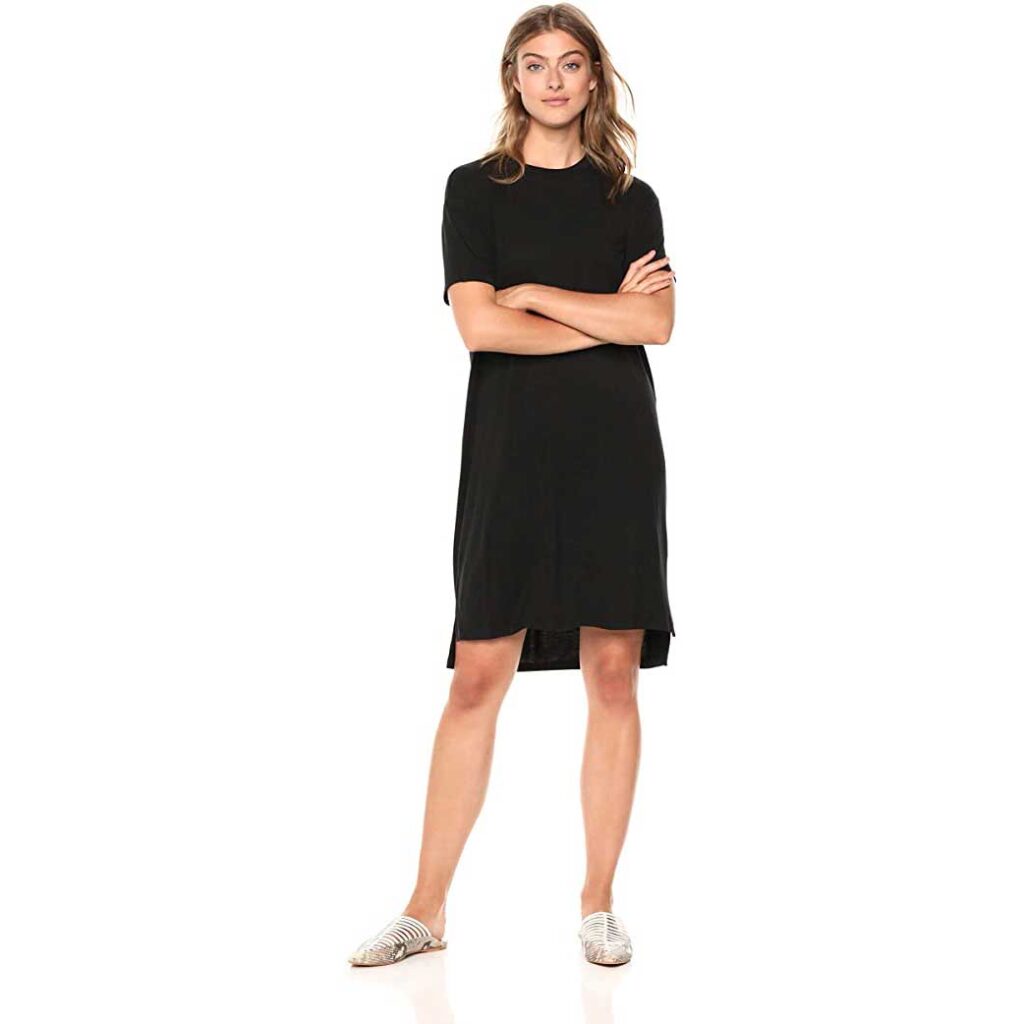 If you're looking for a longer, spunkier option, check out this midi T shirt dress from Daily Ritual.
The relaxed fit and high crewneck complement the effortless vibe of this T shirt dress, while the incredibly delicate viscose fabric (a semi-synthetic textile made from natural cellulose sources) creates a durable, comfortable feel!
ADVERTISEMENT
---
---
Best T Shirt Dress with Long Sleeves: PopYoung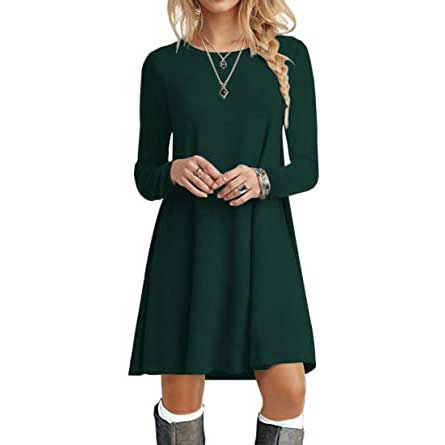 Hey, if you've made it this far, odds are you like what you see from T shirt dresses…
…which is all the more reason to make sure you have a suitable T shirt dress when the weather gets cooler.
The PopYoung T shirt dress is a solid cold weather option and includes a smooth rayon fabric to go along with a relaxed (but not loose!) fit!
ADVERTISEMENT
---
---
Best Tie Dye T Shirt Dress: Romwe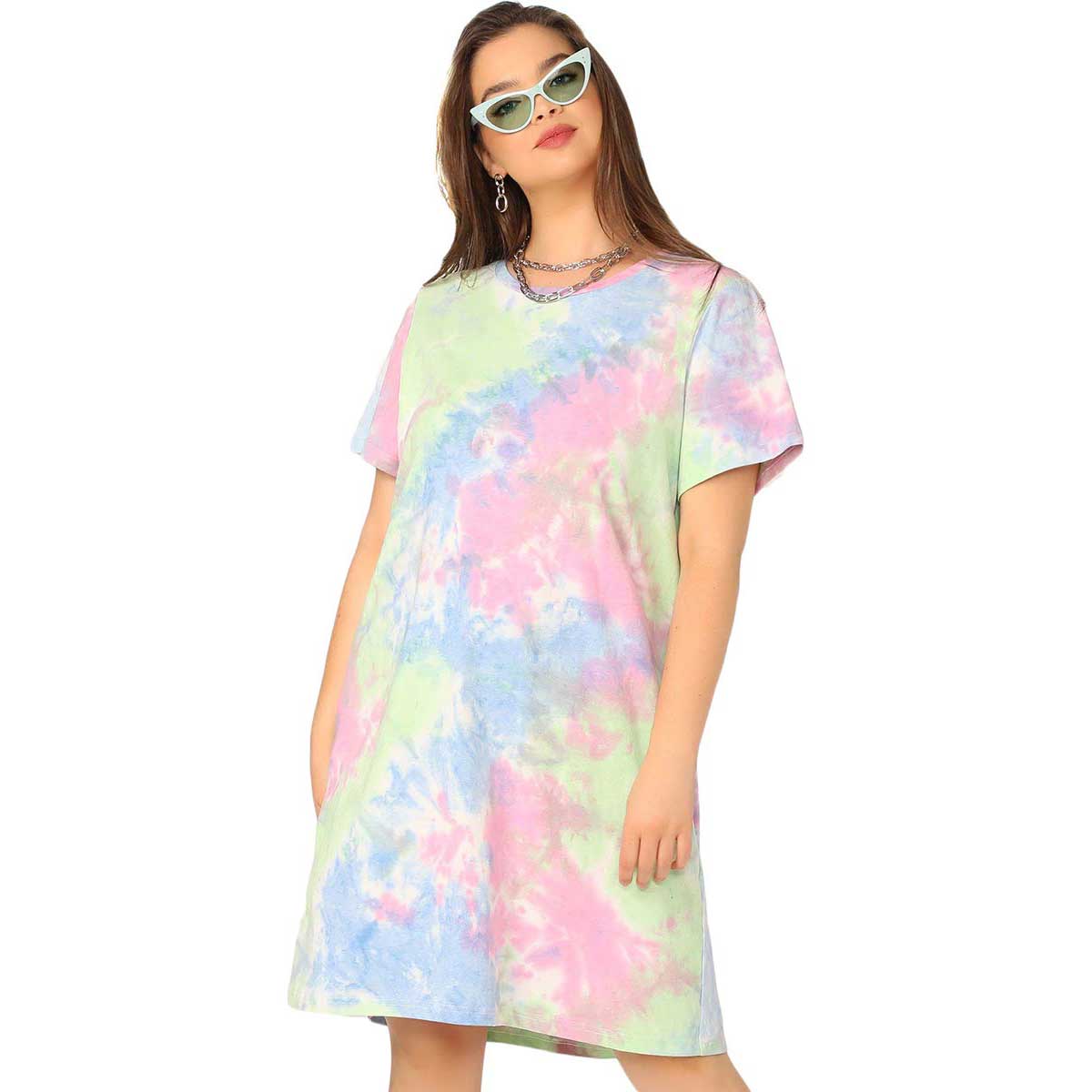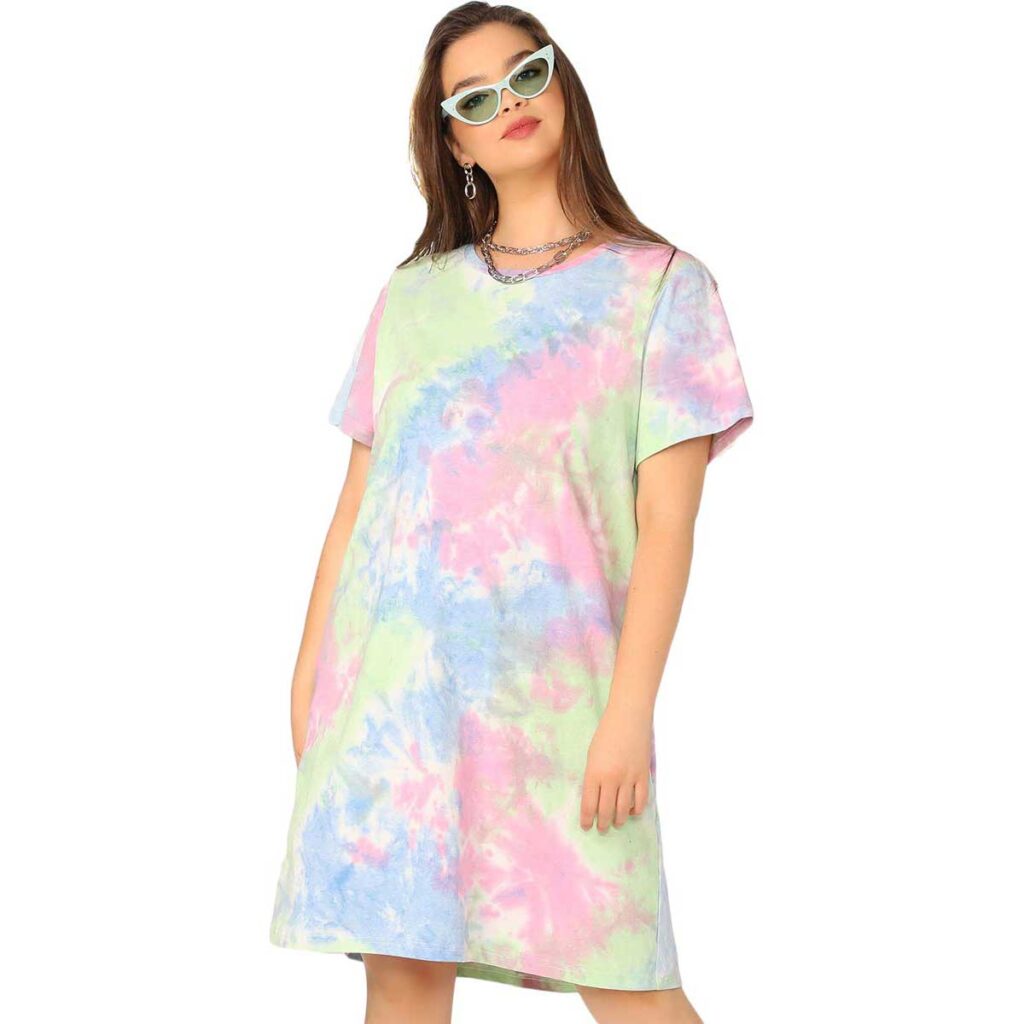 Tie dye has made one of the more unexpected fashion comebacks in recent memory, so why not kill two birds with one dress and pair this trend with the growing T shirt dress craze?
What I love most about this tie dye T shirt dress from Romwe is its durable polyester, stretchy fabric, and relatively subdued (read: not blinding) tie dye patterning!
ADVERTISEMENT
---
---
Shop Women's T Shirt Dresses
---

ADVERTISEMENT
---
---
Read More of the best Amazon Fashion Finds:
Amazon Spring Fashion
The Best Affordable Spring Clothes on Amazon
Trendy Spring Items You Can Find on Amazon
Amazon Summer Fashion
The Best White Dresses on Amazon
Breezy, Beautiful Linen Dresses to Stay Cool All Summer Long
The Best Sun Hats - Stylish, but with Sun Protection
10 Cute Basket Bags for Summer
8 Swimwear Trends to Try in 2020
The Best Modest Swimwear Finds from Amazon
Amazon Fall Fashion
The Best Faux Leather Leggings (Affordable Spanx Lookalikes)
The Best Fleece Jackets on Amazon
The Best Designer Inspired on Amazon: Shoes, Handbags & Accessories
The Best Clear Purses for Game Days & Concerts
Amazon Winter Fashion
The Best Snow Boots on Amazon
5 Stylish Warm Winter Coats on Amazon
The Best Winter Gloves on Amazon
The Most Comfortable Boots for Fall Winter
Amazon Holiday Fashion
The Best Holiday Party Dresses on Amazon that Look Amazing but are Under $50
The Best Ugly Christmas Sweaters on Amazon - Adorable, Funny & Cute!
Amazon Work Clothes
The Best Work Dresses on Amazon
I Tried Amazon's Personal Shopping Service: Here's My Review
Cozy Loungewear
The Best Comfy Bralettes on Amazon
The Most Comfortable Loungewear on Amazon
The Cutest Jumpsuits & Rompers on Amazon
The Best Workout Clothes on Amazon
12 Athleisure Outfit Ideas from Amazon
Cute Matching Pajama Sets from Amazon
The Best Womens Slippers on Amazon
The Best Mens Slippers on Amazon
Amazon Fashion Casual Clothes
The Best Denim Jackets on Amazon
The Best Casual Sneakers: 12 Comfy, Affordable Picks
10 Cute Slip on Sneakers on Amazon
The Best Matching Loungewear Sets to Look Cute + Cozy
Amazon Home Finds
The Best Floor Lamps on Amazon: Chic & Affordable
Amazon Furniture Finds: Stone & Beam
Roborock vs. Roomba: Which Robot Vacuum Is Best?
Are Standing Desks Worth It? A BDI Desk Review
Affordable Amazon Wall Art
The Best Affordable Faux Plants from Amazon
Cute Affordable Planters on Amazon
The Best Smelling Candles on Amazon
Follow me @Sher She Goes on