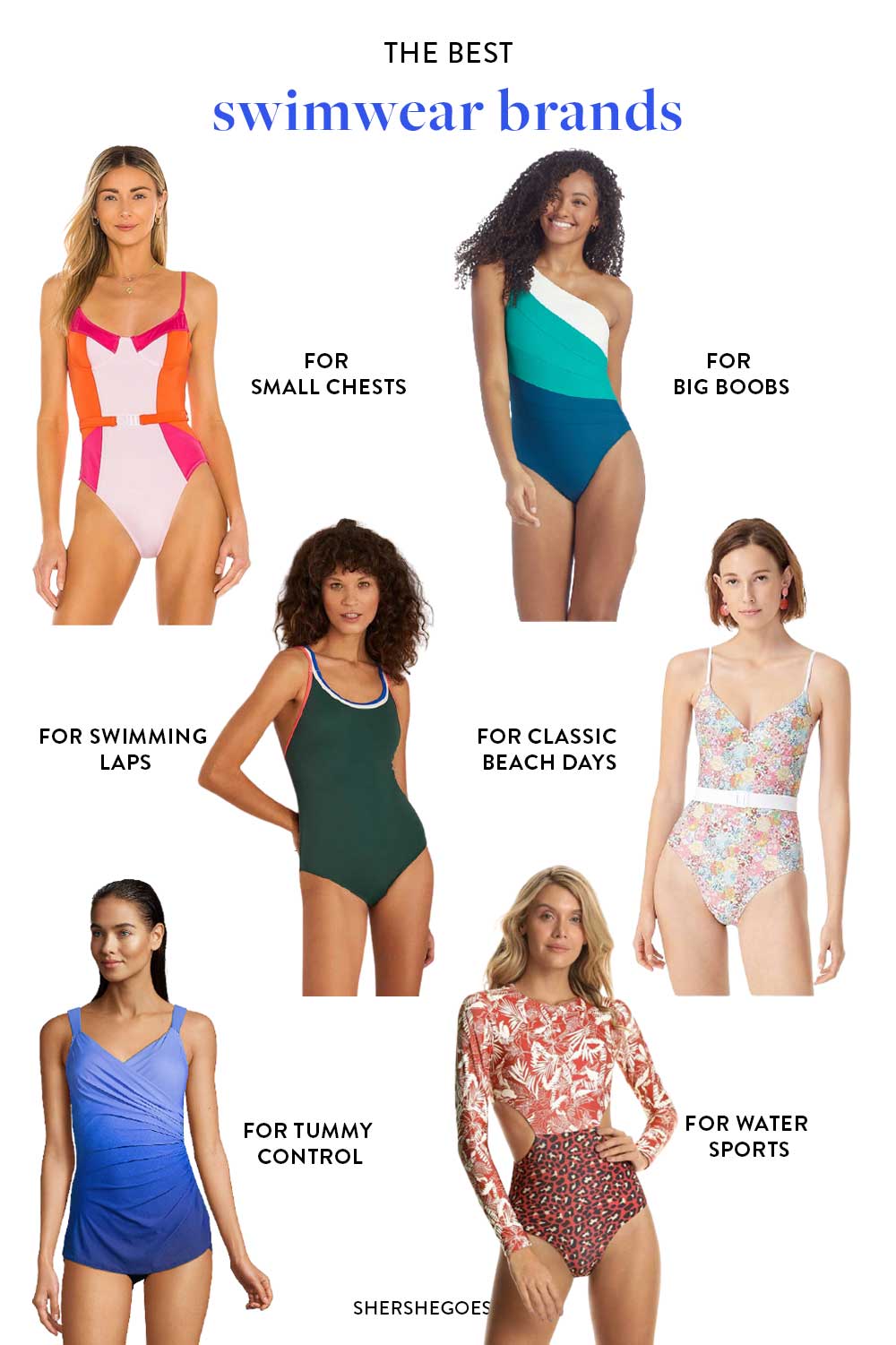 Best Places to Buy Swimsuits
Shopping for swimsuits is kind of like shopping for jeans.
It doesn't really matter how you look, the experience is almost universally frustrating and annoying. These days I prefer to do most of my shopping online – whether it be for groceries or hard-to-buy items like swimsuits.
You can do it all from the privacy of your own home, and really see how things look without the deceiving glare of in-store lighting.
So in preparation for summer, here are our our favorite online retailers to buy swimwear!
ADVERTISEMENT
Keep reading, or pin this article to save it for later ⇟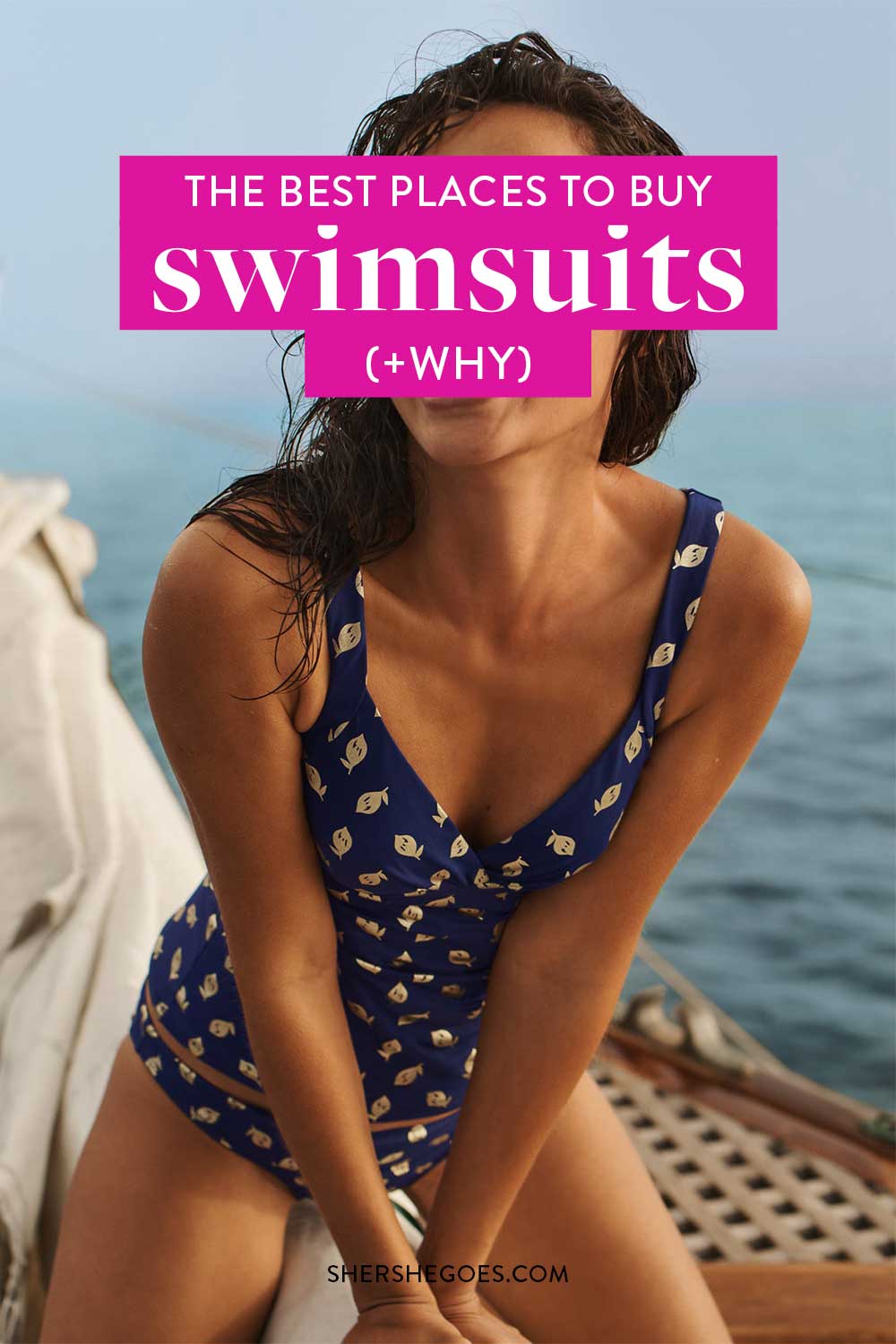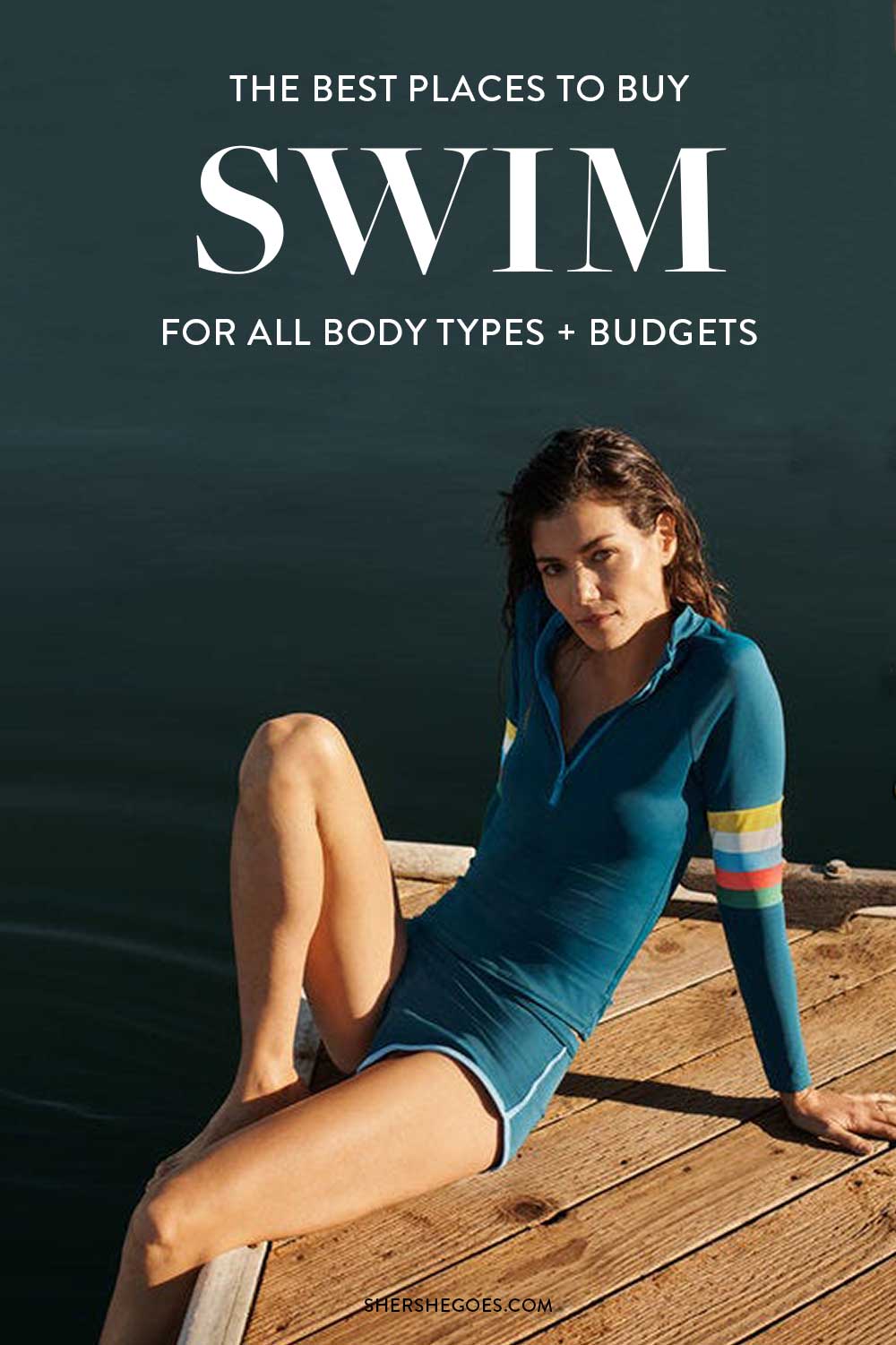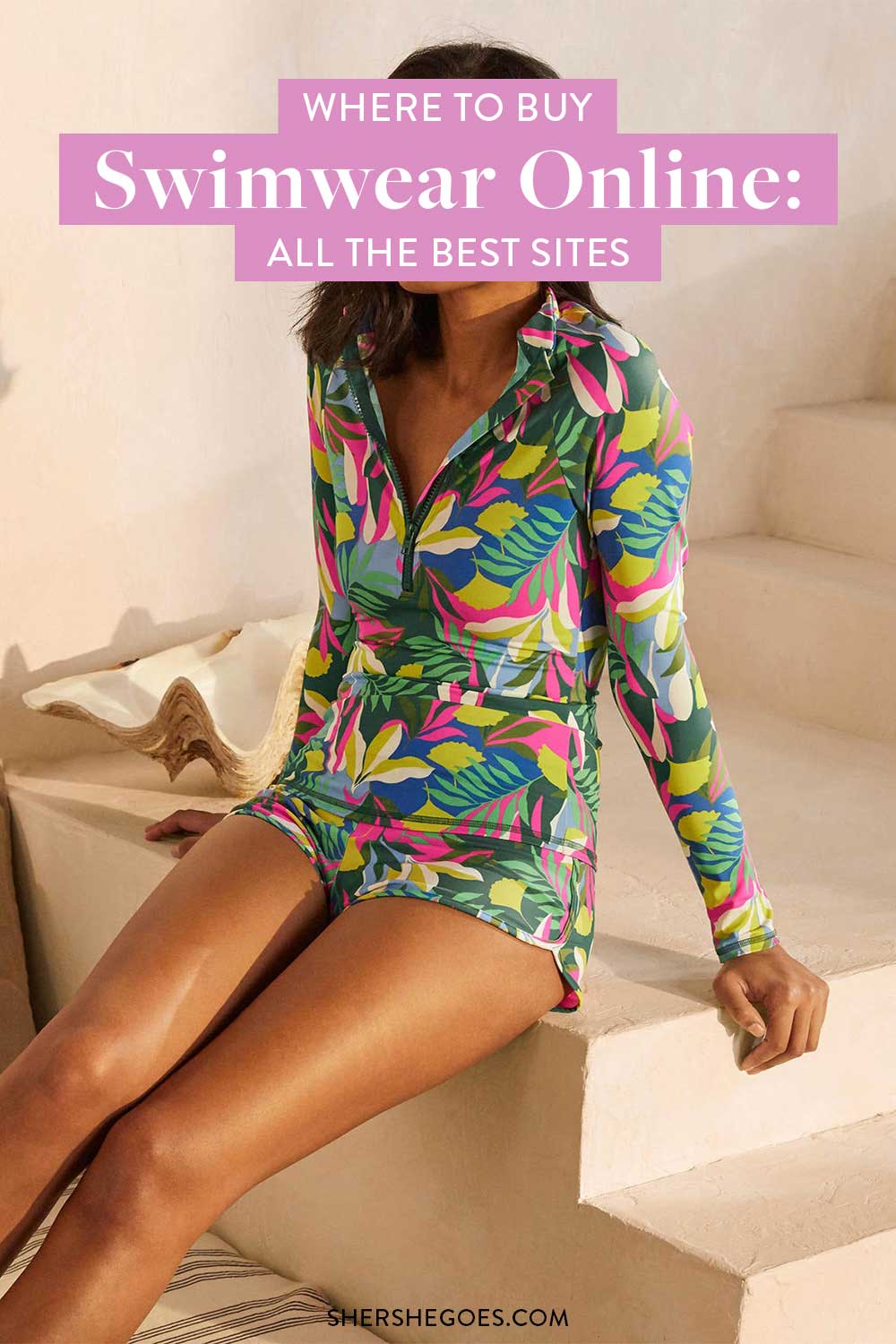 ADVERTISEMENT
---
---
Best Place to Buy Swimwear (2021)
Whether you're on the lookout for super affordable swimwear, full coverage modest suits or just a cute bikini that will suit your body type and bra size, we've compiled a list of the best online sites to buy swim.
All of these offer a fantastic range of styles and most importantly, have great return policies (since we all know the odds of finding swimwear that wows on the first try… is like finding a needle in a haystack!
Best Swimsuits Online
For Super Cheap Swimsuits: Amazon
For Cheap but Good Quality Swimsuits: H&M
For All Body Types: Target
For Great Quality Swimsuits: Zappos
For Classic Swimsuits: J Crew
For Full Coverage Swimsuits: Boden
For the Most Instagrammable Swimsuits: Revolve
For Under the Radar Brands: Shopbop
For All Shapes and Bust Sizes: Swimsuits for All
For Bathing Suits in a Variety of Styles: Lands End
For Tall and Petites: ASOS
For Designer: Net A Porter
ADVERTISEMENT
---
---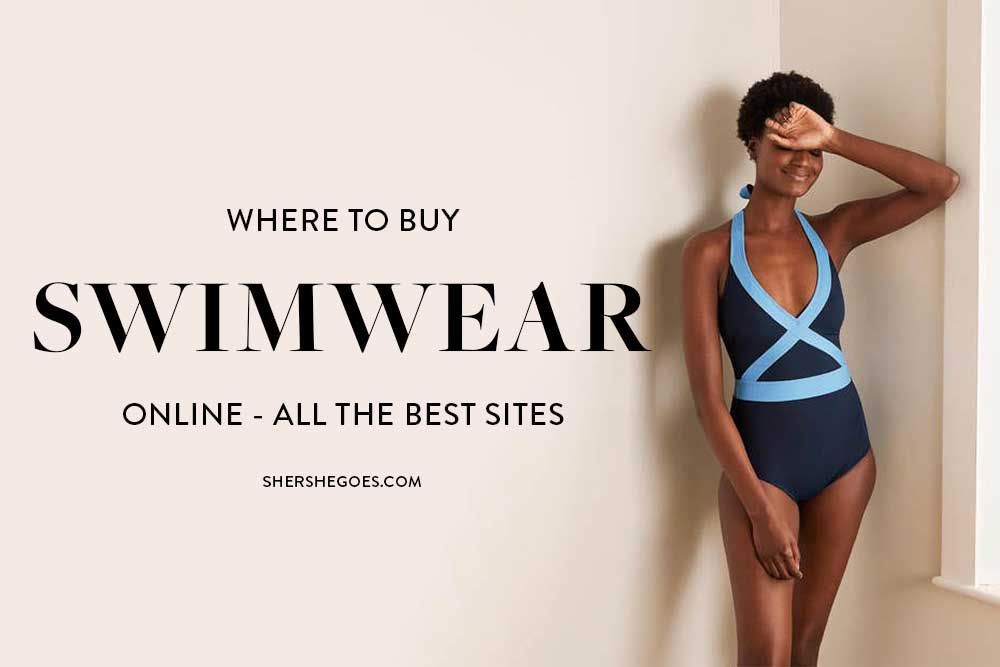 Buying Swimsuits Online
For Super Cheap Swimsuits: Amazon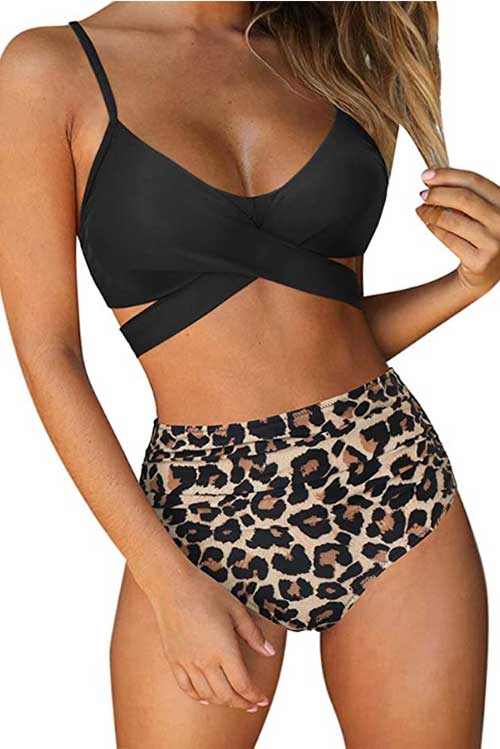 Amazon has a huge selection of swim – everything from one pieces to bikinis to even modest swimwear! While the quality isn't the best, it's hard to beat the cute selection and price.
This one piece is a best seller, with nearly 20,000 glowing reviews. It comes in over 40 colors and has a high neck and mesh detail, which is universally flattering no matter your bust size. Plus, it has some strategic ruching for tummy control!
Another great option?
This adorable bikini, which gets rave reviews for its simple but stylish design. High waisted bikini bottoms and a cute bandage style top with criss-cross ties at the back make it look a lot more expensive than it is.
Best of all, Amazon ships incredibly fast and is perfect for any last minute vacations or trips to the beach.
If you're unsure of sizing or fit, you can always do a free trial of Prime Wardrobe, which lets you order up to 8 items and try everything on at home.
You can even take advantage of their personal shopper service if you want more personalized advice. You're only charged for what you decide to keep!
ADVERTISEMENT
---
---
For Cute & Affordable Swimsuits: H&M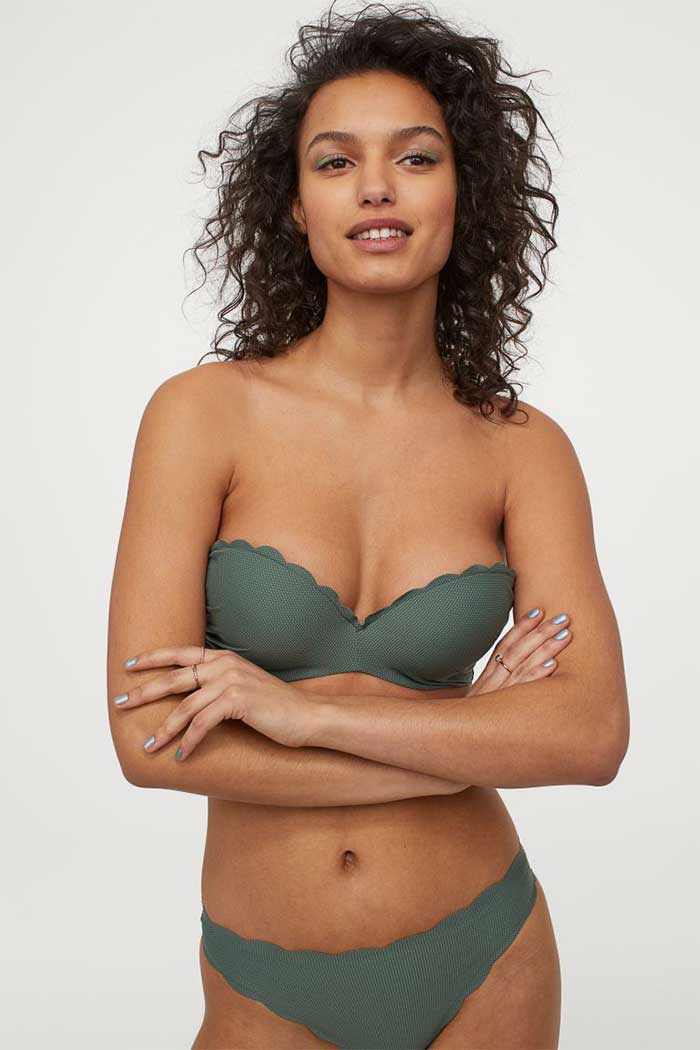 H&M may be hit or miss, but their swimwear category? It's a bit of a hidden gem!
The brand makes really simple, but affordable swimwear that always looks stylish. Most of the designs are just solid colors or simple patterns, so if you're on the hunt for a basic white bikini or black one piece, they have a great selection.
They usually sell different style bottoms and tops too, so you can mix and match for the perfect fit. Plus, all of their swimwear (and coverups!) are really affordable and stylishly cut.
ADVERTISEMENT
---
---
For All Body Types: Target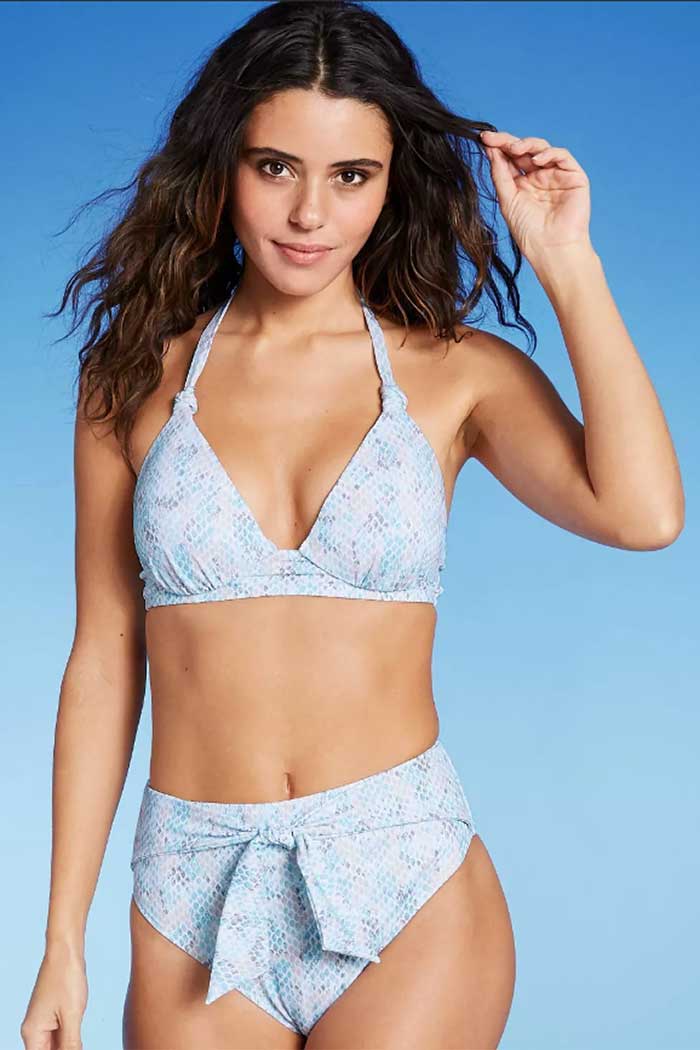 Another great affordable place to buy swimwear?
What we like in particular, is Target offers trendy, colorful swimsuits in all shapes and sizes – from bikinis to one pieces plus tankinis, active swimsuits and coverups. They even have an impressive range of maternity and post-mastectomy swimwear.
Best of all, you can shop by bra size and type of activity to find the perfect swimsuit for you.
ADVERTISEMENT
---
---
For Great Quality Swimsuits: Zappos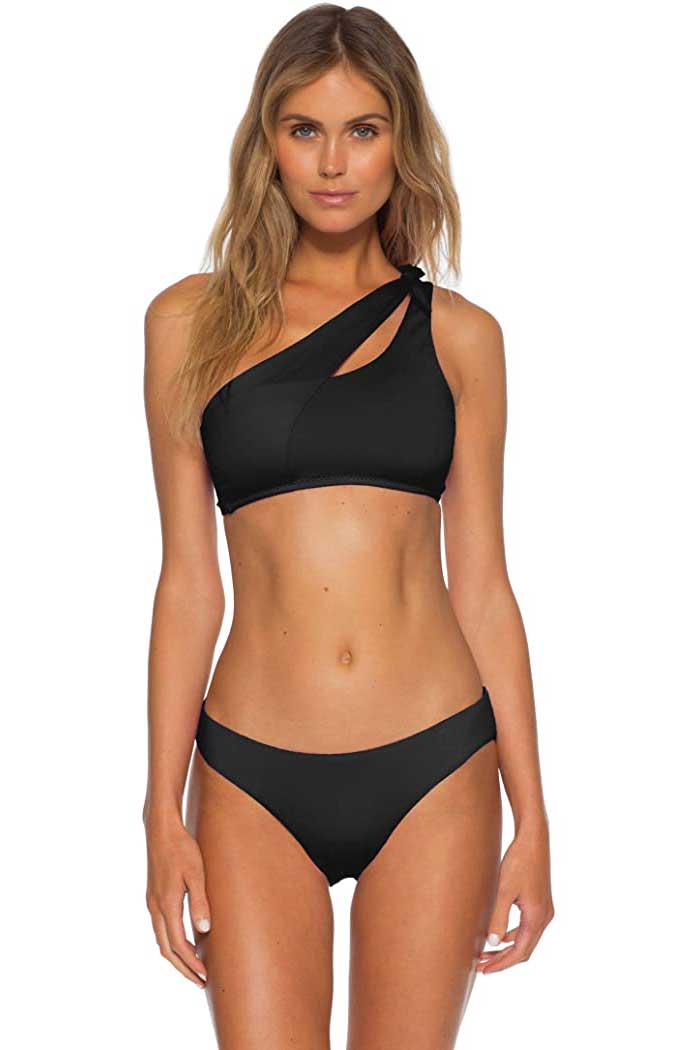 If you're looking for more established swim brands, check out Zappos.
The online retailer is one of our favorites due to the range of brands and excellent customer service. They offer lots of popular swim brands like Billabong, Becca by Rebecca Virtue, Helen Jon and L*Space. And they also carry mens and kids, so you can get the whole family shopping done on one site.
For example, this stylish one piece from Helen Jon is gorgeous for sitting by the pool or diving into the deep end! It has a flattering high neck with keyhole and a cutout in back. Plus it's made from a compressive, figure hugging nylon for a great fit.
Best of all, Zappos offers an impressive 365 day return policy.
ADVERTISEMENT
---
---
For Classic Swimsuits: J Crew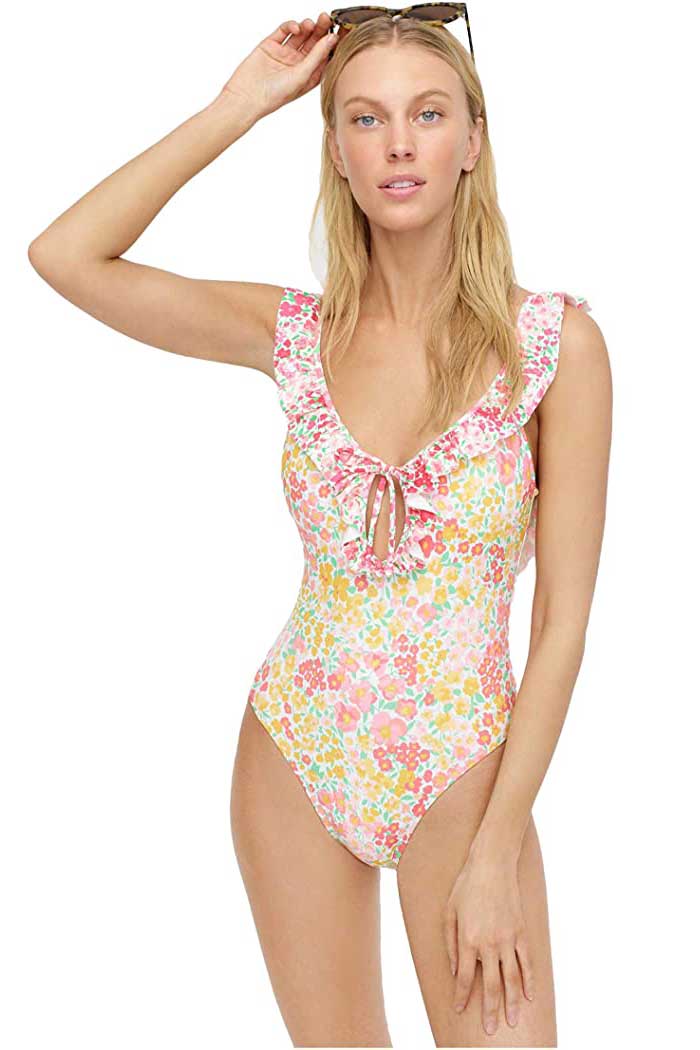 Want a classic swimsuit that will last season after season?
Then check out J. Crew. The brand offers essential colors and prints (like gingham and stripes) in virtually every style of one piece and bikini, plus coverups and rash guards.
Even better, they carry a great size range up to 3X and even long torso styles. Whether you want a simple silhouette or more full coverage bottoms, J Crew is a solid option.
ADVERTISEMENT
---
---
For Classic Swimsuits with Full Coverage: Boden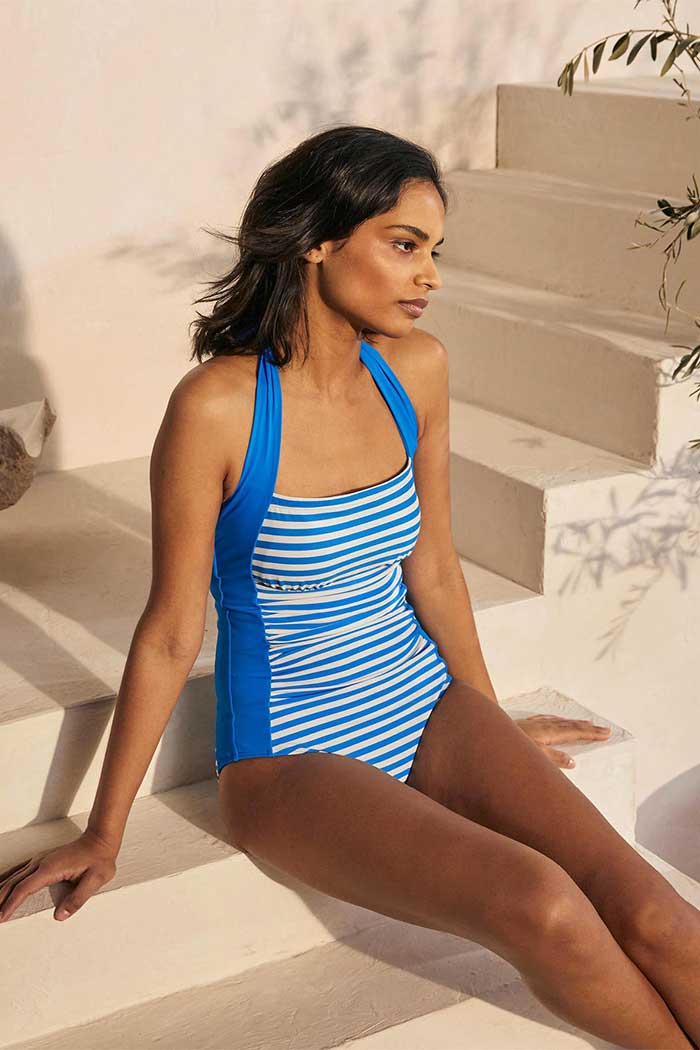 Another option for classic swim?
The British retailer makes fantastic, high quality swimwear, and much of it is made from planet friendly materials. While they offer a small range of swim styles (most are one pieces), each swim style is available in tons of different prints.
If you're looking for cute polka dot bikinis or sporty one pieces, check out Boden. Note – their swim material is really compressive, great for sucking everything in!
But maybe size up ;)
ADVERTISEMENT
---
---
For the Most Instagrammable Swimsuits: Revolve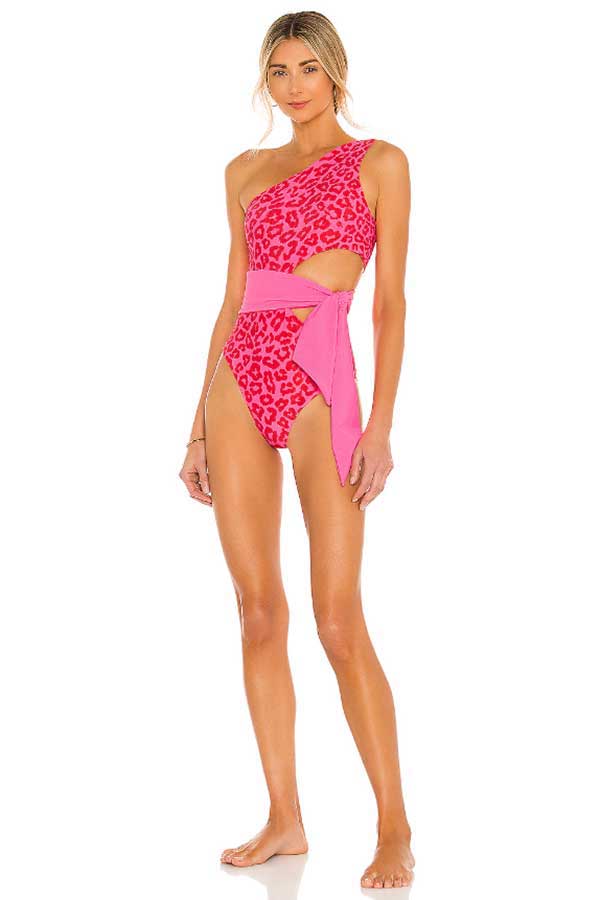 If you're the type of gal that looks forward to Hot Girl Summer, chances are Revolve is your go to for swimwear.
There's no better place to shop for trendy, Instagrammable swimwear than Revolve! Whether you're looking for an itty bitty bikini bottom to tan in, or a sexy push-up style to wade the waves in, Revolve has a huge range of trendy swims.
And while it might be on the pricier side… if you want all eyes on you this summer, this is the place to shop!
ADVERTISEMENT
---
---
For Under the Radar Brands: Shopbop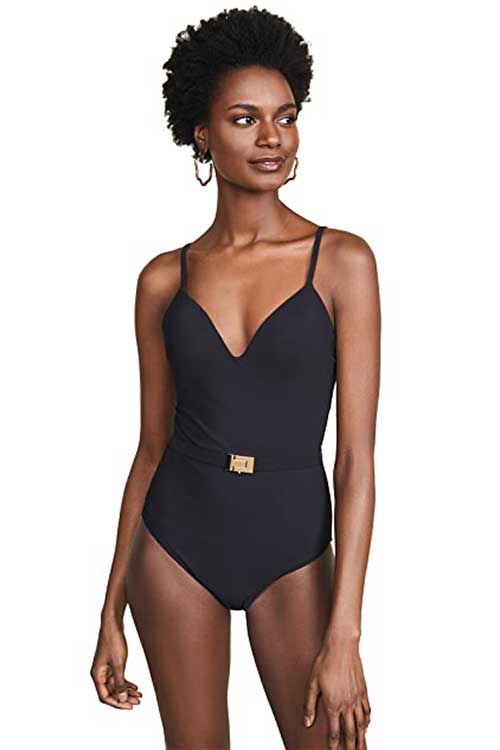 On the other hand, if you love high end swim but want to rock the newest, most fashionable designer, head to Shopbop.
The site stocks a huge range of brands, from under-the-radar more affordable finds to big-name swim favorites. Plus they have a great range of accessories (cover ups, beach bags, sandals) to fully flesh out your summer look!
ADVERTISEMENT
---
---
For Plus Size Swimwear: Swimsuits for All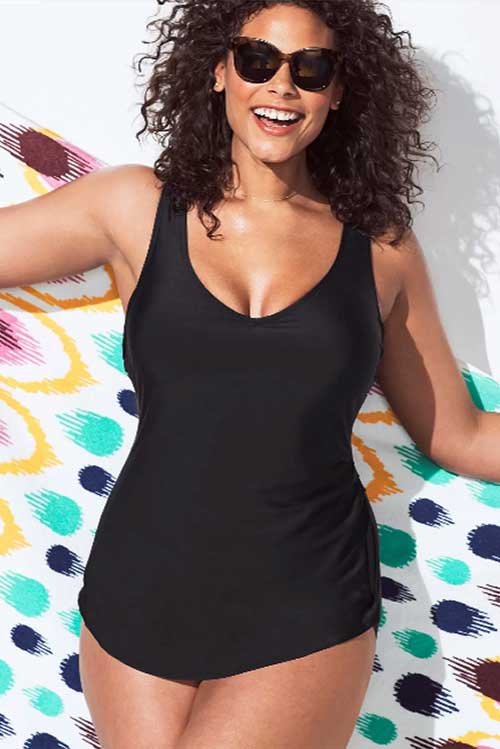 Being plus size doesn't mean you have to sacrifice in the swim shopping department.
Swimsuits For All is a fantastic online retailer with pretty much every swimsuit style imaginable – from bikinis to one pieces to rash guards and cover ups.
Best of all, they offer suits in all sizes from 4 to 40, making it easier to find a suit that will show off your curves!
ADVERTISEMENT
---
---
For Bathing Suits in a Variety of Styles: Lands End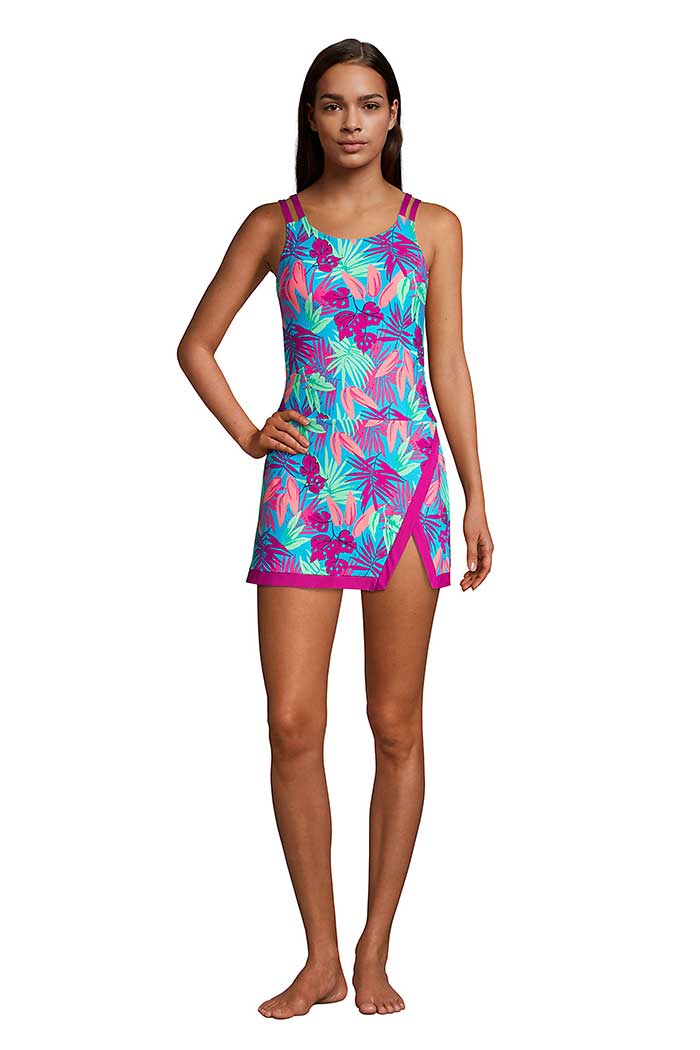 Looking for full coverage bathing suits that are also cute?
Check out Lands' End, which makes high quality and long lasting swimwear for the entire family. The company also offers swimsuits in harder-to-find styles, like swim skirts, swim dresses, tankinis, rash guard suits and more.
Best of all, they also carry a swim line with SPF fabric and active swimwear options!
ADVERTISEMENT
---
---
For Tall and Petites: ASOS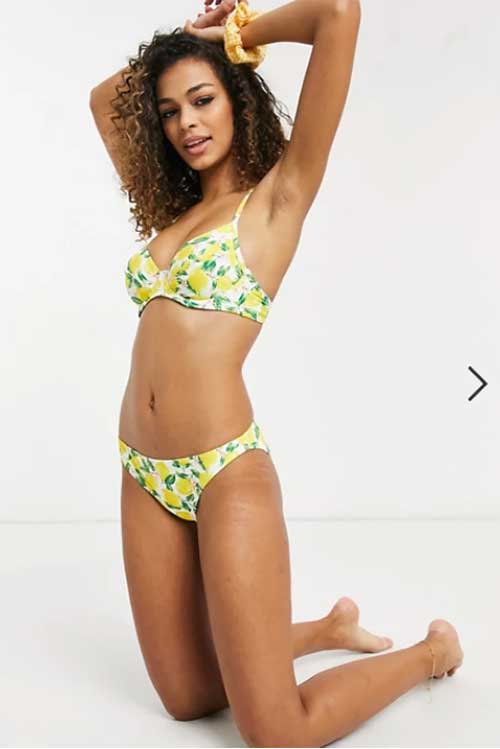 For budget friendly swim that can accommodate different body types, ASOS is hard to beat.
They have a huge selection of styles that cater to all different body types – from tall to petite, curvy and maternity. They really pull out all the stops when it comes to swimwear!
Plus, everything is really trendy and stylish, so you basically don't have to sacrifice when it comes to your summer fashion.
ADVERTISEMENT
---
---
For Designer: Net A Porter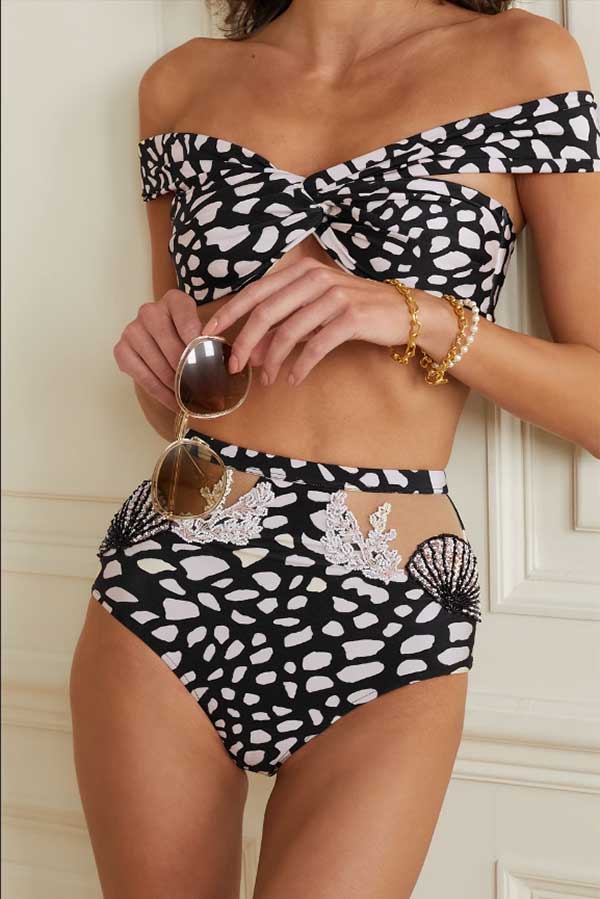 Love designer fashion and want your swim looks to match your asthetic?
Then shop all your high end swimwear needs on Net A Porter. One of my favorite sites for luxury brands, they carry everything from Eres to Missoni and a lot of the options are truly statement worthy.
ADVERTISEMENT
---
---
Shop Best Swimsuits Online
---

ADVERTISEMENT
---
---
Read More: in our summer packing checklist series:
Best Swim Brands
The Best Online Sites to Shop for Swimwear
The Best Swimwear Brands at Every Price Point
The Best Swimsuits to in Every Style - Retro, Cut Outs, Barely There & More
The Best Bikini Brands to Rock this Summer
Top Swim Trends
8 Swimwear Trends to Try this Summer
7 Barely There Bikinis for Barely There Tan Lines!
Full Coverage Swimwear
The Best Swimsuits for Small Busts
Amazon Fashion Finds: Modest Swimsuits
Modest Swimwear Brands to Check Out - if skimpy isn't your thing!
The Best High Waisted Bikini Bottoms to Keep Everything Tucked In
Summer Essentials
The Best Sun Hats that Offer Full Sun Protection
The Cutest Linen Dresses for Hot Summer Nights
The Best Men's Linen Pants - Summer Casual
The Best Women's Linen Pants for Coastal Chic Style
The Best Women's White Linen Pants - Simple, Clean & Breathable!
Follow me @Sher She Goes on