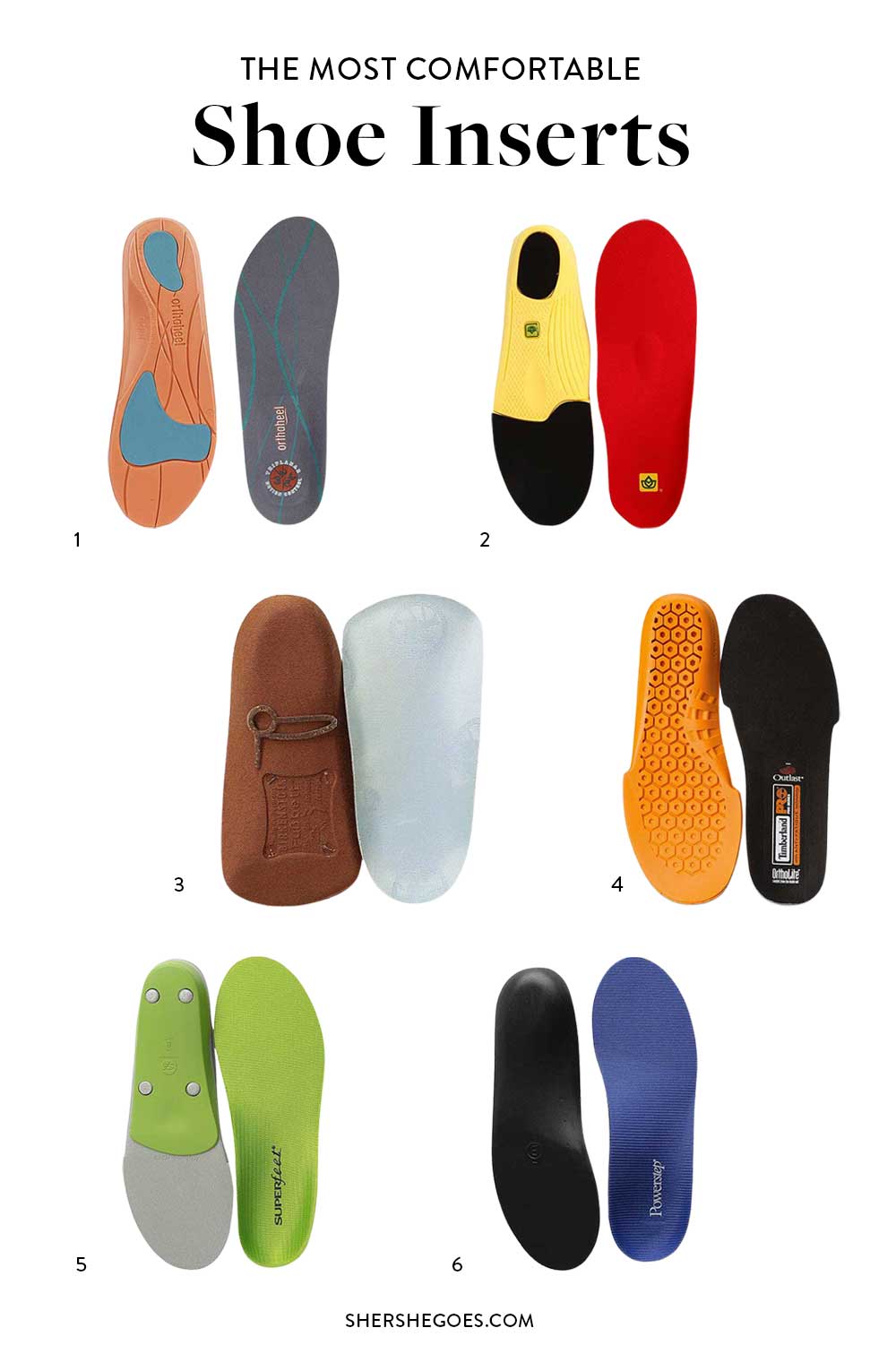 Shoe Inserts for Plantar Fasciitis
There's nothing worse than chronic foot pain.
And there's nothing more uncomfortable than shoes that exacerbate that pain.
Plantar fasciitis is all too common, but the good news is the right support or cushion in your shoes can make all the difference.
If you're dealing with plantar fasciitis, try one of these insoles in your shoes to relieve pain!
ADVERTISEMENT
Keep reading, or pin this article to save it for later ⇟
ADVERTISEMENT
---
---
Arch Support Inserts
The plantar fascia is a thick band of tissue that connects the heel bone to the base of your toes.
When this connective tissue gets overstretched or inflamed, you'll feel pain at the center or bottom of your heel bone and it can be excruciating. It's like a stabbing sensation that gets worse as you stand throughout the day.
The best way to alleviate pain is through proper exercise and wearing comfortable, supportive shoes.
Try a comfortable flat shoe brand like Mahabis and double up on the cushion by inserting one of these shoe insoles for maximum comfort.
Best Arch Support Insoles for Plantar Fasciitis
ADVERTISEMENT
---
---
Best Insoles for Plantar Fasciitis (2021)
Best Affordable Shoe Insert: Dr Scholl's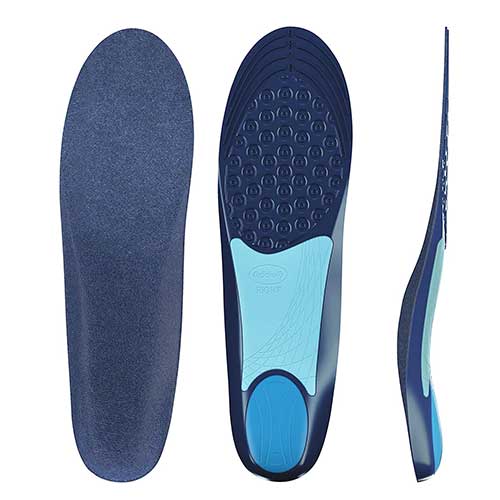 Dr. Scholl's is one of the most widely known affordable shoe insert brands.
They offer cushioned gel support for men and women, in various shoe sizes.
This particular insert has orthotic lines to help you cut the insole down to best fit your shoes. Each insole has a plush cushion to help absorb the shock of your steps as your heel touches the ground.
ADVERTISEMENT
---
---
Best Overall Shoe Insert for Plantar Fasciitis: Superfeet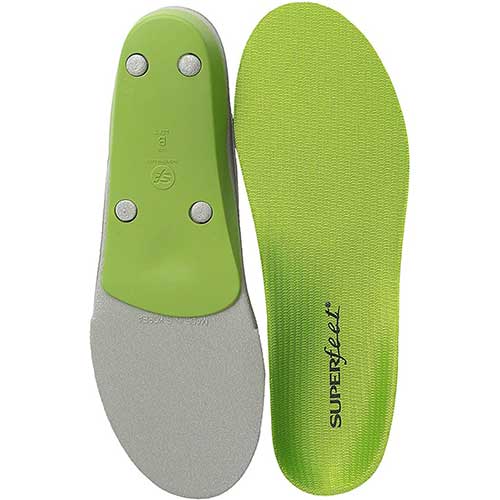 For something a little more premium, try Superfeet.
Their extra supportive insoles have a deep heel cup to provide exceptional support. These insoles aren't made from gel, but closed-cell foam to give you extra cushioning.
That means they might seem a little stiff out of the box, but the stability cap has great arch support and structure to provide your heels with more stability and comfort!
Place these in hiking shoes, running shoes or anywhere you'll be forcing your feet to tackle long distances.
ADVERTISEMENT
---
---
Best Ultra Thin Insole with Arch Support: Powerstep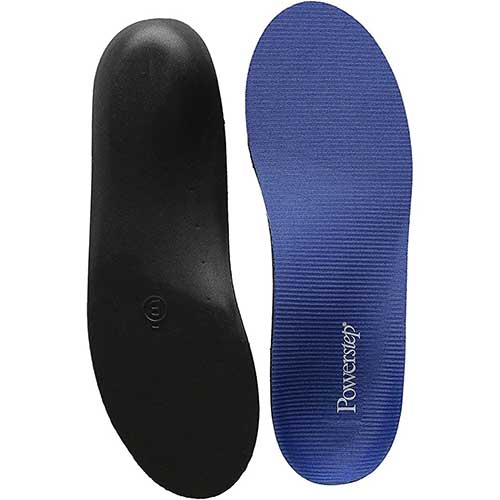 On the other hand, if you're looking for flexibility and want a thinner insole to slip into flats or lower profile shoes, check out Powerstep.
Their ultra-thin insoles provide firm, but flexible arch support and they're specially designed to fit into low profile shoes.
These don't require cutting down, so you can swap them from shoe to shoe – great for shoe lovers who like to constantly change up their footwear!
The responsive polypropylene support shell reduces fatigue on your heels and arches, and the polyester fabric is specially designed to combat foot odor.
ADVERTISEMENT
---
---
Best Orthopedic Recommended Shoe Insert: Vionic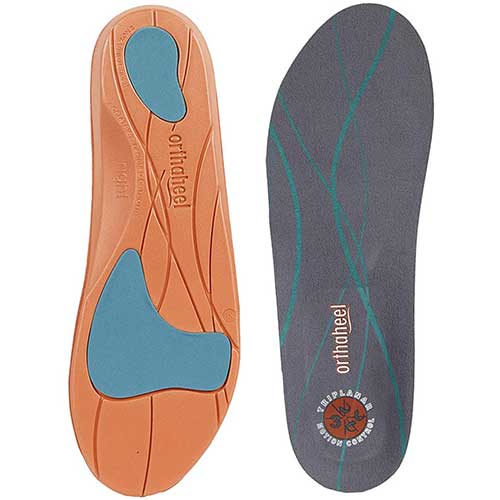 Vionic is one of the few shoe brands that caters specifically to plantar fasciitis.
Their orthotics offer a pain-free solution for lower limb alignment issues and these deep cup insoles are no exception.
With a medium density molded EVA base, these shoe inserts ensure the feet are correctly positioned as you walk and the extra heel and forefoot cushioning offer increased shock absorption with every heel strike.
ADVERTISEMENT
---
---
Best Insole for Standing All Day: Timberland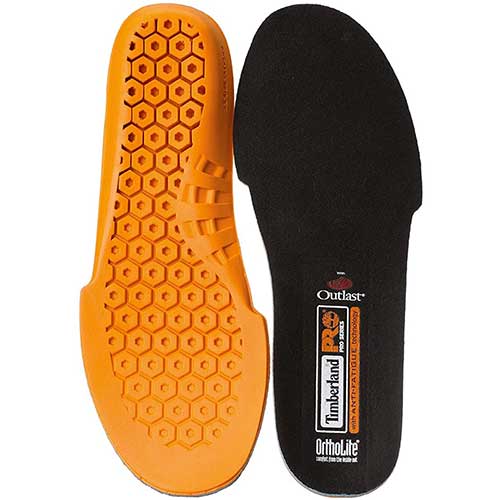 If you stand on your feet all day for work, you need these anti-fatigue insoles from Timberland.
They're designed with an open cell foam to provide breathable, moisture wicking and resilience for high impact work. The anatomically contoured foot bed cradles the foot while the dynamic arch design adapts to any foot shape.
These shoe inserts are as comfortable as anti-fatigue mats!
ADVERTISEMENT
---
---
Best Insole for Runners: Spenco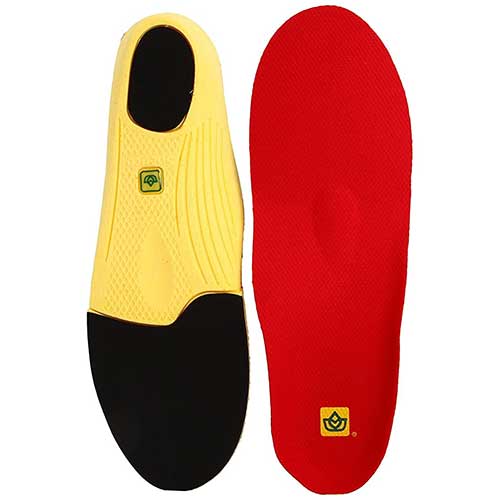 Runners will love these Spenco insoles.
These heel to toe shoe inserts are designed for people on the move, with a top layer of extra shock absorption and a cradled heel plug for added cushion when tackling high intensity activities.
The foam foot bed is lightweight and comfortable, and these thick insoles provide a ton of cushioning power so you'll feel like you're running on pillows!
ADVERTISEMENT
---
---
Best Insole for Flat Heeled Casual Shoes: Birkenstock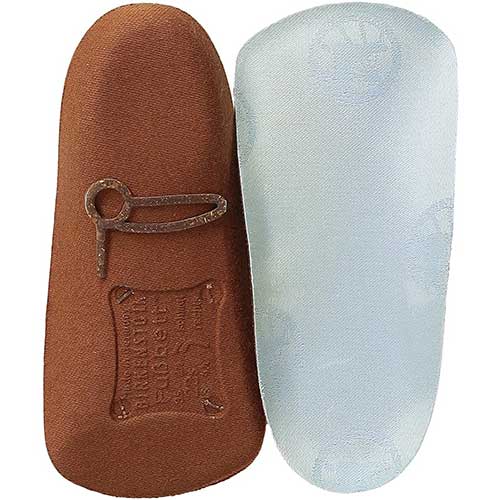 Inserts for sneakers and boots are a bit easier to disguise.
But what if you're looking for arch support in flat heeled, casual shoes?
Then check out these popular shoe inserts from Birkenstock. The German company has been specializing in footwear since 1774 (longer than the US has been a country!) and their insoles also benefit from excellent German engineering.
These supportive inserts are Birkenstock's most popular for arch support and specifically meant to provide stability and long term comfort in casual sandals or slip on shoes.
ADVERTISEMENT
---
---
Shop Shoe Inserts for Arch Support
---
ADVERTISEMENT
---
---
Read More in my favorite Comfy Shoe series:
Most Comfortable Shoes
The Most Comfortable Flats EVER
The Most Comfortable Sandals for Summer
The Most Comfortable Boots for Winter
The Most Comfortable Heels (you can actually walk in)
Best Sneakers
The Best White Sneakers that Go with EVERYTHING
Cute Casual Sneakers to Wear Anywhere
Best Boots
The Best Chelsea Boots to Wear All Year Round
The Best Lace Up Boots for Military Inspired Chic
The Best Over the Knee Boots that Make a Statement!
The Best Shearling Boots to Stay Cozy this Winter
The Best Black Combat Boots That Go with Everything
Cozy At Home Shoes
The Best Mules for Easy Slip on Style
The Best Loafers to Look Polished but Stay Comfy
Shoe Reviews
The Best Travel Shoes in Every Style - Sneakers, Slip Ons, Flats & Sandals
Everlane Flats - These 5 Pairs are Extra Comfortable
OluKai Shoes: Sneaker & Sandal Review
Where to Get Stuart Weitzman Boots on Sale
Designer Inspired
The Best Cap Toe Ballet Flats to Get the Chanel Look, for Less
Classic Chanel Inspired Slingbacks (Two Toned)
The Best Chanel Inspired Espadrilles to Rock All Summer
The Best Manolo Blahnik Lookalikes
The Best Over the Knee Boots that Rival Stuart Weitzman Lowlands!
Follow me @Sher She Goes on