Paris Airbnbs
Paris is often considered France's crown jewel. As the world's 3rd most visited city, Airbnb has taken hold here unlike anywhere else. With over 65,000 homes listed on the platform, you could spend days sifting through to find the perfect rental.
Luckily, we've done the hard work for you!
We've chosen 9 of the best Paris airbnbs, whether you're traveling as a group, a small family with kids or simply want a phenomenal view of the city's monuments.
Or save this article to read later by pinning it ⇟
---
---
Best Paris Airbnbs – Summary Comparison Chart
Here are some of the best options for airbnb homes in Paris – whether you're traveling in a big group, as a family or simply want an unbeatable view of the city.
Keep reading for more info on each option and why we recommend them.
---
---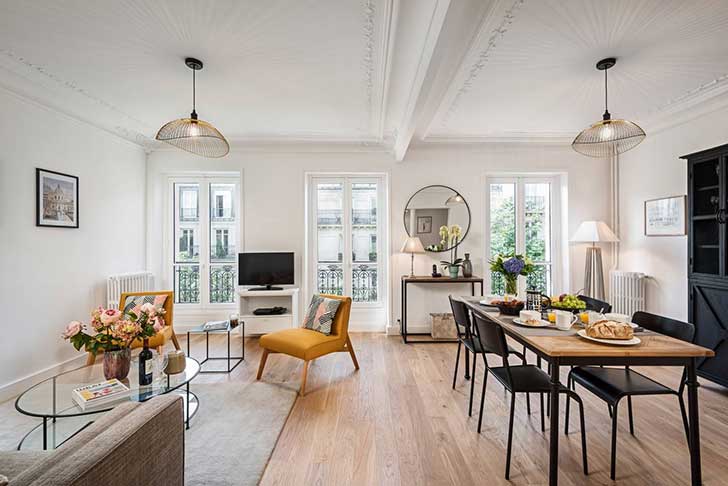 9 of the Best Airbnbs in Paris
Paris accommodation, much like New York City, can be expensive and cramped. While the most luxurious hotels can make your stay.. they can also break the budget!
Enter airbnb. You can easily find Parisian apartments with panoramic views over the city, family friendly duplexes with bunk beds for the kids, and penthouse apartments with incredible roof top terraces. Did you know Paris even has a hip, artsy district called Canal St. Martin where people live in houseboats? Yup, those are available to rent too!
Here are our picks for the best Airbnb homes in Paris.
---
---
---
---
---
---
---
---
---
---
---
---
Airbnbs in Paris: Know Before You Book
Pack Light
Parisian buildings often have beautiful inner courtyards and grand staircases, but not many will have elevators or AC. If they do have an elevator, it will often be tiny – and I mean really tiny. Sometimes, the lift is only big enough to fit 1 person so you might have to send your luggage up on its own, ha! Try to pack light!
Read more: What to Pack for Paris
Floors are Numbered Differently
Floors in France are numbered differently than in America. The First Floor is always the story above the ground floor, while the ground floor is called the rez de chaussée. To simplify it in your head, think of the floor number as the number of stairs you have to climb!
Registration
One of the requirements for airbnbs in Paris is that hosts must register their apartments and are limited to rent out their units for a maximum of 120 days a year. So listings on airbnb should display their 13 digit registration number on the listing, to demonstrate compliance. At the time of publication, all of the listings do so and have excellent guest ratings – but as always, do your own research before you book!
---
---
Is it your first time to Paris? What are you most looking forward to?
You Might Also Enjoy:
Paris Vacation Planning Articles
3 Days in Paris: A Travel Guide & Itinerary
Where to Stay in Paris
Luxurious Hotels with Eiffel Tower Views
Cozy Airbnbs with a View of the Eiffel Tower
Popular Paris Sights
Musee d'Orsay & The D'Orsay Clock
Notre Dame & its Rooftop Gargoyles
Paris Off the Beaten Path
Musee Jacquemart Andre and The Paris Pantheon
Where to Eat in Paris
Delicious Desserts in Paris
Lunch at Paul & a Romantic Dinner at Potager du Pere Thierry
Follow Sher She Goes on
Bloglovin | Youtube | Facebook | Twitter | Pinterest | Instagram