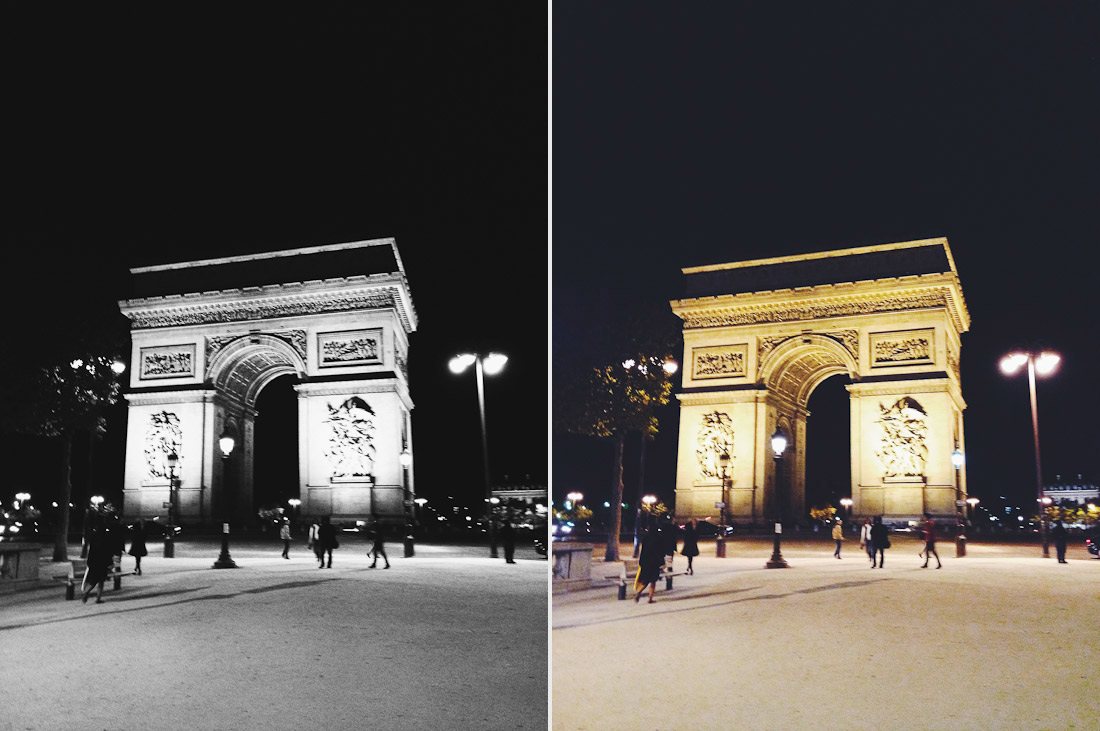 Arc de Triomphe
While in Paris, our hotel was under a 5 minute walk from the Arc de Triomphe so luckily we saw this gorgeous view a lot. The above photo was taken on our way out to dinner. I liked the shot and couldn't decide on color vs. black and white, so there you have it! Both. You can also climb the arch during the day for a great view of Paris (admission is 11 euro)
For my hotel review, check out my post on the Prince de Galles hotel here. For a complete guide to Paris sights, desserts, museums and things to do in Paris, check out my Paris Mini Guide here.
Pst – did you know you can get into the Arc de Triomphe for free with the Paris Pass? It includes 60+ museums/attractions as well as unlimited metro, bus and tram rides. Well worth it!
Visiting Paris – Travel Checklist
We took a red eye to Paris from JFK. You can find cheap Paris flights from low cost carriers almost all year round – check for flight deals here.
Paris has some of the best museums in the world. I spent an entire summer living in the city, visiting different churches, museums and historic homes and still couldn't get enough. If you plan to sightsee, look into a Paris Pass – it's a great value! The pass can be purchased for multiple days and allows you to skip the line at 60+ attractions. See the full list of included sights and attractions here.
Lastly, be sure to visit Paris with travel insurance. Whether you get injured and need to be hospitalized, or your phone gets stolen, or an injury forces you to cancel all or part of your vacation, travel insurance will help when you need it most. Get a quote for your trip here.
You Might Also Enjoy:
Paris Vacation Planning Articles
3 Days in Paris: A Travel Guide & Itinerary
Where to Stay in Paris
Luxurious Hotels with Eiffel Tower Views
Cozy Airbnbs with a View of the Eiffel Tower
Popular Paris Sights
Musee d'Orsay & The D'Orsay Clock
Notre Dame & its Rooftop Gargoyles
Paris Off the Beaten Path
Musee Jacquemart Andre and The Paris Pantheon
Where to Eat in Paris
Delicious Desserts in Paris
Lunch at Paul & a Romantic Dinner at Potager du Pere Thierry
Follow Sher She Goes on