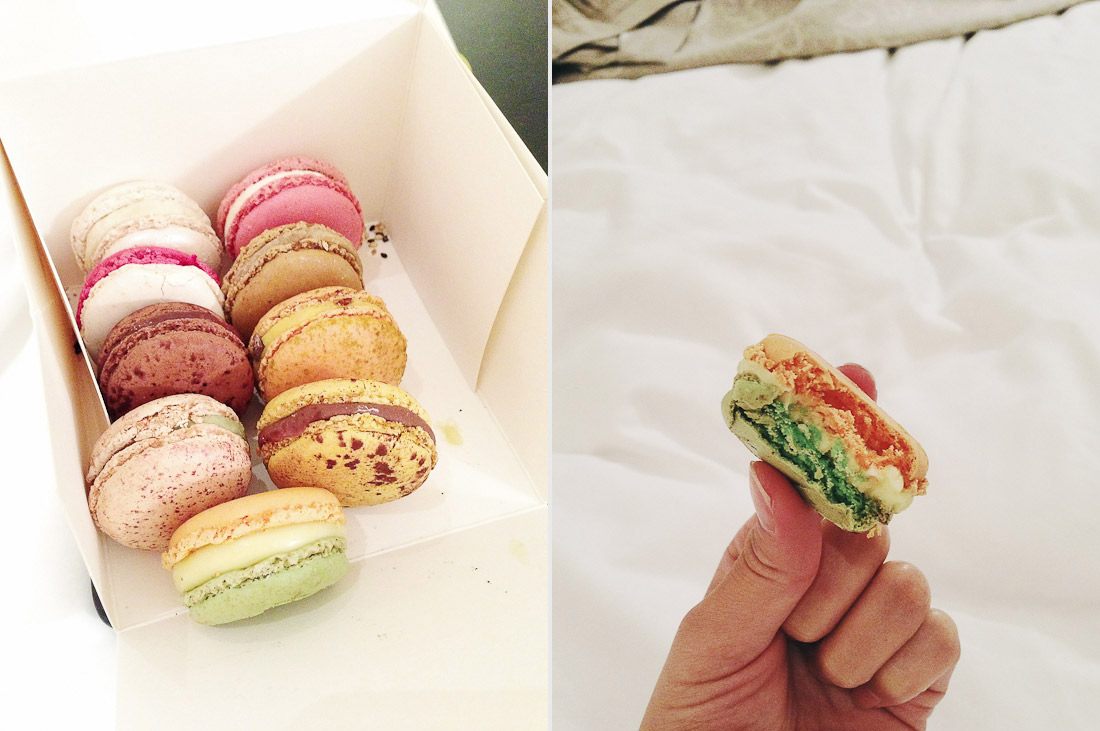 The Best Macarons in Paris
Mhm macarons! Before we even flew to Paris, I made a list of all the dessert shops I wanted to visit. Sadaharu Aoki, check. Pierre Herme, check. The fact that both were within relatively close proximity? Walking dessert tour time!!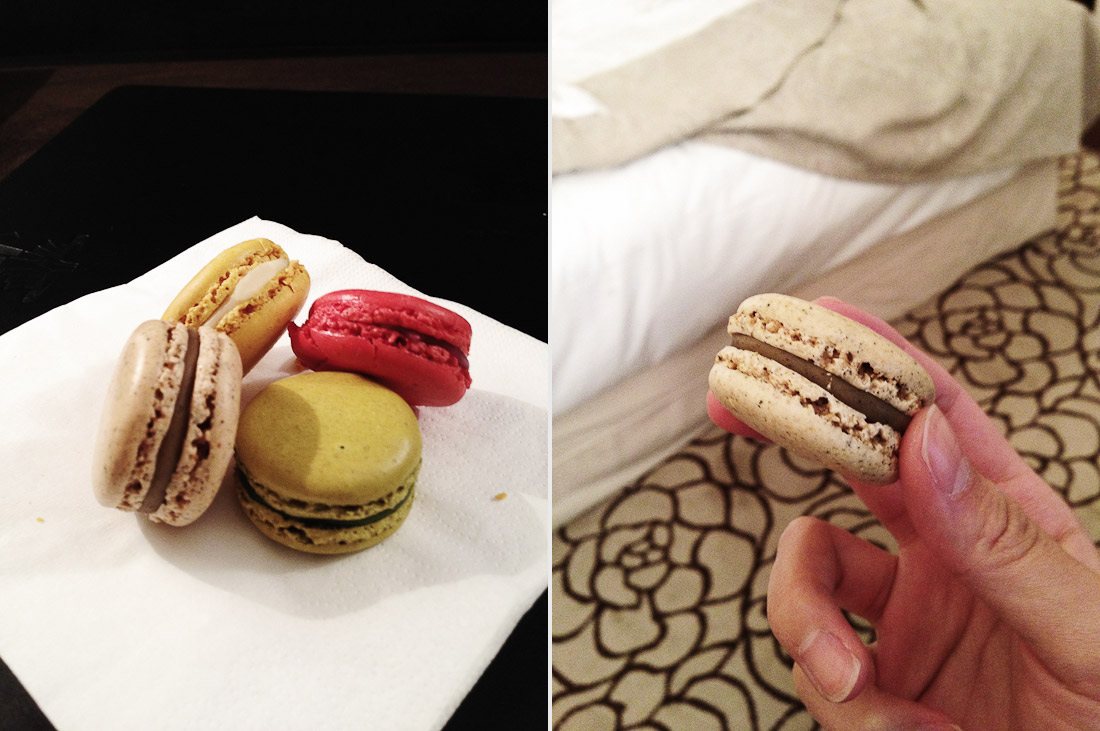 ---
---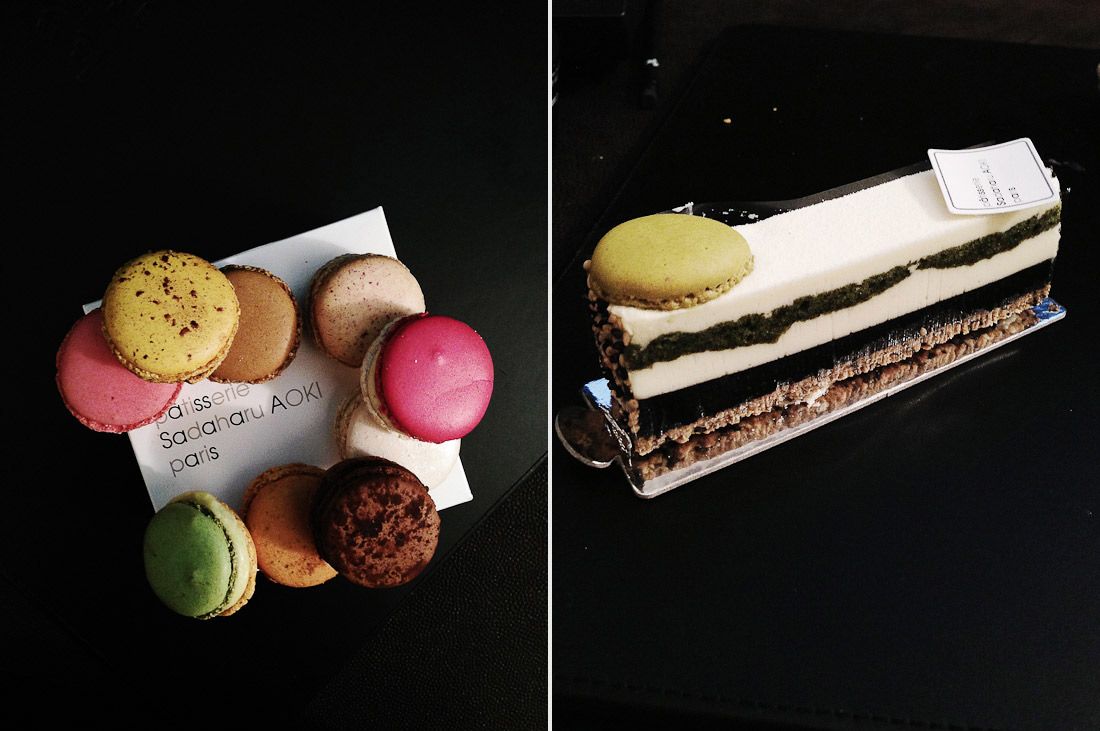 Sadaharu Aoki
After an early morning of sightseeing to the Pantheon, we took a walk to the Jardin de Luxembourg. Everything in Paris is accessible by metro, but frequently what will be two "stops" on the line is really just a 5 to 10 minute walk.
Head south from the Panetheon and voila! You've run smack into the Jardin de Luxembourg park. We cut through rather quickly, as I was salivating at the thought of picking up some Asian flavored French pastries at Sadaharu Aoki.
Sadaharu Aoki is not as well known here in the U.S., but he is a Tokyo born and trained patissier who moved to Paris and now lives in France. I first heard about the pastry shop from Paris in Fourth Month's blog and knew I had to try their matcha flavored mini cakes and tartes.
While in the store, we picked up four macarons to sample and a light, perfectly sweet but slightly tart matcha cake. The real macaron feast was yet to come…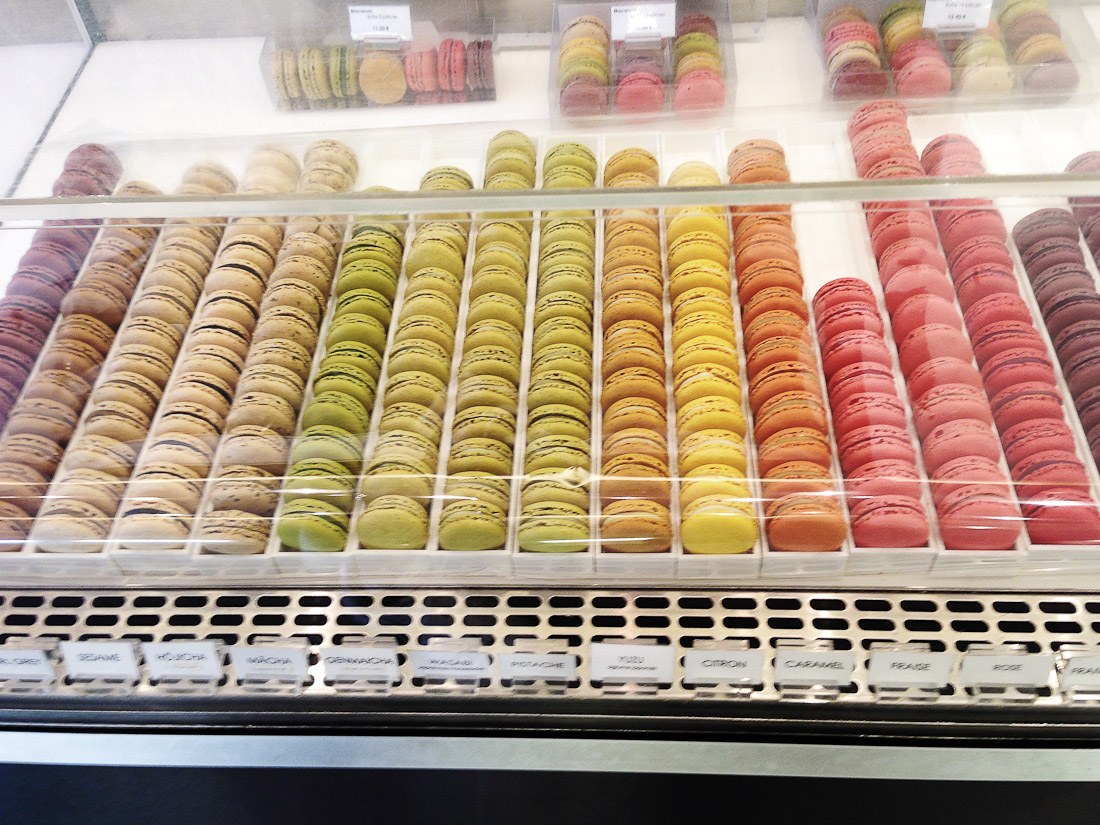 ---
---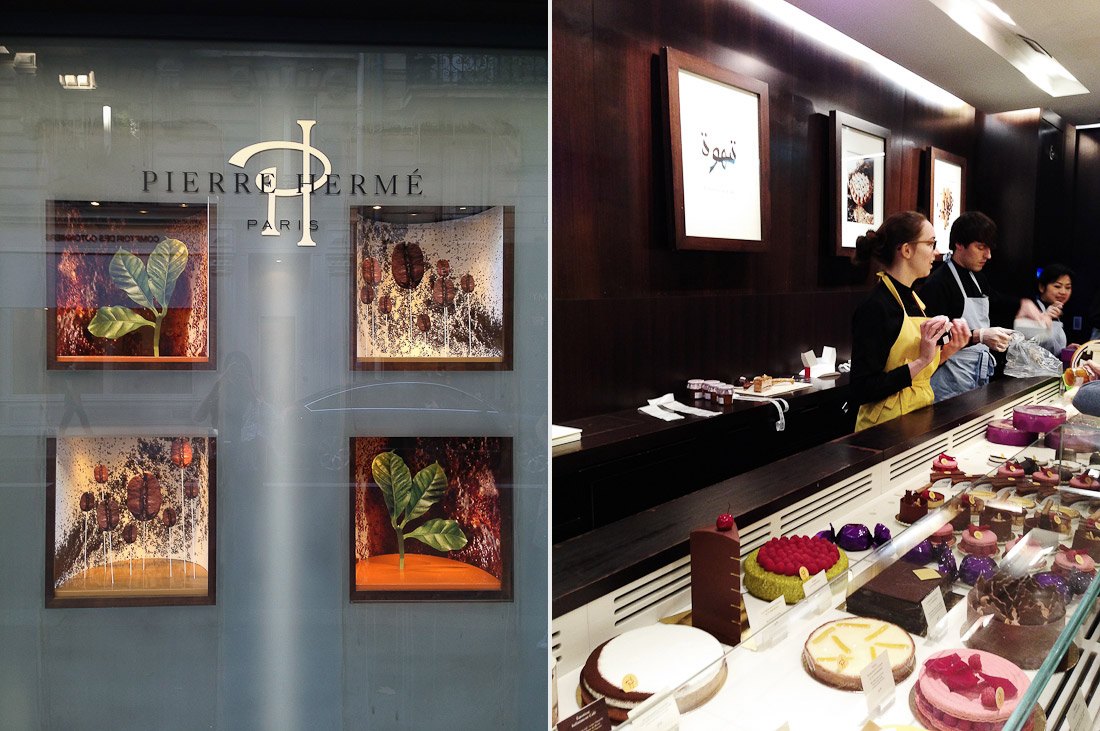 Pierre Herme
Next, we set out to find Pierre Herme, the Picasso of Pastry and master extraordinaire of the macaron. (If you think Laduree makes good macarons, you haven't tried real macarons). Trust me, skip Laduree and head straight to Pierre Hermé Paris.
Did you know Herme started out with a pastry boutique in Tokyo? I hope he opens one here in NYC soon!
After walking a bit (some of it in the wrong direction) we quickly came to the right area and zoned in on the shop by the line forming out. the. door. Pierre Herme macarons are so delicious that on a very regular Tuesday afternoon, there was a sizable number of Parisians and non-Parisians alike in line to get their fix.
The store staff were very friendly and made some flavor suggestions for which to try. I was especially intrigued by the half/half combos – one shell mandarin orange, one shell olive oil. Other combos include fresh mint & red berries; passion, fruit rhubarb & strawberry; and rose, lychee & raspberry.
For more on their current flavors and flavor of the month, check out this flavor map here. We got one of each to try and justified the giant bag of macarons by calling it the fault of the store's credit card minimum.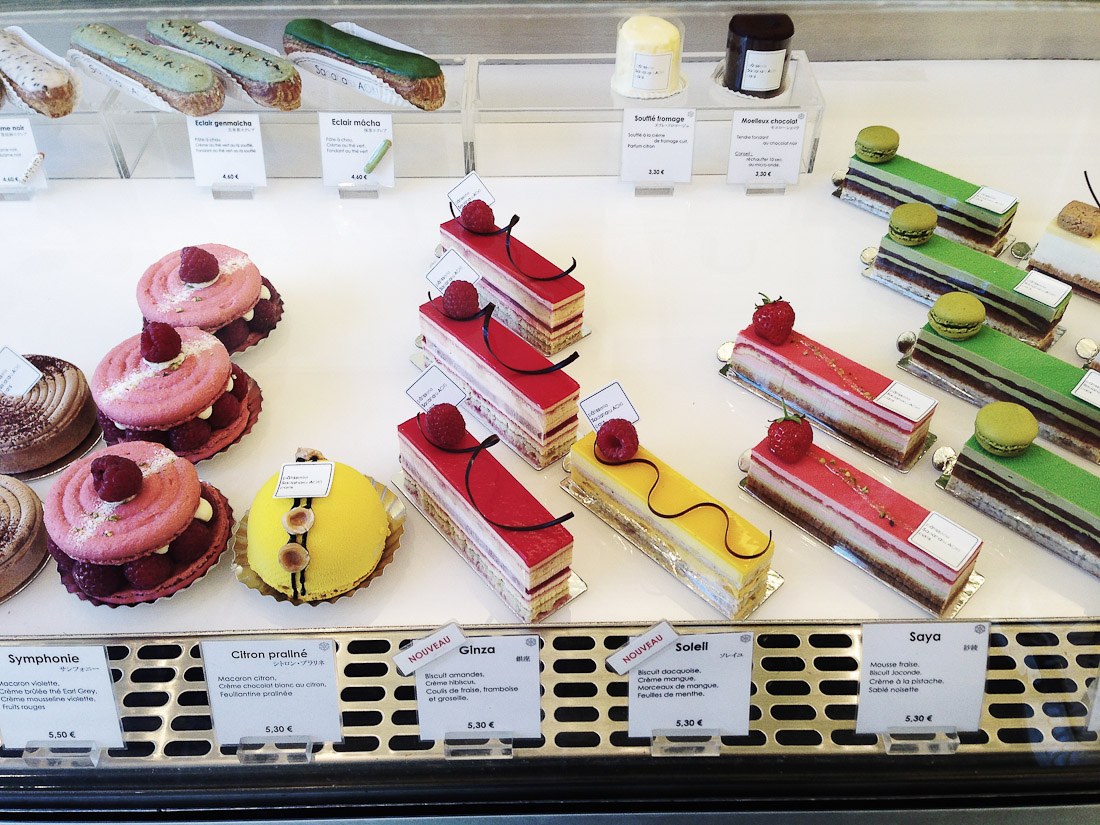 ---
That night in our hotel room at the Prince de Galles, we gorged on a dessert feast. And this was after a very delicious dinner at Le Potager du Pere Thierry… We made sure to walk around Paris extensively the next day!
Do you like macarons as much as we do? Let me know in the comments if you have any other pastry shops to recommend!
Visiting Paris – Travel Checklist
We took a red eye to Paris from JFK. You can find cheap Paris flights from low cost carriers almost all year round – check for flight deals here.
Paris has some of the best museums in the world. I spent an entire summer living in the city, visiting different churches, museums and historic homes and still couldn't get enough. If you plan to sightsee, look into a Paris Pass – it's a great value! The pass can be purchased for multiple days and allows you to skip the line at 60+ attractions. See the full list of included sights and attractions here.
Lastly, be sure to visit Paris with travel insurance. Whether you get injured and need to be hospitalized, or your phone gets stolen, or an injury forces you to cancel all or part of your vacation, travel insurance will help when you need it most. Get a quote for your trip here.
You Might Also Enjoy:
Paris Vacation Planning Articles
3 Days in Paris: A Travel Guide & Itinerary
Where to Stay in Paris
Luxurious Hotels with Eiffel Tower Views
Cozy Airbnbs with a View of the Eiffel Tower
Popular Paris Sights
Musee d'Orsay & The D'Orsay Clock
Notre Dame & its Rooftop Gargoyles
Paris Off the Beaten Path
Musee Jacquemart Andre and The Paris Pantheon
Where to Eat in Paris
Delicious Desserts in Paris
Lunch at Paul & a Romantic Dinner at Potager du Pere Thierry
Follow Sher She Goes on