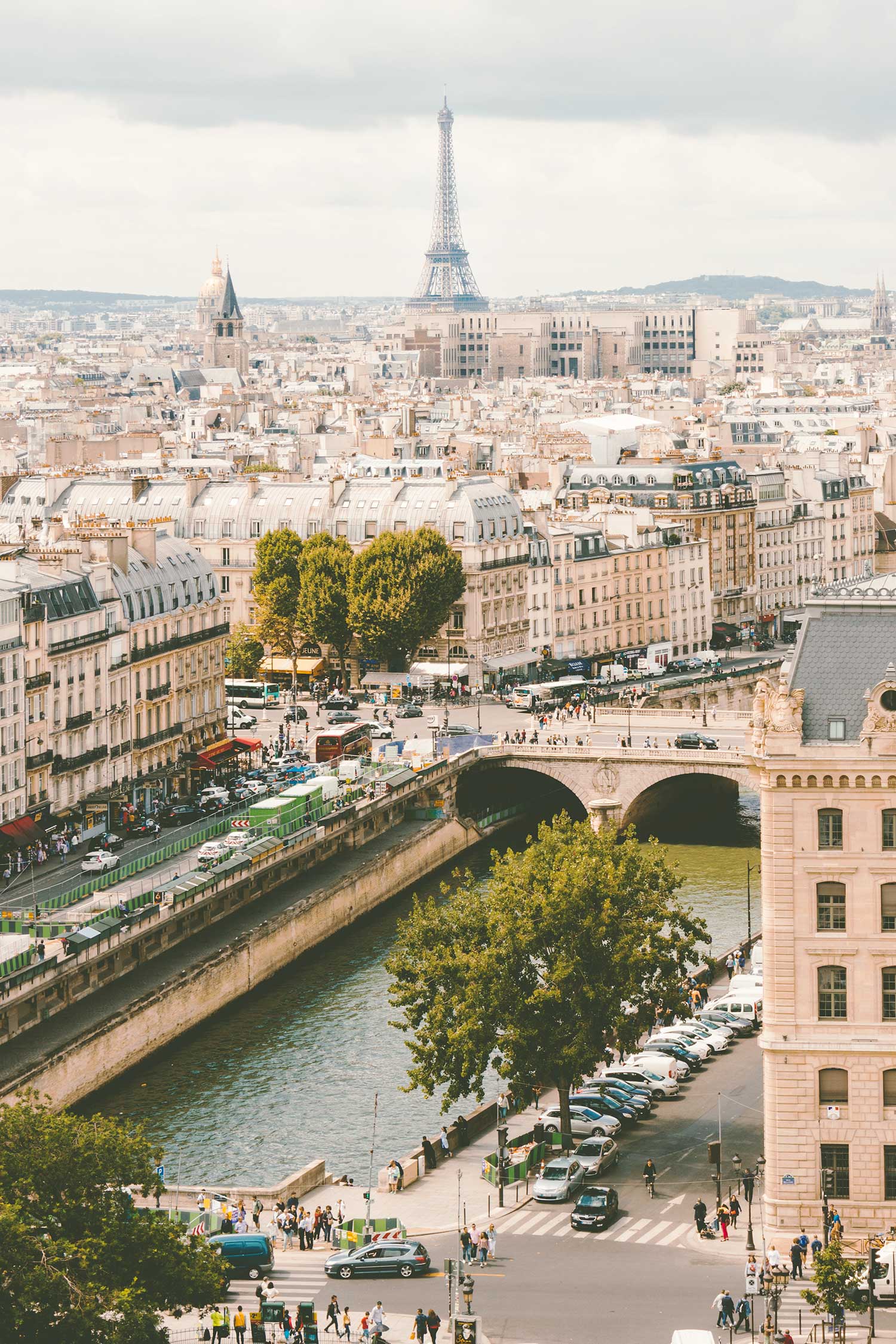 A Paris Airbnb with a View
Va-va-voom! If you're looking for a knockout view in Paris, nothing beats the Eiffel Tower. It's rare to find accommodation in the city with a beautiful view – after all, Paris is known for small apartments, elevator-less buildings and high rents – but a handful of airbnbs have it all.
Picture your vacation now… a croissant and espresso from the neighborhood boulangerie to start your day, an afternoon of museum hopping, and a relaxing post dinner glass of wine in your bedroom, looking out on the sparkling Eiffel Tower.
Here are the most magical apartments in Paris with prime views of the Eiffel Tower.
ADVERTISEMENT
Or save this article to read later by pinning it ⇟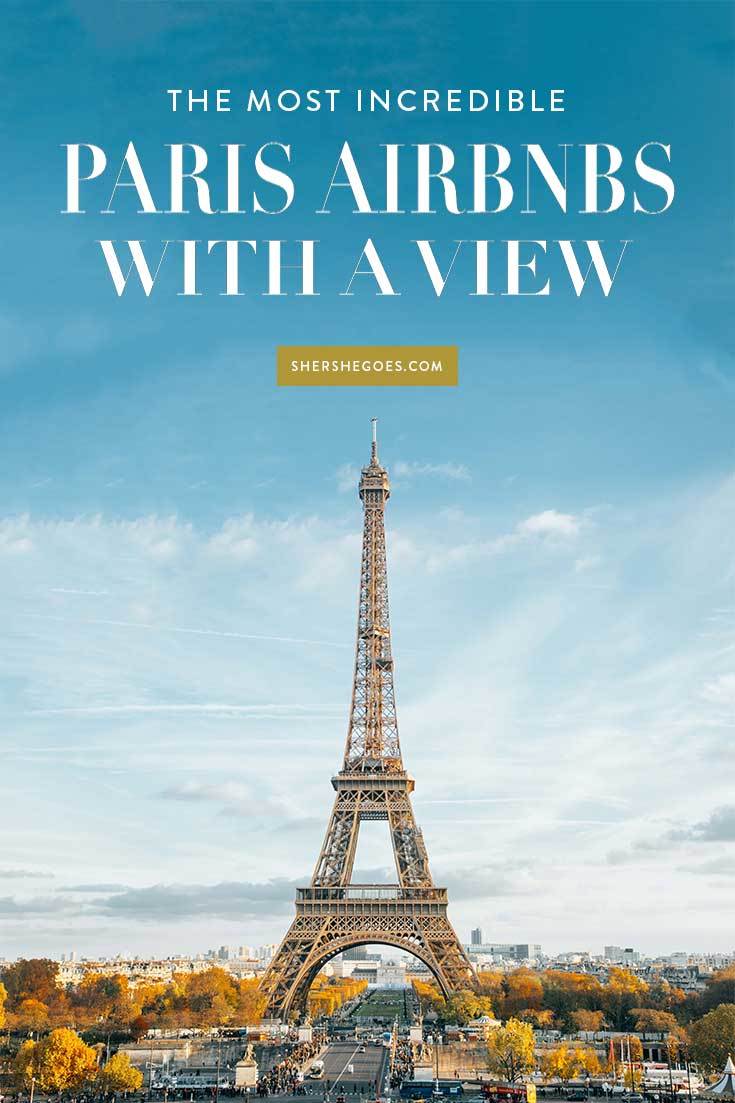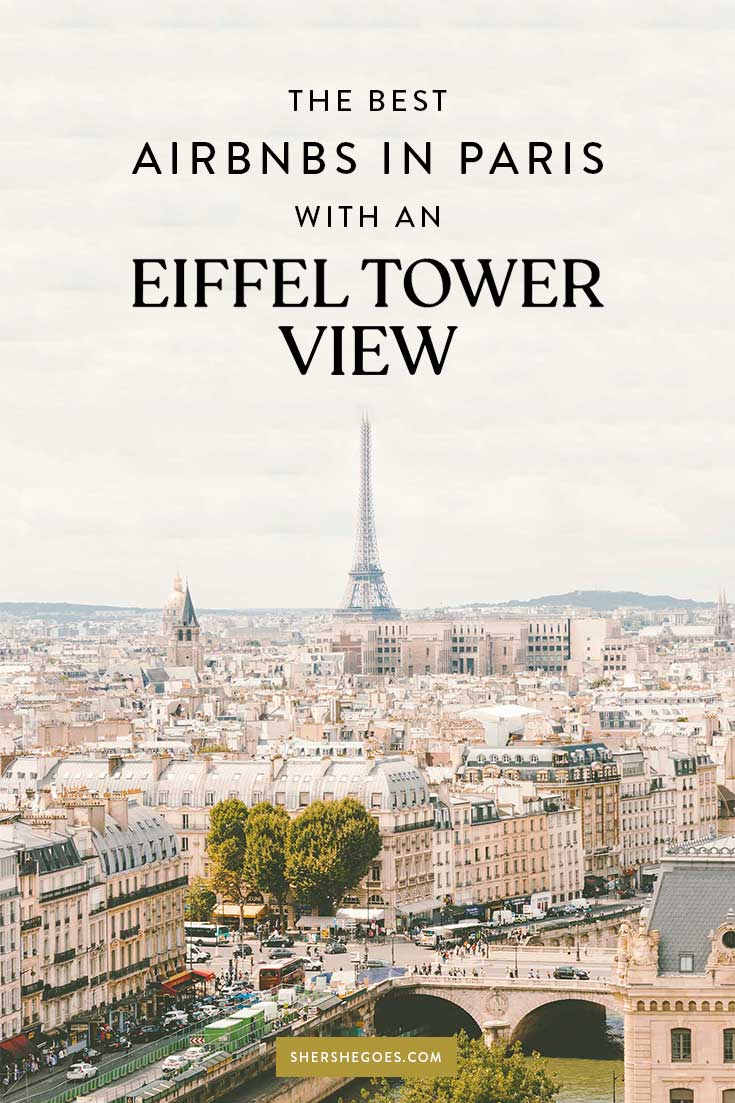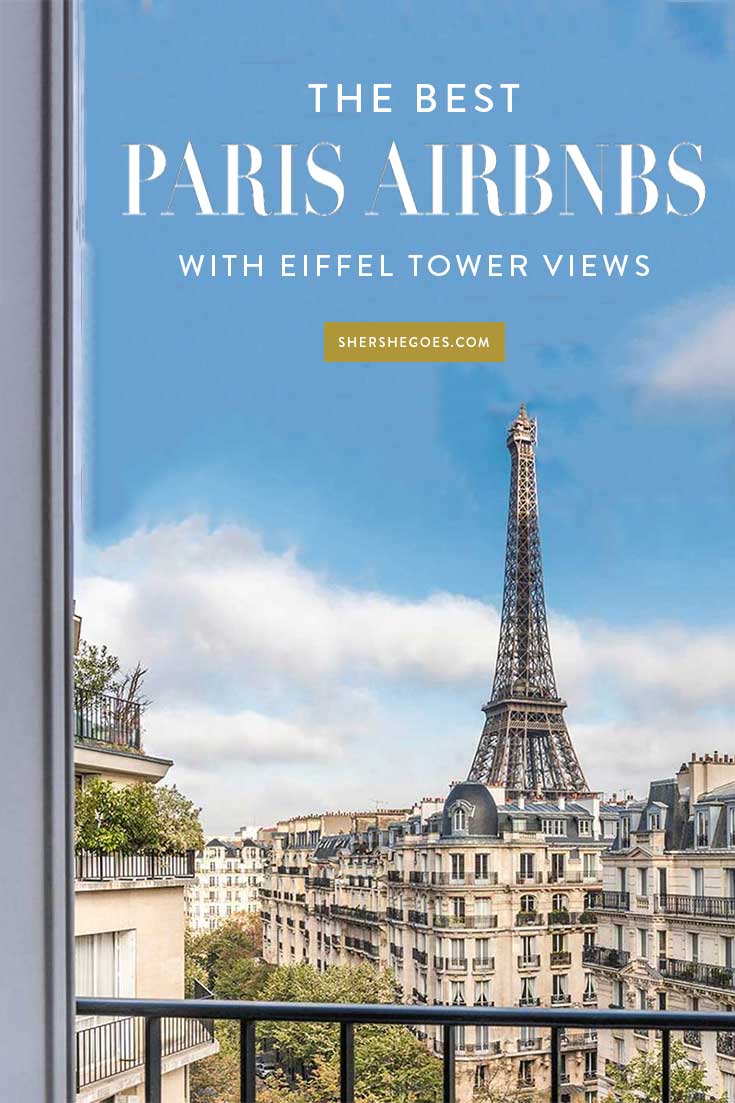 Best Paris Airbnbs – Summary Comparison Chart
Here are some of the best options for airbnb homes in Paris that have a view of the Eiffel Tower directly from the interior.
Keep reading for more info on each option and why we recommend them.
ADVERTISEMENT
---
---
5 Airbnbs with Incredible Views of the Eiffel Tower
If you were to book a hotel with a direct view of the Eiffel Tower, you'd need a small fortune. Why not try living like a local instead?
Here are 10 excellent Paris airbnbs that offer a great view, for a fraction of the cost.
1. The Iron Lady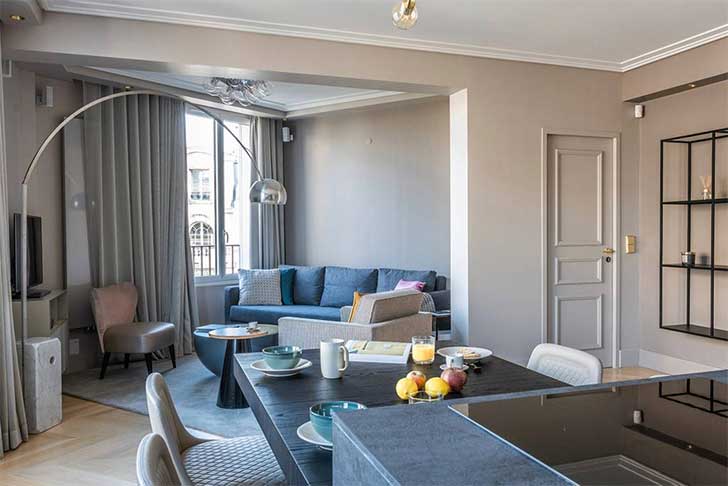 7th Arrond.
"Situated near the Champs de Mars and Rue de Commerce, lies a peaceful haven perfect for a Parisian holiday. Guests can enjoy an up close and personal view of the Iron Lady in the comfort of this modern and minimalist designed apartment."
Check rates: Airbnb
ADVERTISEMENT
---
---
2. Duplex with Balcony

7th Arrond.
This incredible 2 floor apartment boasts southern exposure terraces that overlook the Eiffel Tower and Seine. Built in an Art Deco style, the spacious home has space for up to 4 guests, with 2 bathrooms, a well equipped kitchen, living room and dining room.
That Eiffel Tower view? Why, it's so close you can almost touch it!
Check rates: Airbnb
ADVERTISEMENT
---
---
3. Studio with a View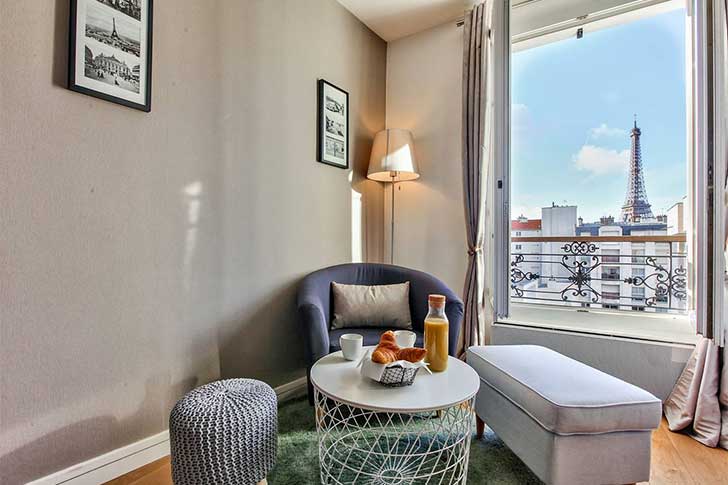 7th Arrond.
This bright and beautiful 1 bedroom, 1 bath apartment is located in the heart of the 7th, with views of the Eiffel tower. It's just a 5 minute walk to famous Paris tourist attractions like the Notre Dame Cathedral, the Louvre, the Seine and the Sorbonne!
Check rates: Airbnb
ADVERTISEMENT
---
---
4. Top Floor with Eiffel View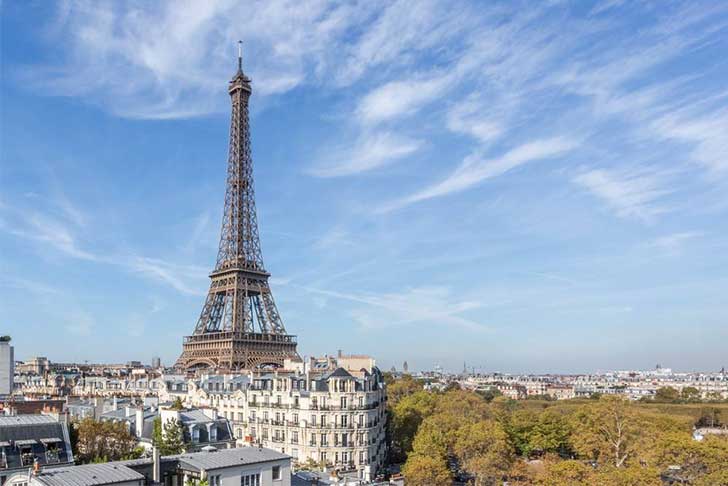 15th Arrond.
"Ideal for a couple or single person, this apartment located on the 9th and last floor has windows overlooking a breathtaking view of Eiffel Tower. The atmosphere of the apartment is quiet, and you can enjoy the private balcony at your convenience."
Check rates: Airbnb
ADVERTISEMENT
---
---
5. Next Door Neighbors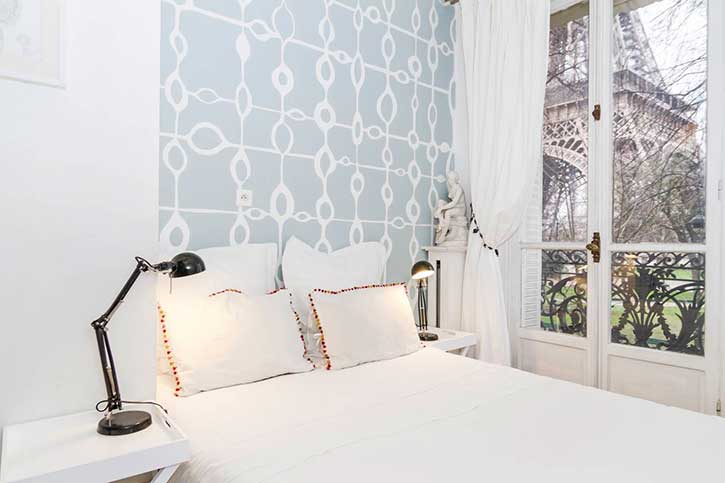 7th Arrond.
Located right next to the Eiffel Tower (so close you can see it through the trees), this cozy apartment includes 1 bedroom, a separate living room and small open kitchen. The location is safe and centrally located near Rue Cler.
Check rates: Airbnb
ADVERTISEMENT
---
---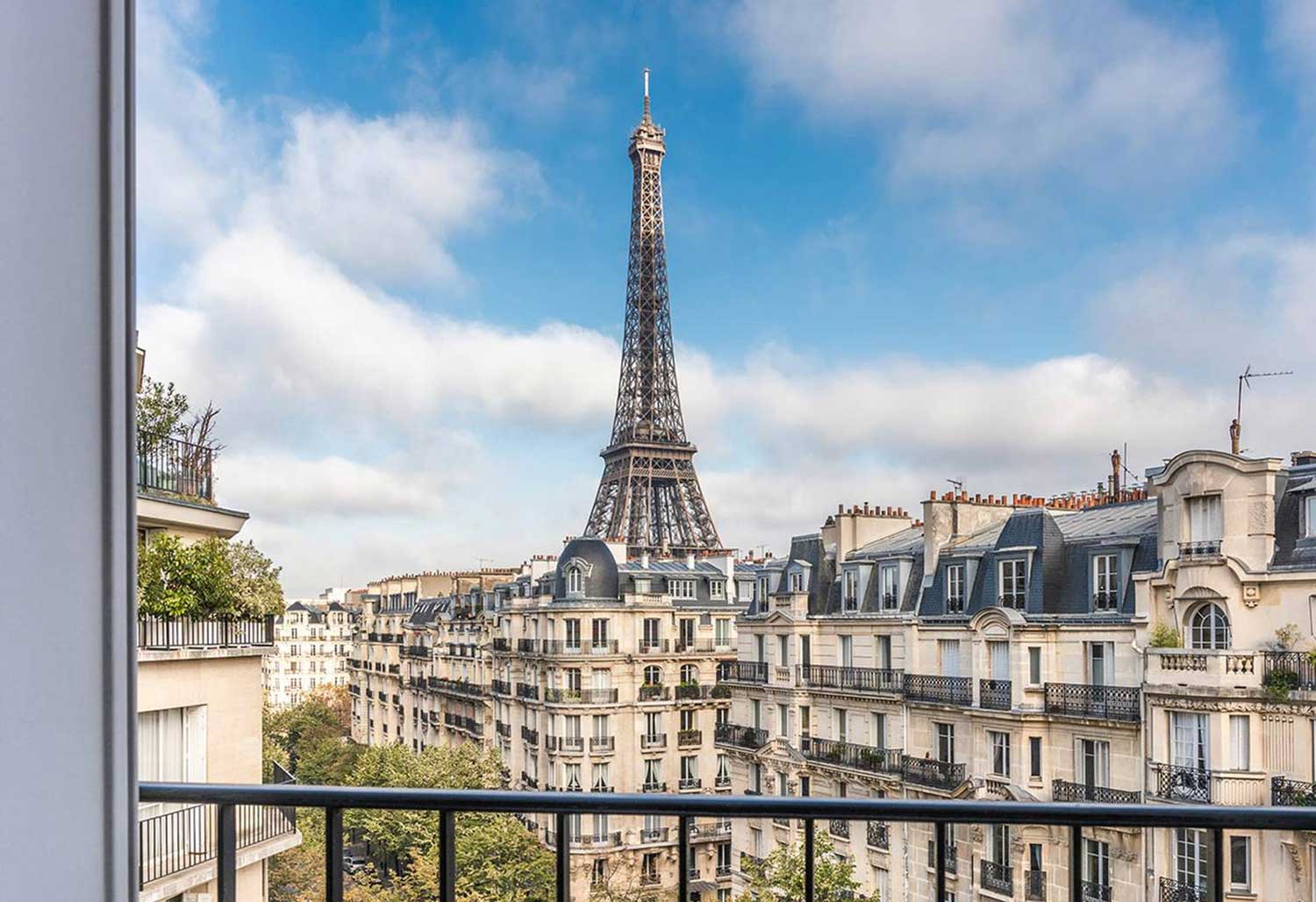 The 7th Arrondissement
France's capital is carved up into 20 arrondissement, or administrative districts. Think of them as neighborhoods, with each having its own characteristics, styles and proud residents.
The VII arrondissement is called La septième in French and includes some of Paris' most famous and well known tourist attractions, including:
Eiffel Tower: needs no explanation!
Hôtel des Invalides: easily spotted due to its gold dome, this is Napoleon's resting place
Musée d'Orsay: museum in an old train station housing famous works of art
Musée Rodin: a gorgeous home and garden belonging to the French sculptor
Musée du Quai Branly: art & culture museum showcasing Africa, Asia, Oceania and the Americas
Read more:
A Quick Guide to Paris: Best Sights, Desserts & Activities
ADVERTISEMENT
---
---
Stay Here if..
Nothing beats seeing the Eiffel Tower straight from your window!
During the day, you can picnic on the Eiffel tower lawn while at night, you can watch the Iron Lady sparkle. Once the sun goes down, the Eiffel Tower twinkles its lights for a minute or so, every hour on the hour.
Most apartments in this district were constructed in the Haussman era, and have that classic Parisian architecture look and feel.
The area is residential, with upper class families settling here, so it's a fantastic way to live like a lucky Parisian! If it's your first visit to Paris or you're in town with a loved one, there's no where more romantic or magical to stay.
Read more:
17 Hotels in Paris with Epic Views of the Eiffel Tower
ADVERTISEMENT
---
---
Airbnbs in Paris: Know Before You Book
Apartments in Paris, especially in the 7th arondissement, are old and historic.
Space is a premium
Parisian apartments are marketed on a "room" basis, as opposed to the number of "bedrooms" a place has. This is the typical lingo for renting or buying a place. So, double check the Airbnb description. It will often note the number of rooms, usually meaning a living room and a bedroom.
Best for Couples
Make sure you're looking at the number of beds. The 7th arrondissement is a more upscale neighborhood, and often the homes on airbnb with a view of the Eiffel Tower are best suited for just 2 people.
Pack Light
Parisien buildings often have beautiful inner courtyards and grand staircases, but not many will have elevators or AC. If they do have an elevator, it will often be tiny – just enough to fit one or two people. Try to pack light!
Read more: What to Pack for Paris
Floors are Numbered Differently
Floors in France are numbered differently than in America. The First Floor is always the story above the ground floor, while the ground floor is called the rez de chaussée. To simplify it in your head, think of the floor number as the number of stairs you have to climb!
ADVERTISEMENT
---
---
Is it your first time to Paris? What are you most looking forward to?
Visiting Paris – Travel Checklist
We took a red eye to Paris from JFK. You can find cheap Paris flights from low cost carriers almost all year round – check for flight deals here.
Paris has some of the best museums in the world. I spent an entire summer living in the city, visiting different churches, museums and historic homes and still couldn't get enough. If you plan to sight see, look into a Paris Pass – it's a great value! The pass can be purchased for multiple days and allows you to skip the line at 60+ attractions. See the full list of included sights and attractions here.
Lastly, be sure to visit Paris with travel insurance. Whether you get injured and need to be hospitalized, your phone gets stolen, or a flight delay leaves you with nothing but the clothes on your back, travel insurance will help when you need it most. During our recent trip, riots in Paris shut down the city center and forced a closure of all the main sights (the Louvre, Versailles, etc). Get a quote for your trip here.
You Might Also Enjoy:
Paris Vacation Planning Articles
3 Days in Paris: A Travel Guide & Itinerary
What to Wear in France (to Blend in with Chic Parisians!)
Where to Stay in Paris
Luxurious Hotels with Eiffel Tower Views
Cozy Airbnbs with a View of the Eiffel Tower
Popular Paris Sights 
Musee d'Orsay & The D'Orsay Clock
Notre Dame & its Rooftop Gargoyles
Paris Off the Beaten Path
Musee Jacquemart Andre and The Paris Pantheon
Where to Eat in Paris
Delicious Desserts in Paris
Lunch at Paul & a Romantic Dinner at Potager du Pere Thierry
Outside Paris
Day Trip to Giverny, Vernon & Auvers sur Oise
Exploring Normandy
Follow me @Sher She Goes on