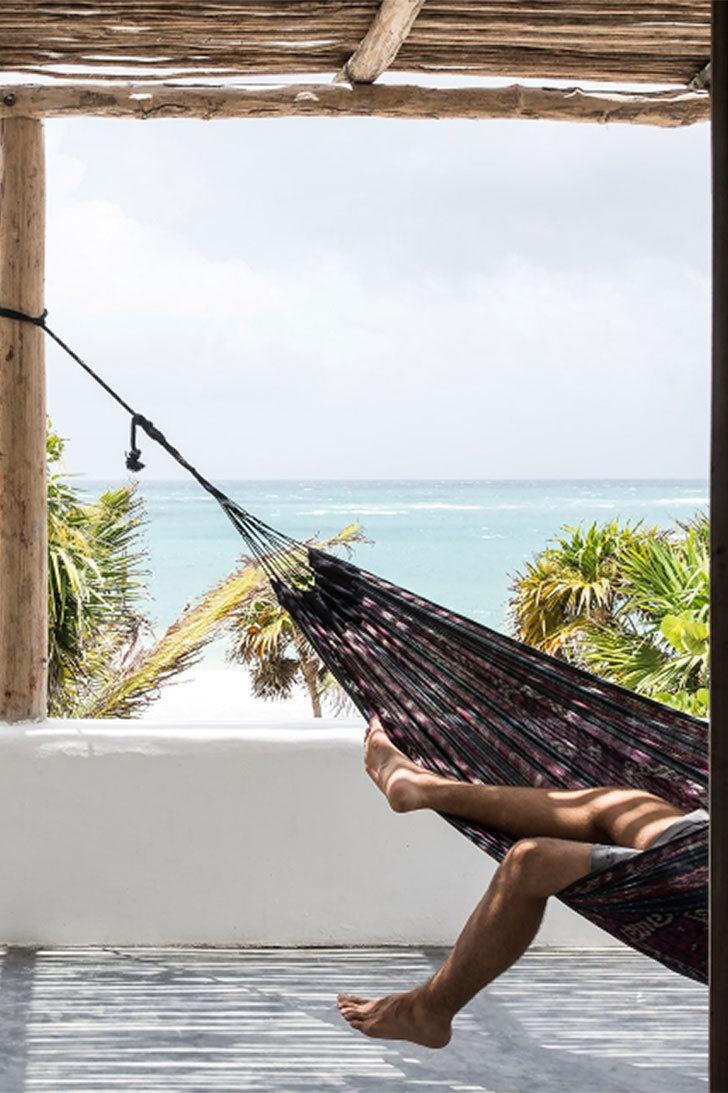 Where to Stay in Tulum, Mexico
Tulum started as a sleepy beach getaway but today is a hot spot for nightlife, amazing restaurants, and boho chic shopping.
If you're planning a visit to Tulum, you might be overwhelmed with the huge range of accommodation options. There's everything from luxury resorts to rustic beach side cabanas, and there are actually two separate neighborhoods to Tulum, so it can be a little confusing when figuring out where to stay.
Here's our Tulum accommodation guide to help you make the most of your trip and decide on the perfect place to stay!
ADVERTISEMENT
Or pin this article to save it for later ⇟
ADVERTISEMENT
---
---
Tulum Town vs. Tulum Beach
Tulum is actually a pretty big area, with two main zones for hotels:
Tulum Town
Called pueblo by the locals, Tulum Town is the actual village.
Stay in TULUM TOWN if:
You prefer pools & cenotes over the beach
Love real Mexican tacos and Mexican food
Are on a budget.
Check here for hotel deals in Tulum's city center
ADVERTISEMENT
---
---
Tulum Beach
Called playa by the locals, Tulum Beach is a long strip of pristine sandy coast with gentle waves.
Stay on TULUM BEACH if
You want a beautiful resort
Plan to spend most of your time on the beach
Love trendy restaurants, Instagrammable cafes and craft cocktails
Money is no object.
Check here for hotel deals along Tulum beach
ADVERTISEMENT
---
---
So, Where Should You Stay in Tulum?
One is more local and authentic, the other trendy and definitely expensive.
I'd recommend Tulum Beach if it's your first time visiting Tulum and you want to lay out on the beach all day, hit a trendy restaurant for dinner, and dance the night away.
I'd recommend Tulum Town if you're on a budget and want to explore cenotes, ruins and have a more active vacation!
It's too far to walk between Tulum Town and Tulum Beach, but you can rent bicycles if you want to explore on your own. This is still a pretty big workout though!
The easiest way to get from Town to Beach is with a taxi. Fares are generally set, and you can read my Tulum Travel Guide for more on getting around Tulum, taxi costs and day trips.
If you're visiting Tulum for a week or more, why not split your time?
Read more:
How to Plan the Ultimate Trip to Tulum
ADVERTISEMENT
---
---
Best Hotels in Tulum
Here's a quick overview of our recommended Tulum hotels, in both neighborhoods.
All of these are known for clean, beautiful rooms and great customer service. Some are luxury, others eco friendly, and some great for groups and budget travelers!
Best Tulum Hotels – Summary Comparison Chart
Keep reading for more info on each option and why we recommend them.
Read more:
8 of the Best Restaurants in Tulum
ADVERTISEMENT
---
---
Best Luxury Hotels on Tulum Beach
The southern end of Tulum beach has soft white sand, gentle waves and beautiful blue skies. The best, most luxurious resorts are concentrated farther south along the beach strip.
Here, you can find beautiful beachfront villas, delicious cocktails and great restaurants. From raw food bowls to matcha lattes, almost every establishment on Tulum Beach is highly Instagrammable!
Here are the best resorts to stay at on Tulum Beach.
Coco Tulum
There are different types of room options at Coco Tulum: garden view, ocean view, some with shared bathrooms. We recommend the ocean view cabanas so you can fall asleep to the sound of the crashing waves.
Coco is one of the most beautifully designed hotels on the beach strip. Everything is white, clean and minimalistic… with a beachy twist! From white canopy beds to seashell sinks, design lovers, couples and honeymooners will love staying here.
Don't miss Coco's Beach Bar and Beach Club – fun music all day, cute swings and great drinks!
Check rates: Hotels.com, Booking.com
Read reviews: TripAdvisor
ADVERTISEMENT
---
---
Be Tulum
Be Tulum is a gorgeous resort that's most famous for its beach parties. Great people, great music and unforgettable nights!
Book one of the rooms with a private pool, hammock and outdoor bath tub to really experience the most. Be Tulum is designed to showcase the jungle and ocean, and there's no better way to soak it in than from your outdoor shower or plunge pool!
Check rates: Hotels.com, Booking.com
Read reviews: TripAdvisor
ADVERTISEMENT
---
---
La Valise
This stunning boutique hotel is located on the southern end of the Tulum beach strip. With just 9 bedrooms, you're guaranteed to experience a beachfront bungalow that's private, relaxing and blissfully quiet.
The resort is decorated with Mexican art and earthy wood touches, part Robinson Crusoe, part Design Museum. Stay here to experience beautiful sunrises, breakfast in bed and cozy turn down service with tons of little tea lights casting a beautiful glow.
Check rates: Hotels.com, Booking.com
Read reviews: TripAdvisor
ADVERTISEMENT
---
---
Best Eco Friendly Resorts in Tulum
Eco resorts are very popular in Tulum. You've probably seen pictures all over Instagram – these are beautifully designed, with organic wood and earth materials that blend into the surrounding beach and jungle. Rooms are typically open, with soaking tubs that overlook the ocean, canopied white beds and outdoor showers.
These are the most popular accommodation to stay in Tulum at the moment! But, make sure you know what you're signing up for. Eco friendly hotels typically don't have the best wifi. Some don't even have 24 hour electricity or hot running water, as they're environmentally friendly!
For a unique experience in Tulum, stay at one of these popular eco-friendly resorts:
Papaya Playa Project
Rustic and minimalist, the eco-friendly property is made up of cabins facing the beach. Book the cabanas for private patios that open up right on the water for a truly relaxing stay.
Papaya Playa is famous for its Saturday Night Full Moon parties with excellent electro music, beach lounge and incredible drinks. For the most part, Tulum is a sleepy, hippie getaway but it comes alive at Papaya Playa!
Check rates: Hotels.com, Booking.com
Read reviews: TripAdvisor
ADVERTISEMENT
---
---
Nomade Tulum
If you want a spiritual retreat in Tulum, there's nowhere better than Nomade. Stay here for the vegan breakfast, fantastic yoga classes and bungalow style rooms.
Nomade is one of the best hotels on Tulum beach and boasts amazing decor, a calming spa and it's own private slice of the Caribbean.
Check rates: Hotels.com, Booking.com
Read reviews: TripAdvisor
ADVERTISEMENT
---
---
Azulik
First off – there's no electricity at Azulik.
If that's not a deal breaker for you, then you'll love Azulik's incredible tree hut suites. Raised on platforms high above the beach, you'll feel like you're staying in the clouds. Each suite is designed differently, but all feature gorgeous views of the beach, outdoor showers and beautiful decor. Some have their own hot tubs, pools, and patio swings.
The on site restaurant is fantastic as well!
Of all the hotels in Tulum, Azulik is hands down the most unique place to stay. If you're looking for something quirky, organic and unforgettable, stay at this Tulum eco hotel.
Check rates: Hotels.com, Booking.com
Read reviews: TripAdvisor
ADVERTISEMENT
---
---
Best Budget Hotels in Tulum Town
For budget friendly options, head into Tulum town. Prices are cheaper, rooms are clean and you can always head to the beach on your own!
Some of the best tacos we've ever had were in Tulum's town.
Make sure to visit Antojitos la Chiapaneca – it's the most famous spot in town that serves tacos al pastor, slow cooked pork shaved off a spit directly onto a tortilla, topped with sliced pineapple.
You can find taco shops all over town but the best open only at night.
La Casa Blanca
This Airbnb home is compact, but clean, comfortable and filled with light. There's a private pool in the backyard and a cozy hammock in the front. If it's your first time in Tulum, the host is more than happy to recommend great swimming holes nearby, accessible beaches and insider tips to make the most of your stay.
La Casa Blanca is located in a quiet district in Tulum town, frequented by tourists and expats. It's a short 5 minute drive to the beach, or 15 minutes walking into town. Best of all?
The host provides bicycles so you can cruise around on your own!
Check rates: Airbnb
ADVERTISEMENT
---
---
Ginger Tulum
Located right in Tulum town between the main strip and the bus station, Ginger Tulum offers a great location for an unbeatable price.
This budget friendly hotel is small, but offers clean, comfortable rooms with modern decor and air conditioning – something that's hard to find in many other properties! Each room is sized slightly differently, but all include a great made-to-order breakfast and steady wifi.
There's a small pool towards the entrance, but water lovers will probably skip it. Instead, guests access the beautiful beach at sister hotel Coco Tulum, which is located on Tulum's beach strip. Stay at Ginger Tulum if you're on a budget but want the best of both worlds!
Check rates: Hotels.com, Booking.com
Read reviews: TripAdvisor
ADVERTISEMENT
---
---
Una Vida
Una Vida is located in a quiet part of Tulum town, with meticulously maintained grounds and beautifully designed rooms. The pool is lit up at night for a magical atmosphere. Plus, there are complimentary bikes should you want to head into town.
Rooms are apartment style, with both 2 and 3 bedroom villa options, so families with kids traveling to Tulum will love the extra space and kitchen area!
Check rates: Hotels.com, Booking.com
Read reviews: TripAdvisor
ADVERTISEMENT
---
---
And that's it! Our guide to Tulum's best hotels to make the most of your stay.
Whether you're looking for a beautiful suite overlooking the ocean, a rustic bungalow on the beach, or a clean, comfortable hotel in the center of town, these top hotels in Tulum are sure to please.
You Might Also Enjoy:
Mexico Vacation Planning Articles
The Essential Mexico Packing Guide
Quintana Roo, Mexico
Travel Guide: Everything to Know Before Visiting Tulum and Cancun
All the Best Food to Eat in Tulum
Where to Stay in Playa del Carmen for the Best Vacation
Cabo & Puerto Vallarta 
The Essential Puerto Vallarta Travel Guide
Everything You Should Do in Cabo San Lucas
Follow me @Sher She Goes on