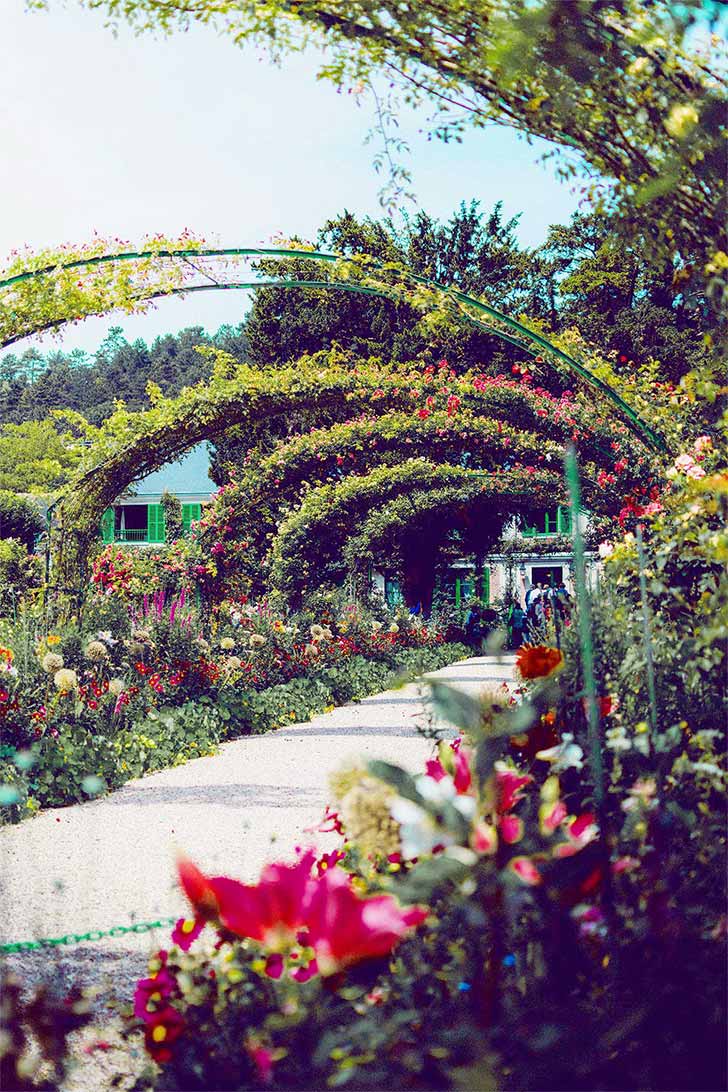 Giverny, France
As an student in Paris, one of my favorite classes was art history.
Half the time we sat at our desks learning the various art movements and French painters… but the other half of instruction was outside, when we got to explore museums, neighborhoods and cultural institutions in person.
On one day trip, we headed outside the city to the town of Giverny, a quaint Norman village on the north banks of the Seine. The peaceful town is famous for Claude Monet's house and garden. Here, the Impressionist painted some of his most famous works.
ADVERTISEMENT
While you can find many of his paintings in museums throughout Paris, the garden which inspired him is worth checking out!
Here's everything you need to know about visiting Giverny!
Quickly jump to:
ADVERTISEMENT
---
---
Giverny
If you love art, look no further than Giverny. This quaint French town with its peaceful countryside and vivid wildflowers inspired not only Monet, but a second Impressionist movement comprised of American artists.
But first… a quick history lesson on the Impressionists.
When Impressionism began in the 19th century, it was unlike anything else at the time. Most painters survived on commissions from either the church or the rich, so naturally subjects tended to be religious in nature or portraits (often of the patron). Oil was the medium of choice and paintings were often dramatic and dark.
When young artists began capturing dreamy landscapes, it was a stark break from tradition. Even more distinctive was the method – light, short brush strokes that were visible to the naked eye!
Searching for idyllic refuge, many Impressionists looked outside to the Norman countryside. With its dramatic coastline, picturesque towns and lush flora, Normandy was the perfect backdrop for this new style of painting. In Monet's time, Giverny transformed from a provincial backwater into a colony of artistic talent, that thrived up until World War I.
Read more:
The Best Things to Do in Normandy
ADVERTISEMENT
---
---
Paris to Giverny
Giverny is a small village roughly 50 miles (75 km) outside Paris. The town follows the flow of the Seine River, and because it's so close to the French capital, you can easily visit Giverny in just a day.
Or, if you have more time, combine a trip to Giverny and neighboring town Vernon for a more thorough look at the Parisian countryside and Impressionist art movement.
Read more:
Paris to Normandy: What to Know Before You Go
How to Get to Giverny from Paris by Train
Head to Paris' Gare St Lazare station to catch a train to Vernon. Tickets are inexpensive and the route takes approximately 45 minutes. From Vernon, shuttle buses run approximately every 15 minutes to Giverny.
Check train schedules and book tickets here.
ADVERTISEMENT
---
---
Paris to Giverny Tours
Don't want to bother with public transportation and figuring out train / bus connection times? Take a guided tour instead that will handle everything for you!
This is how we explored Giverny on our first visit, and we combined a trip to Monet's House with side trips to Vernon and Auvers-sur-oise.
Here are some of the most popular tours from Paris to Giverny:
Monet's House Skip the Line Tickets: Want just the tickets to Monet's house and gardens? Choose this skip the line option to avoid waiting with the crowds!
Check availability here.
Giverny Guided Tour (Half Day): This half day tour, available for either the morning or afternoon, includes round trip transportation from Paris, all entrance fees to Monet's house and garden as well as a local guide.
Check availability here.
Giverny & Monet's Garden Bike Tour: Prefer a more active visit? This bicycle day trip starts from Paris and takes you through Giverny's highlights including Monet's gardens, the town square and cemetery where Monet is buried. The French countryside is beautiful, so this is a great option for those who want to see it up close!
Check availability here.
Giverny & Auvers-sur-oise Tour: Love the Impressionists? This fantastic guided tour takes you to two towns: Giverny, with a visit to Monet's house, and Auvers-sur-oise, the nearby town where Vincent Van Gogh is laid to rest. Round trip transportation and entrance tickets are taken care of.
Check availability here.
Giverny & Versailles Tour: If you're visiting Paris for the first time, this tour is the perfect option. Save time and take a guided visit from Paris to both Versailles and Giverny. It would be pretty hectic to see both sites in one day on your own, so this guided tour is a lifesaver. Includes an air conditioned coach, local guide, lunch and drinks.
Check availability here.
Read more:
Here are the Best Small Towns in Normandy
ADVERTISEMENT
---
---
Monet at Giverny
Claude Monet was born to the son of a grocer, but fell in love with painting. Encouraged by his mentor Eugene Boudin, one of the first Impressionist artists, Monet began to embrace the life of a painter.
He painted the world as he saw it: the open countryside, small villages, boats and beaches. Unlike traditional artists, Boudin, Monet and the Impressionists abandoned studios for painting 'en plein air', in the outdoors, with natural light.
By the time Monet came to Giverny, he was already a famous artist and relatively old. He passed by the village on a train ride through the countryside and immediately became inspired.
Initially, Monet rented a house and some land, living with his companion Alice Hoschede and their combined eight children (from previous marriages). By 1890, he had saved enough to purchase the land outright and to create the artistic garden of his visions.
For 43 years, Monet immersed himself in Giverny and his pastoral paradise. In his last years, despite failing eye sight and lung cancer, Monet continued to paint. If you look closely, you'll notice his later works slowly shifted towards larger canvases, with less intricate details.
Monet died in December 1926, at age 86. He painted until the day he died.
Read more:
Don't Skip: A Visit to Normandy Cemetery
ADVERTISEMENT
---
---
The Artist's Garden
Although his paintings are displayed in museums around the world, Monet's garden is perhaps his crowning achievement.
When Monet first settled in Giverny, the pink stucco house had just a small kitchen garden and apple orchard. By 1890, Monet began developing nearly 2 acres into the masterpiece garden of his dreams, creating a flower garden and water garden.
Le Jardin de l'Artiste à Giverny
Flower Garden
Near the house is the colorful Close Normand, with its metallic arches and colorful wildflowers. Monet created rectangular garden beds and planted each with flowers of a singular color, so that when in bloom, they seemed to create a floral artist palette.
The original spruce trees were replaced with fragrant fruit trees, like apple, cherry and Japanese apricot, and a solar garden was built.
The flowers are carefully planted so that from Spring to Fall, different varieties and colors are in bloom, creating a refreshing change of scenery (and artistic inspiration) month after month.
ADVERTISEMENT
---
---
Water Garden
Monet's most ambitious project was the water garden.
Inspired by Japanese prints, Monet diverted a river in town to create a man-made pond (something I'm sure his neighbors were not too pleased about) and constructed Japanese bridges. To complete the Asian water garden atmosphere, he planted bamboo, ginkgo trees and Japanese peonies. Weeping willows frame the pond while wisteria crawls up the bridges. White lilies, giant lily pads and maple trees complete the look.
The water garden is immortalized in Monet's most famous series of paintings: Le pont Japonais (The Japanese Bridge) and Nymphéas (Water Lilies).
Foundation Monet
After strolling through the gardens, you can tour Monet's farmhouse for a look at his family life in this quaint Norman village.
The interior is a cozy, eclectic mix of furniture. Restored with the colors, personal effects and artwork, it's easy to imagine the house as it was when Monet lived there, with his partner and eight children.
Don't miss his collection of Japanese stamps, on the ground floor!
ADVERTISEMENT
---
---
When Is the Best Time to Visit?
Fondation Monet is open from roughly late March to late October each year. The gardens are the focal point, and each month during the season, different varieties and colors of flowers come to life. The result is a visual masterpiece!
Here's a brief overview of the plants in bloom at Giverny, by month:
March: Daisies, Hyacinths, Pansies, Violas
April: Japanese cherry trees blossom, azaleas in the Water Garden and hyacinths, tulips, daffodils and pansies in the Flower Garden
May: wisteria drapes the Japanese bridges and lily of the valley flowers in the Water Garden. Vivid peonies, irises and rhododendrons flower
June: roses everywhere, in every color! the first water lilies appear in the Water Garden
July: lavender, dahlias, verbenas and some late roses. Water lillies bloom in full force in the Water Garden and you might spot some frogs!
August: similar to July, with dahlias, carnations, rudbeckias and giant sunflowers in the Clos Normand and lilies in the Water Garden
September: nasturtiums of different varieties along the main pathways and purple dahlias in the Clos Normand. In the Water Garden, the water lilies begin to slowly fade.
October: Fall is beautiful. Expect sage, aster, dahlias, sunflowers. The weeping willows transition to fall colors.
Read more:
Visiting Rouen, the Capital of Normandy
ADVERTISEMENT
---
---
Things to See and Do in Giverny
Giverny is more than just Monet's house and garden. The village has a number of other pretty country homes, green landscapes and beautiful gardens. Here are some of the best things to do in Giverny, if you're staying overnight and have more time!
1. Museum of Impressionism
The bright and modern Museum of Impressionism is dedicated to (you guessed it) Impressionist art. It focuses on the Giverny artist colony and Seine Valley artists, but also includes international artists who have taken up the Impressionist movement – like Japnese artist Reiji Hiramatsu and French neo-impressionist Maximilien Luce.
It's worth checking out, not only for the history and beautiful artwork, but also for its gardens and temporary exhibitions. Turn left from Monet's house and walk just 600 feet to find it.
If you're looking for Monet's work specifically, head back to Paris. The Orangerie museum is a beautiful, modern circular building dedicated to his water lily paintings. The Orsay Museum and Marmottan Museum also have some of Monet's most popular works.
2. Tour Local Art Galleries
Modern day Impressionist artists continue to flock to Giverny. If you walk along the road in front of the Claude Monet Foundation, you'll find tons of small private art galleries with their renditions of L'Impressionisme. Check out Claude Cambour, Christophe Demarez and Florence Ramier.
3. Have Coffee at Hôtel Baudy
In Giverny's heyday, artists flocked to the town to learn from Monet. They often stayed at Hôtel Baudy and it soon became a popular artist salon. Today, Hôtel Baudy is a café and restaurant and still decorated in the period furniture of Monet's time.
4. Eat at Le Jardin des Plumes
Hungry after a day in the sun? Pop by Le Jardin des Plumes for a bite to eat. It's just a short 10 minute walk from Monet's house and is helmed by local Chef Eric Guérin.
4. Visit Monet's Tomb
Monet and his family are buried in Giverny. If you take a short walk into the village, you'll find the local church Saint-Radegonde at the end of the main road. The facade is relatively plain, but the structure dates back to the 12th century. Monet and several family members are buried in the cemetery.
Read more:
How to Visit the Landing Beaches of Normandy
ADVERTISEMENT
---
---
Where to Stay in Giverny
To get a feel for why Monet fell in love with Giverny, you have to spend at least a night in town! The surrounding countryside is gorgeous, dotted with colorful wildflowers and perfect for hikers and leisurely walks.
Plus, if you want to visit Monet's house without the insane crowds, you'll only be able to do so if you plan to spend the night. Monet's house and gardens receive over half a million visitors each year, so if you're looking to enjoy the landscape as Monet did, in silence and solitude, stay overnight and plan a visit right when the Foundation opens or right before it closes.
Here are some of the best hotels in Giverny. Expect quaint bed and breakfast type accommodation, cozy rooms and charming local hospitality.
1 | Le Coin des Artistes: A cozy inn just 5 minutes from Monet's garden, this b&b is clean and quiet with good sized rooms. The courtyard and outdoor lounge are a great place to relax
Book rooms: Booking.com | Check prices: TripAdvisor
2 | Le Jardin des Plumes: A pretty property within walking distance of Giverny's sites. Rooms are small, but the restaurant is a stand out. Try the 3 course prix fixe for dinner and book the room that overlooks the garden for the best view.
Book rooms: Booking.com, Hotels.com | Check prices: TripAdvisor
Read more:
Where to Stay in Giverny
ADVERTISEMENT
---
---
Day Trips and Towns Near Giverny
Vernon
Just opposite Giverny, across the Seine, lies the quaint historic town of Vernon. If you have time, a day trip to Vernon is worth the visit (and walkable, at just 3 miles / 5 km away).
Vernon was also frequently visited by Monet and Impressionist painters. The local museum, Musée A.G. Poulain, houses some of Monet's original pieces, like his portraits of step-daughter Blanche. Vernon is famous for its half-timbered houses, picturesque old mill and bronze outdoor sculptures.
To get to Vernon, take a shuttle bus from Giverny or take the train from Paris. Or, take a leisurely walk!
Read more:
Visiting Vernon: Everything You Must Do
Auvers-sur-oise
Roughly one hour east of Giverny is the quaint town of Auvers-sur-oise. The pretty village was inspirational for artists like Camille Pissarro, Claude Monet, Paul Cézanne and Charles-François Daubigny.
Most famously, Auvers sur oise is the final resting place of Vincent van Gogh. Staying in town for just 70 days, van Gogh painted nearly 80 canvases of the pretty village and surrounding countryside. You can visit the auberge where he rented a room, the local church which inspired many of his paintings, as well as the cemetery where he and his brother are buried.
Book
Giverny and Auvers-sur-oise combo tour
.
Eure Valley Tourist Train
The gorgeous Eure Valley has an old fashioned tourist train that takes a scenic route through the countryside. The train station at Pacy-sur-Eure continues the vintage theme with a period style station. If you're visiting in late fall or winter, you can take some of their themed trains for Halloween and Christmas time.
La Roche-Guyon
The quaint town of La Roche Guyon is famous for its location on the Seine, steep chalk cliffs and old chateau.
Belonging to the de la Rochefoucauld family (and later occupied by World War II Nazi commander Edwin Rommel), the Chateau de la Roche Guyon has a beautiful view of the village and a creepy Middle Age dungeon below.
The lower rooms have been restored and include a Salon, theater, observatory and family chapel. You'll also find a pretty kitchen garden, that's been restored and replanted with vegetables, fruit trees and flowers.
Chateau Gaillard
Chateau Gaillard is another famous castle in Normandy. Unfortunately, the name is a bit misleading as it's no more than ruins today.
In the 12th century this Chateau was once an impressive fortress built by Richard the Lionheart, King of England and Duke of Normandy. He built it as a defensive strong hold in the town of Les Andelys, right on the Seine riverbanks. If you like history and have time to cruise through France, it's worth a visit!
Book
Chateau Gaillard tours
.
ADVERTISEMENT
---
---
Definitely don't skip a visit to Monet's House in Giverny! You can find more of my travel guides to Paris here.
Visiting Normandy – Travel Checklist
We took a red eye to Paris from JFK, then sailed on the Seine to Rouen on a river cruise. You can check for flight deals here and set an alert for your dates.
It's also easy to take the train from Paris to cities throughout Normandy. Check my post here for more logistical information on taking the train in France and how not to buy tickets.
In Normandy, there's so much to see over a large area that I'd recommend basing yourself in a city for a couple nights to take day trips, then moving to another city. For the D Day beaches, Bayeux and Caen are both popular bases. Check here for deals on Normandy hotels.
Lastly, be sure to visit Paris with travel insurance. Whether you get injured and need to be hospitalized, your phone gets stolen, or a flight delay leaves you with nothing but the clothes on your back, travel insurance will help when you need it most.
During our recent trip, riots in Paris shut down the city center and forced a closure of all the main sights (the Louvre, Versailles, etc). Get a quote for your trip here.
You Might Also Enjoy:
Normandy Vacation Planning
How to Get from Paris to Normandy
Cruising on the Seine River from Paris to Rouen
The Most Beautiful Places in Normandy
21 of the Best Things to Do in Normandy
Normandy Towns
Quick Guide to Rouen, Normandy's Capital
Paris to Normandy Day Trips: Vernon & Auvers-sur-Oise
Visiting Giverny & Monet's House
WWII Memorials
How to See Normandy Beach & D-Day Sites
Visiting the Normandy Cemetery in Remembrance of D-Day
Follow me @Sher She Goes on