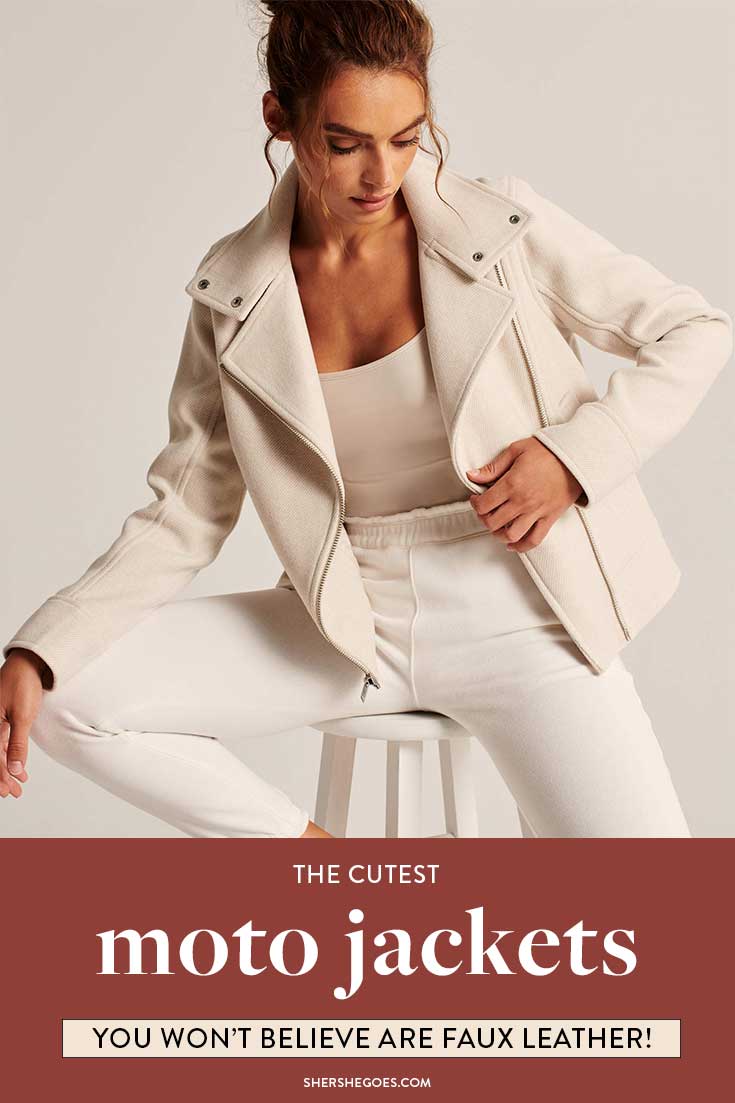 Moto Jackets
Let's be real.
While few of us may actually own a motorcycle, that doesn't mean we can't add a little edge to our wardrobes, right?
Women's moto jackets are a hot new trend, as the rugged looks worn on the road end up looking great out on the town, too!
If you feel like your fall and winter wardrobe is getting a little stale, spice things up with the 4 best women's moto jackets!
ADVERTISEMENT
Keep reading, or pin this article to save it for later ⇟
The Best Faux Leather Moto Jackets
Check out the best moto jacket looks to add that edge to your fall and winter wardrobe!
Top Moto Jackets for Women
ADVERTISEMENT
---
---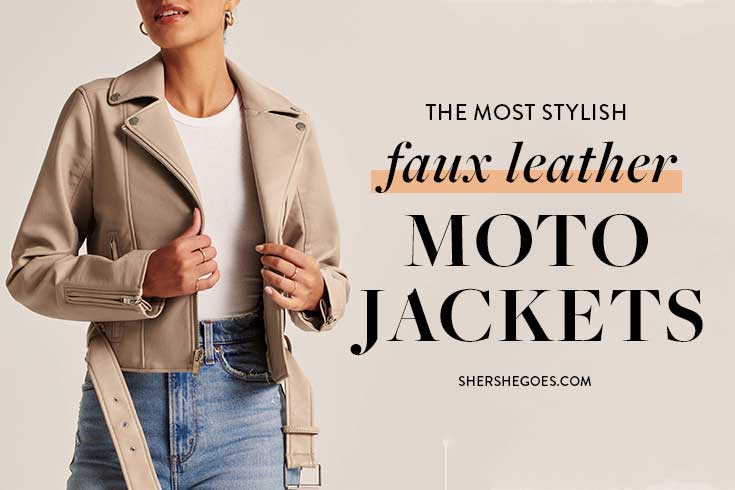 Women's Moto Jackets
Best Faux Leather Women's Moto Jacket: Blank NYC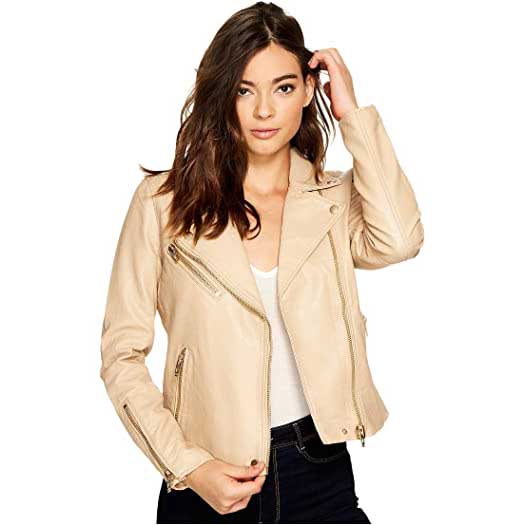 Many women's moto jackets are faux leather these days, which is perfect.
You can look bad to the bone on the streets while still knowing you're a softy for animals!
This faux leather women's moto jacket from Blank NYC puts a more colorful spin on the traditional offering, and I especially love the unique look the cute, oversized collar provides!
ADVERTISEMENT
---
---
Best Washed Women's Moto Jacket: BB Dakota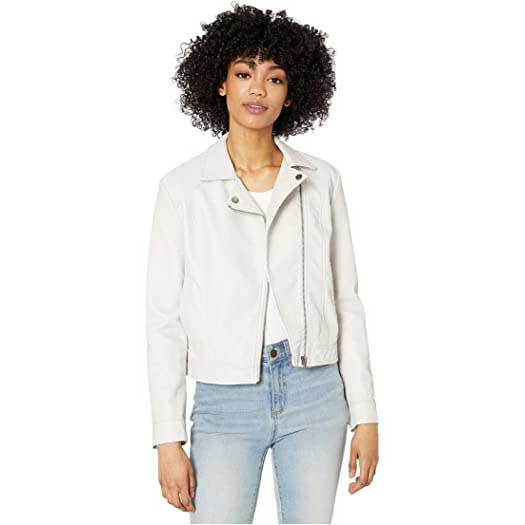 This BB Dakota women's moto jacket is so washed, it hardly resembles its source material at first glance!
However, the notched lapels, off-center zip closure, and classic collar evoke the classic motorcycle jackets of old while retaining a modern look that can go with any outfit!
ADVERTISEMENT
---
---
Best Classic Women's Moto Jacket: Levi's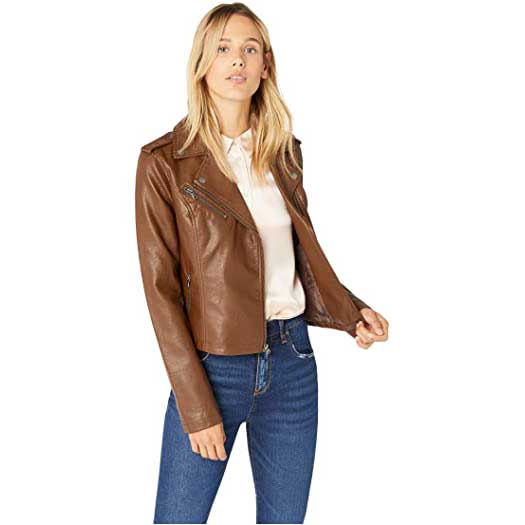 For a more classic women's moto jacket look, check out this faux leather (which, by the way, is some of the most realistic faux leather we've ever seen!) look from Levi's!
This women's moto jacket features all the roadie staples, including a paneled shoulder, zip-cuffed sleeves, and a snap-down notched lapel!
Plus it's available in such a gorgeous caramel-like shade of brown.
ADVERTISEMENT
---
---
Best Suede Women's Moto Jacket: Blank NYC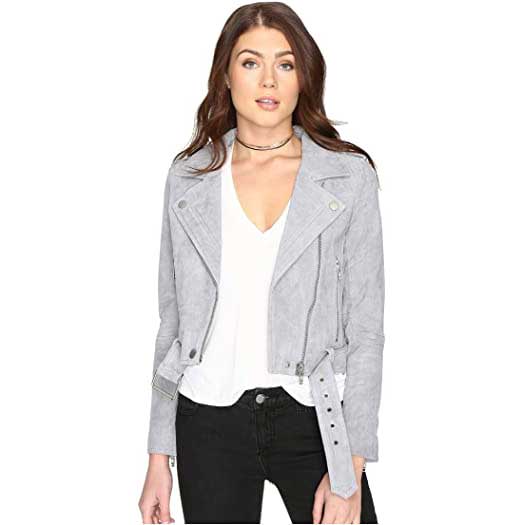 It's rare to find faux suede fabrics that feel right but there are a few brands that make great vegan suede materials.
Out of all of the faux suede moto jacket options, we love this Blank NYC option which has all the zips, buckles and hardware you might want in a softer, drape-y style.
The wide lapel, side pockets, and exaggerated waist belt provide the right blend of motorcycle edgy and modern chic!
ADVERTISEMENT
---
---
Shop Women's Faux Leather Moto Jackets
---

ADVERTISEMENT
---
---
Read More in my favorite Comfy Shoe series:
Most Comfortable Shoes
The Most Comfortable Flats EVER
The Most Comfortable Sandals for Summer
The Most Comfortable Boots for Winter
The Most Comfortable Heels (you can actually walk in)
Best Sneakers
The Best White Sneakers that Go with EVERYTHING
Cute Casual Sneakers to Wear Anywhere
Best Boots
The Best Chelsea Boots to Wear All Year Round
The Best Lace Up Boots for Military Inspired Chic
The Best Over the Knee Boots that Make a Statement!
The Best Shearling Boots to Stay Cozy this Winter
The Best Black Combat Boots That Go with Everything
Cozy At Home Shoes
The Best Mules for Easy Slip on Style
The Best Loafers to Look Polished but Stay Comfy
Shoe Reviews
The Best Travel Shoes in Every Style - Sneakers, Slip Ons, Flats & Sandals
Everlane Flats - These 5 Pairs are Extra Comfortable
OluKai Shoes: Sneaker & Sandal Review
Where to Get Stuart Weitzman Boots on Sale
Designer Inspired
The Best Cap Toe Ballet Flats to Get the Chanel Look, for Less
Classic Chanel Inspired Slingbacks (Two Toned)
The Best Chanel Inspired Espadrilles to Rock All Summer
The Best Manolo Blahnik Lookalikes
The Best Over the Knee Boots that Rival Stuart Weitzman Lowlands!
Follow me @Sher She Goes on