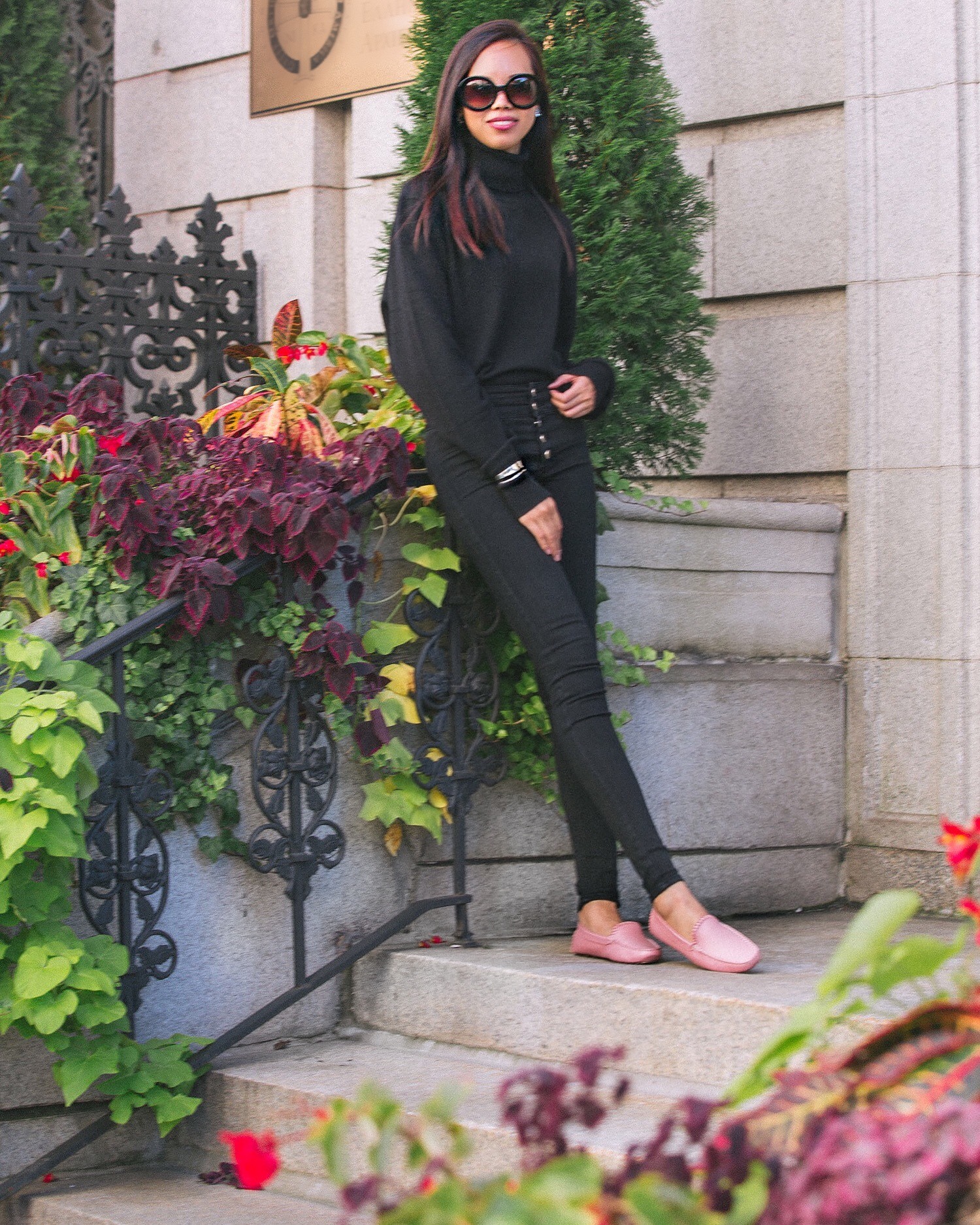 Amazon Basics Black Cashmere Turtleneck / Georg Jensen Silver Bangle Bracelet / Abercrombie Button Up Jeans / Jack Rogers Pink Loafers / Prada Sunglasses
4 Things I Learned Since Working for Myself
The funny thing about working for yourself is that it's uncharted territory. There's no one to guide you, no boss to double check your work and no greater resources to help with the workload. With that being said, it's been a challenging yet fulfilling journey and in today's post I thought I'd chat a bit about some fun lessons I've learned along the way.
I've also partnered with HBO for part of this post and have a fun upcoming movie premiere giveaway with them – enter at the bottom! It involves travel to New York City, so you know you want to enter :)
Everyone Forges Their Own Journey
I love following other people's journeys and reading about what other bloggers are experimenting with but I've realized that in order to get my work done and build something for myself, I needed to block out the noise and stay in my lane.
The moment I started concentrating on my projects and the kind of content I wanted to create, I felt less stressed and less worried about what everyone else was doing.
ADVERTISEMENT
---
---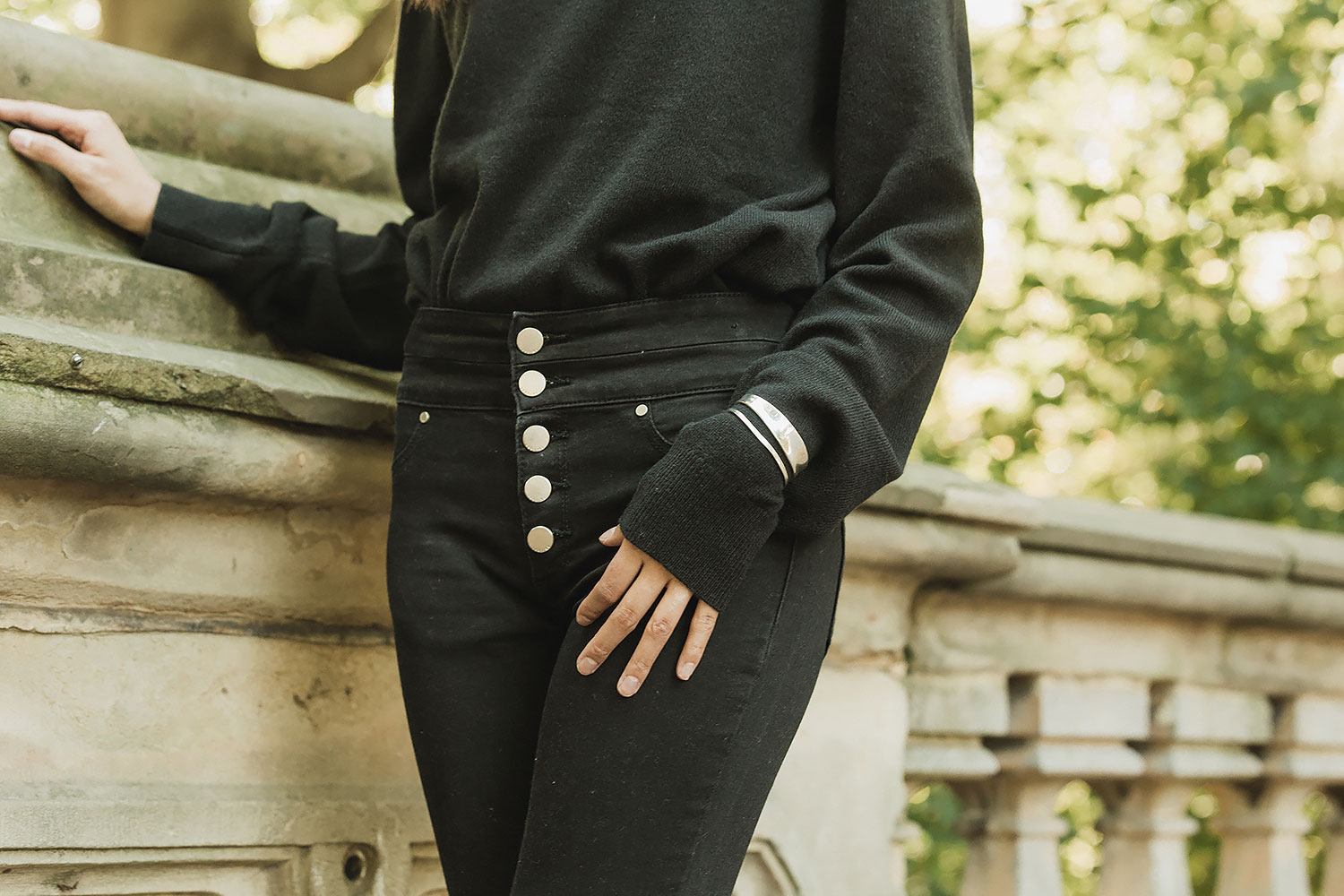 You'll Make Continuous Progress, But It May Not Be Measurable
I'm a big user of excel spreadsheets and I track everything. In the beginning, I would be frustrated by all the things that weren't happening, until C stopped me and helped me realize how much progress I really had made.
Instead of tracking metrics daily (page views or income or anything really), I set out goals I'd like to achieve each quarter. I still quantify them and make them measurable and trackable, but for the entire 3 months I give myself the freedom to work on completing them and I don't worry so much about the gains until the end of the quarter.
Sometimes we're so in the weeds that it takes an outsider to really put everything in perspective.
ADVERTISEMENT
---
---
Diversification is Essential
I can't really remember which I started first, if it was my Instagram account or my blog, but for a while I was consumed with Instagram and the photo app and neglected my site entirely. Then the algorithm changes and lack of traction got me really demotivated about Instagram and I put all my energy into writing and developing my website.
I'm hoping to launch a couple new verticals soon and working on mid-term projects, but I've realized how short sighted it is to focus all my energy on one medium or one task. Going forward, I'd like to better balance between my travel posts and my fashion posts, showcase more of the city and what I'm personally up to.. and hopefully have time to redecorate and incorporate video.
Whew! While I understand the importance of multi tasking.. it's hard work executing.
ADVERTISEMENT
---
---
And finally… I've learned to take time for myself.
I used to think watching tv was "wasting time" but now I look forward to 1 hour of TV a night on the weekends, where I can let myself relax and be drawn into the surreal world of my favorite shows. In some ways, managing a blog and social media platforms is similar to the challenge of running a media company – learning to continually create visually compelling content alongside strong narratives and attracting an engaged audience – and so I'm really enjoying HBO's focus on excellent storytelling.
What am I watching? Well this summer it was Game of Thrones – I only started watching in season 5 but I'm so addicted! Cersei is my favorite character, I'm always drawn to the strong female figures, whether they seem slightly far off the deep end or not. (I also like Mellie from Scandal and Frank in House of Cards ha)
I even made time to watch Game of Thrones during my press trip to Indonesia ha! I would wake up super early on Monday morning (they're half a day ahead time zone wise) to watch the show live.
We use HBO GO to stream all our shows and the best part is how handy it is to watch movies and shows on our phones and on the go. Now that GOT is on a hiatus, I'm slowly devouring every other HBO original series. I love how they have the latest Hollywood movies too – I wasn't expecting that.
ADVERTISEMENT
---
---
Are there any shows you've been loving and recommend? Let me know in the comments!
HBO GIVEAWAY:
2 Tickets to the A Night of Too Many Stars: America Unites for Autism Programs
An All-Star Benefit at Madison Square Garden in NYC on Saturday November 18th at 8pm EST
Airfare and Hotel included!
Airing on HBO for the first time, NIGHT OF TOO MANY STARS: AMERICA UNITES FOR AUTISM PROGRAMS will be seen live SATURDAY, NOV. 18 at 8:00 p.m. (ET)/5:00 p.m. (PT). Presented in partnership with NEXT for AUTISM from The Theater at Madison Square Garden in New York, the all-star benefit will be hosted by Jon Stewart.
The special will also stream live on HBO NOW and HBO GO and subsequently be available on HBO NOW, HBO GO, HBO On Demand and affiliate portals. Including stand-up performances, sketches and short films, NIGHT OF TOO MANY STARS: AMERICA UNITES FOR AUTISM PROGRAMS will feature appearances by Louis C.K., Stephen Colbert, Abbi Jacobson, Jordan Klepper, Hasan Minhaj, John Mulaney, Olivia Munn, John Oliver and Adam Sandler. Other participants will be announced as they are confirmed.
With an estimated 1 in 68 children currently affected by autism, NIGHT OF TOO MANY STARS was created by comedy writer and performer Robert Smigel to support autism schools, programs and services and has raised more than $24 million to date.
The benefit was originally presented on Comedy Central and has been hosted by Jon Stewart since 2005. NEXT for AUTISM (formerly New York Collaborates for Autism) is a non-profit organization that strategically designs, launches and supports innovative programs to improve the lives of people living with Autism Spectrum Disorder.
Over the past 14 years, it has built five model programs, aiming to address the needs of the autism community, including opening the NYC Autism Charter School in Harlem and building the Center of Autism and the Developing Brain, a state-of-the-art clinical center at New York Presbyterian Hospital. Information on tickets for the live event is at: https://toomanystarshbo.com/ and http://itsh.bo/NOTMSTickets.
You can find the teaser trailer here: https://www.youtube.com/watch?v=Bl3JqKXO_OU
To Enter:
HBO asks that participants post what they have "too many of" on either Instagram or Twitter using the hashtags #NightofTooManyStars & #Contest. Selected winners will receive 2 tickets to Night of Too Many Stars live at The Theater at Madison Garden in New York.
The contest will run from 10/23 – 11/8. No is purchase necessary. The contest is open to residents of the 48 contiguous US and D.C., 18 and older. Official rules can be found here: http://notmscontestrules.dja.com/
Follow Sher She Goes on
Bloglovin | Facebook | Twitter | Pinterest | Instagram
---
This post is created in partnership with HBO. All opinions stated above are my own.