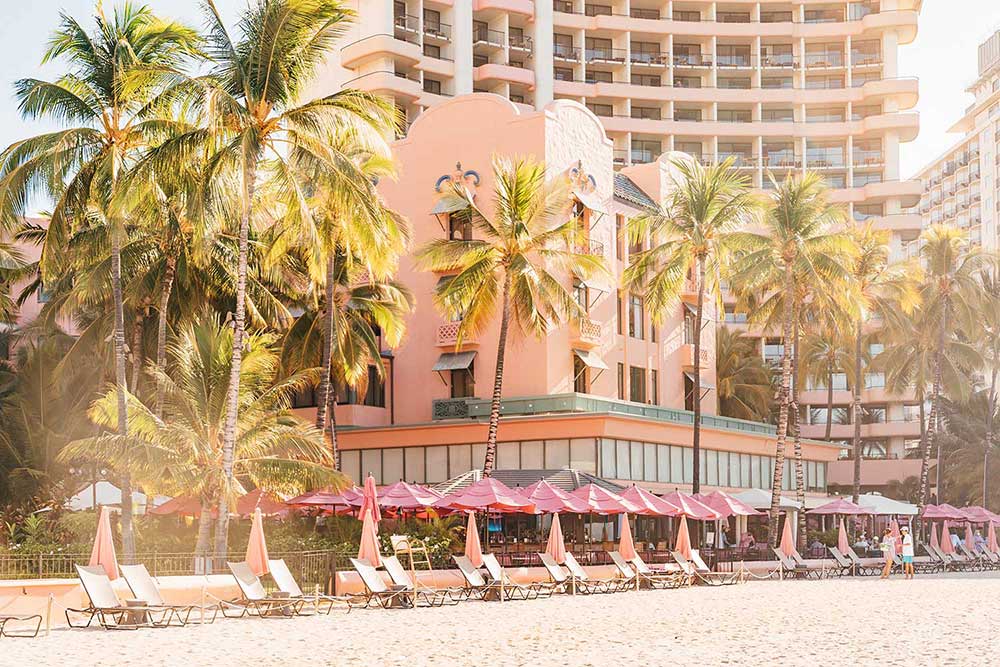 Best Hotels in Oahu on Waikiki Beach
Visiting Oahu for the first time?
Then you have to stay on Waikiki Beach!
Waikiki is one of six beach neighborhoods on the island of Oahu, but it's by far the most famous. In fact, it's been the playground for royalty and celebrities dating back to the ancient Hawaiians.
Today, this vibrant neighborhood is where nearly all of the hotels in Oahu are located. It's the main resort area with world class shopping, dining, entertainment – and of course, incredible beach access!
The 'spouting waters' of Waikiki are where legendary Hawaiian Olympic champion Duke Kahanamoku grew up swimming and surfing. And today, you can relax on the sand or pick up a surf board to ride the waves yourself!
If it's your first time visiting Oahu, there's no better place to stay than in Waikiki. And for the most memorable vacation, you should stay right on the beach!
Here are the best hotels in Oahu right on Waikiki.
ADVERTISEMENT
Or quickly jump to:
Keep reading, or pin this article to save it for later ⇟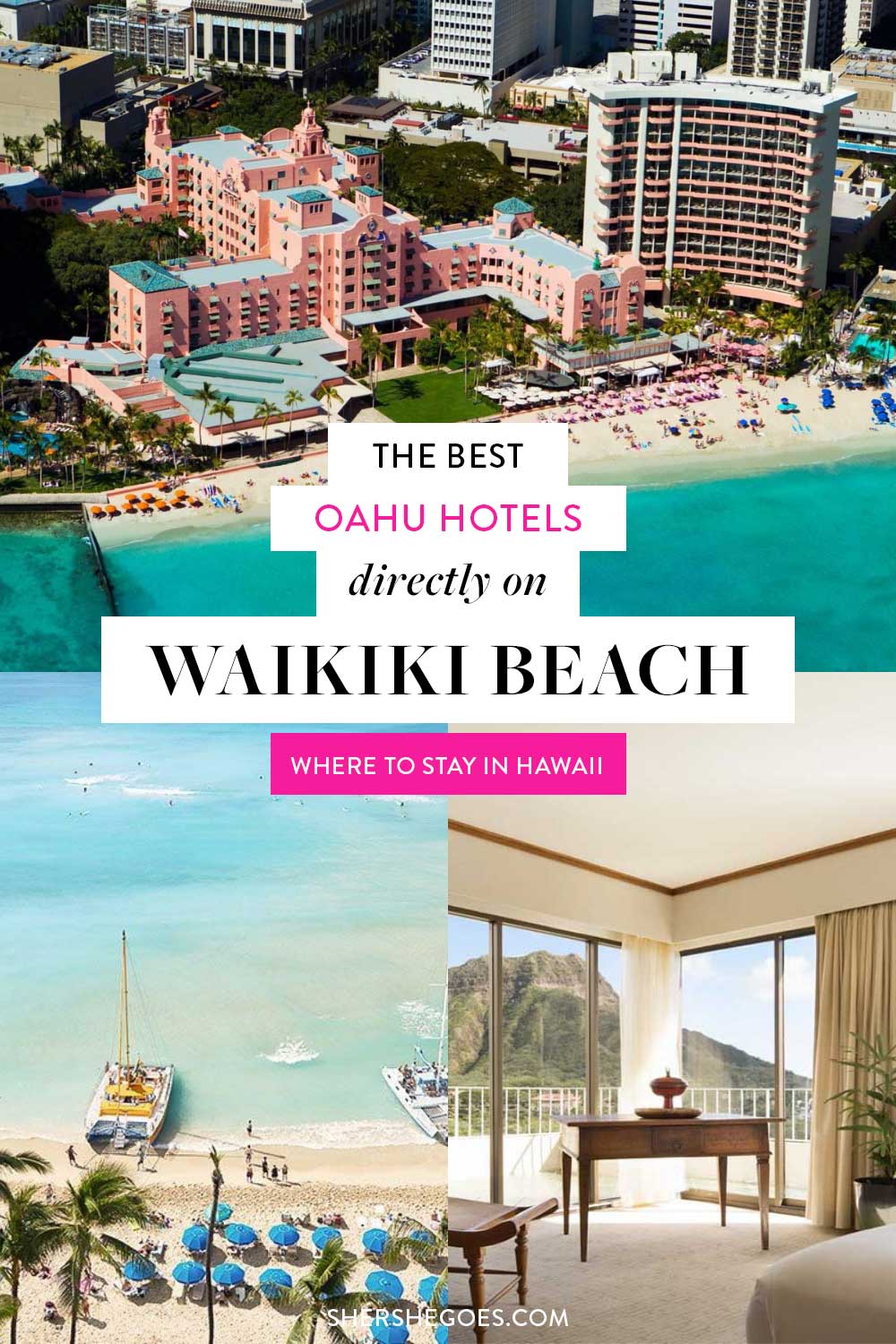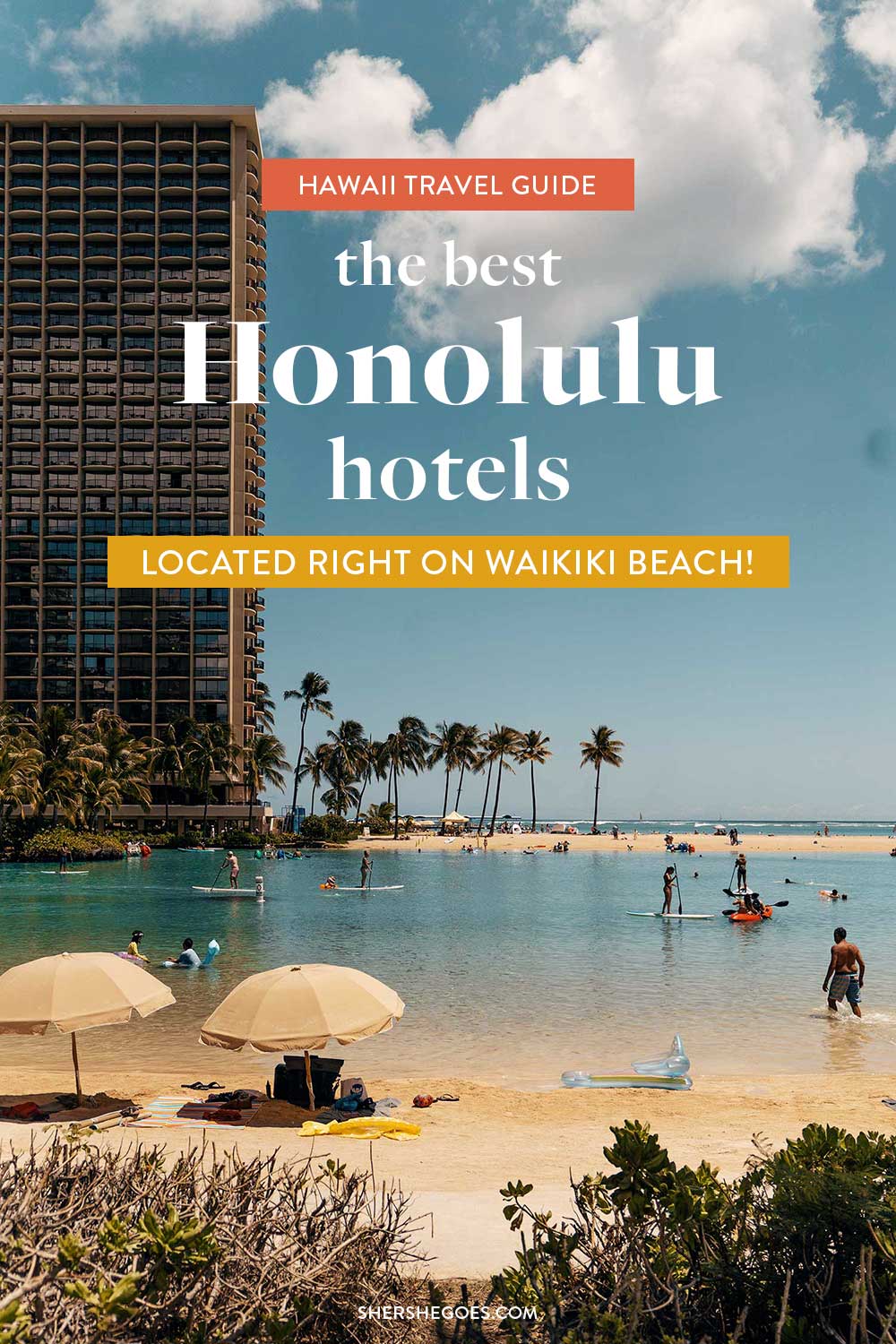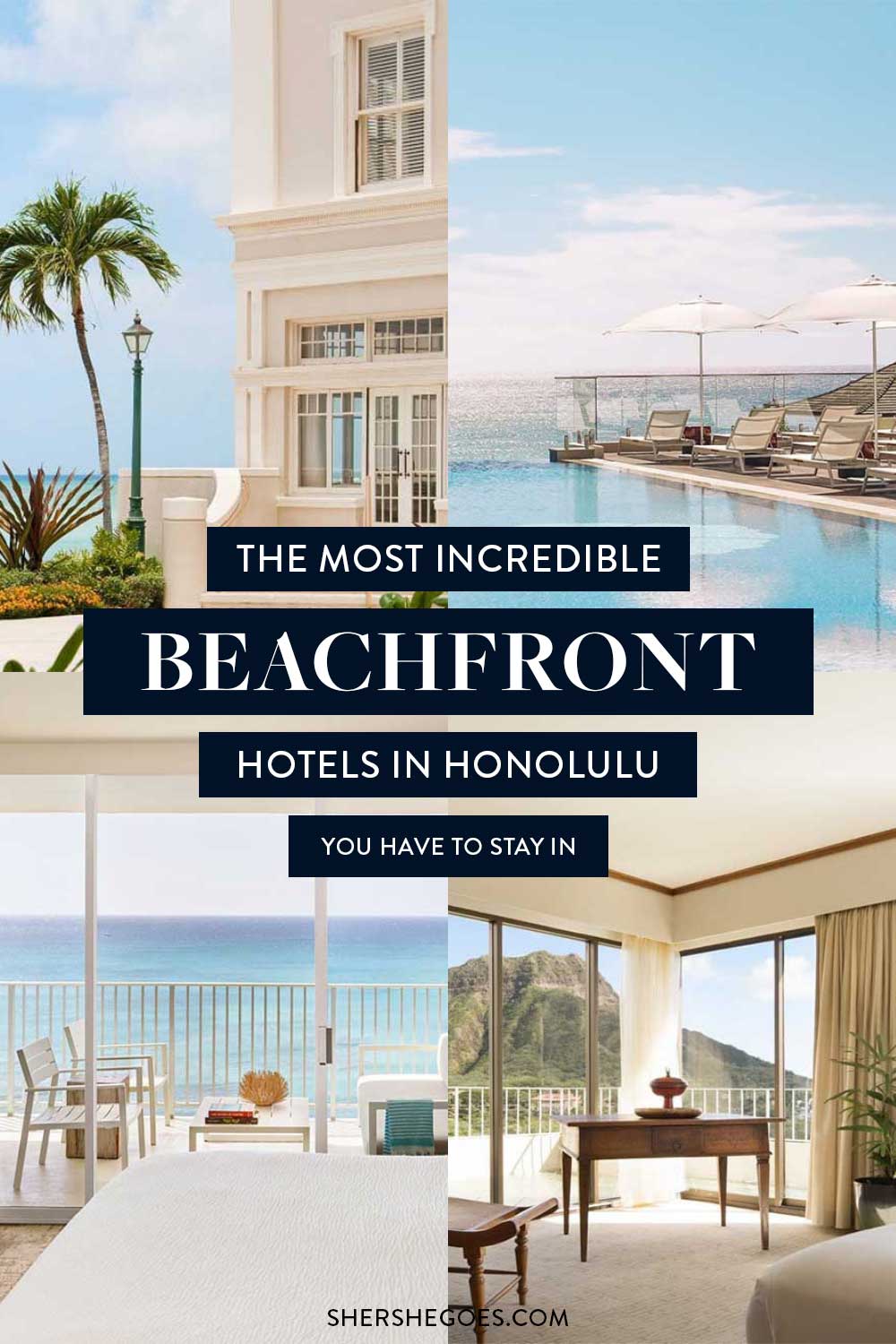 Best Hotels on Waikiki Beachfront
The are 7 resorts that sit right on Waikiki Beach and have direct beach access.
ADVERTISEMENT
---
---
Best Hotels in Waikiki with Oceanfront Views
Hotels in Oahu can be expensive, so if you want a view of the ocean from your room but are willing to walk a little to the beach itself, you can find a good deal!
Here are some great hotels with oceanfront rooms:
Read more:
Where to Stay on Oahu
ADVERTISEMENT
---
---
Honolulu vs. Oahu vs. Waikiki
Before I visited Hawaii, I honestly had no idea what the difference was between these place names… so here's a quick guide so you won't be as confused!
Oahu is an island of Hawaii.
There are 8 islands that make up Hawaii and while Oahu is not the largest by land mass, it is the most populated. Over 1 million Hawaiians live on Oahu and it was also the capital of the last Hawaiian kings and queens.
All of the Hawaiian islands have a nickname and Oahu's is the 'gathering place'.
Oahu is one of the most popular islands that people visit, for a couple reasons.
It's beautiful, has a great mix of beaches and culture, and is more built-up and developed than some of the other islands. It's also a major transit hub, as the main international airport is located here in the capital city of Honolulu.
Read more:
All the Best Things to Do in Oahu
ADVERTISEMENT
---
---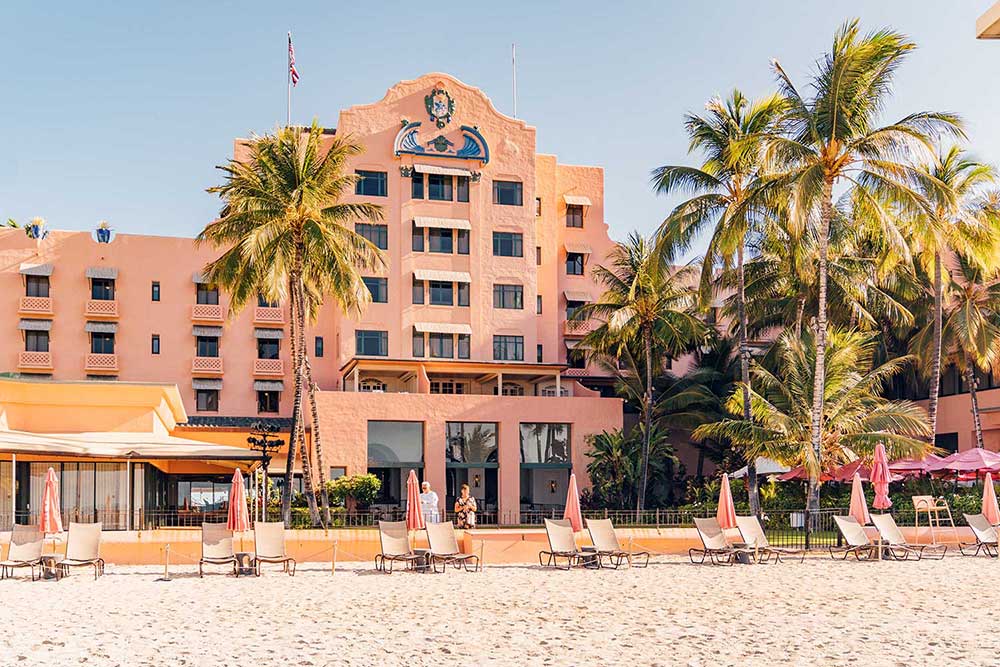 Honolulu is the capital of Oahu.
Honolulu is both a city and a county.
Honolulu city is Hawaii's state capital and covers the southeast section of the island. But Honolulu county comprises the entire island of Oahu.
I guess it's kind of like people calling New York City 'New York', when New York really refers to the state.
One of the most famous districts in Honolulu is Waikiki.
Waikiki Beach is famous because its soft white sand beaches are just stunning.
It's glamorous, it's breathtakingly beautiful and it's also the spot where modern day surfing was born! In the early 1900s the first hotel, the Moana Surfrider, was built.
Then celebrities like Frank Sinatra and Joe DiMaggio started vacationing on Waikiki Beach and it grew to become an international hot spot.
Elvis Presley famously performed in Waikiki as well, and tons of tv shows and movies were filmed in Waikiki.
Read more:
The Best Hotels in Kauai
ADVERTISEMENT
---
---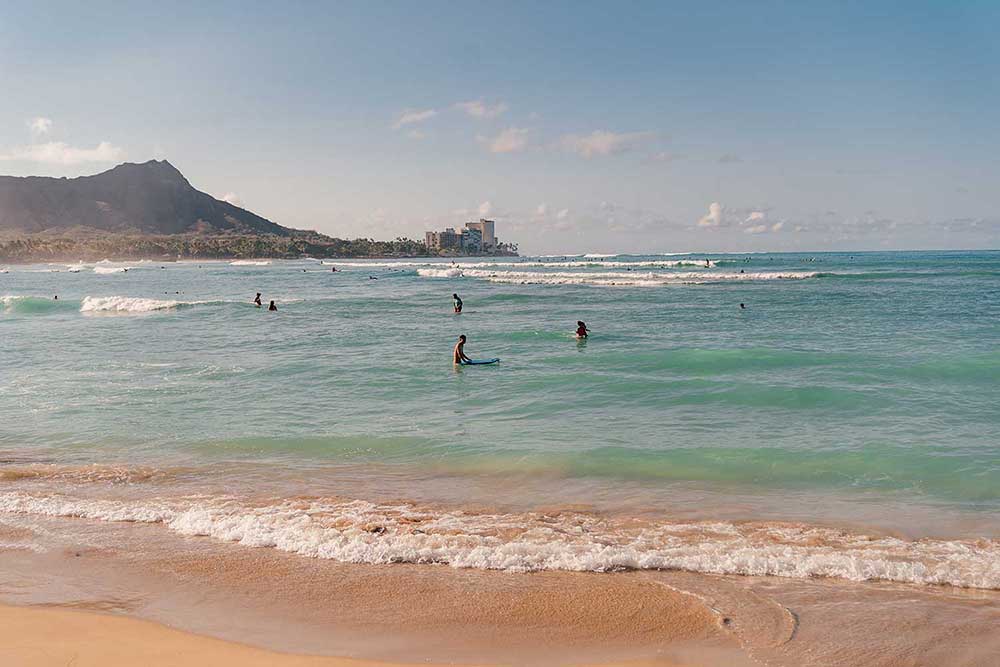 Today, Waikiki Beach has most of the hotel rooms on the island – as well as world-class shopping, incredible restaurants, and lots of entertainment venues.
So, while it is more touristy, it's also the most convenient place to stay on Oahu!
So, to summarize:
Waikiki is a neighborhood of Honolulu. Honolulu is a city on the island of Oahu.
Kind of like, Times Square is a famous neighborhood in New York City. New York City is a famous city in New York state.
Read more:
The Ultimate Guide to Oahu's North Shore
ADVERTISEMENT
---
---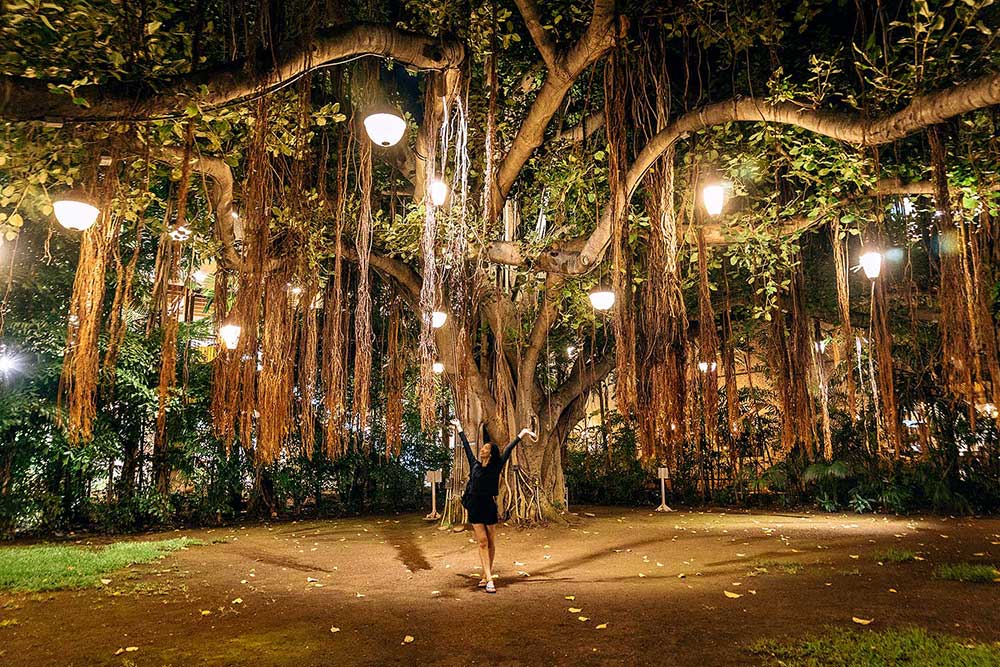 Should You Stay in Waikiki?
If it's your first time visiting Oahu, I recommend staying as close to Waikiki beach as possible!
Not only are beach front rooms incredibly beautiful and relaxing, it's much more convenient to stay right on Waikiki Beach. Soft sand, gentle waves, the sunshine – you can't beat the idyllic location.
Plus, if you don't have a car (or are only renting one for a short time during your trip), it's convenient to stay on Waikiki Beach. There's tons of great cafes, acai bowl shops, poke places and restaurants all in the area.
Tip: Like everything else in Hawaii, rental cars are expensive. Make sure to reserve a car as soon as you know your dates to get the best price.
We searched all the main car rental agencies in Hawaii but found that local company Hawaiian Discount Car Rentals offered the best rate.
ADVERTISEMENT
---
---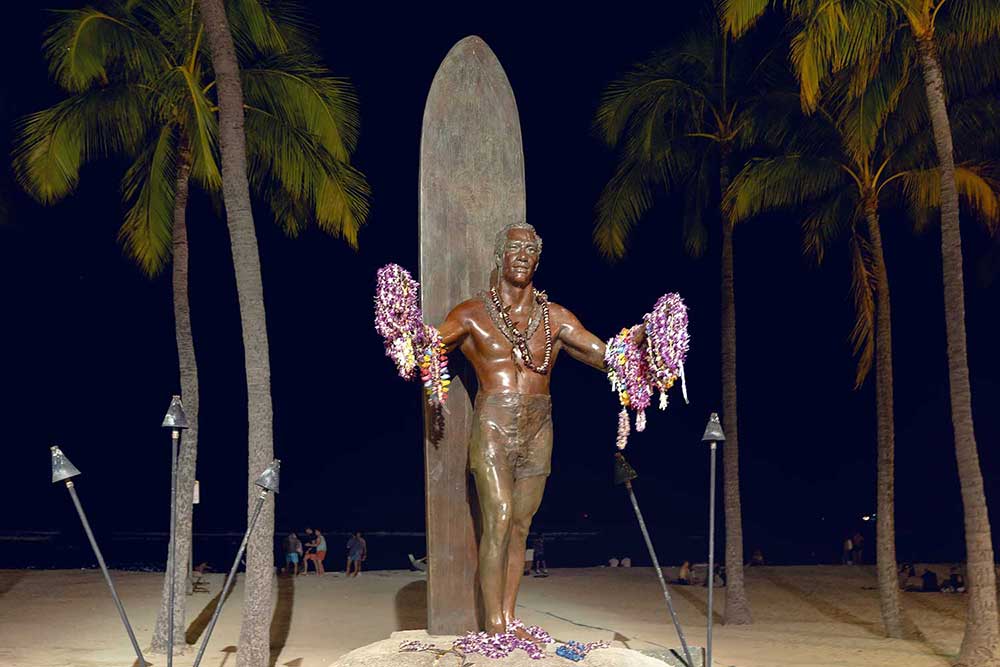 For families, the Honolulu zoo and aquarium are located here, and popular sights like Iolani Palace, Pearl Harbor and Diamond Head are all within a quick drive.
If you want to try some fun activities, like snorkeling with turtles or swimming with dolphins, many of them offer round trip transportation from Waikiki.
And finally, the bus system and Ubers/Lyfts are really easy to catch in Waikiki.
ADVERTISEMENT
---
---
Beachfront Hotels Waikiki
There are 7 hotels directly on Waikiki beach that visitors can choose from.
Keep reading below for an overview and review of each property. I've listed them below in geographical order from north to south as you move down the Pacific ocean coastline.
Some are luxurious retreats that would be perfect for couples and romantic getaways, others are more family-friendly!
ADVERTISEMENT
---
---
Hilton Hawaiian Village Waikiki Beach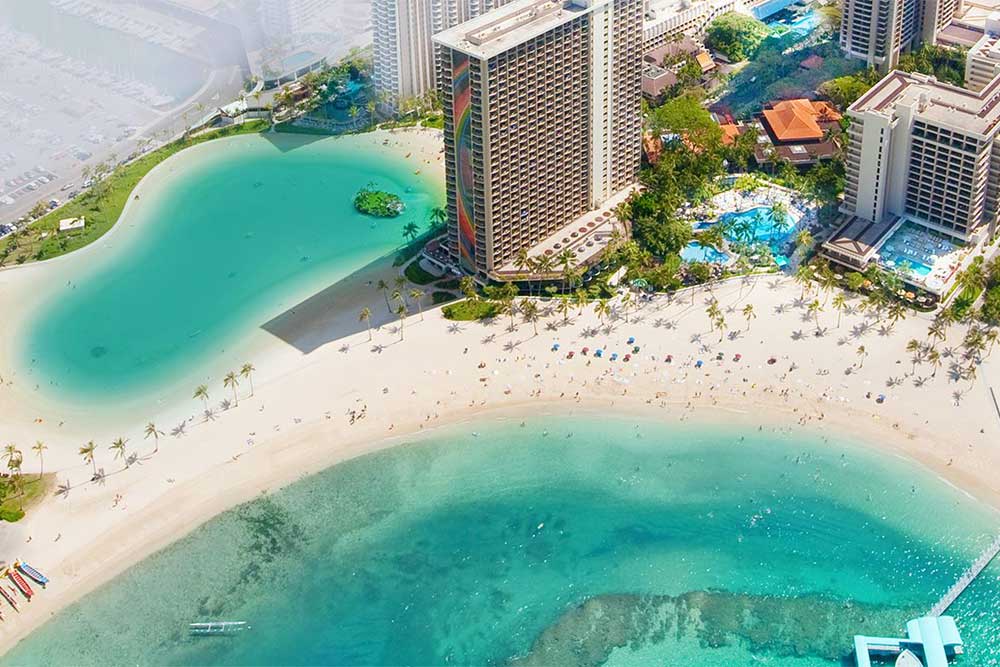 The Hilton Hawaiian is really a village.
One of the largest beachfront resorts in Waikiki at the north end of the beach strip, the Hilton comprises 8 buildings and 5 swimming pools spread out on 22 beachfront acres.
This is a great hotel for families, since the resort has its own saltwater lagoon. The gentle waters of the lagoon are not only great for swimming, but there's tons of on-property activities that you can try like kayaking, paddle boarding and boating.
On Friday nights, the Hilton does a Starlight Luau and fireworks show (but this has been temporarily suspended during covid).
There's something here for everyone!
Book rooms: Booking.com, Hotels.com
Check reviews on TripAdvisor
ADVERTISEMENT
---
---
Outrigger Reef Waikiki Beach Resort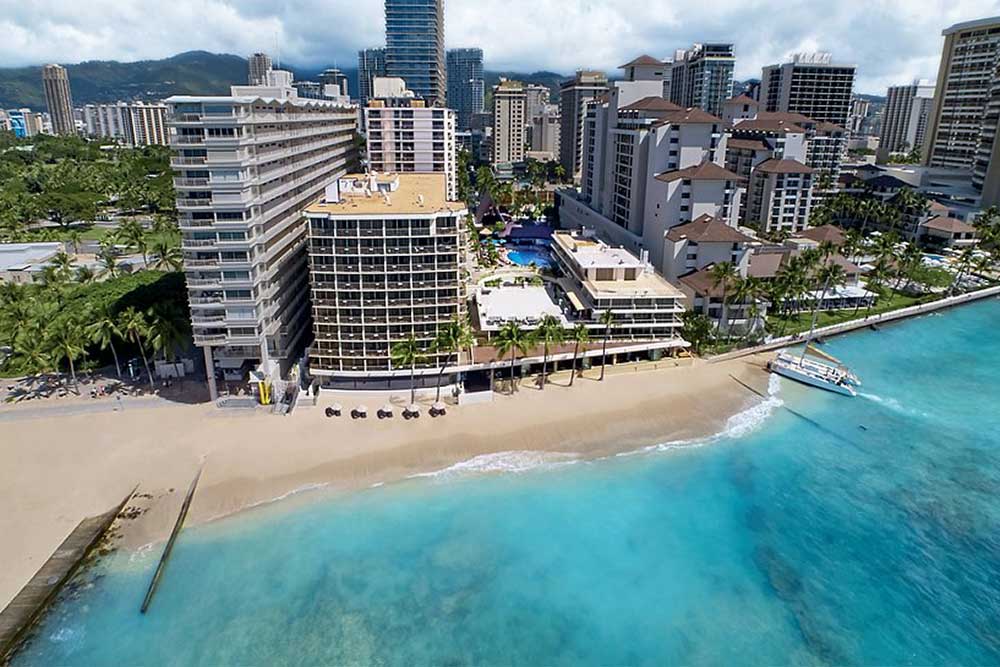 Another family friendly resort, the Outrigger is situated on the quieter north end of Waikiki Beach.
It has a great location with a pool, multiple Jacuzzis and a Starbucks in the lobby. Most of the rooms have balconies overlooking the ocean and there's plenty of on-site activities offered like hula dancing and ukulele lessons to keep everyone occupied!
Book rooms: Expedia.com, Hotels.com
Check reviews on TripAdvisor
ADVERTISEMENT
---
---
Halekulani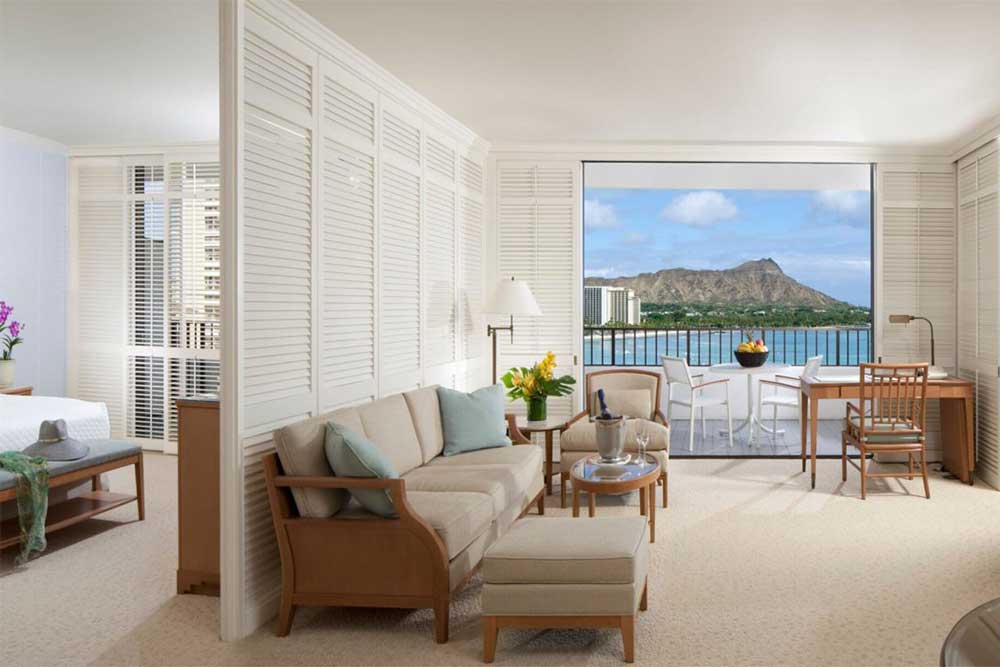 If you're looking for luxury in Hawaii, the Halekulani is it.
The Halekulani is the only 5 star hotel on Waikiki Beach and it recently underwent a top to bottom renovation in 2021, so it's now even more luxurious!
The hotel is an oasis of calm and understated luxury on the island, with spacious rooms and elegant modern touches. Every room has a large balcony and on either side of the hotel, there are soft white sandy beaches that are more private than the bustling strip just a little further south.
Finally, the Halekulani has 3 restaurants (including world renowned French restaurant Le Mer), 2 cocktail lounges and an iconic heated pool famous for its orchid-shaped mosaic floor.
You'll never want to leave this place!
Book rooms: Booking.com, Hotels.com
Check reviews on TripAdvisor
ADVERTISEMENT
---
---
Sheraton Waikiki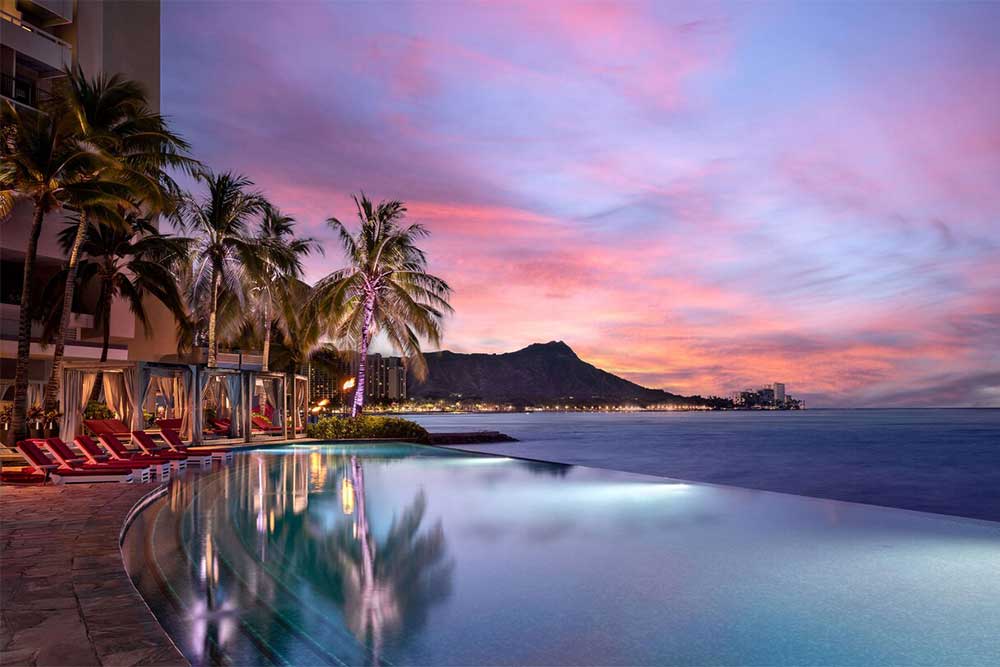 If you're traveling to Hawaii in peak season, look for rooms at the Sheraton.
The sprawling 31-story Honolulu resort is the the largest tower overlooking Waikiki Beach and over 50% of the rooms here face the ocean.
Every room has a balcony and there's also the boardwalk right in front, so no matter which way you face, you're guaranteed excellent views.
The Sheraton has been fully renovated with comfortable rooms and modern décor, and there's also plenty of options besides the beach. With 2 large freshwater pools, 2 Jacuzzis and even a waterslide, this is an excellent all-around pick for families and groups.
And adults can take advantage of the adults-only infinity pool, which has perhaps one of the best views on Oahu to see the sunset.
Book rooms: Booking.com, Hotels.com, Sheraton Waikiki
Check reviews on TripAdvisor
ADVERTISEMENT
---
---
The Royal Hawaiian Resort Waikiki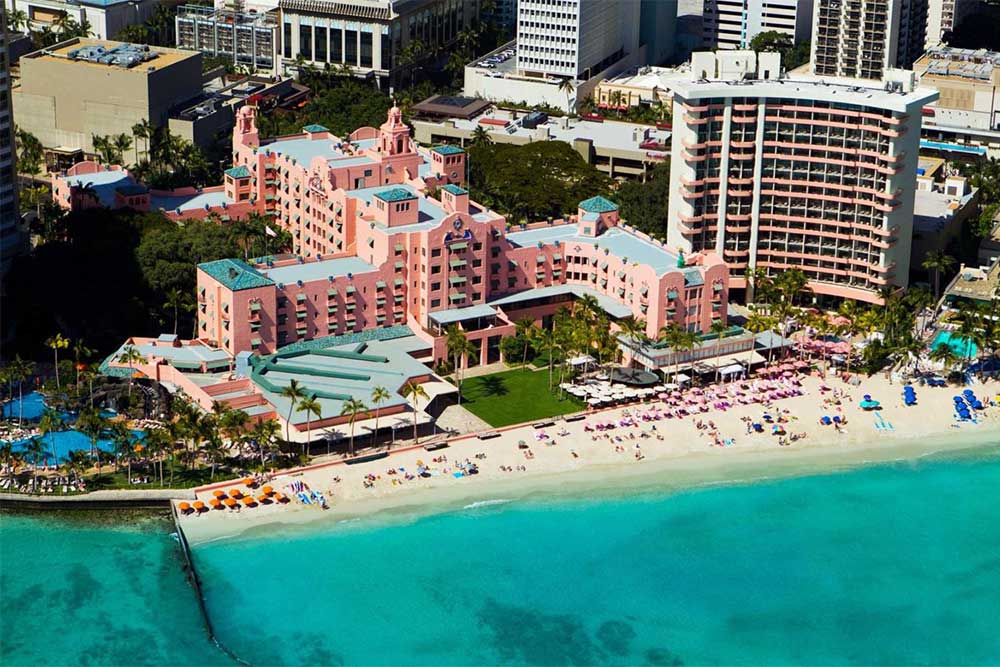 The Royal Hawaiian is perhaps the most iconic hotel in Honolulu.
Located smack dab on Waikiki Beach towards the middle of the coastline, it has great views of not only Waikiki coast but also Diamond Head and the glittery luxury shopping strip.
The distinctive hotel was built in Spanish Moorish architecture style and is painted a pale pink, giving the property it's nickname of the Pink Princess. It certainly stands out among all the hotels on the beach!
The Royal Hawaiian also has a lot of history.
The location was originally a place of celebration for King Kamehameha I who conquered Oahu and united the Hawaiian islands. It was also the former site of Queen Kaahumanu's Summer Palace (which today is the Coconut Grove garden).
Whether you're drawn to it for its history or luxury, there's lots to like here. There are multiple towers and you can choose to stay in the more historic wing or the more modern contemporary wing.
The Royal Hawaiian even has its own private beach area on Waikiki Beach just for hotel guests! And don't forget to grab drinks at the Mai Tai Bar – Instagrammable and delicious!
Book rooms: Booking.com, Hotels.com, The Royal Hawaiian
Check reviews on TripAdvisor
ADVERTISEMENT
---
---
Outrigger Waikiki Beach Resort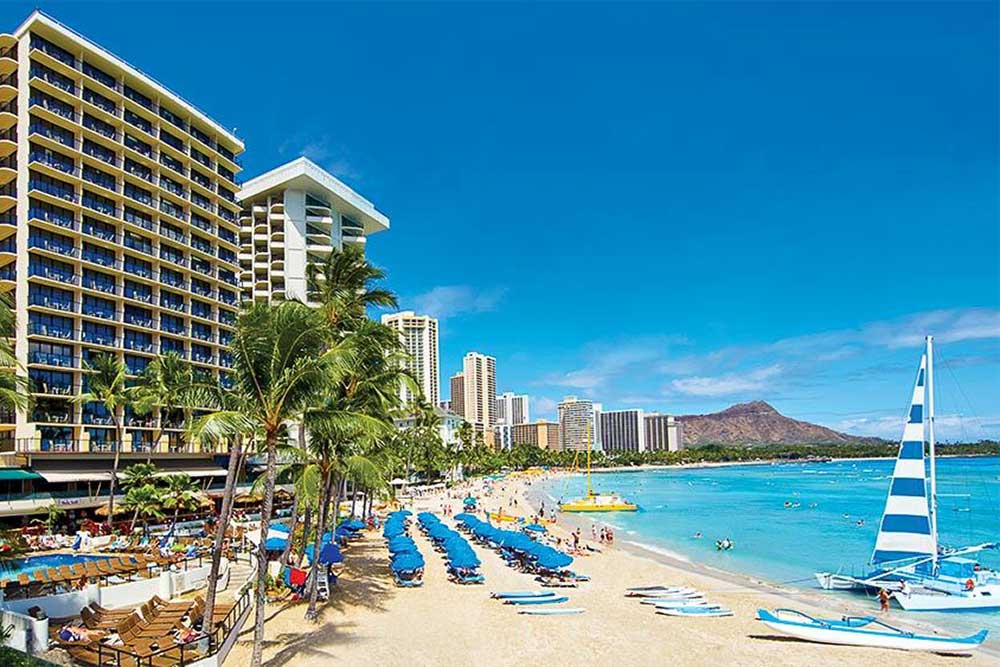 The Outrigger Waikiki is a lively Honolulu beach resort.
Not to be confused with the Outrigger Reef, the Outrigger Waikiki is right in the energetic center of Waikiki Beach and also home to world-famous restaurant, Duke's.
This is one property you'll never have to leave.
It offers all kinds of water sports, plus surf lessons (after all it's right by the famous Duke surfer statue). It has an excellent spa, stunning swimming pool and plenty of Hawaiian cultural activities you can sign up for.
The most popular part of the resort? Grabbing mai tais and dinner at Duke's restaurant, one of the best spots to catch the sunset and have a relaxing, delicious meal.
Book rooms: Expedia.com, Hotels.com
Check reviews on TripAdvisor
ADVERTISEMENT
---
---
Moana Surfrider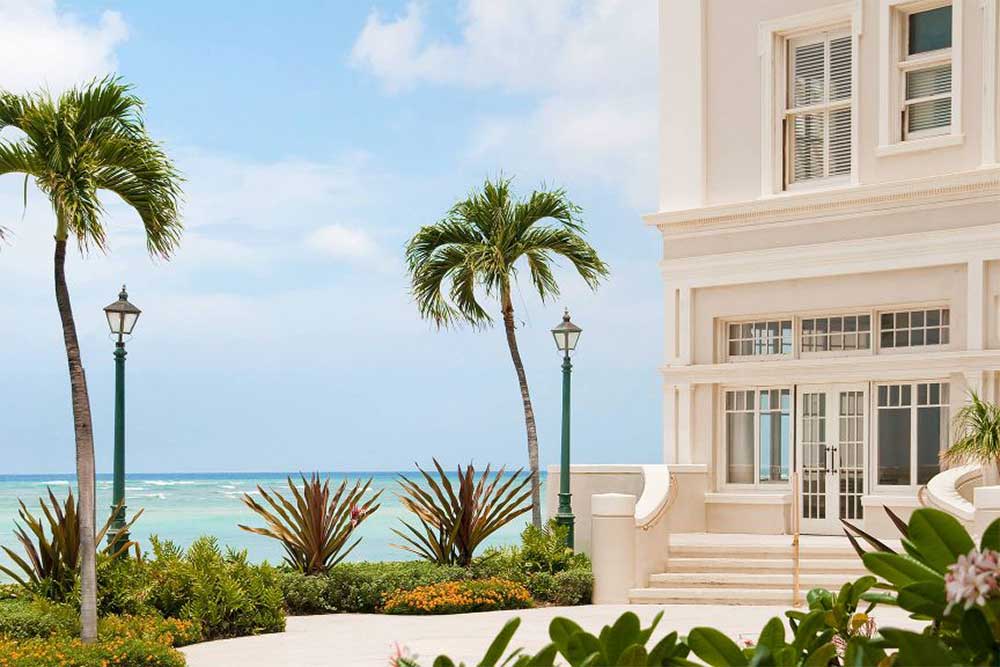 The Moana Surfrider was the first hotel built on Waikiki Beach and it retains that gorgeous architecture and old-world glamour.
Known as the "The First Lady of Waikiki," this landmark hotel was built in grand Victorian style and has been known for luxury and celebrity clientele throughout its century long history.
It's impossible to miss this gigantic resort when you're walking along the Waikiki strip!
Today it's a Marriott property under their Westin Resort & Spa brand and combines historic character and charm with modern updates.
Stay here for stunning sunsets at the beach bar, have breakfast at the outdoor veranda and relax to the live horn bands that play in the mornings.
The Moana Surfrider is also the only hotel in Waikiki with a 17,000 square foot oceanfront spa, so it's a great place for couples and honeymooners to stay!
Book rooms: Booking.com, Hotels.com, Moana Surfrider
Check reviews on TripAdvisor
ADVERTISEMENT
---
---
Waikiki Beach Hotels
Oahu hotels right on Waikiki beachfront can be pricey.
So if you want an ocean front view, but are ok being a street or two away from the beach, there's more options! Here are some of the best hotels in Oahu with ocean views.
Quickly jump to:
ADVERTISEMENT
---
---
Prince Waikiki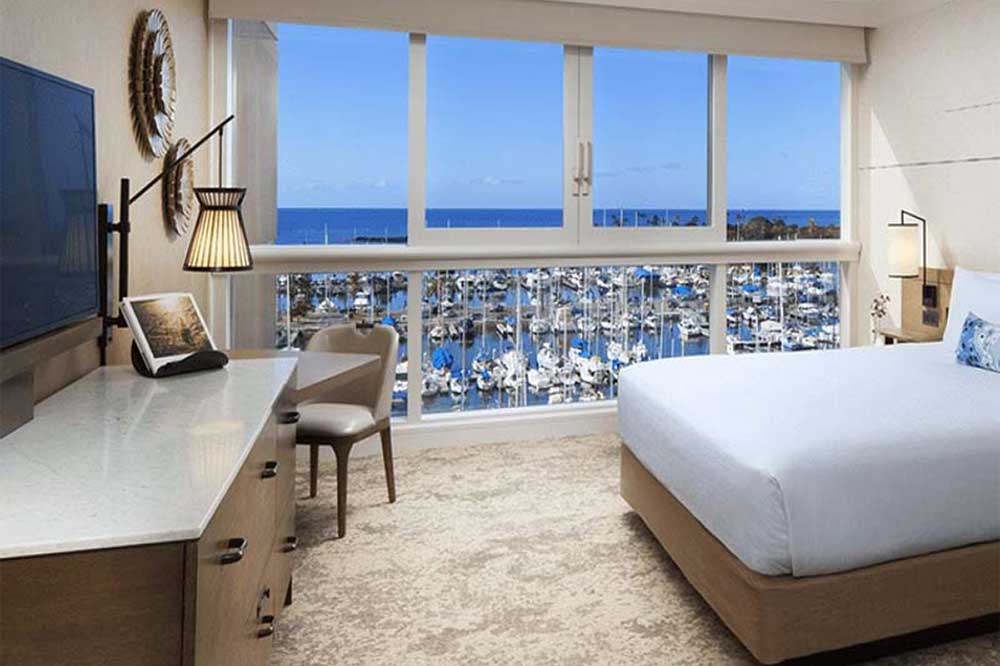 Prince Waikiki is located just north of proper Waikiki Beach.
While it doesn't have beachfront access, it's located right on the marina and has wider views of the ocean.
All the rooms are gorgeously modern, with chic furniture and décor and every room faces the harbor so you're guaranteed an ocean view.
For water lovers, there's a fun pool deck on the 5th floor where you can enjoy the saltwater pool, relaxing poolside cabanas and adults-only infinity pool.
Stay at Prince Waikiki for luxury at a slight deal and still get to soak in views of the Pacific Ocean!
Book rooms: Booking.com, Hotels.com
Check reviews on TripAdvisor
ADVERTISEMENT
---
---
Halepuna Waikiki by Halekulani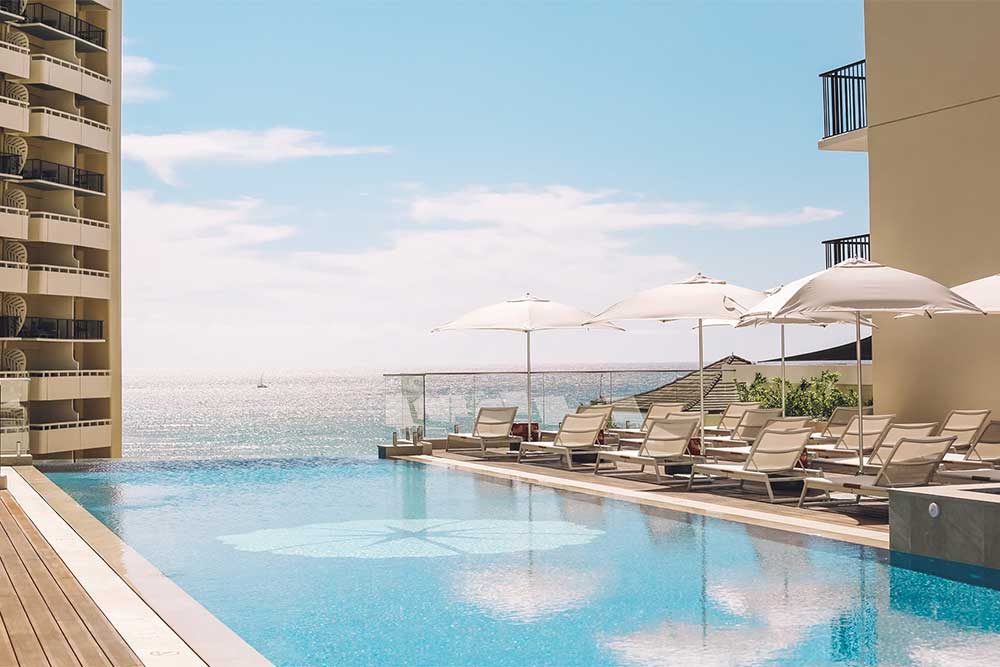 Halepuna is the sister hotel to Halekulani and it's located right next door.
Rooms here are luxurious and modern, with sleek contemporary finishes. The hotel recently underwent a renovation in 2020, and we stayed here right after and couldn't have had a better time!
From the stunning hotel infinity pool that overlooks the ocean, to the spacious rooms and fancy Toto toilets, staying at the Halepuna was a fantastic experience.
Don't forget to try their chocolate bread and caramel filled puff pastries from the lobby bakery!
Book rooms: Booking.com, Hotels.com
Check reviews on TripAdvisor
ADVERTISEMENT
---
---
Alohilani Resort Waikiki Beach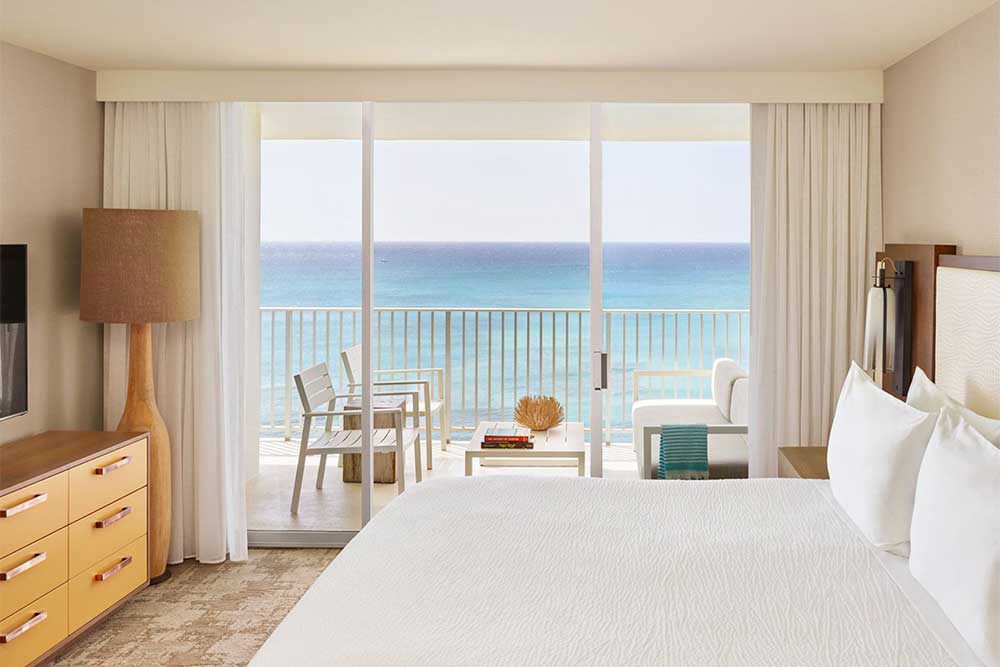 The Alohilani offers luxurious and modern rooms that feel spacious and spa like. Every room comes with a balcony, offering views of either the ocean or Diamond Head mountain.
The hotel is most famous for its 280,000 gallon Oceanarium aquatic tank, and has a saltwater infinity pool, Kid's area and decked out fitness center (complete with yoga glasses and even tennis courts!)
Foodies and families will especially love it here. Iron Chef Masaharu Morimoto's fine dining restaurant is located at the hotel!
Book rooms: Booking.com, Hotels.com
Check reviews on TripAdvisor
ADVERTISEMENT
---
---
Kaimana Beach Hotel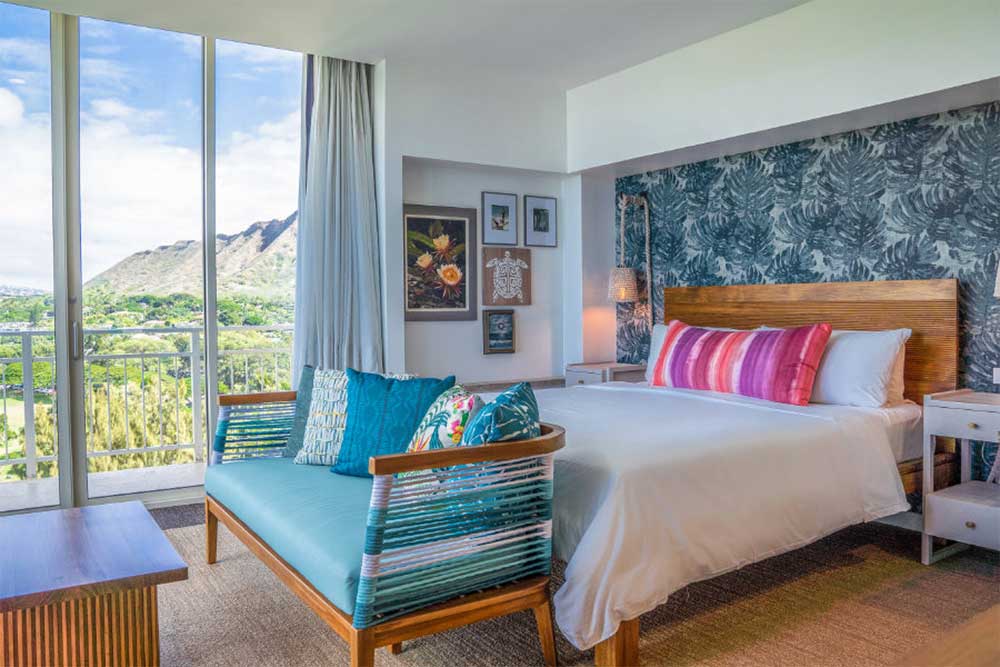 If you're looking for excellent value, check out Kaimana Beach hotel.
It's located a little farther south of Waikiki Beach, near Diamond Head, making it a great place to stay if you prefer peace and tranquility to the glitz and crowds at Waikiki.
The 125 room hotel is located directly on Sans Souci beach, a calm and gentle area that's great for swimming and surf lessons.
The affordable hotel recently finished a multi-million dollar renovation and we loved the contemporary, bright décor. Every room has a balcony, but for a slice of paradise, stay on the top floor for floor-to-ceiling views of the ocean and wrap around balconies!
And finally, we can't forget the on-site restaurant, Hau Tree. Built around a 100 year old hau tree, the ambience and food were incredible!
Sit down with a view of the ocean, try one of their delicious tiki cocktails and watch the sunset while you dine. It's also a famous brunch spot so whether you stay here or not, you have to come grab a bite to eat!
Book rooms: Booking.com, Hotels.com
Check reviews on TripAdvisor
ADVERTISEMENT
---
---
Kahala Hotel & Resort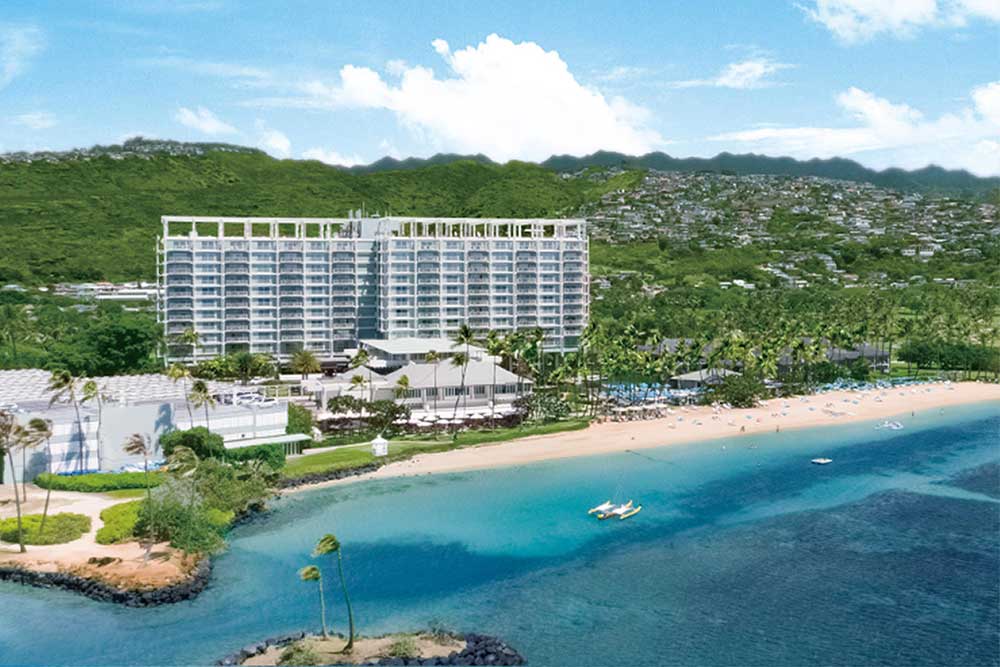 Another great hotel option a bit outside the main Waikiki strip, the Kahala Resort is located in the affluent neighborhood of Kahala.
It's one of the most luxurious beach resorts in Honolulu and a popular place to stay for repeat visitors to Oahu, as it offers luxury oceanfront rooms with a bit of privacy!
Spacious rooms have modern decor, private balconies, sunken soaking bathtubs and unbeatable views.
Finally, The Kahala even has its own secluded beach as well as a lagoon where you can swim with dolphins! This is a great place to stay for both couples and families as it feels extraordinarily private.
Book rooms: Booking.com, Hotels.com
Check reviews on TripAdvisor
ADVERTISEMENT
---
---
Lotus at Diamond Head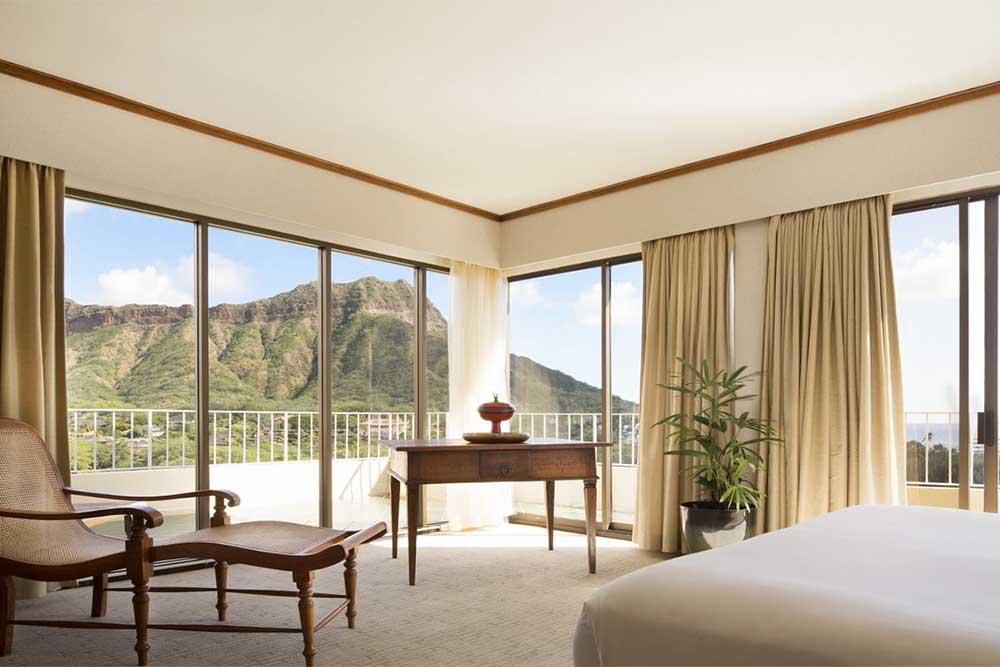 And finally, The Lotus Honolulu is another hidden gem.
Located in the quiet and calm neighborhood of Kaimana Beach, it's situated between Diamond Head and relaxing Kapiolani Park. If you love green spaces, sheltered coves and quieter (nearly empty) views of the beach, you'll love it here.
The Lotus offers generous rooms decked out in luxury and every room has clear views (no giant resorts hogging the skyline here).
There's also plenty of amenities and activities offered on property. Participate in the lobby's daily free wine tastings, use their complimentary bikes to cycle around the boardwalk or treat yourself to an in-room massage!
Book rooms: Booking.com, Hotels.com
Check reviews on TripAdvisor
ADVERTISEMENT
---
---
Planning a Trip to Hawaii- Travel Checklist
Flights | Most flights to Hawaii will land first in Oahu, where you can transfer to explore the other islands. From New York City, we flew nonstop on United. Standard airfare will cost ~$1,000 round trip, but occasionally there are great deals around $500, especially from the west coast. Browse airfare for your dates here.
See | If you have under a week, it's recommended to visit just 1 island. Most people choose Maui for a honeymoon. If you love nature, check out Kauai. If you're a first timer, visit Oahu! 
For more on what to see, do and eat check out our Oahu itinerary post. 
Accommodation | Oahu has a great range of options, from luxury hotels to family friendly vacation rentals. Accommodation is very expensive, so book in advance to save. Check here for current hotel deals.
If you have a group of people or want more affordable housing browse VRBO. It's especially great if you want to get out of Waikiki! 
Insurance | Lastly, be sure to visit Hawaii with travel insurance. Whether your flight is delayed, you get injured and need to be hospitalized, or your phone gets stolen, travel insurance will help when you need it most!
I ended up locking our keys in the car trunk by mistake. But luckily, thanks to insurance, we only had to wait about an hour to get our car unlocked. Get a quote for your trip here.
You Might Also Enjoy:
Hawaii Travel Guides
What to Pack for Hawaii: Outfit Ideas, Reef Safe Sunscreen & More!
What It's Like Visiting Hawaii During Covid (August 2021)
Kauai
Oahu
Visiting Oahu: Everything to Know Before You Go!
The Best Waikiki Hotels on the Beach
The Best Things to Do in Oahu for an Epic Vacation
The Ultimate North Shore Travel Guide
Follow me @Sher She Goes on