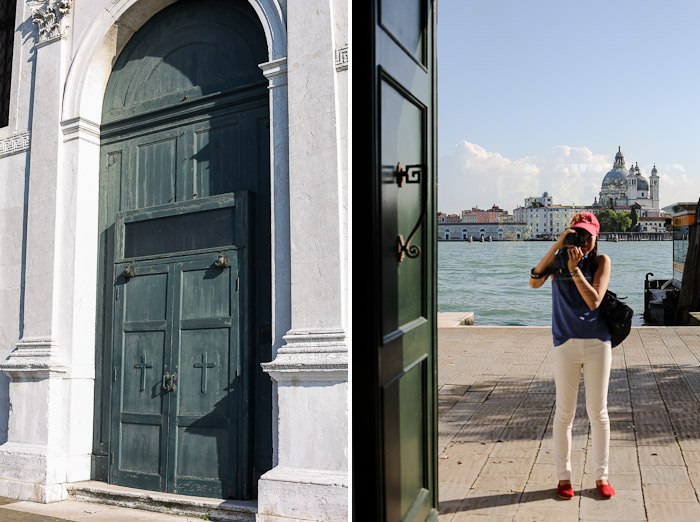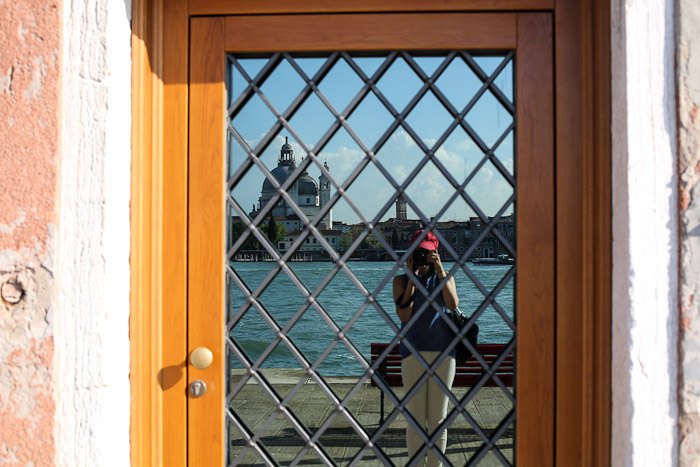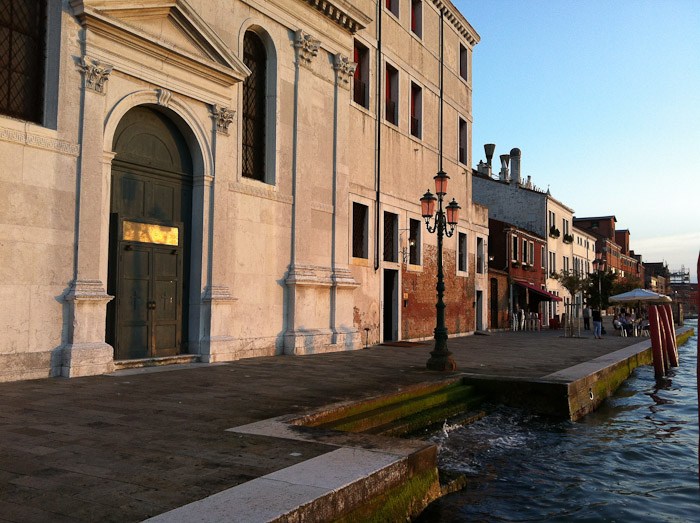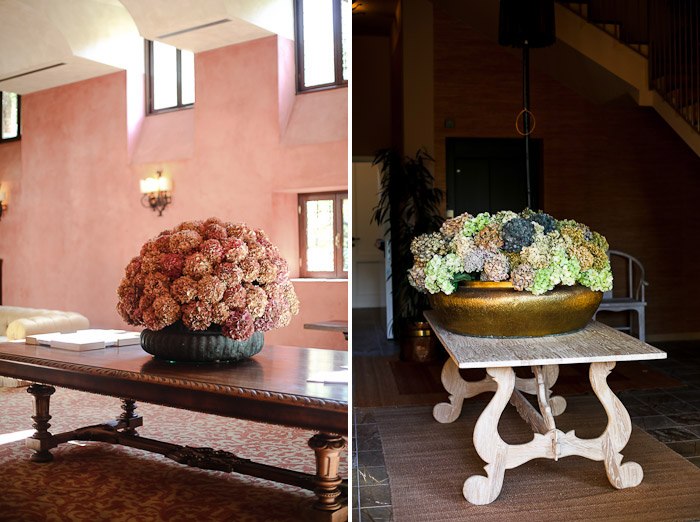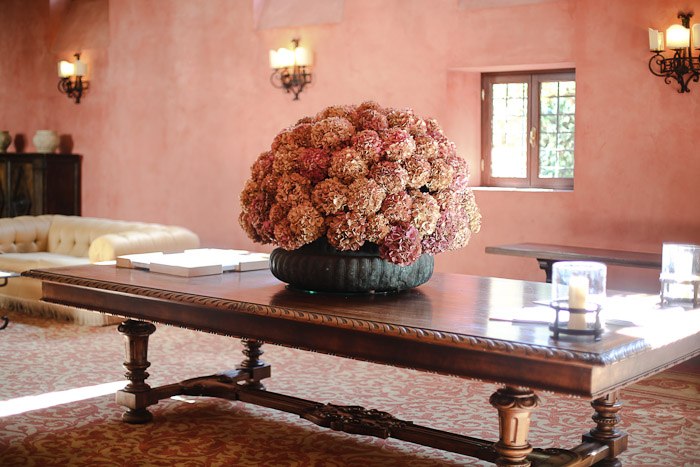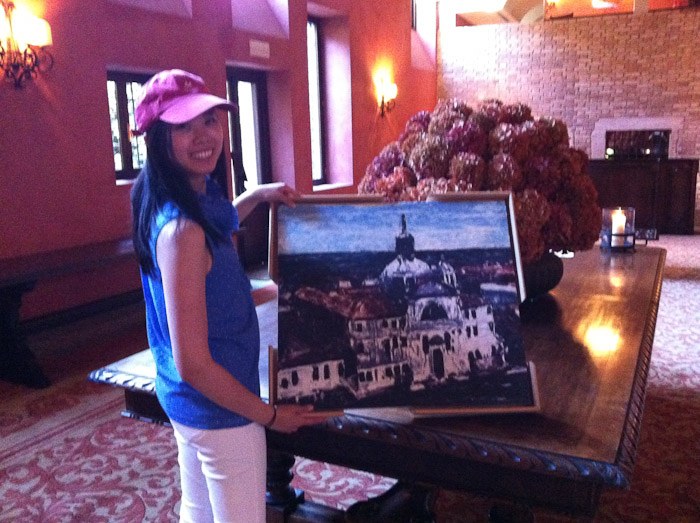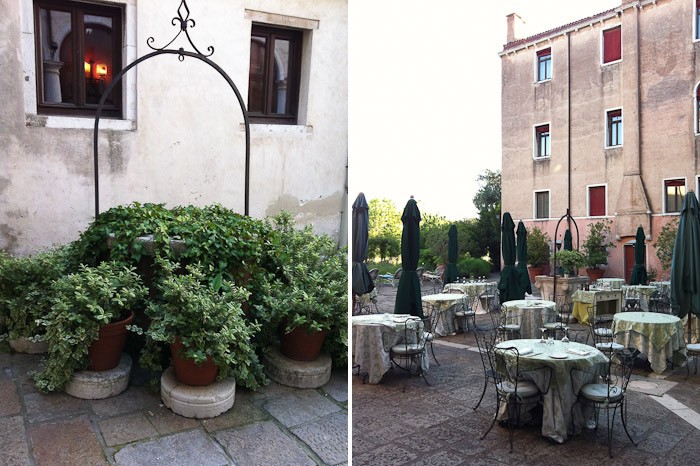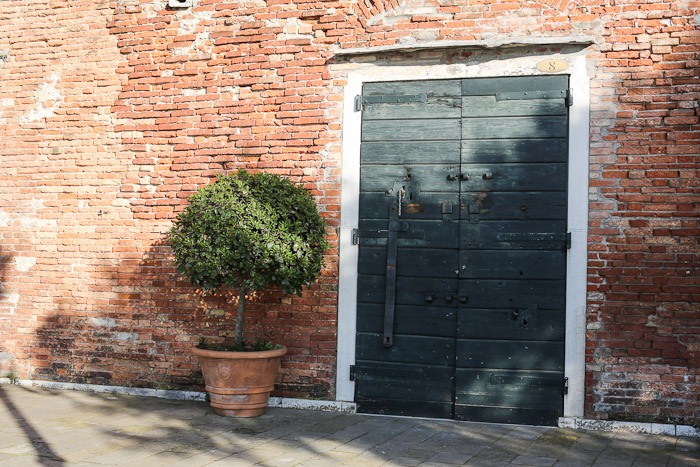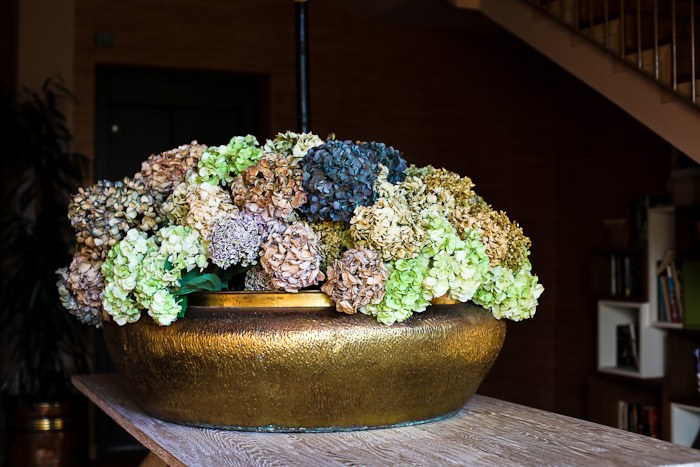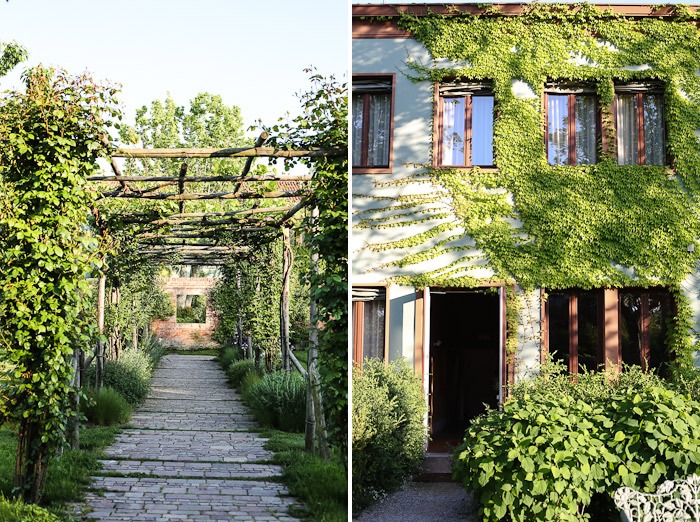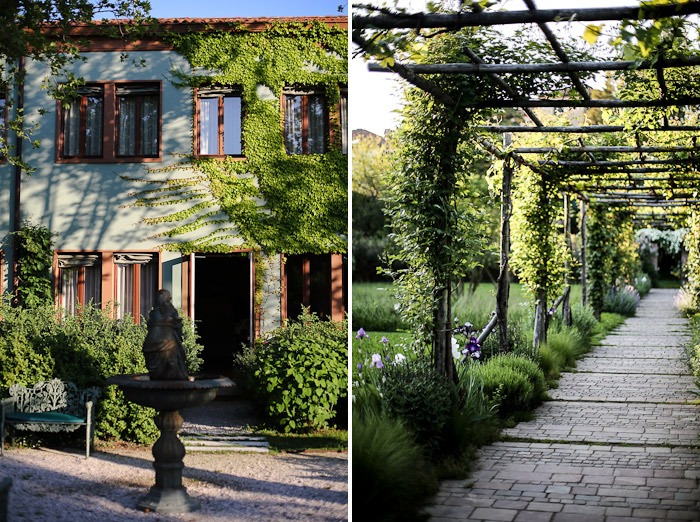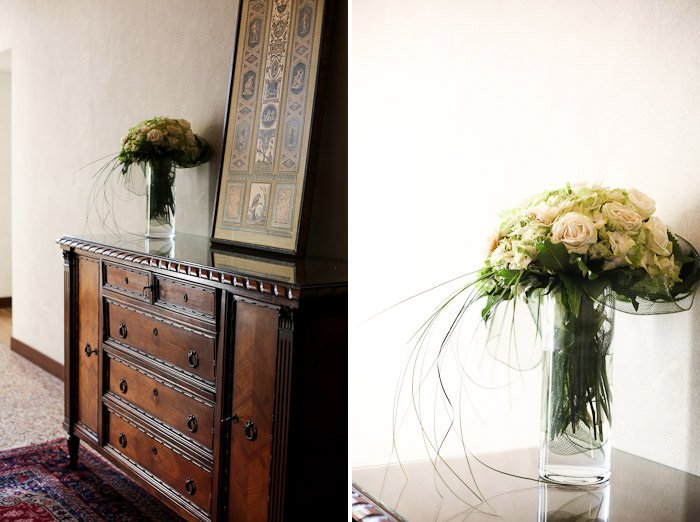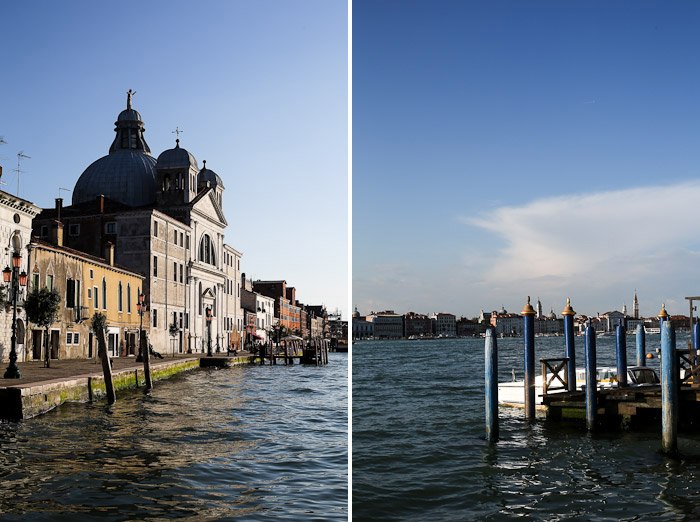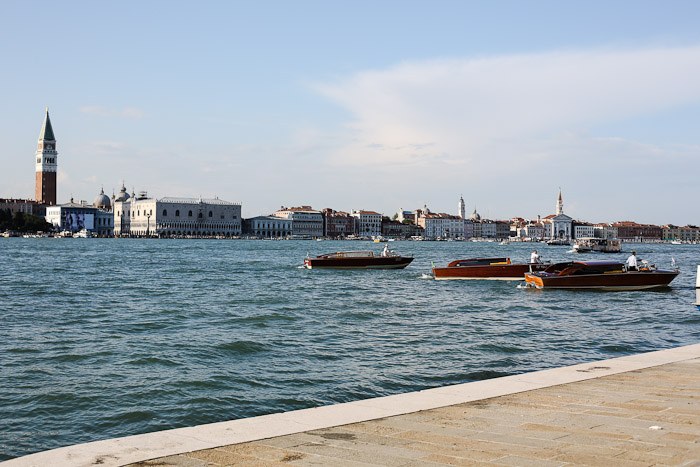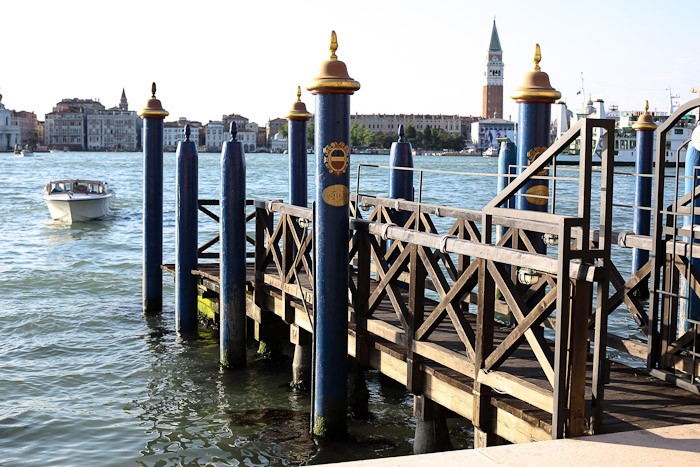 Giudecca
Venice's central islands are the uncontested main attraction to visitors in the Venetian lagoon. Giudecca is a smaller, predominantly residential island in the sestiere (borough) directly south of the central islands and much quieter for it. In ancient times, the island was known as the Spinalunga, or Long Thorn, perhaps for its curved sickle like shape. The current name 'Giudecca' is believed to be a corruption of the Latin word 'Judaica' and could be interpreted to mean the traditional Jewish quarter. However, although 'giudecca' is the name of several Jewish sections of town in Southern Italy and Sicily, the term is not one commonly used in Northern Italy. Historically, Giudecca was an area of large palaces, extensive gardens, vineyards and orchards.
I went exploring around the Bauer Palladio hotel and gardens, which is a direct water taxi ride from the south bank of central Venice. The hotel is located in a stately older mansion with large imposing green doors. Inside, the hotel's spacious lobby rooms are decorated with massive hydrangea vases. The Palladio's three garden system is a geometric windy maze, well shaded with great trees and decorated with springtime wildflowers. I had fun exploring the expansive gardens and even stumbled upon a second mansion, decorated with a similar hydrangea vase. The island's waterfront is laid out along a vertical path and I spotted some really cool reflective doors – perfect for selfies :)
I highly recommend wandering a bit off the traditional central Venetian islands (which can be infested with tourists in peak summer season) and visiting some of the off-beat islands around the lagoon.
For more on transportation around Venice's island network, check out venetian water taxi rides here.
Visiting Italy – Trip Planning Checklist
There's so much to see and do in Italy that you can visit again and again and still discover new sights. I recommend concentrating on the big 4 cities (Rome, Venice, Milan & Florence) if it's your first time and then coming back to explore either Northern Italy or Southern Italy in more depth.
Go | Flight prices from the US to Italy are highly seasonal. You can set a fare alert here to be notified of discounts. Every fall & winter, I've seen great deals to Milan. One word of caution: avoid Alitalia at all costs!
Getting Around | A convenient way to explore Italy is via high speed train. You can search train schedules and book online here. Buy your tickets in advance to save on fares. Make sure to validate your ticket on the platform!
It also helps to speak a little Italian. Brush up on your Italian language skills with Rosetta Stone. You can take 10% off with promo code CJBT10.
Stay | Book hotels in advance to save, or check here for last minute deals. Many hotels in Italy are older so don't be surprised if even 5 star accommodation feels slightly dated. Opt for a room with a view instead of breakfast, as Italians don't eat breakfast in the same way Americans do and you'll probably be disappointed with their offering.
Alternatively, groups or budget travelers can check out Airbnb. 
Protect | Lastly, be sure to visit Italy with travel insurance. Whether you get injured and need to be hospitalized, your phone gets stolen, or a flight delay leaves you with nothing but the clothes on your back, travel insurance will help when you need it most.
A rail strike occurred during our trip, unexpectedly shutting down transportation for an entire day. Get a quote for your Italy trip here.
You Might Also Enjoy:
Italy Vacation Planning Articles
The First Timer's Guide to Italy: A Classic Itinerary
THIS is the Best Time to Visit Italy
What to Wear in Italy: A Packing Checklist
Northern Italy
The Most Beautiful Places in Northern Italy (that are still a secret!)
Headed to Northern Italy? Here's the Perfect 7 Day Itinerary
Exploring Bologna: Travel Guide
Quick Guides to: Bologna Day Trips & The Best Bologna Restaurants
Visiting Parma: The Center of Parma Ham & Cheese
7 Reasons to Explore Medieval Bergamo
Visiting Ravenna's Mosaics
Test Driving Fast Cars & Touring Car Museums in Italy's Motor Valley
Cinque Terre
Plan Your Trip: Travel Guide
How to Choose Which Village to Stay
A Blissful 3 Day Cinque Terre Itinerary
The Best Cinque Terre Airbnbs for Large Groups
Quick Guides: The Best Restaurants & Popular Hiking Trails
Inspiration: Photo Diary of the 5 Villages
The Italian Lakes
Exploring Lake Como: Travel Guide & Where to Stay
Quick Guides to: Varenna, Bellagio & Villa del Babianello
Visiting Lake Maggiore
Quick Guides to: Isola Bella & Villa Taranto
Discovering Hidden Lake Orta
Follow me @Sher She Goes on