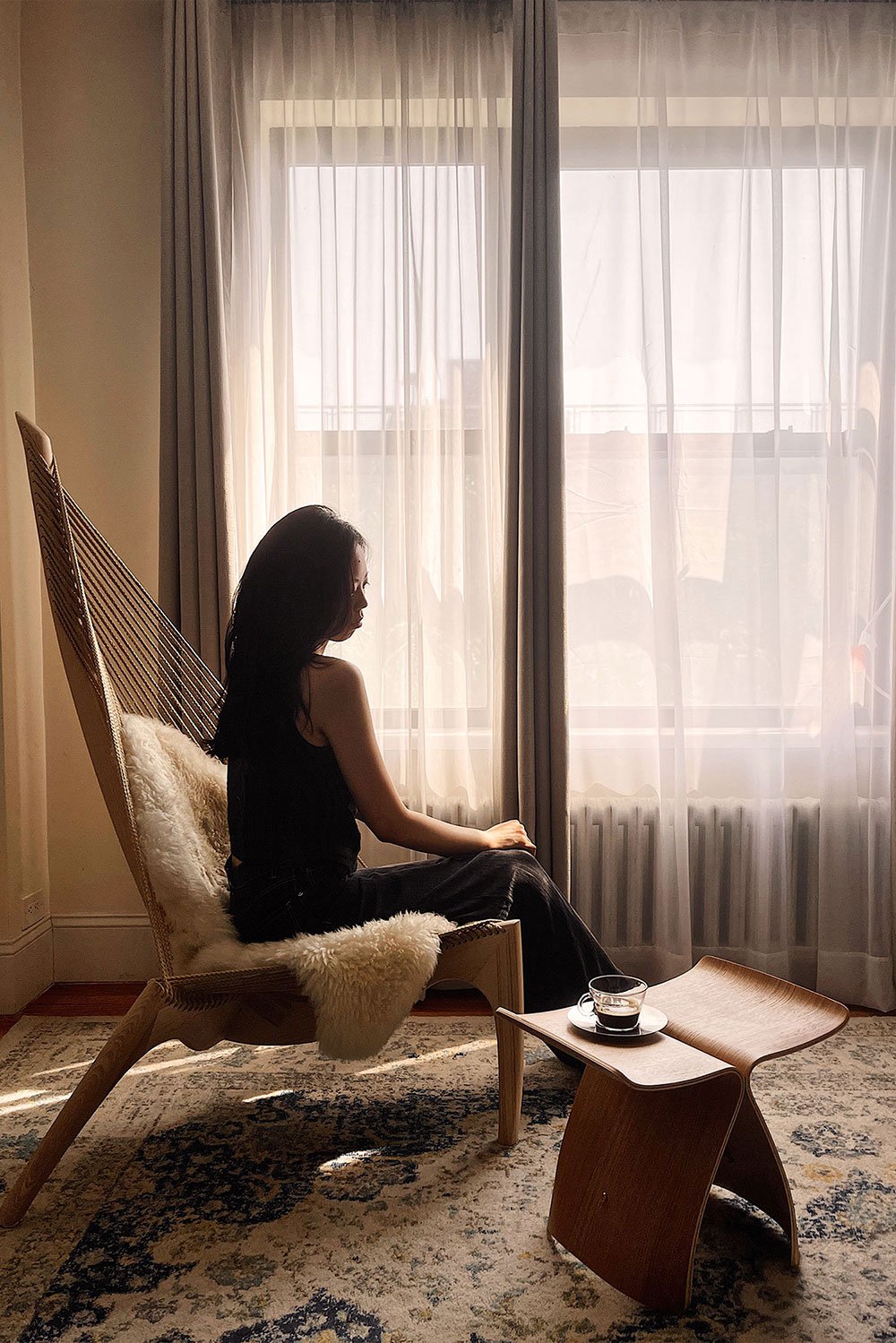 I've been obsessed with Scandinavian home décor and neutral interiors lately and couldn't believe it when I saw this stunning accent chair online.
I just had to have it and it's finally here!
After posting a photo on Instagram, I got a ton of questions about the chair.
So in today's post, I'm sharing everything you need to know about buying furniture on Eternity Modern and the pieces I picked up!
ADVERTISEMENT
Keep reading below or quickly jump to:
ADVERTISEMENT
---
---
Eternity Modern
Eternity Modern is a furniture company based in Vancouver.
They originally started by selling wholesale to traditional brick and mortar stores, but changed their business model entirely a couple years ago.
Now, they produce high-quality replicas of famous mid century modern pieces and sell online, direct to consumer. They have a relatively small number of products for sale, which allows them to really hone in on the quality of each piece.
They also sell directly to consumers (similar to Article Furniture which I reviewed here) and in doing so, are able to eliminate all the traditional middleman (dealers, resellers, salespeople) to offer a better price online.
I really think buying furniture online is the future and more companies should get on board!
ADVERTISEMENT
---
---
What Makes Eternity Modern Unique
What really makes Eternity Modern different, in my opinion, compared to online sites like Wayfair, Overstock or even Amazon Home, is that Eternity Modern specializes in replicas of famous mid-century modern designers.
For example, those Pierre Jeanneret chairs you've seen all over Instagram?
Eternity Modern sells them!
Hans Wegner's famous lounge chair?
Eternity Modern makes a beautiful Flag Halyard that looks exactly like the original (and promises to cradle you in comfort all day long).
A couple other famous chairs Eternity Modern reproduces include:
Even the newest IT-sofa, the Cameleonda modular sectional, is available on Eternity Modern, as is the famously plush Cloud sofa, modeled off the original Restoration Hardware sinker.

ADVERTISEMENT
---
---
Some of these pieces are no longer made today, so your options are pretty limited.
Occasionally, you can get find a vintage piece from sites like 1st Dibs or Chairish, but it's hard to be sure of the condition and they cost a small fortune.
Eternity Modern's reproductions are a lot more affordable, and you have a lot more choice in terms of the fabric and style.
The company has a decent range of fabrics (you can order swatches before making a decision), and you can even go a step further and source your own fabric!
Since almost everything is made to order, it's a simple option to have Eternity Modern make the piece in your fabric of choice.
ADVERTISEMENT
---
---
I was most interested in the Cameleonda, I'm not going to lie.
I actually went to B&B Italia a couple months ago to see the original sofa in person (the company just started producing the Cameleonda again last year).
And while I absolutely loved the look, feel and quality in person, it was a hefty price tag ($15-30k) to spend on a sofa I technically didn't need…
So I was really really tempted by the Eternity Modern version.
And while I thought about getting it, I figured I would try out a small accent chair to test the quality and shopping experience before going for the bigger sectional.
So I opted for two items:
ADVERTISEMENT
---
---
Jorgen Hovelskov Harp Chair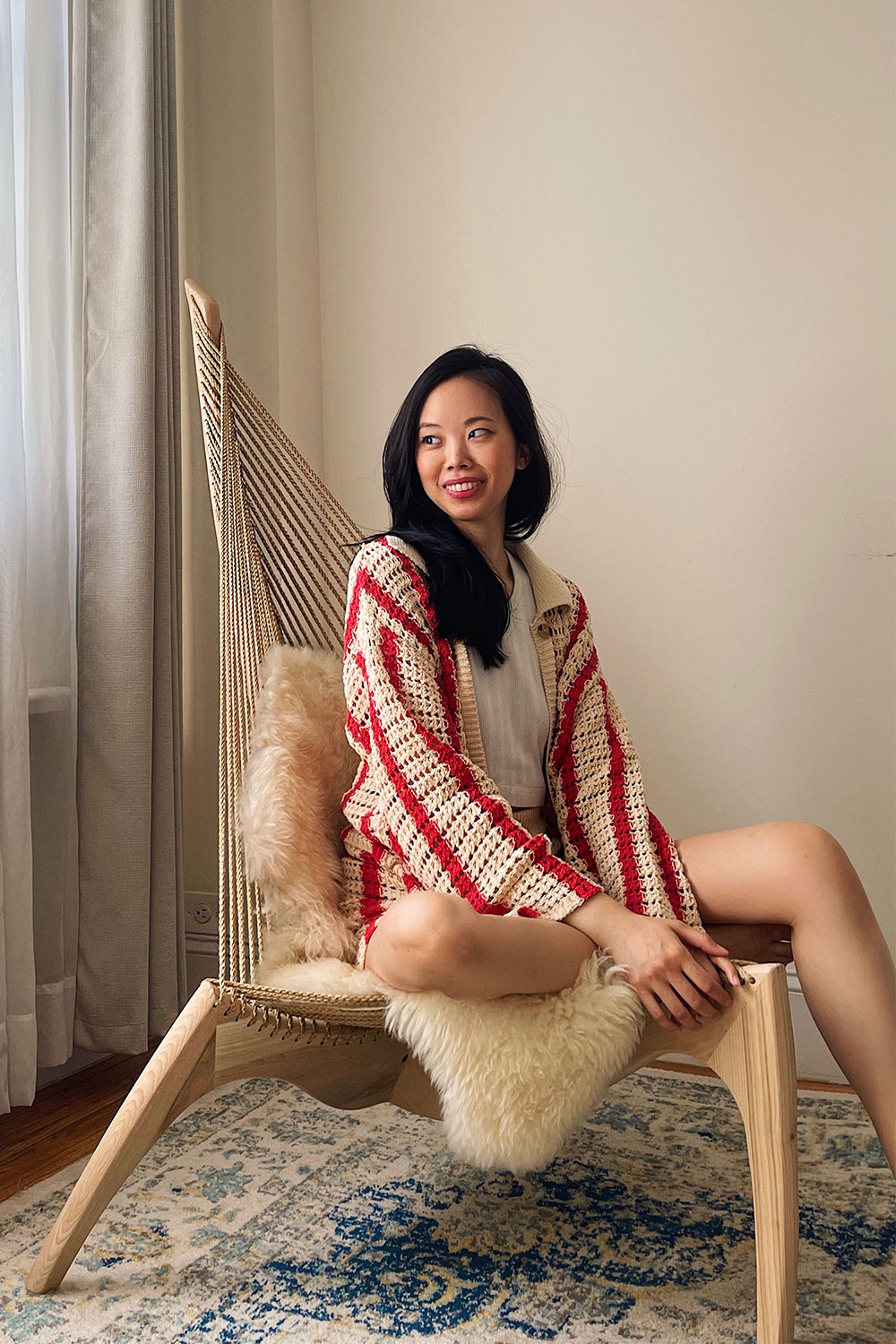 The iconic Harp Chair was originally created by Danish designer Jørgen Høvelskov in 1968, and produced by cabinet maker Christensen & Larsen in Denmark.
Høvelskov was inspired by the curving bow and stern of a Viking long ship and actually when the chair first debuted in the 60s, it was called the Viking Chair.
A journalist who wrote about the piece took note of the woven rope seating and thought it resembled a harp, so it was later introduced as the Harp Chair.
What's in a name, eh?
Whether you want to call it the Harp chair or the Viking chair, I *love* the look of it. I'm really drawn to curves and arches in interior design so this delicate swooping back of it immediately caught my eye.
Eternity Modern's reproduction is crafted from ash, and the piece in person feels quite sturdy and substantial.
But, thankfully it's still light enough for a single girl to move around whenever she wants to switch up her living room!
Finally, you can choose from a couple different wood finishes. Some are in stock and ready to ship!
ADVERTISEMENT
---
---
Sori Yanagi Butterfly Stool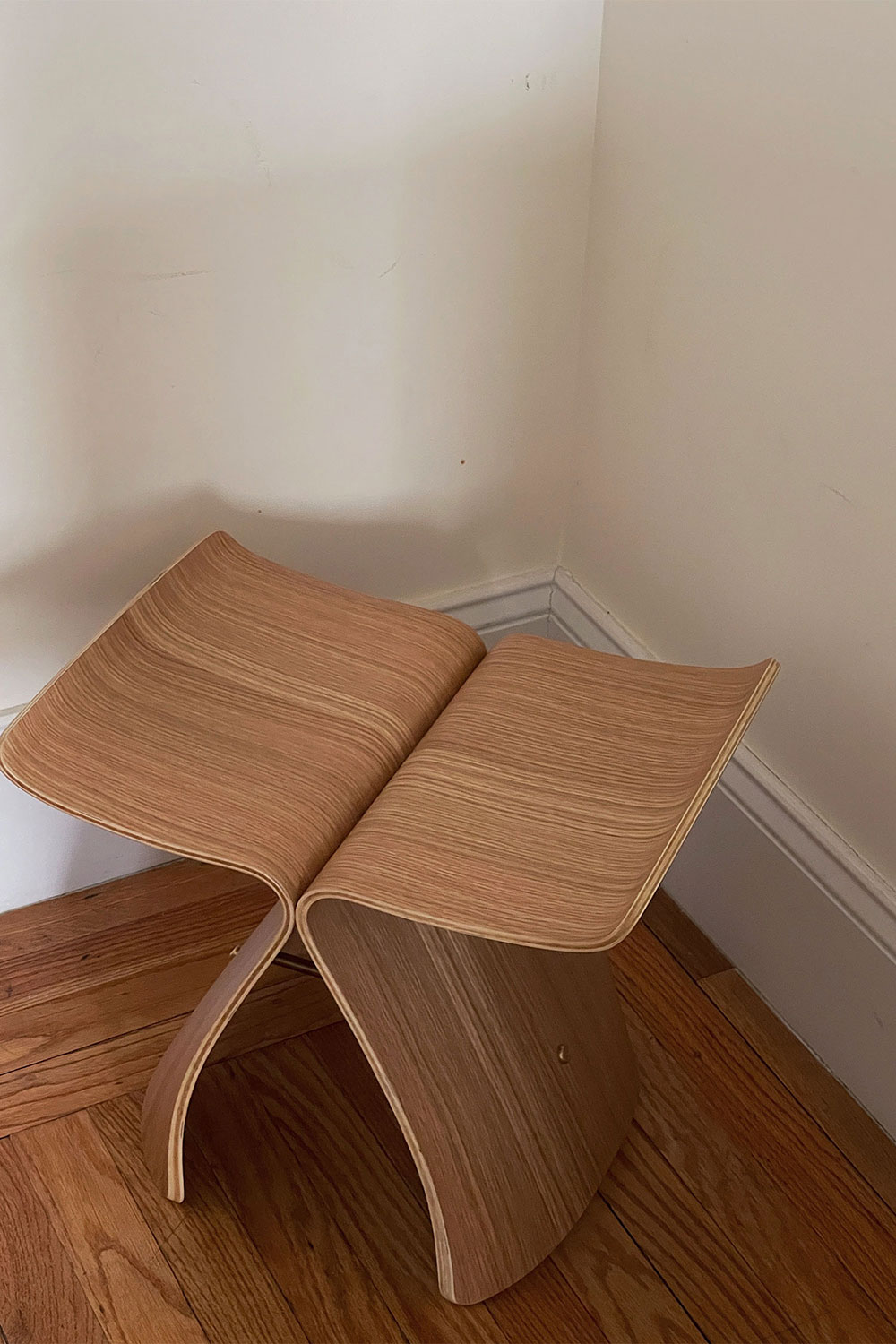 The Butterfly Stool was another dainty piece with curved lines that immediately caught my eye.
It reminded me of a book stand (or open butterfly wings, as the name suggests).
The stool was originally created by one of Japan's most prominent designers, Sori Yanagi, in the post-World War II Japanese design era.
It's a landmark piece for the way it marries ancient Japanese shapes with modern Western materials. Sort of like an East meets West piece.
Made from pressed wood, the stool has a graceful curved silhouette that's meant to evoke the flight of a butterfly. And, it's actually on display at the Metropolitan Museum of Art and the Museum of Modern Art in New York City!
I liked the fact that the stool could be multi-functional. It works as a foot rest, as makeshift additional seating, and as a display piece for books or decorative items.
And let's face it – everything in NYC apartments needs to be all purpose!
Finally, this is one accent piece you can afford relatively more easily today. Originals sell for $5-7k while Design Within Reach sells new pieces for $1-2k. That's still about 5x the price of the Eternity Modern replica.
Luckily for me, the butterfly stool was in stock as well!
ADVERTISEMENT
---
---
Shipping
Anyone who has ever bought furniture knows firsthand how long deliveries can take.
Whether you buy in store or online, it's a bit of a shock the first time you realize that lead times for home goods can take weeks, if not months.
So I appreciated that Eternity Modern provides a rough delivery estimate right on each individual product page.
My order was placed in late April and arrived almost exactly one month later. Here's how shipping works, at least for in stock items.
ADVERTISEMENT
---
---
Eternity Modern is based in Canada and it took about 2 weeks to process my order and ship the items to a local delivery company.
Once it arrived in my area, the local carrier reached out to me to set up delivery.
The company offers free shipping on orders over $1,000 and white glove delivery (where they bring the furniture directly inside your home) is available for an extra flat rate.
I have to say, I was pretty impressed with the whole process!
ADVERTISEMENT
---
---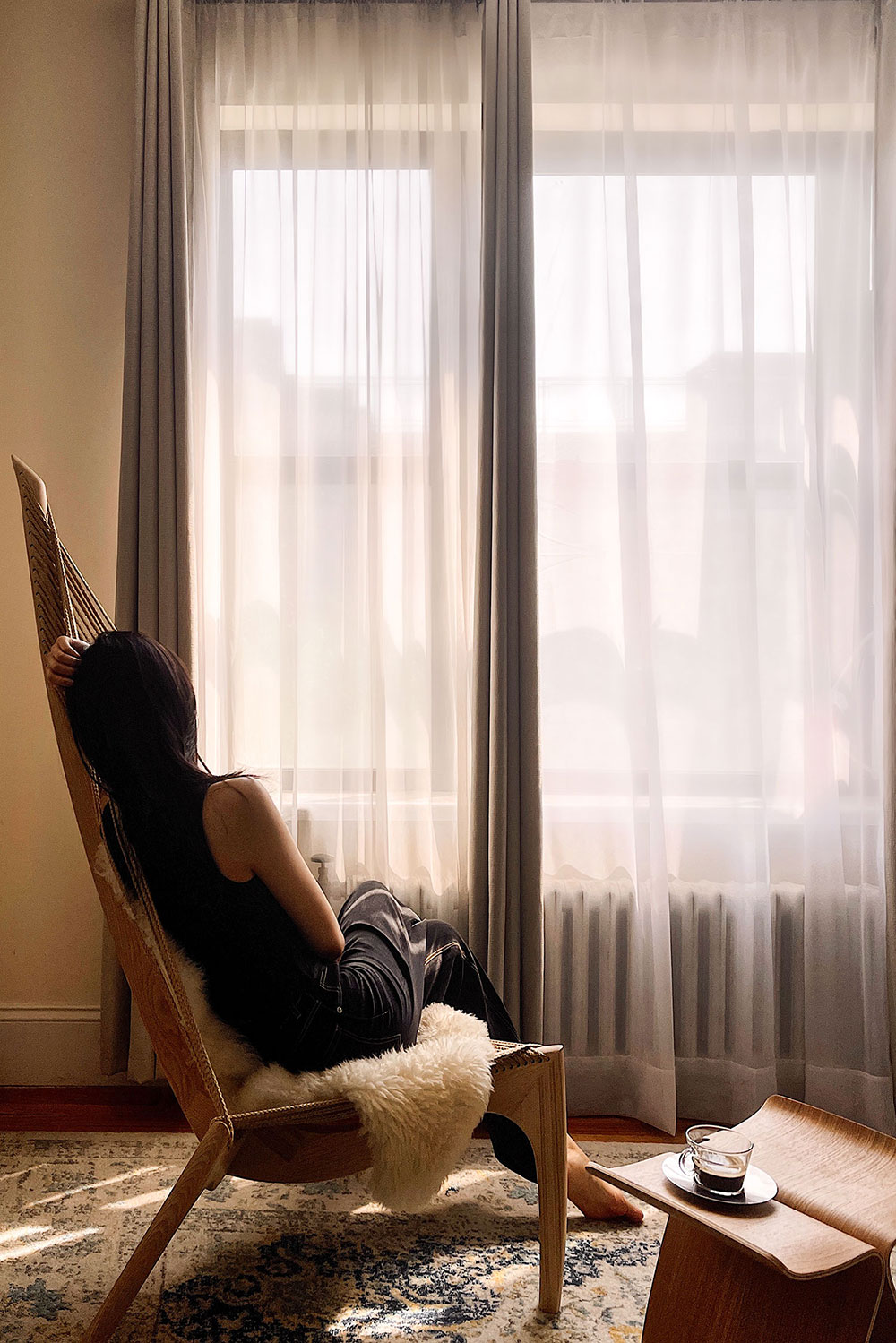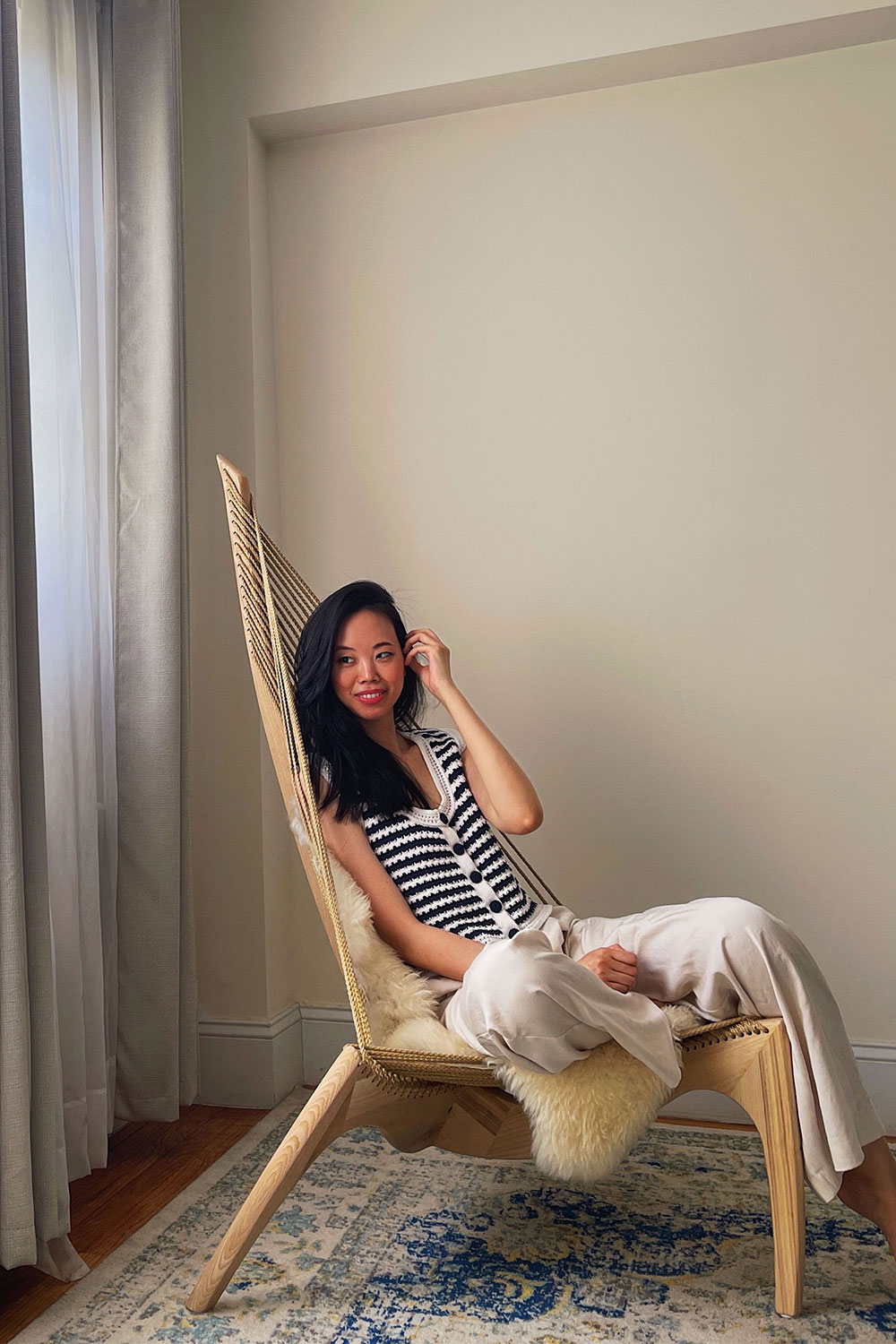 Delivery
The local company used in my area contacted me about 2 days before delivery to arrange set up, then followed up the day before delivery with a 3 hour time window (all pretty standard).
But the day of, I actually received a text message first confirming the 3 hour window, then following up to let me know when the delivery would actually reach me.
Maybe it's a recent thing, but in the past I used to have to take the full 3 hour window off work to come home and sit twiddling my thumbs waiting for the delivery men, with no clue as to when they'd actually show up.
Getting an alert that they were 36 minutes out (so specific!) was really helpful. I noticed Whole Foods food deliveries do this now so maybe it's a broader change with shipping.. either way, I love it!
ADVERTISEMENT
---
---
Quality
I've had the chair and stool for about a month now and absolutely love them.
I sit in the lounge chair practically every single day – surprisingly!
Originally I thought (judging by the photos) that the rope structure of the Harp Chair might make it more of a decorative accent piece as opposed to a comfy lounge chair.
It totally shocked me how comfy the chair is! I'm actually typing this post cradled by it :)
The braided rope strands that create the seat are solid yet comfortable. Everything is well made and it feels like a refined Danish version of a hammock.
I especially like the look of a faux fur rug thrown over it and find the combination of the relaxed Harp Chair and Butterfly foot stool to be the perfect spot to lie back and relax.
Shop Eternity Modern's Best Sellers
---

ADVERTISEMENT
---
---
Small Space Living
Living in a New York City apartment means space is a premium! Over the years, we've learned to ruthlessly purge our closets, adapt the Konmari method and max out every inch of space. Despite the challenges, we love interior design, NYC real estate and wouldn't trade living here for anywhere else. Follow along on our small space living adventure!
You Might Also Enjoy:
Small Space Living
25+ Small Apartment Hacks to Transform Your Space
The Best Makeup Storage Ideas When Space is Tight
Aerogarden Harvest Review: Growing Plants Indoors is Now Doable!
How to Dress a Bed as Luxuriously as a 5 Star Hotel
Small Apartment Entryways: 4 Decorating Ideas
Storage Hack: Saving Space When You Don't Have a Pantry
Home Decor
The Best Affordable Wall Art - from Amazon!
Crazy Real Faux Plants (for Black Thumbs)
The Best Smelling Candles to Create a Sense of Hygge
Amazon Home Finds: Stone & Beam
Our NYC Renovation
Renovating a Kitchen in NYC: Tips, Tricks & Cost
Everything We Learned About Renovating Our NYC Kitchen (Video)
How to Remodel a Small Kitchen for Maximum Storage
Home Appliances
The Best Compact Appliances for a Tiny Kitchen (Video)
The Best Compact Washer Dryers for Small Apartments
How We Installed a Washer & Dryer... in the Kitchen!
Home Tech
The Best Vacuums Under $100
How to Build Your Own Sunrise Alarm Click Using Smart Bulbs
Are Standing Desks Worth the Hype? Testing the BDI Sit/Stand Desk
Robot Vacuum Review: The Roborock S5 (an affordable roomba alternative)
Roborock vs. Roomba: Which Smart Vacuum is Best?
Home Security Systems: How to Protect Your Home on Vacation
Furniture
All the Best Furniture Stores in New York City
Article Modern Furniture Review
Gardening
The Best Raised Garden Beds on Wheels
Aerogarden Harvest Review: Does This Really Work?
How to Clean & Sanitize the Aerogarden for a New Planting
How to Setup the Aerogarden Farm XL (grow bigger plants!)
Follow me @Sher She Goes on