This post is brought to you by Sears.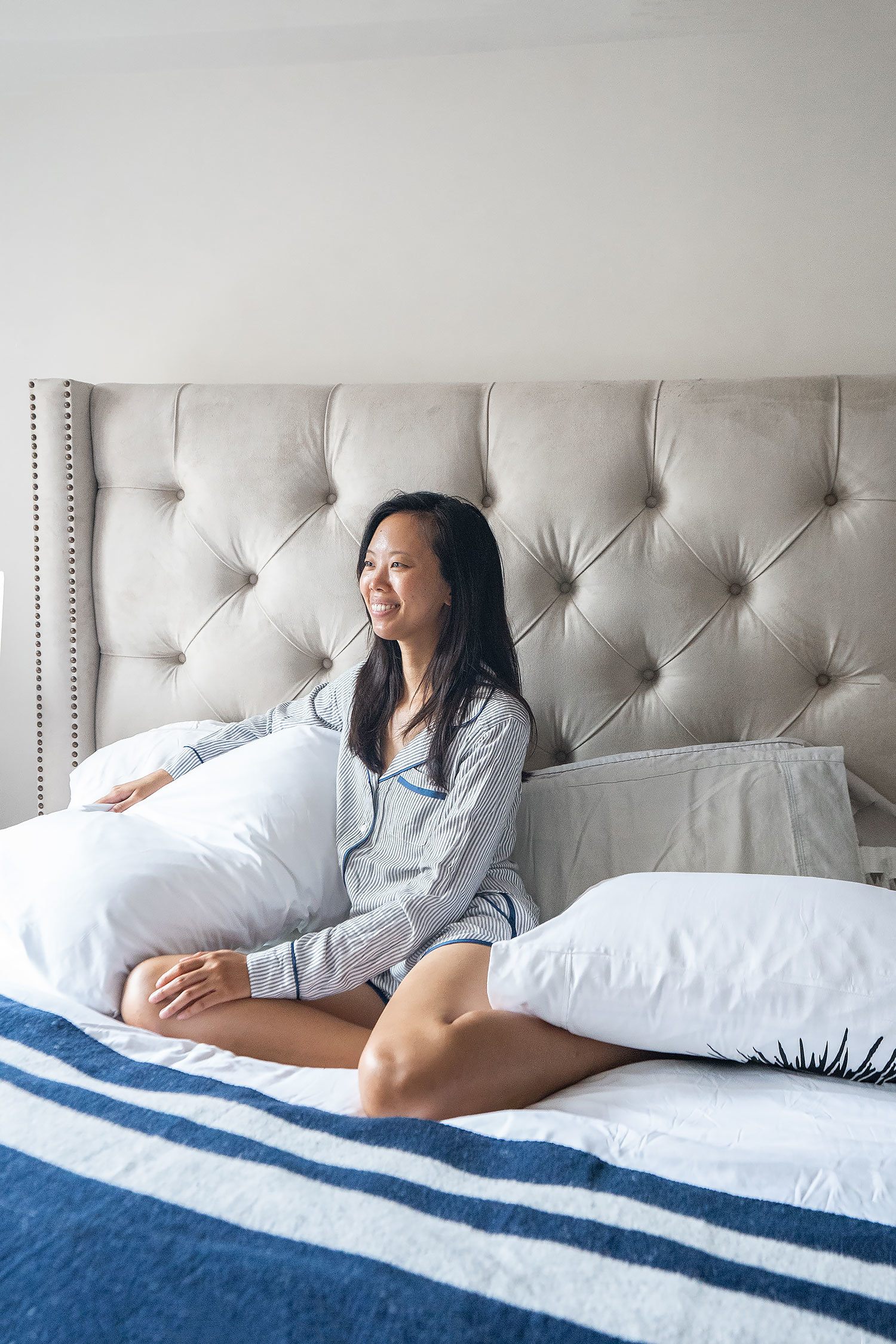 How to Make Your Bed Feel as Comfy as a Luxury Hotel
The first time I stayed in a luxury hotel, I had the best sleep of my life. Compared to my tiny NYC bedroom, 5 star hotel beds seemed so much more luxurious and sophisticated.
30 countries and countless hotel check outs later, I've finally figured out how hotels make their bedrooms so irresistible. From bedding to pillows to styling, it's easy enough to recreate at home once you know the tips and tricks.
In today's post, I'm sharing exactly how to transform even the tiniest apartment bedroom into a serene sleep haven. After all, we spend just under 3,000 hours in bed every year, so why not master the art of making it comfortable?
Keep reading for 5 easy ways to dress a bed of any size into a comfortable, luxurious oasis.
ADVERTISEMENT
How to Dress a Bed
I'm one of those people that get out of bed and immediately make it. There's something about a rumpled, un-made bed that makes me feel so messy! But it wasn't until recently that I really learned how make a bed feel luxurious.
If you've been wanting to upgrade your bedroom, keep reading!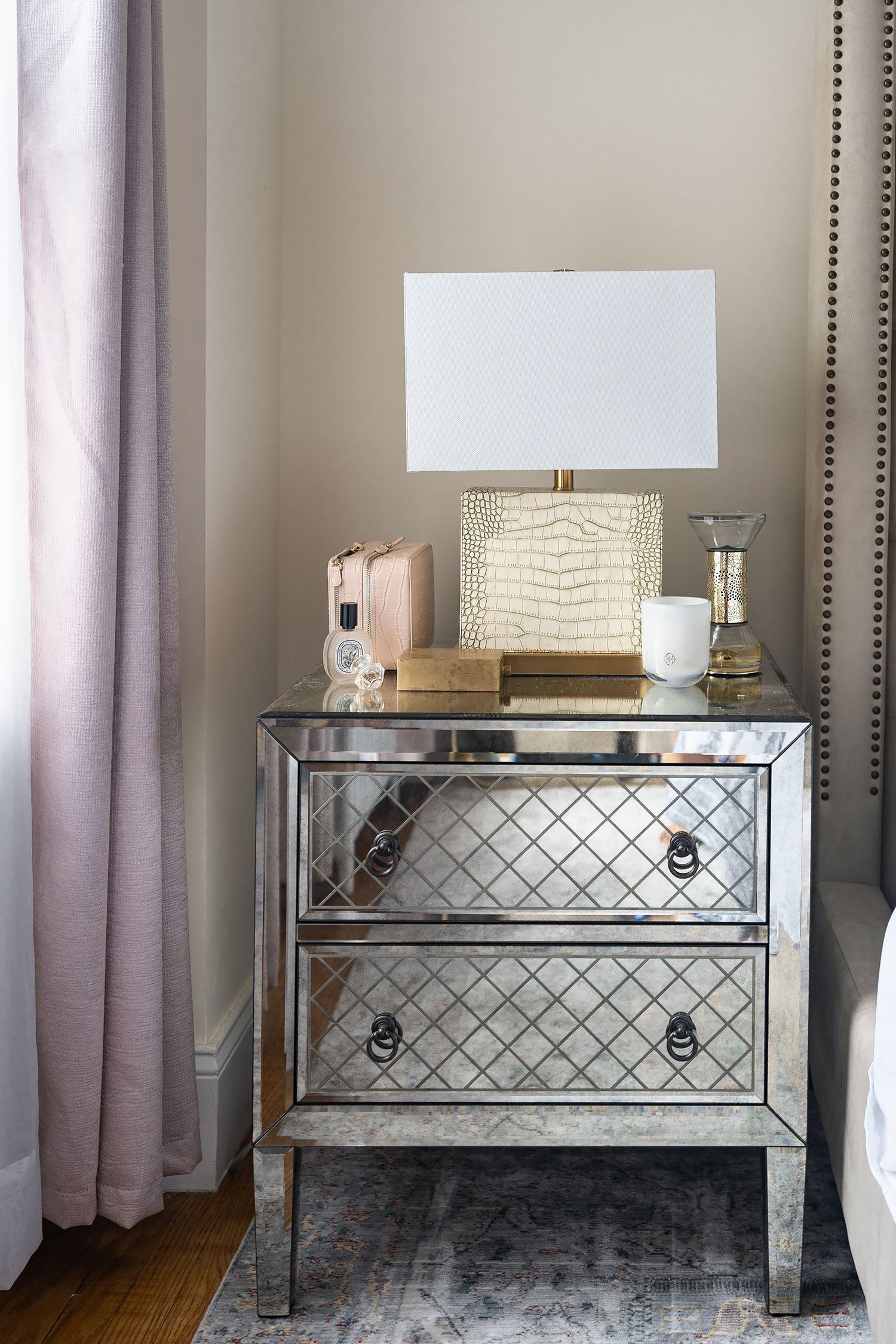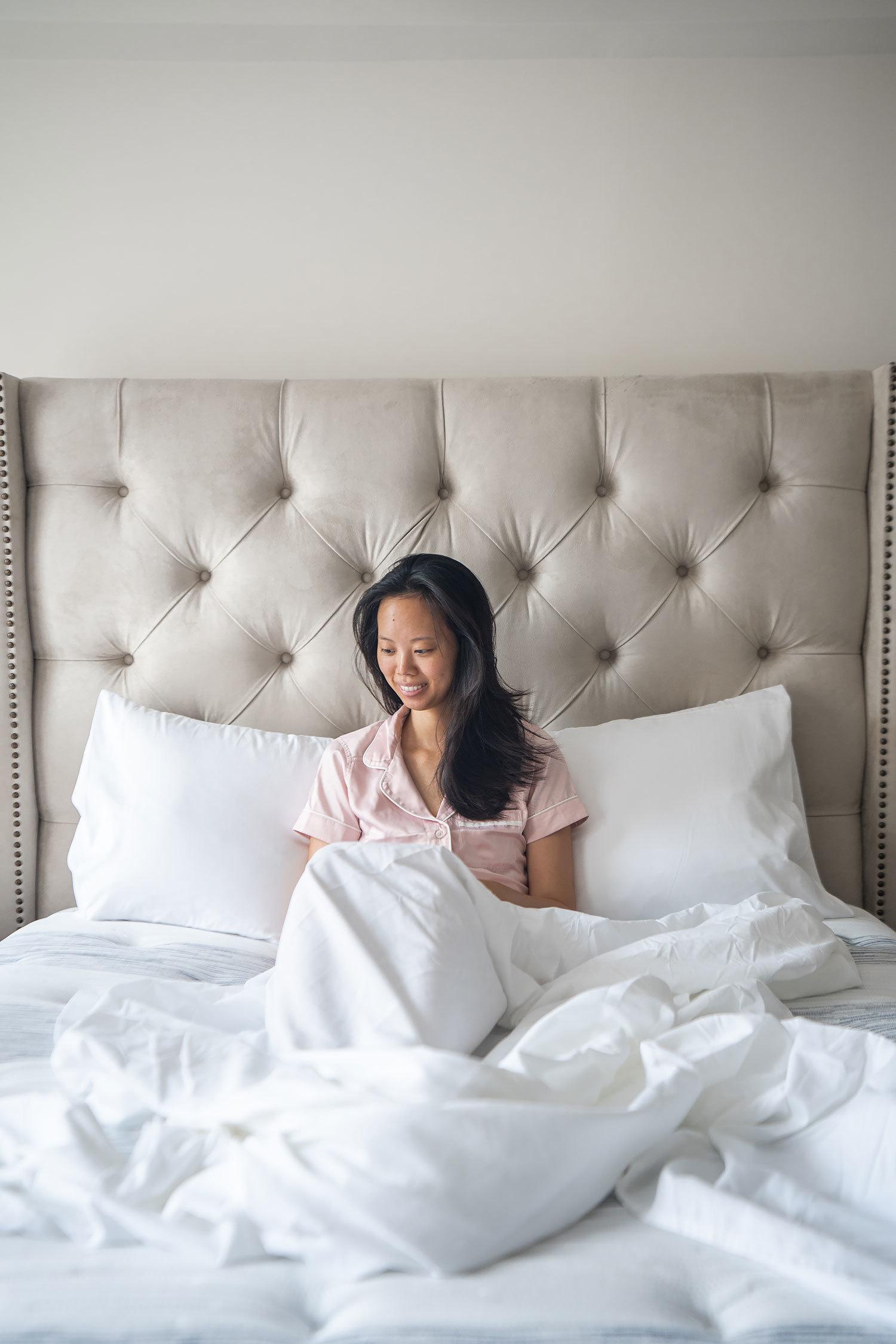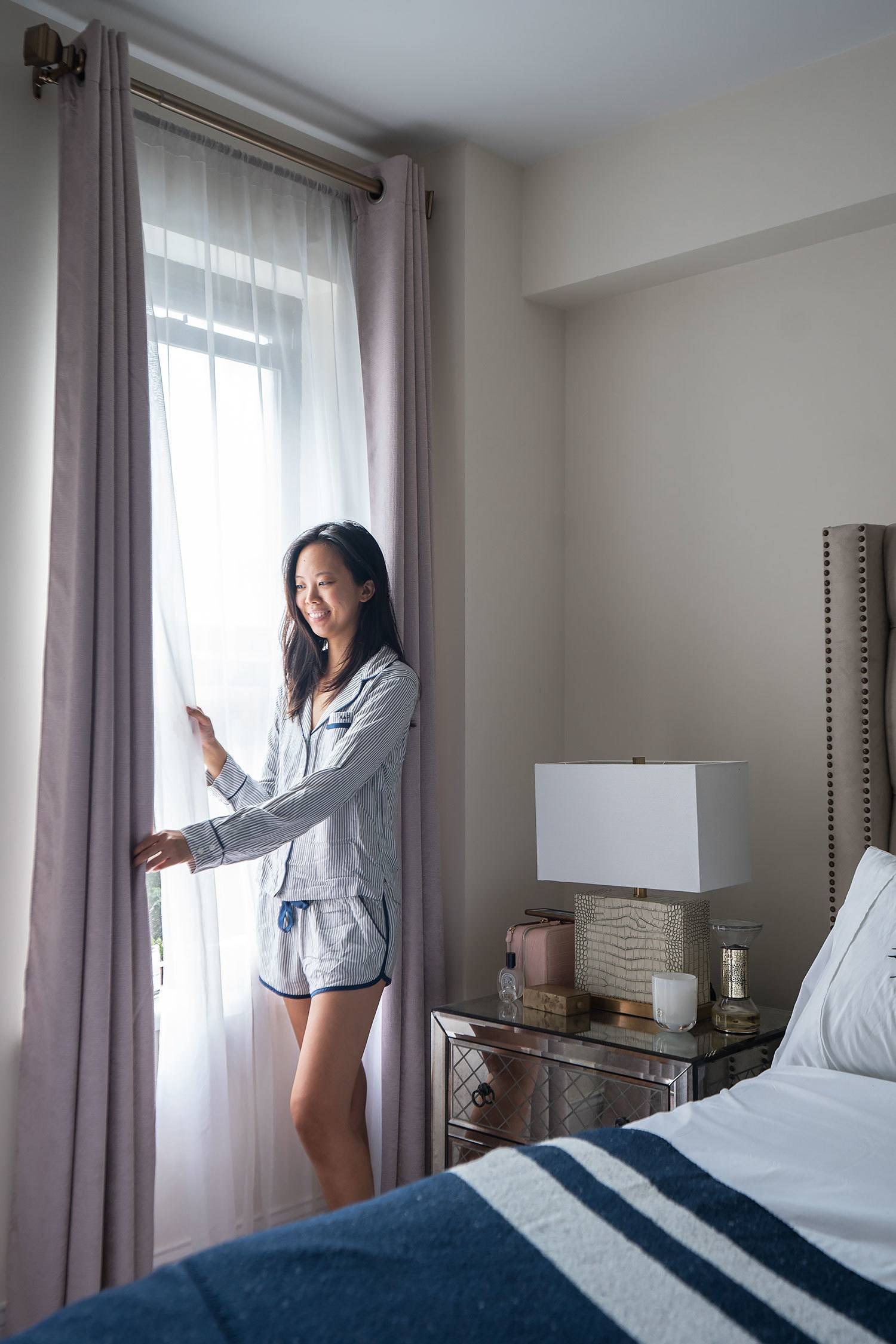 ADVERTISEMENT
---
---
How to Style a Bed
A 5 star hotel bed is perfectly crisp, sink-ably plush and artfully layered. Here's exactly how to dress your bed at home with style and comfort!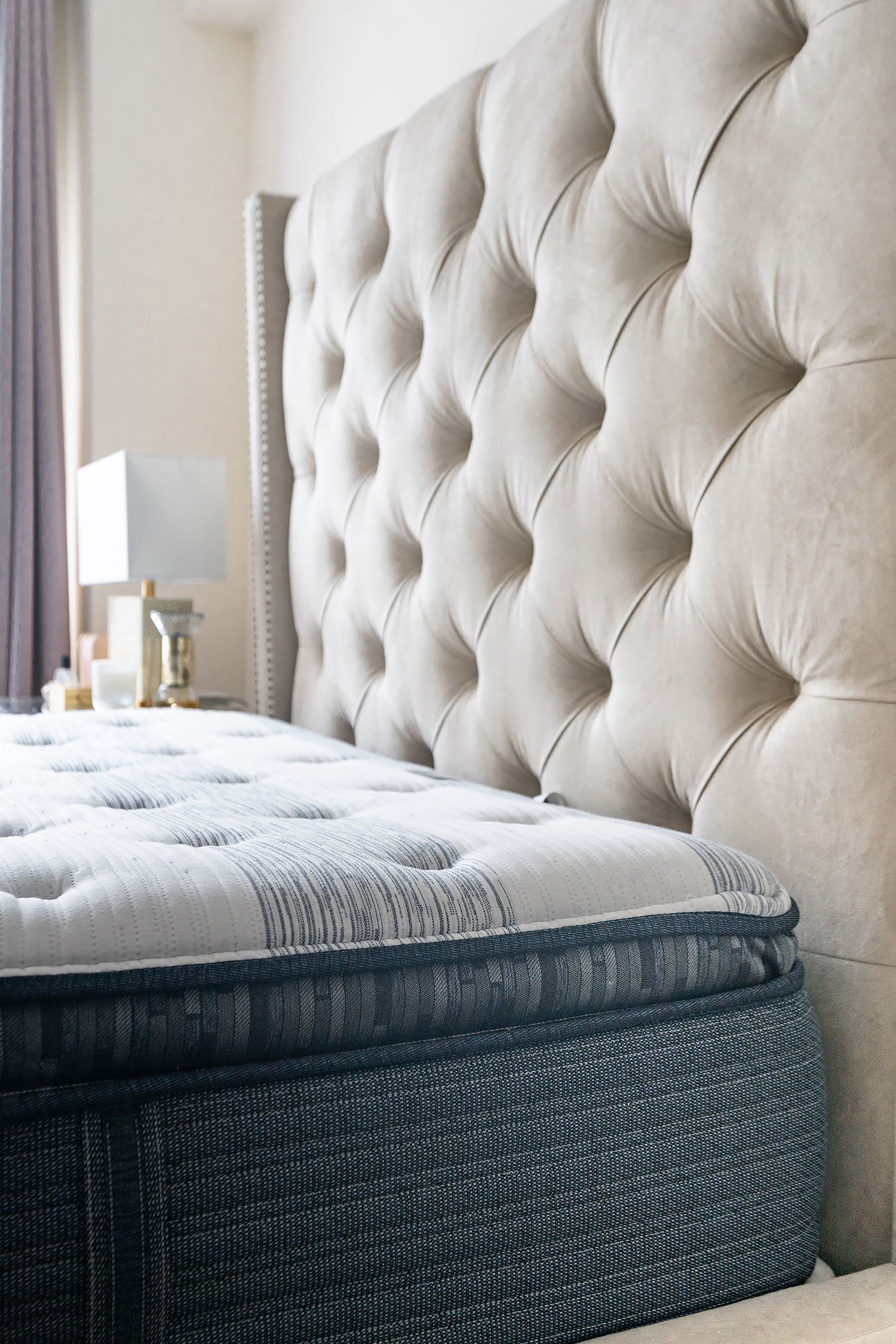 1. Invest in a Great Mattress
The most important investment you can make is in the foundation. A great mattress makes all the difference between sore back muscles and plush, full body support, so splurge as much as your budget will allow on a really amazing bed.
We finally upgraded our mattress to the Beautyrest Platinum and LOVE it! This mattress completely blows all my previous beds out of the water. First of all – the height is incredible. I thought my previous bed was a cushy 12″ but the Beautyrest mattress is plump, high and really luxurious. It's so satisfying to hop on the bed and even my deep pocket sheets don't bunch up anymore.
I also love how pretty it looks bare! The subtle stripe pattern, thick quilted top (so plush I don't even need a mattress topper anymore) and extraordinarly comfortable. The inner springs provide lots of support and it doesn't get too hot. It's so pretty even without sheets!
Best of all, it arrived with white glove delivery. No crazy lifting, no nasty chemical smells and they even took away my old mattress! It can be such a pain to properly dispose of a mattress so the full service delivery was a godsend.
Ever since we upgraded, I've been wanting to sleep in every morning…
ADVERTISEMENT
---
---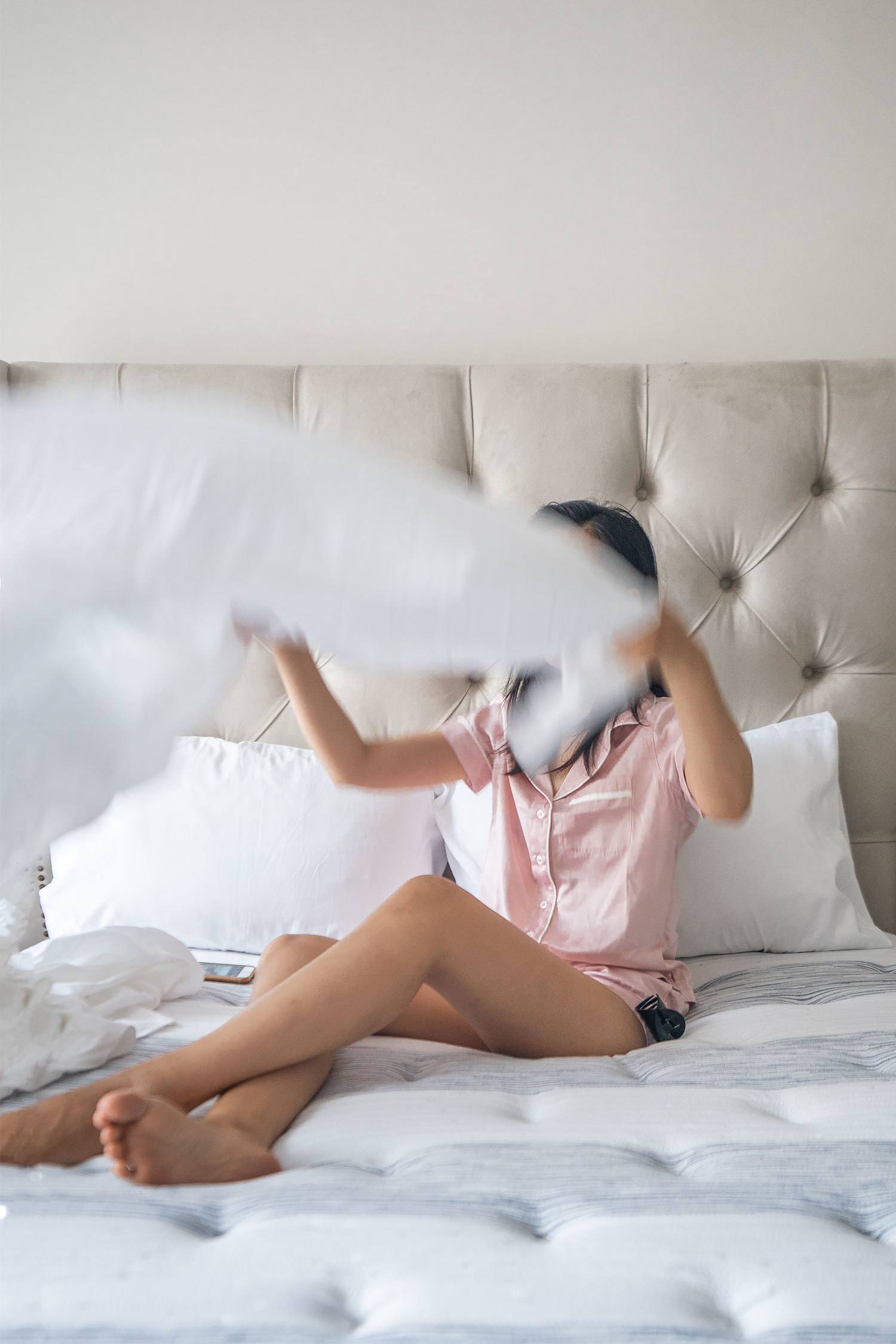 2. Step Up Your Sheet Game
Bed linens come in all colors, fabrics and styles. Let me let you in on a secret – the thread count? It doesn't matter quite as much as you think.
I've splurged on expensive sheets before only to be disappointed. Bedding companies like to throw astronomically high thread counts on their packaging to coax you into buying their products. Forget about what the packaging says and go by how the sheets feel.
Cotton: easy, breathable and a good all-around staple
Percale: these are cotton sheets, but have a tighter weave than your basic cotton, so they feel more smooth and satiny
Linen: cool in the summer, warm in the winter and great for a 'lived in' look as they wrinkle a bit
Polyester: a synthetic style that resists wrinkles and pills. These are the most affordable, but can feel hot as they trap heat
Personally, I love a cotton silk blend as they're easy to maintain and impossibly soft. I also like to always stick to white bedding, since every shade of white will always match! If you accidentally spill or stain white sheets, they can always be bleached back to new.
ADVERTISEMENT
---
---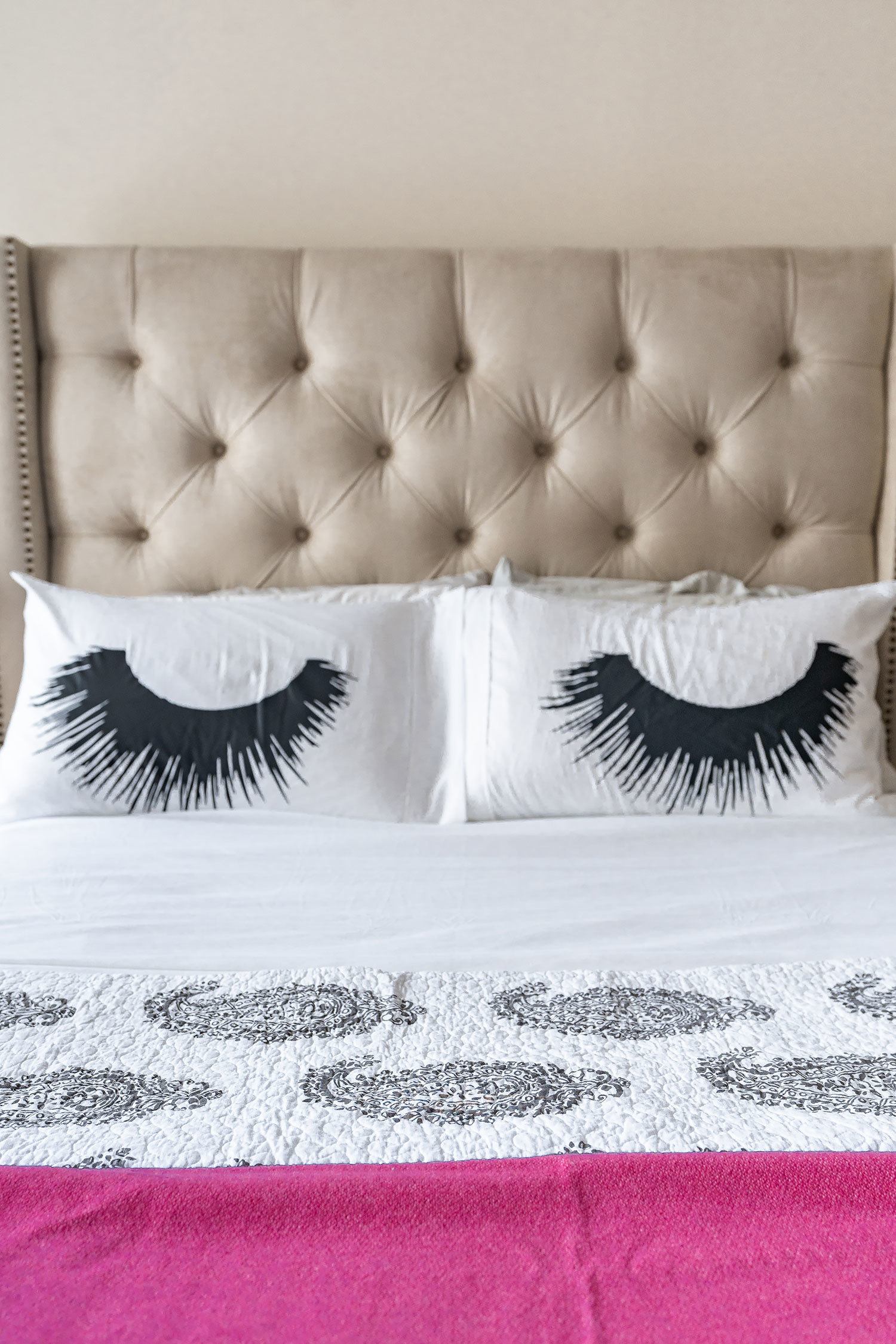 3. The Pretty Layer
I also swear by pillow case protectors and mattress liners. They're inexpensive additions that can protect your base mattress and pillows from dust, sweat and bacteria.
Then I love experimenting with different pillowcases! I get a lot in basic white cotton, but then style them up easily and inexpensively with decals or embroidery. These eyelash cases are just an iron on sticker! I have another set that added on some words – one pillow says "five more" and the other says "minutes" ha.
If you love lots of extra accessories, you can try adding lumbar pillows, cozy throws and sham pillows to jazz up your bed even more! A good rule of thumb is 3 shams in the back, 2 regular pillows in the middle and 1 to 2 decorative pillows in front if you have a queen size bed.
Personally I hate having to take extra pillows on and off so I keep it a bit more simple!
ADVERTISEMENT
---
---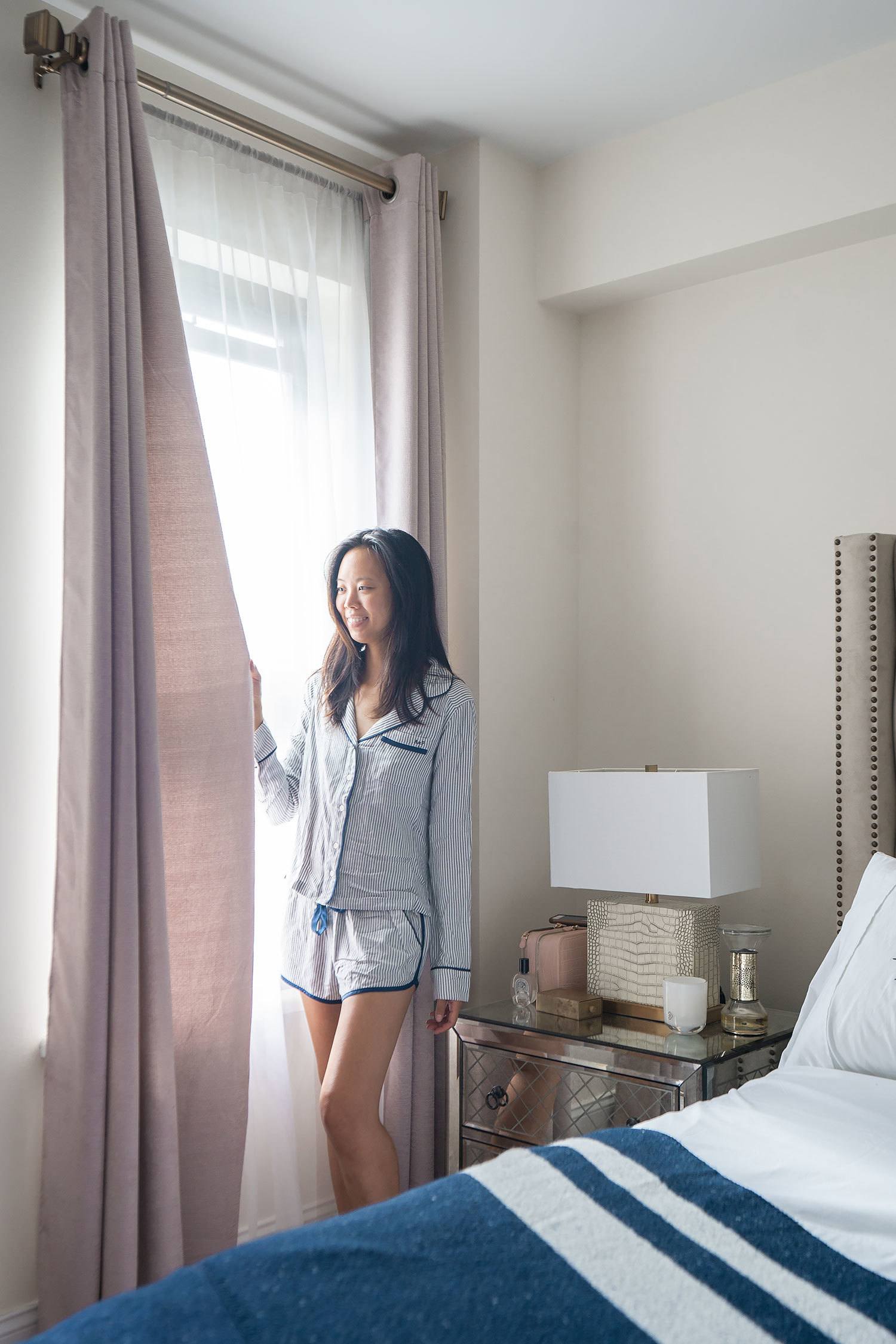 4. Throw Some Shade
I love a well-lit bedroom but need absolute darkness to properly fall asleep.
To get that movie theater dark space, I purchased double curtain rods so I can use a simple white drape for day time that will let light in, but then at night, cover the windows with black out shade. I'm usually not a pink person but these blush pink velvet curtains were so pretty I had to get them!
If you want a dramatic effect, get extra long curtains! I hung the rods relatively close to the ceiling to give the illusion of a bigger room and used 96 inch tall curtains that reach the floor.
ADVERTISEMENT
---
---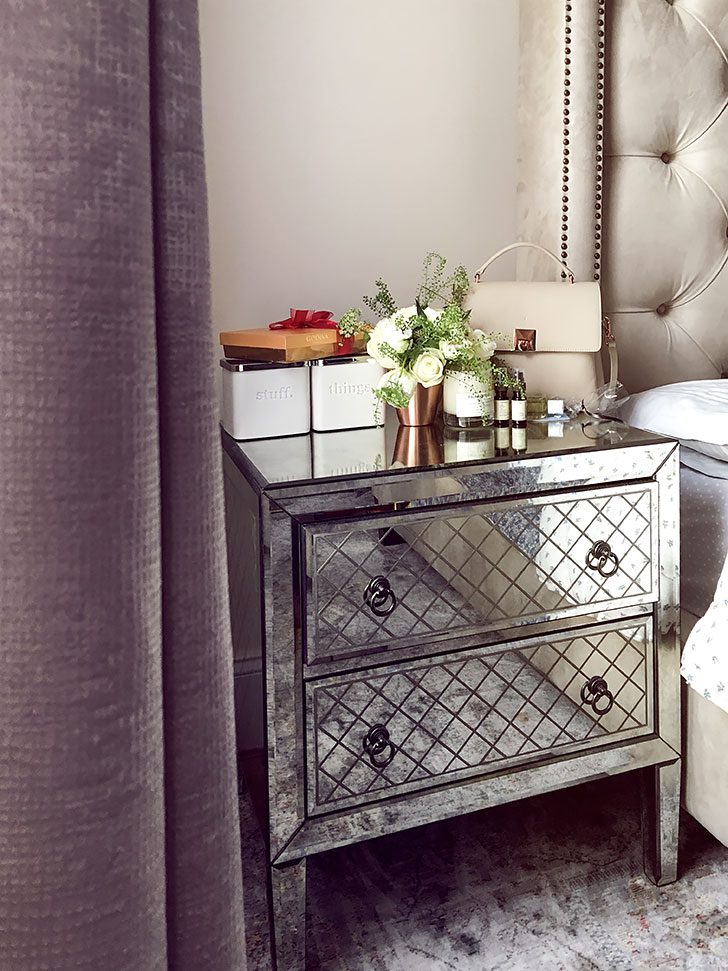 5. The Little Luxuries
All the little treats you love should go right next to your bed on the night stand. If your room doesn't have enough light like ours, a table lamp is both functional and a nice design touch. I got this faux reptile print night lamp that adds a bit of texture while still looking quite neutral!
If I have fresh flowers I love placing them on a nightstand. I also put all my splurge candles here so I can light them if I want to read and relax before bed. There's nothing like a clean, fresh scent to help you fall asleep! I also like putting night creams and body creams in the drawer or on top of the nightstand so I can remember to finish up my skin care routine before bed time.
Recently, we just got this beautiful room diffuser – I love how it looks like a decorative accessory and the scent is subtle but incredible.
You could also put framed pictures, decorative lamps, jewelry – any bits or bobs that you love here!
ADVERTISEMENT
---
---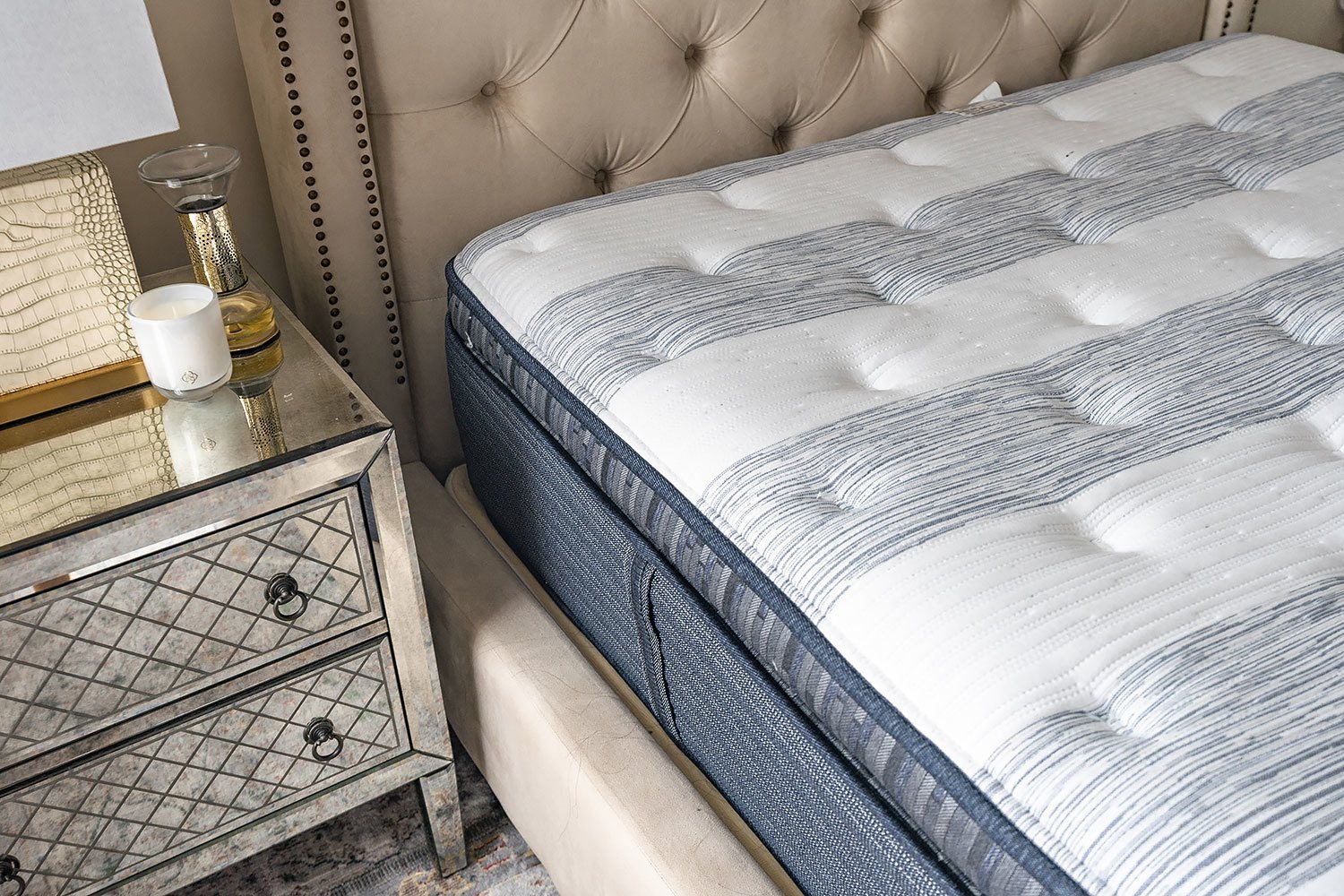 And that's it! All the elements you need for a good nights sleep:
Mattress
Mattress Pad
Fitted Sheet
Flat Sheet
Quilt
Pillows
Euro Shams
Accent Cushion
Duvet Cover
Throw
ADVERTISEMENT
---
---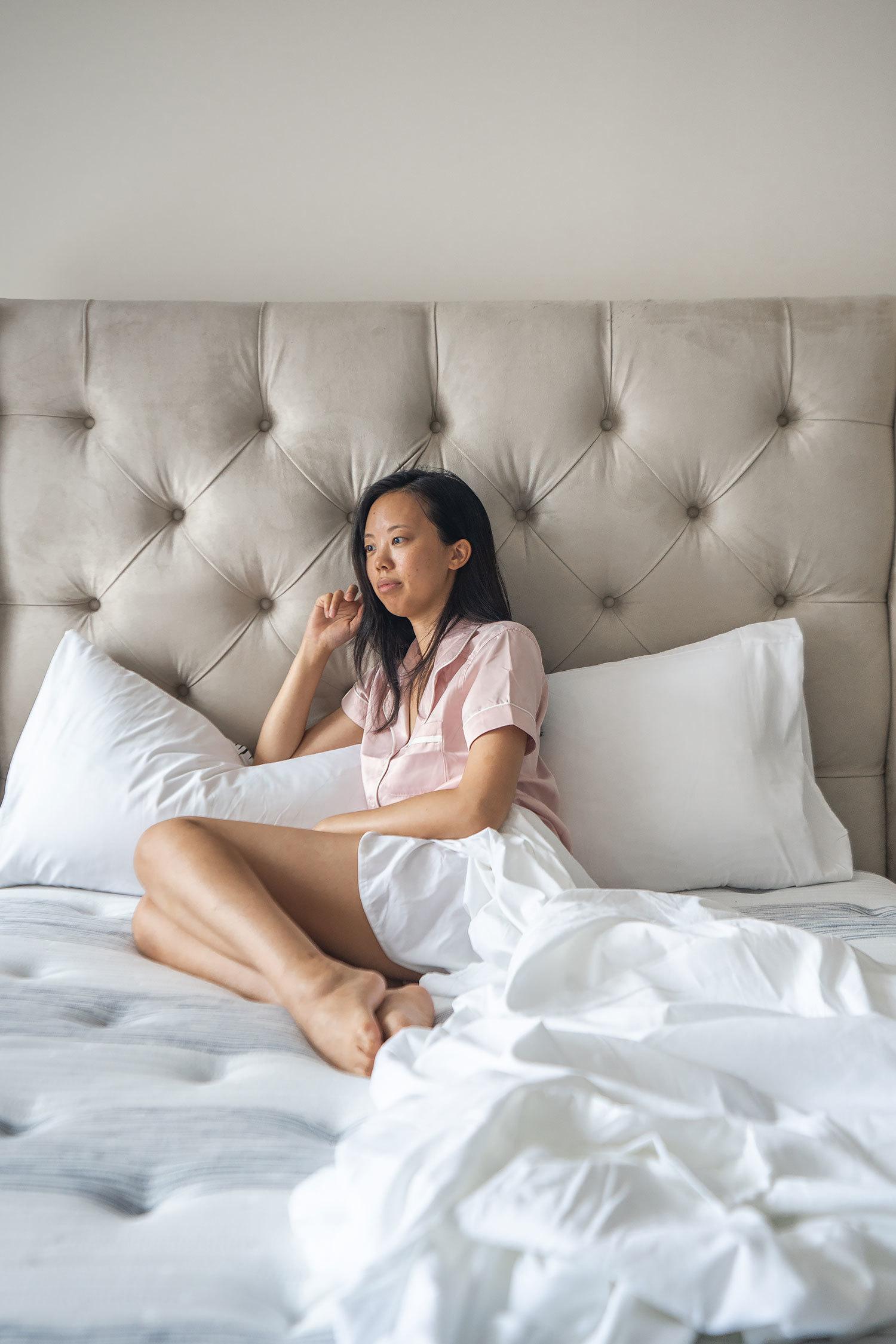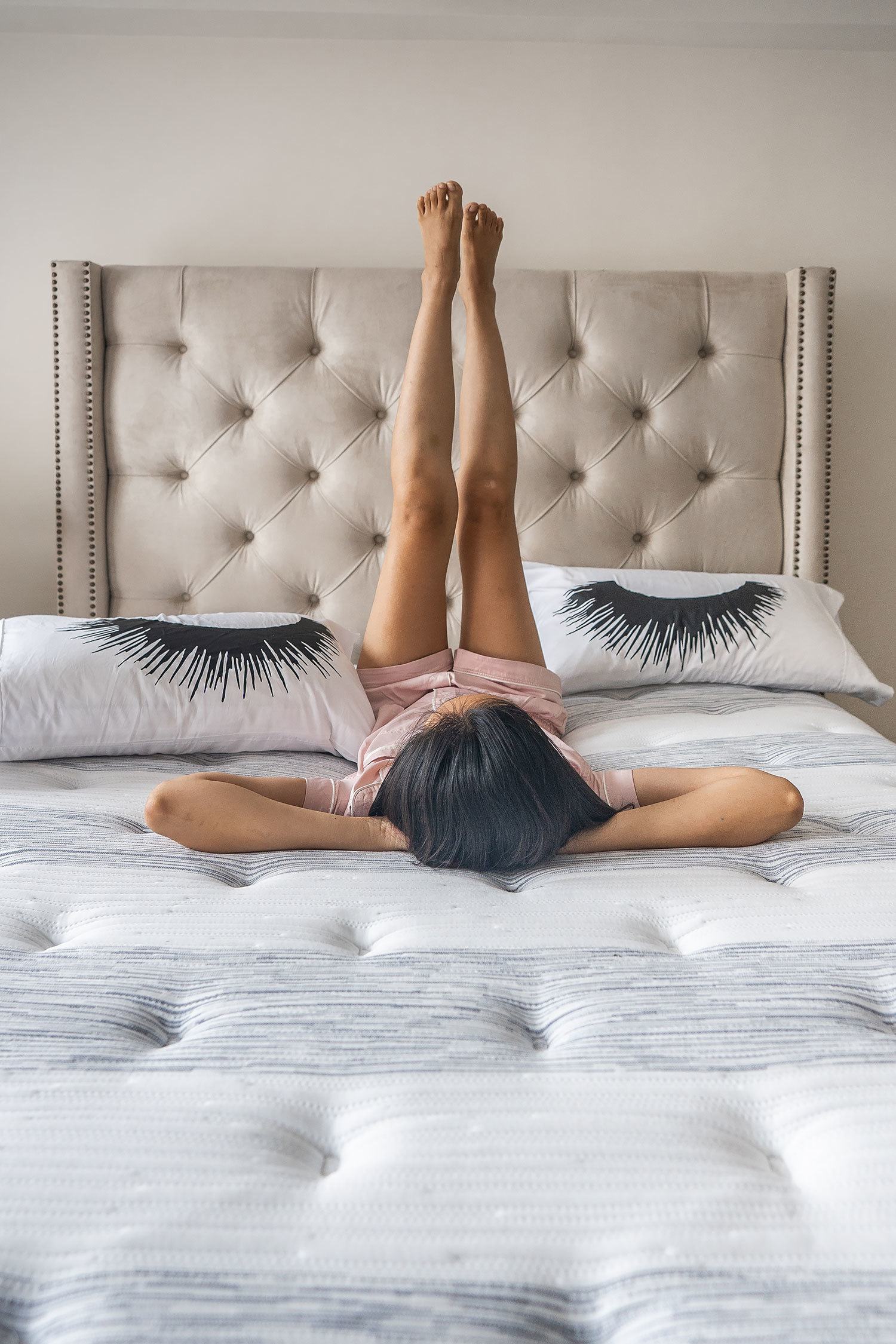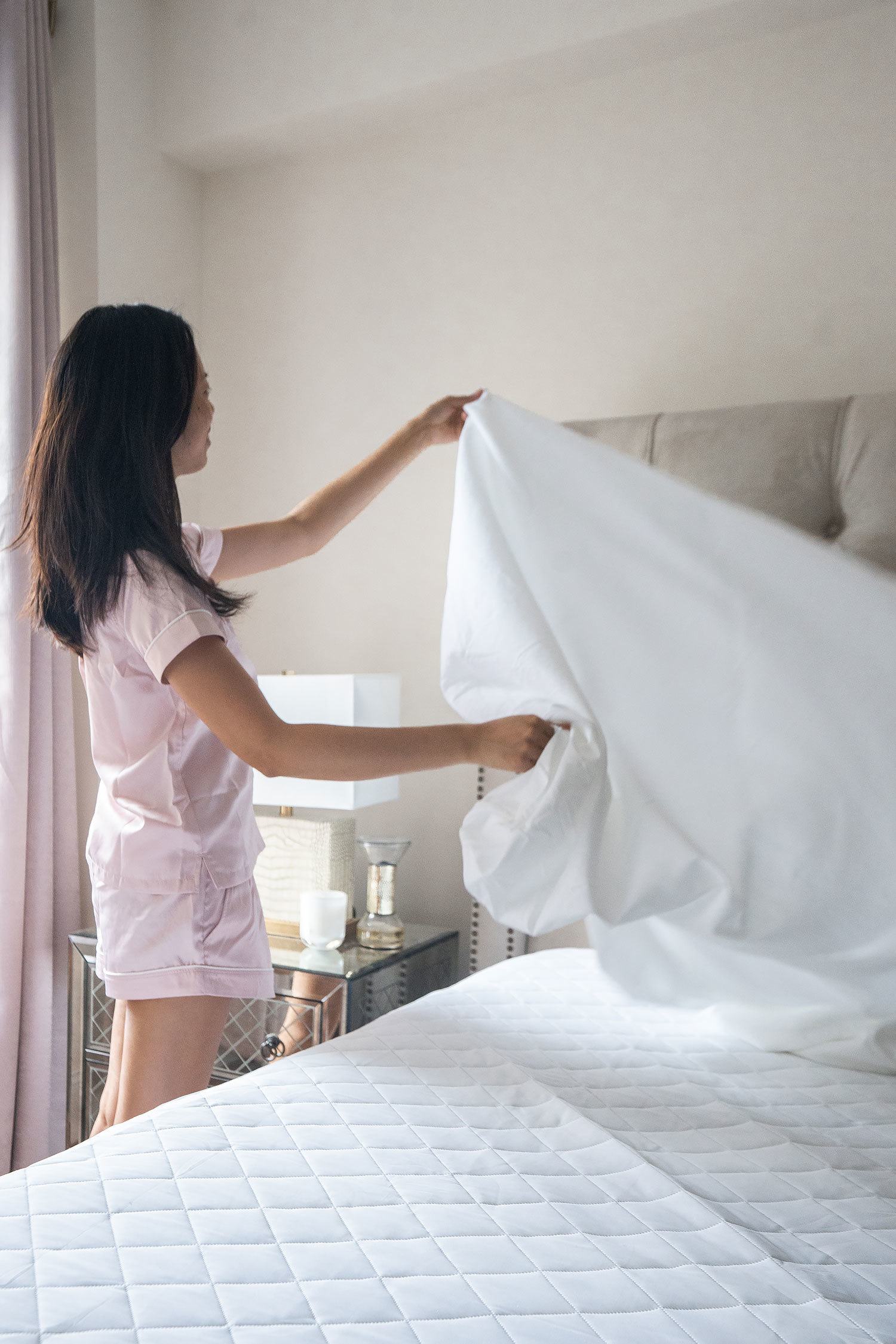 So are you ready for a little luxury in your master bedroom? Grab a Beautyrest Platinum Mattress here to set the base for a hotel like retreat and the best sleep of your life.
Sears has a huge selection of top mattress brands and the best part is they let you try before you buy! All of their mattresses come with a 180 night comfort guarantee – one of the longest in the industry. You can try it before you buy, and get free delivery on mattress purchases of $599 or more. Sears can also haul away your old mattress for a fee.
Some mattresses are even available for next day delivery!
Shop Bedroom Decor
---
ADVERTISEMENT
---
---
Small Space Living
Living in a New York City apartment means space is a premium! Over the years, we've learned to ruthlessly purge our closets, adapt the Konmari method and max out every inch of space. Despite the challenges, we love interior design, NYC real estate and wouldn't trade living here for anywhere else. Follow along on our small space living adventure!
You Might Also Enjoy:
Small Space Living
25+ Small Apartment Hacks to Transform Your Space
The Best Makeup Storage Ideas When Space is Tight
Aerogarden Harvest Review: Growing Plants Indoors is Now Doable!
How to Dress a Bed as Luxuriously as a 5 Star Hotel
Small Apartment Entryways: 4 Decorating Ideas
Storage Hack: Saving Space When You Don't Have a Pantry
Home Decor
The Best Affordable Wall Art - from Amazon!
Crazy Real Faux Plants (for Black Thumbs)
The Best Smelling Candles to Create a Sense of Hygge
Amazon Home Finds: Stone & Beam
Our NYC Renovation
Renovating a Kitchen in NYC: Tips, Tricks & Cost
Everything We Learned About Renovating Our NYC Kitchen (Video)
How to Remodel a Small Kitchen for Maximum Storage
Home Appliances
The Best Compact Appliances for a Tiny Kitchen (Video)
The Best Compact Washer Dryers for Small Apartments
How We Installed a Washer & Dryer... in the Kitchen!
Home Tech
The Best Vacuums Under $100
How to Build Your Own Sunrise Alarm Click Using Smart Bulbs
Are Standing Desks Worth the Hype? Testing the BDI Sit/Stand Desk
Robot Vacuum Review: The Roborock S5 (an affordable roomba alternative)
Roborock vs. Roomba: Which Smart Vacuum is Best?
Home Security Systems: How to Protect Your Home on Vacation
Furniture
All the Best Furniture Stores in New York City
Article Modern Furniture Review
Gardening
The Best Raised Garden Beds on Wheels
Aerogarden Harvest Review: Does This Really Work?
How to Clean & Sanitize the Aerogarden for a New Planting
How to Setup the Aerogarden Farm XL (grow bigger plants!)
Follow me @Sher She Goes on
Thank you to Sears for partnering on this post. All content and opinions are my own.