A NYC Kitchen with Washer and Dryer
Woohoo!
I finally finished installing a washer dryer in my apartment – which in New York City, let me tell you, is an almost impossible feat.
While the rest of the country would probably sneer at a washer dryer in the kitchen, ask almost any New Yorker and they'd take a washer dryer combo anywhere – even if it came at the cost of a dine-in kitchen.
Ha!
If you're looking to do the same, especially if you live in a small apartment, I thought I would share some tips that I learned throughout the renovation process.
ADVERTISEMENT
Keep reading or save this article for later ⇟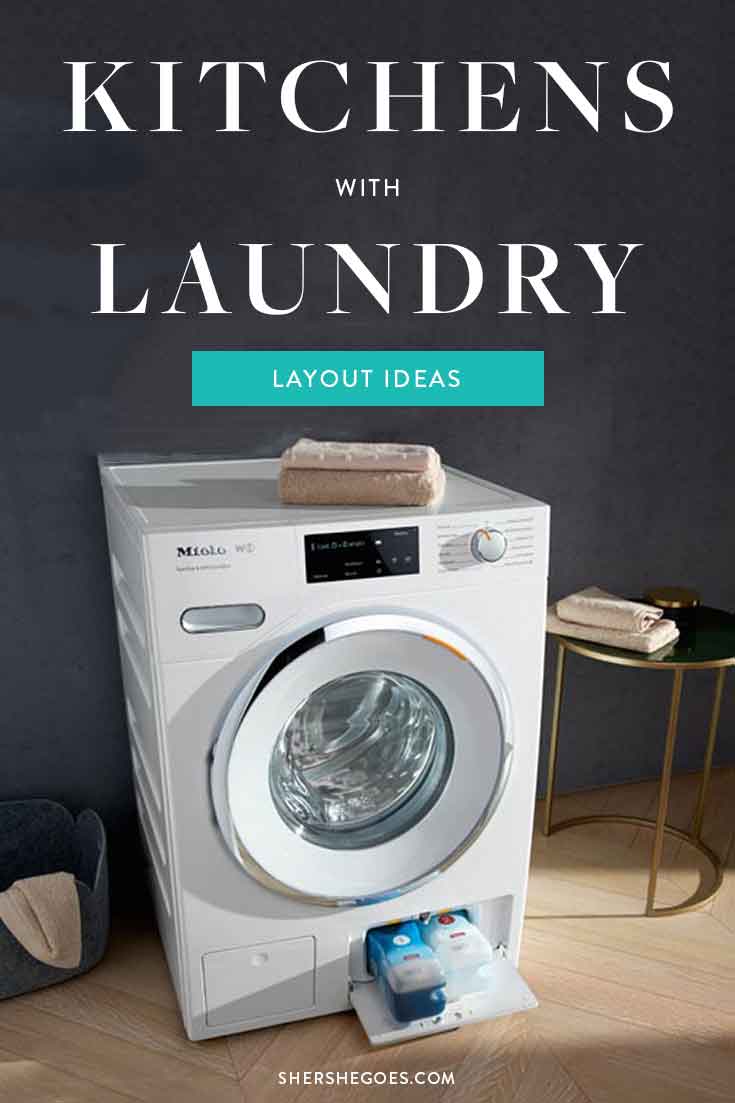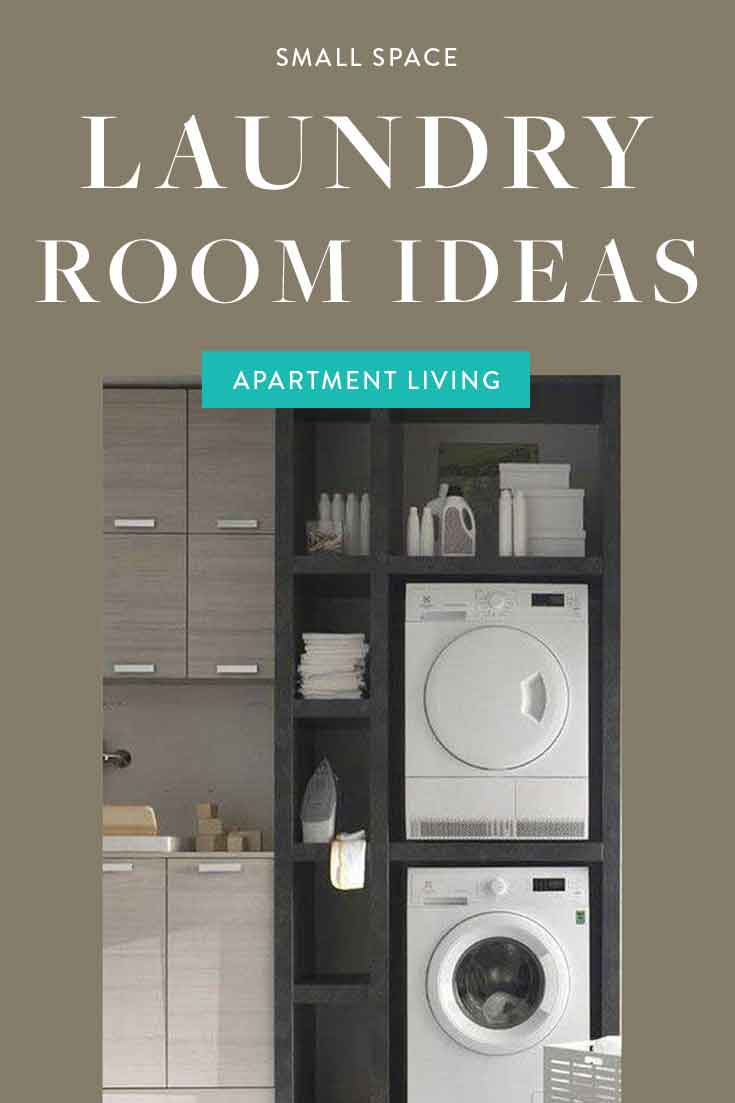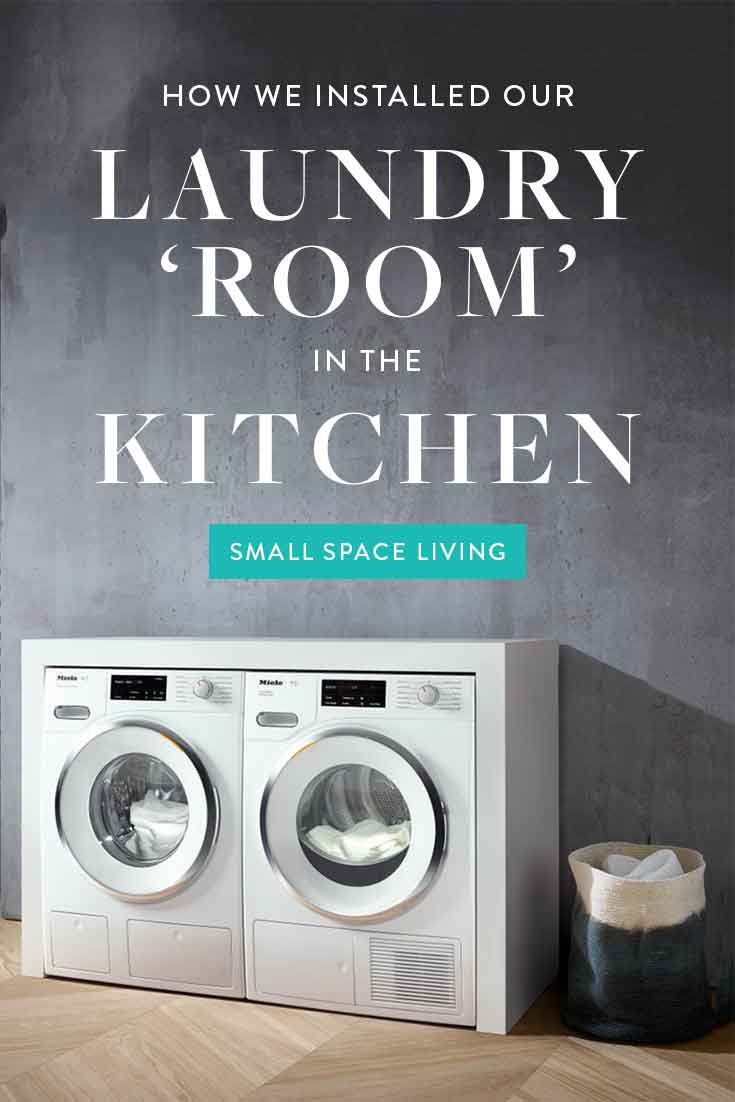 ADVERTISEMENT
---
---
How to Hide a Washer and Dryer in the Kitchen
1. Choose a Compact Washer Dryer
The first thing to do is choose your appliances, so you can set your budget and also have the appliance dimensions so you can plan your kitchen layout.
There are limited compact washers available – most of the models are from the European manufacturers Bosch, Asko and Miele.
I compared all the compact washer dryer brands and models in-depth in this post – outlining all their product dimensions, reviews and which we ultimately went with.
It really just comes down to price and size as most front loading washers are very similar.
On the other hand, there are a couple options on the market when it comes to front loading dryers that will impact your kitchen / laundry configuration.
Read more:
We Bought a Compact Washer Dryer Set! Here's How It's Held Up
ADVERTISEMENT
---
---
Gas vs. Electric Dryers
If you have the ability to vent to the outside (this will be impossible in 99% of NYC co-op apartments) then you can look into a gas dryer (also called a vented dryer) compared to an electric condensation dryer.
New construction and condos can be more flexible about ventilation.
Heat Pump Dryers
Another thing to consider with space constraints is locating the washer and dryer separately. I initially had planned for each to be on opposite walls of the kitchen, facing each other.
Knowing nothing about the mechanics for installing a washer and dryer, I thought the dryer could go against regular drywall, as it didn't need a water line like a washer.
ADVERTISEMENT
---
---
What I found out was that a dryer removes excess water from your clothes and then needs to dump that water somewhere.
If you're going with a gas dryer model, it will vent directly outside. If you're limited to electric dryer, it's slightly more challenging.
Most electric condensation dryers need to connect to a plumbing line or washer to dispose of the water. There are some models that have a little storage container where the water accumulates and which you can pull out by hand to dump out the water.
Asko calls this their "heat pump" dryer (model T884XLHP) but you'll pay a hefty premium for this, approx. $2800, just for a dryer that you have to manually empty.
…Maybe I'm missing the appeal?
Needless to say, I didn't buy that one and instead adjusted my layout to place the washer dryer side by side.
There is probably a greater selection of heat pump dryer models on the market if you have the space to go for a full size dryer model.
ADVERTISEMENT
---
---
2. Determine the Kitchen Layout
I placed my washer dryer in the kitchen.
I know most Americans think this is unsanitary… but when you live in a small NYC apartment your options are quite limited.
Lots of kitchens in Europe have a washer so I figured if Europeans can do it, I can do it!
Ideally, you might have extra space off your bathroom or a bathroom closet that you can turn into a laundry closet. Or, if you're buying your neighbor's apartment and want to combine 2 apartments into 1, NYC law requires that you remove the second kitchen.
So in those situations most people will opt to convert part of the second kitchen's electrical, gas and water lines into a proper laundry room.
Read more:
Renovating a NYC Kitchen: Tips, Tricks & Cost Information!
ADVERTISEMENT
---
---
Side by Side or Stacked
When you design your kitchen layout, you can either install your washer dryer combo side by side or stack them on top of each other.
Almost all the brands allow you to do either, but if you choose to stack them, you sometimes need to buy a stacking kit.
The way my small NYC kitchen is laid out, it made more sense to have them side by side under the kitchen counter.
Read more:
How to Renovate a Small Kitchen to Make the MOST of It
ADVERTISEMENT
---
---
Paneled or Open
My side-by-side washer and dryer are located under the counter in my kitchen.
I wanted both appliances to be completely hidden, which necessitated semi-custom cabinetry. It's much easier planning process if you're happy to have the appliances in view.
3. Determine the Door Clearance
Once you've narrowed down your appliance choices, download the spec sheets and installation manuals for each washer and dryer model you are considering.
You'll need these when you design your kitchen layout so you can plan your kitchen cabinet measurements accordingly.
ADVERTISEMENT
---
---
The appliance installation manuals are available directly on the manufacturer website, but also typically each online appliance store will post the links as well – which is so handy!
AJ Madison is a really popular online website for New Yorkers to buy appliances and they have a showroom in Brooklyn if you want to check inventory in person.
I thought that because the washer and dryer were each 24″ inches wide that I would need 48″ of horizontal space, with maybe 1″ or 2″ extra inches for the doors.
Wrong!
ADVERTISEMENT
---
---
My expert kitchen designer helpfully pointed out that if you want doors to enclose the appliances, you'll need extra clearance on the sides for the doors to hinge to.
If you're tight on space, you can consider leaving the appliances exposed or installing a curtain. I really wanted enclosed appliances so that the washer dryer were completely hidden behind kitchen cabinets.
I would panel everything including the stove if I could (I don't like the look of appliances) and I was worried the machines could be a magnet for crumbs, spills, etc.
You can see my kitchen right from the entryway, so I wanted as minimalist a look as possible.
Finally, my NYC kitchen is laid out in a narrow galley style layout so I decided that a pure row of cabinetry would help make the space feel larger.
Read more:
The Best Small Apartment Hacks I've Learned
(after 10 years of living in NYC)
ADVERTISEMENT
---
---
NYC Kitchen with Washer Dryer
I got a couple questions from people wanting to see some photos of the finished washer dryer installation. Unfortunately my kitchen is a narrow galley layout and it's a little too tight to get proper photos.
But I did record this video of our NYC kitchen renovation process. You can watch it here if that's helpful!
NYC KITCHEN TOUR | Our Small Kitchen Remodel + Galley Kitchen Design Tips! (Living in New York City)
ADVERTISEMENT
---
---
4. Laundry in Kitchen Examples
There are lots of different options for how you can hide your washer dryer units.
Pinterest has great pictures of different methods people have used and I saved lots of visual inspiration here, like:
pocket doors which slide into the cupboard
bi-fold doors for extra large openings
sliding doors on a track
regular cabinet doors
using the laundry as a eat-in counter
The amount of extra space you will need in your kitchen cabinets depends on the door configuration you choose.
ADVERTISEMENT
---
---
I found during the kitchen design process that pocket doors require the most amount of extra space since you need space for the hinges to attach to, plus space for where the pocket doors will slide in.
I went with the regular cabinet door option to save on space. The other design consideration is the layout of open doors.
Most front loading washing machines need to have the cabinet doors open for ventilation while the machine is in use.
Make sure there's clearance for your cabinet doors to open at a full 90 degree angle. This will also impact space.
It's also recommended to keep your washer door open after the wash cycle to wipe down the doors and let the machine air out to avoid mildew and mold from building up.
I saw some kitchen photos where the cabinet doors were ventilated, which looks like a nice idea!
ADVERTISEMENT
---
---
5. Choosing Counter-tops
This is optional, but I wanted the washer and dryer to fit inside regular base kitchen cabinets with the counter on top.
That way, when all the doors were closed, the kitchen would look perfectly 'normal' with a uniform counter height.
If you purchase the 24″ washer and dryer models (currently the most compact laundry option on the market), the appliance height will be 33 1/4″ so they can fit under a standard 34″ cabinet!
A full size washer that's 27″ wide will be too tall to fit inside a regular kitchen cabinet. I've seen pictures where people have beautifully designed their kitchen counters to be raised over the full size appliances.
It's up to you.
ADVERTISEMENT
---
---
24″ vs. 27″ washer dryer
At the time we were designing the kitchen, I was very concerned about aesthetics so I ruled out a 27″ washer. Not only are they wider (which would be difficult space wise in my tight kitchen), they're also taller and deeper.
Now that I've used the 24″ front loading washing machine for a couple years, I will say that the interior is quite small. It can handle about 1 – 2 weeks worth of laundry for 1 to 2 people.
If you're really sweaty and change your clothes frequently, or you live with a big family or have young children, you might be really frustrated by the limited size of a 24″ washer.
The other downside I should mention is the spin power.
I always set the spin cycle to "low" because I get nervous about the washer spinning under all that wood and marble. I'm always afraid one day it will be like a bull let loose in a china shop and just smash the entire kitchen to pieces.
So, if you use a low spin cycle, you might need to run an extra 10 minutes of spin to get the water out of your clothes. There's a lot of babying just to have an in apartment washing machine!
ADVERTISEMENT
---
---
Counter Material & Support
Even though the appliances can sit flush side by side, my kitchen designer recommended placing a 3″ filler piece in between the two cabinets to provide support to the counter top.
She especially recommended this since I went with marble countertops and stone can be quite heavy.
So you might want to have your counter or kitchen installer give their opinion before you finalize the installation.
ADVERTISEMENT
---
---
Ventilation & Cabinet Depth
Also check the depth specs of your appliances.
The washer and dryer need some extra side and back clearance for ventilation as well as room for the hose and piping in the back.
To make sure the appliances would be sticking out farther than the cabinet boxes, we left some space in the back and pulled out the cabinets a couple inches forward so everything would align flush from the front.
Because of this, we needed extra material for the counter top to cover the gap. I went with the same marble for both the backsplash and counter and had the countertop edges finished with a 2″ thick square eased edge.
ADVERTISEMENT
---
---
6. Other Installation Considerations
A couple other things to figure out during the design phase are:
Water Lines
The specific washer and dryer models I chose had the washer actually plugging into the dryer.
My contractor was worried the electrical usage would be too significant for the apartment to handle so if you also live in New York City or any city with space and electrical constraints, you'll want to verify that your electric dryer is within code for your apartment's amperage.
In New York City, most pre-war coops have a set limit on the amount of electricity flowing into each apartment.
A 2 bedroom apartment typically has more amperage capacity than 1 bedroom apartment and so on and so forth.
ADVERTISEMENT
---
---
Amperage
If you have a 1 bedroom apartment or large studio, you can still fit a washer and dryer with only 30 amps of power. Most compact washers use about 11-13 amps and most compact electric dryers use about 13 – 15 amps.
Typically you won't be running both machines at the same time so there won't be an issue.
Amperage is the amount of electricity drawn when the appliance is in use. It's different from the power cord amperage (which is typically 30 amps).
My contractor got confused and initially told me the dryer would blow a fuse in the apartment because he looked at the wrong metric so make sure you're helping to read the specs carefully and can chime in!
ADVERTISEMENT
---
---
Note: Throughout my renovation experience, I found that it pays to put in the time and attention to research on your own and double check everything. My contractor team did the best they could but at the end of the day, no one will care about your project as much as you do.
It's pretty difficult to increase your individual apartment's electrical system as it's set by the building and would involve re-wiring up from the basement to your apartment floor.
It's also really, really expensive so I didn't even consider that route.
ADVERTISEMENT
---
---
Voltage
Finally, you'll want to check how many electrical outlets you'll need and discuss that with the contractor or electrician. Some washers plug into the dryers so you may only need 1 outlet.
At the time of my renovation, the only compact washers available in the US were made by European manufacturers – these machines utilize 220 voltage. If you're in the US, check that you either have 220V or that your electrician can make the change.
Since it was a complete kitchen renovation, changing the voltage was easy to include as part of the process.
If you're swapping out appliances and don't want to fuss with changing the voltage, look at the latest Miele washers. Although European, they now make a 120 volt option!
Shop
Miele laundry appliances
I also have a post here that compares the most popular small washer dryer brands, if you want to compare the 24″ laundry models.
ADVERTISEMENT
---
---
7. Shut Off Valve Placement for Your In Kitchen Washer Dryer
Flooding is always a concern with washer dryers.
Living in a coop apartment building with plenty of neighbors, I was extra cautious about any flood issues and potential liabilities.
It's highly recommended to place the hot and cold water shut off valves in an area that is easy to access, so you can shut off the water valves whenever the machine is not in use. I don't know anyone that actually shuts them off between use.. but it's recommended!
The shut off valves are located behind the appliances and need to be placed at a certain height on the wall.
ADVERTISEMENT
---
---
Shut Off Valve Options
There are a couple recommended placement options for the laundry shut off valve:
in your kitchen backsplash for easy access
off to the side if you're stacking your washer dryer units and have a closet
near the sink plumbing
Since the washer dryer was to be in my kitchen I opted to hide the valves in the sink base cabinet.
My sink base is really crowded, but it makes everything easy to access and out of sight! There was no way I was place it in my backsplash after splurging on marble.
For a month or so after we moved in, my sink had some leaking issues so there are always some small issues with a renovation.
If I leave for a trip or an extended vacation, I try to always remember to shut the valves off… just in case.
ADVERTISEMENT
---
---
8. Washer Installation
And you're pretty much all set!
We chose this Bosch washer and dryer set and my contractors handled the actual installation, water lines and electricity set up.
Everything went pretty smoothly since we had followed the steps above. The one thing we didn't prepare for was the machines themselves, so here's my final tip:
ADVERTISEMENT
---
---
Remove the Transit Bolts
When the washer is shipped, the manufacturer bolts the drum to the machine to prevent it from moving in transport. Make sure to remove these before you install them in your apartment.
If you run a load of clothes with the transport bolts still in place, your machine will literally hop like a jackrabbit out of the cabinet box.
Violently.
Destroying your cabinets in the process.
Damaging the machine too.
Unfortunately I'm speaking from first hand experience…
ADVERTISEMENT
---
---
It almost gave me a heart attack when it was happening but I was able to stop the machine in time and google to find the solution.
My cabinets did get damaged in the process though. If you have the same issue, I found this video helpful to solving the problem.
I think it's a pretty common problem that people forget to take out the transit bolts so just make sure to confirm with your contractors that they'll remove the bolts.
Each machine is really heavy so even though I discovered the problem, I wasn't able to take out the washer from the cabinet by myself (it's really wedged in there) or flip them over to remove the bolts from the back (the washer is heavy!).
ADVERTISEMENT
---
---
In the end, I asked my contractors to come back.
At first they didn't understand.
Anyone who has done a renovation knows that sometimes it can be difficult to have any help after a job is complete. They recommended installing vibration pads because they thought I was complaining about regular shake and noise.
(I do recommend those too btw)
Luckily, the construction crew came back and I showed them the YouTube video above as well as the diagram in the appliance instruction manual and they finally understood.
So another tip is to save your appliance instruction manuals (the Spanish version too, if you don't speak any Spanish!)
ADVERTISEMENT
---
---
I had quite the stressful renovation process so hopefully this helps someone in the future! Please do consult a licensed contractor or expert for your own remodel, as I'm no where near an expert.
Small Space Living
Living in a New York City apartment means space is a premium! Over the years, we've learned to ruthlessly purge our closets, adapt the Konmari method and max out every inch of space. Despite the challenges, we love interior design, NYC real estate and wouldn't trade living here for anywhere else. Follow along on our small space living adventure!
You Might Also Enjoy:
Small Space Living
25+ Small Apartment Hacks to Transform Your Space
The Best Makeup Storage Ideas When Space is Tight
Aerogarden Harvest Review: Growing Plants Indoors is Now Doable!
How to Dress a Bed as Luxuriously as a 5 Star Hotel
Small Apartment Entryways: 4 Decorating Ideas
Storage Hack: Saving Space When You Don't Have a Pantry
Home Decor
The Best Affordable Wall Art - from Amazon!
Crazy Real Faux Plants (for Black Thumbs)
The Best Smelling Candles to Create a Sense of Hygge
Amazon Home Finds: Stone & Beam
Our NYC Renovation
Renovating a Kitchen in NYC: Tips, Tricks & Cost
Everything We Learned About Renovating Our NYC Kitchen (Video)
How to Remodel a Small Kitchen for Maximum Storage
Home Appliances
The Best Compact Appliances for a Tiny Kitchen (Video)
The Best Compact Washer Dryers for Small Apartments
How We Installed a Washer & Dryer... in the Kitchen!
Home Tech
The Best Vacuums Under $100
How to Build Your Own Sunrise Alarm Click Using Smart Bulbs
Are Standing Desks Worth the Hype? Testing the BDI Sit/Stand Desk
Robot Vacuum Review: The Roborock S5 (an affordable roomba alternative)
Roborock vs. Roomba: Which Smart Vacuum is Best?
Home Security Systems: How to Protect Your Home on Vacation
Furniture
All the Best Furniture Stores in New York City
Article Modern Furniture Review
Gardening
The Best Raised Garden Beds on Wheels
Aerogarden Harvest Review: Does This Really Work?
How to Clean & Sanitize the Aerogarden for a New Planting
How to Setup the Aerogarden Farm XL (grow bigger plants!)
Follow me @Sher She Goes on