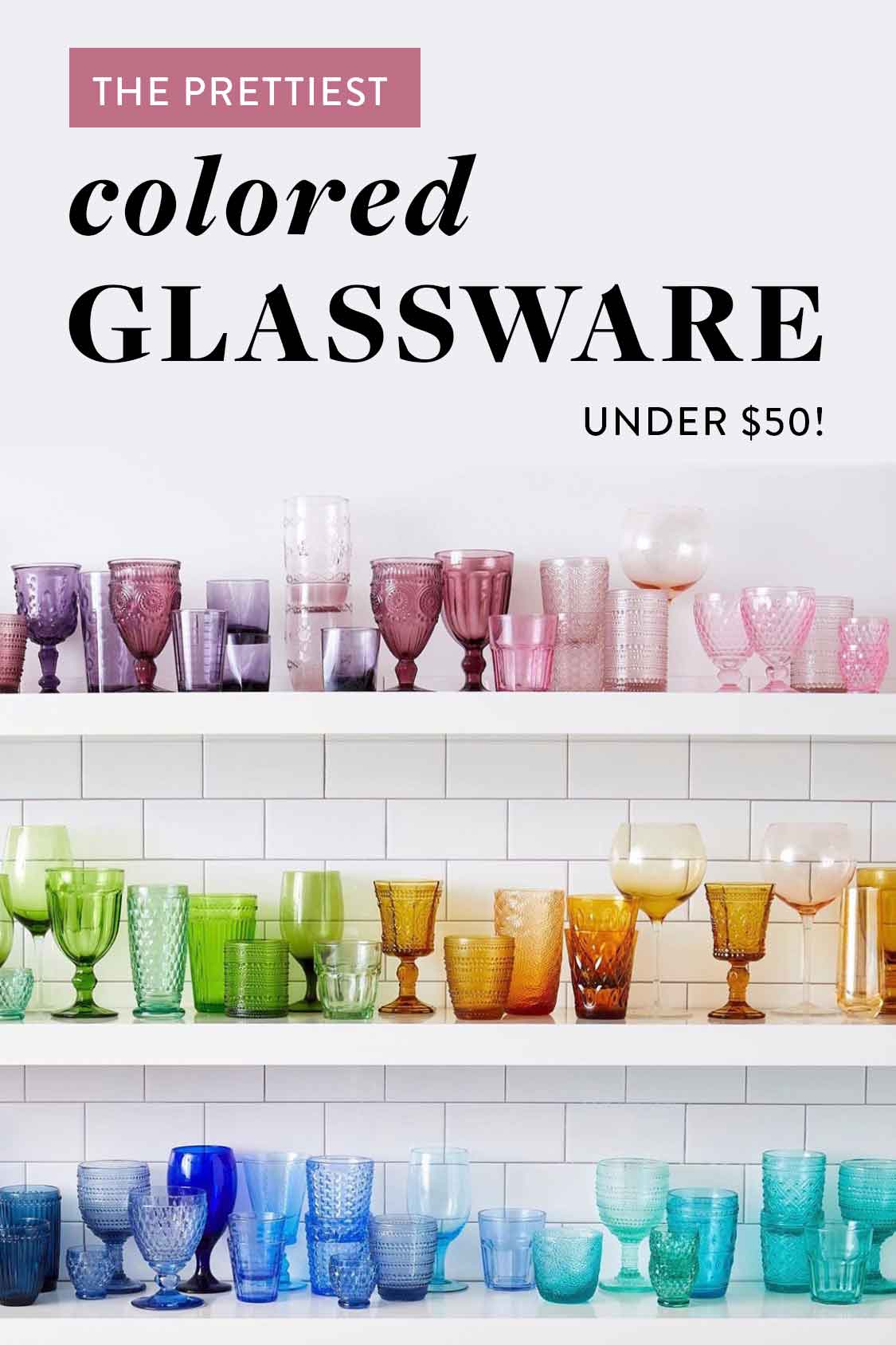 Colored Drinking Glasses
I saw this pretty shelf of colored drinking glasses and immediately loved the look!
Colored glassware was originally created during the Great Depression, as as it was inexpensive. Despite the low quality, nowadays Depression Glass is a collectors item and pretty expensive!
Thankfully, you can get the same look for less from modern colored glassware. I've seen these at Anthropologie, Pottery Barn and just discovered some affordable colored drinking glasses on Amazon Home!
ADVERTISEMENT
Colored Glassware
I think a couple different sets would look really beautiful displayed on an empty kitchen shelf or pantry.
And the best part is, you can get a couple different sets, mix and match, and if one or two breaks it won't ruin "the collection" like fine china would.
Below are some fantastic affordable glassware options that I found on Amazon Home – and if you have a Prime account, they come with free 2 day shipping!
Or, sign up for a 30 day free trial here.
ADVERTISEMENT
---
---
Shop Colored Drinking Glass Sets
---
NYC Kitchen Tour + Favorite Amazon Kitchen Finds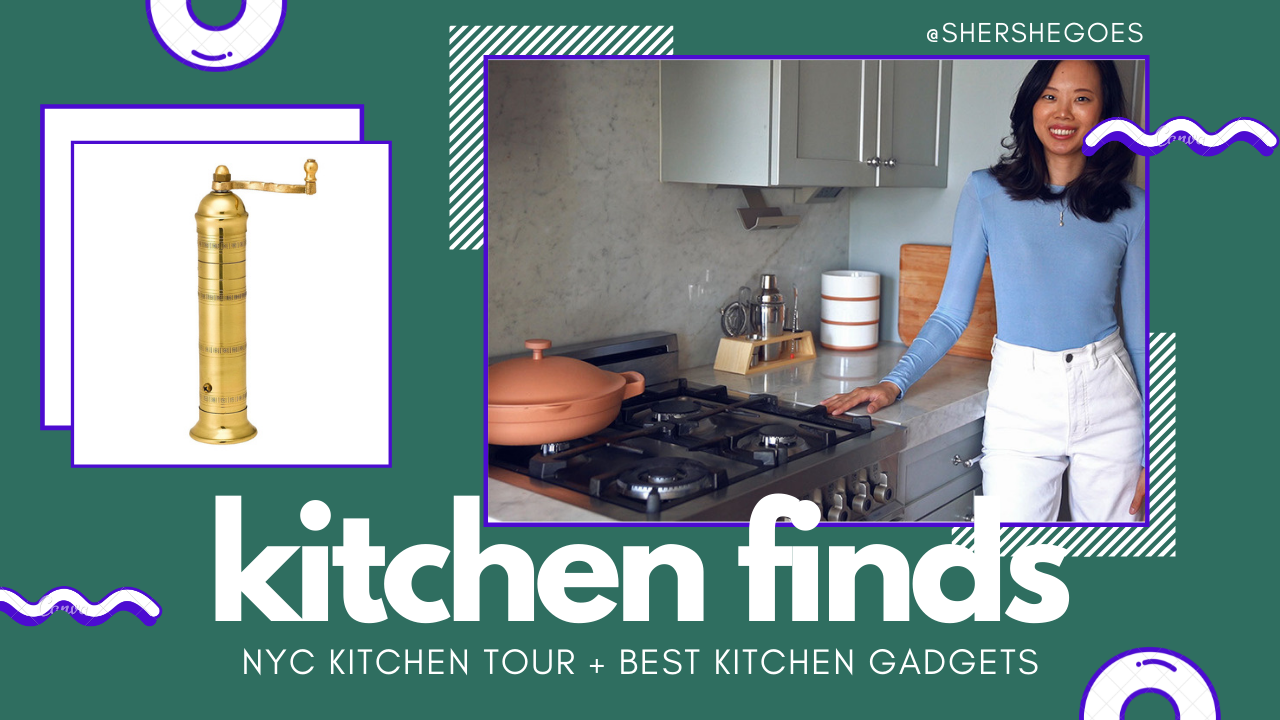 I also did a livestream on Amazon Live sharing all my favorite kitchen products!
I take you through a tour of my NYC apt kitchen, chat about my most-used kitchen gadgets and ,share my favorite Amazon kitchen décor finds. Watch a recap of the video here.
Make sure to follow my Amazon shop page to join future livestreams!
ADVERTISEMENT
---
---
Small Space Living
Living in a New York City apartment means space is a premium! Over the years, we've learned to ruthlessly purge our closets, adapt the Konmari method and max out every inch of space. Despite the challenges, we love interior design, NYC real estate and wouldn't trade living here for anywhere else. Follow along on our small space living adventure!
You Might Also Enjoy:
Small Space Living
25+ Small Apartment Hacks to Transform Your Space
The Best Makeup Storage Ideas When Space is Tight
Aerogarden Harvest Review: Growing Plants Indoors is Now Doable!
How to Dress a Bed as Luxuriously as a 5 Star Hotel
Small Apartment Entryways: 4 Decorating Ideas
Storage Hack: Saving Space When You Don't Have a Pantry
Home Decor
The Best Affordable Wall Art - from Amazon!
Crazy Real Faux Plants (for Black Thumbs)
The Best Smelling Candles to Create a Sense of Hygge
Amazon Home Finds: Stone & Beam
Our NYC Renovation
Renovating a Kitchen in NYC: Tips, Tricks & Cost
Everything We Learned About Renovating Our NYC Kitchen (Video)
How to Remodel a Small Kitchen for Maximum Storage
Home Appliances
The Best Compact Appliances for a Tiny Kitchen (Video)
The Best Compact Washer Dryers for Small Apartments
How We Installed a Washer & Dryer... in the Kitchen!
Home Tech
The Best Vacuums Under $100
How to Build Your Own Sunrise Alarm Click Using Smart Bulbs
Are Standing Desks Worth the Hype? Testing the BDI Sit/Stand Desk
Robot Vacuum Review: The Roborock S5 (an affordable roomba alternative)
Roborock vs. Roomba: Which Smart Vacuum is Best?
Home Security Systems: How to Protect Your Home on Vacation
Furniture
All the Best Furniture Stores in New York City
Article Modern Furniture Review
Gardening
The Best Raised Garden Beds on Wheels
Aerogarden Harvest Review: Does This Really Work?
How to Clean & Sanitize the Aerogarden for a New Planting
How to Setup the Aerogarden Farm XL (grow bigger plants!)
Follow me @Sher She Goes on