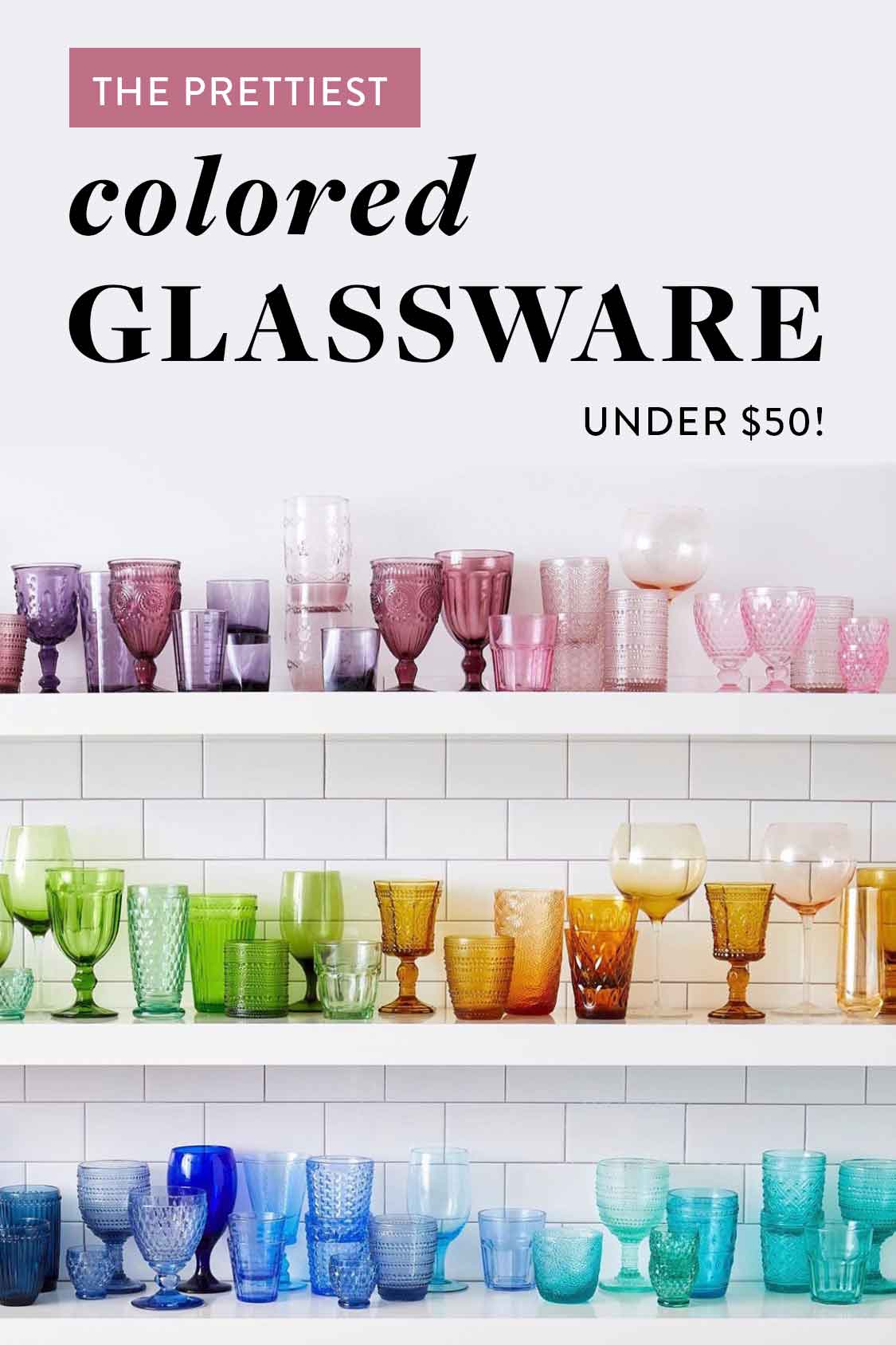 via Amazon Home
Colored Drinking Glasses
I saw this pretty shelf of colored drinking glasses and immediately loved the look!
Colored glassware was originally created during the Great Depression, as as it was inexpensive. Despite the low quality, nowadays Depression Glass is a collectors item and pretty expensive!
Thankfully, you can get the same look for less from modern colored glassware. I've seen these at Anthropologie, Pottery Barn and just discovered some affordable colored drinking glasses on Amazon Home!
Colored Glassware
I think a couple different sets would look really beautiful displayed on an empty kitchen shelf or pantry. And the best part is, you can get a couple different sets, mix and match, and if one or two breaks it won't ruin "the collection" like fine china would.
Below are some fantastic affordable glassware options that I found on Amazon Home – and if you have a Prime account, they come with free 2 day shipping! Or, sign up for a 30 day free trial here.
Shop Colored Drinking Glass Sets
---
---
Small Space Living
Living in a New York City apartment means space is a premium! Over the years, we've learned to ruthlessly purge our closets, adapt the Konmari method and max out every inch of space. Despite the challenges, we love interior design, NYC real estate and wouldn't trade living here for anywhere else. Follow along on our small space living adventure!
You Might Also Enjoy:
Small Space Living Articles
How to Dress a Bed as Luxuriously as a 5 Star Hotel
The Best Compact Washer Dryers for Small Apartments
How We Installed a Washer & Dryer... in the Kitchen!
Small Apartment Entryways: 4 Decorating Ideas
Storage Hack: Saving Space When You Don't Have a Pantry
Furniture
All the Best Furniture Stores in New York City
Article Modern Furniture Review
Home Appliances & Tech
Home Security Systems: Protect Your Home on Vacation
How to Build Your Own Sunrise Alarm Click Using Smart Bulbs
Follow Sher She Goes on
Youtube | Instagram | Facebook | Twitter | Pinterest | Bloglovin