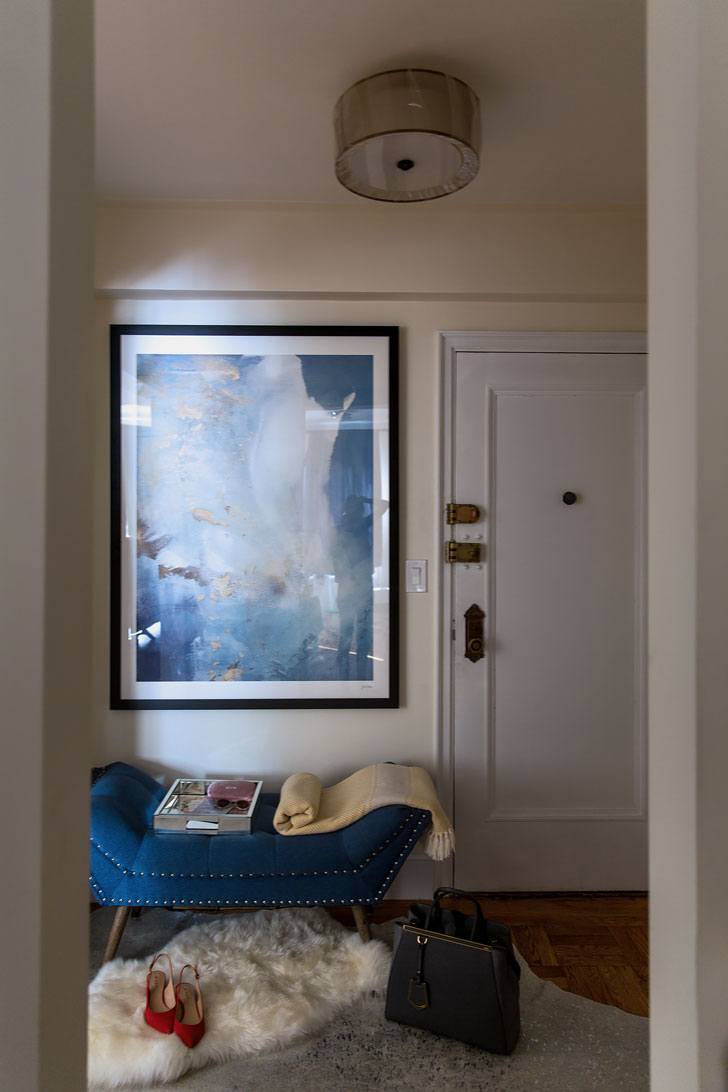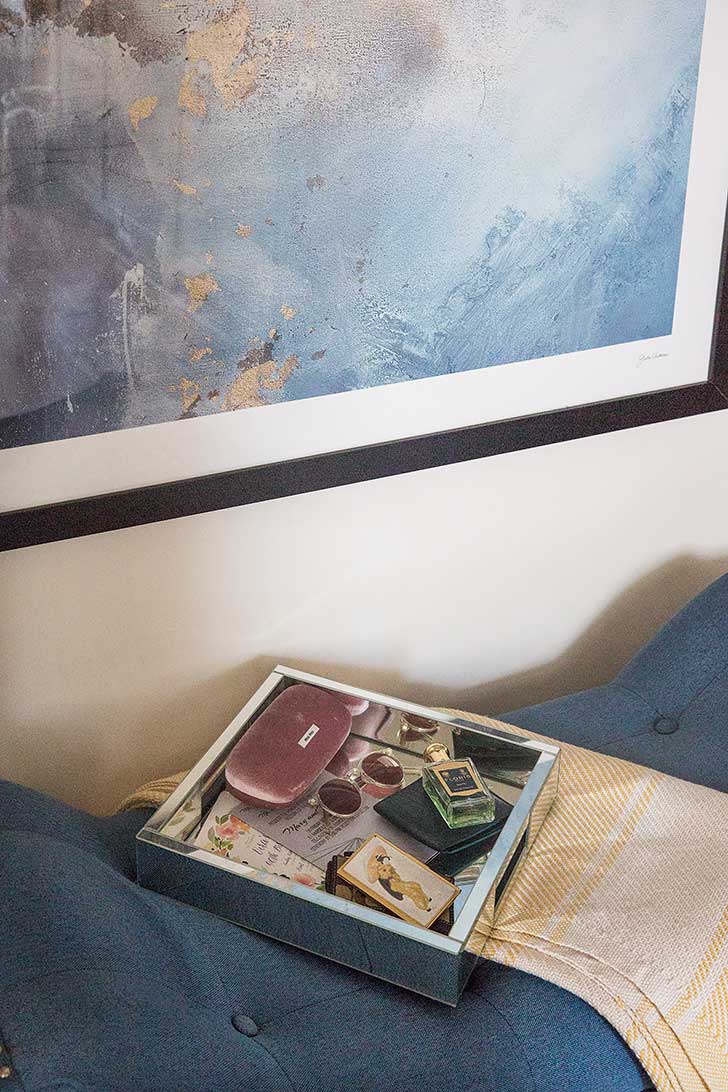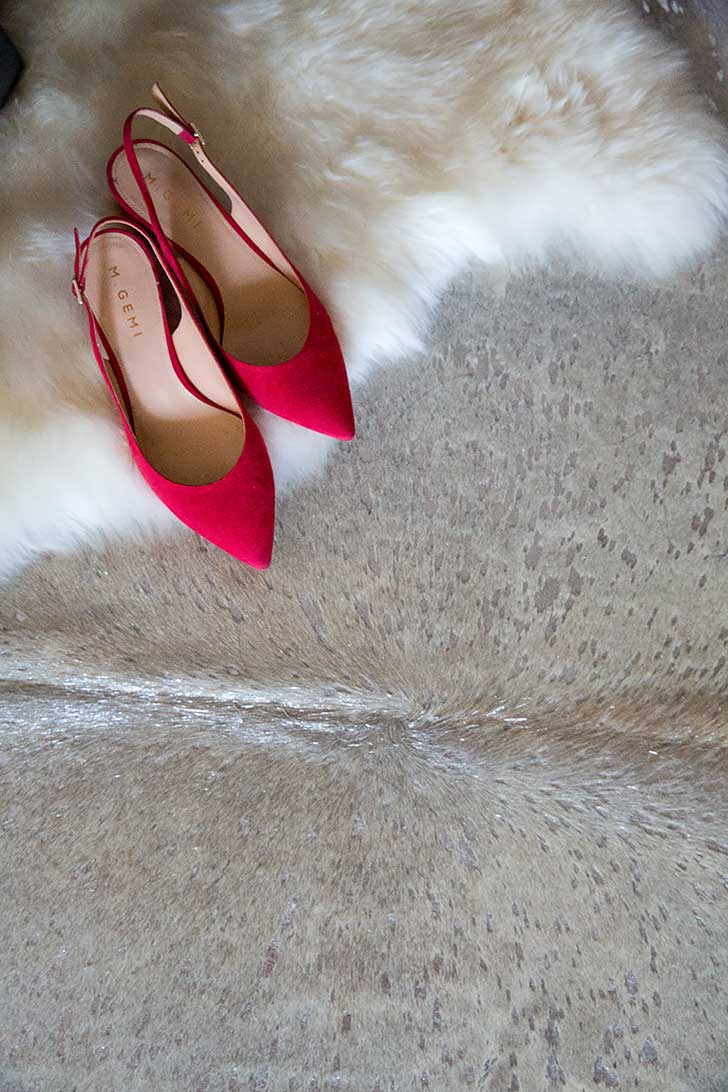 Decorating A Small New York City Apartment
Living in New York City means space and storage come at a premium.
I recently got around to fixing up my small apartment entryway and wanted to share some decor tips to achieve a functional yet still stylish foyer.
Read more: The Best Home and Interior Design Stores in NYC
ADVERTISEMENT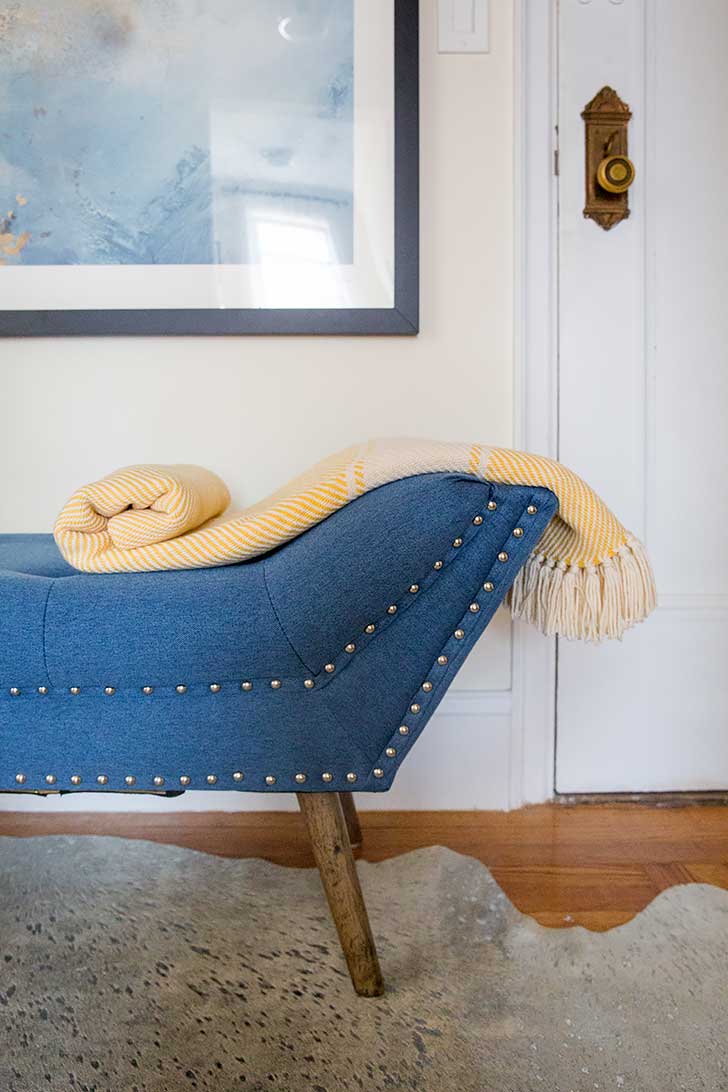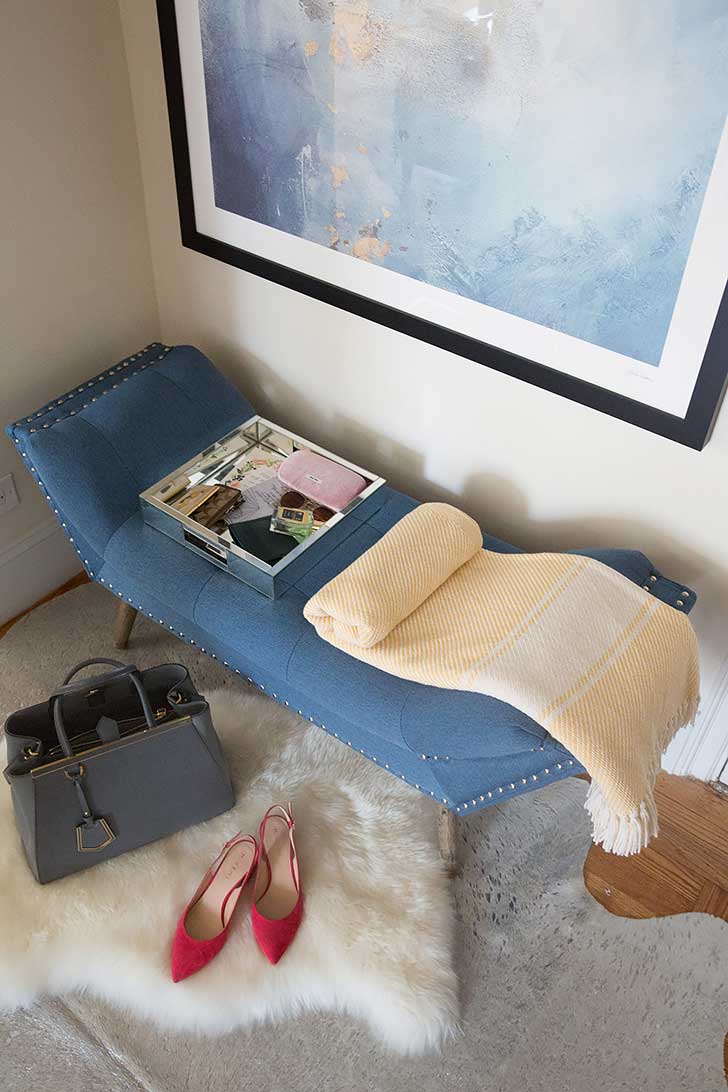 Minted Framed Print (c/o)
Blue Studded Bench (Home Goods, similar here and here)
Serena + Lily Herringbone Throw
M Gemi Penna Pumps ($40 off your first order here)
Sheepskin Rug (Home Goods, similar here and here)
Rugs USA Silver Cowhide Rug (c/o)
ADVERTISEMENT
---
---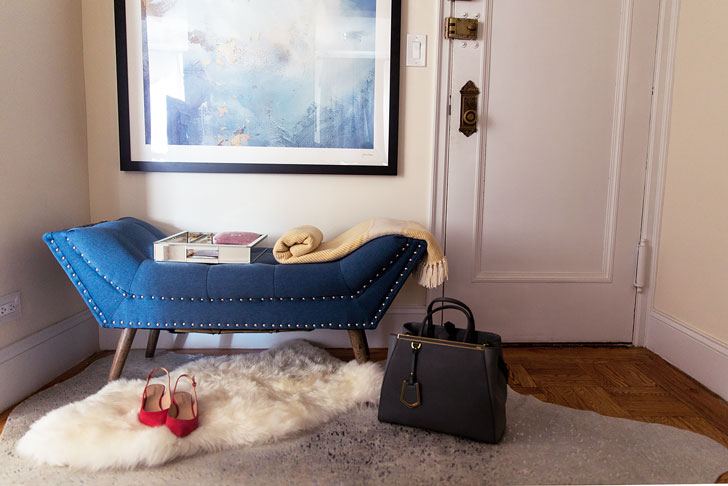 How to Decorate A Small Entryway
1. Stick to One Theme
They say your entryway, as the first step into your home, should set the tone for the rest of the house. Somehow the overwhelming color palette in my apartment ended up being blue so I carried this into my entryway by placing a blue bench and large blue framed print in the space.
For example: If you're going for a Scandinavian feel, try a minimalist black, white and grey approach. If you're a fan of HGTV's Joanna Gaines and Fixer Upper, aim for a wooden bench and rustic chic.
Most people like to add a mirror by the entryway for a quick outfit and makeup check before they head out the door. A great way to carry over an interiors theme is to find a unique mirror: a carved inlaid wood frame for a boho theme, a thin black rimmed mirror for a minimalist look or a gold scrolled theme for a girly, whimsical design.
Small Entryway Mirror Ideas

Small Entryway Accessories

ADVERTISEMENT
---
---
2. Play with Proportion
Even though the entry way is extremely small (there's no way I could fit one of those gorgeous Architectural Digest round tables with a statement making vase), the apartment has decent height so I decided to play up that feature by using a low seating bench. It measures 47 inches across with a 17 inch seat height.
Then, to draw the eye upward, I installed an extra large framed print at 54″ high, excluding the frame. I chose the piece from Minted, which has a wide selection of photography, graphic and typography prints plus limited edition fine art prints.
The piece I selected happens to come from a local artist in Brooklyn and you can choose to buy the print with or without a frame and with or without the artist's signature. I chose framed and with the signature and the print arrived beautifully done and well packaged for shipment.
Since the art and bench both have the same underlying blue color tone, I think the high and low play well with each other!
Eventually I'd also love to add some interesting baskets for additional storage or glass vases for branches or flowers.
Small Entryway Art Ideas

Small Entryway Bench Ideas

ADVERTISEMENT
---
---
3. Add Texture and Pops of Color
I love texture and color to liven up a space.
The entry way has parquet flooring, which I personally think is a huge eyesore, so I used a fun silver cowhide rug from Rugs USA to blanket the floor. This one is made from real cowhide so is a little more pricey than knock off versions (but well worth it in my opinion) and has a great stiff hair texture and beautiful silver sheen.
I doubled up with a small soft sheepskin right under the bench for a second layer of texture. Also, slipping out of high heels and onto the sheepskin is the coziest feeling!
Finally, I added in this soft striped yellow cashmere throw for an eye catching pop of color and a hint of pattern. Small entryways can get cluttered easily so add maybe 1-3 elements of color and texture to liven up a space without overwhelming it.
Small Entryway Throw & Pillow Ideas

Small Entryway Rug Ideas

ADVERTISEMENT
---
---
4. Keep It Functional
I have to admit, I'm still working on this last tip as my space isn't quite finished yet. I'm hoping to add a small console to store keys and mail.
For now I put everything away on my desk and leave my keys in my bag, which helps to reduce clutter so it's fine. But eventually I'd love to find a table that's both thin (depth wise) and narrow (length wise) that can still hold a tray and fit in my space!
Another way to maximize functionality is to add hooks to easily hang keys, leashes and coats. I love fun and quirky hooks to really liven up a space.
Also, if there's room under a bench or console, adding baskets is a great way to store slippers, umbrellas and less used accessories that you still want easy access to.
Small Entryway Table Ideas

Small Entryway Storage Ideas

ADVERTISEMENT
---
---
Small Space Living
Living in a New York City apartment means space is a premium! Over the years, we've learned to ruthlessly purge our closets, adapt the Konmari method and max out every inch of space. Despite the challenges, we love interior design, NYC real estate and wouldn't trade living here for anywhere else. Follow along on our small space living adventure!
You Might Also Enjoy:
Small Space Living
25+ Small Apartment Hacks to Transform Your Space
The Best Makeup Storage Ideas When Space is Tight
Aerogarden Harvest Review: Growing Plants Indoors is Now Doable!
How to Dress a Bed as Luxuriously as a 5 Star Hotel
Small Apartment Entryways: 4 Decorating Ideas
Storage Hack: Saving Space When You Don't Have a Pantry
Home Decor
The Best Affordable Wall Art - from Amazon!
Crazy Real Faux Plants (for Black Thumbs)
The Best Smelling Candles to Create a Sense of Hygge
Amazon Home Finds: Stone & Beam
Our NYC Renovation
Renovating a Kitchen in NYC: Tips, Tricks & Cost
Everything We Learned About Renovating Our NYC Kitchen (Video)
How to Remodel a Small Kitchen for Maximum Storage
Home Appliances
The Best Compact Appliances for a Tiny Kitchen (Video)
The Best Compact Washer Dryers for Small Apartments
How We Installed a Washer & Dryer... in the Kitchen!
Home Tech
The Best Vacuums Under $100
How to Build Your Own Sunrise Alarm Click Using Smart Bulbs
Are Standing Desks Worth the Hype? Testing the BDI Sit/Stand Desk
Robot Vacuum Review: The Roborock S5 (an affordable roomba alternative)
Roborock vs. Roomba: Which Smart Vacuum is Best?
Home Security Systems: How to Protect Your Home on Vacation
Furniture
All the Best Furniture Stores in New York City
Article Modern Furniture Review
Gardening
The Best Raised Garden Beds on Wheels
Aerogarden Harvest Review: Does This Really Work?
How to Clean & Sanitize the Aerogarden for a New Planting
How to Setup the Aerogarden Farm XL (grow bigger plants!)
Follow me @Sher She Goes on